Best Affiliate Programs for Sports Bloggers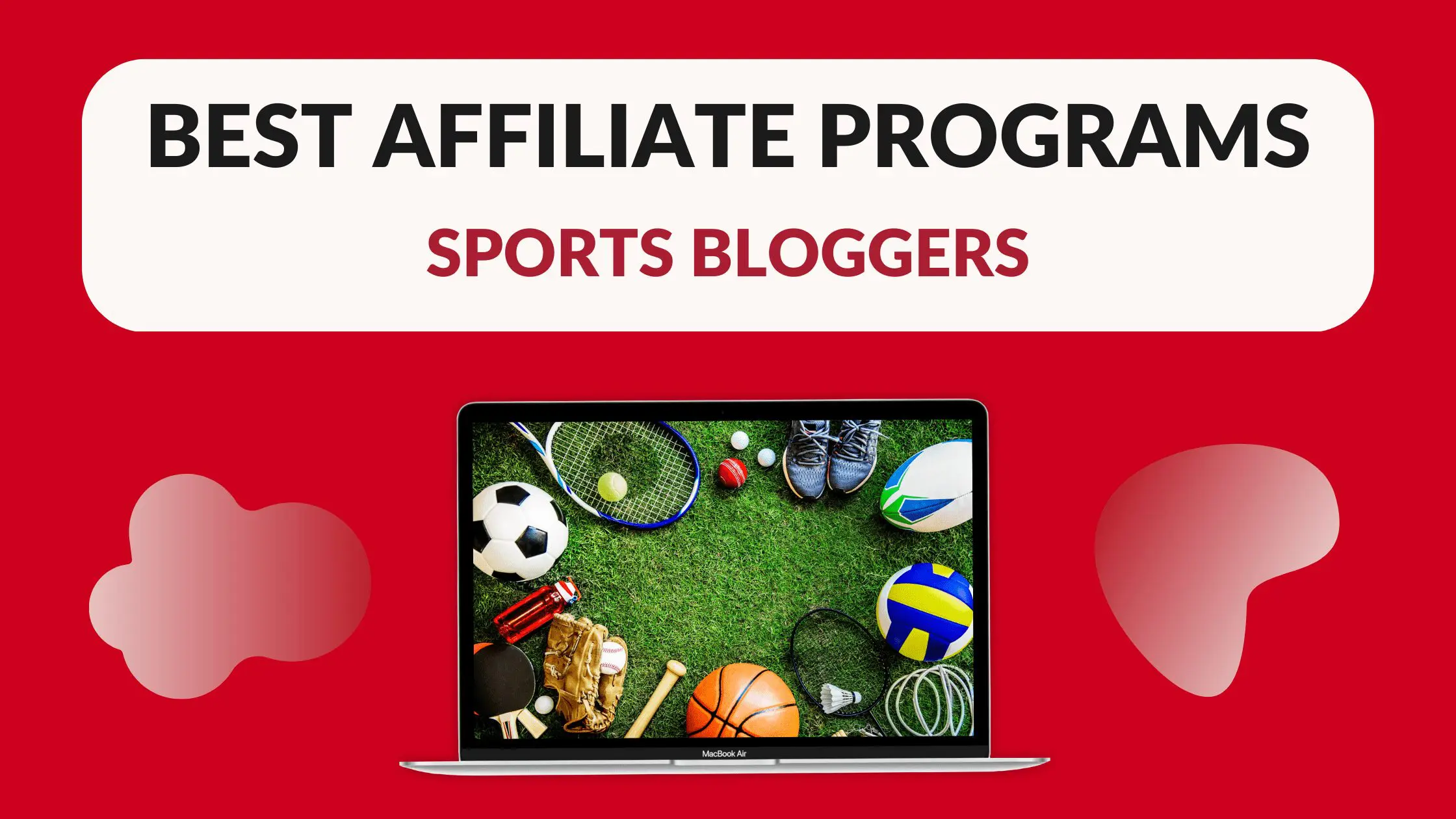 Disclosure: Some of the links below are affiliate links, meaning that at no additional cost to you, I will receive a commission if you click through and make a purchase. Read our full affiliate disclosure here.
Affiliate programs are a win-win-win situation, and if you're a sports blogger, there are plenty of affiliate programs out there for you.
With affiliates, three parties benefit: the company hosting the affiliate, the blogger using the affiliate link, and the blog reader. 
The company gets traffic and sales, the affiliate gets a commission, and the blog reader gets a discount. Sounds too good to be true? We promise it isn't!
In this article, we're going to cover:
The 11 best affiliate programs for sports bloggers

What kind of sports blogger the program would suit

What the commission rate and cookie windows for each are

How to sign up.
Let's play ball!
Best Sports Affiliate Programs

1. Champs Sports (Formerly Eastbay) Affiliate Program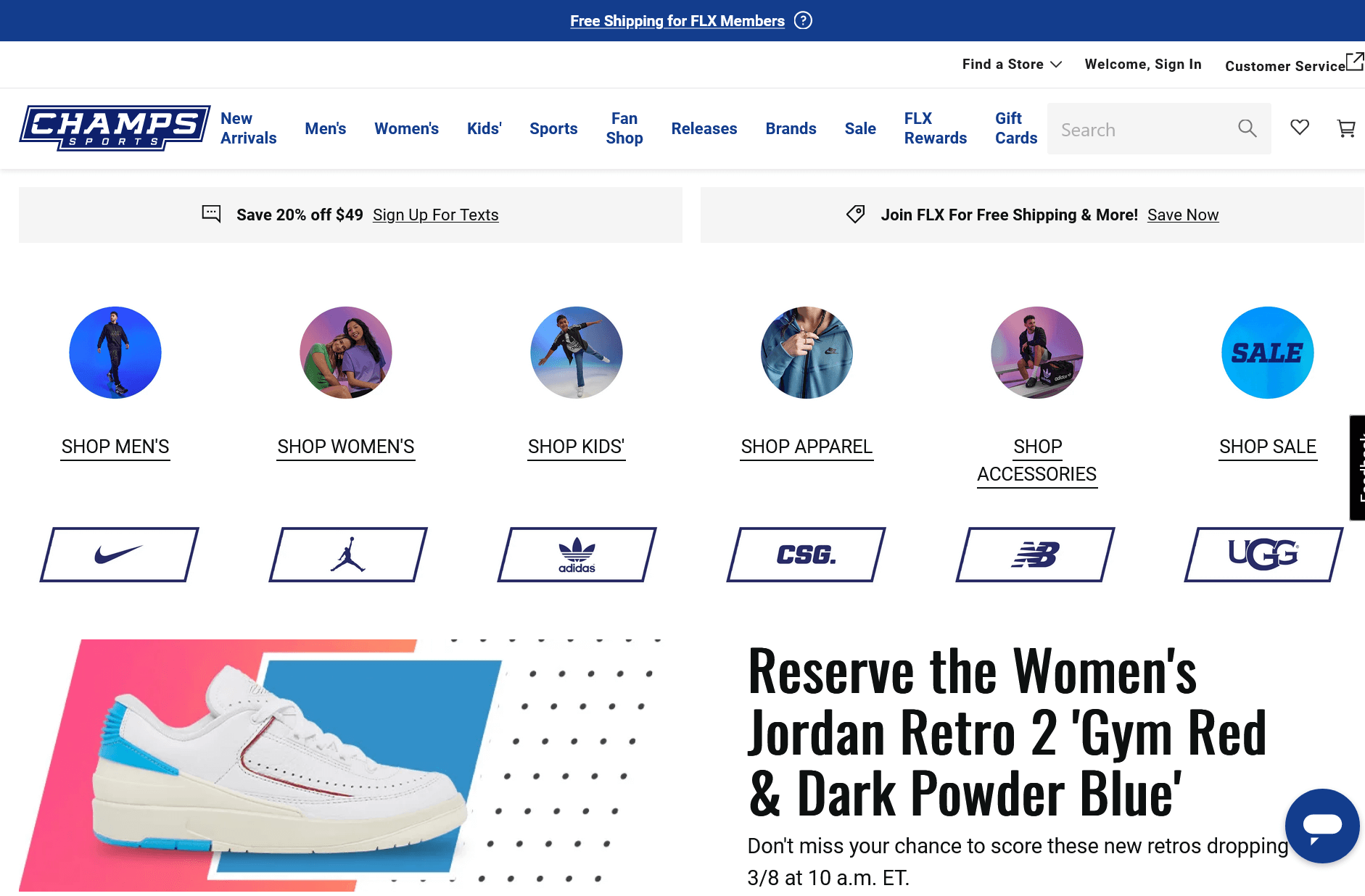 Champs Sports is a subsidiary of Footlocker, Inc, which is a large sports shoe and apparel company. 
The brand is all about self-expression, boldness, and being the center of the sport and street-shoe community. 
This affiliate program is suitable for sports bloggers who write about running, athletic fashion, athleisure, sports culture, fitness, breaking the fitness rules, challenges, overcoming adversity, health transformations, and more. 
It's 100% free to sign up for Champs Sports' affiliate program. When your readers click the link to the website, everything is handled by Champs Sports from then on.
The commission rate is 3.65% of sales, though you should be aware that there's only a 2-day cookie.
To apply for the affiliate program, first visit this link to sign up for Champs Sports. You'll need to sign up for Foot Locker too here.
After signing up, Footlocker will send you an approval email (if you're successful). This will contain a link to put on your blog. From there, you're officially an affiliate!
There are no charges in the process. Champs Sports supports 3,400 stores in over 23 countries. You and your readers could be the next!
2. JumpSport Affiliate Program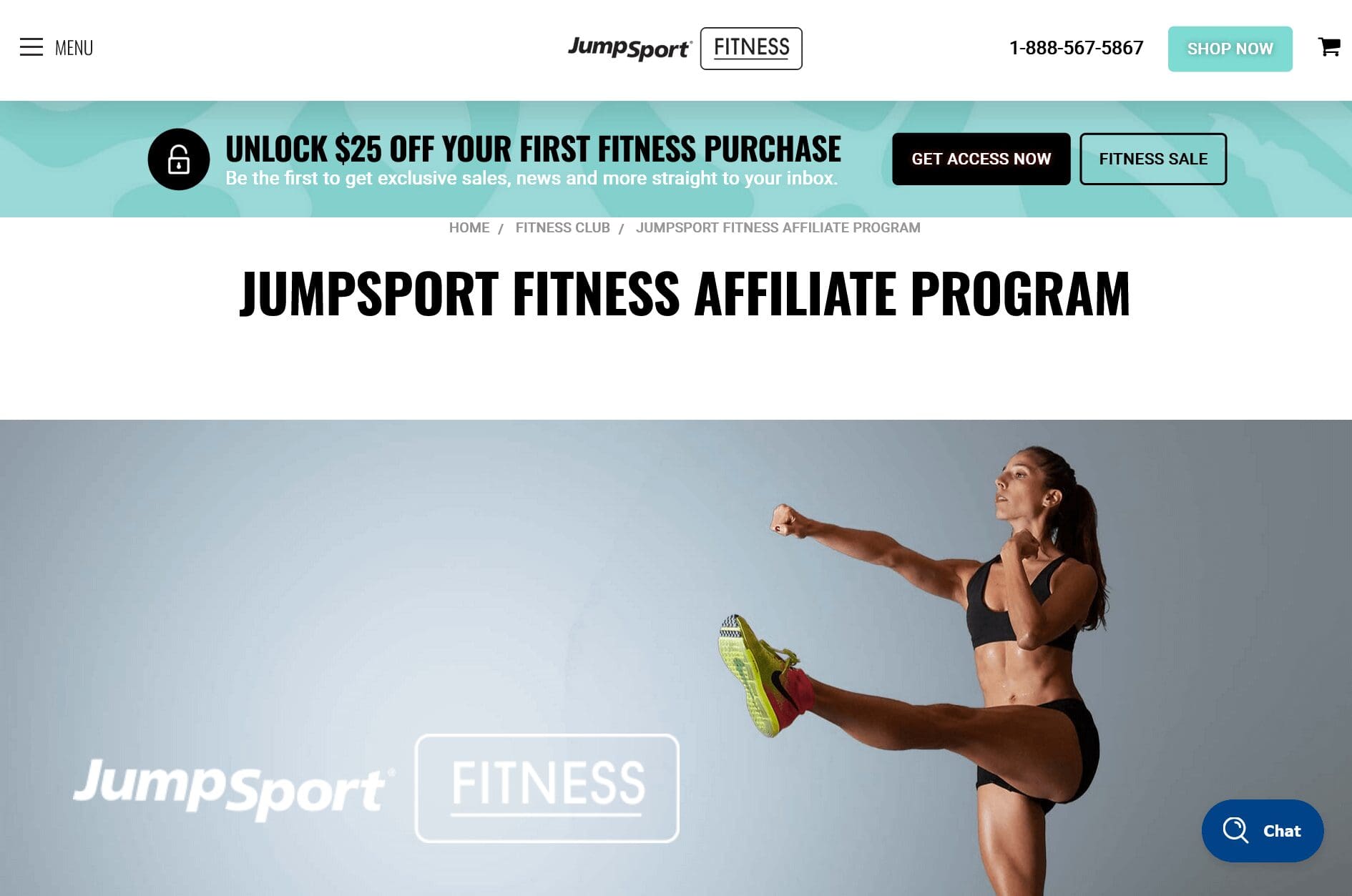 JumpSport is a company that specializes in fitness trampolines. This brand, headed by Mark Publicover, was the first to make trampolines with a safety net. 
JumpSport started out of safety concerns for kids on trampolines. Bloggers who write about children's exercise, children's safety, backyards, parenting, and exercise as leisure would be ideal affiliates! 
Sign up through the Share-A-Sale affiliate network. Once you're approved, apply for the JumpSport program. Email marketing@jumpsport.com to request a coupon code. Once it's approved, you'll be given unique URLs. 
Now to the earnings. 
General affiliates earn 4% on all sales, while fitness professionals earn an 8% cash commission on new and repeat fitness purchases and 4% on backyard purchases. Cookies last for up to 30 days after readers click on their link.  
Start your application here!
3. Fanatics Affiliate Program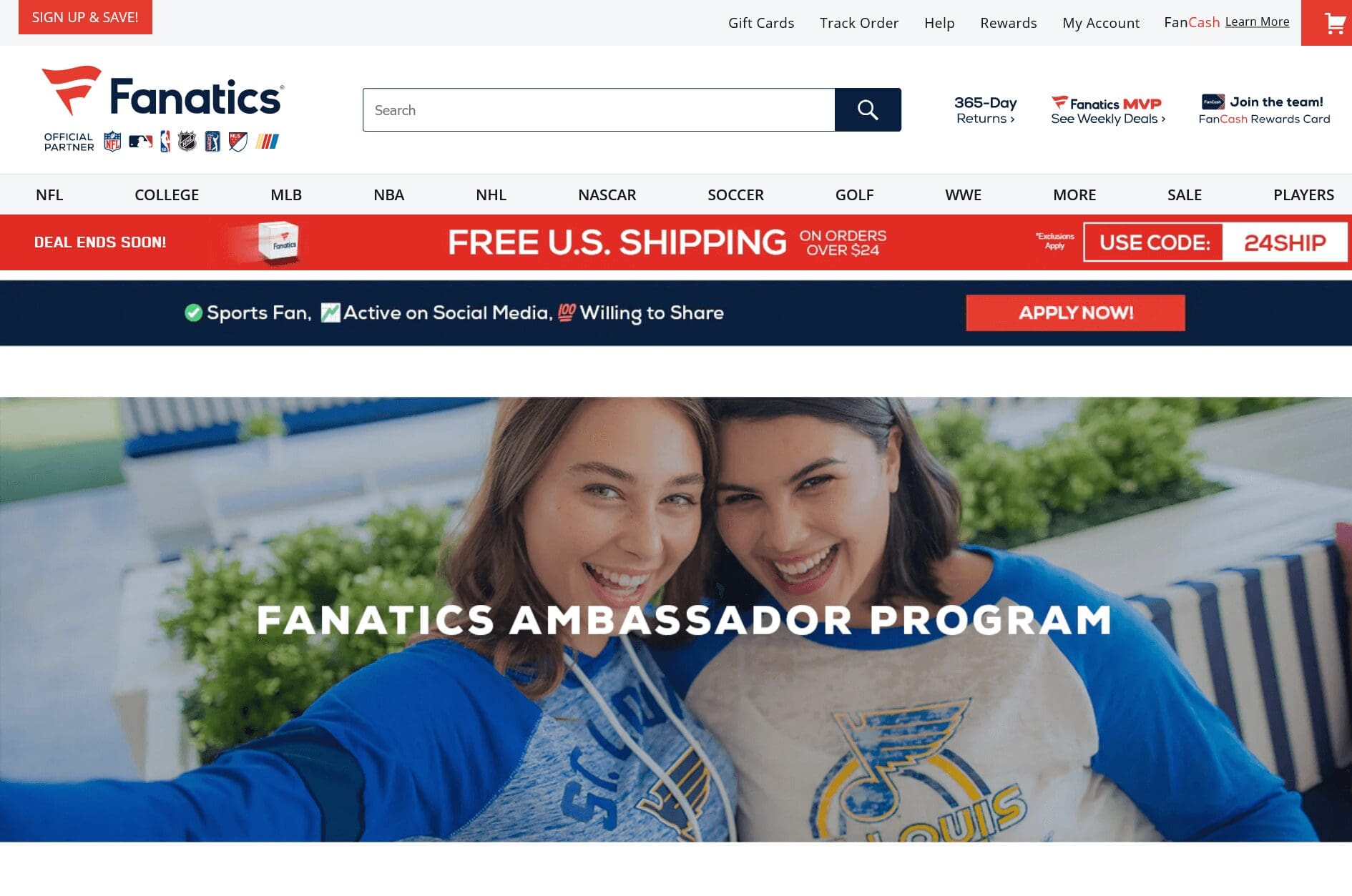 Fanatics is an enormous database of sports fans. They sell licensed merchandise and partner with major sports teams. 
Fanatics' affiliate program is suited for people running sports-related social media, blogs, or media sites like a newspaper or radio/TV station. You need some kind of connection with sports fans to become an affiliate. 
You can be paid in cash commissions, official merchandise, or FanCash (vouchers for various stores). 
The default payout is 8% on sales monthly (minimum payout $50), and the cookie window lasts for 7 days. 
Fanatics also has a contract for affiliates, which you can view here. If you want to go a step further, you can also become a Fanatics Ambassador. 
4. Under Armour Affiliate Program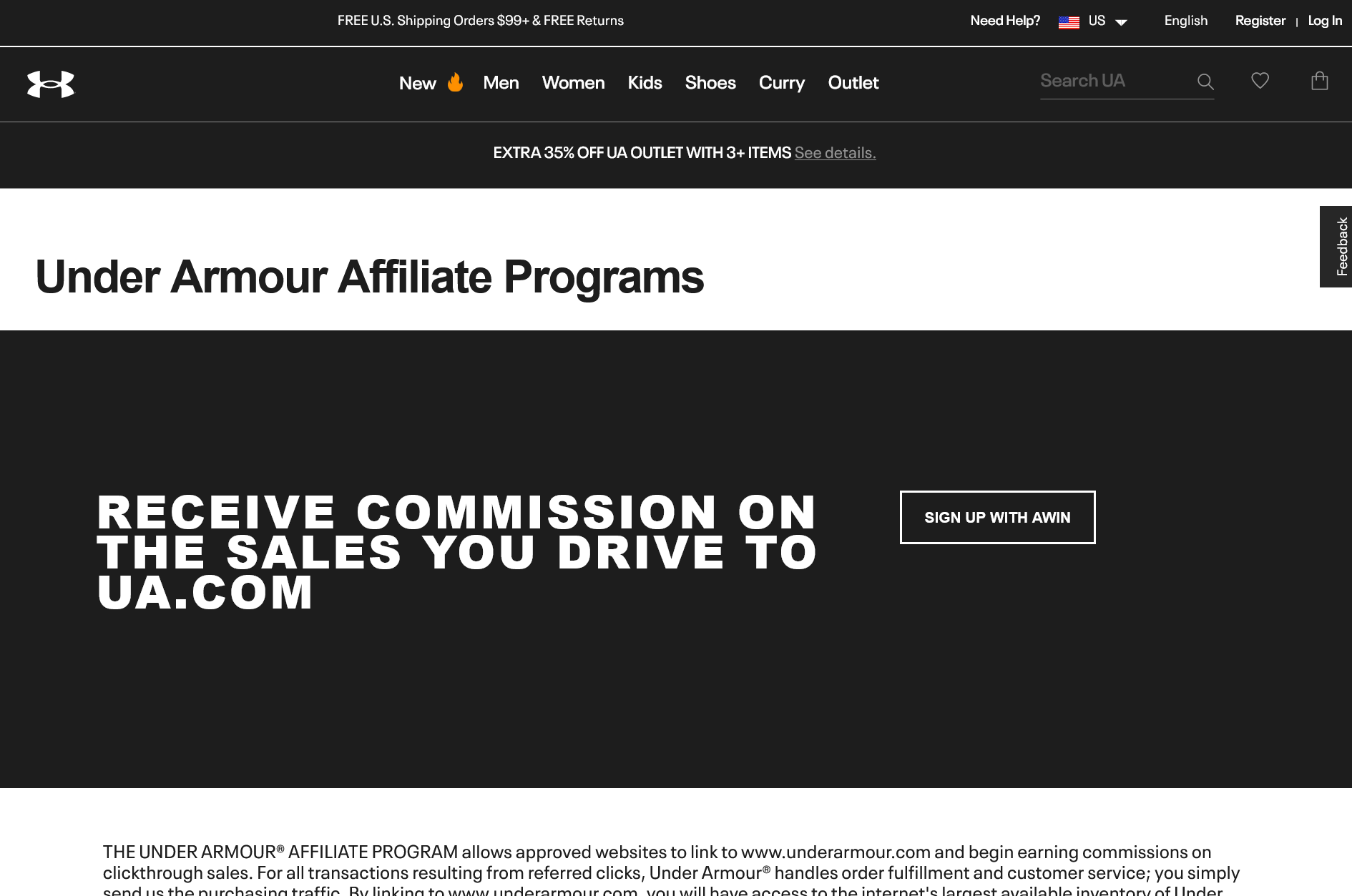 Under Armour is an apparel brand who are all about empowering people by motivating them and providing the necessary tools. They celebrate athleticism in all shapes and forms. 
Under Armour has an award-winning affiliate program, taking the top prize at the 2012 Affiliate Summit Pinnacle Awards. 
Bloggers who are into fitness and are up for any challenge are great candidates for the program. 
By using the UnderArmour.com handle on your blog, you'll receive a 5% commission rate – even on your own orders!
With an average order size of $100, you could be racking up a pretty decent commission fee in a relatively short amount of time!
The program is free, and there's a 30-day cookie tracking period. Sign up here!
5. OnlineSports.com Affiliate Program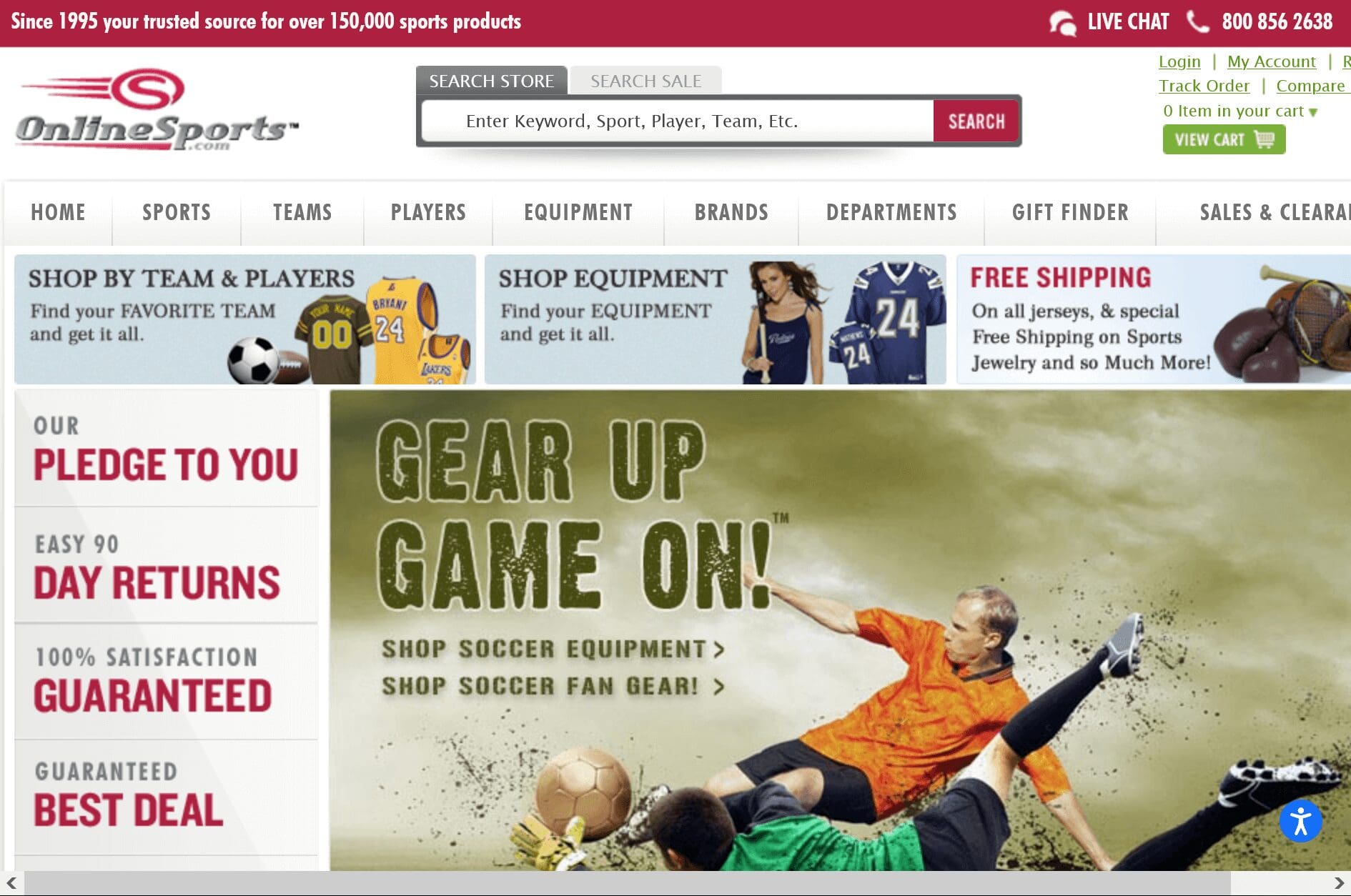 OnlineSports.Com is a large online sports supply store that started in 1995 and has since developed into a market leader. 
Sports bloggers who cover all things fitness and health will be celebrated here. 
The OnlineSports.Com affiliate program guarantees commissions from 10%–14%. The average order size is $125, and there is a 60-day cookie period. 
You can make money 45 days from when a customer visits your site. If they return, the 45-day period refreshes! 
The affiliate program is run through both ShareASale and Commission Junction, so you can pick the one that's best for you. 
The program is free and easy to set up, and OnlineSports.Com provides you with suggested copy and code. 
You can learn more about OnlineSports.Com's affiliate program here. 
6. GoPro Affiliate Program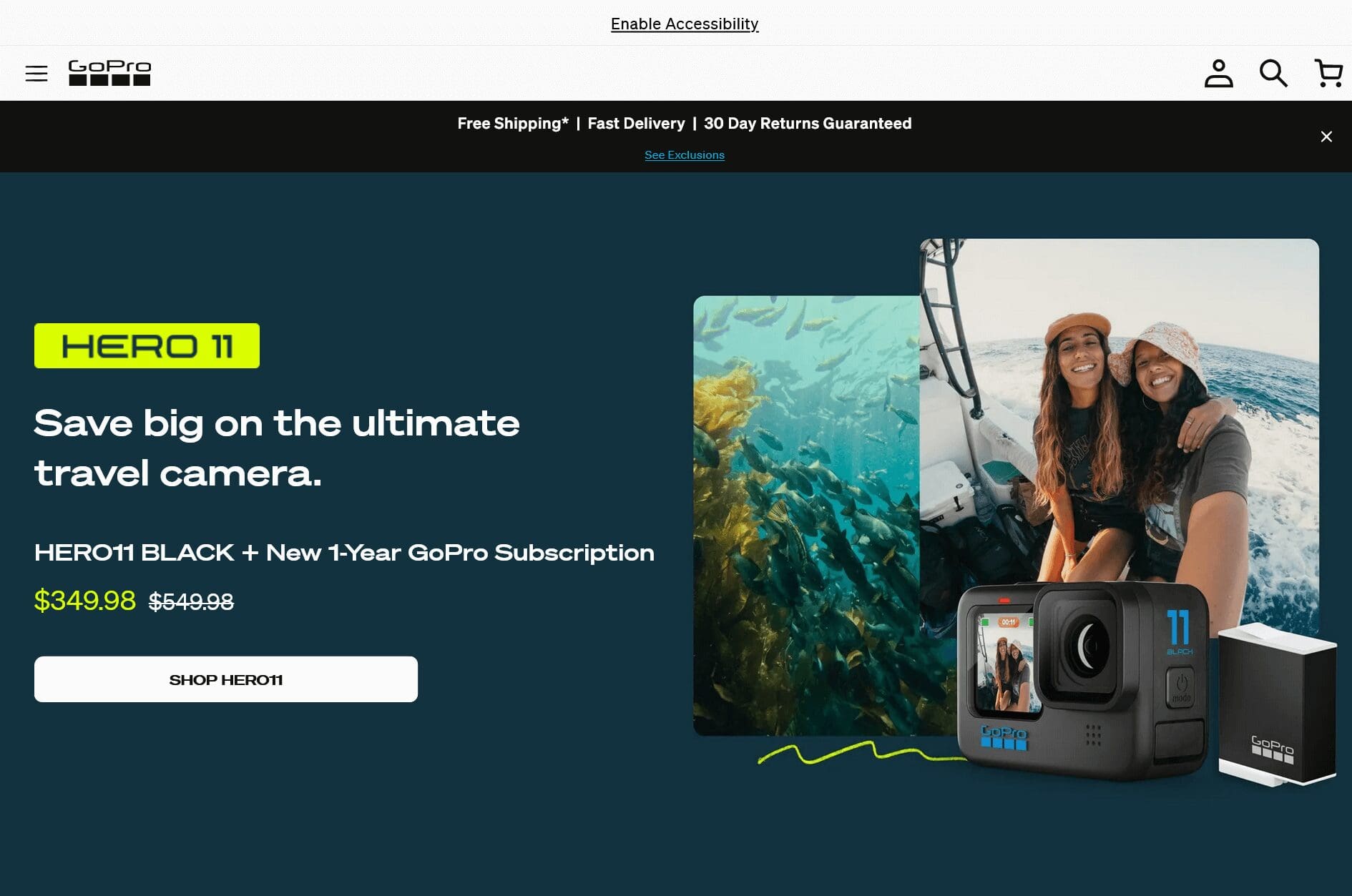 GoPro is all about getting creative with a camera. Their famously small, powerful, portable cameras allow adventurers to film incredible footage. 
Bloggers who discuss photography, travel, and nature will appreciate GoPro's agenda. 
GoPro's affiliate program offers a 3% commission rate, continuous product launches (more to advertise to your readers), and deep linking – which are links that send you to an app rather than a website.
However, the cookie window only lasts for seven days.
GoPro's affiliate program currently operates in 10 areas: the U.S., Canada, Australia, Germany, Spain, France, Italy, Japan, the Netherlands, and the United Kingdom. Click here to sign up!
7. Dick's Sporting Goods Affiliate Program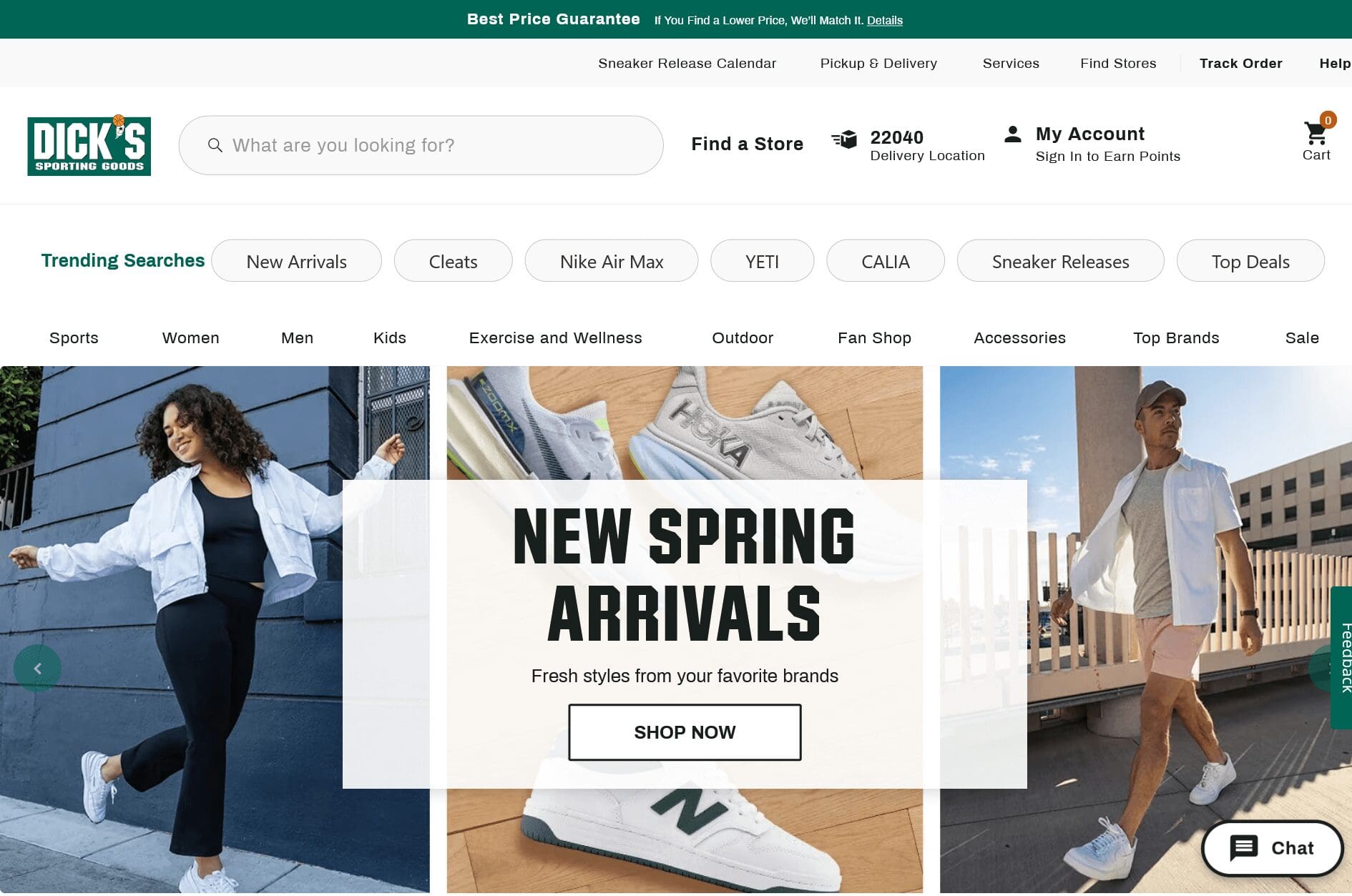 Dick's Sporting Goods has all the sports equipment you could ever need.
Their affiliate program targets people who write about fitness, health, recreation, and more. Sports bloggers are perfect for it! 
The program offers "competitive" commission rates and a product data feed of Dick's products that you can feature on your blog. 
The program is free to participate in, and many things are organized for you. For example, Dick's releases an exclusive newsletter for affiliates and can send you pre-designed banners and pre-written copy to put on your blog (if you choose).
You can earn a 5% commission on all products, and there's a 14-day cookie window, too. Sign up here! 
8. Sports Memorabilia Affiliate Program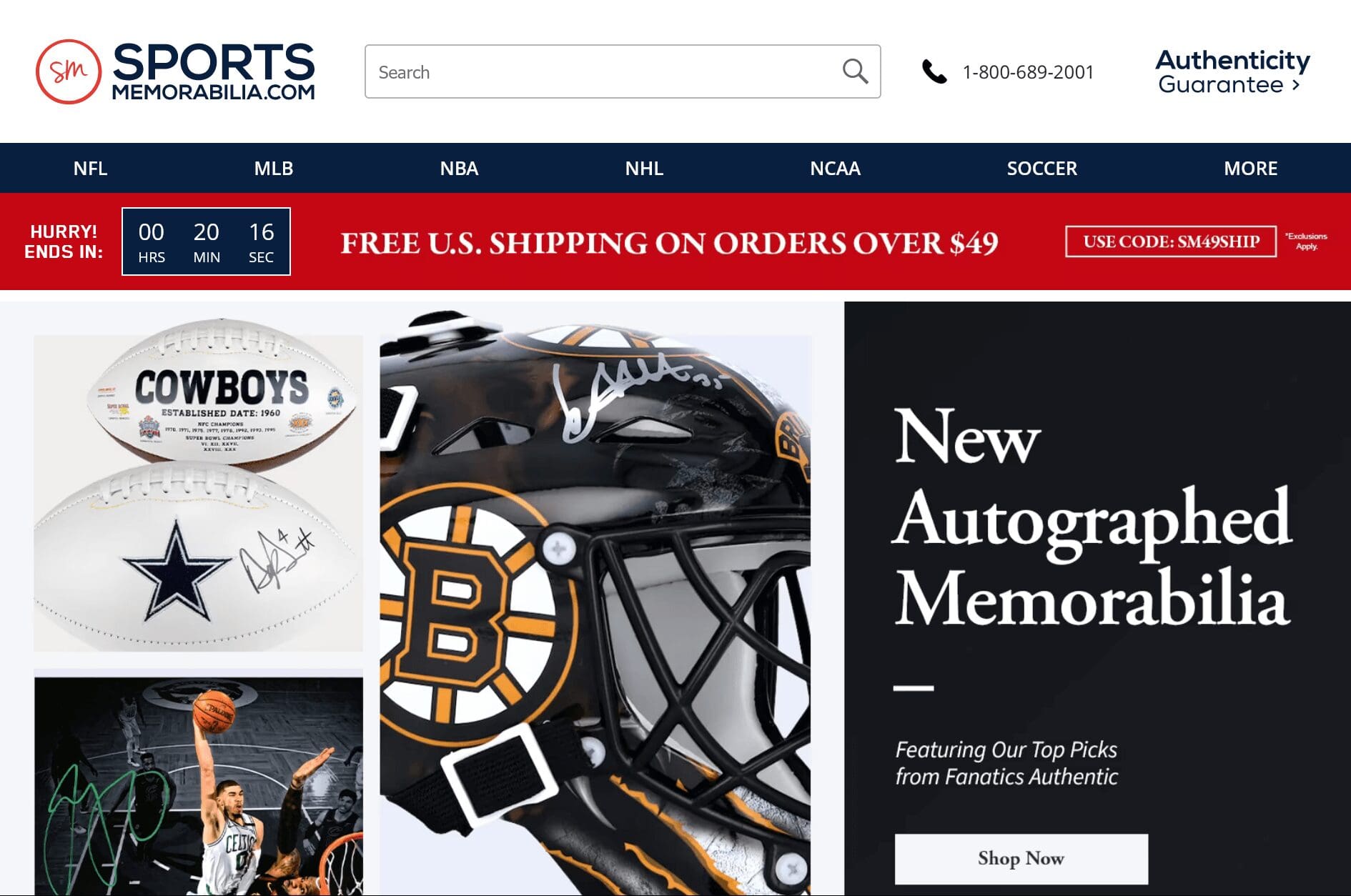 Sports Memorabilia functions in much the same way Fanatics does. It has an enormous database of sports fans and sells sports memorabilia with an authenticity guarantee. 
If you're a blogger who talks about sports uniforms, trophies, collectibles, history, and vintage gear you'll be able to qualify for the program!
You can be paid in cash commissions or FanCash (vouchers for various stores). The default payout is 8%, and the cookie window is 7 days. Check out Sports Memorabilia's affiliate program here.
9. Play Your Court Affiliate Program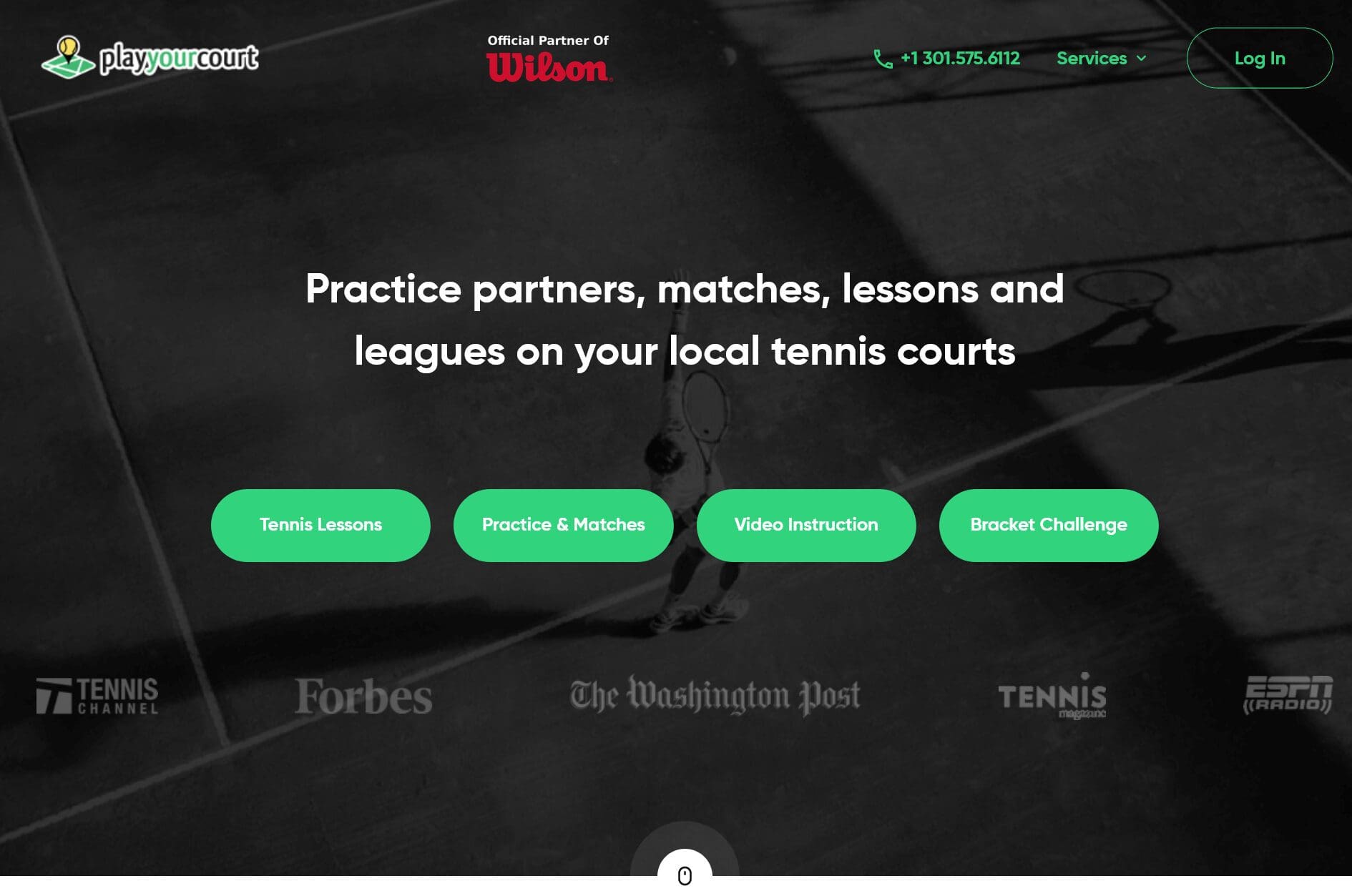 Play Your Court is a tennis organization where you can find tennis equipment, tennis lessons, tennis courts near you, and all sorts of tennis guides. They also partner with Wilson, a major tennis brand. 
Play Your Court has a Brand Ambassador Program, which has a goal of "helping us spread the word and drive sign-ups in your area"! 
If you make it into the program, you'll receive a custom link and tools to promote the Challenge League. 
For every person you sign up, you'll receive $15. The larger your tennis network (blog!) and the more people you encourage to sign up – the more money you will make!
Plus, with a cookie window of 90 days, this is one of the longest windows on our list – increasing your potential to earn.
Learn more about Play Your Court's Brand Ambassador Program here!
10. Total Gym Affiliate Program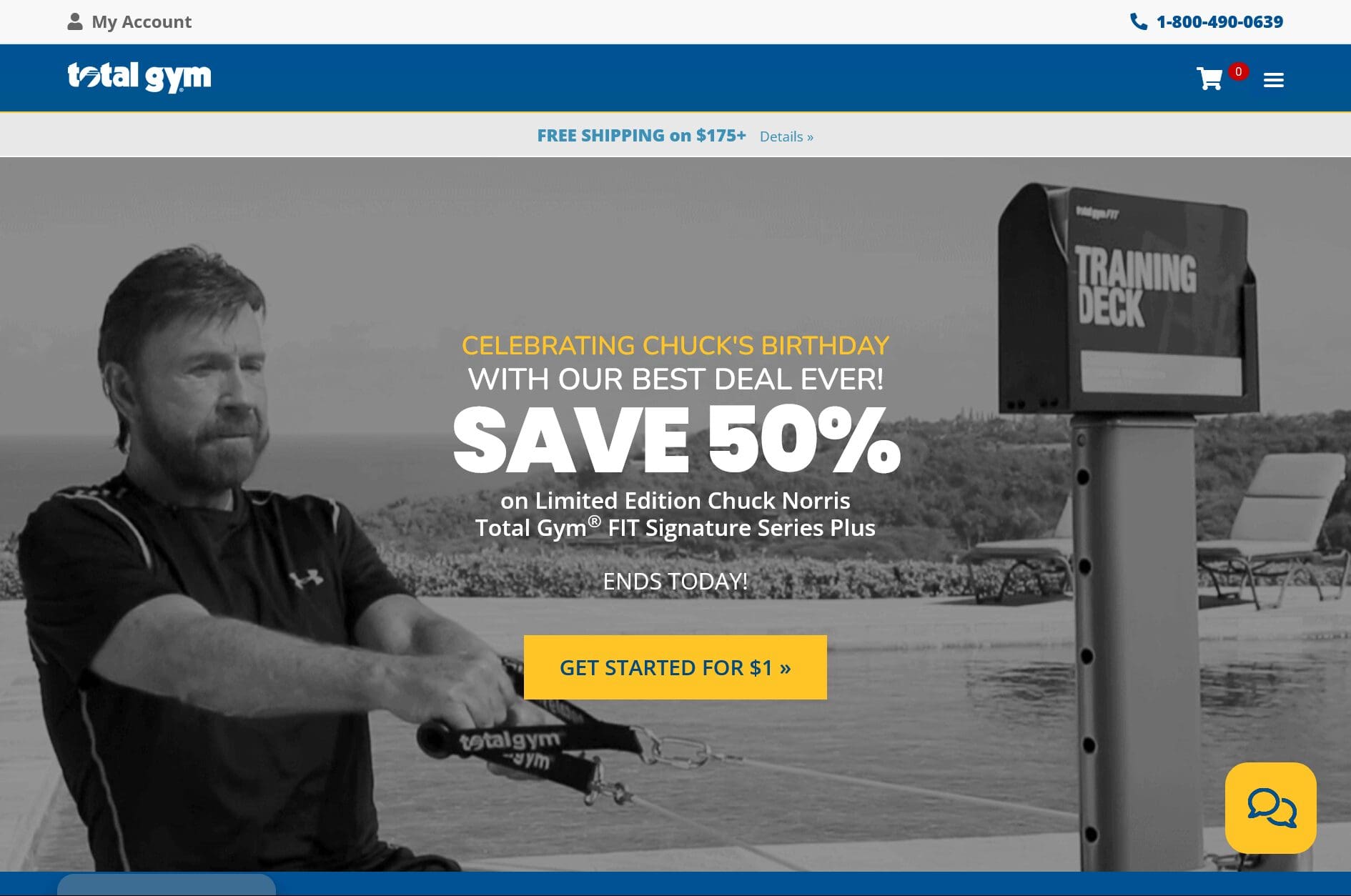 Total Gym is true to its name — the star product is an all-in-one gym machine. 
Bloggers who write about fitness, exercise, gym equipment, and workout plans will be well-suited to this program. 
Affiliates can promote this product as well as two rowing machines, the Total Gym Incline Row and the Total Gym Row Trainer. Lastly, there's Total Gym TV, a streaming workout platform. 
Total Gym has a baseline commission per product type. Full units earn a 7.5% revenue share; attachments earn 3%; DVDs earn 3%; and annual TV memberships earn 3%. The cookie duration is 45 days. 
If this sounds good to you, sign up for the Total Gym affiliate program here!
11. Gainful Affiliate Program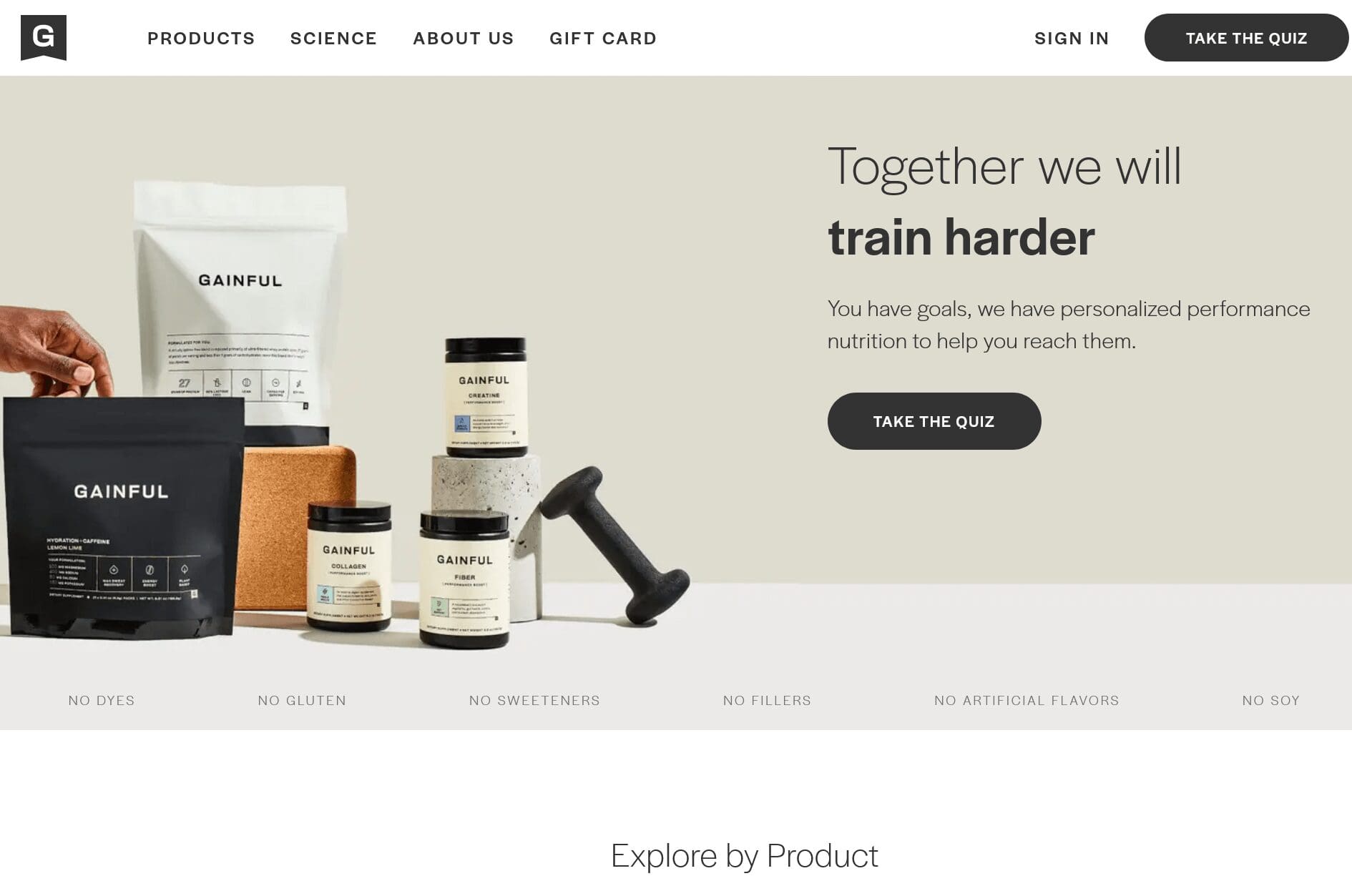 Gainful sells personalized protein powders. Customers can take a five-minute quiz to figure out exactly what they need in their powder!
Bloggers who write about health, wellness, fitness, and dieting will want to get in on this affiliate program. 
It's free to join, and you can track your progress on a custom dashboard. Each sale you make through your link earns you a commission of $30, and their cookie duration is 30 days. 
Gainful also runs a referral program. By using a unique referral code from your Gainful account, you can refer friends to the site!
All your referees receive 50% off their first order. When they purchase something, you automatically get 50% off your next order too. What goes around, comes around — but in a good way! 
You can sign up for the programs here.
Key Takeaways for Sports Bloggers

As a sports blogger, partnering with major sports-related brands is a big deal. 
Not only can you earn a commission for every sale through your link, but you can also strengthen your blog's reputation! 
Just be sure to pick affiliate programs that fit your particular brand and blog. That way, you'll have the most success appealing to your target market. Good luck!