I don't review too many blogging tools. But every now and again, I discover some game changing tool that I spend hundreds if not thousands of hours exploring. KoalaWriter is one of these tools! This article will review KoalaWriter as an AI writing tool for bloggers based on my personal experience, and will include samples of AI generated content produced using Koala.

KoalaWriter is an AI-powered writing tool created by Connor Smith, that has gained popularity among bloggers, marketers, and content creators who are looking to streamline their content creation process and create engaging, SEO-friendly content at scale.
KoalaWriter leverages the power of OpenAI's GPT technology to simplify the content creation process.
Most notably, it quickly produces high-quality blog posts that are ready to publish with just a few clicks.
There are lots of shifts occurring in the digital publishing landscape, including the introduction of AI writing tools. What sets Koala.sh apart from any of the other AI writing tools that I have tested is its ability to consistently produce high quality article drafts that are comparable to what you would receive from a freelance writer charging $.07+ per word.
I've been documenting my use of Koala on my niche site case study. In addition to passing my own personal review, I've managed to build a new site to over 75,000 sessions and nearly $3,000 per month, within the past 6 months, largely using the content produced by Koala. So, it's safe to say there are plenty of ways to monetize the content produced by this tool!
While I love Koala, there is a substantial learning curve required to master AI prompt engineering and to learn when you should use Koala (and when you are better off writing content yourself).
That said, Koala has an easy to use interface, does not require coding or technical skills, and the developer is actively making improvements to the software on a regular basis.
Features of KoalaWriter (That I Love)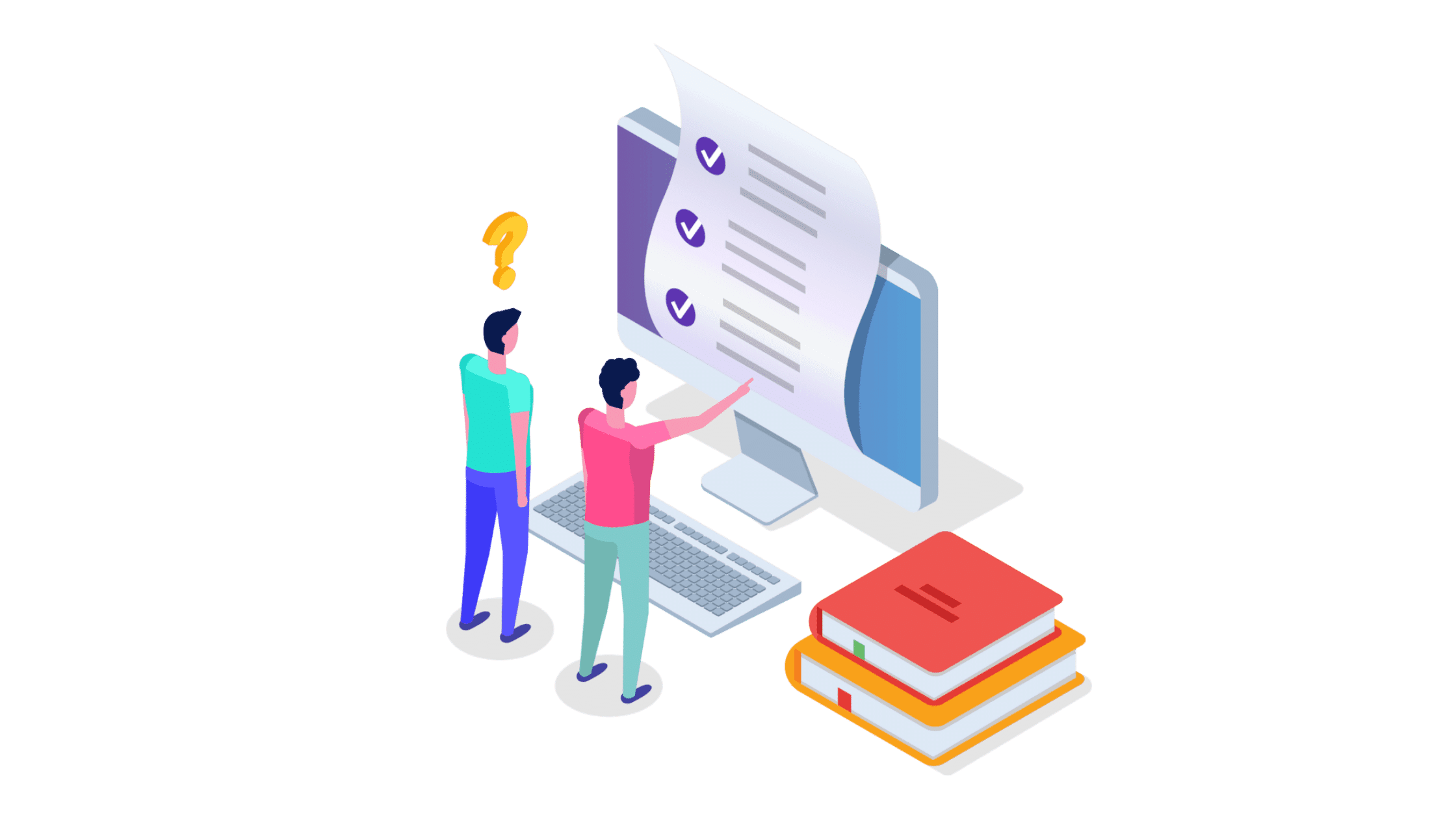 1. One Click Article Creation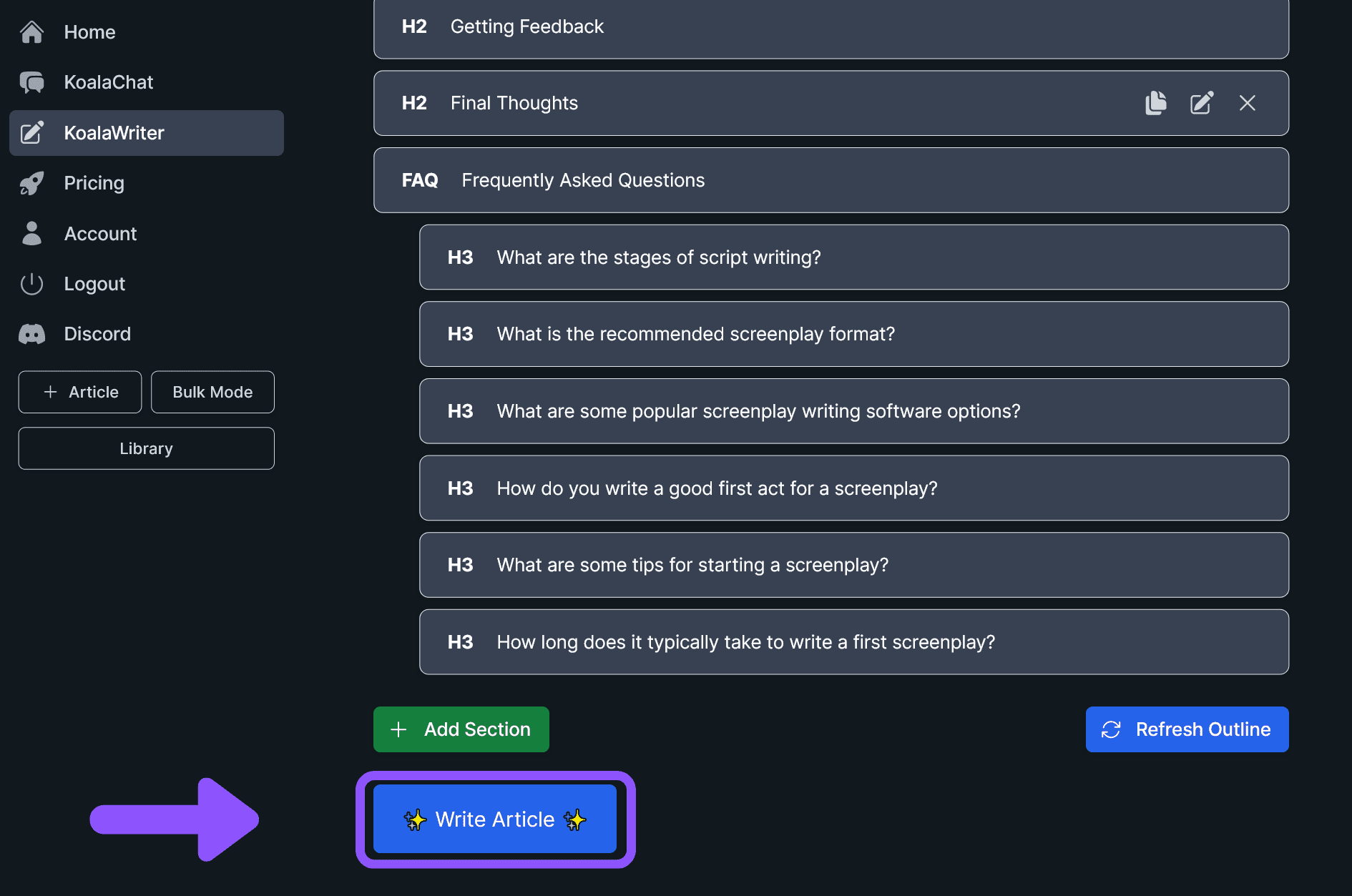 KoalaWriter's One-Click Article Creation feature is a game-changer for content creators looking to streamline their writing process. With just one click, users can generate SEO-friendly articles that are optimized for search engines, social media, and newsletter content.
The One-Click Article Creation feature is incredibly easy to use. Users simply type in their article's topic, click on the "Write Article" button, and let KoalaWriter do the rest.
The AI-powered tool generates a complete article that is ready to be published or edited further. The process is straightforward, and users don't need to have any prior experience in content creation to use the feature.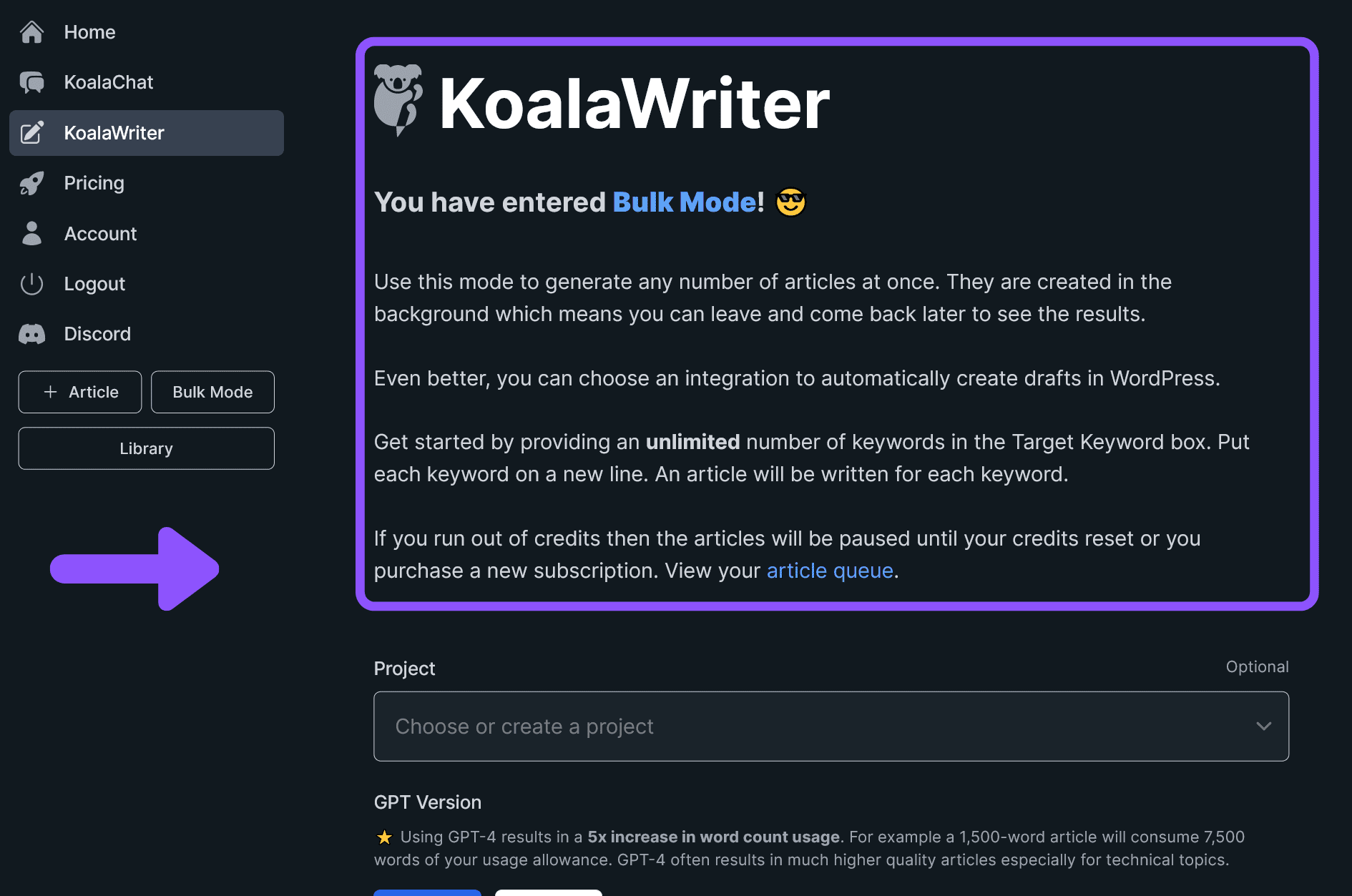 Bulk article mode allows you to generate any number of articles at once. They are created in the background which means you can leave and come back later to see the results.
Get started by providing an unlimited number of keywords in the Target Keyword box. Put each keyword on a new line. An article will be written for each keyword.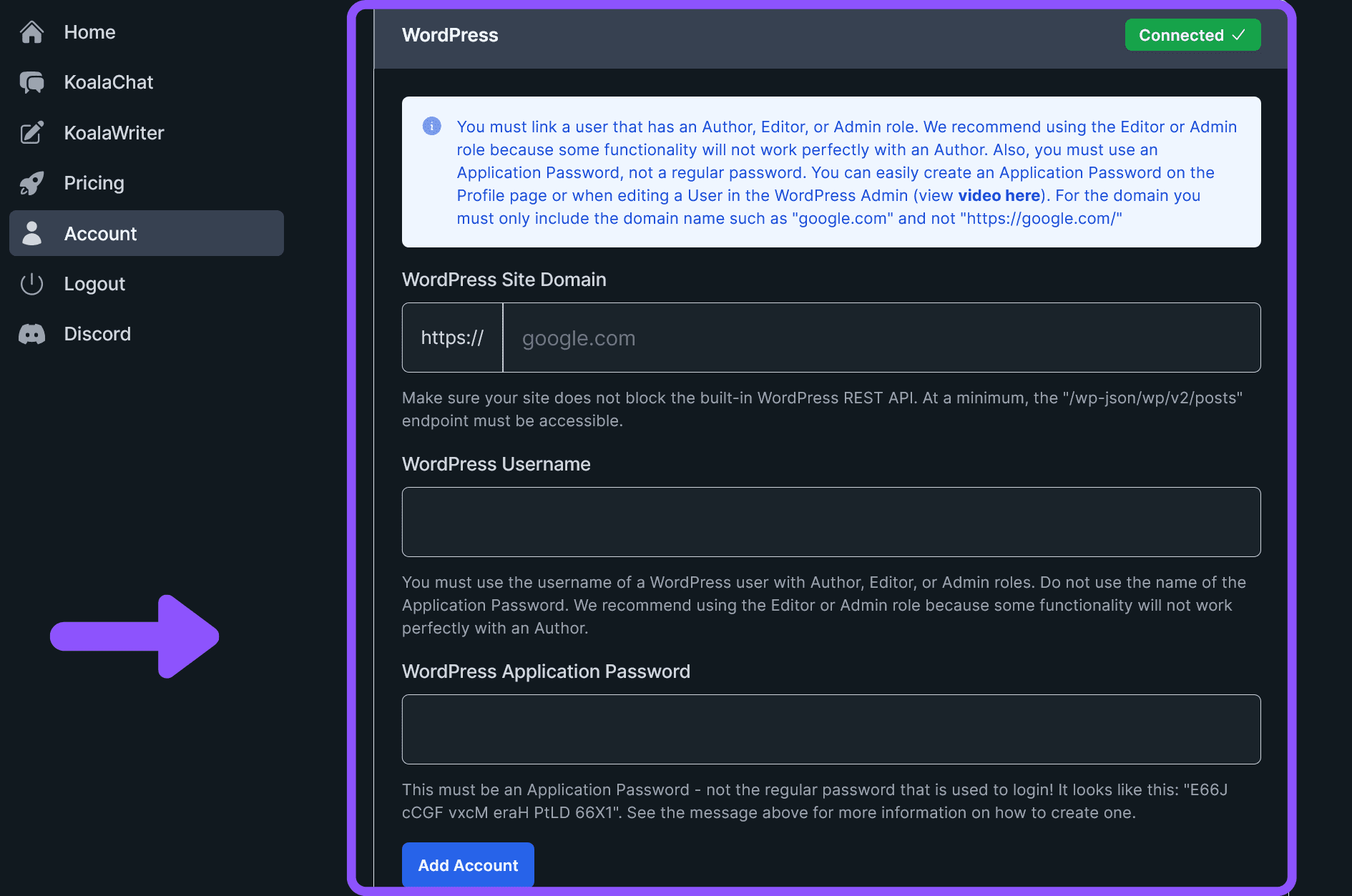 Koala allows you to upload your articles as drafts, directly to your WordPress website.
This can be achieved by creating a simple WordPress application, which allows Koala limited access to your site.

You can connect multiple websites to your Koala account and either bulk upload directly to the site of your choice, or manually view drafts of each article in Koala, and select which of your connected WordPress sites you want to upload to.
4. Customizable Article Settings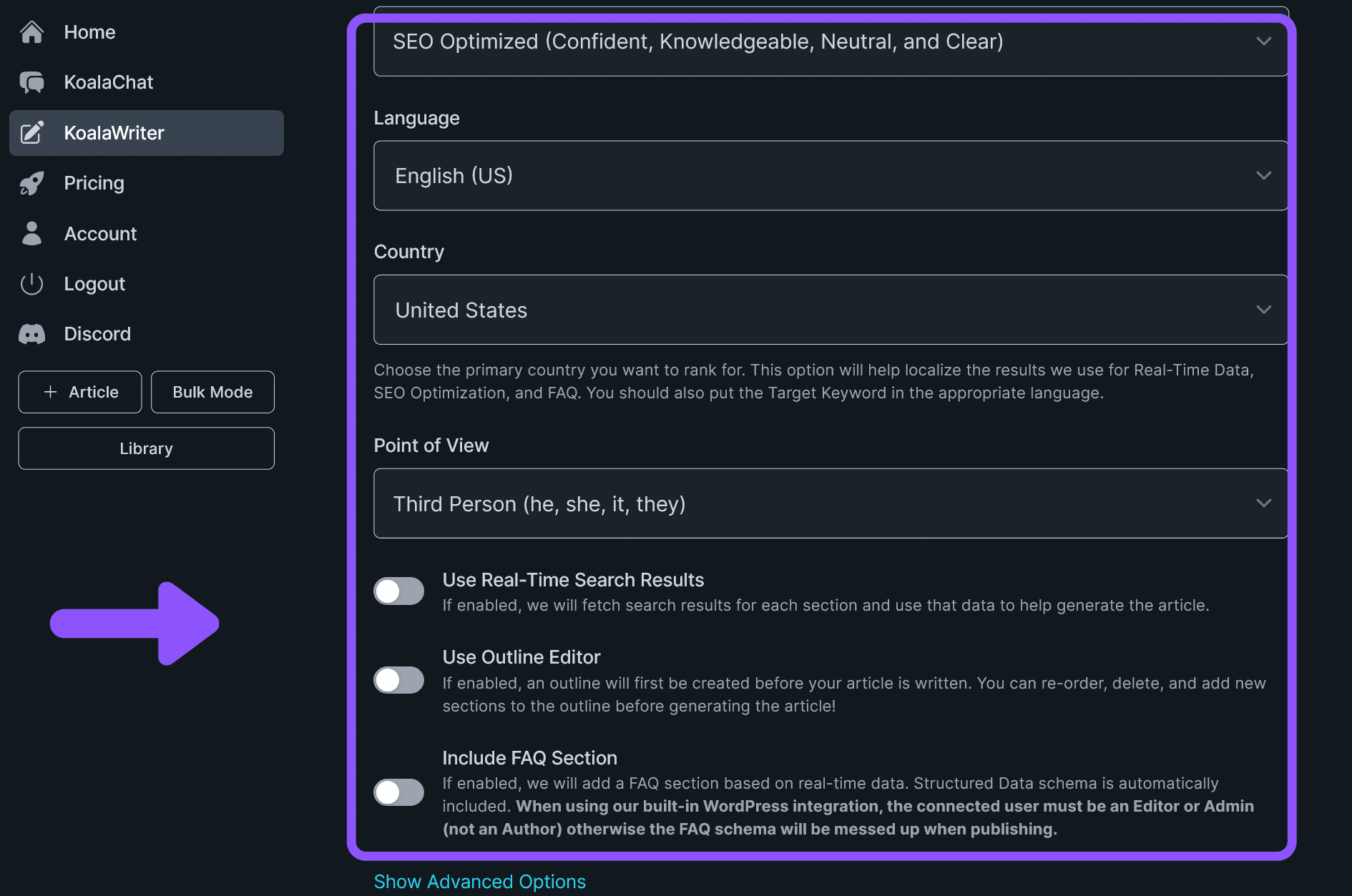 Koala is a fantastic tool, partially because of all the customizations users can make to their article text.
Some of these settings include:
Enabling Real-Time Search

Using the Outline Editor Before Generating an Article

Adjusting the Tone of the Article
Changing the Language of the Article
Editing the Point of View From Which the Article is Written
5. Offers Both GPT 3.5 and GPT 4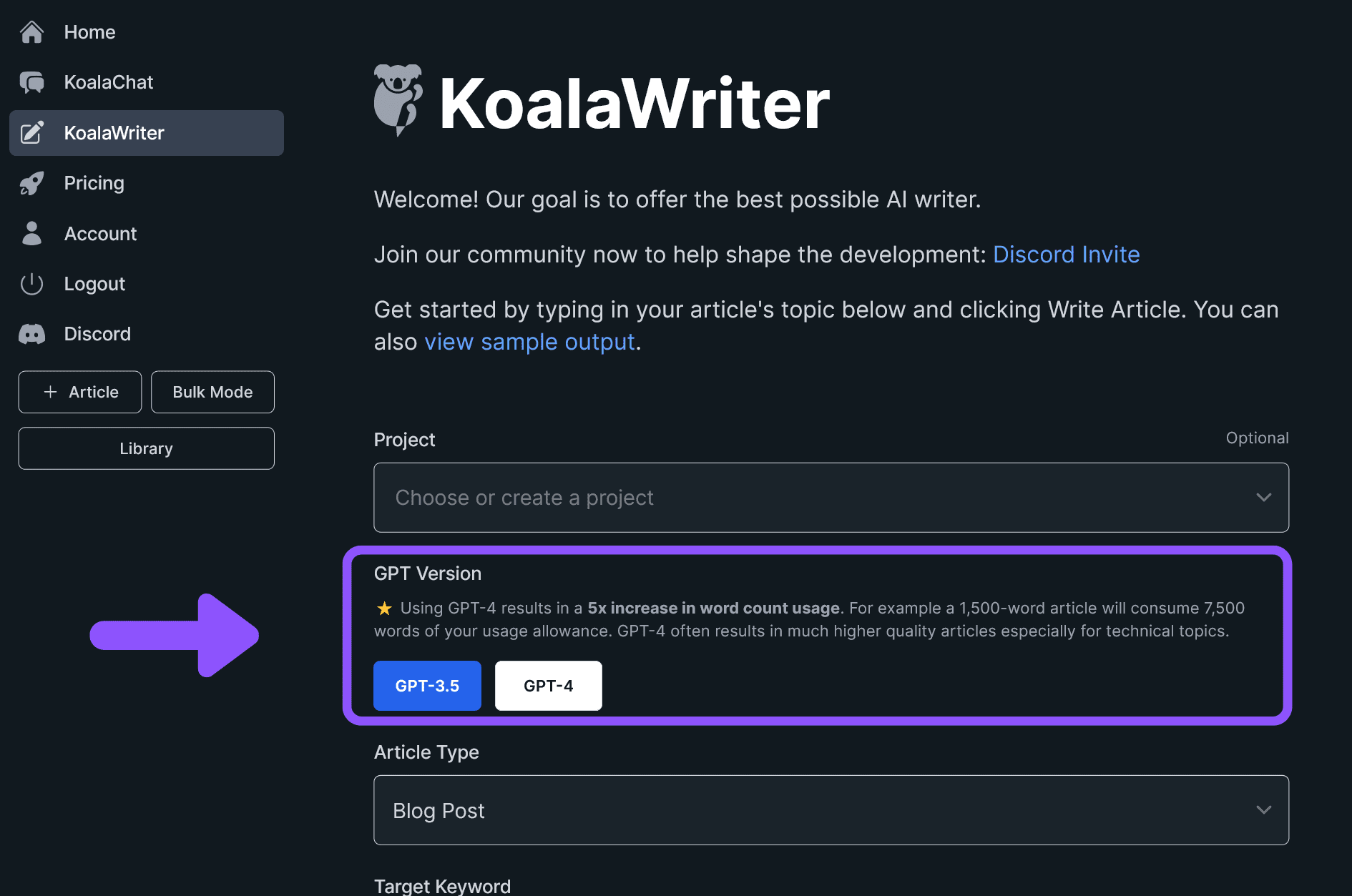 Koala allows users to choose which version of GPT it uses when generating your article. The current two options include GPT 3.5 and GPT 4.
All Koala plans contain a set number of words (basically credits) that you can use every month under your plan. GPT 3.5 usage counts each word produced as a single credit.
For example, if you generate an article that is 2,000 words in length you will be charged for 2,000 words.
However, GPT-4 is more expensive to run, and generating content using GPT 4 will count 5x more toward your total allotted wordcount.
So if your article generated with GPT 4 runs 2,000 words, it will cost you the equivalent of 10,000 words worth of Koala credits.
The nice thing is, Koala allows you to choose which GPT version you want to use on an article-by-article basis.
Meaning, if you are writing a really technical and complex article, you can make use of GPT 4, whereas, if you are writing a simple roundup post, you can instead use GPT 3.5.
6. Customizable Outline Editor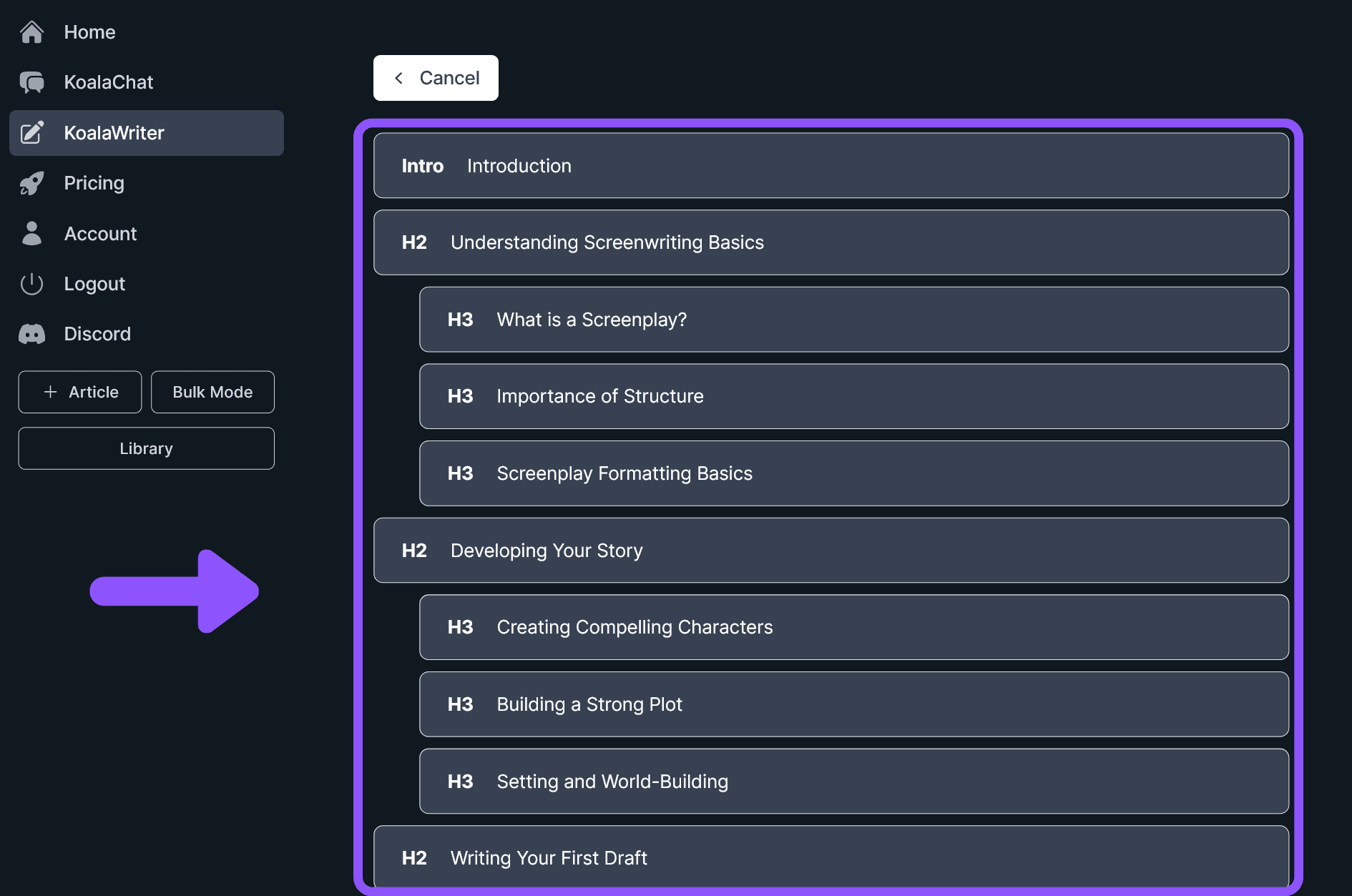 If you want to customize your output more, you can enable Koala's Outline Editor. Doing this will enable you to add, remove, or rearrange article sections before creating the article.
You can also add additional instructions to each section (specific keywords to cover in section, topics to cover, add additional section prompts, etc.).

7. Custom Article Sections (FAQ Section, Key Takeaways, etc.)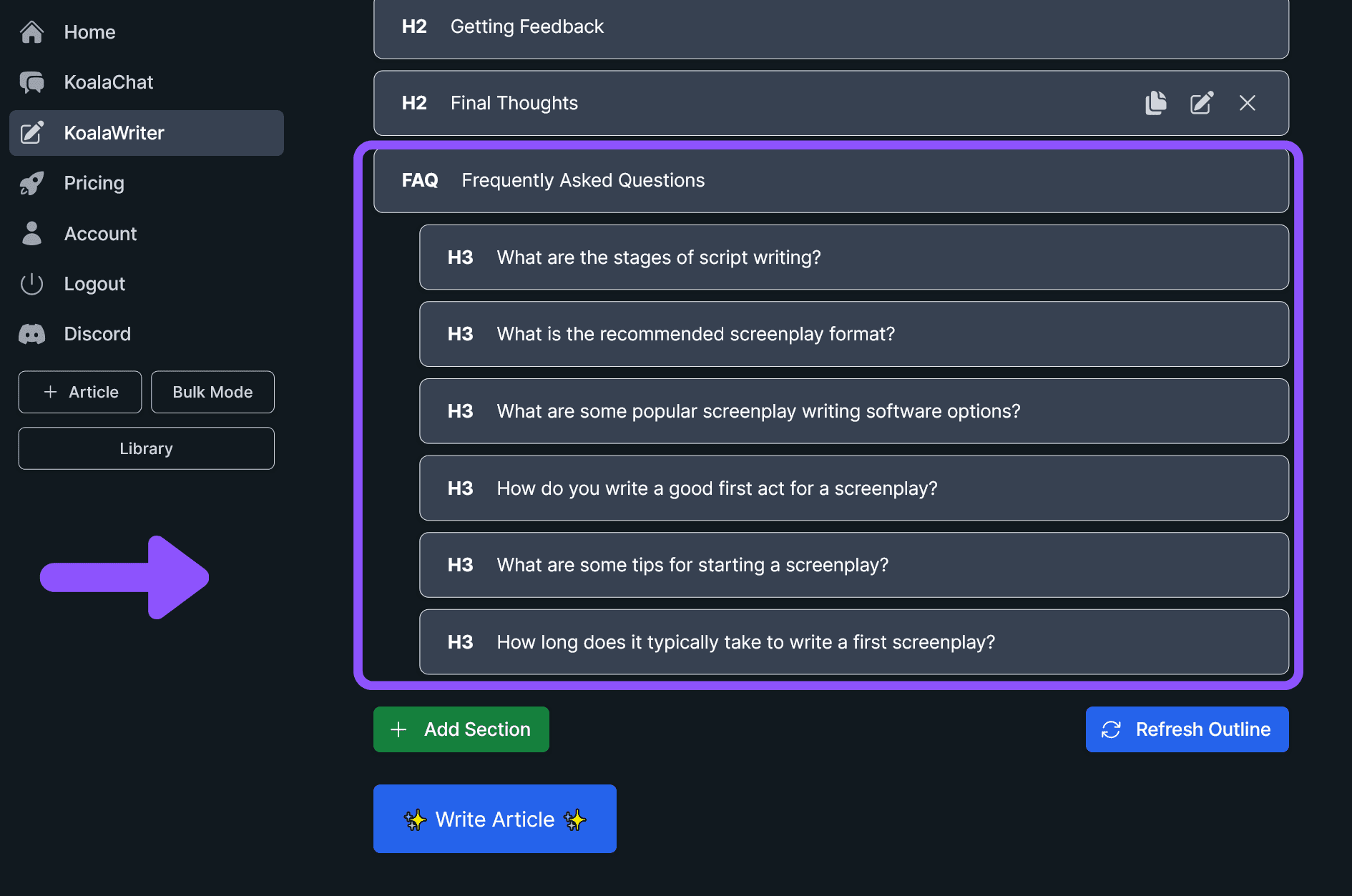 If enabled, Koala will add a FAQ section based on real-time data. Structured Data schema is automatically included.
8. Multiple Article Types Supported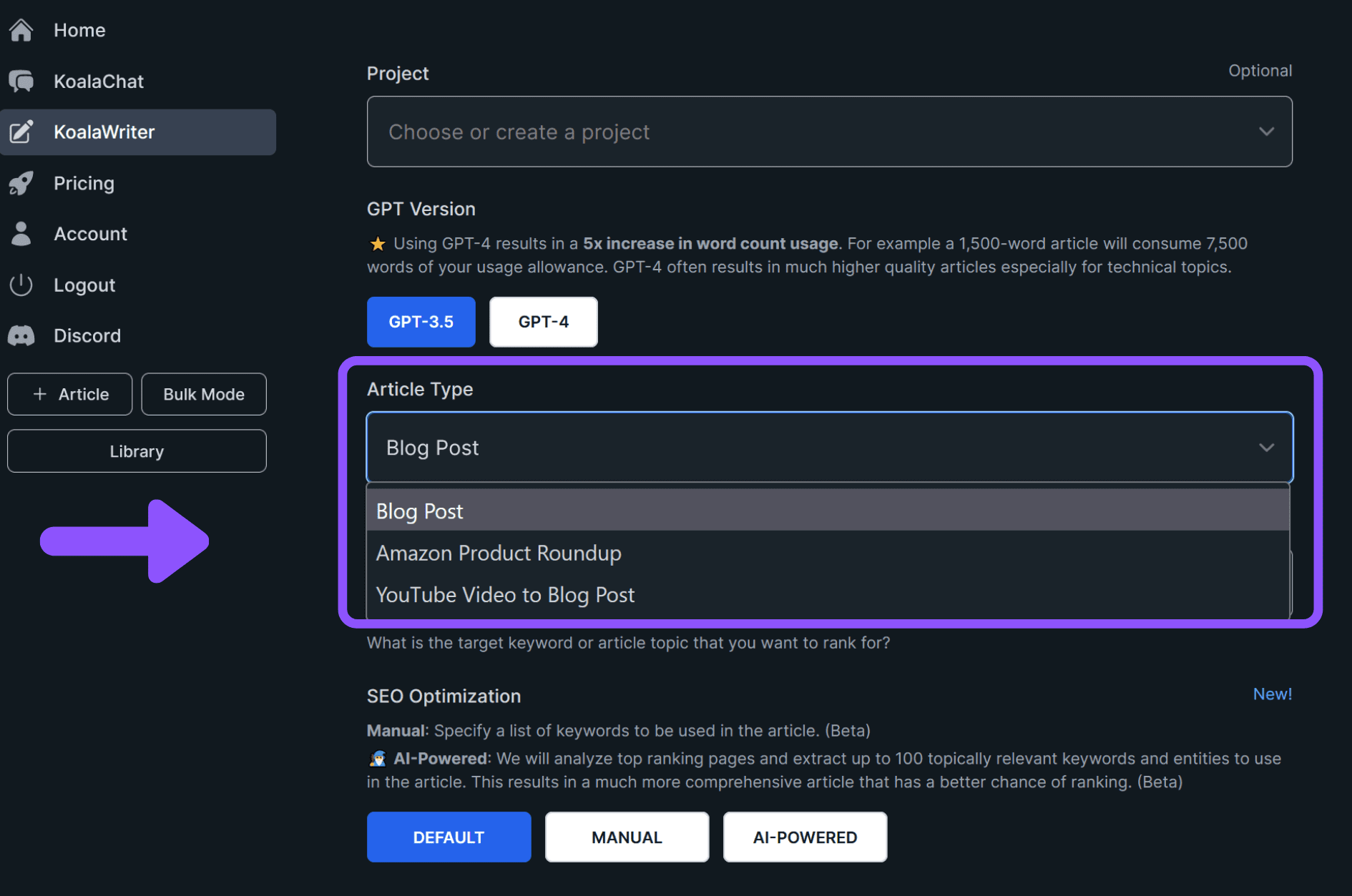 Koala originally only offered one article type (a typical blog post). However, it has since introduced two new article types, meaning users can pick from three article types when generating an article:
Blog Post: As a one-click AI writer, creating blog posts with KoalaWriter is easy. You simply input your target keyword, optionally edit your prompts, click "Write Article," and you'll have the finished output in minutes.
Amazon Product Roundup: If you want KoalaWriter to affiliate articles, select the Amazon Product Roundup article type. By default, the Amazon Product Roundup article type will include an introduction, a number of Amazon products, and a buying guide.
For Amazon product roundups, your target keyword should be the product type you want to create affiliate links for.
Here, you can choose which Amazon domain you want KoalaWriter to get products from. For example, if your target audience is Japanese, then you might choose the Japanese Amazon domain (Amazon.co.jp).
Simply choose how many products you want KoalaWriter to review in the article. You can enter any number up to 48.
If you enable First-Hand Experience, KoalaWriter will review the articles as if it has experience using them. If you don't want the article to be written like this, then click the toggle to disable this.
Paste your Amazon Affiliate ID here so KoalaWriter can automatically add it to the product links in the article.
YouTube Video to Blog Post: This allows you to create a blog post based on a YouTube video. To use it simply choose the "YouTube Video to Blog Post" Article Type.
To get the best results, make sure to choose the correct Point of View (usually the same one the video is in) and use the Outline Editor to make sure it has the desired sections.
Limitations: English captions must be available for the video. Also, there is a limit to the length of the captions that we use to create the blog post so it can seem cut-off if the video is too long (usually longer than 10 minutes). Based on feedback and usage we plan to have it work for videos of any length in the future.
Examples of KoalaWriter AI Generated Content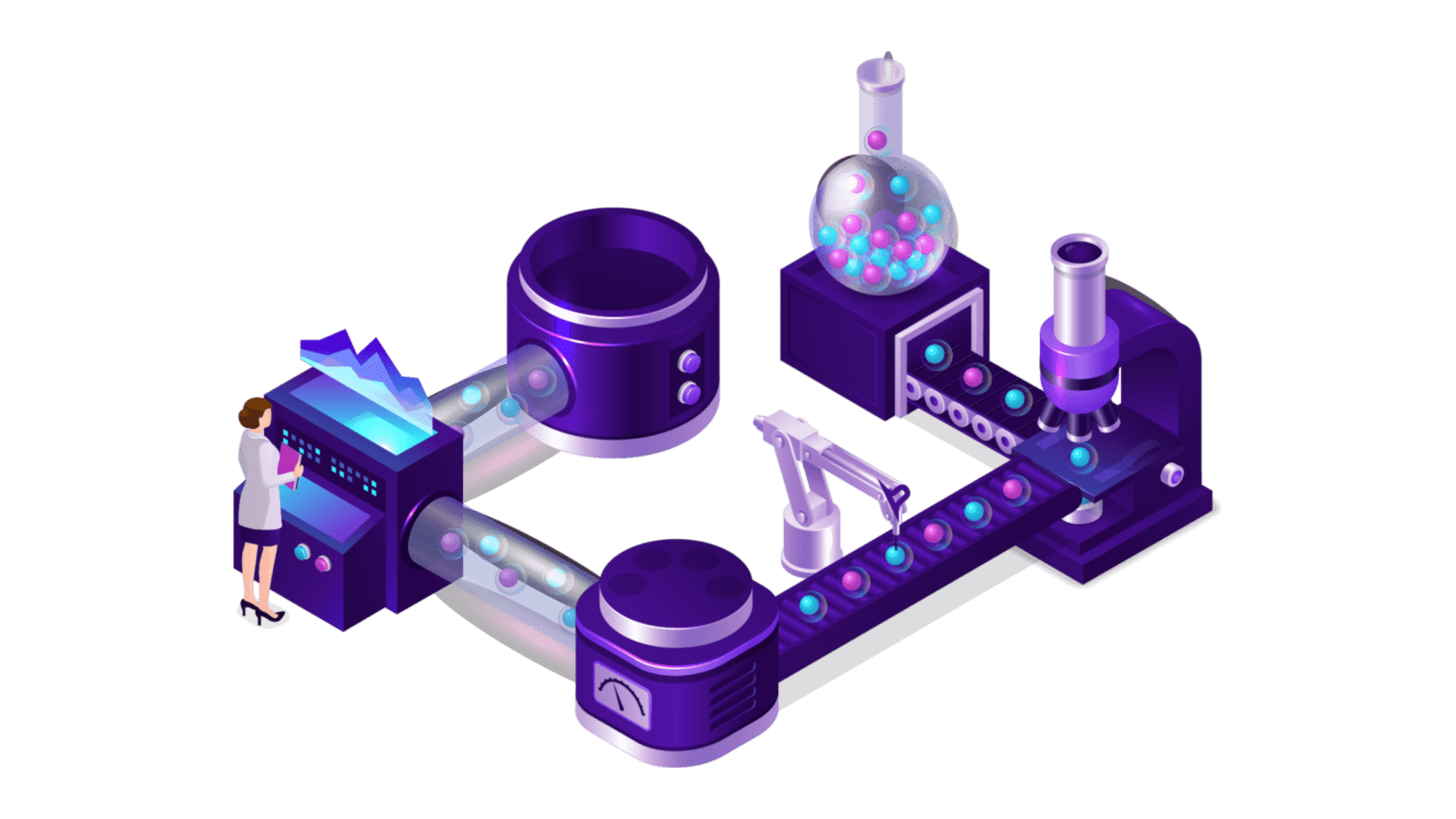 I realize that this is a fairly revolutionary tool for many bloggers, and a written review describing the features, pros, and cons can only offer so much insight. So I decided to use some of the credits from my account to generate some articles using KoalaWriter.
Example 1: Article Generated for Target Keyword "How to Become a Faster Writer"