Medium is one of the better known free blogging platforms. The site features amateur writers alongside well known writers for major media publications. Medium writers are paid through the platform's Partner Program, which distributes money based on total article read time. The site is popular among bloggers because it is free for writers, requires no web design or technical expertise, and its posts are beautifully formatted.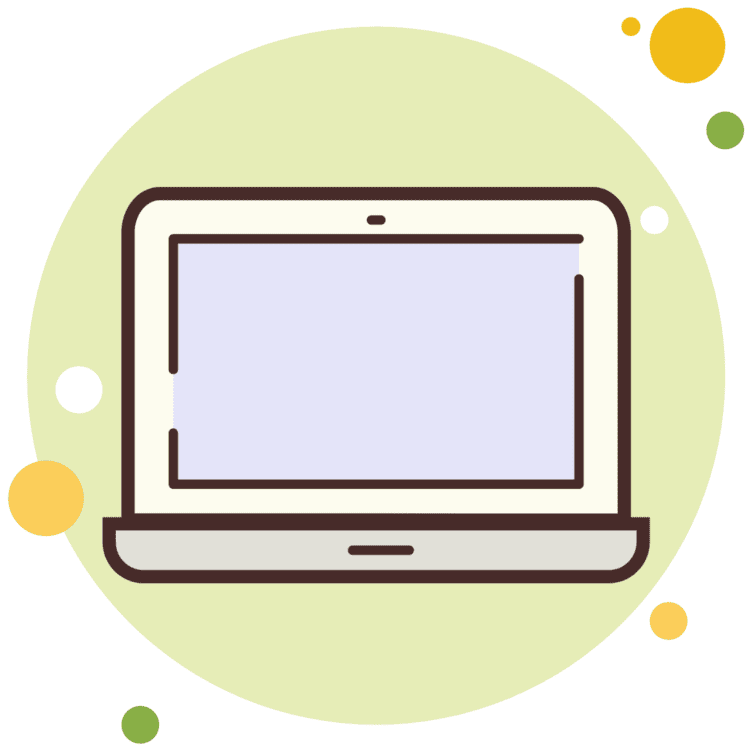 Download Blogging Guide's Medium writing course to get started making money on Medium.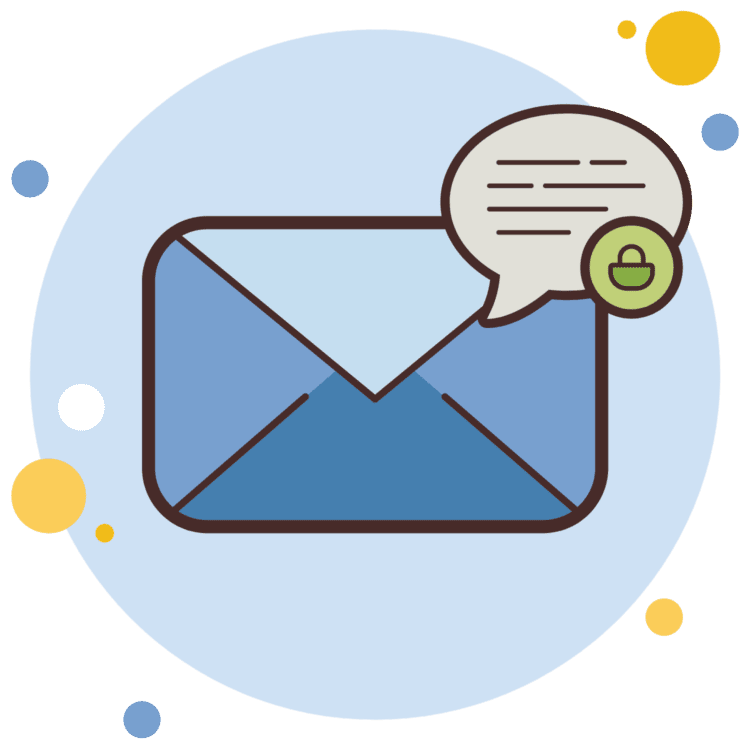 Sign up for our newsletter for the latest tips, tricks, and news related to Medium.
Ease of Monetization

Platform Stability

Integration with Self-Hosted Blog

Publishing Tools

Writer Support
Platform Details
Name: Medium
Date Founded: August 2012
Website: Medium.com
Medium was created by Ev Williams in August 2012. Williams coined the term "blogger" and was instrumental in the popularization of the term "blog". In many ways, Medium is the natural extension of Williams' previous companies, Blogger and Twitter. Medium makes writing and publishing content of all lengths incredibly simple.
Medium FAQs
This section contains answers to some of the most frequently asked questions about Medium.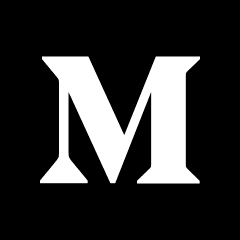 What is Medium?
Medium is one of the most popular blogging and digital publishing platforms on the Internet. It allows anyone to easily create and publish a blog post, with a sleek and minimalist design. Medium is popular among writers because of its Partner Program which allows writers to get paid for articles that are posted on the platform.
Who can write on Medium?
Anyone can write on Medium. Amateur writers have the opportunity to write alongside professional authors. Writing on Medium is free for all authors.
How can I find publications looking for submissions?
If you want a comprehensive list of all publications created, Smedian and TopPub. Both of these platforms list and organize Medium publications. If you are looking for a filtered list of actively run publications, whose editors won't waste your time, I would suggest checking out Active Publications. Active Publications is a compilation of active Medium publications accepting article submissions. Writers can also create their own Medium publication.
What tools do you recommend for new Medium writers?
Some of the writing tools that are very useful to new and experienced Medium writers:
Medium Writing Course – Blogging Guide's course is an affordable and extremely helpful tool for writers learning how to make money through the Medium Partner Program.
Medium Article Capitalization Tool – This is a tool I built specifically for Medium writers who struggled with proper article capitalization (which affects, among other things, your ability to be curated on Medium). Just enter your title or subtitle and our tool will automatically format the capitalization to ensure it meets Medium's expected style.
Smedian – If you are looking for a comprehensive list of publications on Medium, then Smedian is an essential (and free) tool. One limitation of Smedian is that it shows you all the Medium publications that have been created, and not the most active ones (many are inactive and not accepting article submissions). This is why I created the next tool on our list:
Active Publications – Active publications is a Medium publication featuring hundreds of Medium publications actively looking for writer submissions. While it's by no means comprehensive, it is a great place to start.
Signal – One of the most common complaints among writers is that they don't know how to effectively promote their articles outside of Medium. This is especially true when it comes to social media platforms, such as Twitter. PenSignal helps address this issue by automatically tweeting links to your articles on a predetermined interval. I personally use this tool and have found it to be one of my most efficient article promotion tools.
Medium Writing Facebook Group – I created a Facebook group for Medium writers to discuss the ins-and-outs of writing and monetizing content through Medium. There are several Medium writer Facebook groups, but my group is called Medium Writing. All writers are welcome!
Medium Writer Newsletter – Last, but not least, is my Blogging Guide newsletter. Sign up to get access to the latest news in the digital publishing space and learn how to monetize your online writing.
How does Medium calculate Partner Program earnings?
Medium calculates its writer payments based on the total time Medium paying subscribers read an article, known as member reading time. Medium then pays writers proportionally, a share of the $5 per month subscriber revenue. Writers whose articles have a higher member reading time, are paid more.
More recently, Medium implemented a new compensation program which awards top earning Medium writers tiered bonuses.
How much money can writers make blogging on Medium?
What is the difference between Medium and other similar platforms?
Medium vs. Substack
Medium and Substack may serve an overlapping user base, but the actual offering of each platform are quite unique. Medium allows bloggers to easily create, publish and monetize their blog. Substack allows users to create a subscription-based email newsletter and charge readers for access to this content. Learn more about the differences between Medium and Substack.
Medium vs. WordPress
Medium allows bloggers to publish content to Medium's platform. WordPress allows bloggers to create their own website/blog which is self hosted. While creating your own self-hosted blog requires more effort, it gives users a greater degree of freedom in designing the layout and customizing the features offered on their blog. Learn more about the differences between Medium and WordPress.
Medium vs. Quora
Medium was created to host longform content. It is both a platform and a publisher. The content is housed behind a metered paywall, in an attempt to get readers to subscribe to its vast array of content. Quora is intended to be a question and answer site. It does not put up a paywall but it does have an adwall which encourages readers to sign up and become users. Quora generates money through ad revenue. Learn more about the differences between Medium and Quora.
Medium vs. Amazon
Medium is a platform for publishing blog posts. Amazon KDP is a platform for publishing eBooks. Learn more about the publishing opportunities on Amazon KDP.
Design / Aesthetic
Medium's layout is simple, clean, and allows anyone to create a stylish post or publication with minimal technical expertise.
Medium's engineers and designers have spent a lot of time developing fonts, page layouts, and formatting features which all display beautifully, on any size screen.
Unless you are quite tech savvy, this is surprisingly hard to replicate on your own self hosted blog.
Clean design is not only reassuring to writers who are investing their time in the platform, but readers who are confronted with a deluge of websites, blogs, and articles on a daily basis.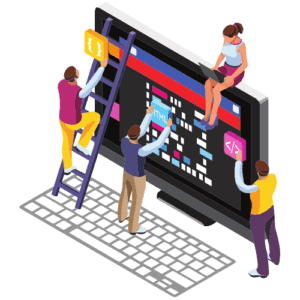 Massive Built In Audience
Medium has nearly 100 million unique monthly readers. It also has somewhere between 200,000 and 400,000 paying subscribers.
For a new writer, Medium has an unparalleled built in audience.
While there is plenty of competition among writers, you can gain a following and earn money for your articles, due to this built in audience, in a relatively short period of time.
It would take years to replicate even a fraction of this traffic on a new self hosted blog.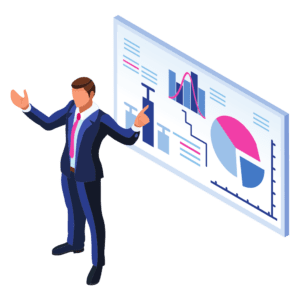 Premonetized Structure
After finishing an article on Medium, you have the opportunity to check the box to be eligible for curation review and distribution across Medium.
Checking this box means that your story is also eligible to be part of Medium's metered paywall, and can earn money if you are in the Medium Partner Program.
You don't need to install on page advertisements, use affiliate links, or promote products (which is how you would typically monetize a self hosted blog).
Medium's Partner Program allows you to instantly monetize your content.
Write. Publish. Earn.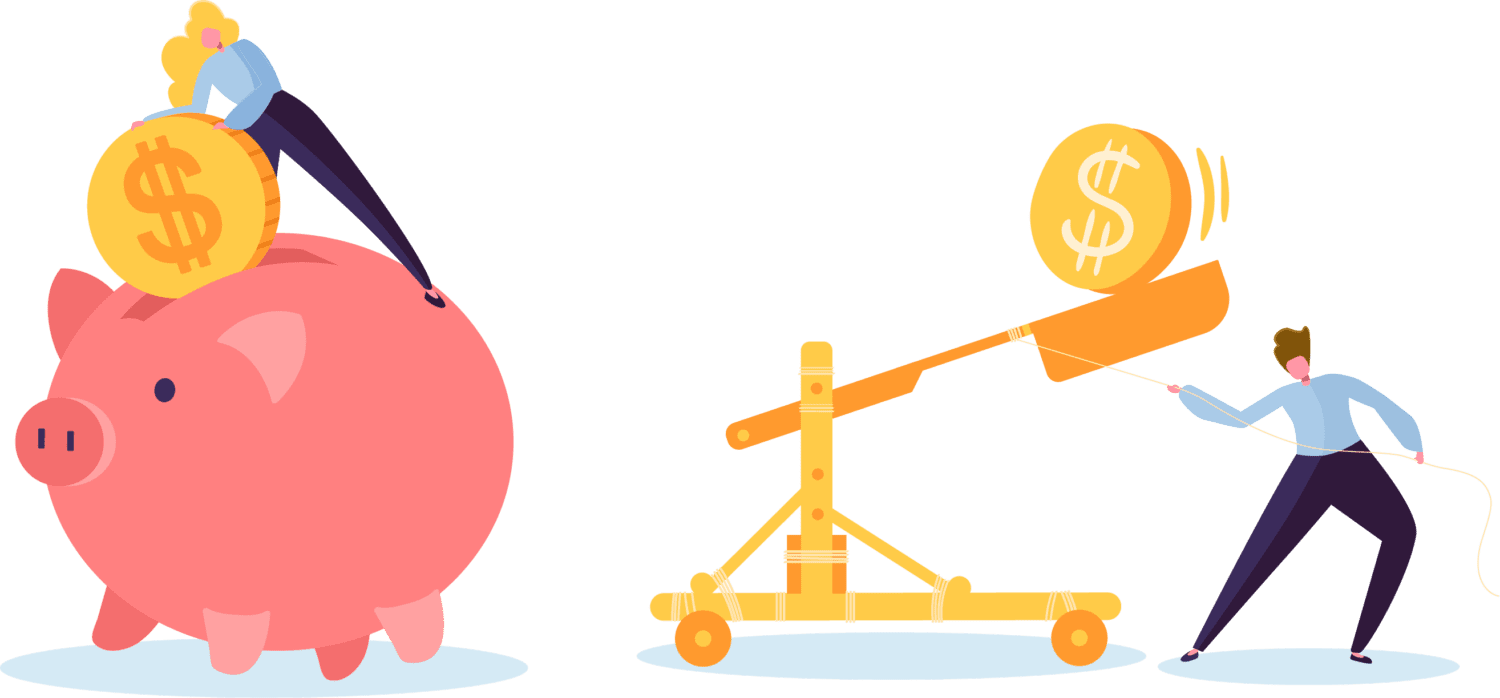 Domain Authority
Medium has extremely high Domain Authority.
Domain Authority (DA) is a search engine ranking score developed by Moz that predicts how well a website will rank on search engine result pages (SERPs). A Domain Authority score ranges from one to 100, with higher scores corresponding to a greater ability to rank.
Medium's 95 Domain authority makes it a force to be reckoned with when it comes to competition among otherwise equal pages in search engines.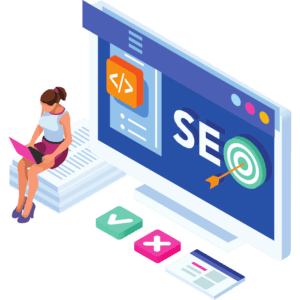 Medium Potential Earnings



One of the reasons writers love publishing on Medium is that they are eligible to earn  money through the Medium Partner Program. The Medium Partner Program (MPP) is the compensation program through which Medium pays its writers. Medium pays its writers based on total member reading time.
How much can writers actually earn on Medium?
The two charts below offer some data points around potential medium writer earnings.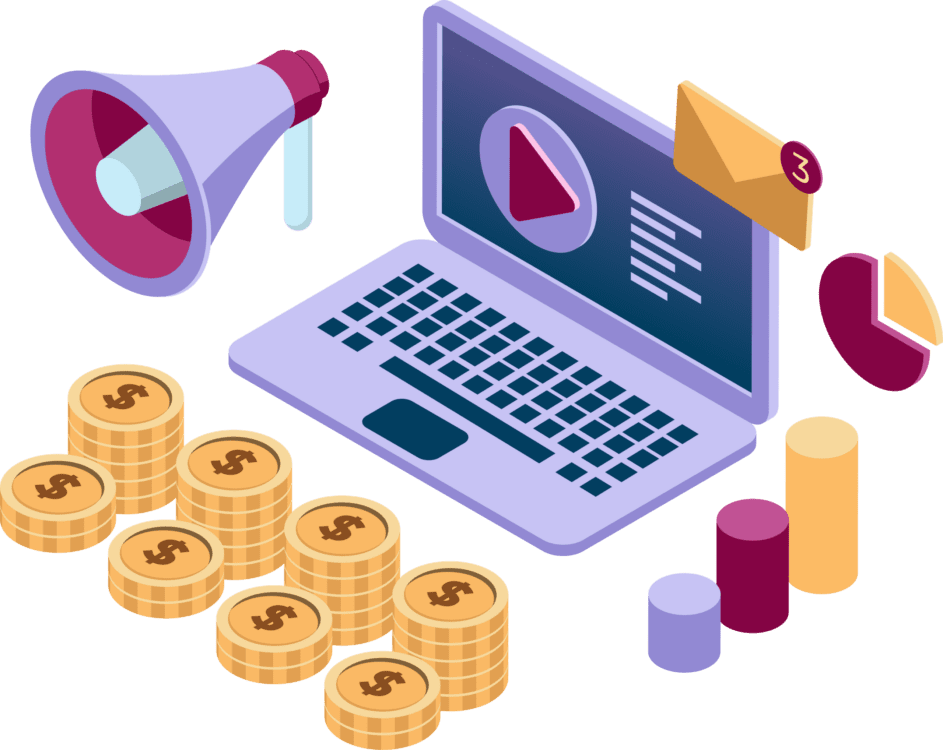 The first chart shows Medium Partner Program historical earnings data, released by Medium in their monthly update. The first tab shows the most earned by any single author in a month and the second tab shows the most earned by a single story in a month.
The second chart shows Medium Partner Program historical earnings data, released by Medium in their monthly update. The dark blue line represents the percentage of active Medium authors who earned any money that month. The light blue line represents the percentage of Medium authors who earned over $100 that month.
Medium is one of the most popular publishing platforms on the Internet. And when you stop and evaluate Medium and what it offers as a platform, it is easy to see why.
Whether you are a writer who is considering creating a Medium account, or you are an experienced blogger who is debating exploring other platforms, Medium has a lot to offer.
No website design required
While Medium is an amazing platform, there are a number of limitations. Not all of these limitations are unique to Medium specifically, but they are still worth mentioning.
Most of the limitations center around the lack of writer control, which is a natural trade off when a writer publishes content on any third party platform.
Inability to customize article format
Articles can't be monetized with ads
Writers can't natively build exportable email list
Hard for new writers to develop a following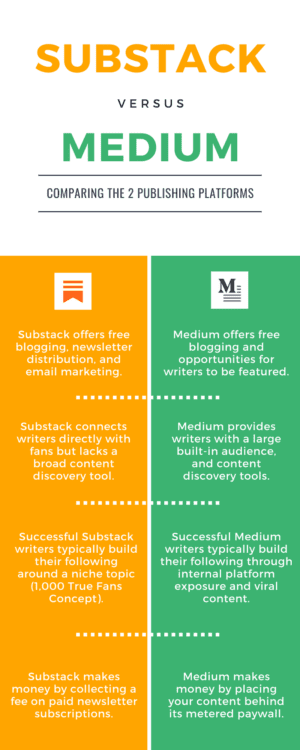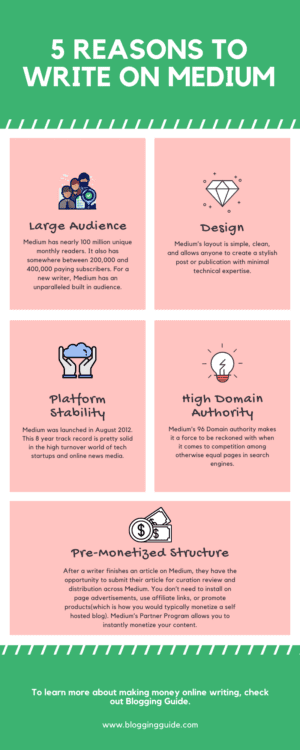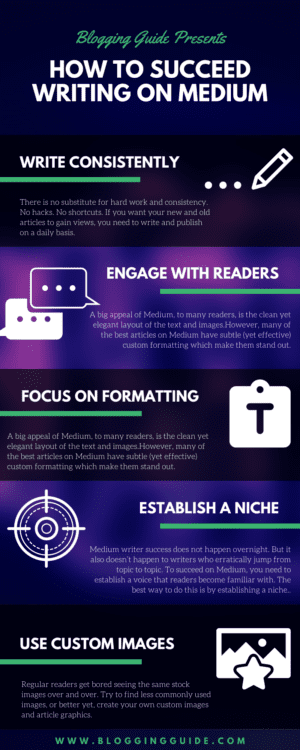 Medium Article Formatting

If you are a new writer on Medium, or an especially curious one like me, you probably have looked at ways to improve the formatting of your Medium articles.
Medium has published a couple articles on article formatting, but many are useless to new writers. These articles are typically outdated, lack proper visuals to demonstrate how to use various features, and even if there is quality information, it is usually distributed across a seemingly random array of articles.
To learn more about Medium article formatting, read our comprehensive guide. To learn more about the formatting options included in the Medium editor, hover over the interactive purple "+" icons below:

Click the "B" button to create bold text.
Click the "i" icon to italicise text.
Click here to create hyperlinked text.
Click here to increase title text size.
Click this button to decrease title text size.
Click this icon to create block or pull quotes.
Click this icon to create drop caps letter.
Click here to leave a private note on an article.
Medium Platform Statistics

in global website rankings