Best Affiliate Programs on PartnerStack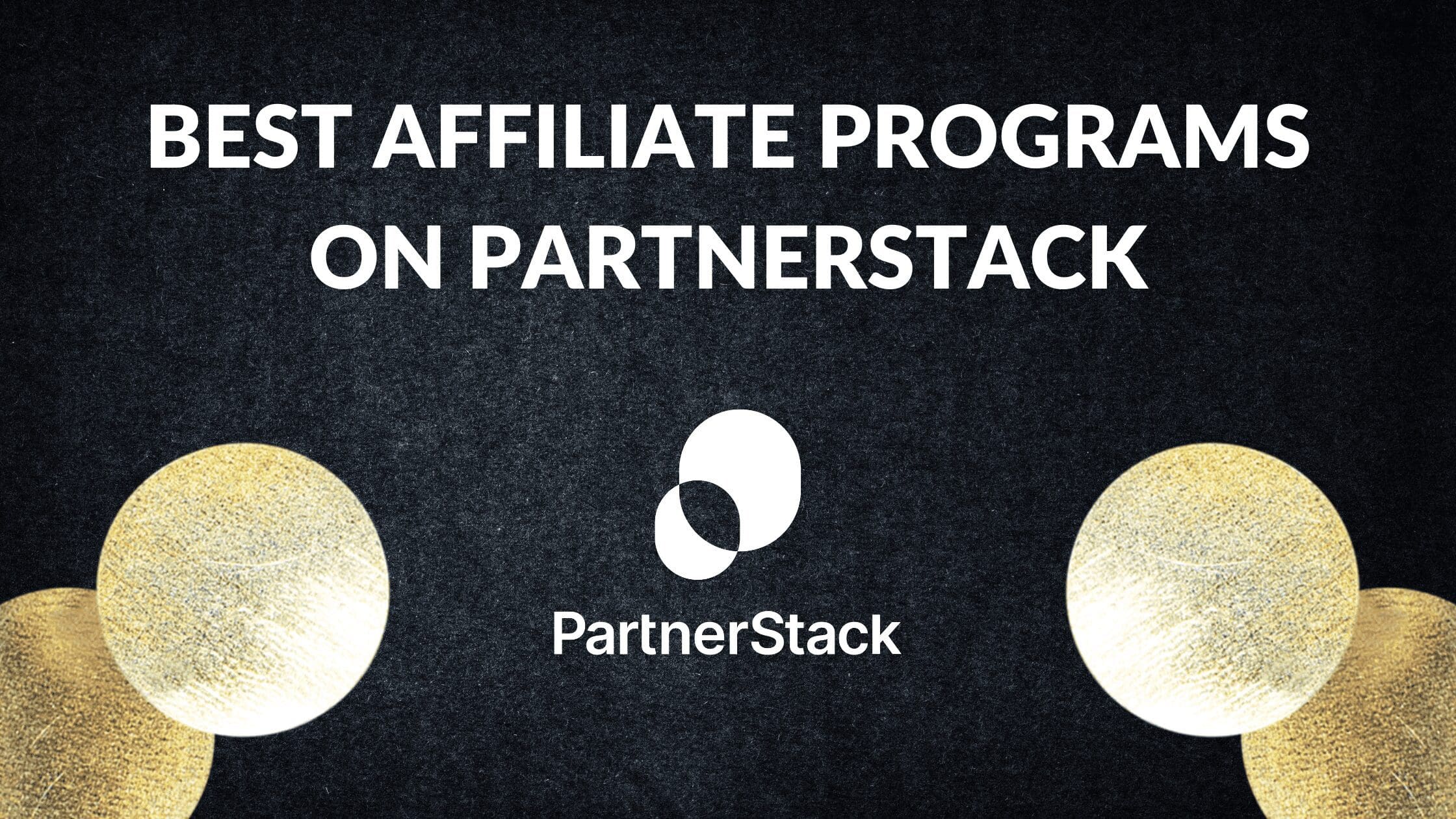 Disclosure: Some of the links below are affiliate links, meaning that at no additional cost to you, I will receive a commission if you click through and make a purchase. Read our full affiliate disclosure here.
Looking for worthwhile affiliate programs that can increase your earning potential? If you run any kind of ecommerce, blogging, or online business, including affiliate marketing into your mix can produce mutual benefits.
On one hand, you are helping other small businesses attract new customers and expand their revenues. At the same time, it is an opportunity to increase the visibility of your own products and services, while also boosting your earnings.
If that sounds good, your next move should be finding a suitable affiliate program partner. This is where PartnerStack comes in. If you have never heard of them, keep reading to find out what this platform is all about, and how you can benefit.
PartnerStack is a full-stack affiliate marketing and partner management solution, catering mainly to B2B software-as-a-service (SaaS) companies. Businesses can launch their own referral or affiliate programs through PartnerStack, as well as get access to all kinds of affiliate marketing tools and referral data.
Much of the work of finding referral partners and influencers is handled by PartnerStack, leaving you to focus on simply running your business. An integrated, burgeoning marketplace, complete with automated payment and tracking resources, also make it easy for partners to launch and manage their affiliate programs from one convenient dashboard.
Getting started on PartnerStack is relatively easy. Once you have created your free account, you will be guided through the onboarding process, which involves filling out all the required information to complete your profile, payment information, and selecting at least one program to join.
That last bit is especially crucial because you won't get access to your full dashboard until you have joined a program.
Having partnered with a program, you will receive a referral link, which you can share on your social media pages, store, blog, or website. When people click on your affiliate links and go on to make a purchase, the respective company will pay you a commission through PartnerStack.
All payments to partners on the platform are made to either PayPal or Stripe accounts, so you will need one of those.
It is important to read the terms and conditions for any program you sign up for on PartnerStack, as some of them restrict partners from promoting referral links on certain sites or in specific situations.
Another point to note is that you can join as many affiliate programs on PartnerStack as you like. Once you have signed up, you will be automatically paired with programs that the system believes are the best match for your profile.
But after getting access to your dashboard and landing a sale, you can go on to exploring the entire PartnerStack marketplace and joining with other companies that you want to promote as an affiliate.
Best Affiliate Programs on PartnerStack

Now that you have an idea of how PartnerStack works, it is time to learn about some of the most appealing affiliate programs that are listed in its marketplace.
Airtable is a digital platform that combines spreadsheet and database technology. The solution offers data sharing and collaboration capabilities, making it possible for users to create all kinds of custom applications.
The flexibility of Airtable as a marketing and productivity tool has led to it becoming a popular tool for both large and small businesses.
With that in mind, Airtable's affiliate program appears attractive, offering a 20% commission payout on the first year of any annual Pro or Plus plan. The payout is the same for the first month of monthly Pro and Plus plans.
The tracking cookies for the Airtable affiliate program last for 90 days for every click. You can expect to receive payment of commissions two months after each confirmed referral.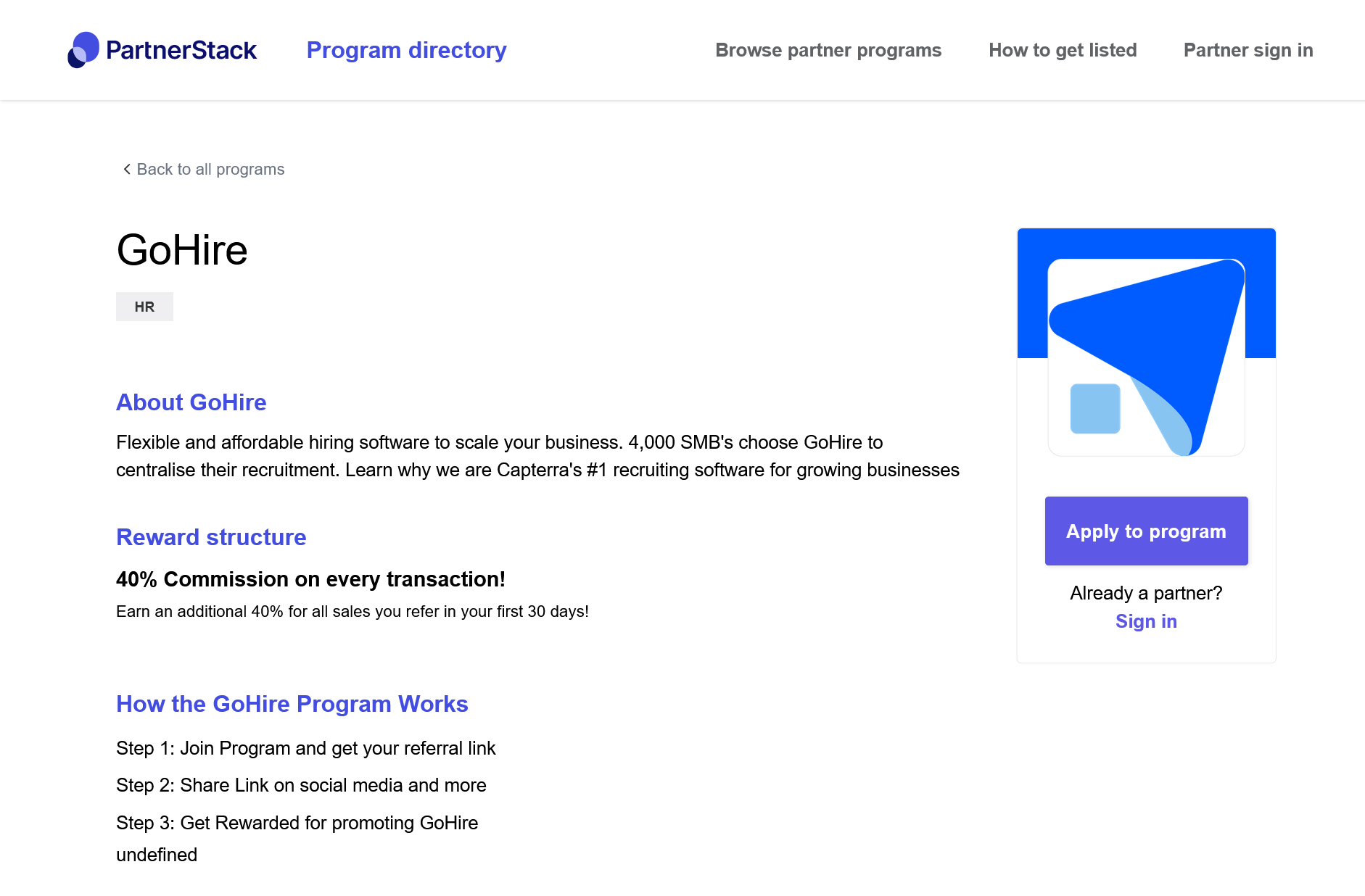 When it comes on to online recruitment software, GoHire is one company that is steadily making a name for itself. It has already received recognition from Capterra as the number one recruiting software for growing brands, and is a go-to solution for over 4,000 small business owners who use it to centralize their recruitment processes.
At the same time, GoHire offers an eye-catching affiliate program on PartnerStack. Affiliates stand to earn a whopping 40% commission on every transaction from referred clients.
Furthermore, for every sale referred during your first 30 days on the program, you can gain an additional 40%. With its fast-rising client base, it might be a good move to check out the GoHire affiliate program, especially if your business operates in the HR recruitment industry.
3. Shor Affiliate Program
Shor (shor.by) offers its users the opportunity to have all their important links displayed on one attractive page.
This is especially useful for social media personalities and creators who want to have all their public links in one place and make it easy for their audiences to get in touch with them. Setting up a Shor page can lead to an increase in conversions.
The Shor affiliate package has several layers when compared to many others on PartnerStack, but it is still attractive.
$15+ earned for the first sale

25% commission on annual subscriptions

50% on six months

$30 reward bonus on the first $100
All rewards and commissions last for the lifetime of each account referred.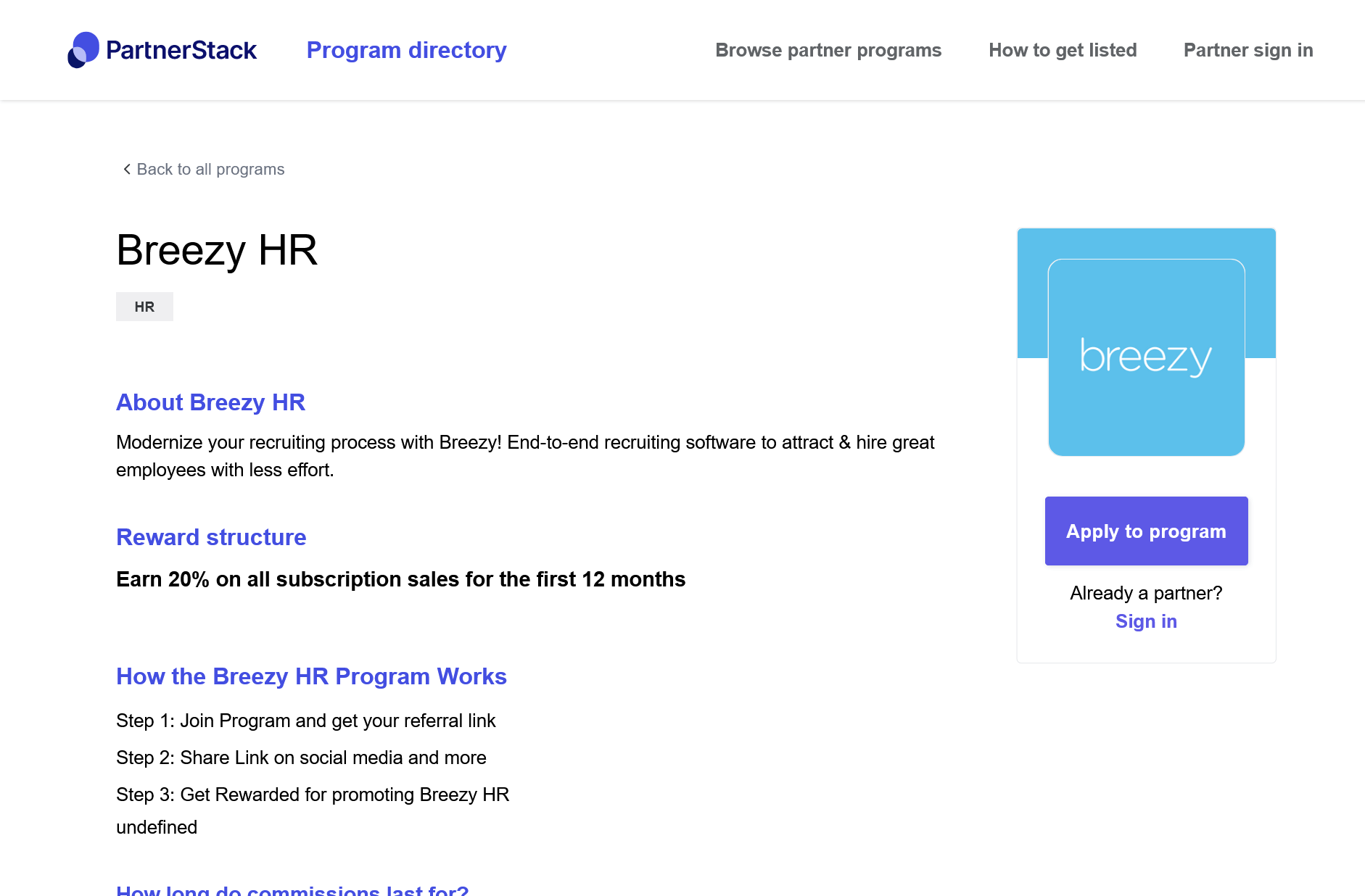 Designed for the modern workplace, Breezy HR helps recruiters attract and hire the best talent. The end-to-end recruiting platform lessens the time and costs associated with hiring workers.
With high-profile clients such as T-Mobile, L'Oreal, and Sketch, Breezy HR is another notable affiliate partner on PartnerStack. For starters, the commission payout is 20% on every referred subscription for the first 12 months. As with other programs, you get a unique URL that you can promote on your social media pages, website, and other places. The cookies for the Breezy HR affiliate program last for 90 days.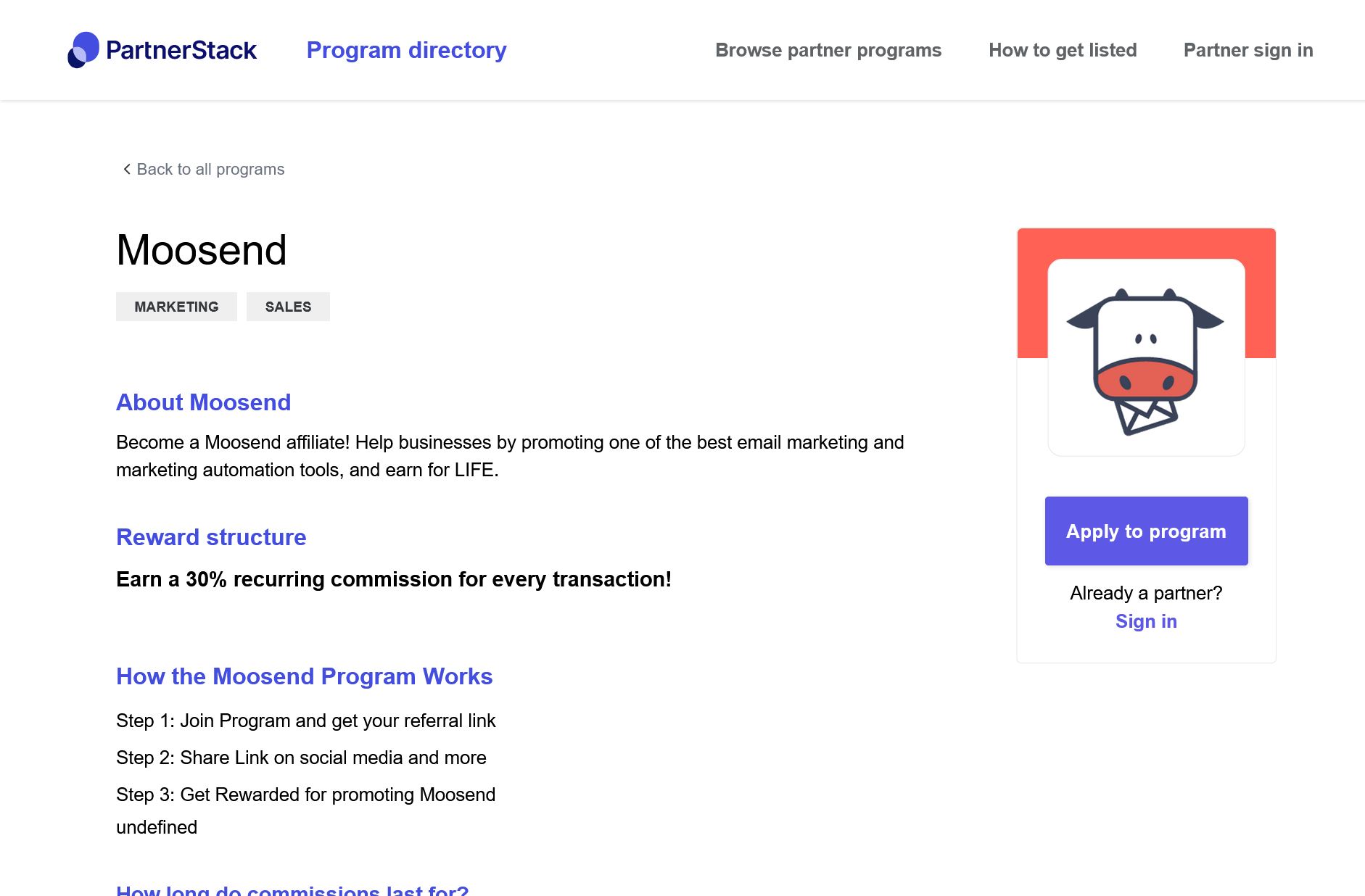 For those in the business of email marketing, joining the Moosend affiliate program on PartnerStack might be a good idea. The platform targets all kinds of businesses looking to grow their email lists and automate marketing campaigns to boost revenues.
Promoting Moosend as an affiliate on PartnerStack can lead to recurrent earnings of 30% commission on every transaction. What's more, commissions and rewards last for the lifetime of the account, so if a referral stays with Moosend for five years, for example, you will keep earning from every renewal. You can share your Moosend affiliate link on social media, in your newsletter, or even on your blog or website.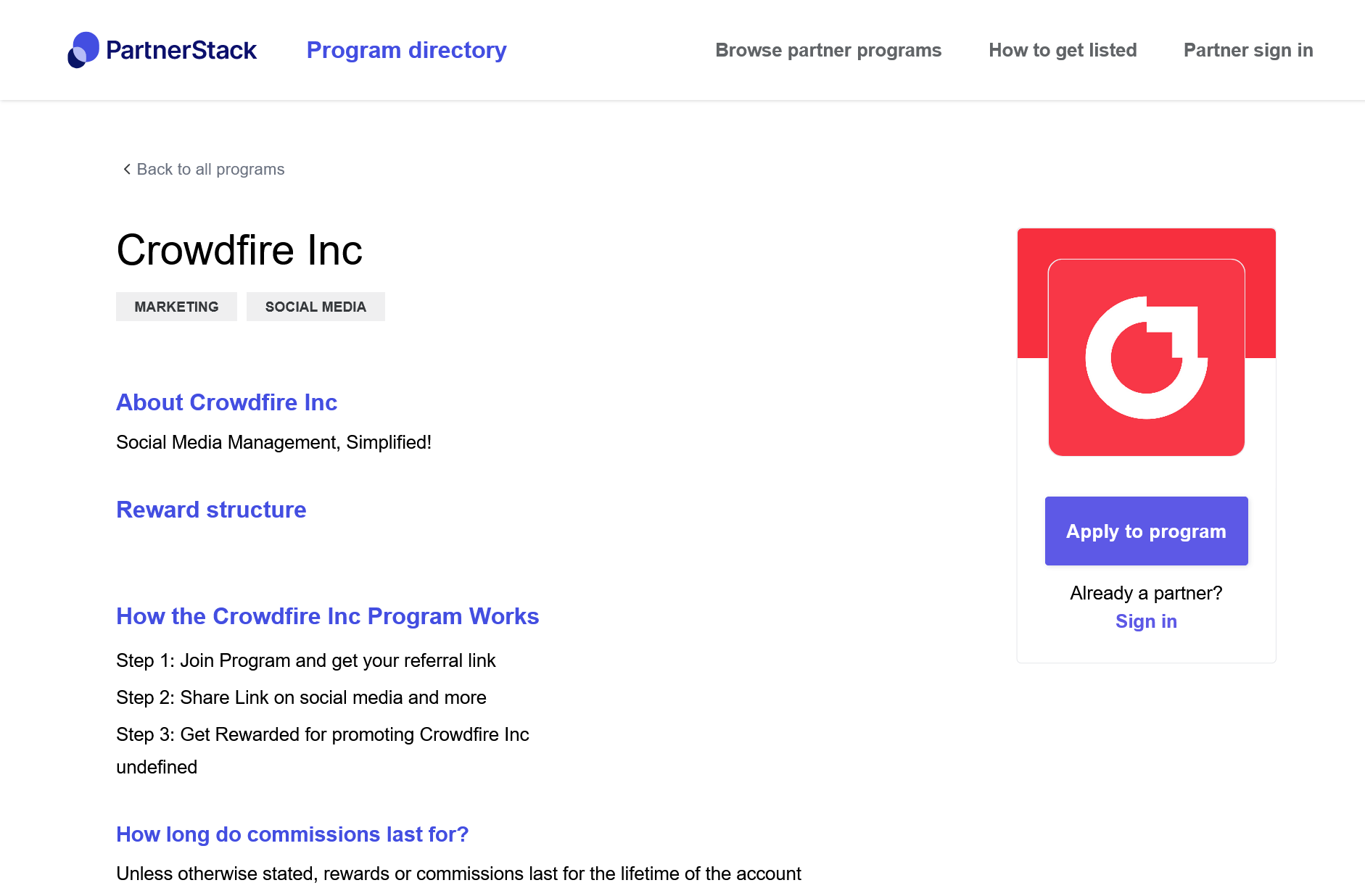 Crowdfire is a complete social media management app with over 10 million users across Twitter and Instagram alone. Its user base includes influencers, entrepreneurs, creators, and small companies. Crowdfire's popularity stems from its ease of use and versatility, allowing users to draft and schedule posts for the best times, curate relevant content, and even track how followers respond to social media posts.
In terms of the Crowdfire affiliate program on PartnerStack, the package offers an attractive 35% commission on all paid plans for the first 12 months. You can share your affiliate link anywhere online once you have signed up for the program. In addition, you can refer an unlimited number of signups and earn from every single transaction.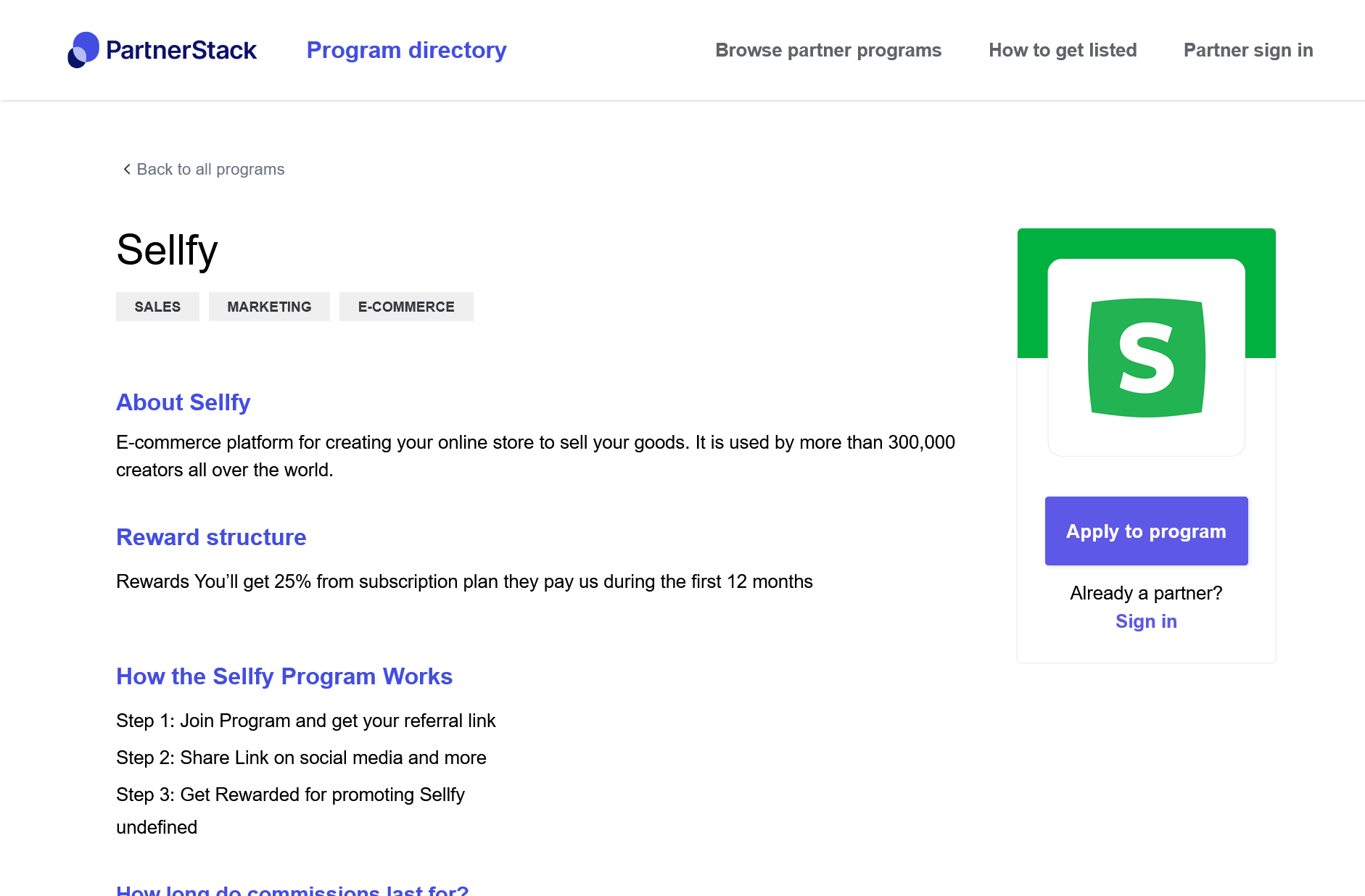 With over 300,000 users worldwide, Sellfy is among the fastest growing solutions of its kind. The platform enables creators and marketers to easily launch their own ecommerce businesses. It can be used to sell products via social media or users' websites.
If you sign up for the Sellfy affiliate program on PartnerStack, you can look forward to commissions of between 25% and 40%, depending on sales volume per month. This is based on all subscription payments made by the referral during the first 12 months. In addition, Sellfy affiliate cookies last for 90 days, and payments are made on the 15th of each month for every account that has a balance of $5 or more.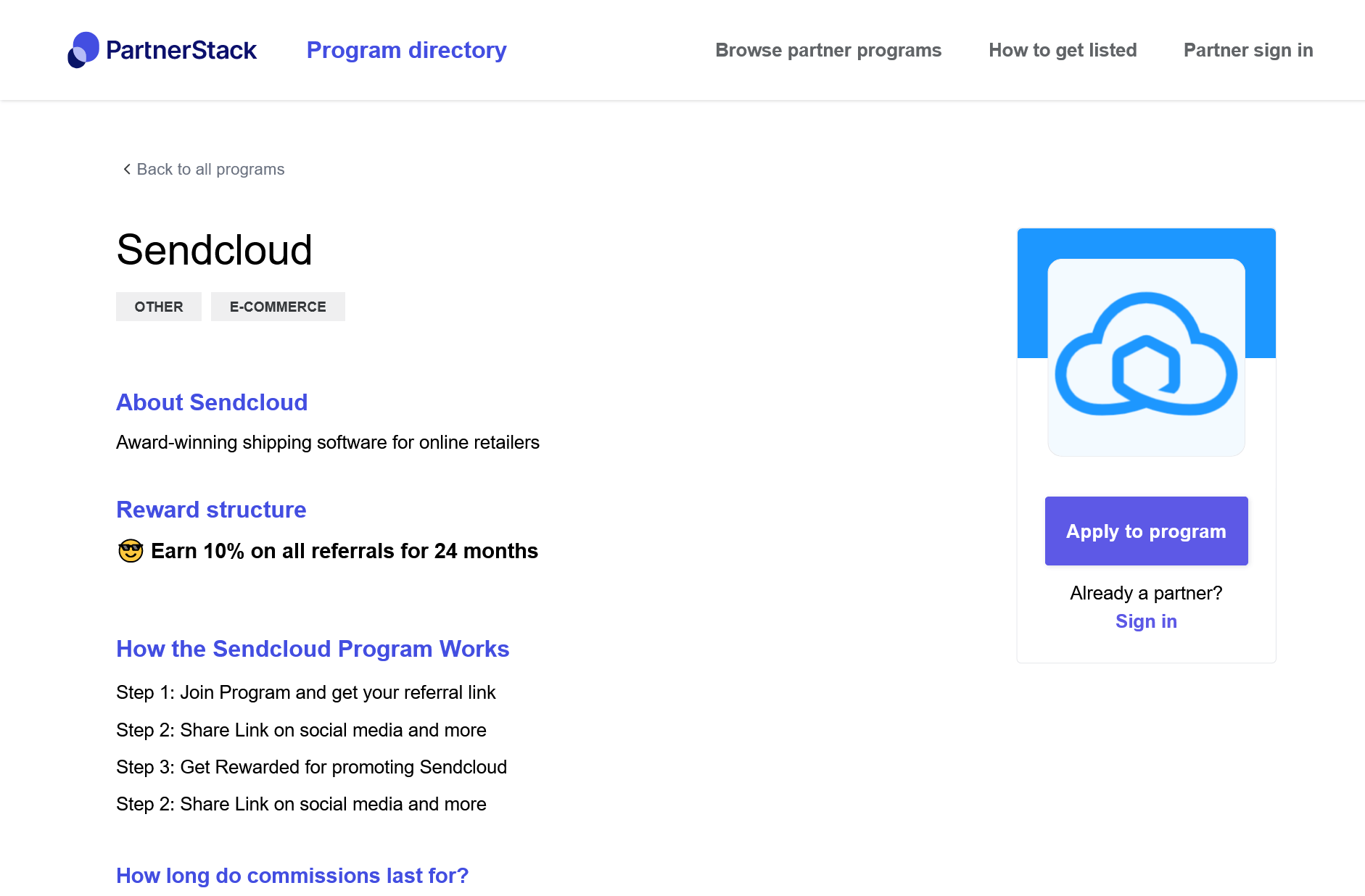 Sendcloud is a leading provider of shipping automation software for online sellers. In fact, the platform is the number one solution of its kind in Europe, with over 23,000 brands using Sendcloud in that part of the world.
A big part of the platform's growth strategy is affiliate marketing. Through PartnerStack, affiliate marketers can sign up to be a Sendcloud partner. In terms of rewards, the program pays out commissions of 10% on all referrals for a period of 24 months. All commissions and associated rewards last for the lifetime of the account.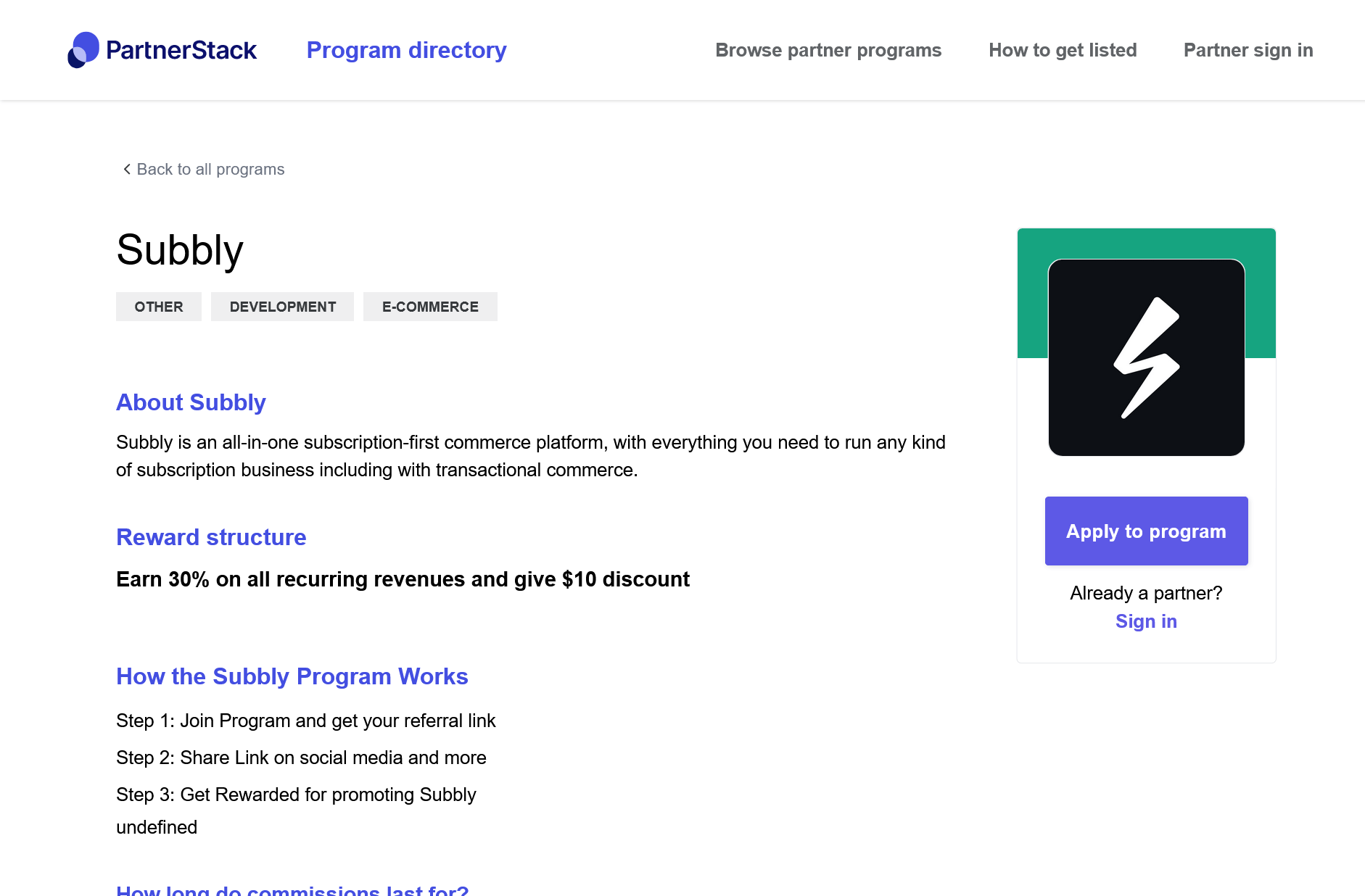 Subbly is described as an "all-in-one subscription-first ecommerce platform." The service offers all the tools needed by online retailers, creators, etc. to set up a successful subscription box business. Among its advantages is helping users to get set up in just minutes.
One of the ways Subbly is growing its user base is through affiliate marketing. The Subbly affiliate program on PartnerStack is among the most attractive, offering 30% commission on recurring subscriptions, as well as a $10 discount. It is unclear how long the tracking cookies last for, but as with many of the affiliate programs on PartnerStack, the commissions last for the lifetime of the account.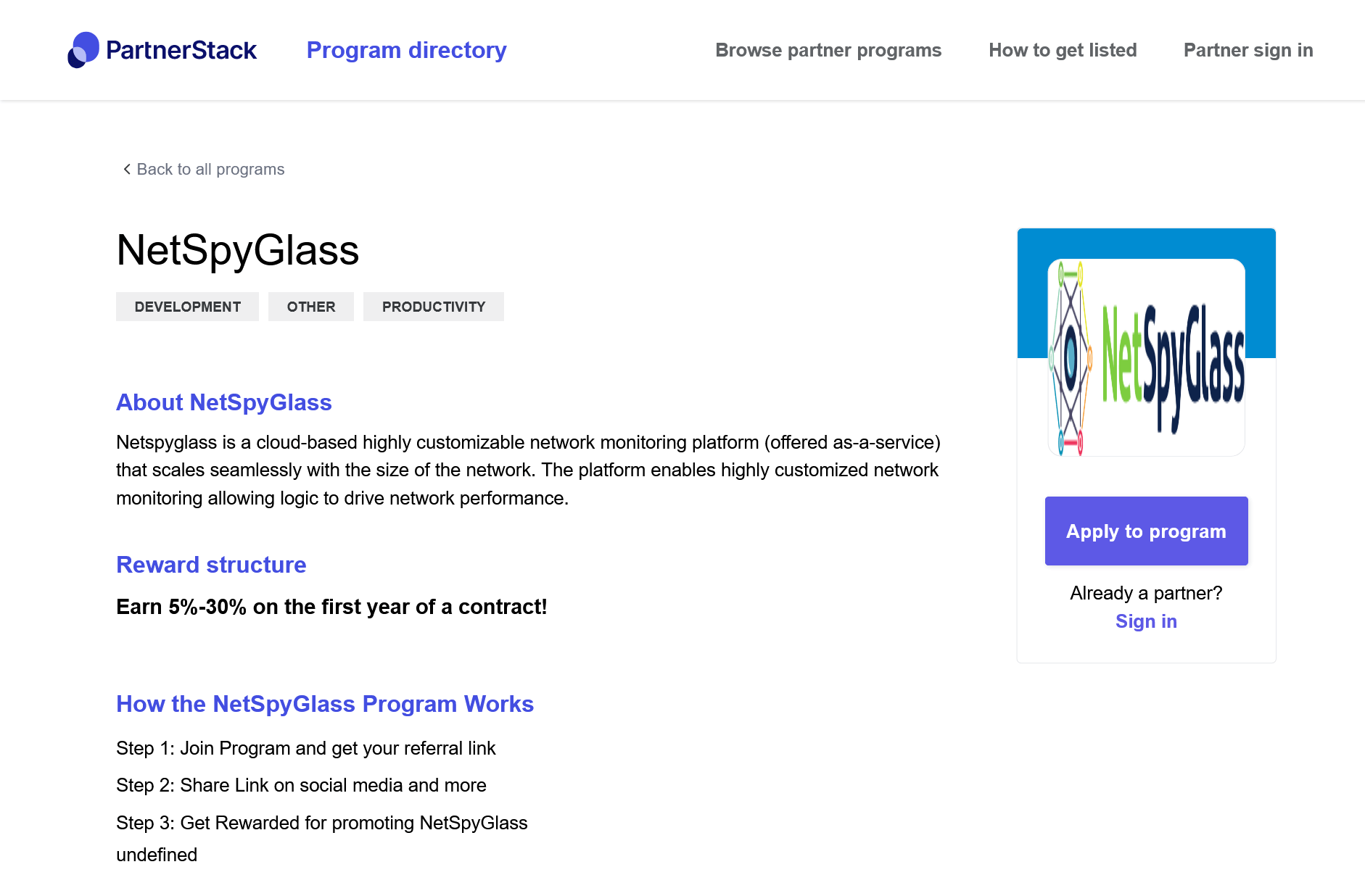 Specializing in network performance monitoring and automation, NetSpyGlass is a growing name in the information technology space. The cloud-based platform offers a variety of tools that allow users to monitor all kinds and sizes of networks, as well as identify issues and make relevant changes in real time.
Affiliate marketing is one of the strategies used by NetSpyGlass to grow its customer base. This is represented in the NetSpyGlass affiliate program on PartnerStack. The package pays out between 5% to 30% commission on every NetSpyGlass contract that results after a buyer clicks on an affiliate link. This, however, applies to the first year of each contract.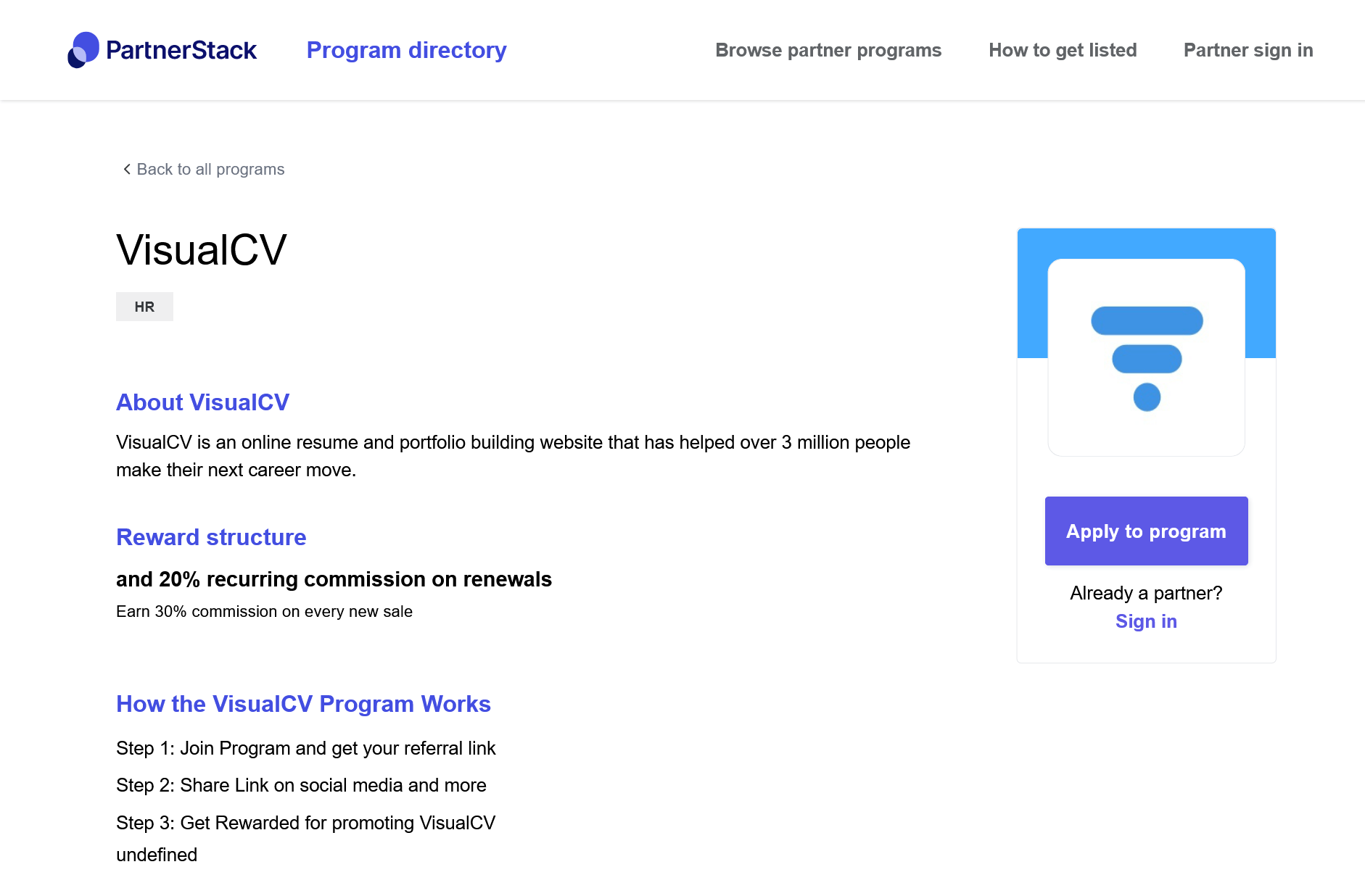 VisualCV has made a name for itself as an online resume, portfolio, and CV builder. The platform offers a plethora of templates and tools to make modern and unique resumes and CVs that are shareable and trackable. VisualCV is already a trusted resource for over four million professionals who have used the service to assist with successful job searches.
The VisualCV affiliate program allows its users and partners to spread the word while having a chance to earn an income at the same time. If you sign up as a VisualCV affiliate on PartnerStack, you can earn 30% commission on every new sale, in addition to a 20% recurring commission on every renewal.