Best AI Content Detection Tools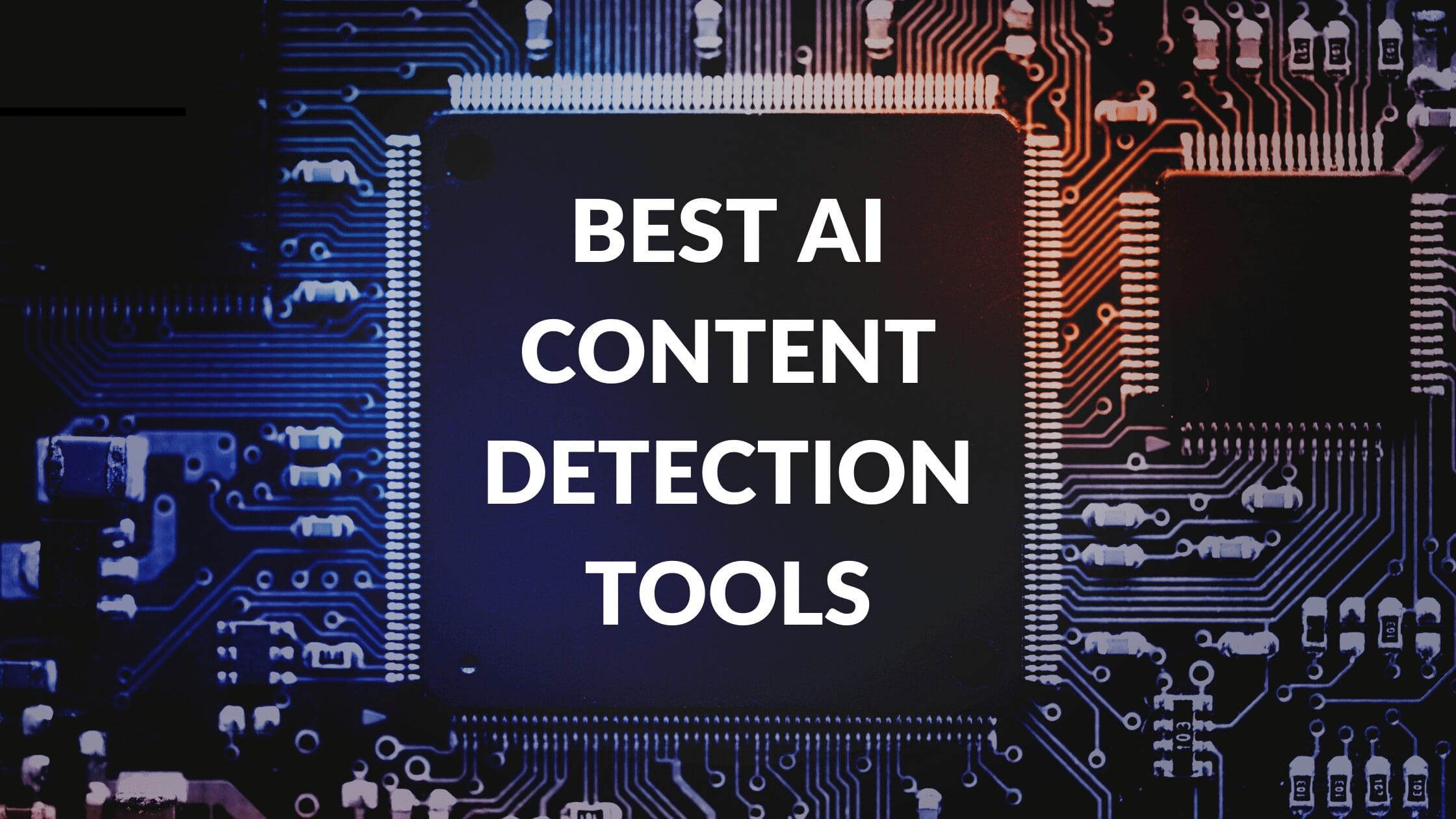 Disclosure: Some of the links below are affiliate links, meaning that at no additional cost to you, I will receive a commission if you click through and make a purchase. Read our full affiliate disclosure here.
The concept of artificial intelligence (AI) is decades old, but interest in the technology has surged in recent years. One of the areas that has been getting attention is the possibility of using AI to generate all kinds of written content.
Tools such as Chat GPT, CopyAi, and JasperAI are among the options dominating conversations online. These and others are able to automatically create everything from news articles and blog posts to emails and social media posts. What's more, the technology is constantly being improved to mimic the writing styles and procedures of actual human writers. It is becoming increasingly difficult to determine whether a piece of content shared online was originally created by a human or an AI platform.
How can you go about identifying content that was wholly created by an AI? We have identified the top seven tools that can be used in this regard. But first, why is this even necessary? After all, using artificial intelligence in any field is supposed to make life easier, right? Well, yes and no. Let's explain.
Why Use AI Writing Tools?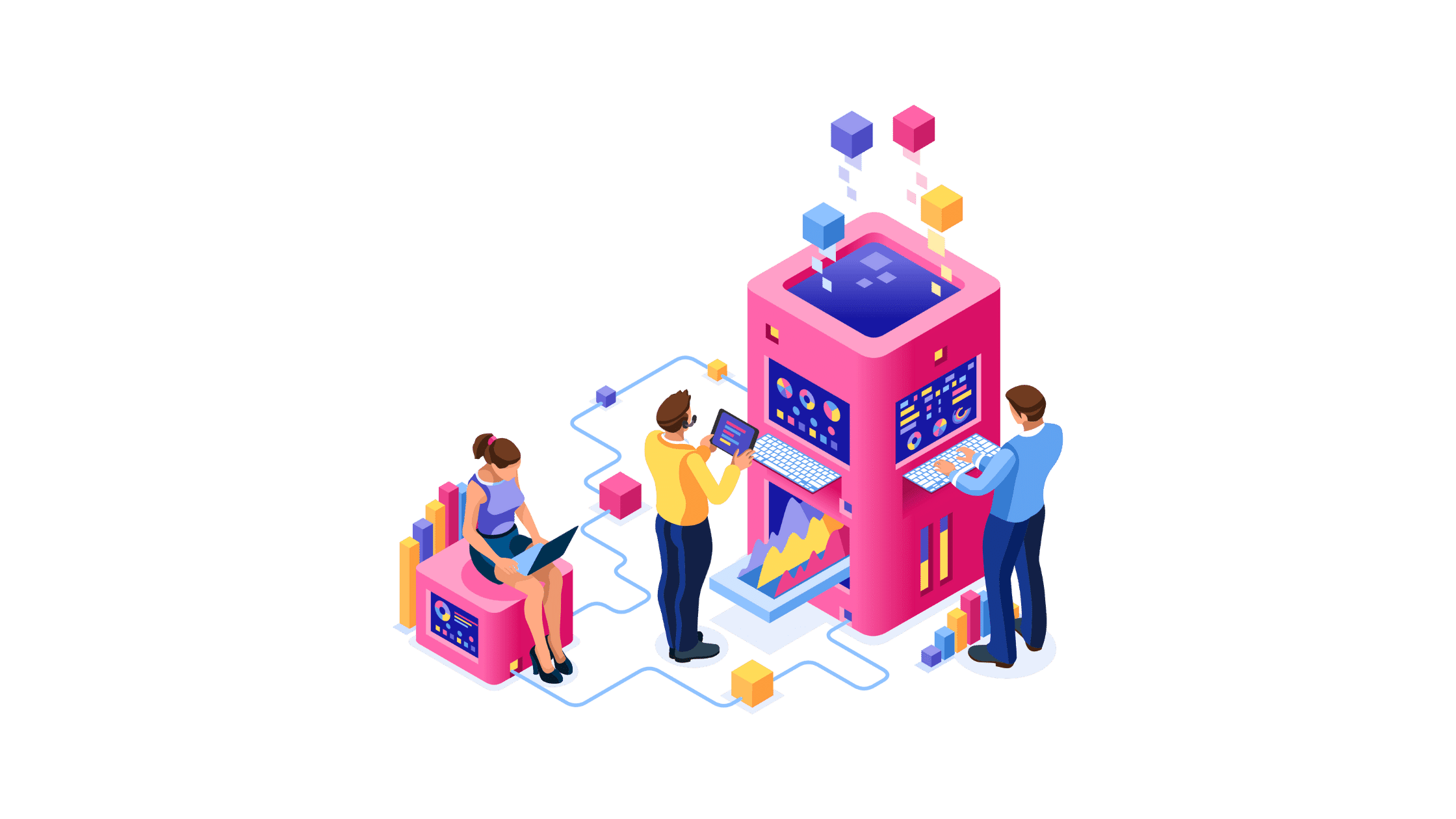 Writing a typical 1,000-word article or blog post from scratch can take up to 3.5 hours for the average content writer, according to recent data. This means a typical blogger who needs to publish five posts per week, will spend 17 hours or more behind the keyboard.
When tasks such as HTML formatting, editing images, and applying links are added, the blogger could be looking at 20 hours or more. This amount of time spent on content creation is not sustainable for many content marketers, so they often seek the services of freelance writers. But this can be costly.
By turning to AI writing tools, content marketers and agencies can save both time and money, since these solutions can spew out thousands of words in just minutes. Many of them are even free to use, or cost a very small amount compared to hiring human writers. Obviously, it makes sense for content marketers and publishers to use AI writing tools. However, using AI content has several drawbacks.
Why AI Content Detectors are Necessary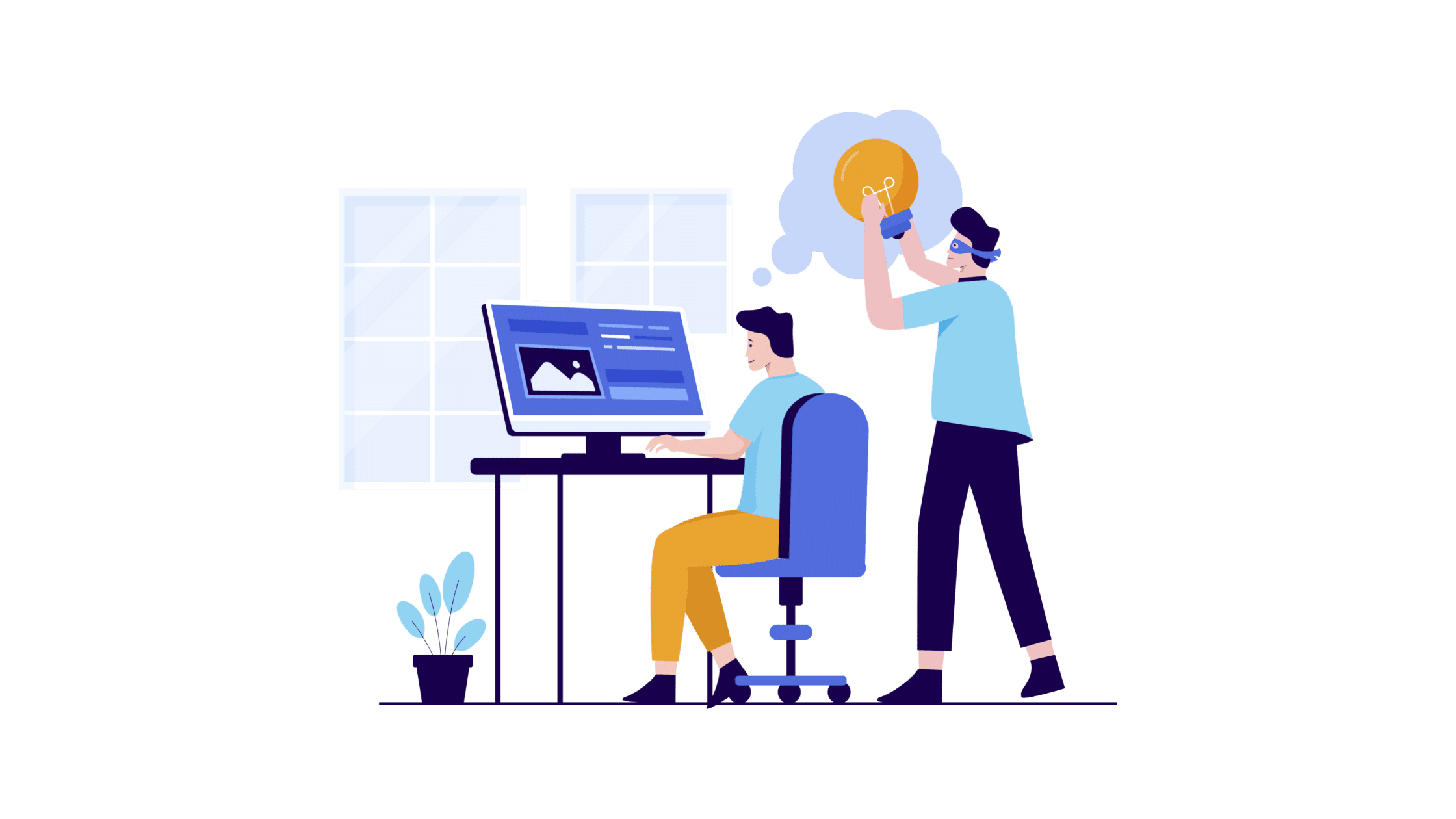 Google, the world's largest search engine, does not authorize the use of AI-generated content on websites. In fact, Google's webmaster guidelines indicate that such content is forbidden and can lead to penalties for any website that is in breach.
But why is Google against content created by AI platforms? Although the technology is far advanced, AI writing tools are still miles behind human intelligence. Content produced by AI sources still has a far way to go in consistently matching up to work produced by trained writers. Because it is algorithmic, the output can be repetitive, spammy and even nonsensical, diminishing the value to readers. AI content can also have a high degree of plagiarism.
Google and other search engines are increasingly capable of detecting content created by AI. It makes sense that you should be able to detect it as well, especially if you rely on other writers to create your content. You wouldn't want to risk publishing AI-generated content on your website that is in breach, as your SEO might suffer as a result.
UPDATE: Google has since clarified that AI generated content is not necessarily viewed as spam, and stated that, essentially, all high quality content is welcome, regardless of how it is produced. Read more on how to use AI for blogging!

With that said, hired writers who use AI writing tools may not be diligent enough to edit the material appropriately. Knowing what AI content detection tools are available will lessen the chance of publishing content that puts you in trouble with Google.
Best AI Content Detection Tools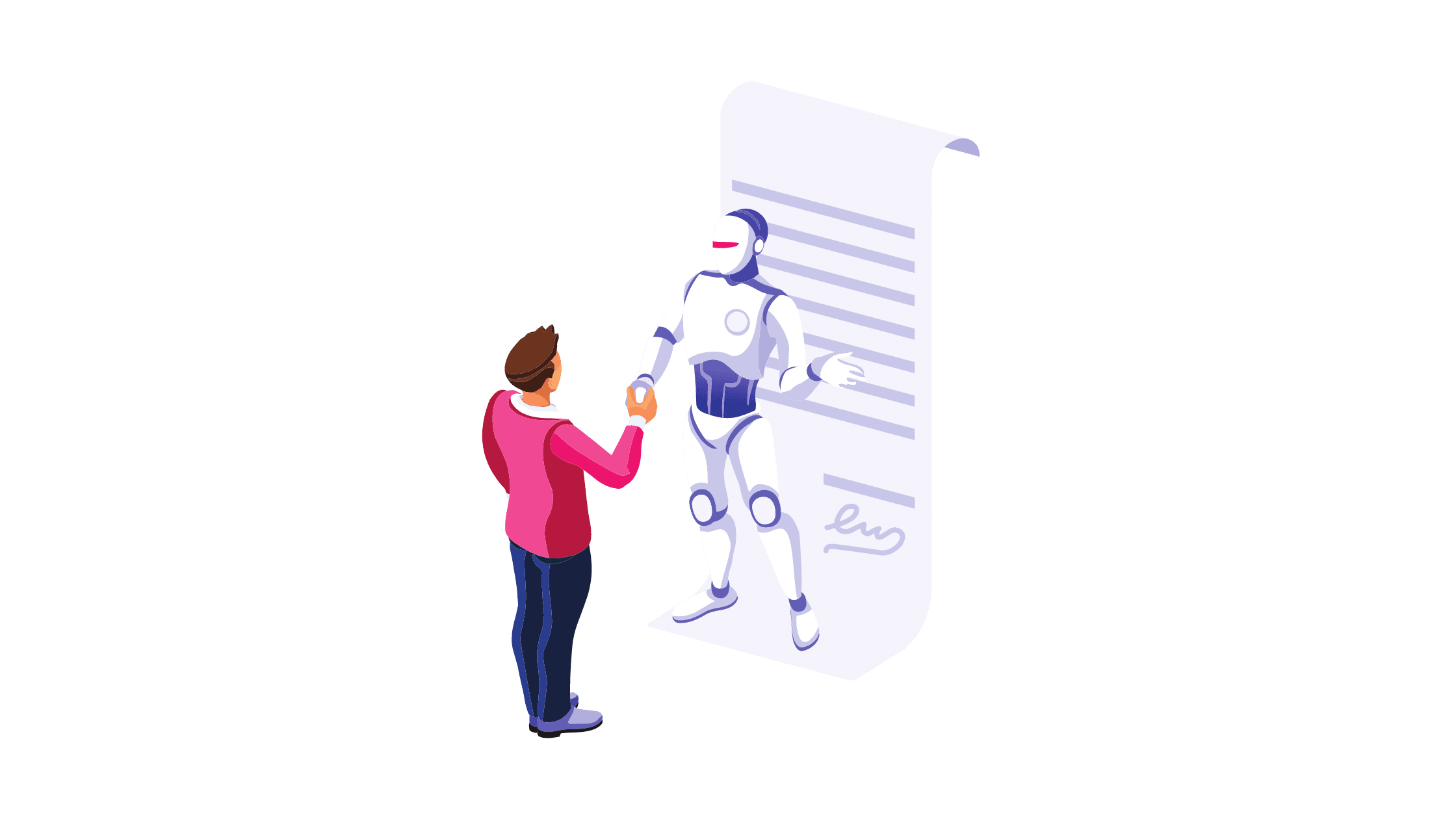 With the swift changes taking place in the AI industry, it is becoming more and more difficult to find tools that can identify AI-generated content. Here are the top tools, in no particular order, that have been proven effective in this area based on online reviews.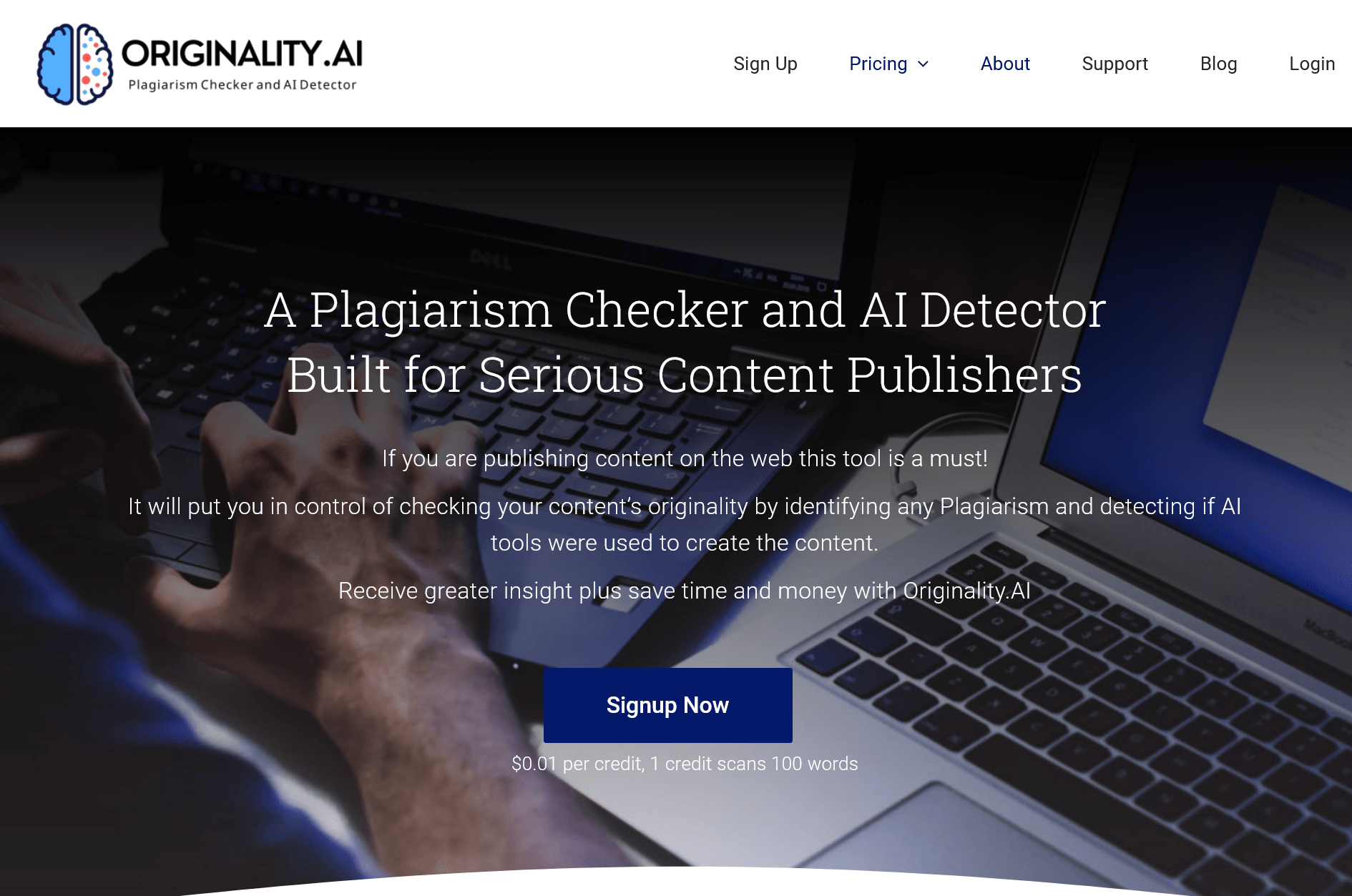 Described as one of the best AI content detection tools, Originality.ai was specially designed for use by content marketers and publishers. As the name suggests, the software analyzes content to determine its degree of originality. The tool uses a scoring method of 0 – 100% to measure the amount of AI-generated content within a piece of written work, if any.
Originality.ai is able to identify content created by ChatGPT with a great degree of accuracy (upwards of 98%, according to the tool's website), as well as GPT-3 and GPT-3.5. Since its release, ChatGPT has been hailed as one of the most sophisticated AI writing tools around, but Originality.ai is one of the tools that users are saying has been able to keep up.
Originality.ai also offers a plagiarism checker that you can use to uncover any plagiarized or duplicated material in your content. Although not free to use, Originality.ai is one of the most affordable solutions in its class. It costs $0.01 per credit, which covers 100 words. This means you can analyze 10,000 words for just $1 dollar.
2. Writer AI Content Detector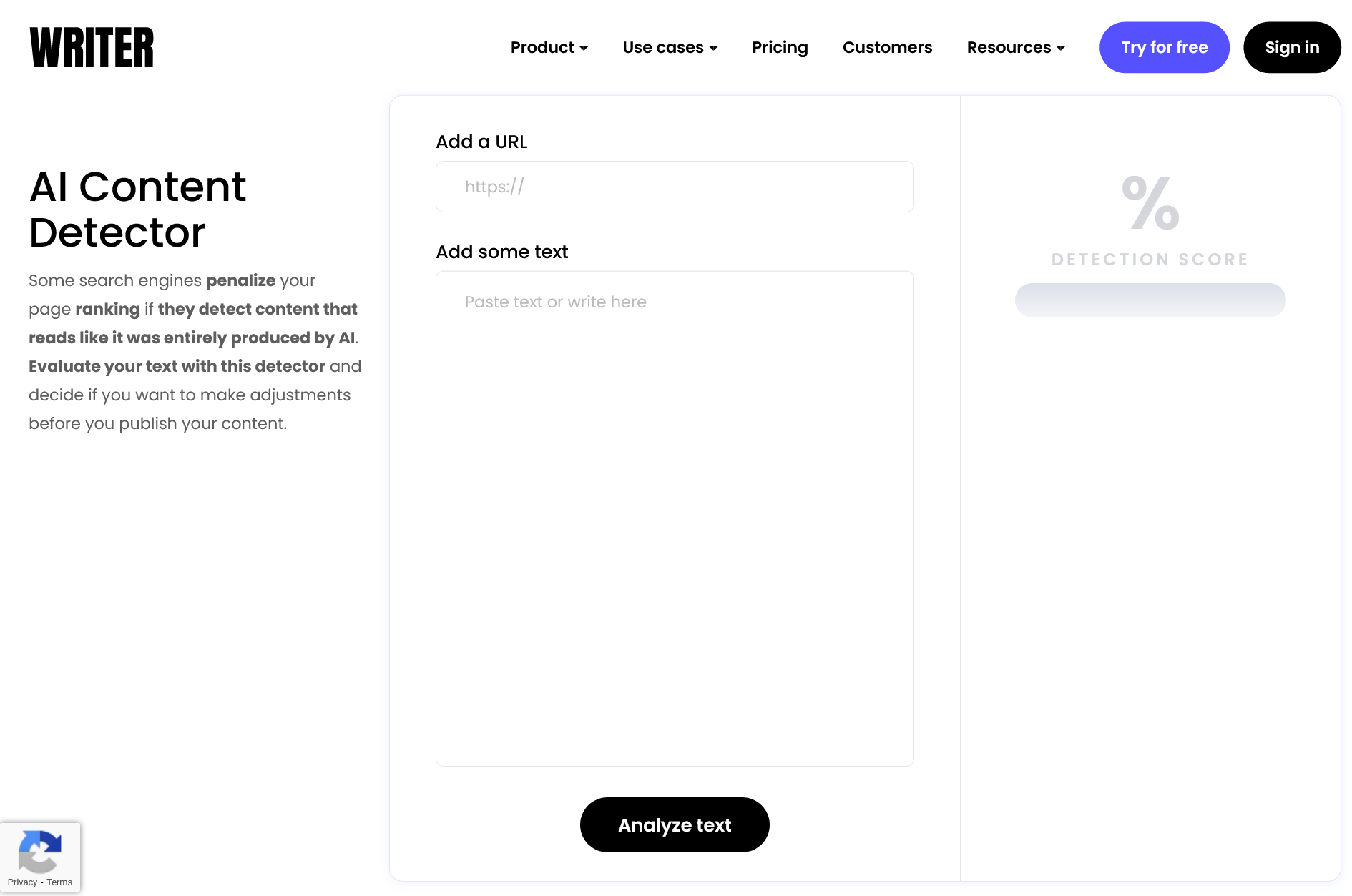 This AI writing tool is a product of Writer.com, a website known for helping brands generate all kinds of unique content to suit their voice. The platform has built-in templates that you can use to quickly automate writing tasks, such as creating social media posts, ads, and sales copy. It can also be used to create blog post drafts.
Writer's popularity is propelled by its accessibility, allowing users to add it to Chrome, Google Docs, Word, and more. Alongside its efficiency as an AI content creation tool, Writer.com has also developed other tools such as a grammar checker, plagiarism checker, and of course, an AI content detector.
Writer AI Content Detector is an easy to use solution that simply analyzes text and provides a score based on perceived level of AI-generated content. You can check the text in one of two ways – by inputting a link to content that has already been published online, or by adding the actual text (up to 350 words at a time). The tool is free to use, but getting access to Writer's other features requires a paid subscription that starts at $18 per month.
3. Corrector App AI Content Detector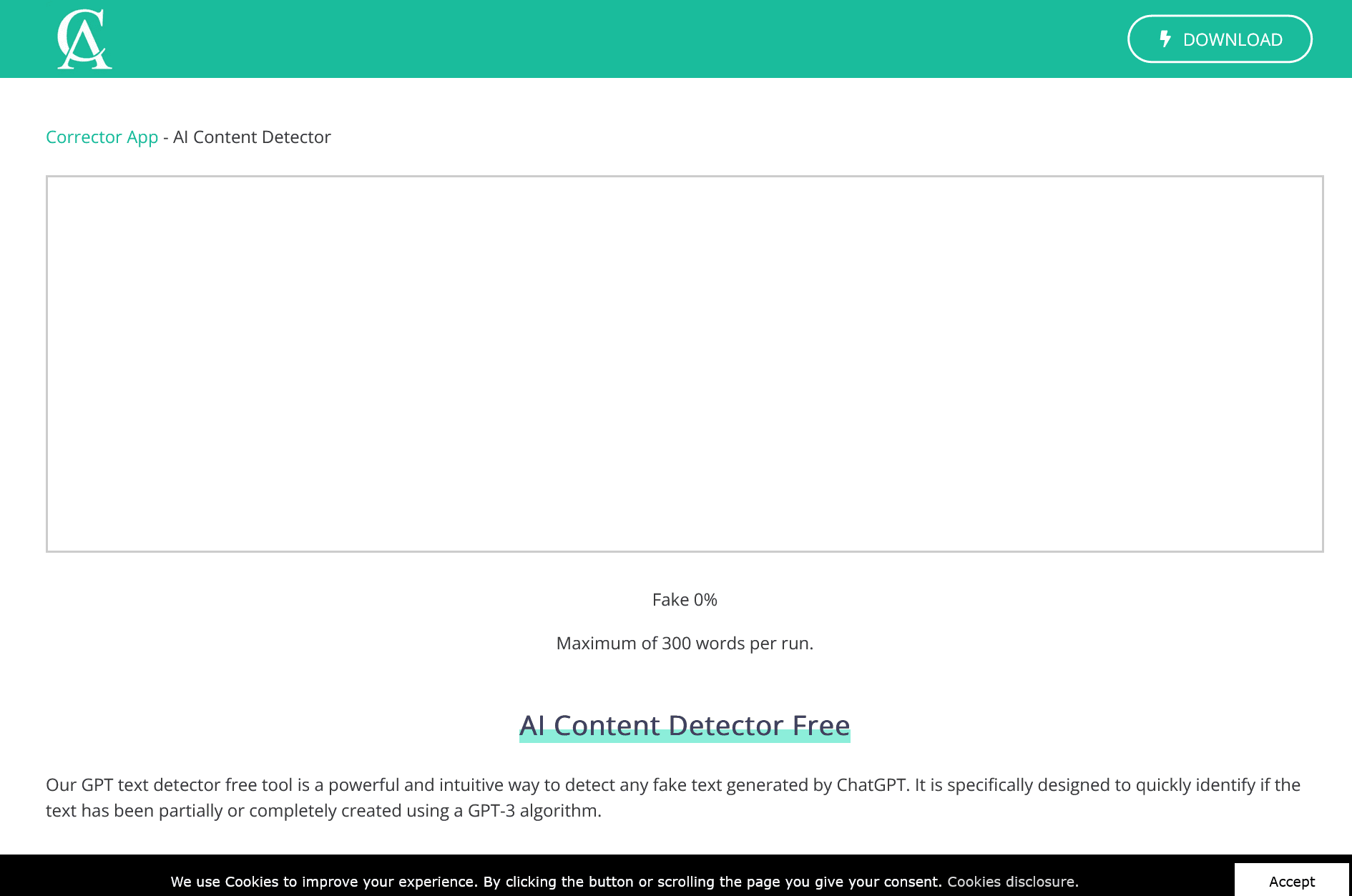 The Corrector App is an AI content detection tool that uses natural language processing and deep learning models to analyze written content and determine the likelihood of fake text created by ChatGPT. The app is based on the OpenAI detector algorithm and tries to compare human-created text against the language found in content that appears suspicious.
The Corrector App is free to use for up to 300 words per run. In addition, the tool is available for use in Android and iOS mobile devices, as well as in popular desktop browsers such as Chrome, Firefox, and Microsoft Edge.
4. Copyleaks AI Content Detector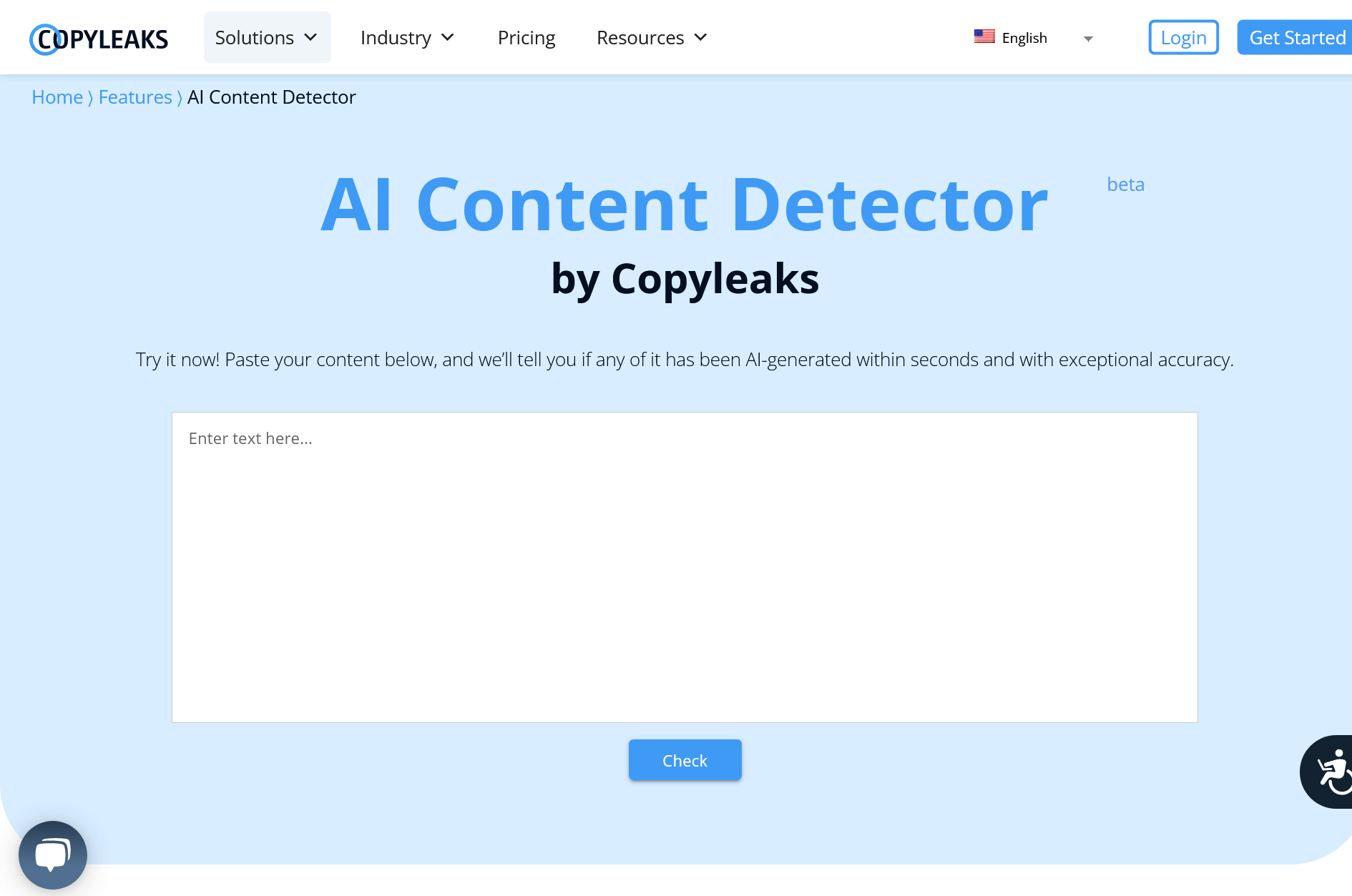 Copyleaks offers a comprehensive range of text analysis tools geared towards business and academic users. The list includes a plagiarism checker, source code checker, and AI content detector. As it relates to the latter, the platform says it is able to identify content created by almost any AI source, including ChatGPT, with a high level of accuracy.
Using the Copyleaks AI Content Detector is easy. You simply copy and paste your text and click "Check." You can also use the tool as a Google Chrome extension or by API integration with a variety of platforms. You can even integrate the Copyleaks AI Content Detector with different types of learning management systems (LMS).
The AI content detector on its own is free to use. However, unlike other tools on the list, Copyleaks does not provide a scoring mechanism. It only offers one of two results – "AI-generated text" or "human written text."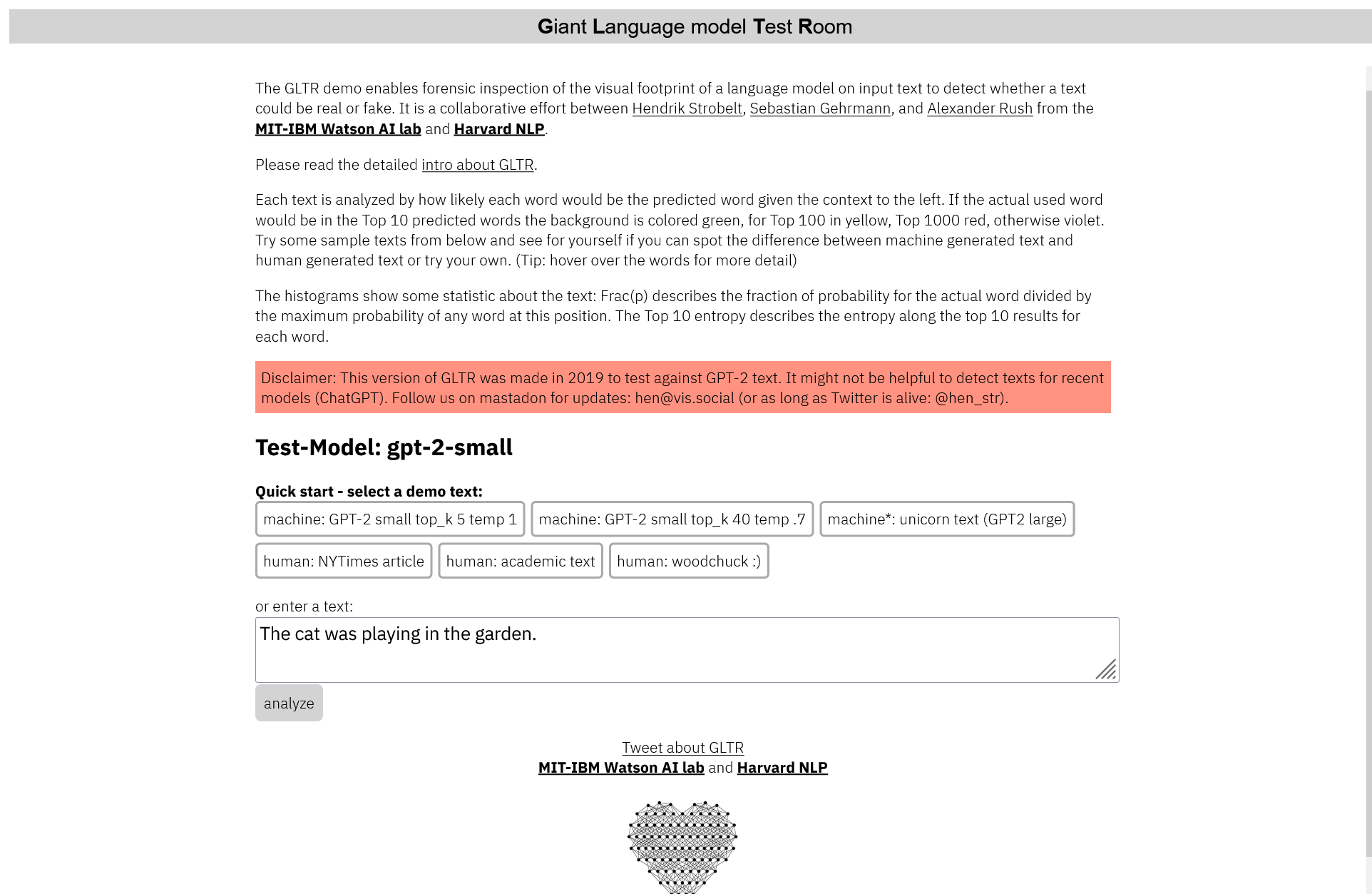 GLTR stands for Giant Language Model Test Room. It is an AI content detector that was developed in 2019, as a joint venture between Harvard NLP and the MIT-IBM Watson AI Lab. It has been highlighted as an excellent tool to uncover text generated by GPT-2 sources. The tool uses an elaborate color-coding system to determine the likelihood of a piece of text being machine-generated.
While GLTR AI Content Detector is considered to be very thorough at detecting GPT-2 content and providing suitable feedback, it has not been further developed for GPT-3 material and above. As such, it is not considered the best solution to use for AI content detection. Since it is open source software, however, developers of AI solutions can use the source code for testing purposes.
6. Hugging Face AI Content Detector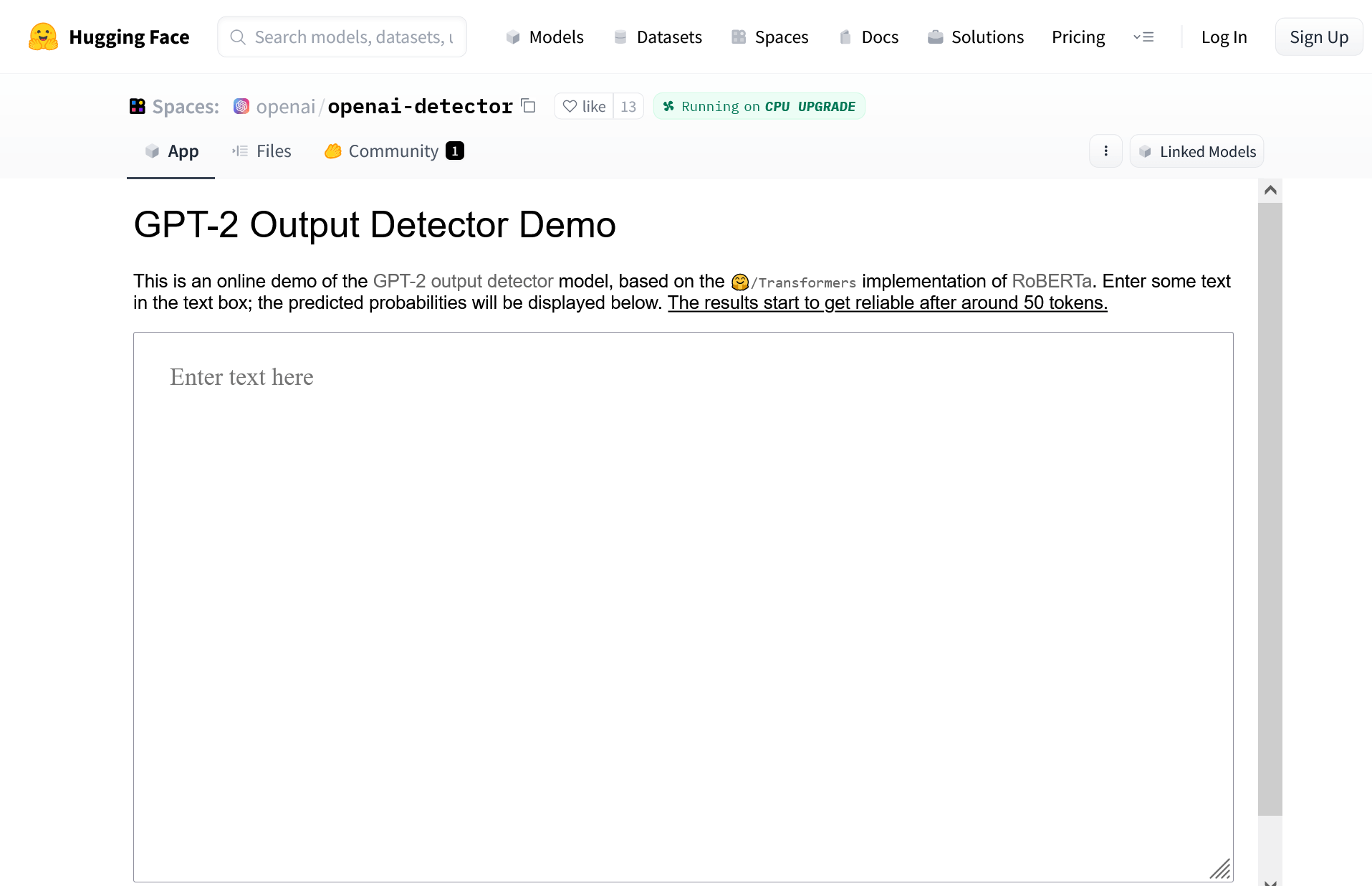 Like GLTR, Hugging Face is another open source platform designed for developers in the machine learning field who want to conduct experiments while enhancing their AI creations. The solution, which was developed by OpenAI, takes things a bit further through the presence of a collaborative community that allows members to share ideas and work on projects together.
But also like GLTR, the Hugging Face AI Content Detector was designed for the GPT-2 system. Hence, it is not the best AI content detector for GPT-3 or ChatGPT content. The solution is free to download and use for testing purposes.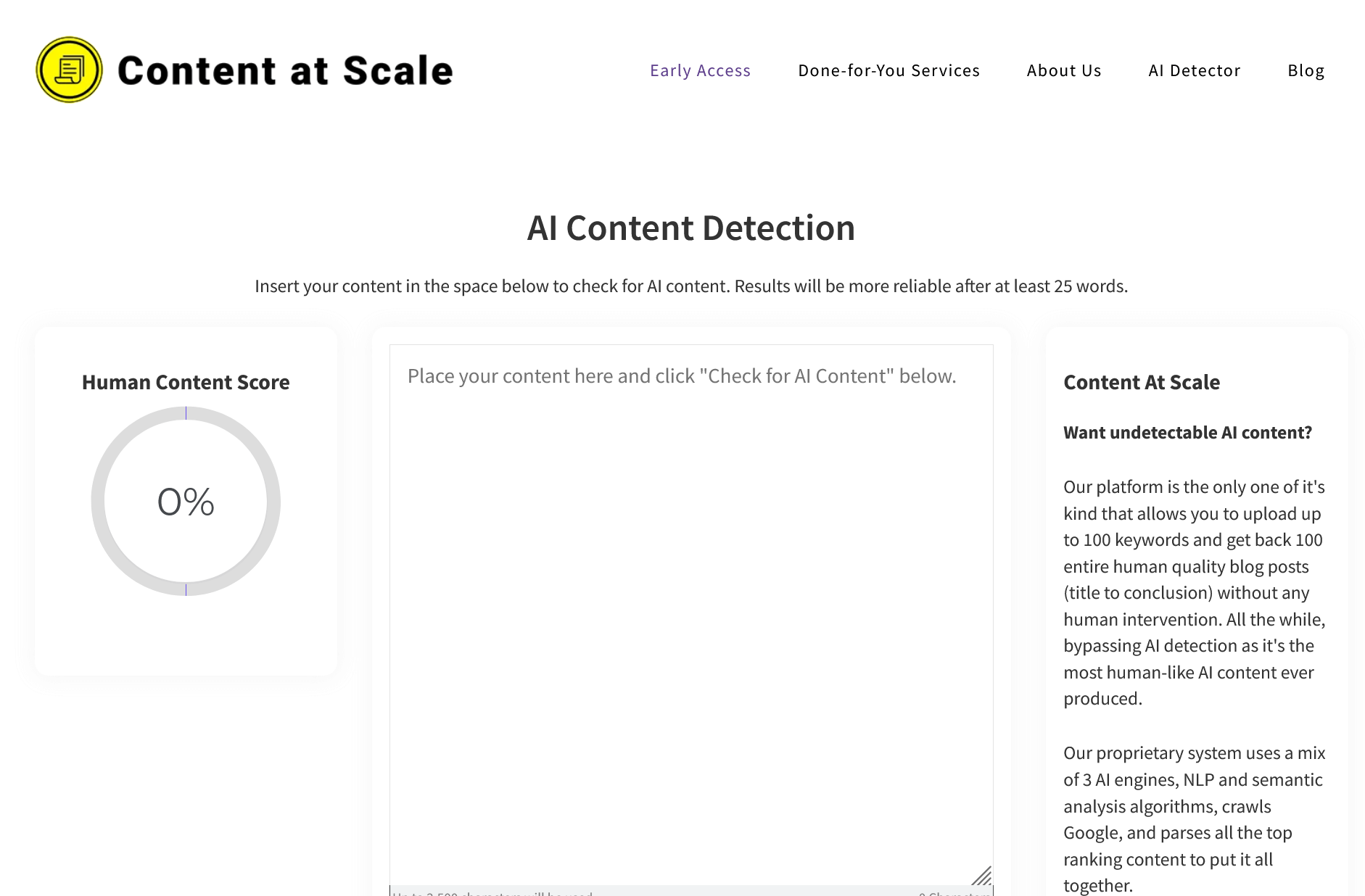 If you want to create AI content that can also pass the tests of AI content detectors, you may want to check out this tool. Content at Scale is a content generation platform that can be used by marketers to produce blog posts and other long-form content by simply inputting your keywords.
The platform claims to lessen the need for hiring writers by generating written content that can be edited and published without much concern about Google penalization. Content at Scale is able to achieve this because it comes with a free built-in AI content detection tool.
The software is not only for fresh content that you are creating with Content at Scale but also text that you may have already written or published online. It comes with the added benefit of SEO optimization.
Should You Still Use AI Writing Tools?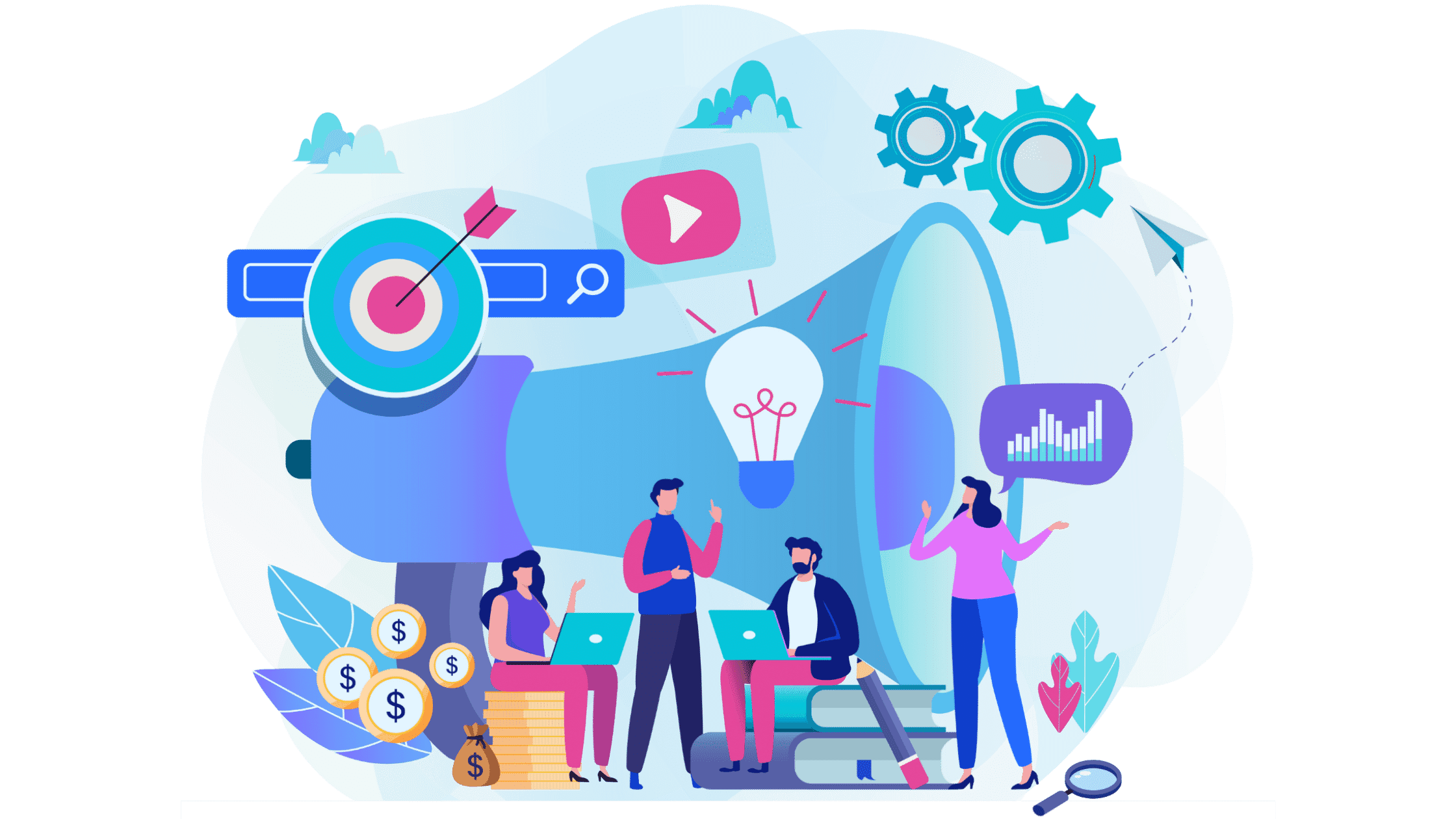 Possibly. AI writing tools can easily spit out hundreds of words of content in a matter of seconds. This helps in more ways than one.
As mentioned earlier, they can help human writers create content quicker and save money. In addition, AI tools can be used to generate writing prompts and ideas, which is helpful when you feel stuck. That being said, you often need to rewrite or edit AI-generated content to make it sound more human-like.
The tools mentioned above are all useful in detecting AI-generated content, but it is important to remember that they are not all foolproof. As you can see, some have not been updated in line with the latest AI language models (GPT-4 or higher). Moreover, some AI-generated content can be difficult to distinguish from human-written text. This means marketers have to spend time choosing the best AI detection tools while being cautious before publishing content.