Fiverr Select Review (Fiverr Select Buyer Meaning)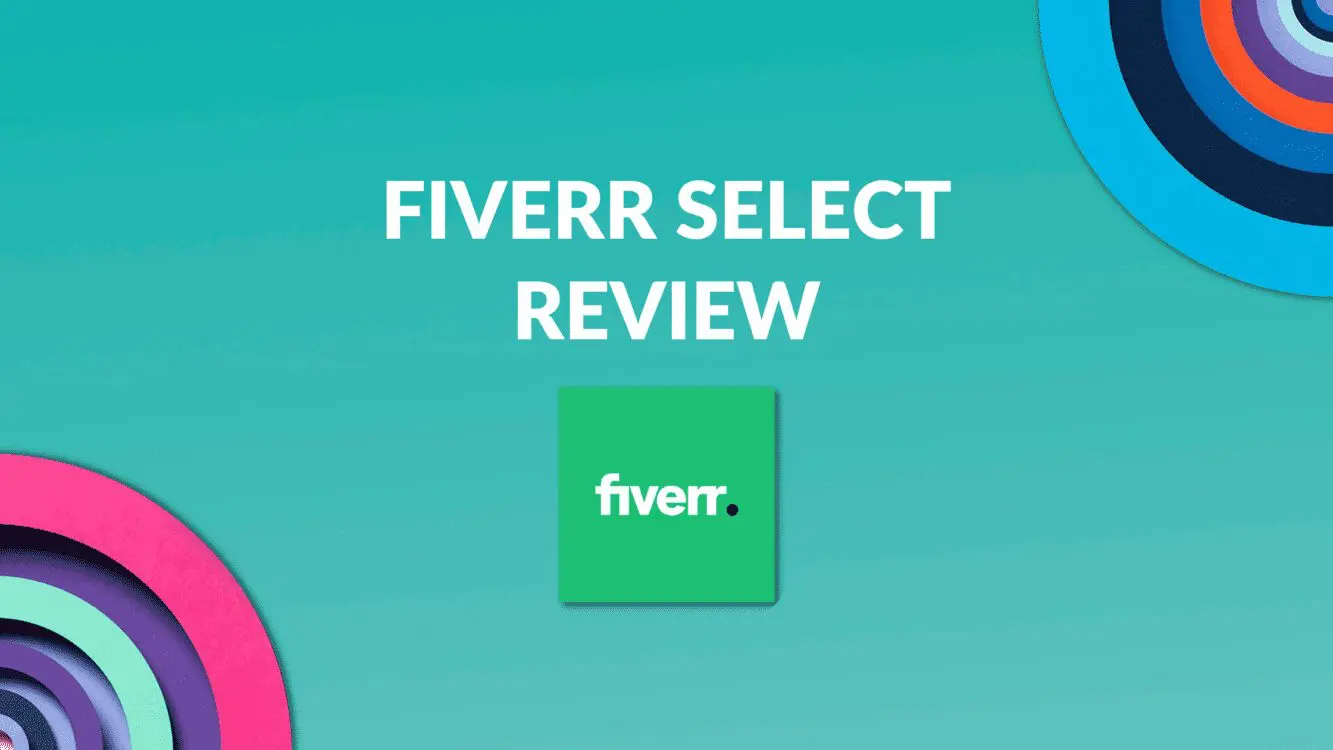 Disclosure: Some of the links below are affiliate links, meaning that at no additional cost to you, I will receive a commission if you click through and make a purchase. For more information, read our full affiliate disclosure here.

If you don't already use Fiverr, I'd recommend giving it a try! Fiverr is a great way to make extra money as a seller or find affordable  freelance experts as a buyer. It is also one of the few blogging tools that I use on a daily basis.
CASEY BOTTICELLO
Founder, Blogging Guide
Fiverr is an Israeli-based online marketplace where a range of digital services (or "gigs") are traded. Buyers can hire freelancers to perform a variety of services – including graphic design, email marketing, copywriting, social media management,  etc. – for an agreed upon amount.
Prices start from $5 (hence the Fiverr moniker) but freelancers can charge hundreds or even thousands of dollars for a gig, depending on the service being offered and their Fiverr seller level. Also, users are free to create and operate a Fiverr account, but the platform claims 20% of all revenues earned by sellers. Buyers are also charged a fee when purchasing gigs, but the amount varies with the size of the order.
It should be noted that users of Fiverr receive different privileges based on meeting certain criteria. To become a Level 1 seller, for instance, freelancers have to have completed 10 orders on time, with an average rating of 4.8 or higher. For Level 2, it is 50 orders, while Top-rated sellers need to complete 100 orders, but will only get the badge after being vetted and approved by Fiverr.
As it relates to buyers, there isn't much of a level system in place. However, Fiverr has made attempts to highlight those who regularly use the website to purchase freelancing services. In that regard, they have introduced the "Top Buyer" badge and now the Very Important Doers program.
Fiverr's Select program (formerly called Fiver VID) has been in existence for a few years now. With over 3.4 million buyers purchasing services in over 500 categories, the program is designed to highlight those who drive the most business on the Fiverr marketplace. But what exactly is a Fiverr Select, and why should it be of interest to anyone who buys (or is planning to buy) services on the platform? Our comprehensive Fiverr Select Review will help you understand the Fiverr Select buyer meaning.
Fiverr Select is an "exclusive complimentary program open to the most experienced Fiverr buyers, who order frequently and regularly on Fiverr." Launched in 2018, it allows these buyers to enjoy a raft of exclusive benefits such as priority support, personalized seller matching, special discounts and promotions when making orders, business success guidance, and access to educational content tailored to the needs of the buyer. It is an invite-only program, meaning all VIDs are hand-picked by the Fiverr team based on certain criteria.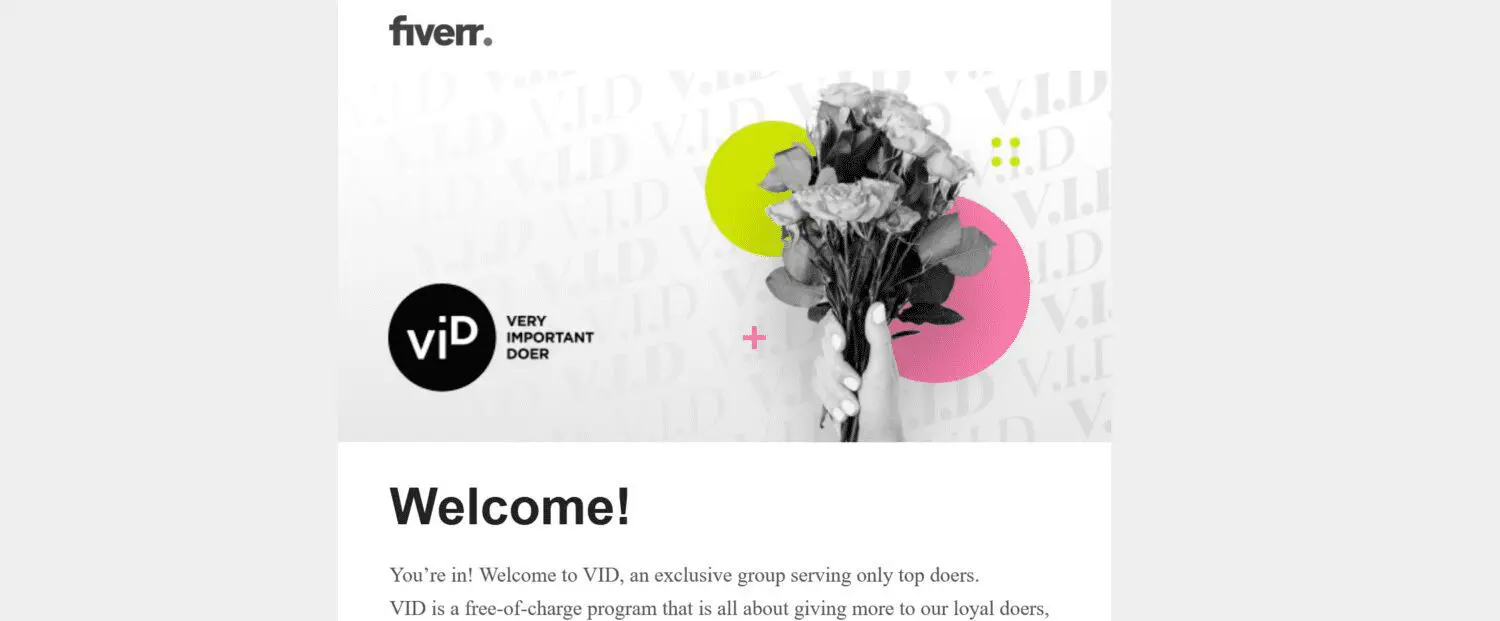 In December 2021, Fiverr announced that it was rebranding Fiverr VID, and the program would now be called Fiverr Select: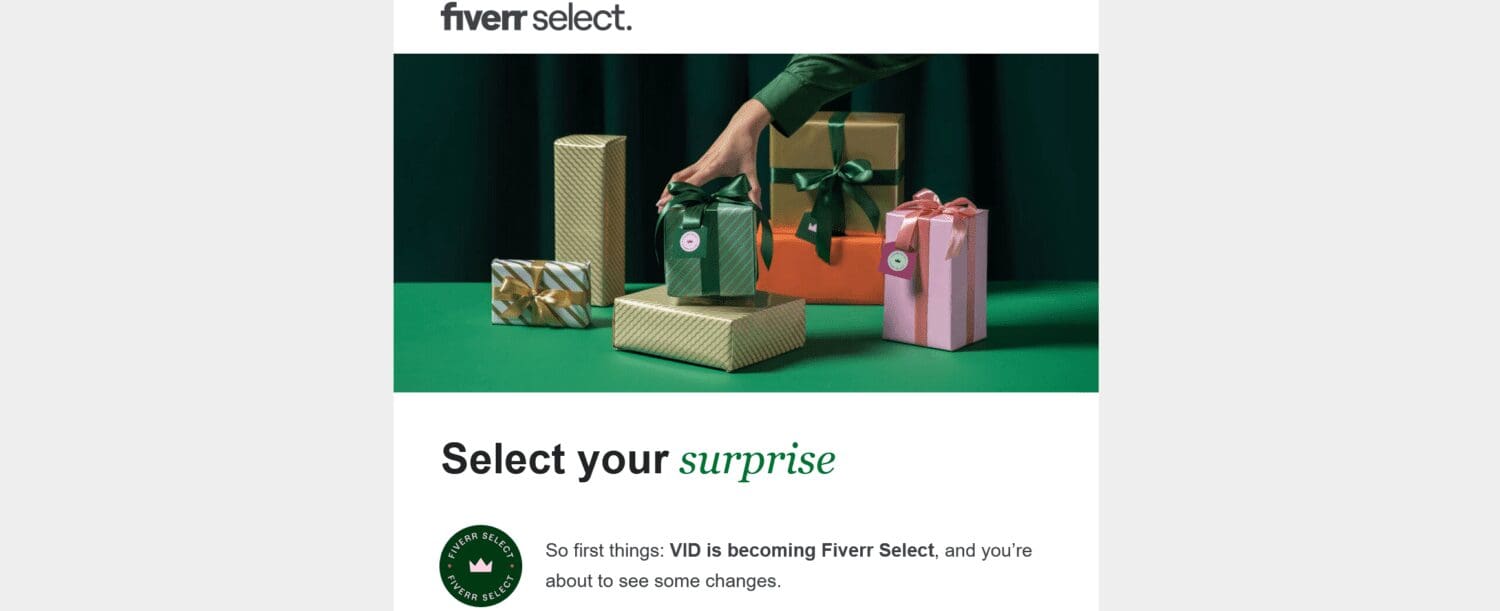 What is Fiverr Select / Fiverr VID Program?

Fiverr VID was a more selective program, which was much harder to get accepted into as a seller. It was invitation only and there were few publicly shared details about criteria for selection. Anecdotally, I was only invited into this program once I started spending well over $1,000 per month.

Fiverr Select has clearly posted buyer eligibility criteria, and does not require nearly the same level of spending. From the Fiverr article on the topic:
A buyer becomes eligible for Fiverr Select when 2 goals are reached within 6 months:
The buyer has ordered 10+ orders, and they have been completed.
The buyer has spent at least $500—or the equivalent in their local currency—on Fiverr
Fiverr also notes that buyer eligibility status is updated within 24 hours of completing an order. Simply complete 10 separate orders with a total value of $500 or more—then, within 24 hours, you'll get your invitation!

There are five main benefits of Fiverr Select (based on my experience):
Access to Customer Success Team
Priority Customer Support
Discounts & Promotions From Fiverr Partners
Custom Resources (Webinars, eBooks, Guides, etc.)
Fiverr Select Buyer Profile Badge
So what do these benefits of Fiverr's Select Program actually include?

Access to Fiverr's customer success team is arguably the biggest benefit of Fiverr Select. Need project consultation, business guidance, or help finding the perfect seller? Reach out to your dedicated success team and get personalized guidance for your business/goals.

For example, I was looking for some new freelance writers for various side projects I was working on, so I reached out to Fiverr's customer success team, who promptly responded:
Access to Fiverr's customer success team is arguably the biggest benefit of Fiverr Select. Need project consultation, business guidance, or help finding the perfect seller? Reach out to your dedicated success team and get personalized guidance for your business/goals.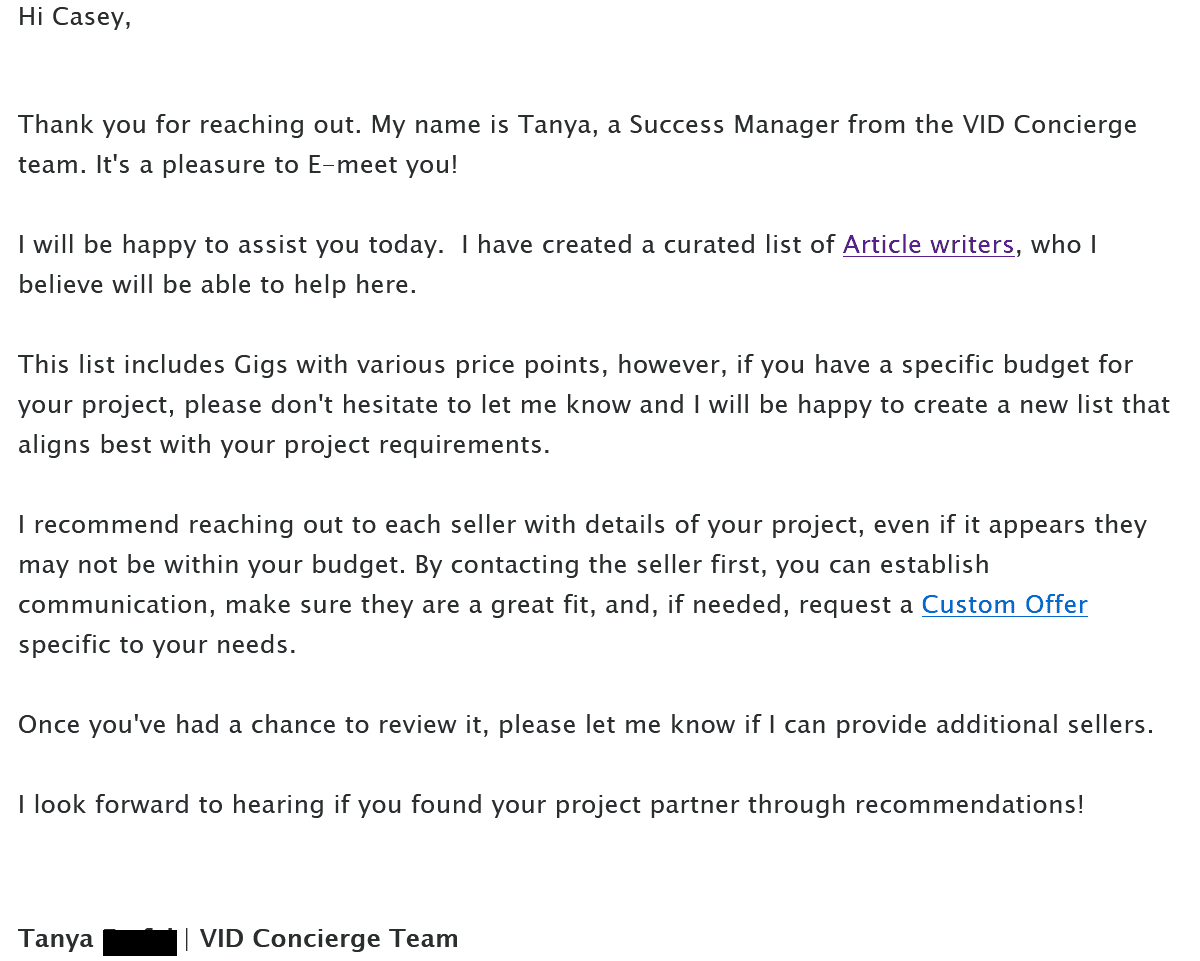 The list provided by Fiverr contained a number of relevant sellers (each offering freelance writing as a service).

I was curious to see if these "featured" writers were different than the writers I had already explored using Fiverr's basic gig search engine (and filtering by seller rating, number of reviews, seller status, etc.).
I was surprised to see that many of the writers recommended by Fiverr were in fact writers that did not appear in my thorough search using their gig search engine.
So if Fiverr did not use the standard metrics that buyers sort by, how did they identify these sellers? My guess is that these sellers received high scores on the additional feedback that buyers optionally give on sellers, had a high completion rate with higher dollar orders, were quick to respond to sellers once hired, or some combination of these factors.
This is valuable because these data points are far more useful than looking at at seller's five star rating or number of reviews. All of these data points (and more) are collected by Fiverr, but are kept private and not available to sellers trying to filter their gig search.
This benefit is critical to buyers who are searching for gigs within a very crowded space, such as freelance writers, graphic designers, web developers, etc. Obviously, this curated list of recommended sellers is less useful if you have an extremely narrow search topic.
Priority Customer Support



I've definitely received faster customer support since becoming a Fiverr VID (and now Fiverr Select) member. Still, I rarely receive support as fast as they advertise. The main advantage, which I cannot prove but would make sense, is that in the rare case that a seller is obviously trying to screw me over, Fiverr is much more responsive, and much quicker to offer me a full refund.

Is this actually because of Fiverr Select or just a function of the large amount I spend monthly on Fiverr? Hard to say. But I have noticed faster response times from customer support when responding to an immediate issue, which I consider very useful.

Fiverr offers discounts as part of its Fiverr Select Program to buyers spending on their own platform. For example, I took advantage of a general 15% off coupon on a fairly large order: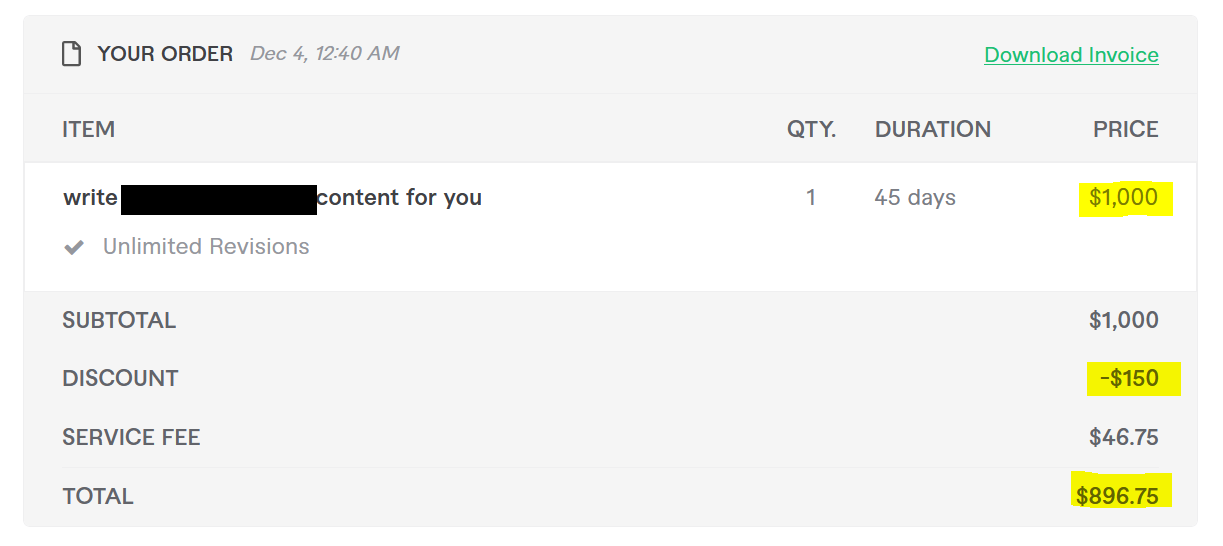 They also offer discounts and coupons from their partners: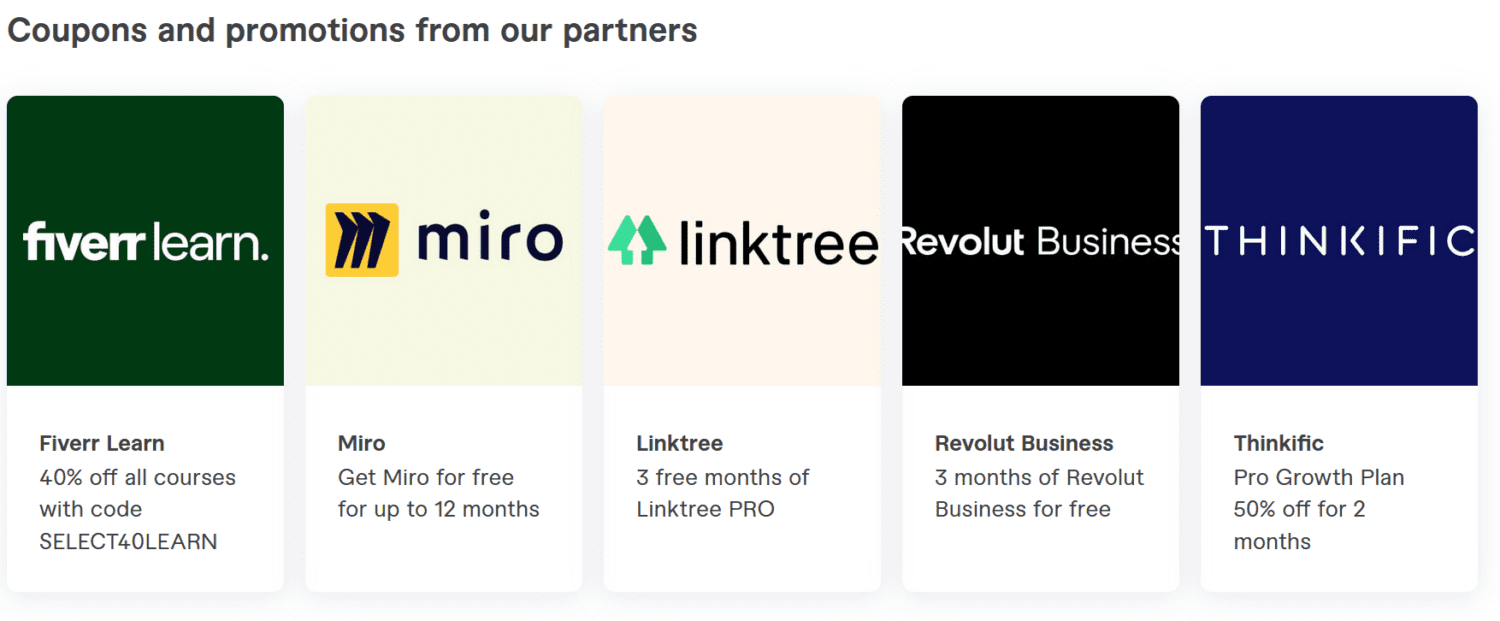 I have yet to explore all of the Fiverr webinars and events, but I can say that Fiverr does appear to be spending more time and effort creating resources to help the passion economy creators that it serves: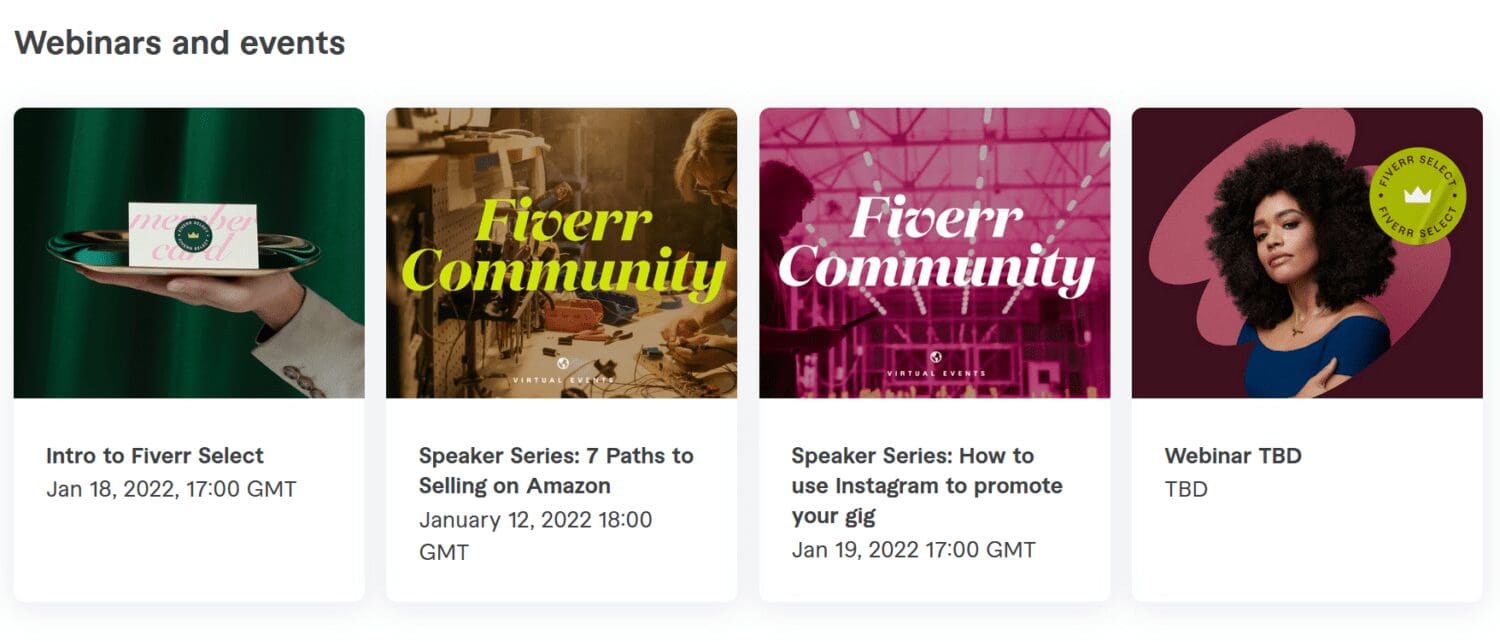 This benefit of Fiverr Select is hard to quantify, and is probably has the smallest impact of these five main benefits, but Fiverr Select members get a crown badge added to their profile. This is supposed to help buyers get noticed by sellers (since the seller presumably spends more than the average user).
While probably not an essential profile icon, in the case of sellers who have way too much work to handle, it probably incentivizes them to pick your offers and complete your orders first.
I've been using Fiverr for years to help find creative talent to help on various projects. Overall, I'm a big fan of Fiverr Select. Especially since the spending threshold has been lowered from the original Fiverr VID version of the program. That said, I would not spend money on Fiverr just to become a Fiverr Select buyer. Rather, Fiverr Select is simply a very nice perk for buyers who regularly use the platform.