Tidio Review: Chatbots for Your WordPress Website
Disclosure: Some of the links below are affiliate links, meaning that at no additional cost to you, I will receive a commission if you click through and make a purchase. Read our full affiliate disclosure here.
Are you looking for a truly comprehensive tool that offers both live chat functionality and can help you boost sales through your WordPress website? If so, Tidio is without a doubt a must consider tool! This Tidio review was written after having experimented with the software on my WordPress website over the past few months.

But before I dive into my experience using Tido, you might be wondering:
What is Tidio, and why would I even need a live chat/customer service automation tool on my website?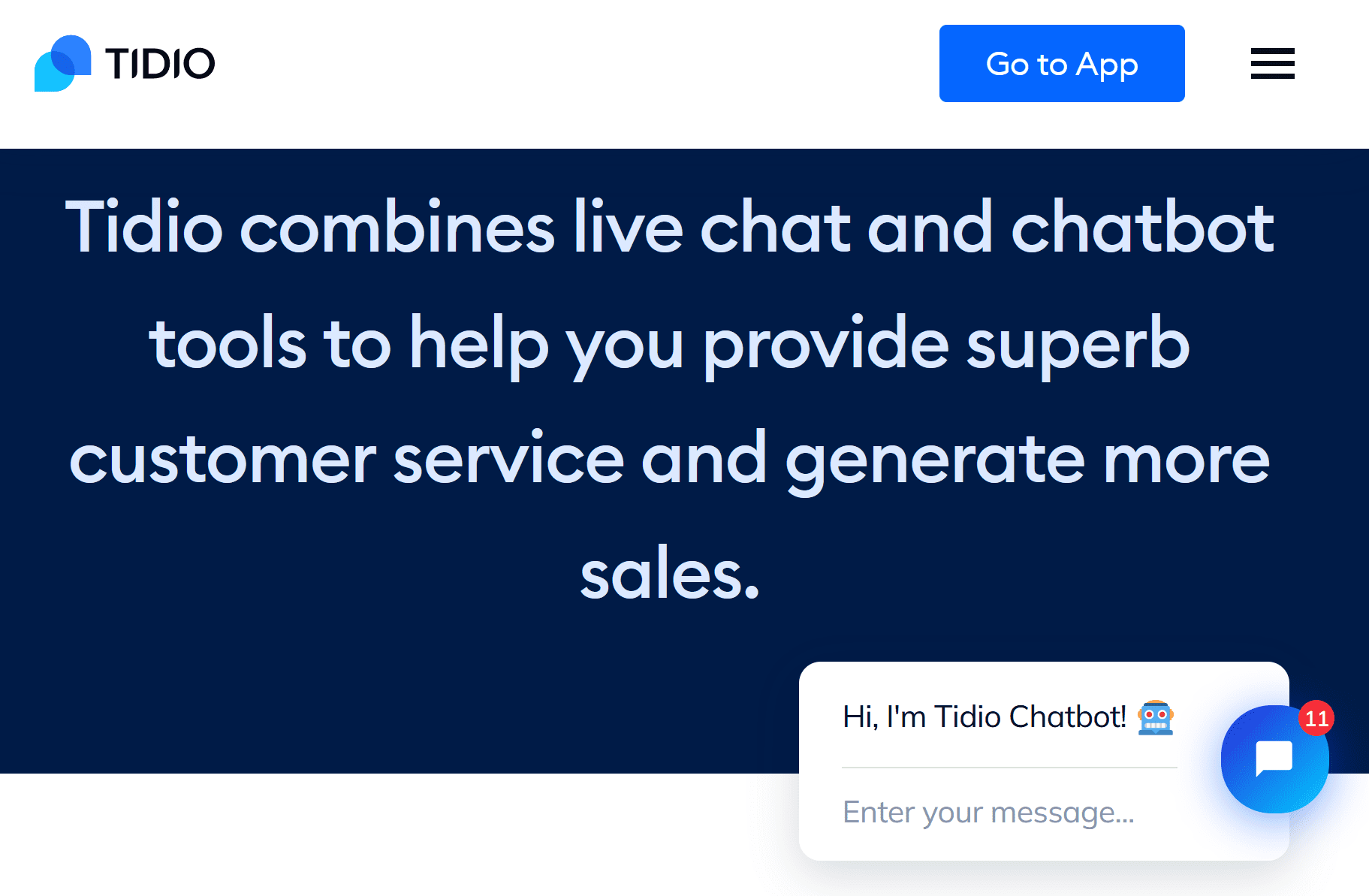 Tidio bills itself as a powerful, all in one customer service tool. A single compact solution to delight your customers and increase sales. And this is a good high level overview of Tidio.

But to be more specific, I would describe Tiddio as a codeless customer service and automation tool consisting of two main offerings:
Tidio live chat allows you to connect with users of your site and increase your sales by answering their questions and setting yourself apart from the competition.
Tidio allows users to easily create their own chatbots using one of Tidios 35+ pre-designed chatbot templates or build their own custom chatbots.
While each of these services are related, there are definitely many users of Tidio (myself included) who use one feature more than the other. So let's explore what each of these core product features includes.
Tidio live chat allows anyone to add live chat software to their website in just minutes. Live chat refers to the features that allow a site owner (or other operators) the ability to chat with visitors as they browse your website in real time.
Below are some sample screenshots of the live chat features that you have likely seen on any eCommerce website:
In practice, the live chat message box is typically located in the bottom right corner of your page (although this can be customized). For example, Mediavine uses a live chat system.
The left screenshot below show the Mediavine logo in the bottom right corner of the screen (in the closed position) and the right screenshot below shows the message box that opens if you click on the chat icon: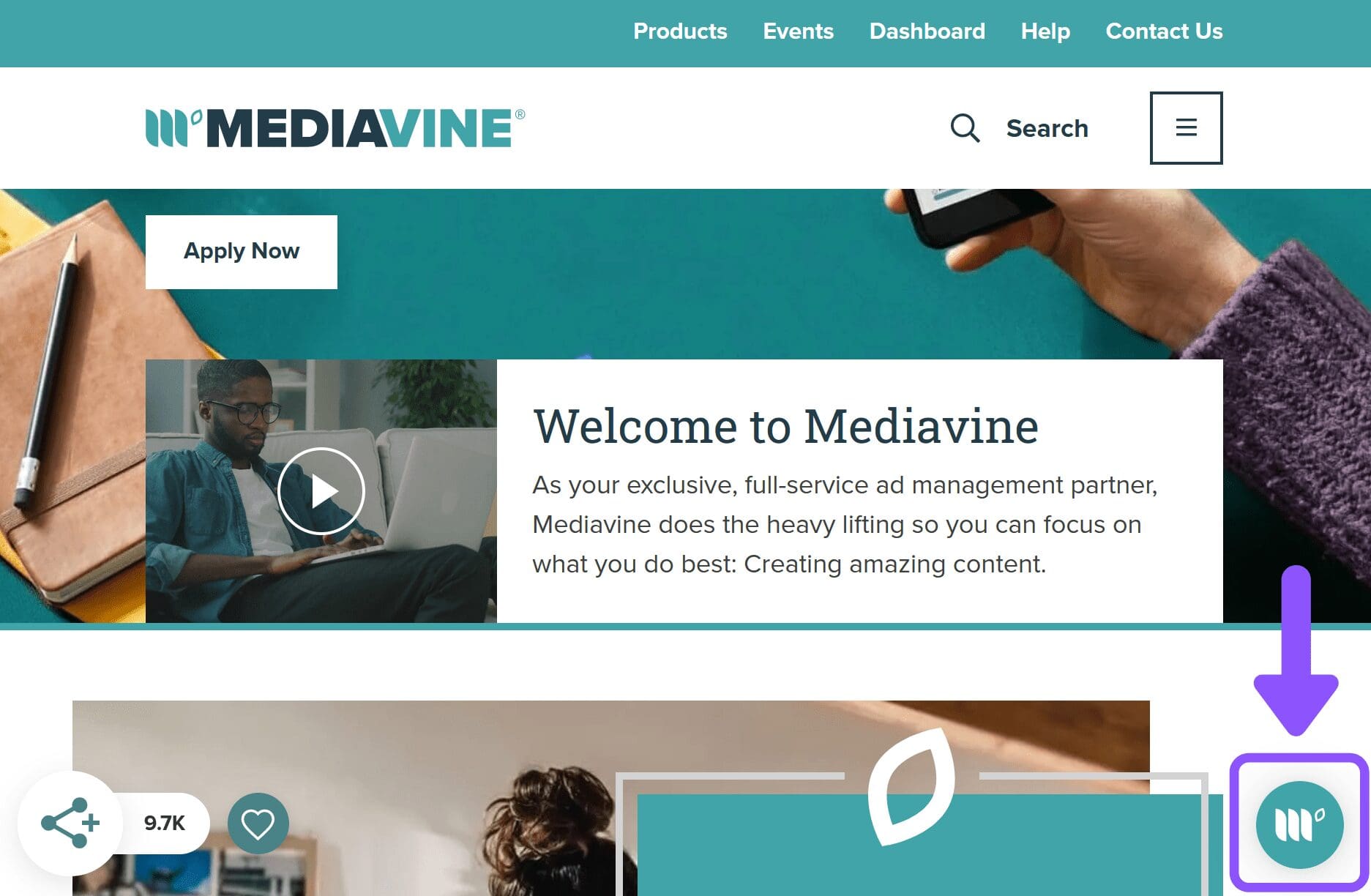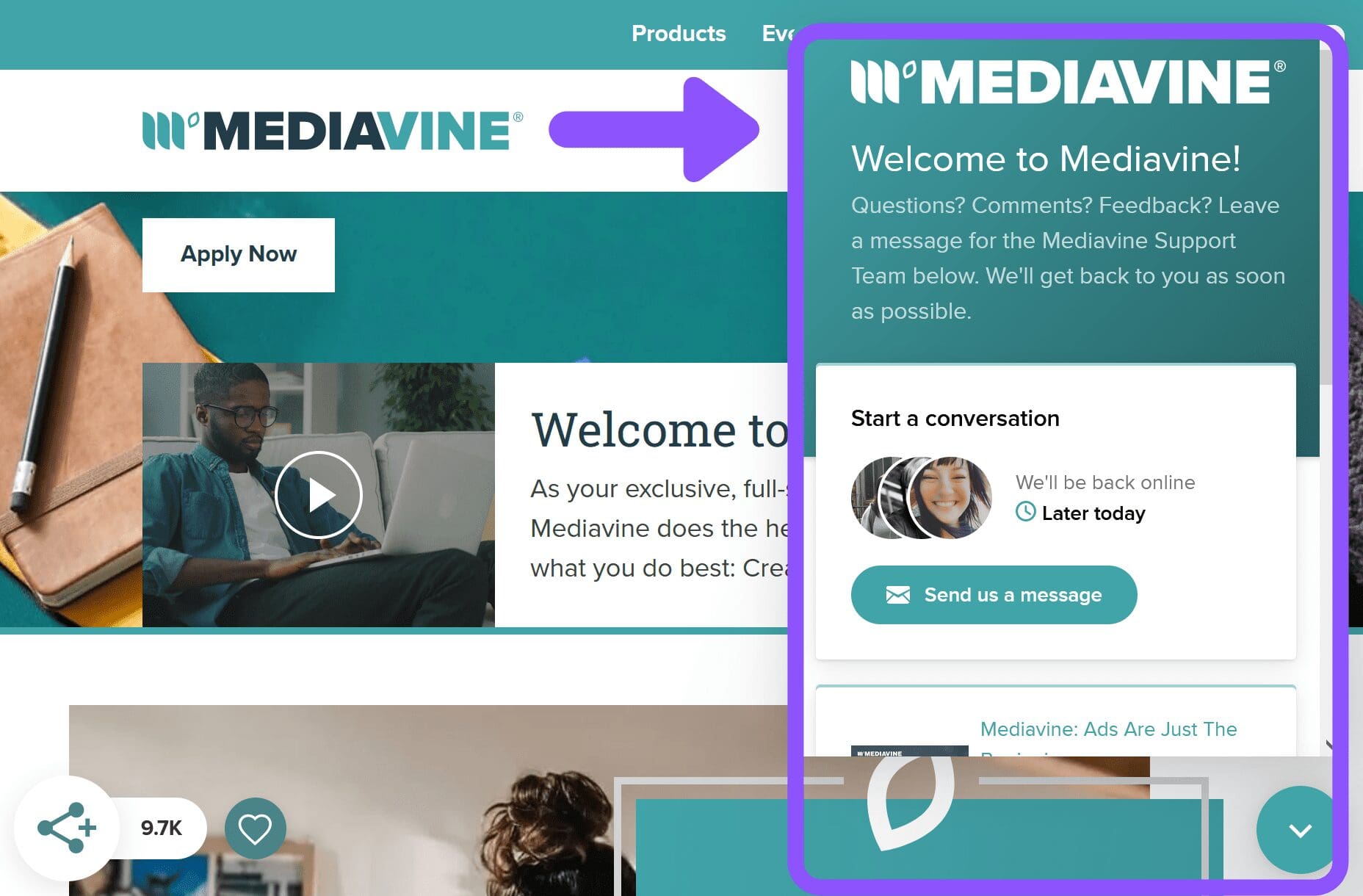 Visitor tracking. This serves as a comprehensive tracking facility that provides you a deeper insight into the behavior of your website's visitors (who are also your potential clients). It includes information such as the amount of time spent by a visitor in the chat, your agents' overall activity, conversion tracking, and record of transcript reports, among others.
Proactive chat. A feature where your operators initiate the chat and reach out to your website visitors by offering instant help. This is a powerful tool for increasing customer satisfaction and engagement. It may come with a custom message in an image or small live chat window.
Chat routing. Support agents transfer chats to any free operators or automatically route the customer to the right agent. This is beneficial for your agents so they won't be slumped when the chat volume rises and your customers will get appropriate and prompt responses.
Smart triggers. This sets a custom trigger for specific circumstances using a smart chat system. For instance, agents are notified about a recurring website visitor so they can commence a proactive chat session.
Canned responses. Speed up your agent's response time by allowing canned responses. Its definition refers to the snippets of text that are frequently used in chats. Saving and reusing them saves time as your agents can utilize it in only a few keystrokes on subsequent chat sessions.
Overall, I found Tidio to be a great option for live chat functionality! It was indeed quick to set up, had pretty much any feature I needed, including extremely detailed visitor tracking.
I gave Tidio four stars because while it was a great live chat tool, there were a few things that I disliked, or could be a problem for other users that I would otherwise recommend it to:
Cost of Extra Features. For me, this was not an issue. But again, this review is for all types of users who may be considering Tidio. One potential downside is the cost if you have many operators or want to remove branding.
It costs an extra $15 per operator per month and an extra $20 per month if you want to remove the Tidio branding. I am a solo site operator, and am not trying to white label the software as my own, so neither of these features were necessary. However, if you did need them, the cost per month would begin rising quite quickly, shifting the value proposition.

Lack of Functionality as Knowledgebase. If you're primary goal is to create a comprehensive knowledgebase that can be shared with users, there are better tools out there.

It's hard to review any software without laying out some parameters. So below are some of the Chabot benefits that I saw advertised by Tidio and other live chat software companies (before I signed up for Tidio):
Order Placement. Enable your customers to place orders directly in the chat widget on your website.
Upselling. Increase order value by offering free delivery on orders over $X amount.
Lead Generation. Automatically collect and qualify leads based on their behavior on your website.
Customer Support. Reduce your customer support team's duties, so your agents can focus on more complex issues.
Automate Answering of Repetitive Questions. Include chatbots in your conversation to step in and handle the most repetitive actions like checking order status and processing returns.
Overall, I found Tidio to be an excellent option for chatbot functionality! It was extremely easy to create my own chatbot, or to modify one of the many pre-designed chatbot templates.
There was absolutely no coding required. In fact, the whole chatbot workflow in Tidio was very easy to follow. It did not feel like you were creating an automated process.
Part of this is due to the amazing drag and drop editor and custom chatbot templates which made it really easy to set up even triggers.
I gave Tidio five stars for the chatbots because while I was initially thinking it would be the live chat that would be the real draw, it was in fact the chatbots that were by far the biggest value add.
Specifically, the chatbots were useful because they:
Generated Leads. As someone who is focused on lead generation for multiple part of my online business, I found the chatbots to be extremely useful.
For example, I programmed all the pages that had the word "canva" in the url to automatically offer visitors a set of free canva templates in exchange for their email: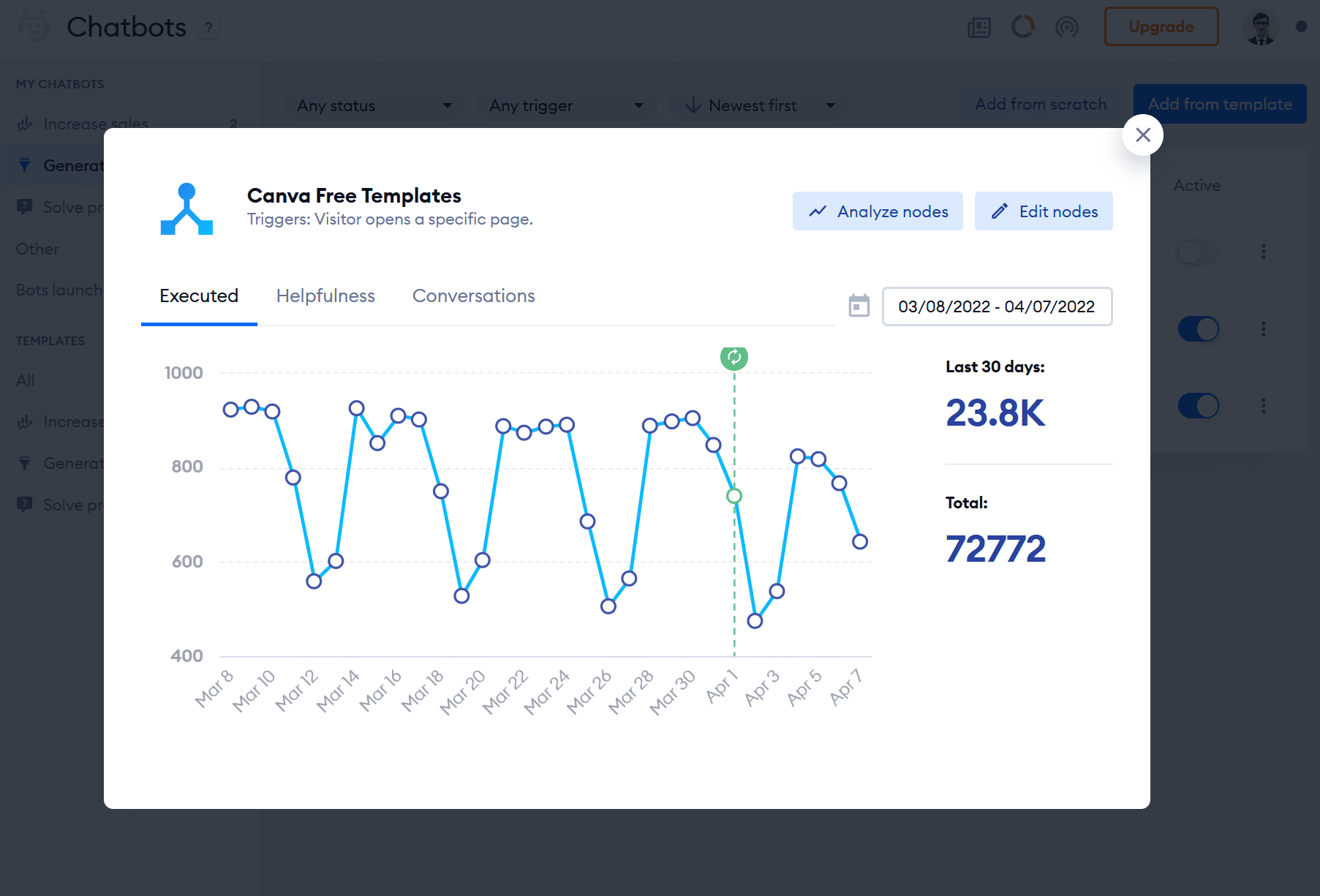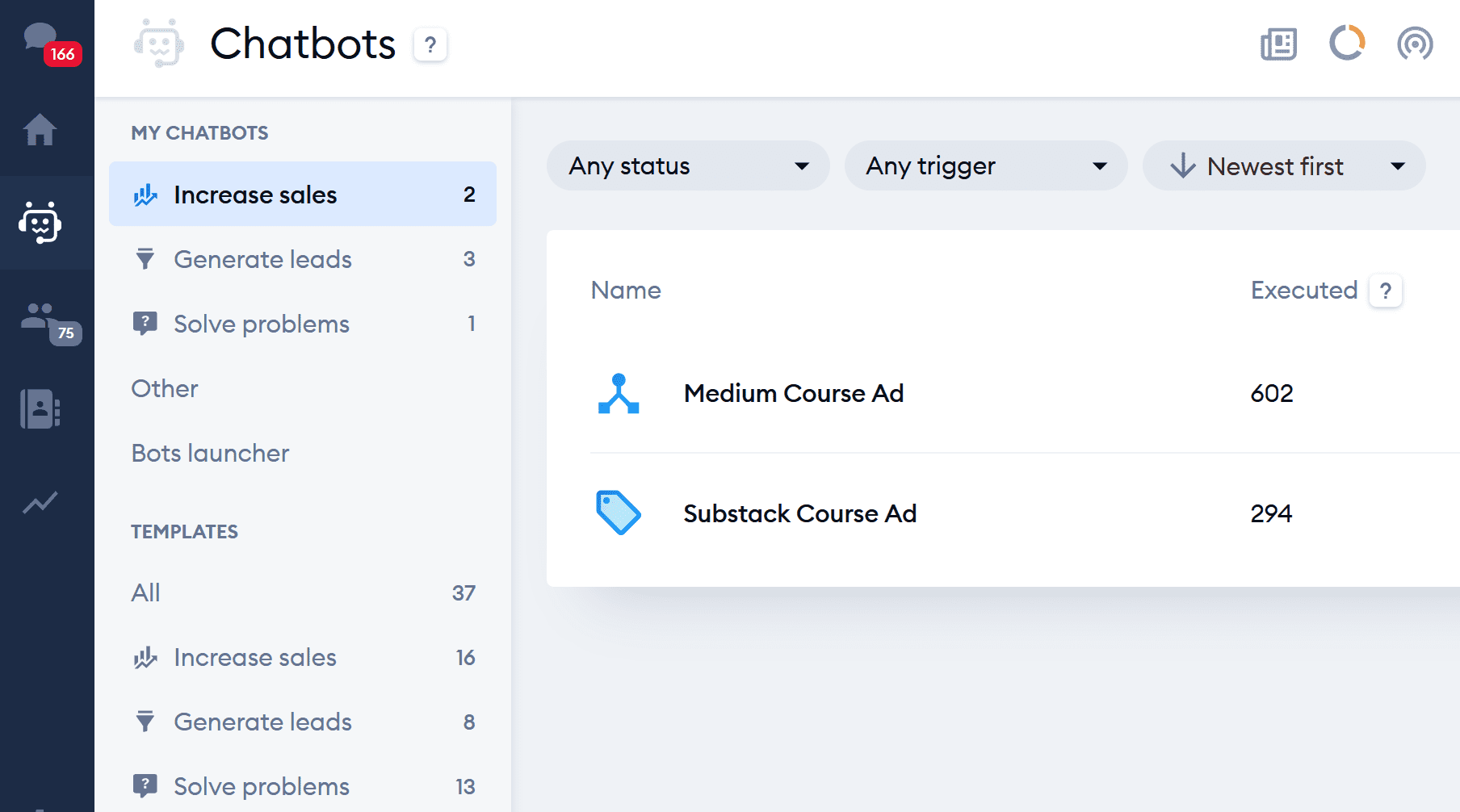 In general, I appreciated how easy Tidio made it to collect, track, and manage leads.
The main dashboard gives me a good overview of the leads collected. I just export the leads about once per week to add them to my various newsletters and email marketing systems.
The fact that this was easy to setup, required no technical maintenance, and functioned completely autonomously is why I recommend Tidio to anyone looking for a chatbot tool!
I also was able to use this to sell my Medium course and my Substack Course, using similarly automated sequences.
Offered Deep Data Analytics Tools. Even as someone who has an active and engaged audience, it can be difficult to figure out the exact breakdown of who your site visitors actually are.
For example, Tidio allows you to see detailed information about every user that is currently on your site. You can see the history of the pages that they've viewed, their browser, duration on each page, approximate location, and if they are a returning user, Tidio will indicate so allowing you to target those users for promotions: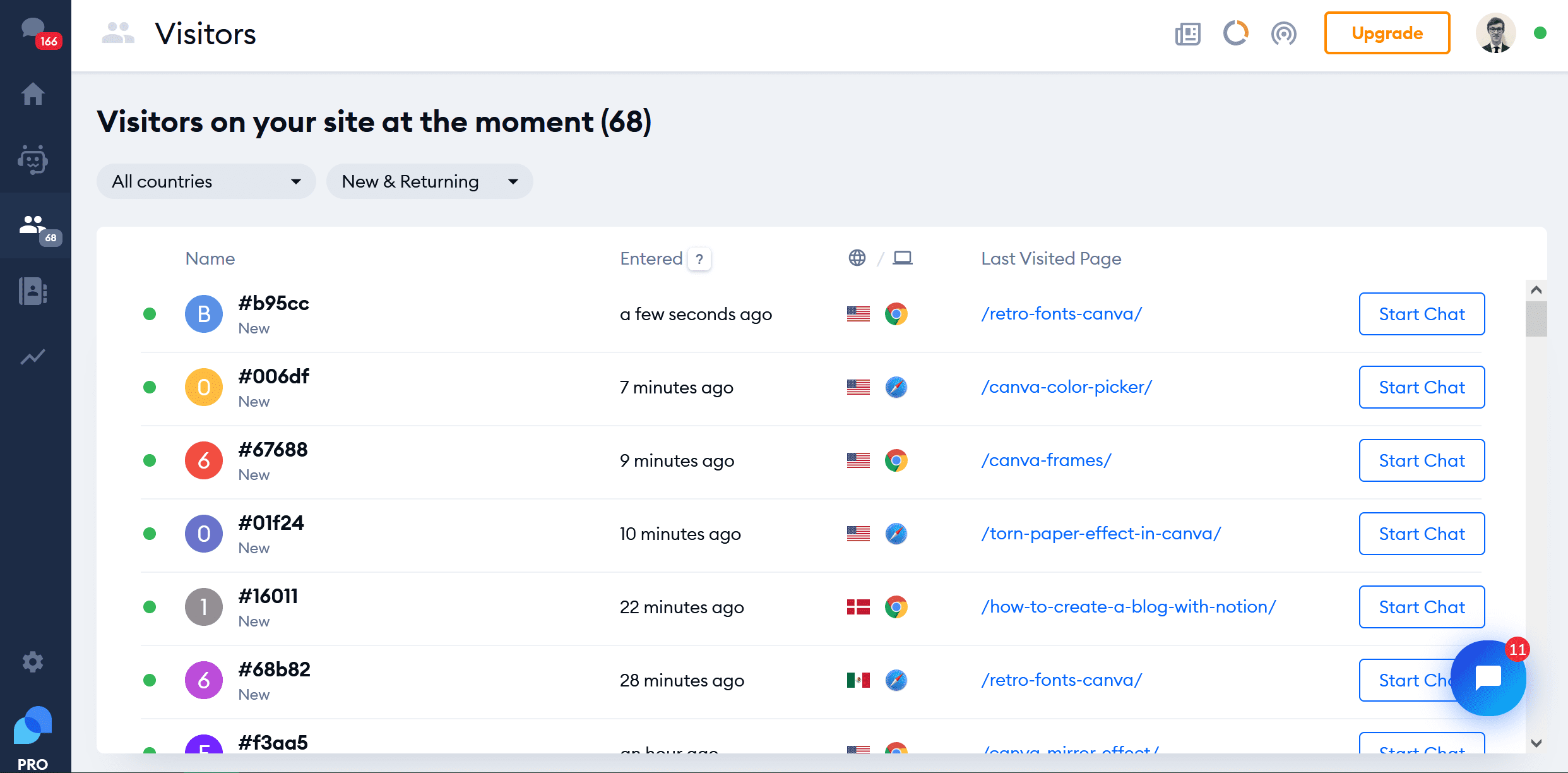 How Tidio Works (When Using a WordPress Website)

I can only speak from my personal experience using a website built with WordPress, but the process of setting up a live chat system using Tidio was incredibly simple! It literally took me under 5 minutes. If you can install a WordPress plugin, you will find this a piece of cake.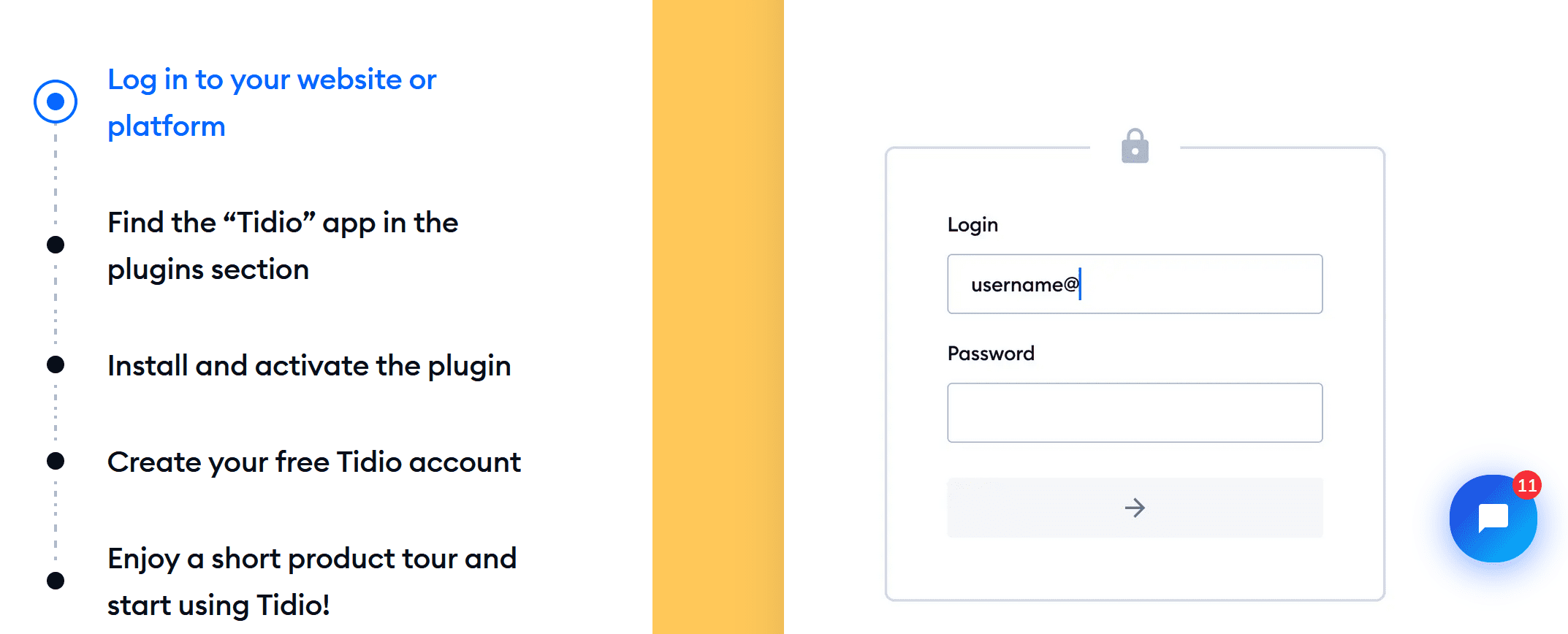 After setting up Tidio'a WordPress Plugin, you can access your Tidio dashboard from within your site: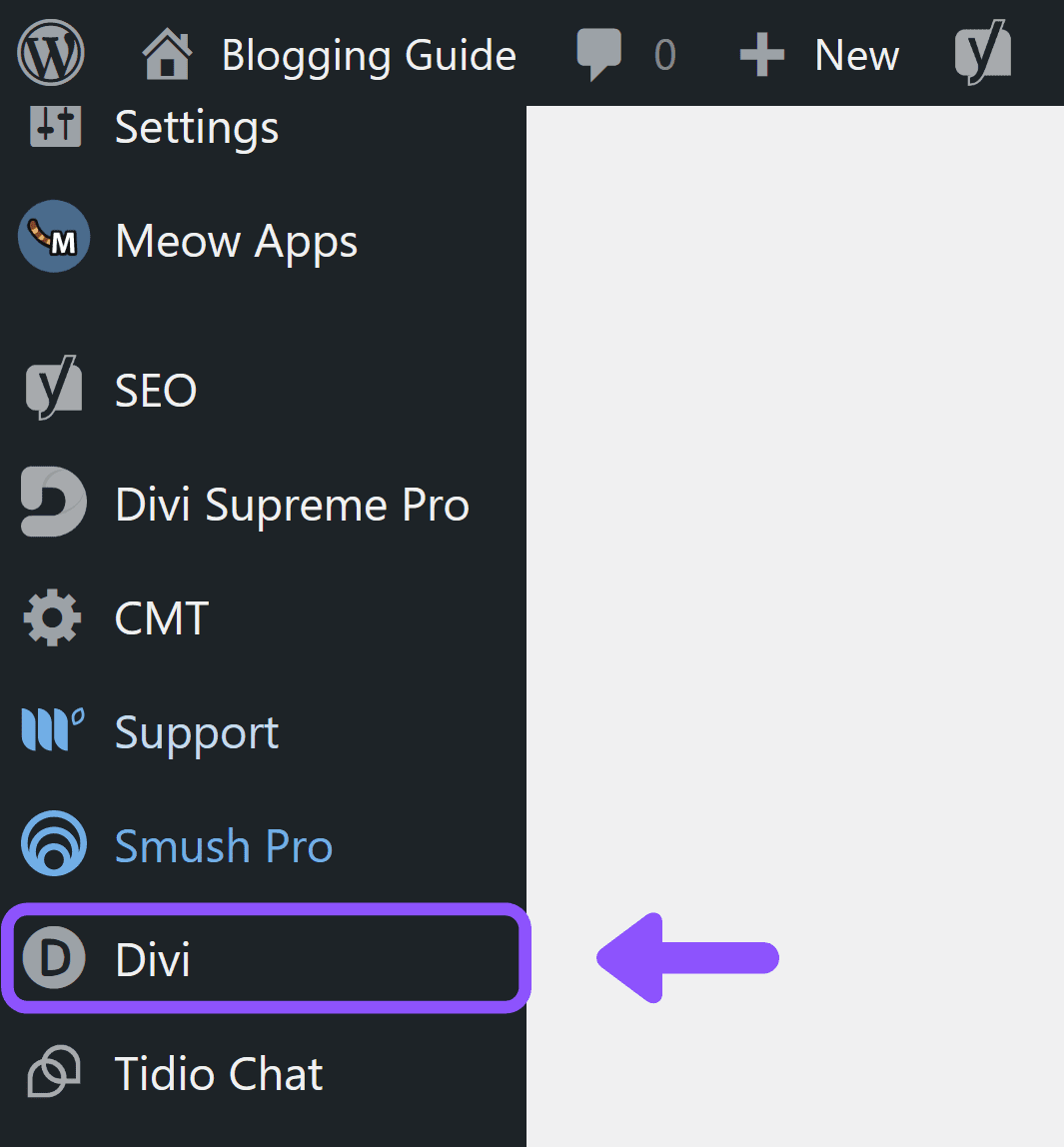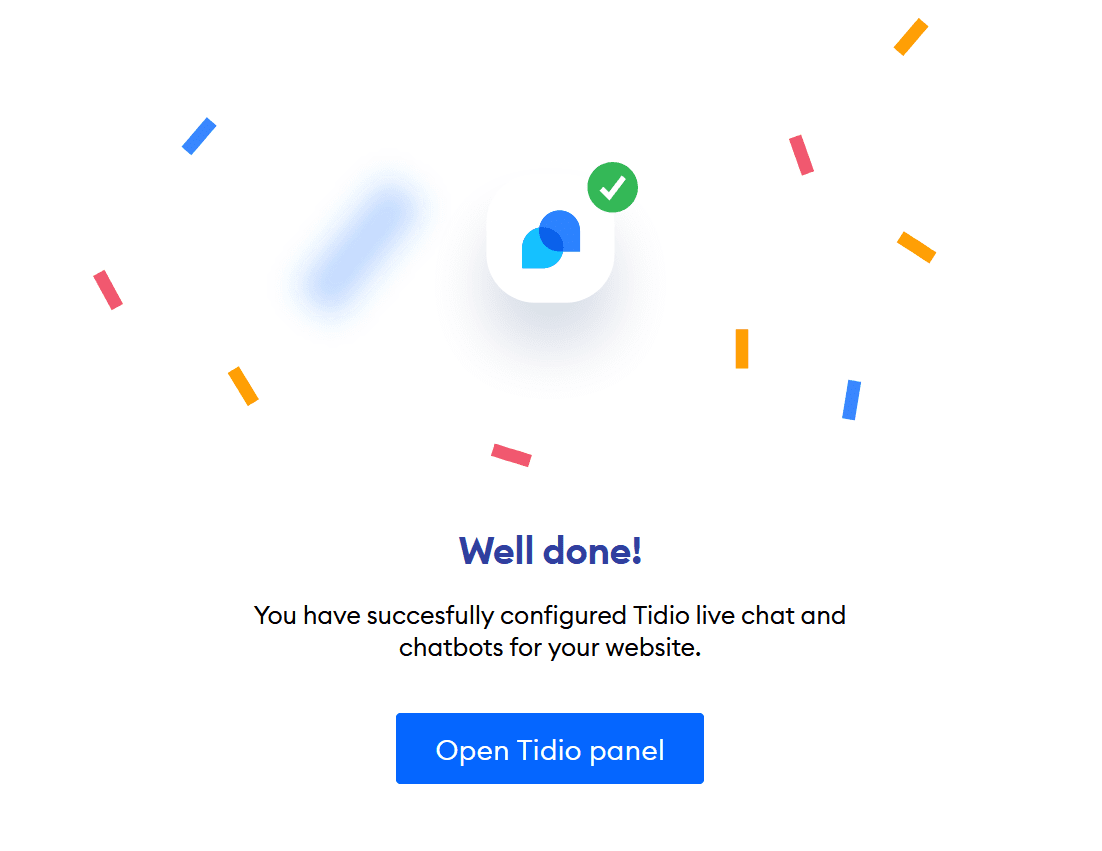 So the only major factor left to evaluate on Tidio is the pricing.
As I mentioned earlier, for me, as a single operator, Tidio is actually quite cost effective.
You get unlimited chatbox interactions even with the lowest tier of the paid plans, so you don't have to make a massive investment up front.
Better yet, Tidio has an entire free tier. While this tier has limited chatbot interactions, it is completely free. Not a "free trial" like many of the other platforms that I tried, but a "free forever tier" which is perfect because it lets you really try out Tidio's software before investing a decent amount of money in one of the paid plans.
For me, this was a big deal since I was viewing the addition of live chat and chatbots as a digital marketing experiment for my website.
However, since the product ended up being even more user friendly than I expected (and generating a number of valuable leads), I did eventually upgrade to Starter plan.
I liked this plan because it allows for 3 free operators (with the option to add more at a rate below the standard $15 per month advertised) without upgrading your plan.
That said, if you have a large team, you'll probably want to consider the Team or scale plans.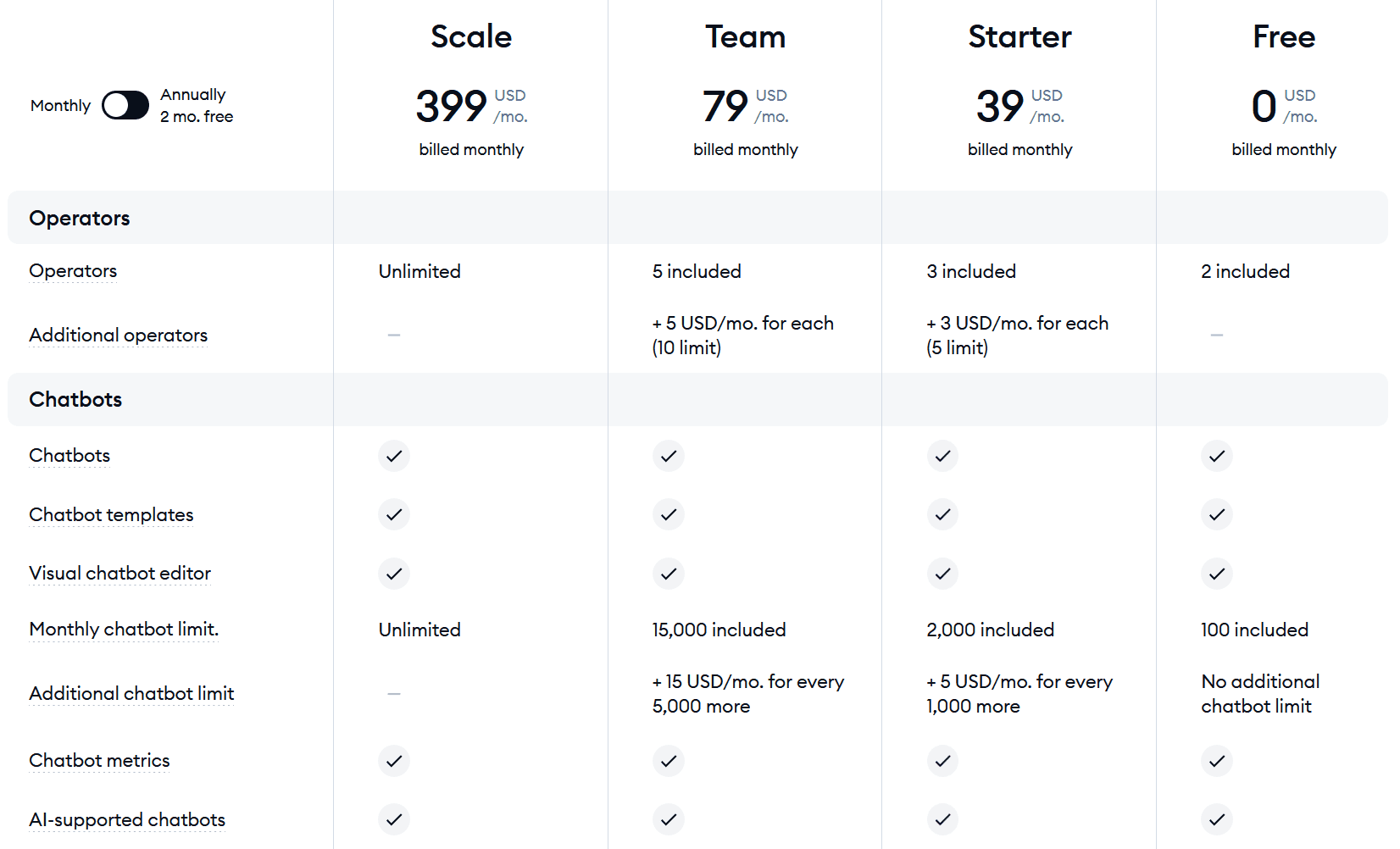 Tidio is definitely a good investment for any site owner looking to set themselves apart from the competition by incorporating live chat and chatbot messaging systems into their website. Especially since Tidio offers a free plan, I'd recommend anyone give it a try! I hope you found this Tidio review useful.