Gumroad Income Report (July 2022)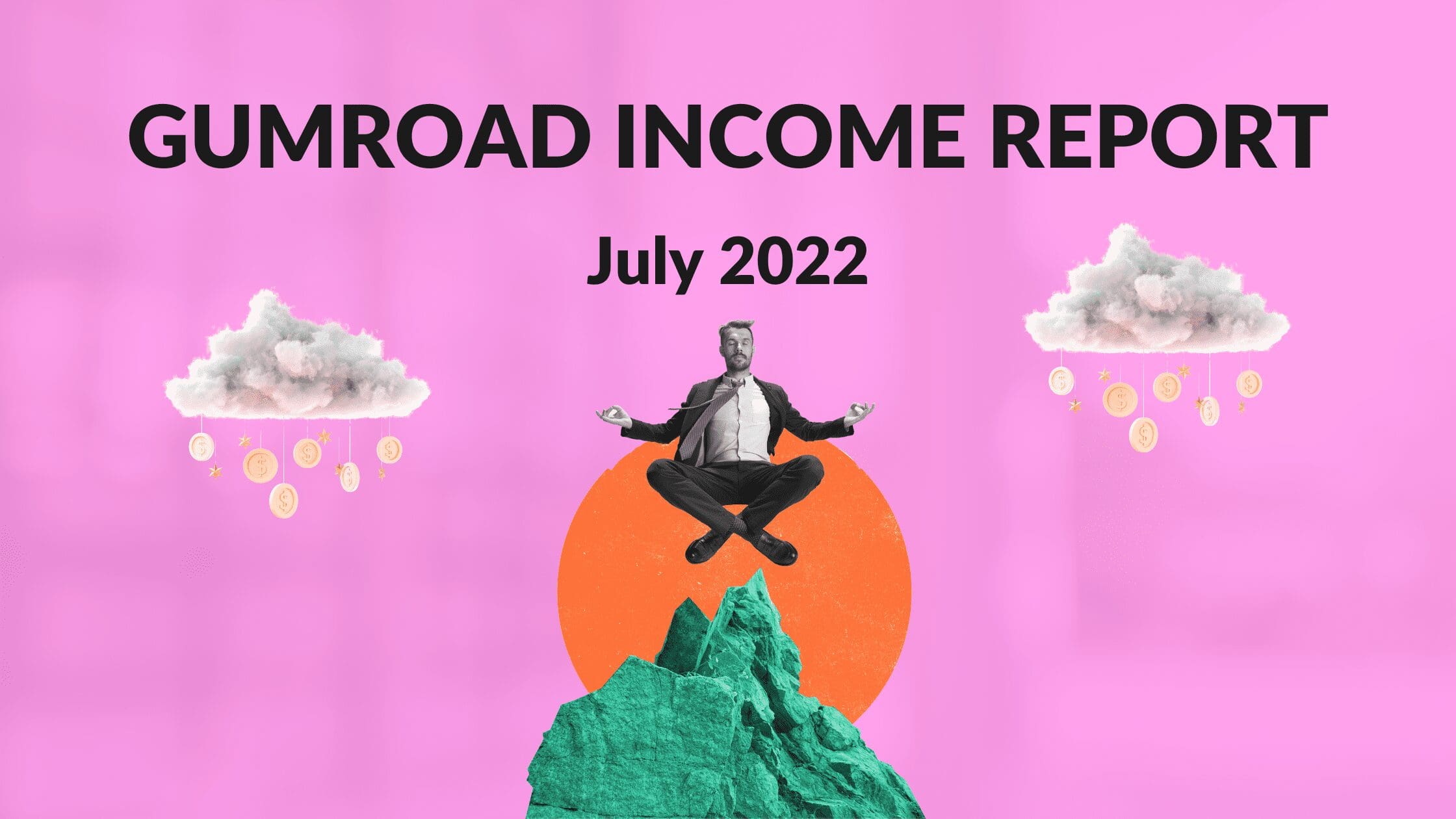 Disclosure: Some of the links below are affiliate links, meaning that at no additional cost to you, I will receive a commission if you click through and make a purchase. Read our full affiliate disclosure here.
When it comes to making money online through the sale of digital products, one of the first platforms that most creators will think of is Gumroad. For the uninitiated, Gumroad is a powerful but simple eCommerce platform which allows creators to sell digital products or memberships. In this Gumroad income report, I'm going to share how much I earned through my Gumroad store, Blogging Guide.
Note: While my Gumroad store is a separate entity from my website (Blogging Guide) and my Substack newsletter (also called Blogging Guide), both of these related sources drive a significant amount of the traffic that my store receives and influence heavily my monthly sales. However, I do have several digital products that are not promoted or sold anywhere else, such as many of the Canva templates, PowerPoint Templates, and Media Contact Lists, offered in my Gumroad store.

July 2022 Gumroad Earnings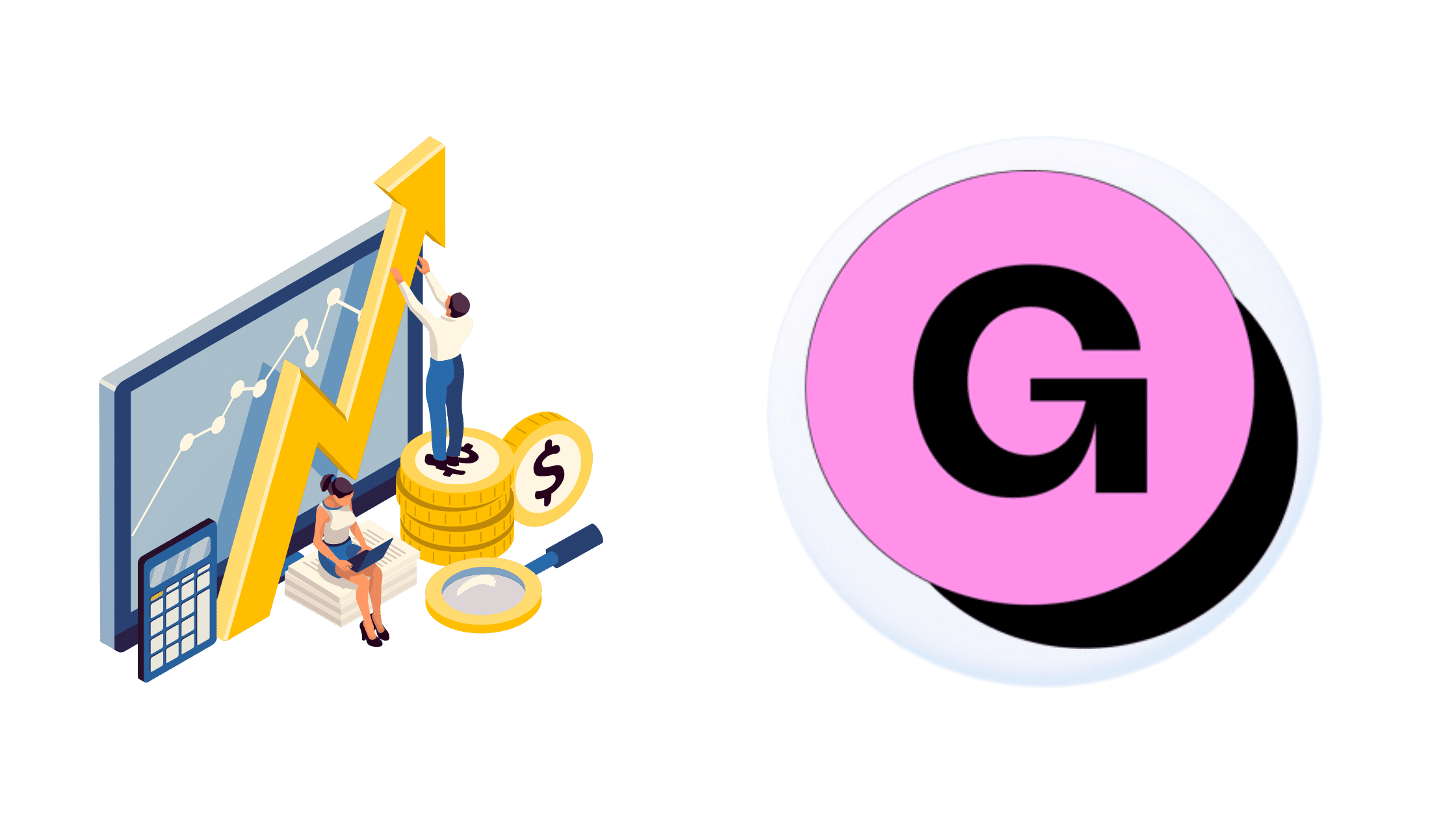 I will jump straight into the earnings, since I know that's why most of you are reading this.
In July 2022, I earned $574.89 selling digital products on Gumroad.
You can see this from the earnings screenshot from my Gumroad store analytics: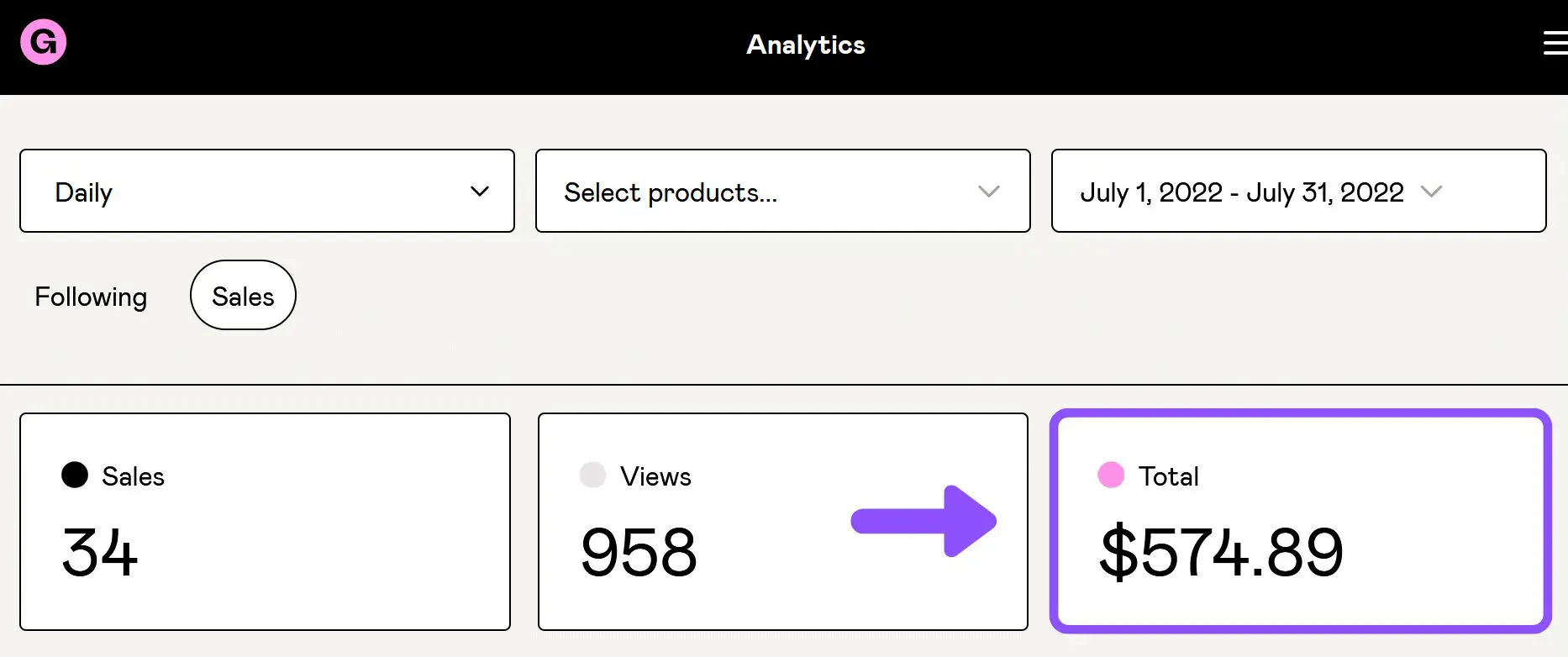 You can also get a sense of the sales cadence, based on the analytics graph provided by Gumroad: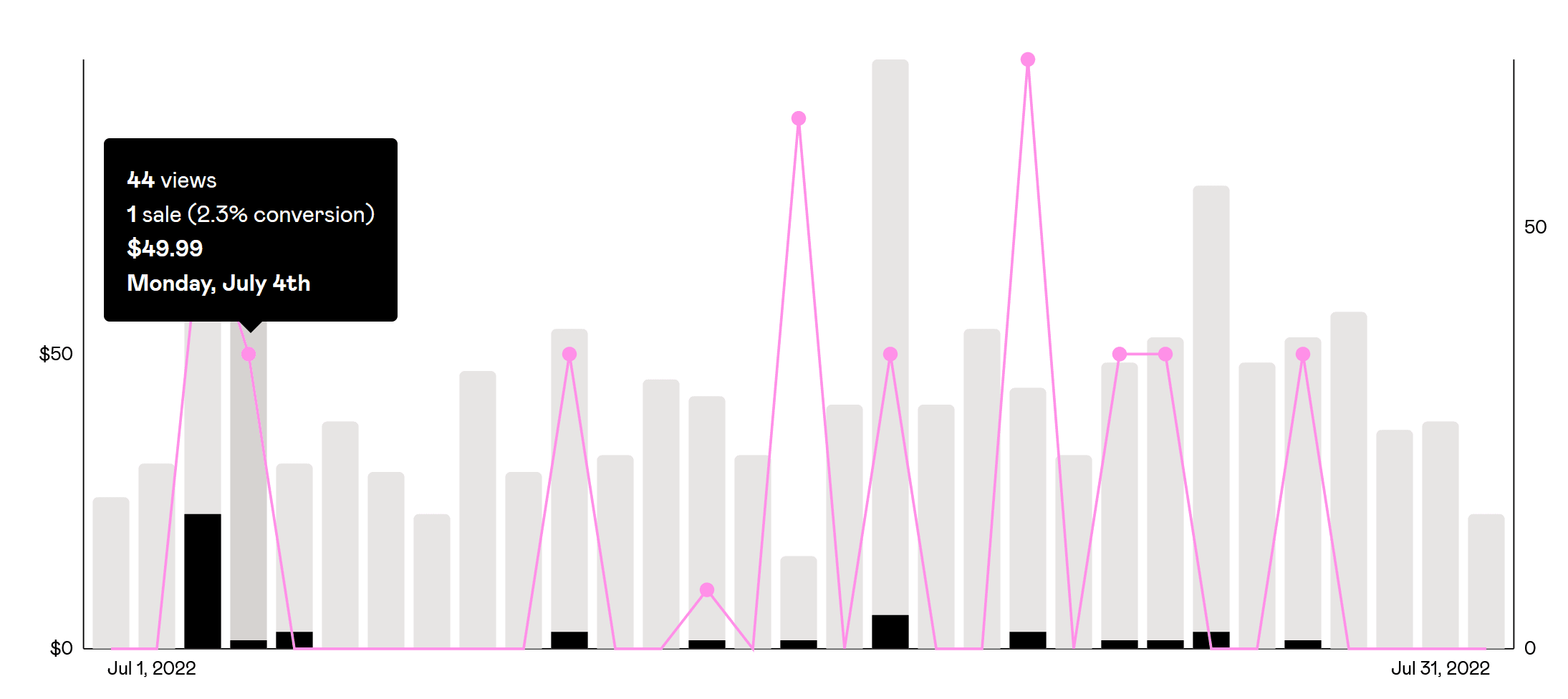 The grey bars track the number of views that each product received, the black bars indicate product sales, and the pink line and dots plot the total earnings for each day.
How Much Do I Typically Earn on Gumroad?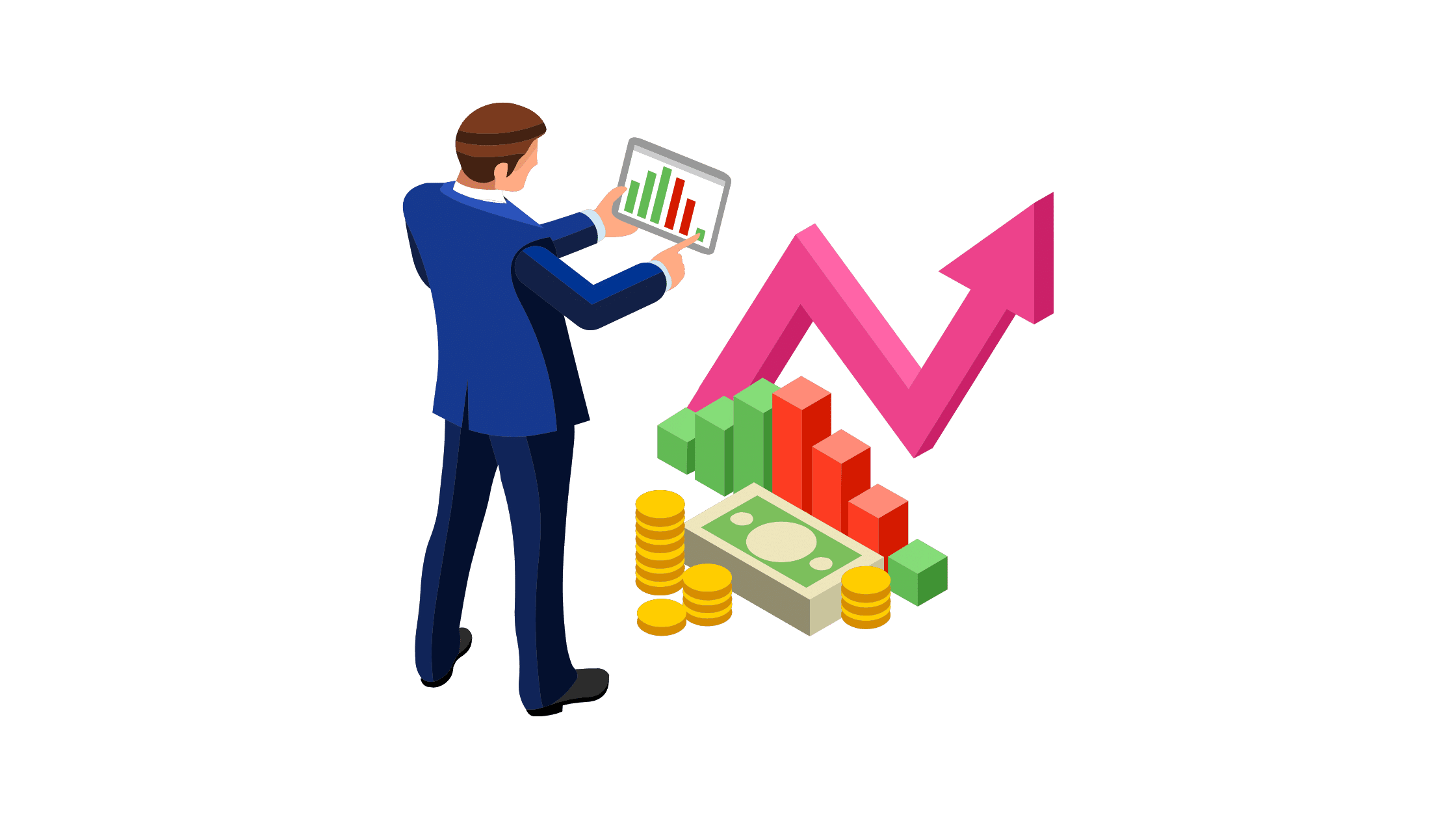 I typically earn anywhere from $200-$1,500 per month on Gumroad through the sale of roughly 17 products (some with multiple variations and offerings within each listing).
However, when I launch a new product, such as a course, those numbers can easily spike above that range.
This dynamic is representative of many sellers on Gumroad: they either use it to sell a product for a small window of time (and if they are successful), they see a large spike in traffic and sales on just a few days. Conversely, there are sellers like me who have somewhat consistent sales each month.
How do you consistently sell digital products on Gumroad?
Offer a wide range of products. Like my store, most stores on Gumroad that consistently generate over $500 per month offer several products spread across several niches. This also increases the odds of the same buyer purchasing more than one of your products!
Offer some free products. Gumroad allows you to offer custom promotional pricing for any of your digital products. The discount can be a "secret" link that you choose to share with a small subset of your audience (like a coupon). You can even offer your audience free downloads via a special link or promo code, while leaving the items listed at their full price for anyone else who happens to stumble across your store and wants to buy them (this is great if you have premium courses, paid newsletters, or private membership communities).
Experiment with bundling multiple products. Gumroad allows you to bundle multiple products together and offer them at unique discounts. This flexibility makes it really easy for creators to determine whether they have appropriately priced their items.
How Much do the Highest Earning Creators on Gumroad Make?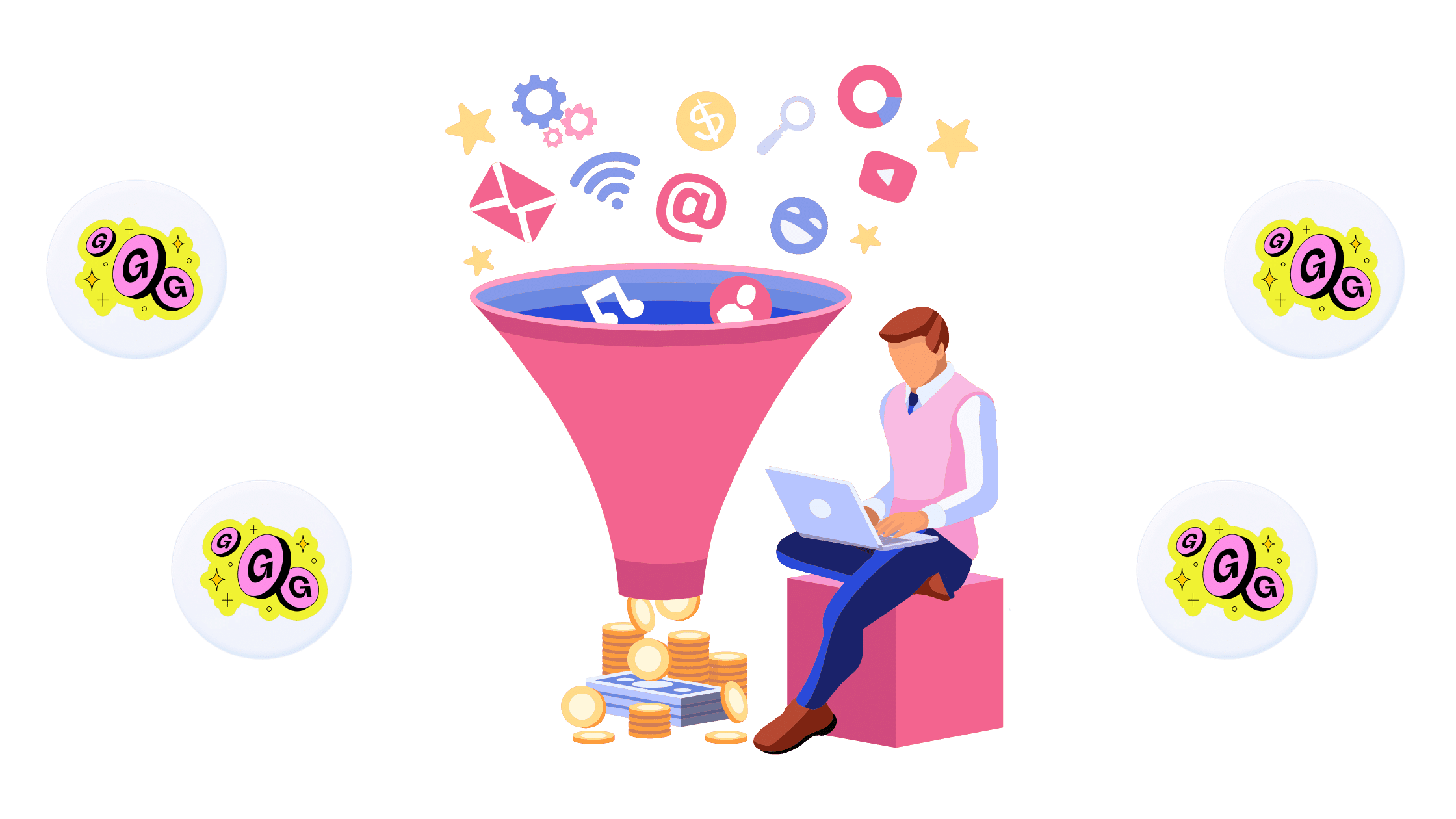 The highest earning creators on Gumroad make a lot of money.

According to Gumroad's published data, in 2020:
46,000 creators earned a combined total of $142,000,000.
The top 1% of creators earned about 60% of the money in 2020. The top 10% of creators earned nearly 92% of the total revenue.
8 creators made at least $1,000,000 per year

179 creators made at least $100,000 per year

1,853 creators made at least $10,000 per year

7,945 creators made at least $1,000 per year

That's roughly 2,000 creators on Gumroad earning at least $1,000 per month.
Reflections / Goals for Future Months

Obviously, when selling a product on an eCommerce platform, everyone could use a few more sales each month!

But as this is a completely passive income source, anything over $500 per month is generally an acceptable month. Especially since it has been a while since I last launched any new products on Gumroad.

While gaining traffic to your Gumroad store is initially a bit of a challenge, it's my experience that once you start to see any consistent level of sales for at least 3 months, that you can likely count on 50-70% of this income in the form of passive income in future months.
I do have some new product ideas, but I have been busy exploring many methods of making money online, so it will likely be at least a month or two before any new products launch. Once launched, the most recent project idea should drive up revenue significantly (hopefully closer to $1500-2000 per month), but it is also a fairly time intensive project to set up.