Disclosure: Some of the links below are affiliate links, meaning that at no additional cost to you, I will receive a commission if you click through and make a purchase. Read our full affiliate disclosure here.
Gumroad is one of the well-known online marketplaces that makes it possible for creators to sell their works to consumers all over the world. But is it the best one for you? With over 200,000 organic visitors monthly, Gumroad deserves more than just a thought. Using this site presents a real opportunity to get your digital products in front of a large audience, many of whom may be interested in supporting your business. For those who don't have their own storefronts, Gumroad also helps to simplify the task of getting paid.
At the same time, Gumroad does have a number of drawbacks that may cause it to be unsuitable or, at the very least, not as attractive to some users. It helps to know that there are other platforms offering similar benefits that might be worth checking out. What are some of the top Gumroad alternatives to consider? In this article, we will be looking at 10 of the best Gumroad alternatives. But before that, it is important to know what Gumroad is all about.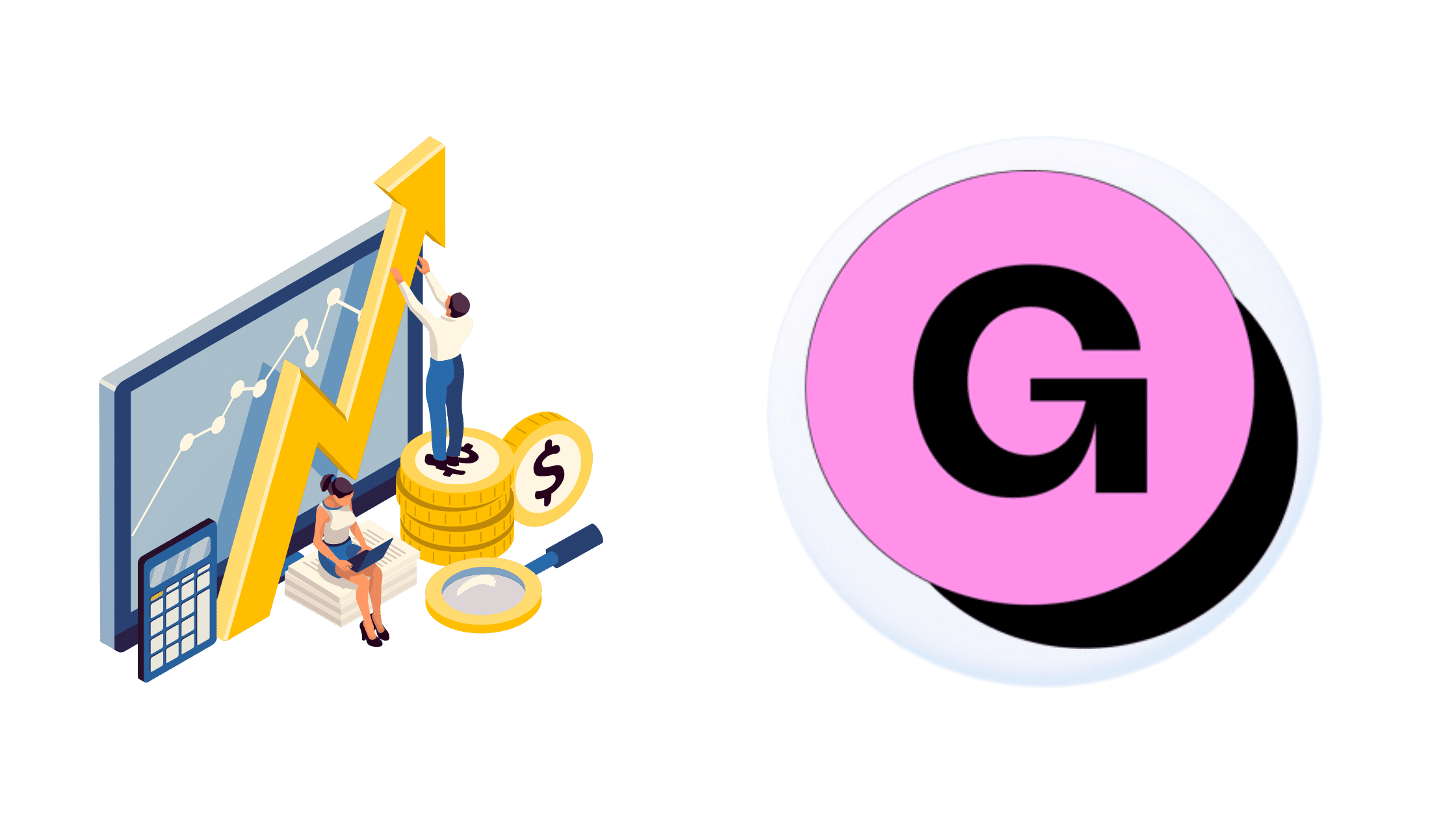 Gumroad is a web-based marketplace that allows its users to sell a variety of digital and physical products to customers globally. Bloggers, authors, designers, artists, and musicians are among the people who commonly use Gumroad to sell e-books, software, printable goods, memberships, merch, and more.
In addition to enabling sales through your own website, Gumroad makes it possible for customers to access your offerings through your social media pages and other places online. Gumroad also provides tools and resources to engage with customers, gain useful marketing insights, and even grow your audience.
Another great feature of Gumroad is that it is quite simple to use and set up. You can literally start an account and begin sharing your offerings in as little as 30 minutes.
What's more, Gumroad allows users to accept credit cards and PayPal from customers, providing some amount of payment convenience. There are few passion economy platforms better suited for creator to make money online, than with Gumroad.

In light of the apparent benefits of setting up shop on Gumroad, it is easy to see why it has become a favorite for so many creators looking to start and grow their online businesses. Still, Gumroad is not for everyone.
There are quite a number of cons that have been pointed out by users and observers:
No free trial for people who want to test out the platform before signing up

Lacks robust tracking and reporting features

The user interface appears dated and is not very mobile-friendly

Does not offer upselling features

Customer support is limited to email, which can be insufficient when trying to resolve some issues

The seller panel is missing from the Gumroad mobile app

While free to use, Gumroad's transaction fees can cut into your revenues: their take rate starts at 9% per sale (for up to $999 in lifetime revenues) and goes down with each revenue milestone (lifetime revenues of  $1,000,000 or more attract a 2.9% fee), along with $0.30 per transaction

No A/B split testing features, which can be useful when launching sales campaigns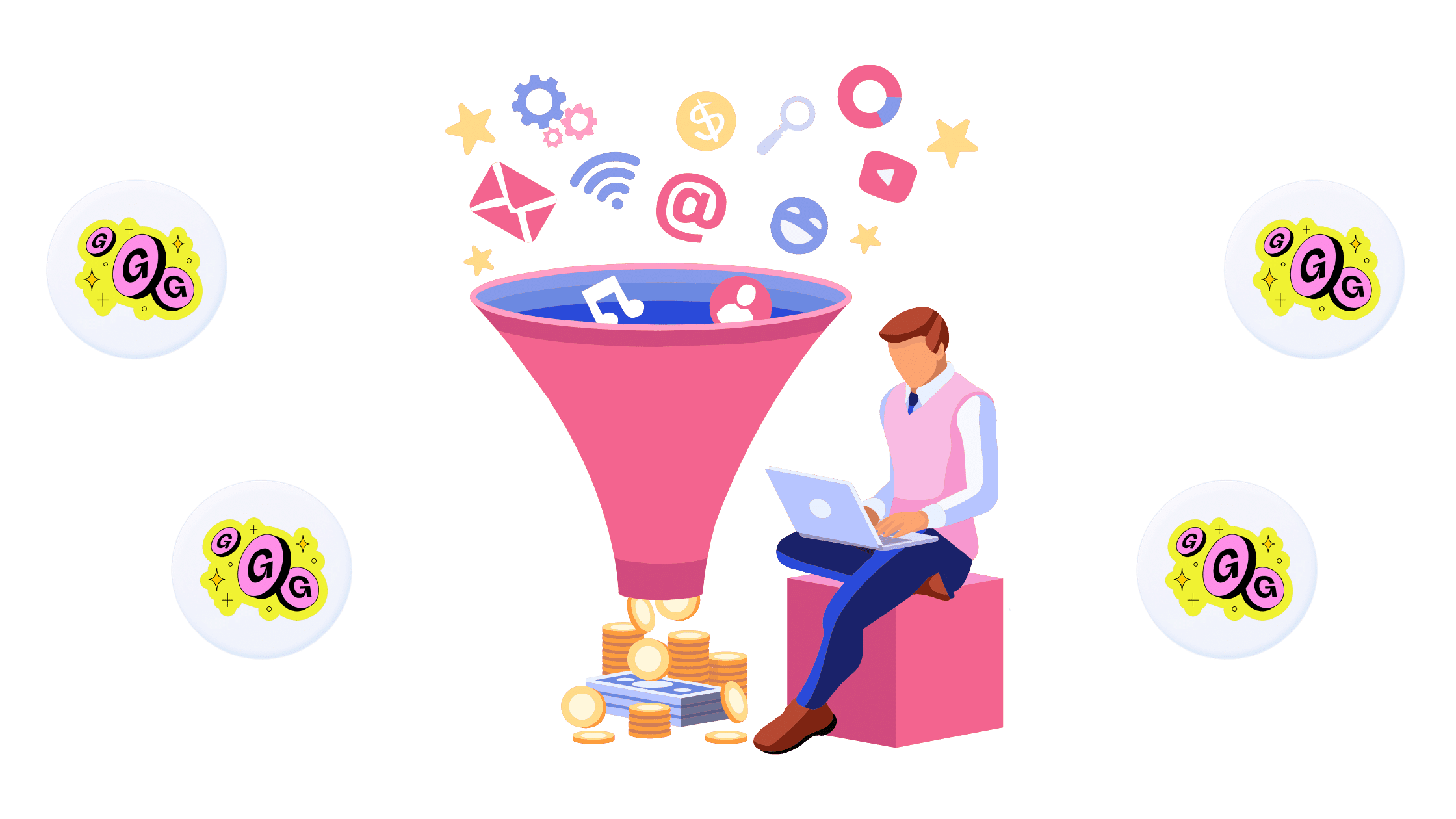 While the above Gumroad issues do not necessarily amount to being a deal-breaker for some creators, it is a good idea to get familiar with other sites offering similar services. Below are some of the main Gumroad alternatives to help you weigh your options.

Podia is easily one of the leading platforms for hosting and selling online courses, as well as memberships, webinars, downloads, and other digital products. It allows creators to quickly set up their online storefront, upload their offerings, and start targeting clients.
Podia is especially useful for sellers who don't want to contend with the various steps of setting up a website or e-commerce store. You can run your entire business from within Podia, including processing orders and collecting payments. Other benefits of Podia include:
It allows upselling and creating bundles

In addition to its selling features, you can also run a blog from within Podia

Podia offers email marketing features

Unlimited bandwidth

14-day free trial

24-7 customer support

Straightforward payment plans, including the Mover Plan at $39/monthly and the Shaker Plan at $79 per month.

Teachable is a solution that allows creators to build and sell online courses or coaching services. The platform is similar to Thinkific in that it is built from the instructor's perspective rather than the student's. However, Teachable puts more focus on individual creators and trainers rather than professional educators and companies (although it can still cater to such customers).
The focus on creative individuals means Teachable is quite simple to use. In fact, the platform is among the easiest to manipulate and is devoid of many of the advanced tools available on Thinkific and other similar solutions.
You can literally launch an online course on Teachable within minutes. You only need to provide the content, as much of the technical stuff is already taken care of. To date, Teachable has generated over $1 billion in revenue for the over 100,000 creators who use the platform.
Teachable features include:
Convenient drag and drop course builder

Simple and intuitive user-friendly interface

Supports various course media, including PDF, text, audio, images, video, presentations, etc.

Commenting feature to engage with students

Free plan available that can be used to set up a very basic online course without any costs

Ability to create quizzes and issue course completion certificates

Support for offering course bundles, memberships, upsells, order bumps, and coupons

Affiliate marketing tools and student referral program

Multiple payment settings, including subscriptions, instalments, free trials, and other flexible options

Supports student and course migration from other platforms

Accepts payments in over 130 currencies, as well as Apple Pay, PayPal, Google Pay, and more

Compatible with desktop and mobile

Multiple language support

Support channels include email and live chat, member community, live group coaching sessions, and more

Direct integration with popular tools such as Mailchimp, Zapier, and Google Analytics, among others
Teachable advantages
Ideal for beginners who want to explore the world of online courses without too many bells and whistles

Offers a course marketplace through the Spotlight app, which helps users with getting their courses discovered

The inclusion of marketing and sales tools means users may not have to spend a lot on other third-party apps

Easily customizable allowing some amount of branding capabilities

No technical skills are required, much of the functionality includes drag and drop builders
Teachable Disadvantages
More experienced course creators may find Teachable to be unsuitable due to its lack of advanced learning and educational assessment tools

The free plan is only useful for trying out the platform

Can be expensive, especially for beginners who want more than the basic features available with the free plan

No white labeling option

More recently, Teachable has been prioritizing coaching services, which may cast some doubt on whether it will remain a viable option for course creators
Teachable pricing
Teachable offers a straightforward pricing structure, including a Basic Plan for $39 monthly, a Professional Plan for $99 monthly, and a Business Plan for $499 per month. In addition, large companies can sign up for an Enterprise Plan, which requires dialog with the Teachable sales department.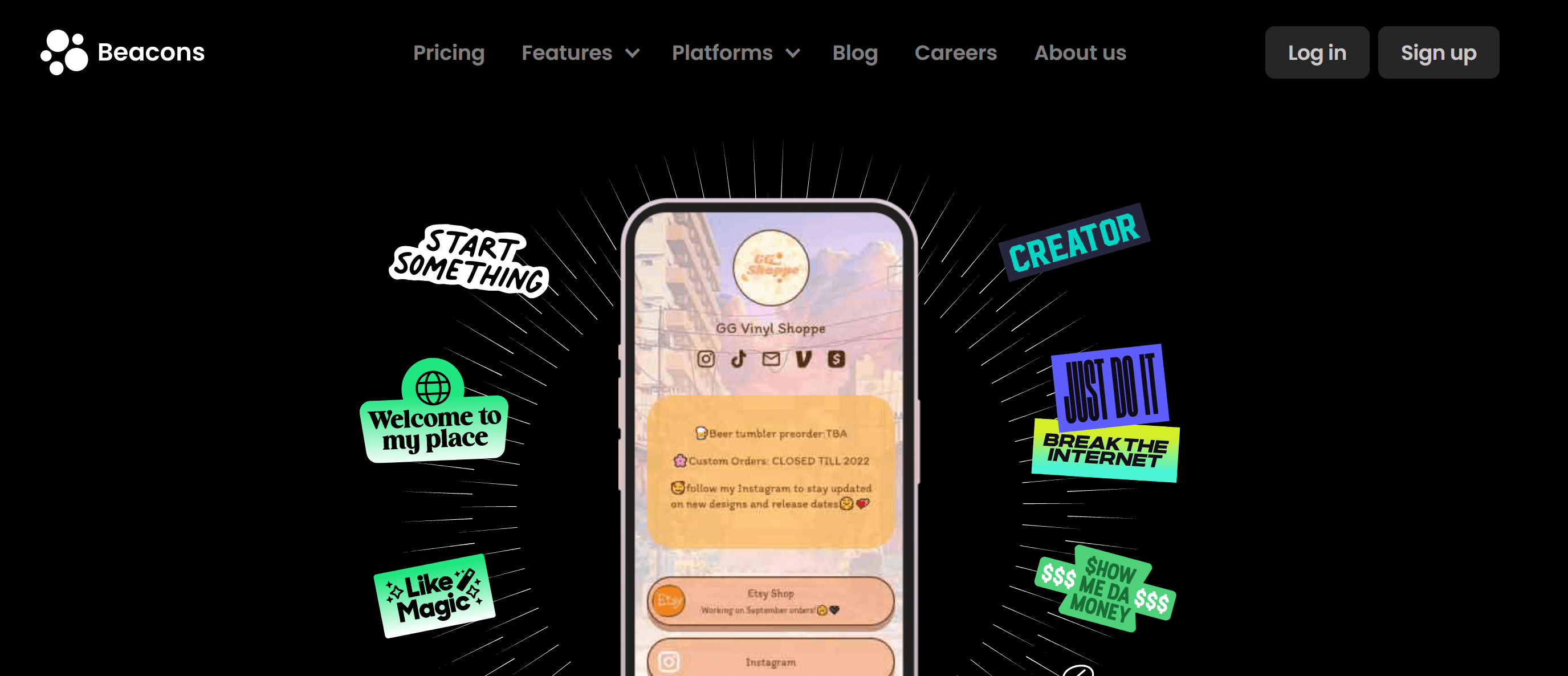 Beacons is a "link-in-bio" mobile website builder that is quite different from the other Gumroad alternatives listed here. It is geared mainly towards TikTok and Instagram influencers who want to have their followers support their work. With Beacons, creators on TikTok and Instagram can quickly set up their own mobile storefront to collect sales payments, donations, paid requests, affiliate based shopping, and other forms of support. What's more, you can start using it for free.
Users can benefit from the following features of Beacons:
Speedy, five-minute set up aided by AI

Ability to add links from numerous other social media platforms, including YouTube, Facebook, Twitter, Spotify, etc.

Highly customizable storefront with numerous fonts, colors, and layouts

Product recommendation block (for TikTok videos)

Free to use for creators (Beacons has a take rate of 9% per transaction/sale). Also has a plan for entrepreneurs charged at $10 monthly with a 5% take rate per transaction/sale

This cloud-based platform is a full-service ecommerce solution that allows users to market and sell physical and digital products, as well as subscriptions and print-on-demand merchandise. It can be used to build an online store from scratch, but can also be used as a checkout service for existing websites. According to the Sellfy website, over 30,000 creators, including artists, writers, filmmakers, etc. use the site's tools to sell to customers.
Sellfy's top features include:
Shopping cart allows multiple products to be added at checkout

Highly customizable storefront (branding-friendly)

Allows upselling and offering discount codes

Detailed reporting features

14- day free trial

Straightforward pricing with no transaction fees

Plans start at $29 per month and go up to $129 monthly depending on annual sales amount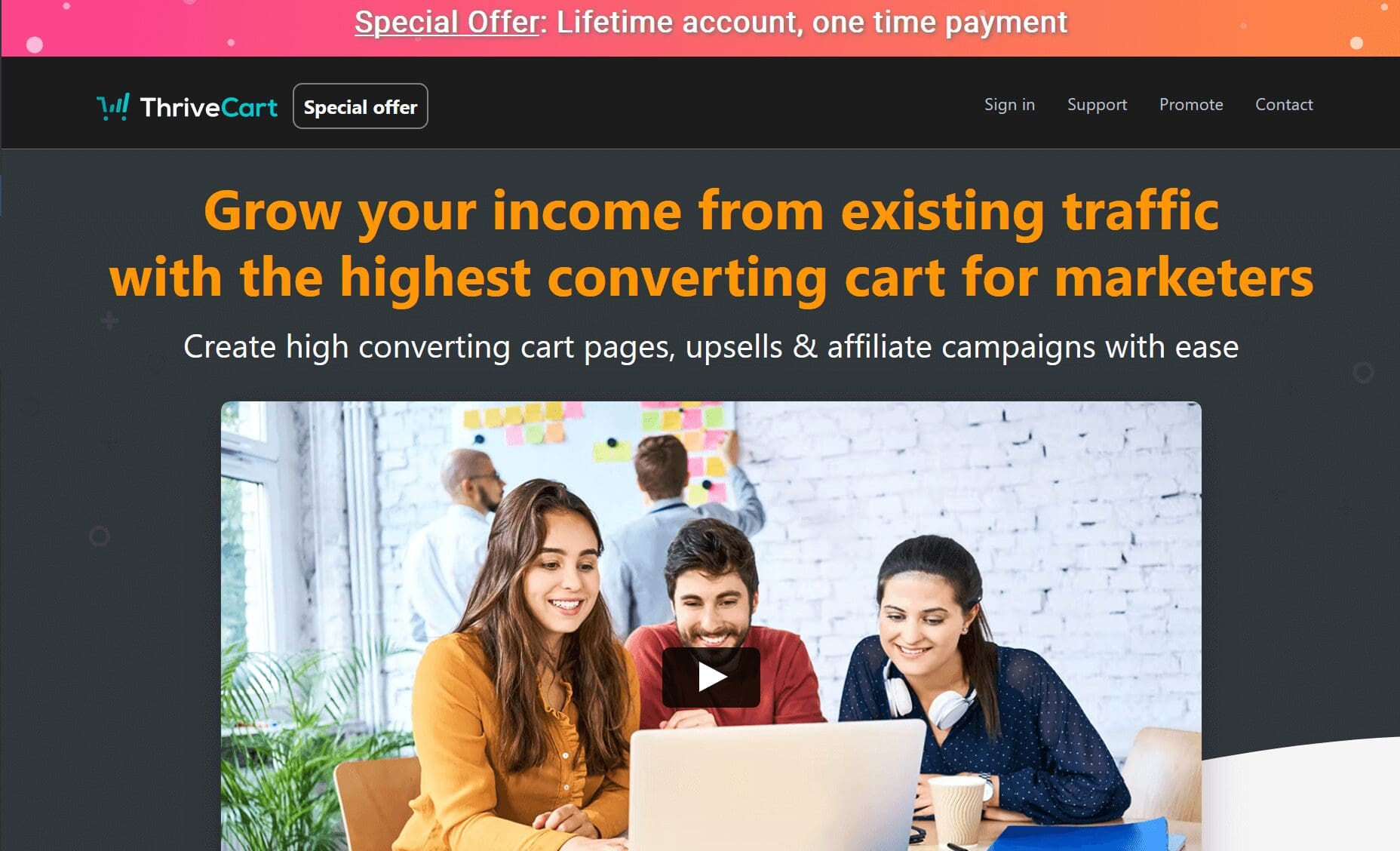 ThriveCart is described as the number one shopping cart software that helps entrepreneurs increase their income from existing traffic. The platform boasts a number of advanced features geared towards boosting conversions for its users. Although among the highest-priced selling platforms in its class, some users agree that it pays for itself. ThriveCart can be used to sell physical products, as well as digital services and offerings, including memberships and subscriptions.
Other notable features of ThriveCart are:
1-click upsells and bump offers

Coupons

Sales funnels

Integration with a large number of marketing tools and payment platforms

A/B testing features

Detailed insights and analytics

Checkout templates that are optimized for conversions

Sales tax calculations are built in

Considered pricey with costs starting at $95 per month. However, they also offer a one-time lifetime payment of $495.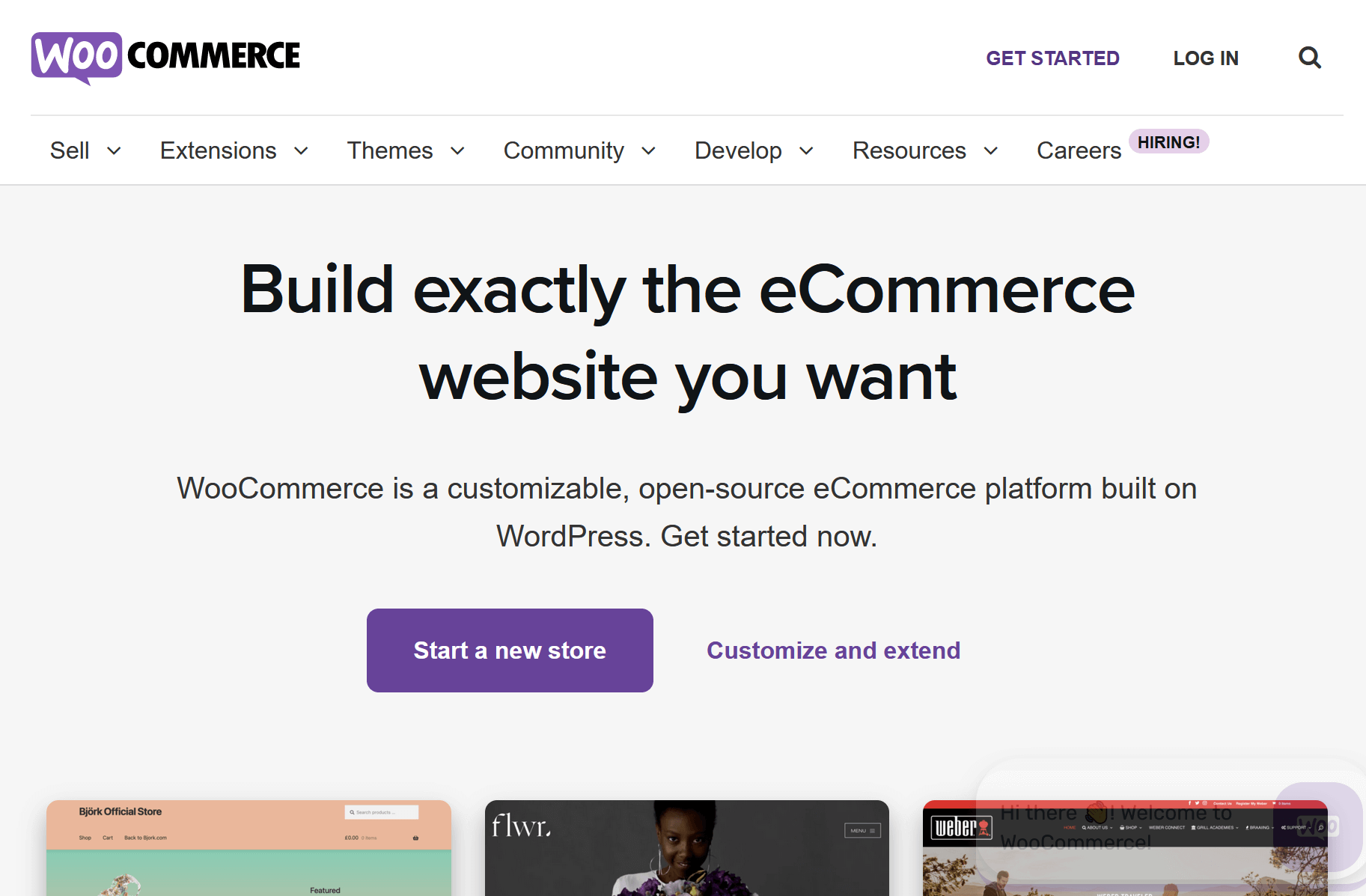 This Gumroad alternative is among the most common e-commerce solutions for all kinds of internet entrepreneurs and creators. That's because it is available as a free plugin for people who use WordPress, which is the world's most popular CMS. In fact, by virtue of its relationship to WordPress, WooCommerce is the software of choice for over 28% of all online stores. With WooCommerce, you have total control over your online store. You can customize it to match your line of business, whether you are offering physical or digital products. In addition, it is totally free to use – costs are usually related to website hosting and buying domains.
Other great features of using WooCommerce as a Gumroad alternative include:
Robust integration capabilities, allowing you to add a variety of marketing tools and popular payment methods

The ability to sell any kind of physical or digital product

Wide variety of free and premium themes

Customizable storefront to match your needs

Bandwidth, storage, and other features are all dependent on your hosting methods and plugins being used, so there is less restriction compared to using a dedicated checkout platform

No direct user or transaction fees as with Gumroad and many of its alternatives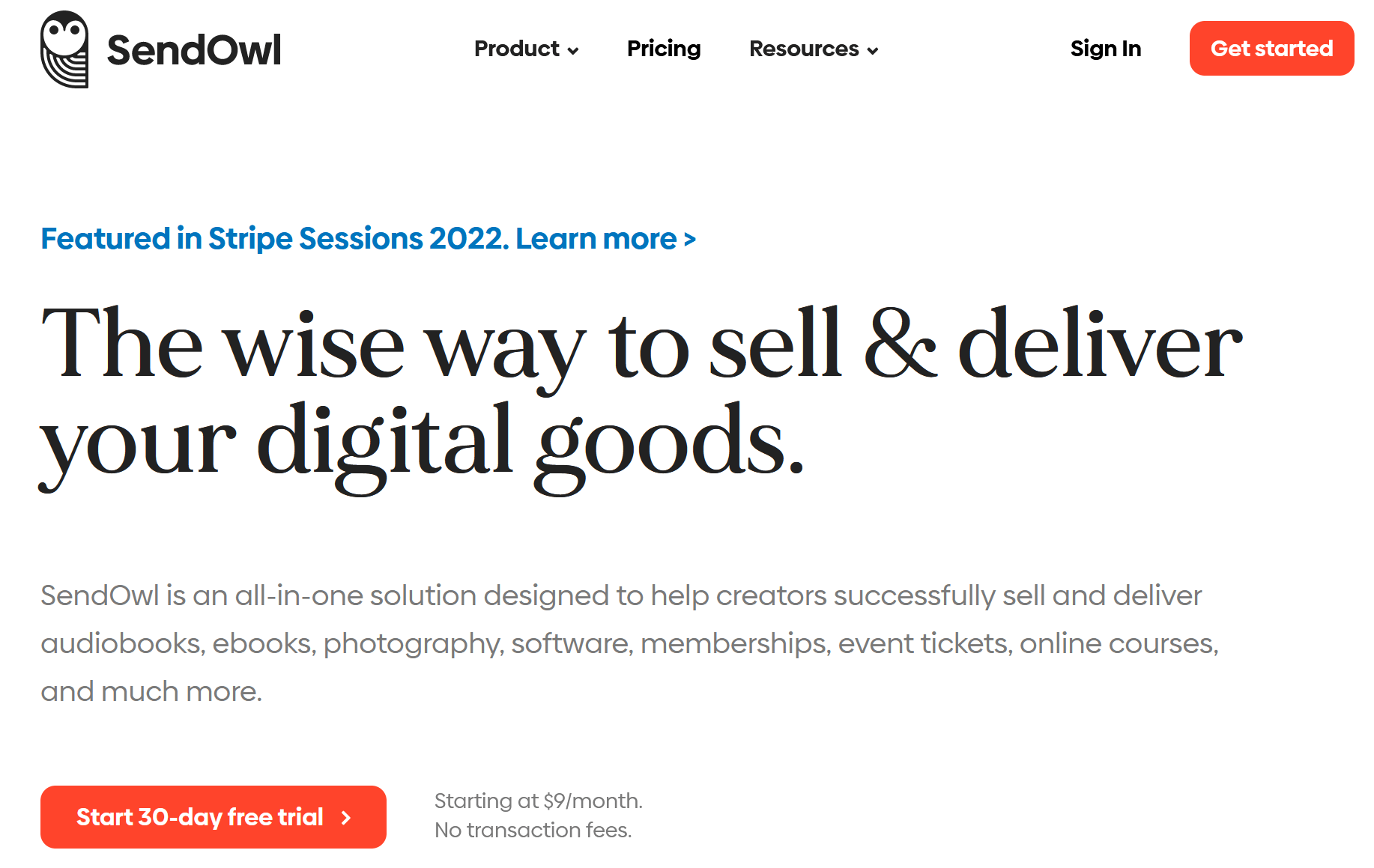 SendOwl is another recommended Gumroad alternative worth checking out. Not only does it offer some of the lowest user plans in its class, it is also quite flexible. For example, you can use it to sell through your own website or blog, an e-commerce platform, social media pages, email list, and more. SendOwl is ideal for creators who are selling a variety of digital products, including software, e-books, subscriptions, audio or video files, printable files, etc.
Some of its main advantages include:
Customizable checkout form

Seamless checkout process

Shopping cart features

The ability to remarket to people who have abandoned cart

It supports numerous payment methods including PayPal, Apple Pay, Stripe, credit cards, and even Bitcoin

1-click upselling

Highly secure platform that also helps with handling taxes, VAT administration, and fraud prevention

Free trial for 30 days

Flat monthly fees with no additional processing fee (payment plans are $15, $24, and $39 monthly depending on number of products and storage space.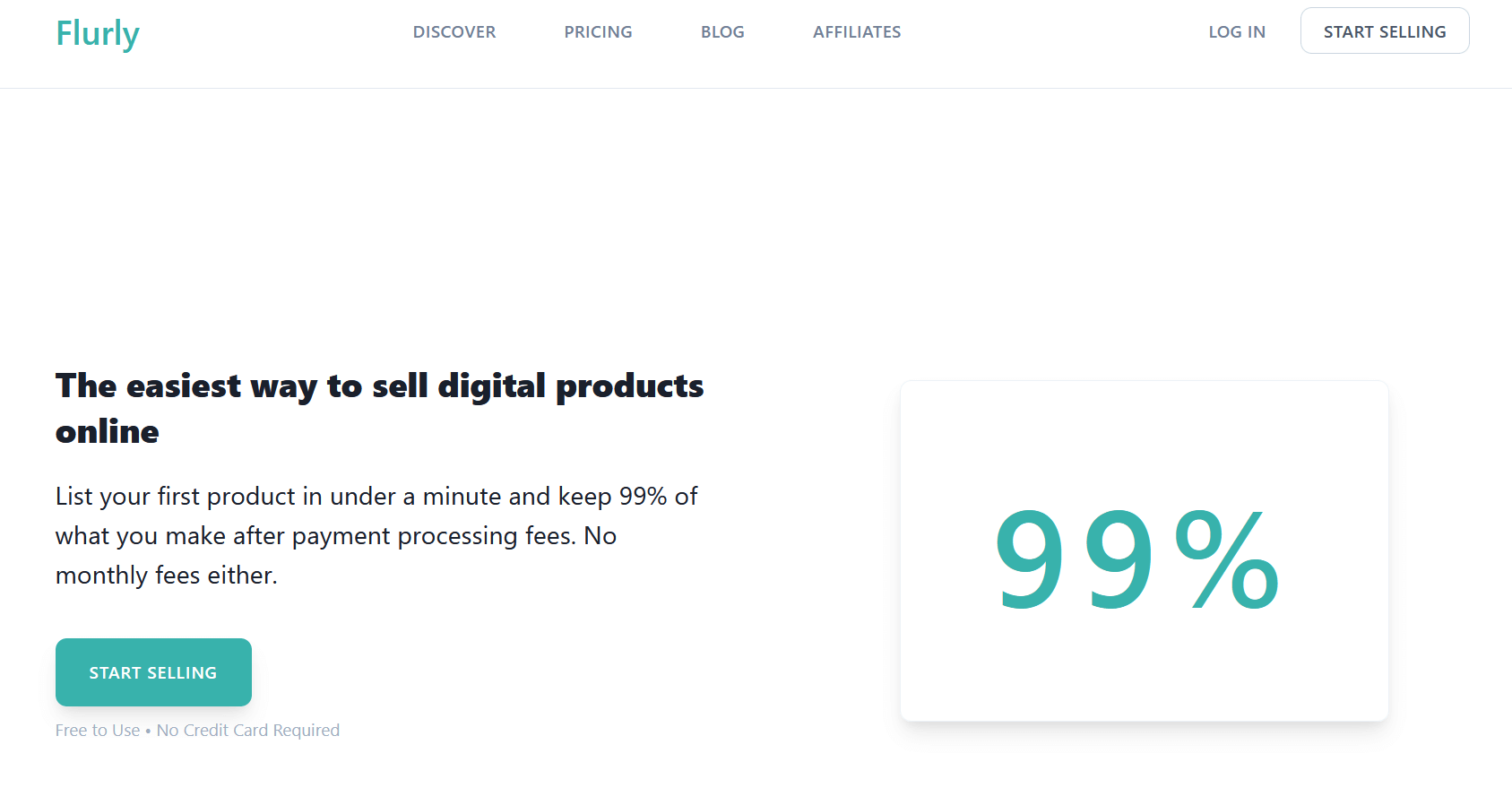 Flurly is one of the newer online platforms making it possible to sell a variety of digital products. However, it is gaining in popularity as a Gumroad alternative mainly due to its pricing advantage. Flurly only takes 1% of all sales made on its platform (after Stripe payment processing fees of 2.9% and $0.30).
But Flurly also offers some attractive features that make it worth looking into:
Collaboration tools with split revenue capabilities

Workflow management

The ability to sell memberships

Quick and easy setup (in minutes)

Allows users to offer free product samples to customers

Zapier integration

Affiliate program

Works great on mobile

Support for Apple Pay and Google Pay methods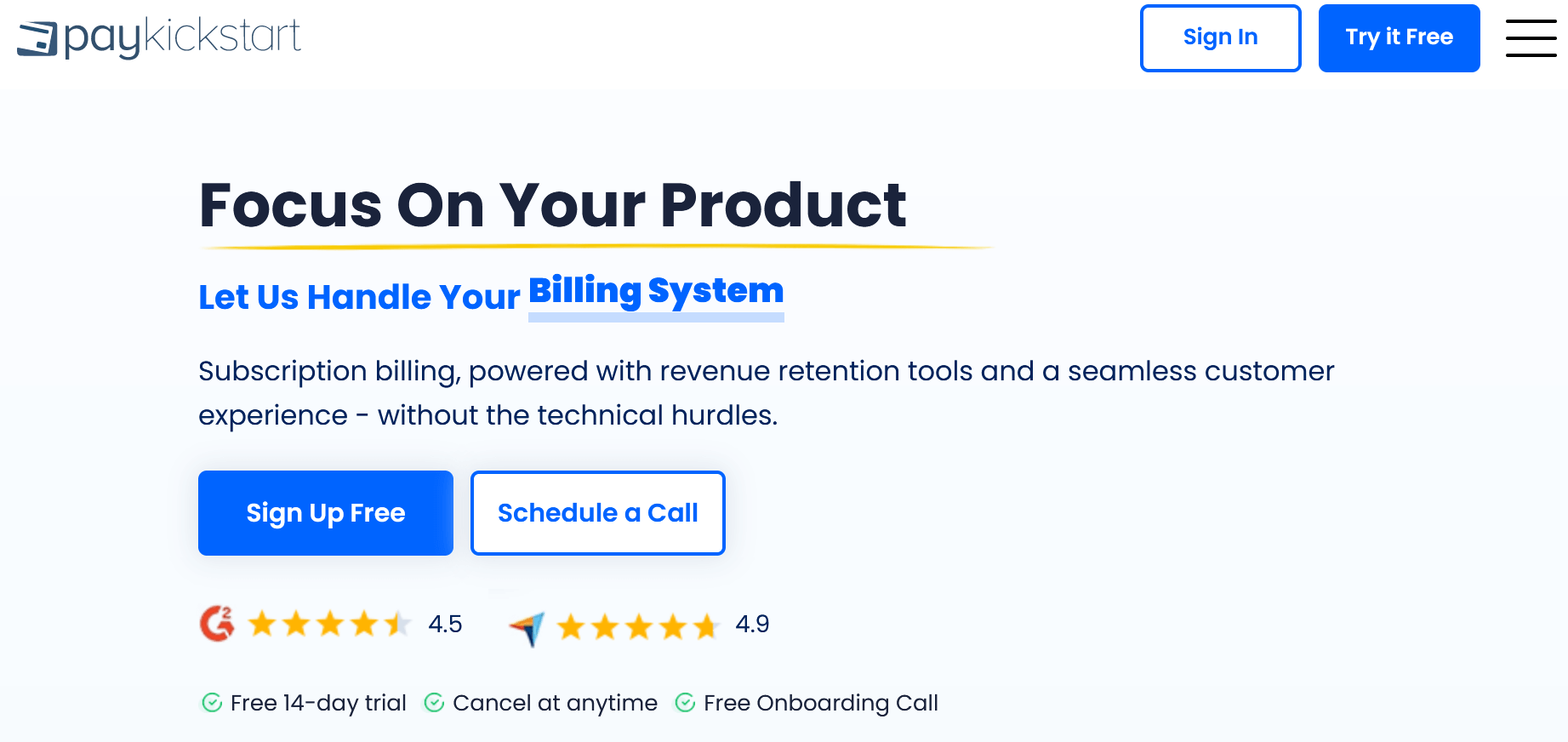 This is probably one of the most feature-rich checkout platforms when it comes to Gumroad alternatives. Since launch, PayKickStart has helped to power over 3,500 businesses, while processing over $1 billion in transactions. It is used by creators who want to sell courses, software, e-books, and other digital products, as well as coaches and consultants, retailers of physical products, agencies, and more.
Some of the most prominent features of PayKickStart include:
Impressive library of customizable checkout templates

1-click upselling and order bumps

The ability to create coupons

Auto-complete checkout to simplify transactions

The option to use exit-intent and retargeting popups

W9/W8 tax forms

Cart abandonment and subscription renewal reminders

Dunning management

Included marketing materials

The ability to track sales and leads

Supports 25 languages

Checkout widgets and popups that can be embedded in user's website

Integration with secure payment gateways – supports online and offline payment methods, including major credit cards and PayPal; allows users to accept payments in over 130 different currencies

14-day free trial, with plans starting at $79 per month (when paying annually) depending on monthly expected revenues.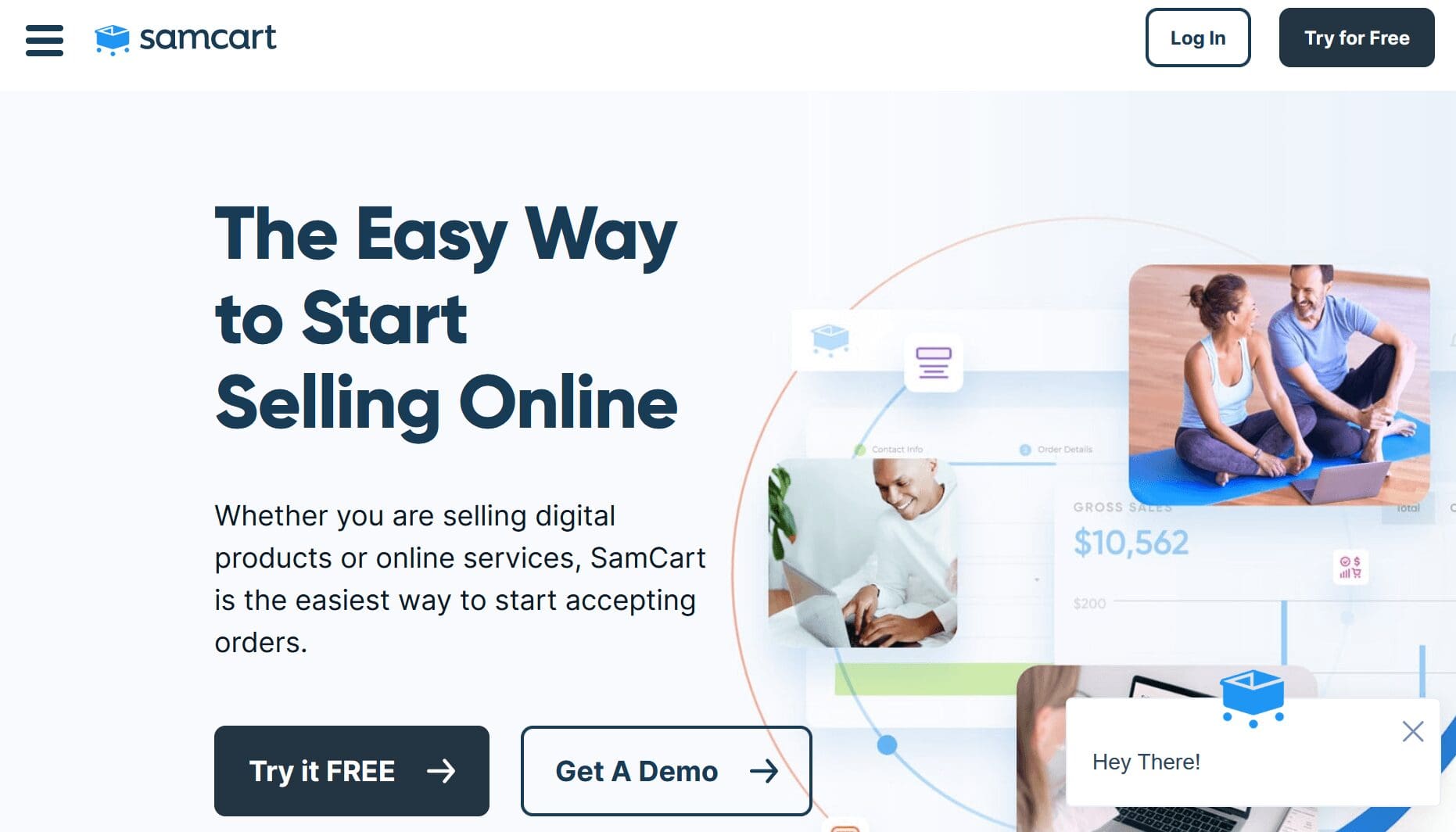 This web-based e-commerce platform is among the quickest and easiest ways to begin accepting orders for digital products and online services. According to SamCart, it has powered over 22,000 businesses since launch, helping to sell more than 9.7 million products at a value of $2.2 billion. It allows users to sell courses, site memberships, and e-books, as well as run coaching, consulting, and other types of businesses. A possible sore point for some SamCart users is that it only offers PayPal and Stripe integration for collecting payments. One of the features of SamCart that sets it apart as a Gumroad alternative is its market automation capabilities.
Its top benefits include:
Checkout templates that are customizable to meet each user's e-commerce needs

Convenient drag and drop editor

1-click upselling and order bump capabilities

A/B testing features

The ability to generate coupon codes

The ability to automate the checkout process

Allows integration with numerous platforms, including WordPress, email marketing sites, and membership services, etc.

14-day free trial

Three-tier pricing plan: $39, $79, and $159 monthly
When it comes to selling online, Gumroad is surely one of the options that will come up for mention. But there are many Gumroad alternatives, including those mentioned in this article, that may be just as useful – or even better – for your personal needs.