How to Create a Substack Podcast
Disclosure: Some of the links below are affiliate links, meaning that at no additional cost to you, I will receive a commission if you click through and make a purchase. Read our full affiliate disclosure here.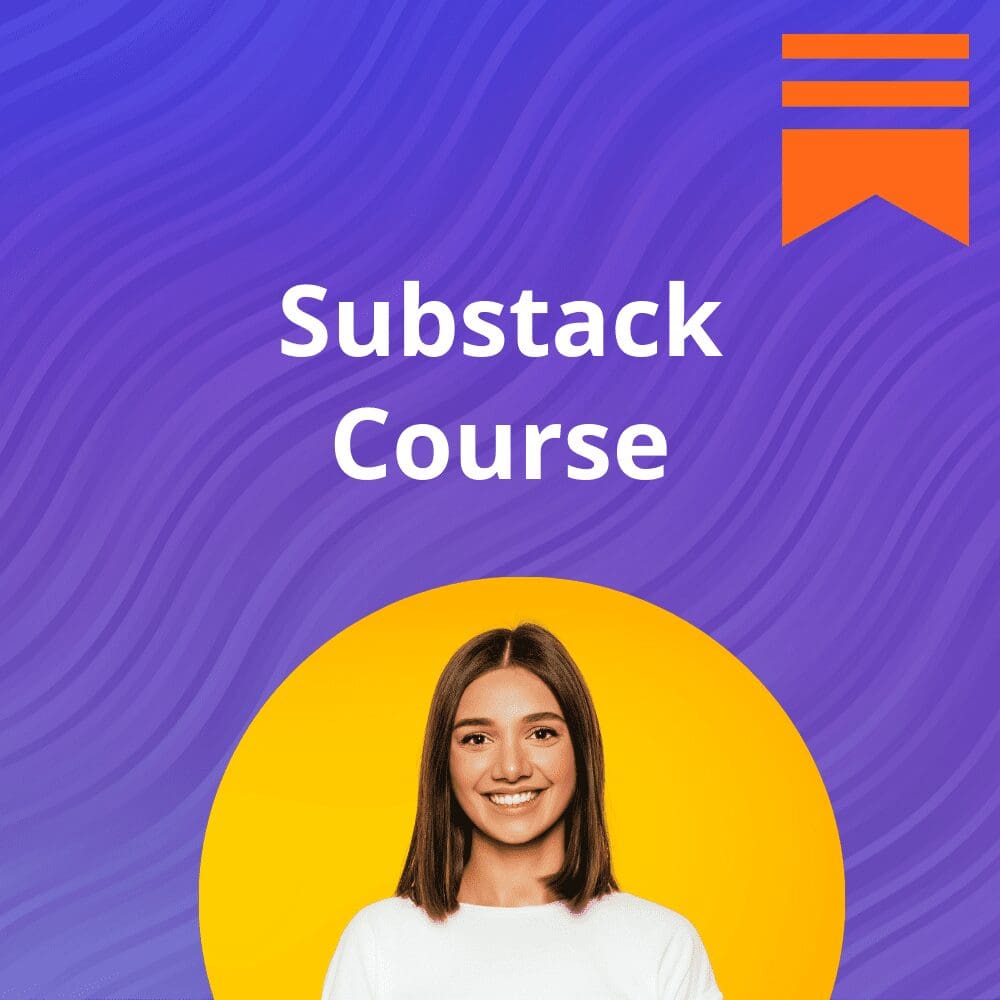 CASEY BOTTICELLO
Founder, Blogging Guide
Apple and Spotify are considered to be two of the main players within the podcasting market. And now, Substack – the popular subscription newsletter service – appears to be staking a claim for a bite of the audio content cherry. This article will show you how to create a Substack podcast and explain the benefits of doing so.

As you may already know, podcasting on Substack is not a new thing. The platform rolled out its podcast product back in 2019 and made it possible for creators to complement their newsletters with audio content. The idea seems to have worked fairly well, helping Substack reach one million paying subscribers by November 2021.
Now, Substack appears to be rolling out their podcasting feature on a wider scale, making it easier for content creators to launch their own podcasts and grow an audience of listeners. There is also the possibility of importing podcasts hosted on other platforms to Substack, and inviting existing followers to also become subscribers on Substack.
How Podcasting on Substack Works

You can start and host your podcast on Substack entirely for free. Similarly to having a Substack newsletter, you can choose to place all your podcasts behind a paywall, charge for some episodes, or have subscribers listen without charge. Non-paying subscribers can only listen to free podcasts, while premium subscribers get access to everything.
Substack provides all the tools and resources you need to create your podcast, record episodes, and interact with subscribers. You can either create a podcast channel from scratch on Substack or migrate an existing one that is hosted elsewhere. Once live, Substack users can subscribe to your podcast in a similar fashion to how they would when signing up for newsletters.
Listeners can find your podcasts via the Substack iOS app, the Substack website, or even listen to podcasts in the newsletters they receive from you. It is possible to distribute your non-paywalled podcasts on other podcasting platforms used by your subscribers via RSS feed. These include Spotify, Apple, Overcast, and Pocket Casts. You can also send a private RSS feed to paying subscribers, which will allow them to play your podcast episodes in any alternative player they choose.
In terms of analytics, Substack also allows you to keep abreast of stats in relation to the consumption of your podcasts. You can see what's happening by viewing your Episodes list found in the Podcast tab on the main dashboard. This table shows the number of downloads, paying subscribers generated per episode, and the publishing date of each episode.
You can also find data on the countries where people are listening from, as well as what players they are using to consume your podcasts. In addition, you can dig into individual stats for each episode to find more detailed data such as click-through rate and listen times.
How Much Can You Earn From Substack Podcasts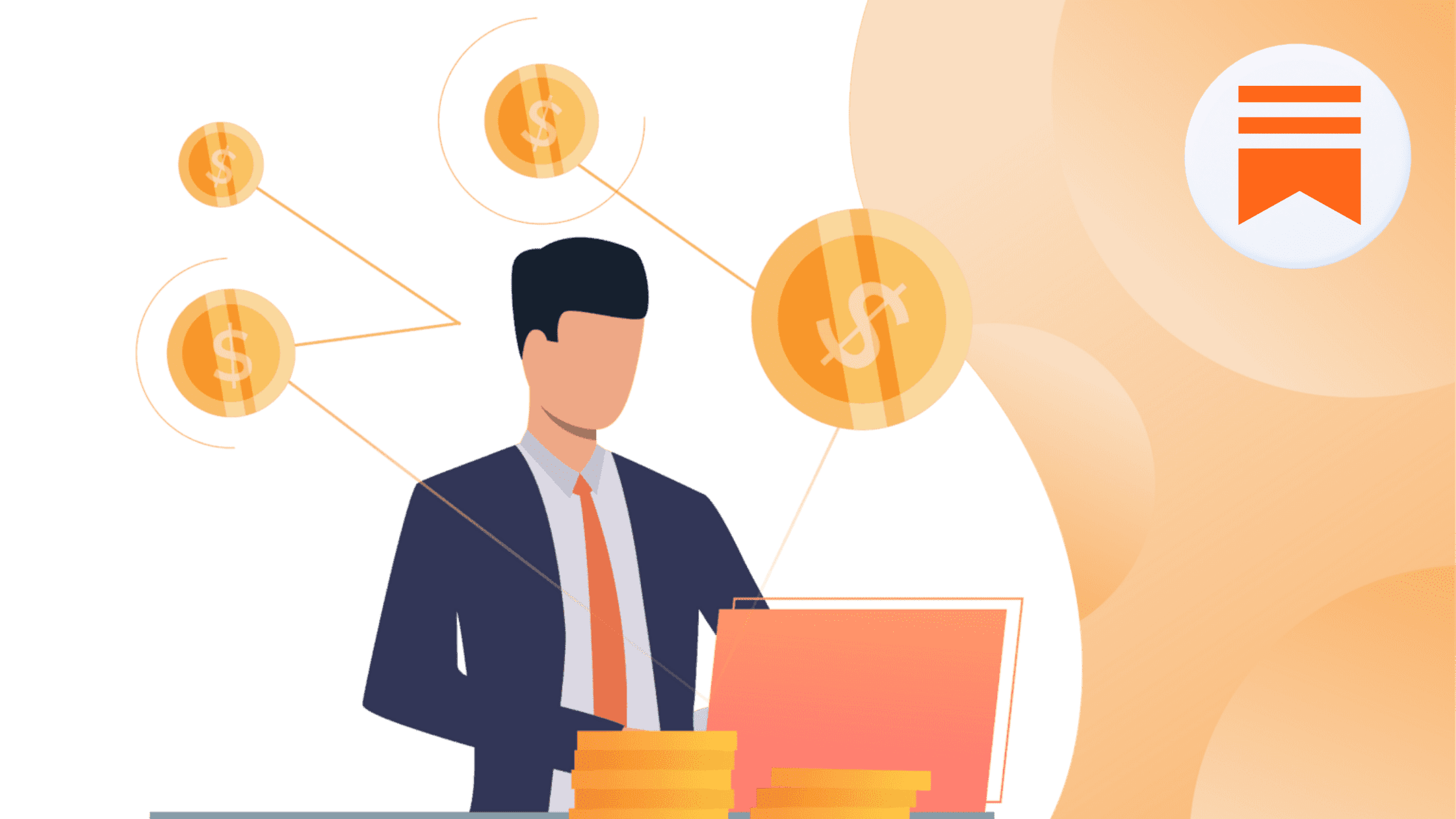 In terms of earning from your podcasts, the revenue breakdown is pretty much the same as with newsletters. Substack will claim 10% of all revenue generated by your podcast. You will keep the remaining 90%, minus any transaction fees related to Stripe, which is the payment service used by Substack.
Benefits of Substack Podcasting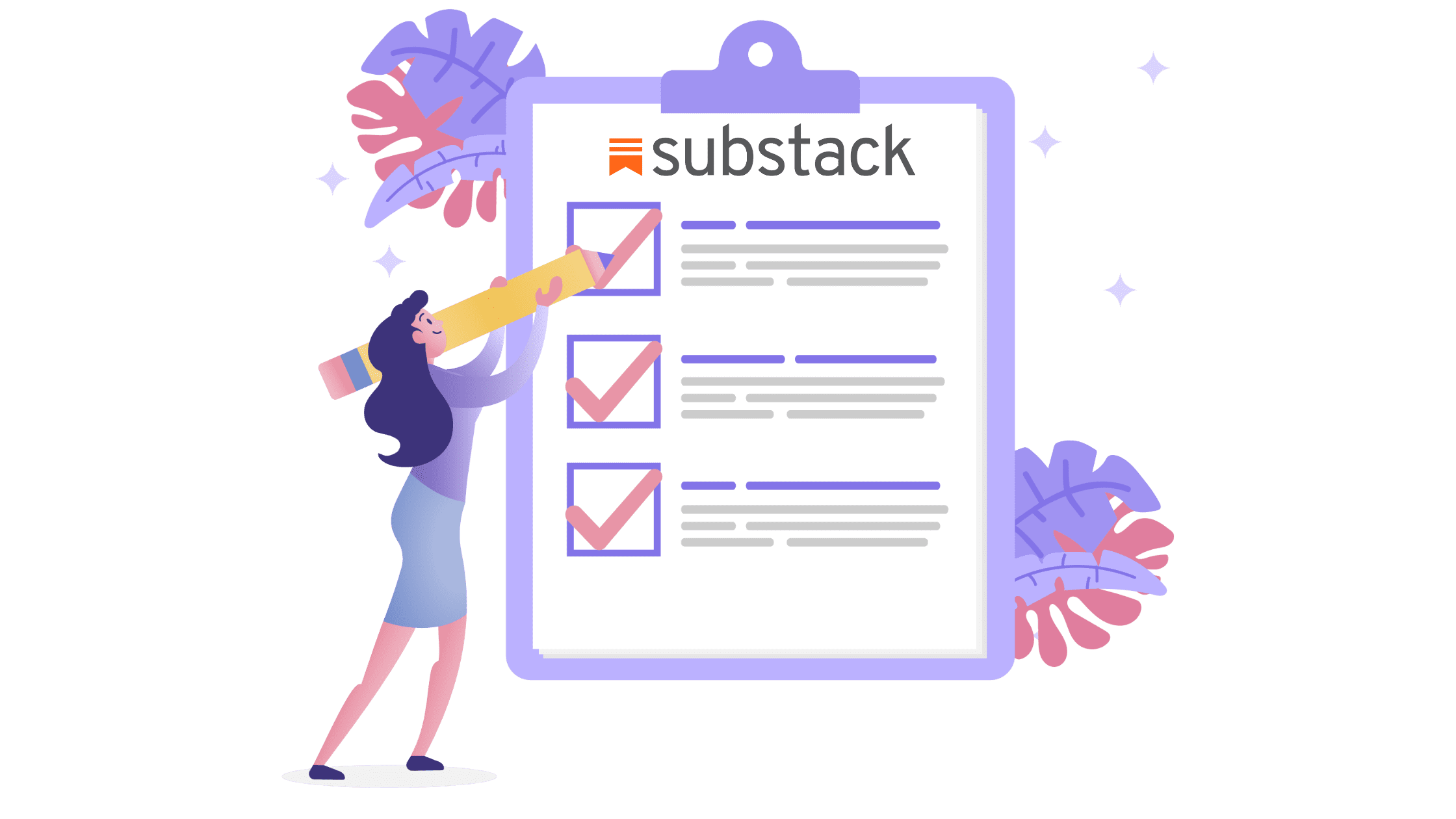 According to a blog post published by Substack about the new feature, Substack is looking to make the podcasting experience more immersive. Substack says listeners will not simply be treated like download numbers. Instead, it will allow you to create a space where you and your listeners are able to connect on a deeper level through comments, replies, discussions, and show notes. On top of that, Substack says hosting podcasts on its platform will provide a few unique perks:
Full Content Ownership
With Substack podcasting, you retain all rights to your published content. This means, you can choose to re-publish your podcasts on any other platform of your choosing, and retain full control of the content. If any of your podcasts are chosen by a third-party entity for media adaptations (such as movie, TV, or book deals), Substack will not be privy to receiving any revenue from such deals.
Access to a Growing Audience
While Substack is rather shy on sharing user data, there is evidence that it has a fast-growing audience. Firstly, the number of paying subscribers stands at around one million, and Substack has experienced exponential growth in overall active users over the years. Up to the end of Q3 2021, SimilarWeb data suggested that the number of monthly visits to the website had risen to 24.5 million, an increase of 6.5 million over Q2. This means your podcast can potentially reach millions of listeners on Substack.
Full control of subscriber list
As with newsletters, Substack will allow you to have full ownership of your email list. This means you can export your subscriber list to any other platform you are using, or move them away if you decide to leave Substack, without penalty.
More Meaningful Connections
Podcasting on Substack aims to provide more of a community aspect. You can, for example, start discussion threads or invite listeners to share their views in the comments. In addition, listeners can interact directly with podcast hosts on specific episodes or with other users. If you prefer, you can also choose to make your podcast non-interactive as well.
Simplified Paywall System
Substack makes it easy for free users to become paying subscribers on your podcast. In fact, Substack claims that it is the only podcasting host of its kind where "free listeners can convert to paid subscribers in one space." In addition, you have the flexibility of either putting all your podcast episodes behind a paywall or sharing some content for free. You can also start out with a fully free podcast that allows you to steadily grow your audience, and then install a paywall when ready.
More for Listeners
Listening to podcasts on Substack promises more than the regular audio experience. Podcasters can also treat their listeners to video content and extended show notes, as well as extra audio clips and essays, leading to a more enriched listening experience.
How to Start a Substack Podcast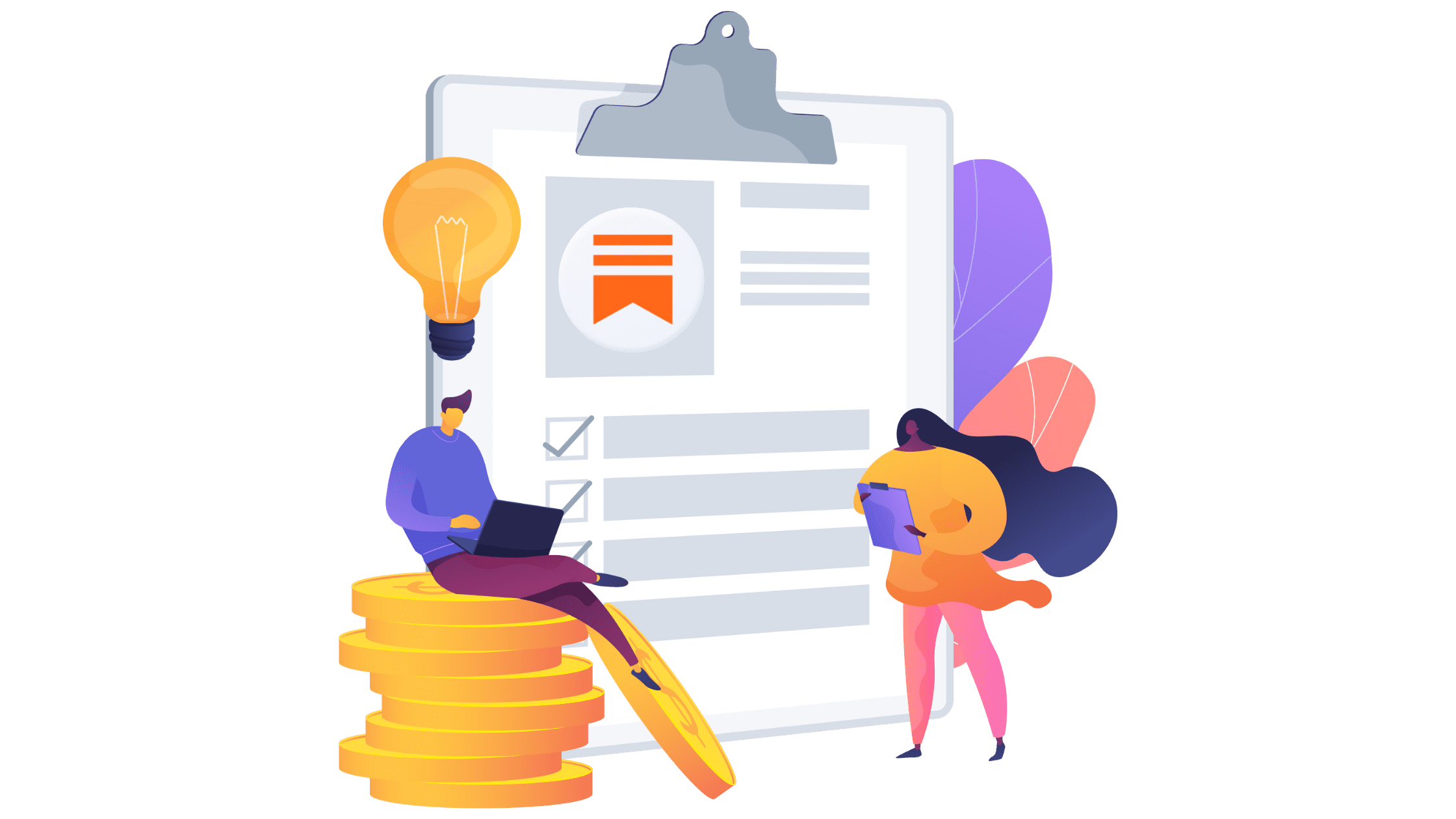 Now that you know what podcasting on Substack is all about, it is time to learn how you can start your own podcast on the platform. Below are the steps.
1. Create a Substack Account

If you already have a Substack newsletter, you can skip to the next step. It is pretty easy to get set up, you can either join using your Twitter credentials or with an email address. After that, you simply follow the instructions to pick a topic, define your audience, and create a suitable brand name.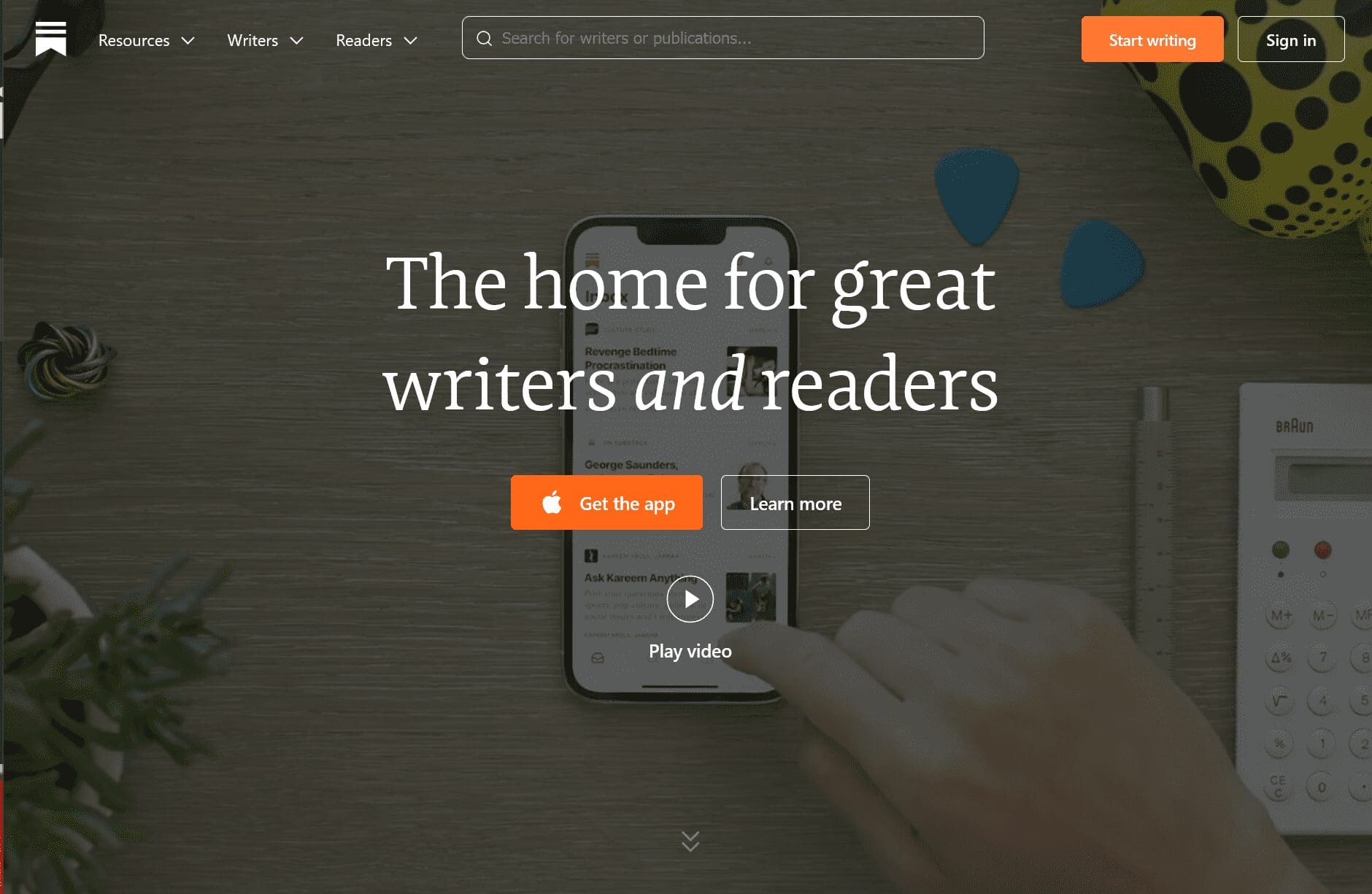 2. Create Your Podcast Channel
To create your first podcast on Substack, begin by going to the "Create" section of your dashboard and clicking on the "New Episode" button. Click on "I'm starting a new podcast" to begin the setup process. You will then have the option to give your new podcast a suitable name and description.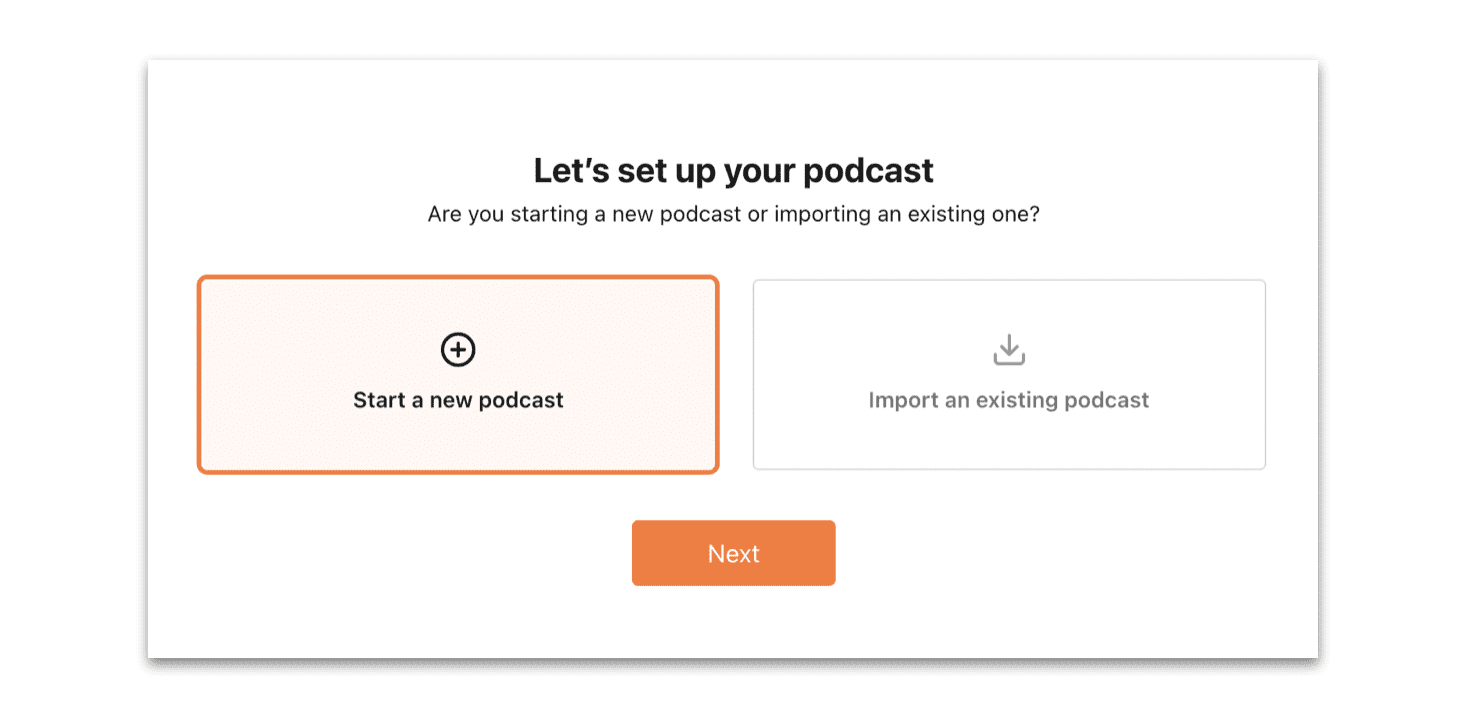 3. Publish Your First Podcast
Publishing your first podcast can take one of two directions. You can either upload an existing audio file or record an entirely new episode within the Substack app. If you are uploading existing files, it's important to know that the platform supports the following file formats: mp3, mp4, m4a, x-m4a, aac, aiff, x-aiff, amr, flac, ogg, wav, and x-wav.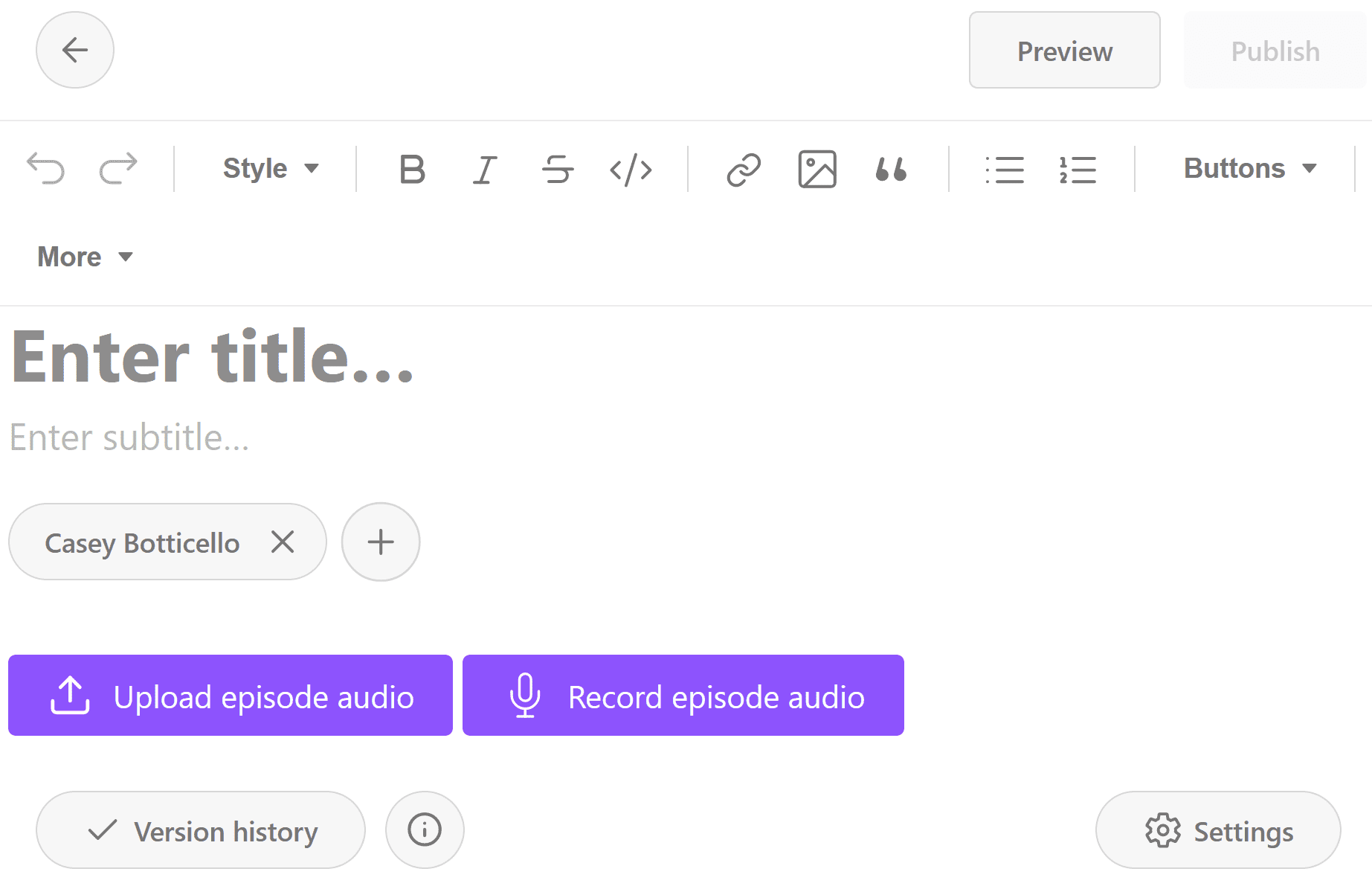 4. Add Show Notes
You will have the chance to write some text to describe what your podcast is about. If you email your podcasts to your newsletter subscribers, this text will be displayed as the show notes when viewed in the app.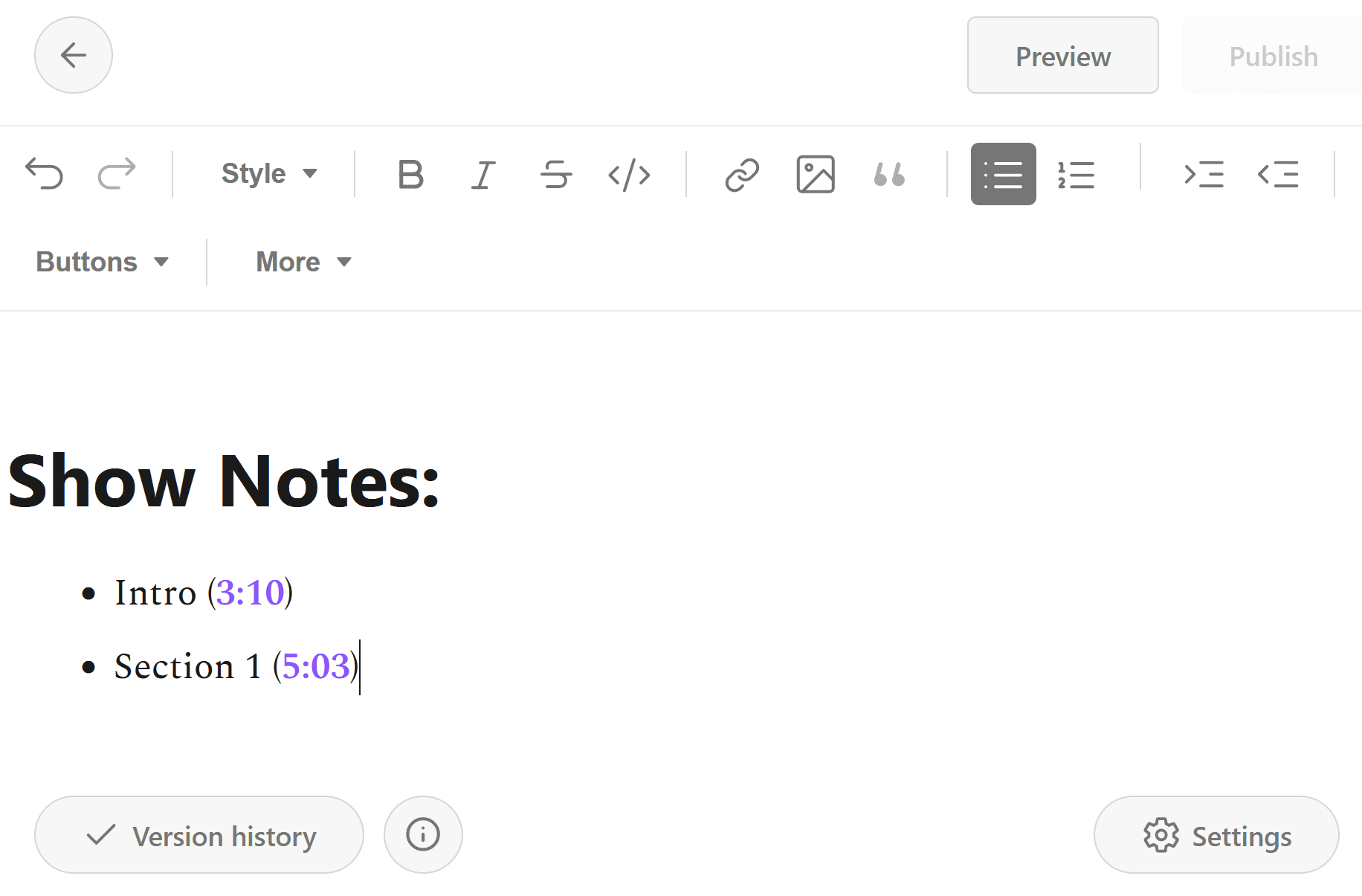 5. Hit Publish
That's it. Your podcast episode is now live and you can start sending it to your subscribers or share to other websites that host your podcasts.
Note: You can start distributing your Substack podcasts to other apps such as Apple Podcasts, Spotify, or TuneIn. Each platform has different steps which are outlined here.
Importing An Existing Podcast to Substack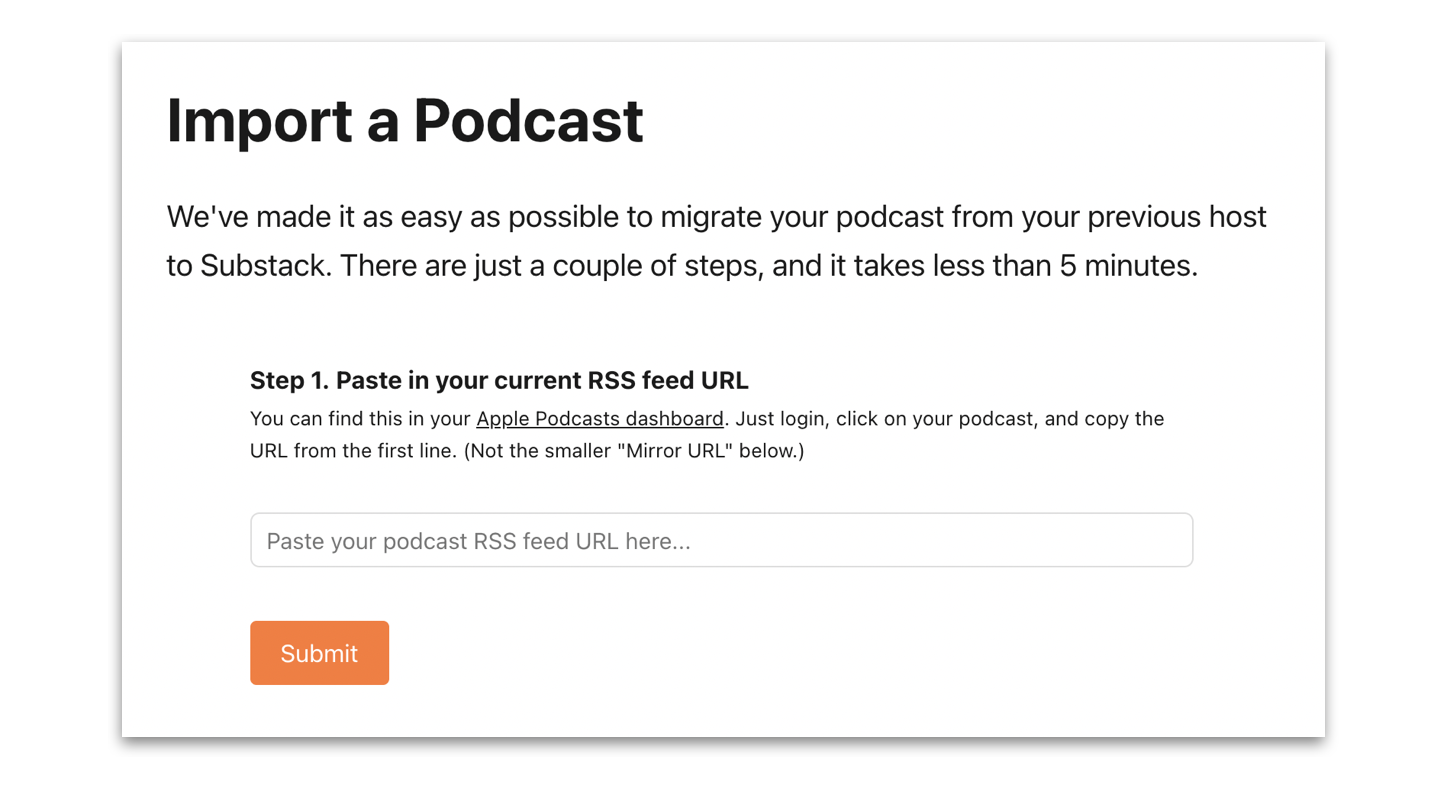 What if you already have a podcast outside of Substack and want to import them for your newsletters? You can definitely do this as well. Here are the steps involved:
Go to the dashboard and click on the "Podcast" tab. Select "Get started," followed by "Import an existing podcast."

Next, locate the URL for your RSS feed then copy and paste it upon prompting. Click "Submit."

The next step is to review the episodes you want to import to Substack. Once satisfied about the episodes chosen, select "Import all episodes."

When the import process is complete, your podcast episodes will reside on the "Posts" tab to be accessed at any time. You will need to look for your new RSS feed link and submit it to your podcast directories. To locate your new feed link, go to the "Podcasts" tab and click on "Settings." Navigate to the "Import and Distribution" section to find the instructions.

Also, to get your old listeners to start following you on Substack, you can have your previous podcast host redirect to your new feed.
Substack Podcasting vs. Competing Podcast Platforms

In terms of direct competition, it will likely be a while before Substack can take on the big guns such as Spotify or Apple. Instead, their product is more in competition with the likes of Patreon, which offers a similar service.
Already, Substack has been able to entice two well-known podcasts from Patreon – American Prestige and The Fifth Column – both of which announced recently that they will be joining Substack after canceling their Patreon accounts. It is not clear whether these moves are as a result of Substack's practice of paying creators cash advances to join up through its Substack Pro program. Substack does not publicly disclose such information.
In terms of the appeal for podcasters to join Substack, there is one thing that some media outlets have highlighted. This is the fact that Substack does not readily suppress controversial views. While Patreon and other similar platforms often have stringent guidelines about the publishing of conspiracy theories related to COVID-19, for example, Substack does not. In fact, Substack has given voice to several users who have been banned from other websites for their anti-vax views.
Whether you are an existing Substack creator or a podcaster on another service, who is looking for new ways to grow your audience, a Substack podcast may just be the next best move. Not only is it easy to start a Substack podcast but there is a real possibility of improving your exposure and increasing your earnings.