How to Use Rulers and Guides in Canva

Disclosure: Some of the links below are affiliate links, meaning that at no additional cost to you, I will receive a commission if you click through and make a purchase. For more information, read our full affiliate disclosure here.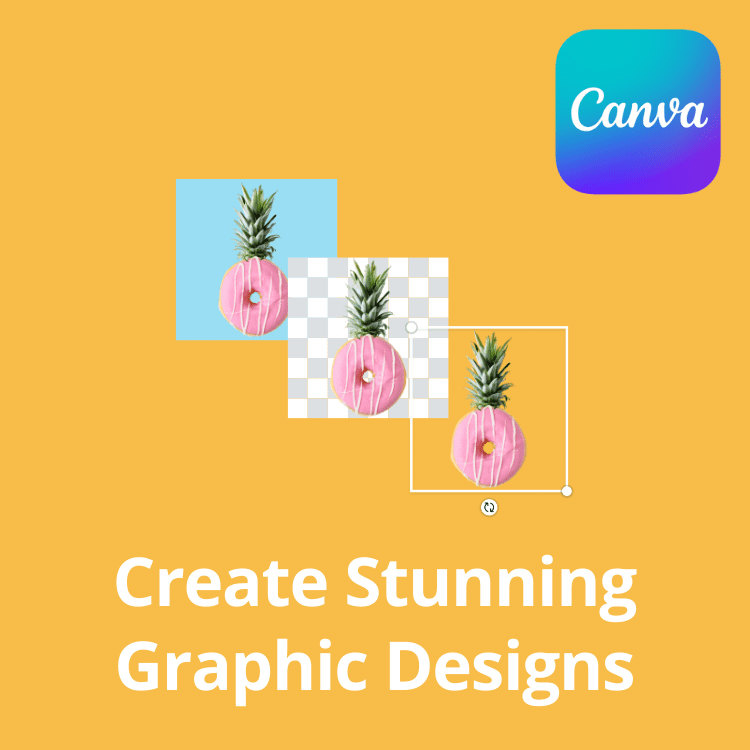 If you don't already have Canva, try it for free! Canva makes it ridiculously simple to create blog banners, edit photos, and design social media marketing content. It is also one of the few blogging tools that I use on a daily basis.
CASEY BOTTICELLO
Founder, Blogging Guide
Sometimes, it can be very difficult to align your graphics, elements or texts in a same position on a design. That's where Rulers and Guides help us in aligning and position our designs equally and precisely. This amazing tool is also available on Canva to make it easy for everyone.
Canva provides you horizontal and vertical rulers that help you align every element on the design or page more accurately. Similarly, guides help you position everything on the design in the right place. Let's take an example to make it more clear how Rulers and Guides work:
How to Use Rulers and Guides in Canva



1. Turn on Your Rulers on Canva From "File"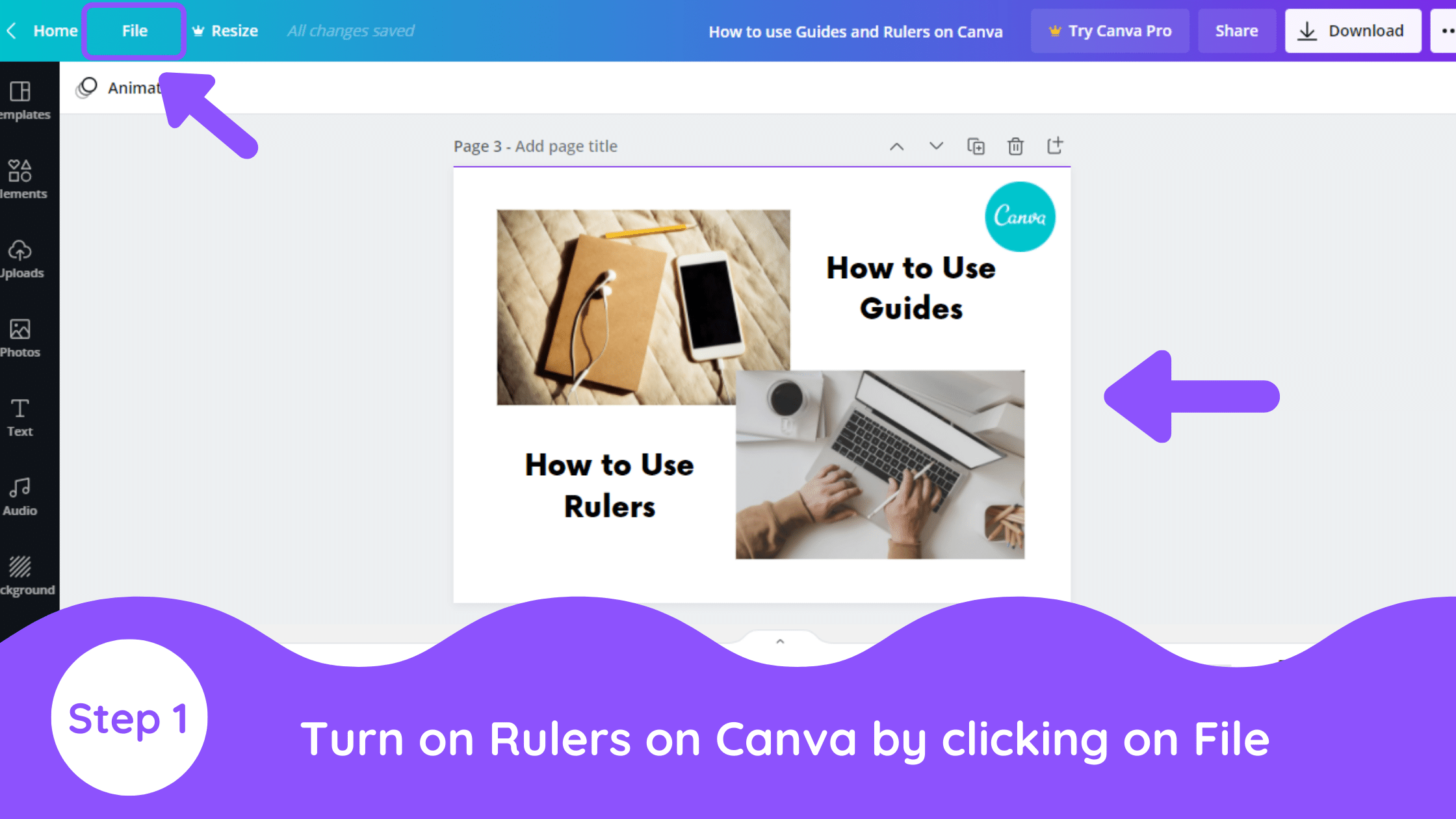 Select a design of your choice with two or more elements on it. Now, the first thing you've to do is to turn on your Rulers on the page. Click "File" on top left corner. 
2. Select the "Show Rulers" Option from the Drop Down Menu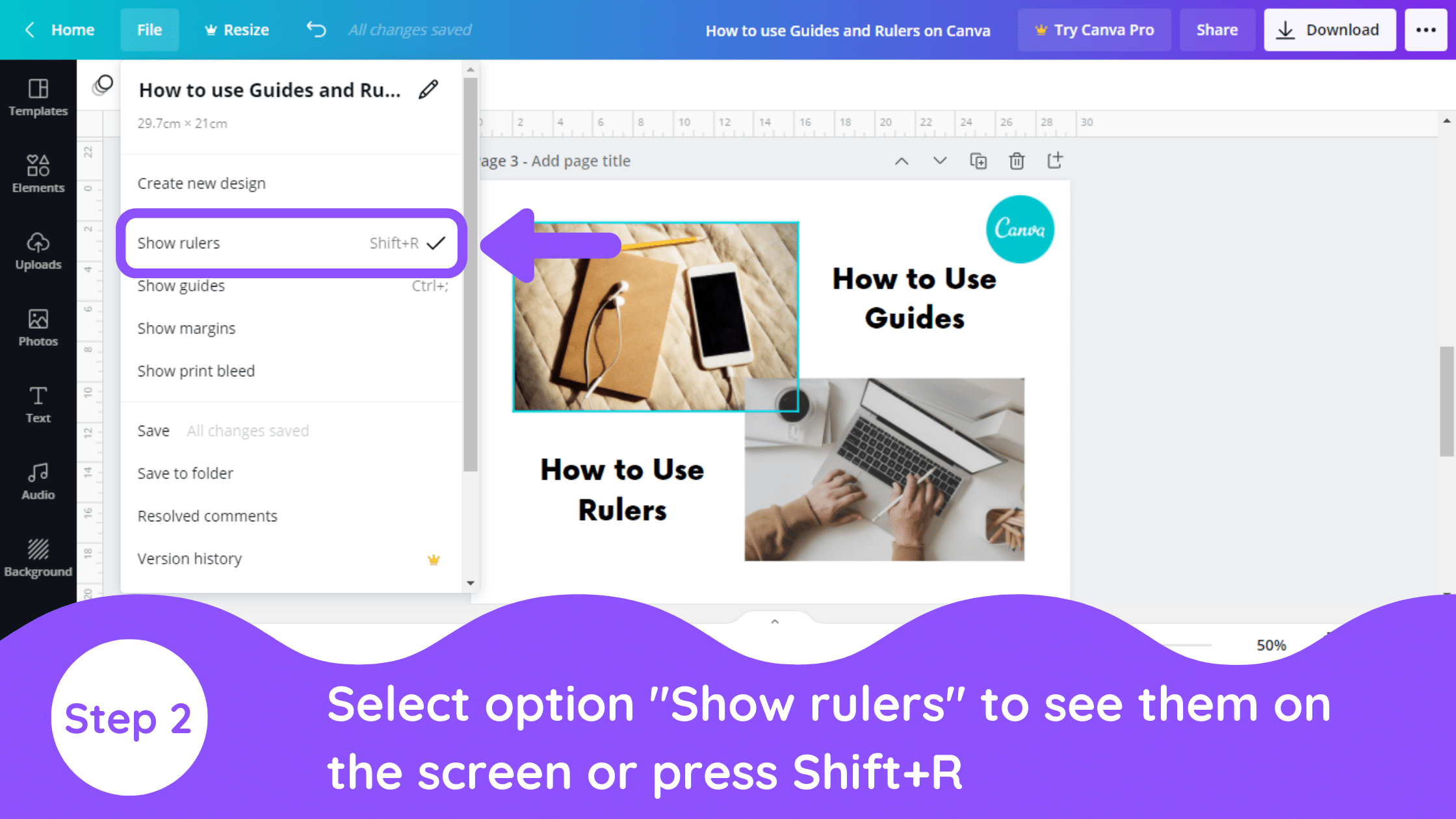 By clicking the File button, you'll see a drop-down menu. Select "Show rulers" from the available options. You can also use the shortcut keys Shift+R to activate it.
3. Align the Elements with the Help of Rulers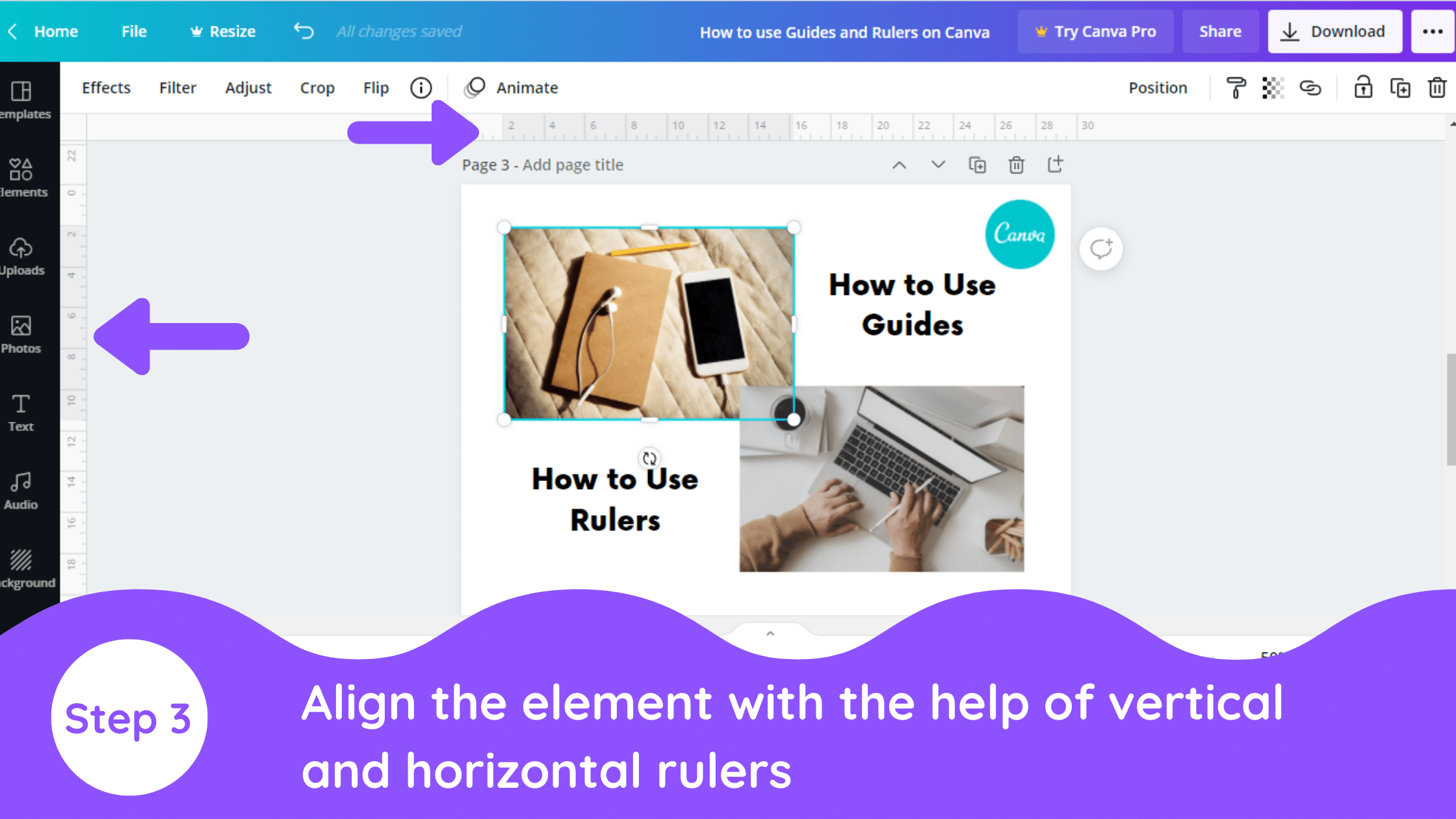 By turning on the rulers, you can view the horizontal and vertical rulers on the top and side of the screen. You can see the gray highlight on your rulers while selecting or moving the element on screen. This shows the dimensions of the element that you've selected. You can align it by viewing measurements on the rulers.
4. Turn on Guides by Selecting "Show Guides"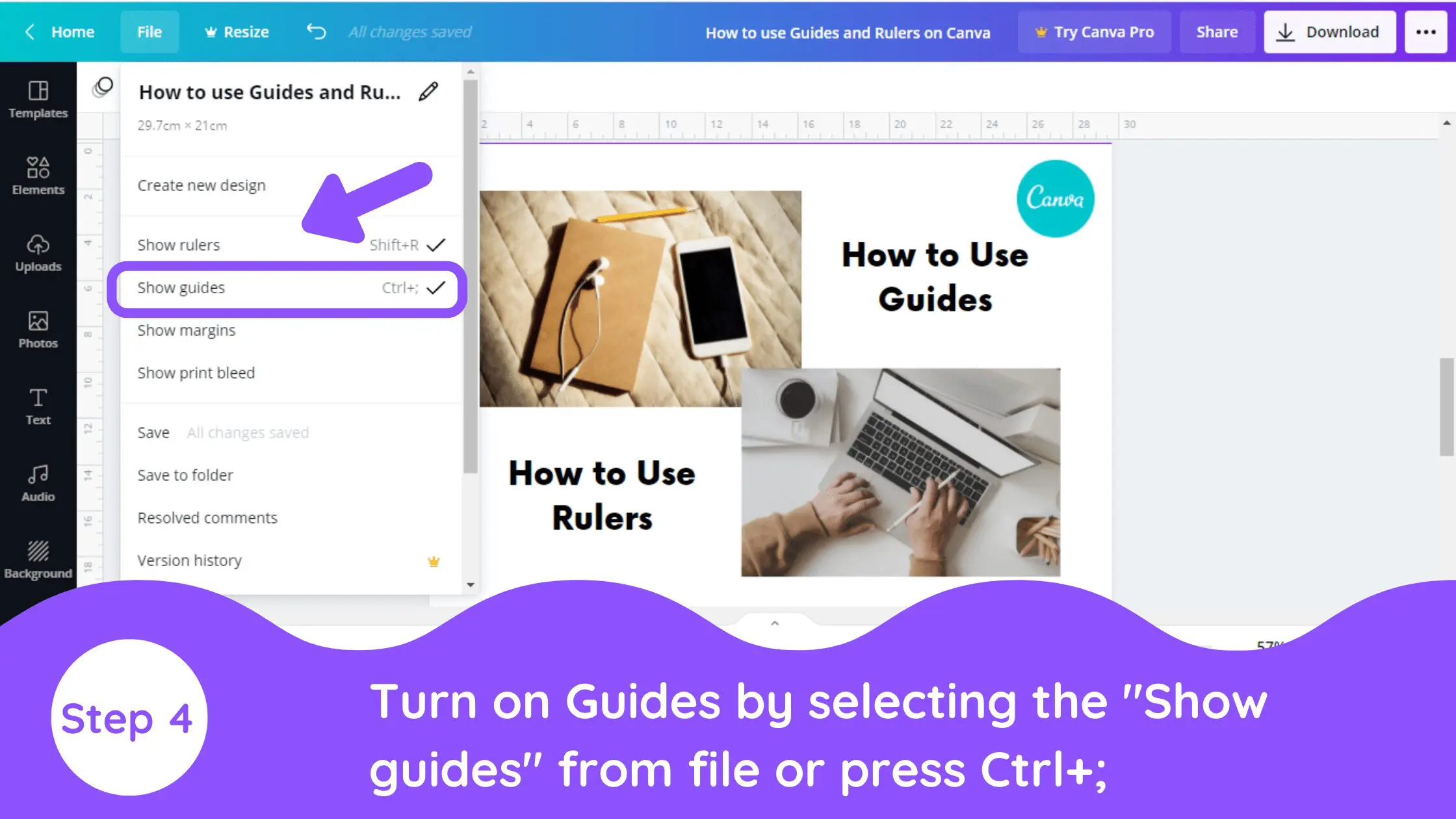 Select "Show guides" from option File, or you can press Ctrl+; to turn on guides on the screen. 
5. Align the Elements with the Help of Guide Lines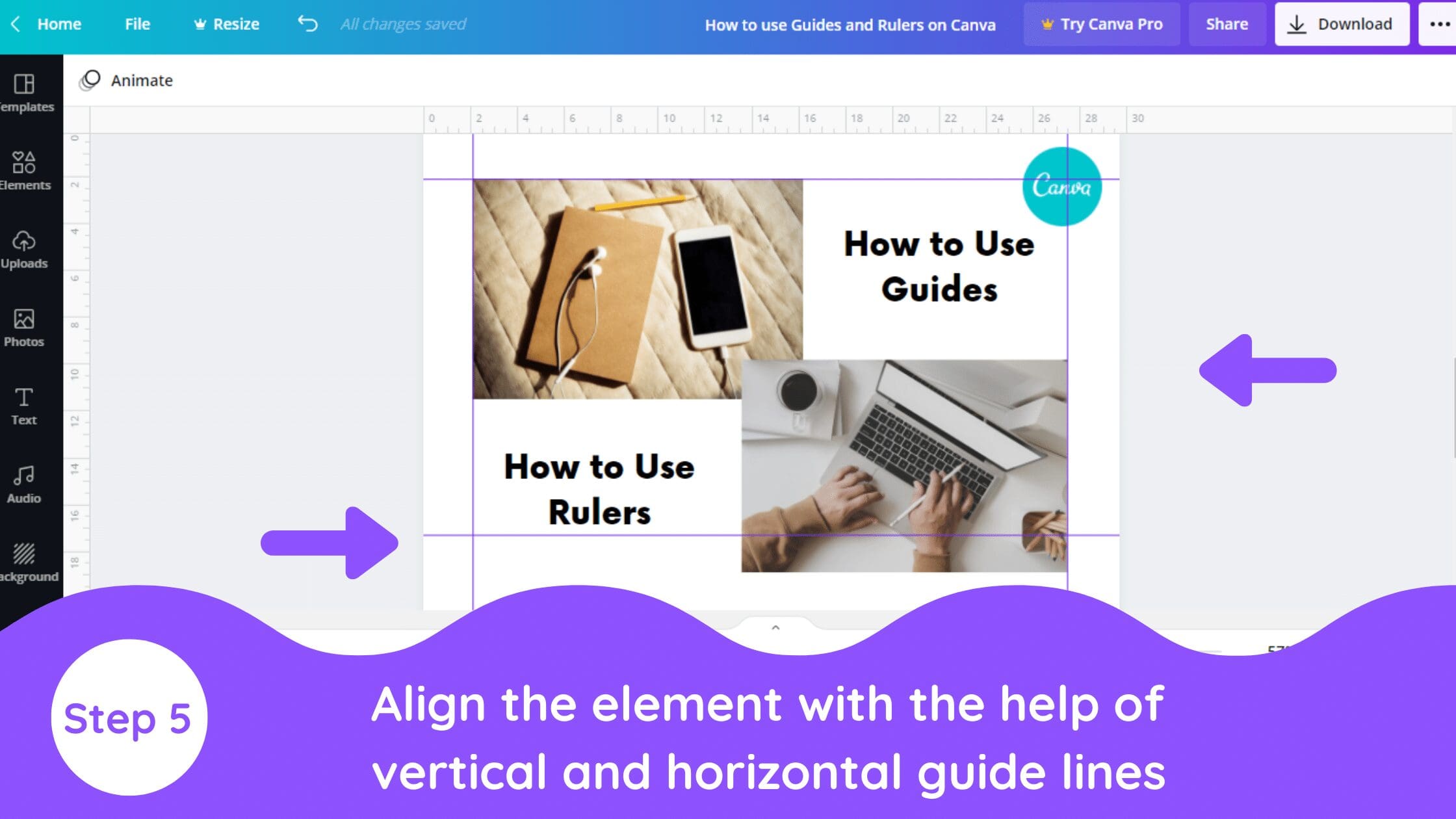 You can see the pink colored guide lines on your page. You can place them anywhere on your design page to position the elements correctly and perfectly. Guides are very helpful when you want to work in a specific border and alignment on a design page.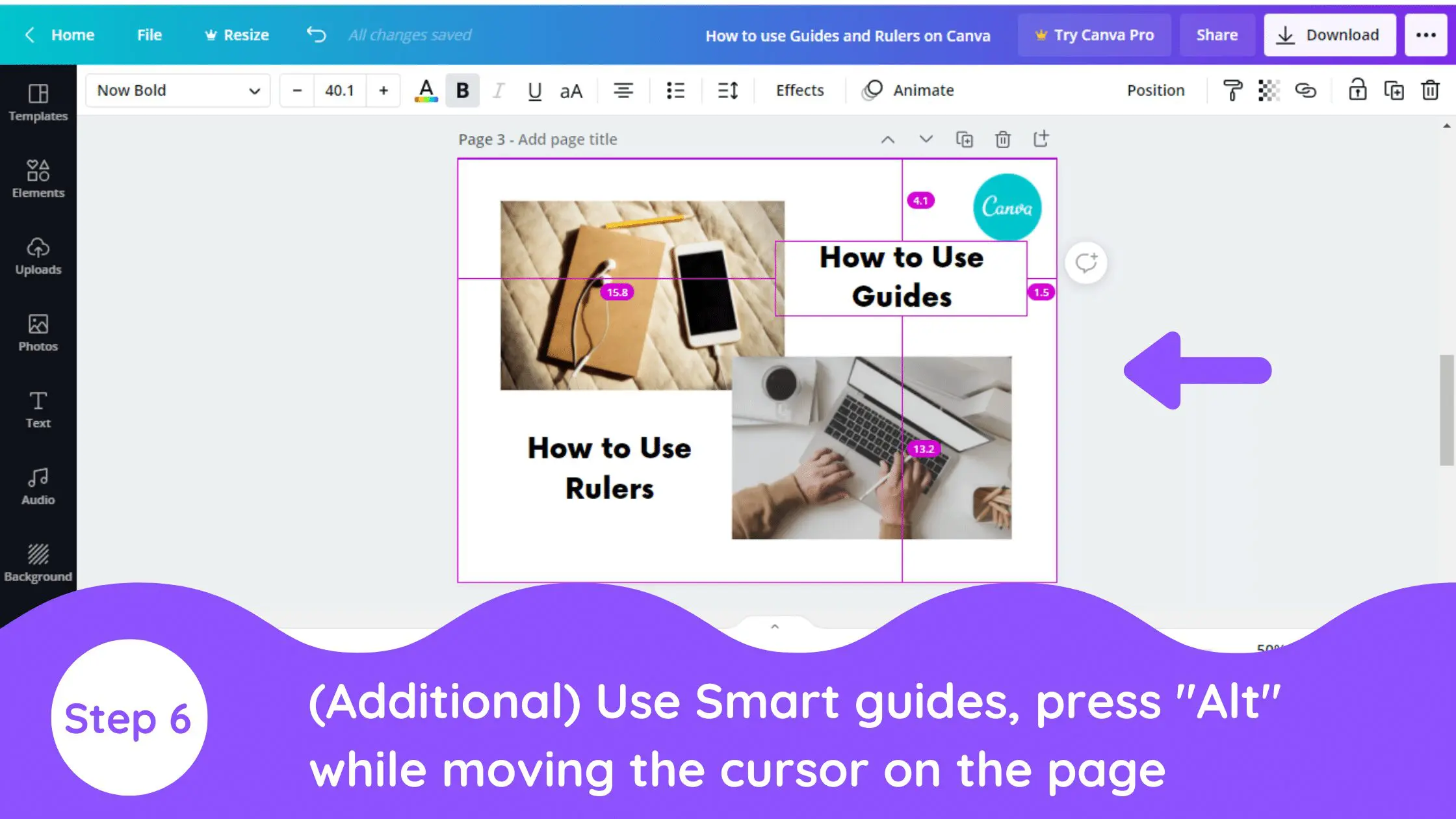 When you press Alt key while moving cursor on your design, you can see measured ratios along the guides on screen of every element. These are smart guides which tell you about the distance between the objects, texts and pictures on your design. This also a helpful built-in Canva tool to position and align the elements. 
Canva is an amazing graphic design tool, and I hope you found this tutorial covering how to use rulers and guides in Canva, useful! If you want more inspiration, check out our other articles on Canva tutorials.
Click here to read our comprehensive Canva Guide. If you are interested in downloading Canva or trying Canva Pro for free, click here. Below are several related articles that you might find useful!