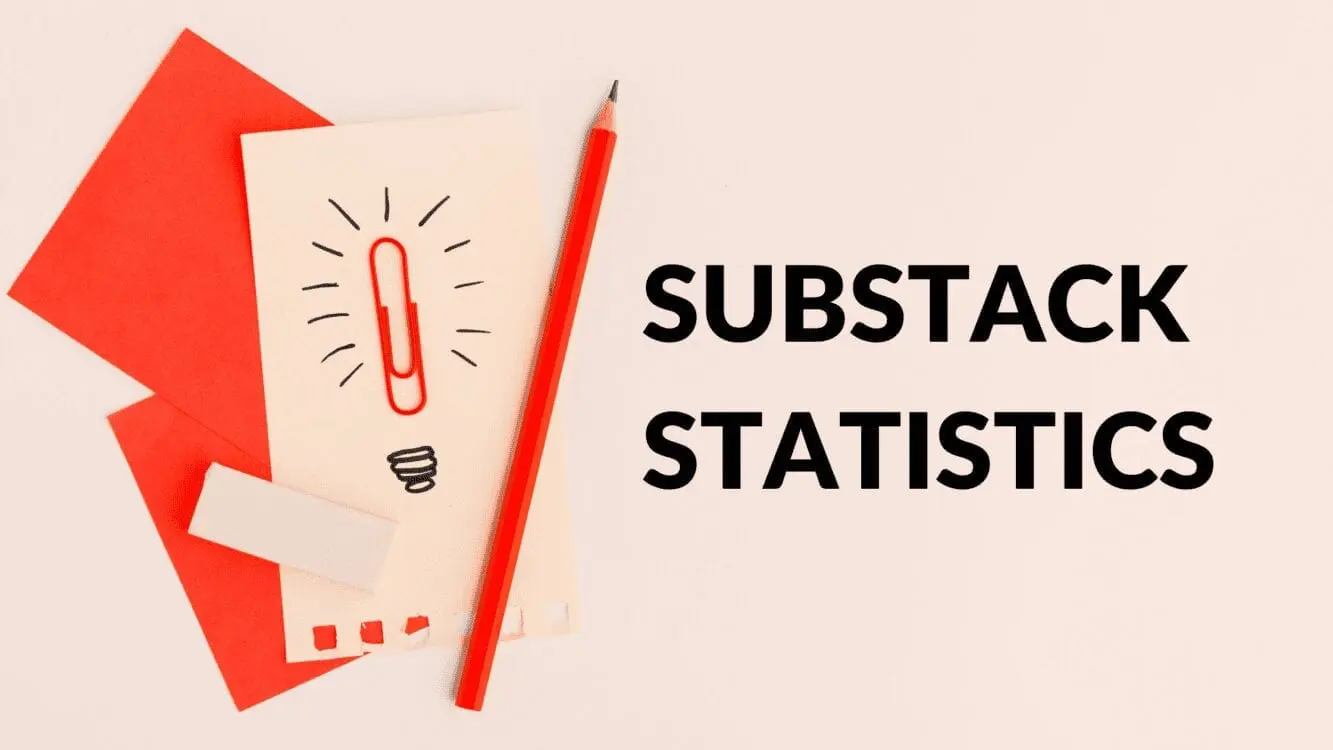 Disclosure: Some of the links below are affiliate links, meaning that at no additional cost to you, I will receive a commission if you click through and make a purchase. Read our full affiliate disclosure here.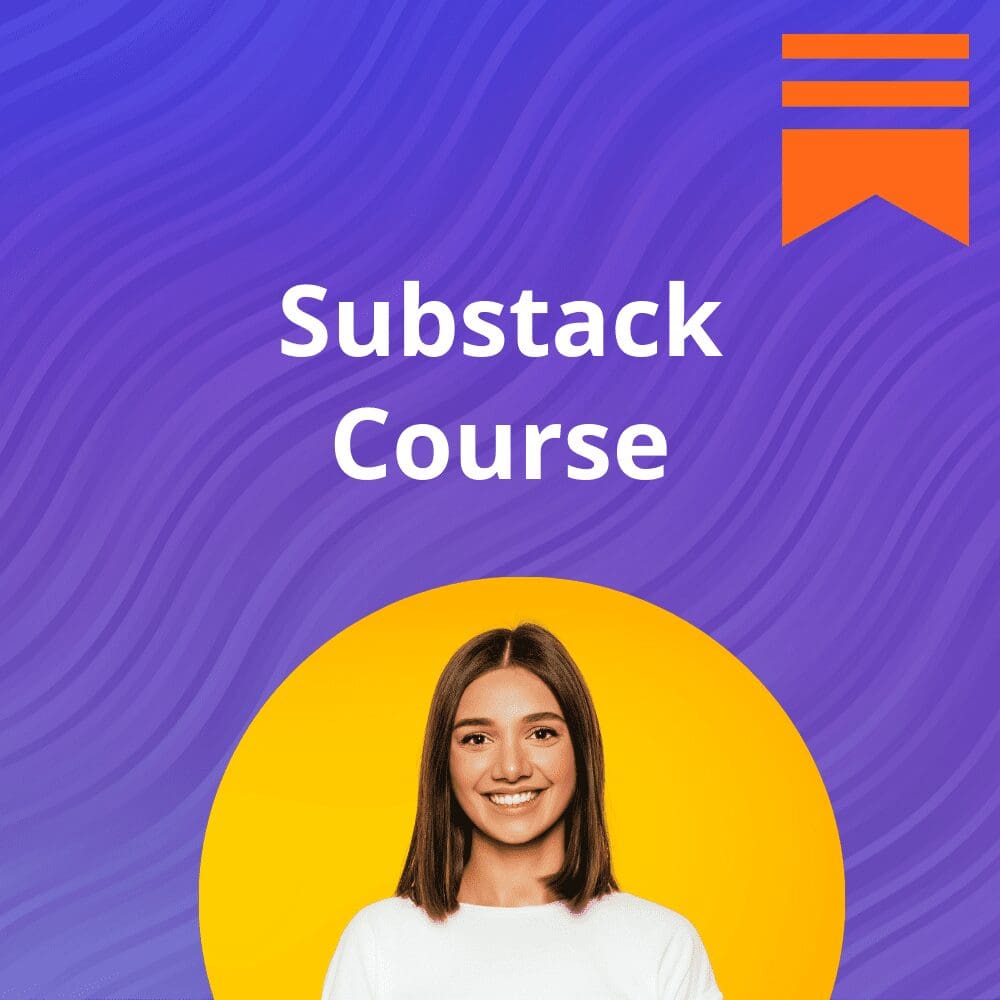 CASEY BOTTICELLO
Founder, Blogging Guide
For the freelance writer looking to monetize their writing on the web, Substack is an easy and free newsletter creation tool that helps writers to grow their readership and build an email list. This is also a great tool to use for audio content creators who would like to distribute their content to subscribers regularly via the same email newsletter delivery system.
Since its launch in 2017, founded by Christopher Best, Jairaj Sethi, and Hamish McKenzie, Substack has seen impressive markers of growth that indicate a promising future for both Substack users and the company itself. Here are the latest Substack statistics to help paint a picture of this growing newsletter writing platform.
Latest Substack User Statistics

Substack users are differentiated by how they use the platform. For clarity, we consider those who go on the platform to read newsletters as "subscribers," and those who use the blogging tool to publish their independent writing as "writers."
We distinguish writers from subscribers only to describe how they have been using Substack. However, writers can be subscribers and vice versa.
The platform welcomes both freelance writing amateurs and professional writers to publish on the site.
While it is definitely easier for those with an existing follower base to succeed on the platform, that is not a requirement. What's more important is having a passion for a subject to write an entire newsletter on. This means that amateur writers can also make money from publishing on this blogging tool. 
It won't be easy though. The barrier of entry requires a lot of hard work and persistence to overcome, in order to build a quality newsletter with paying subscribers. For reference, Substack top earners make anywhere from $5k to $30k per month.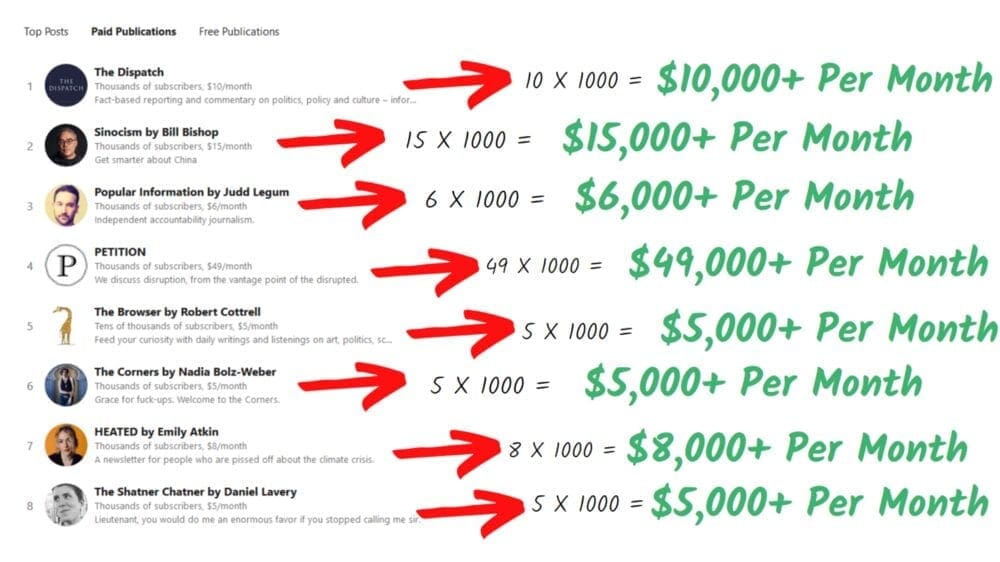 Subscribers Using Substack
Not everyone who uses Substack uses it to publish writing. Some Substack users only use the platform to read what their favorite authors have published.
While writers may not appeal to everyone, they will find their "tribe" of loyal subscribers who follow them from platform to platform.
According to a newsletter Substack released in February 2021, the platform has over 500,000 paid subscriptions across the board. However, this number is not representative of the number of total subscribers using the platform, as one user may subscribe to more than just one newsletter.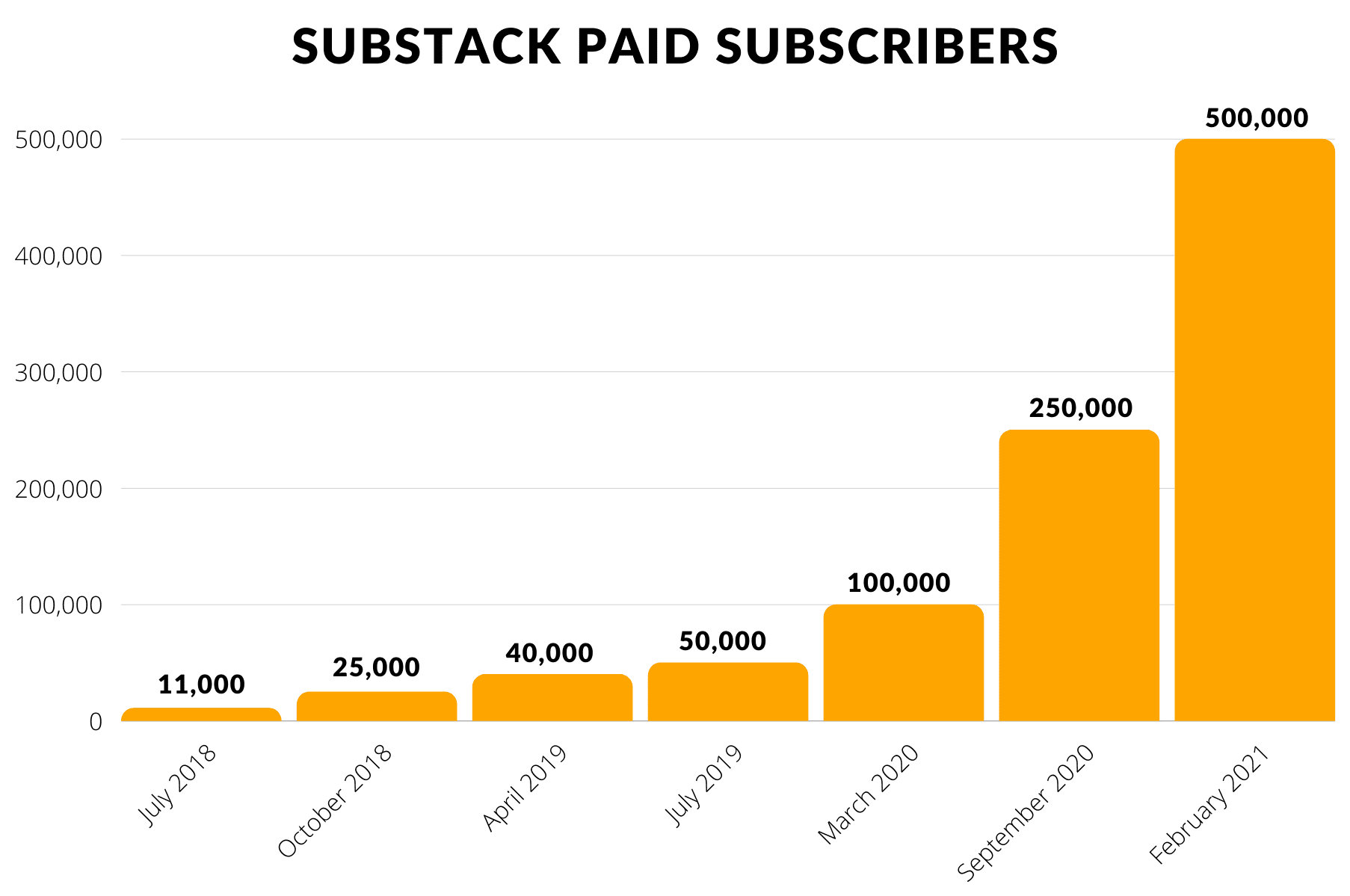 Substack Top Earning Writers

Top Ranked Paid Newsletters on Substack
Here are the top-ranked paid newsletters in Politics, Technology, Business, Finance, News, and Philosophy, respectively:
Letters from an American by Heather Cox Richardson
The Pomp Letter by Anthony Pompliano
Lenny's Newsletter by Lenny Rachitsky
The Bitcoin Forecast by Willy Woo
Sinocism by Bill Bishop
Ask Polly by Heather Havrilesky
Each of these newsletters have, at the minimum, thousands of subscribers. At the most, their subscriber range reaches tens of thousands of subscribers.
Keep in mind, these are all paid newsletters with a subscription billing rate between $5 per month to $50 per month. Yes, some newsletters actually charge $50 per month–the Bitcoin Forecast is one of them.
How Much Do Substack Newsletters Make?
One of our case studies on Substack newsletters, Founder Stock Investing, a newsletter covering stock investments, reported earning a net of $3800 per month after fees from just 81 paying subscribers. The newsletter's number of paying subscribers was less than 10% of their emailing list.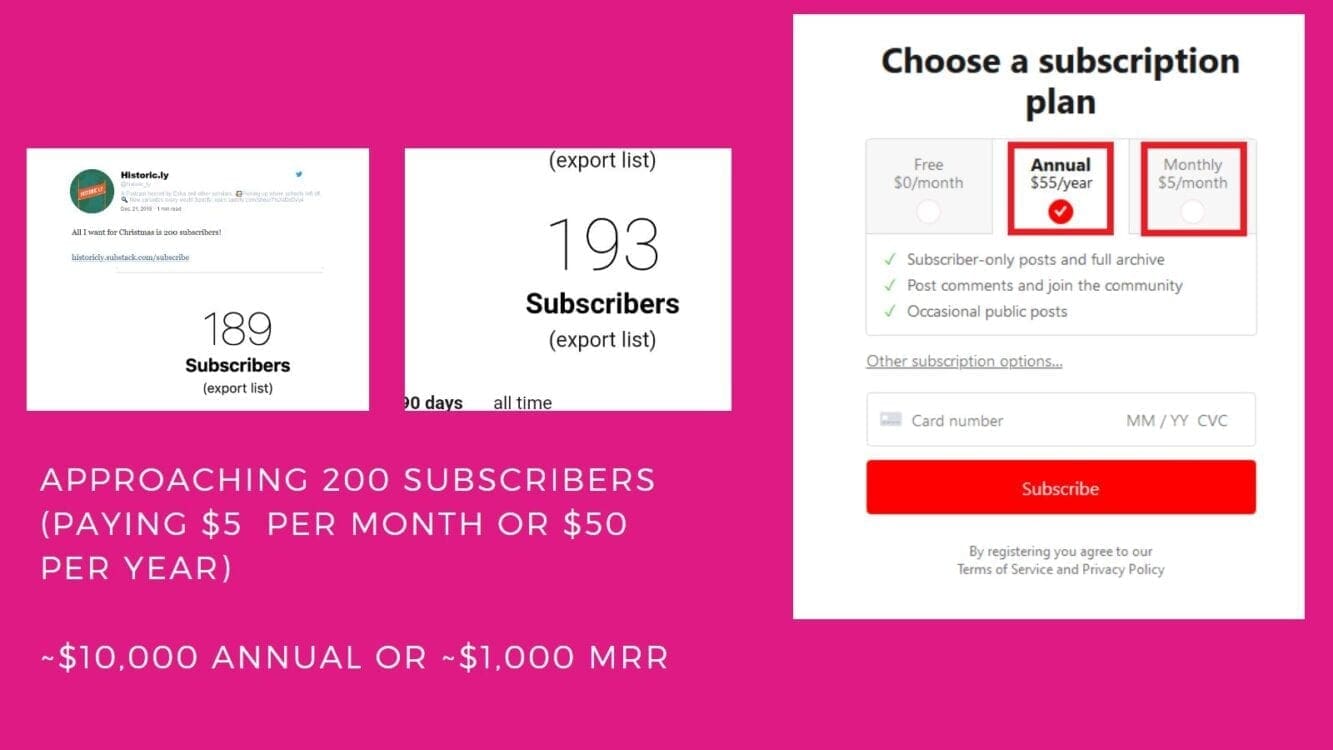 Another one of our case studies, Historic.ly, a newsletter covering a multitude of knowledge that should have been taught in school, reported earning $1,000 per month after fees from nearly 200 paying subscribers.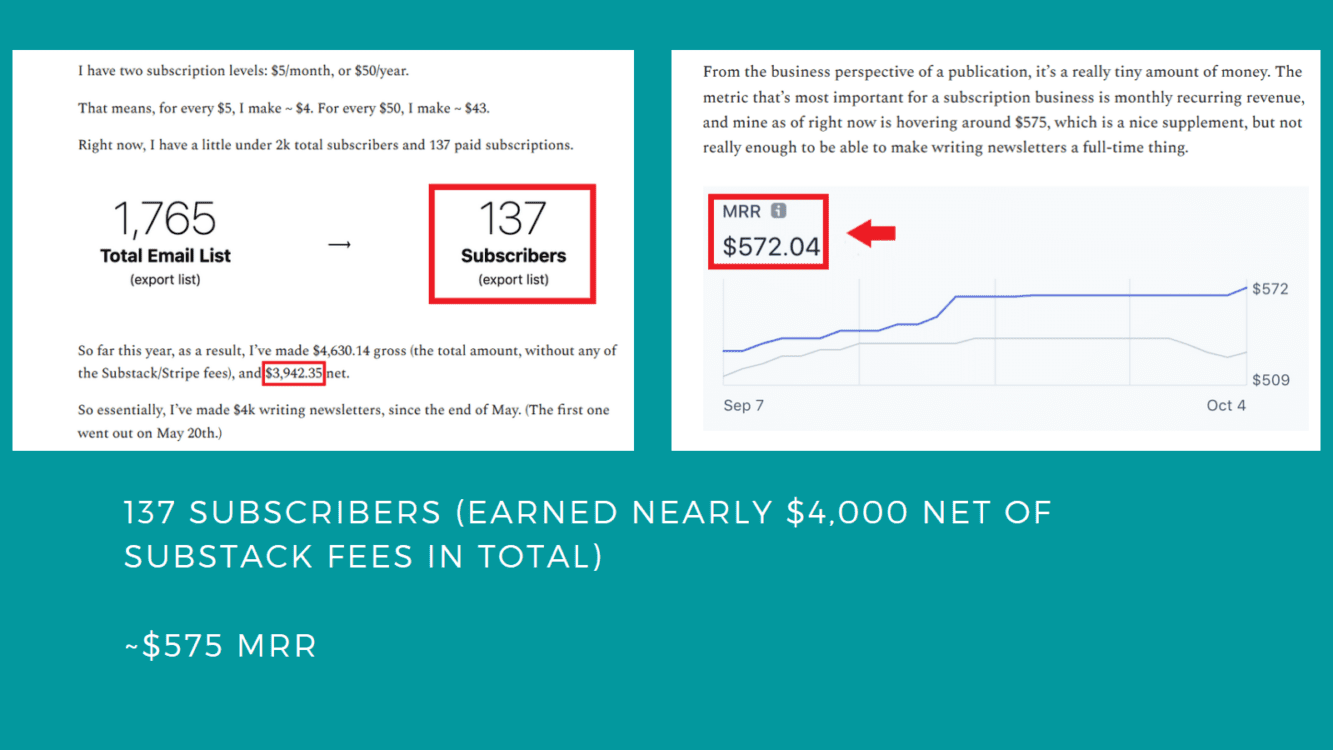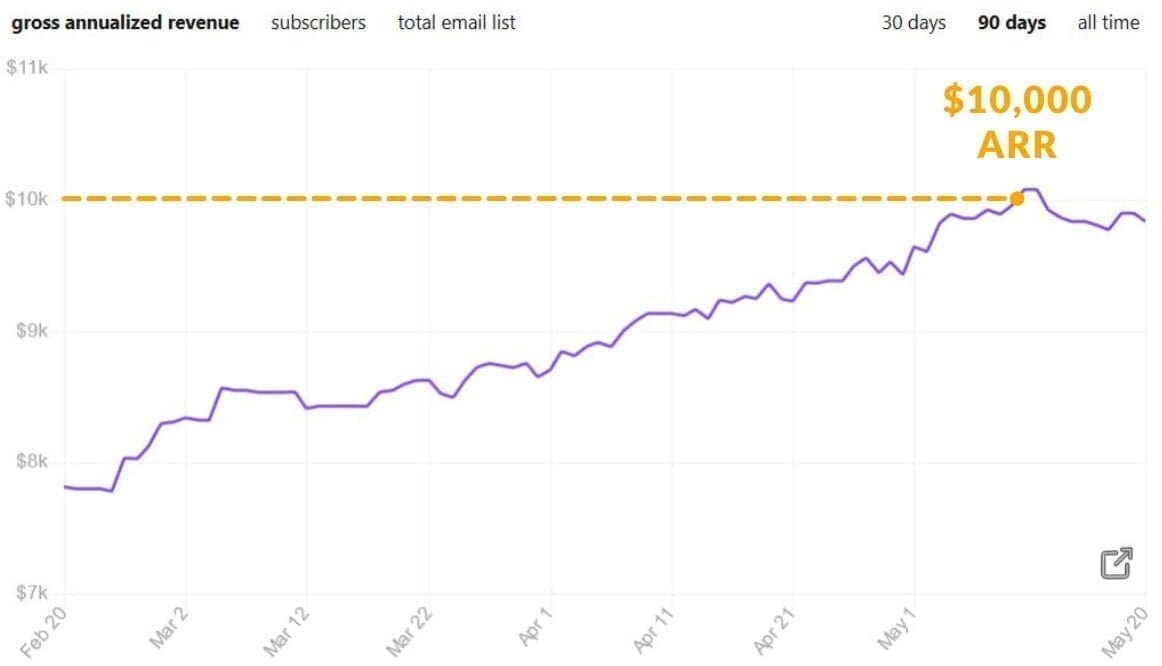 These three Substack newsletter examples show that:
You don't have to have to be a top-earning writer with tens of thousands of subscribers to make money on Substack.
You don't need to convert your entire email list to make money from your newsletter.
The rate you charge determines how much your newsletter can make.
Substack Company Statistics

Since its launch in 2017, Substack has enjoyed an impressive run amongst competitors in the market.
From the large amounts of funding the company has raised to its growing annual revenue, the following Substack statistics prove that this is a platform you don't want to miss out on. Its exponential growth gives plenty of room for both new and professional writers to thrive.
As of May 2021, Substack has approximately 20-30 full time employees. Substack is currently on a hiring spree and it appears that this number will likely double within the next year.
Substack's online and social media presence continues to grow at a rate of 20.6% every quarter, having amassed a total of 46.66k followers on Twitter since joining in June 2019. Some companies have plenty of followers but a low engagement rate. Substack is not one of them. Followers continue to engage with the company's social media, hinting at high brand awareness amongst users.
Substack Search Popularity

One way of measuring Substack's growth as a platform and a brand is tracking the number of Google searches for the company name. As you can see, the amount of people search for the term "Substack" was virtually non-existent when the company was founded in 2017. Over the last 4 years the search volume has grown exponentially, with a huge surge in interest toward the second half of 2020.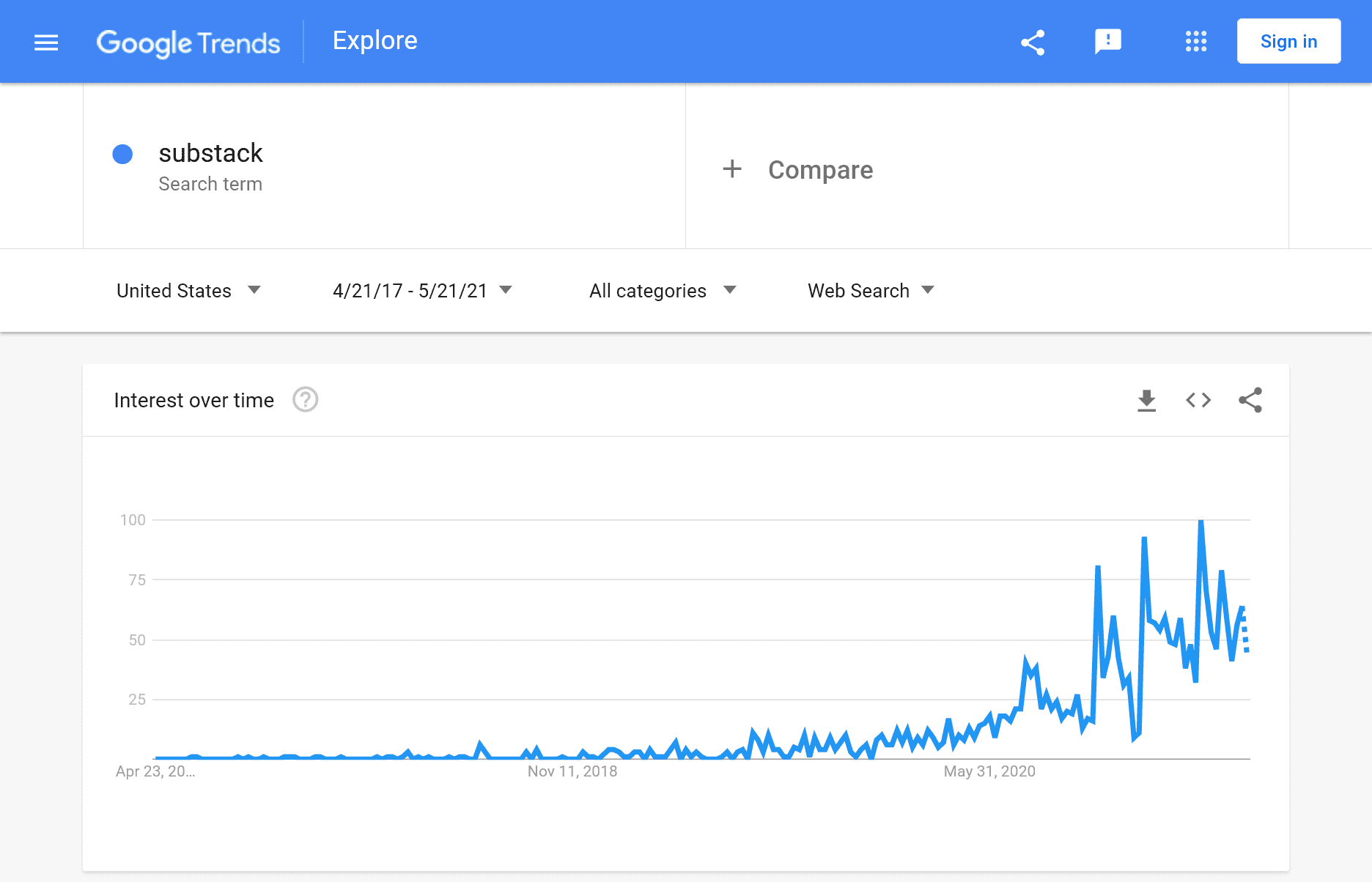 This platform brought in an average of 14.2 million users per month between October 2020 and March 2021. The platform reached nearly 18 million visits in May 2021 and and reached a worldwide website rank of 3,876.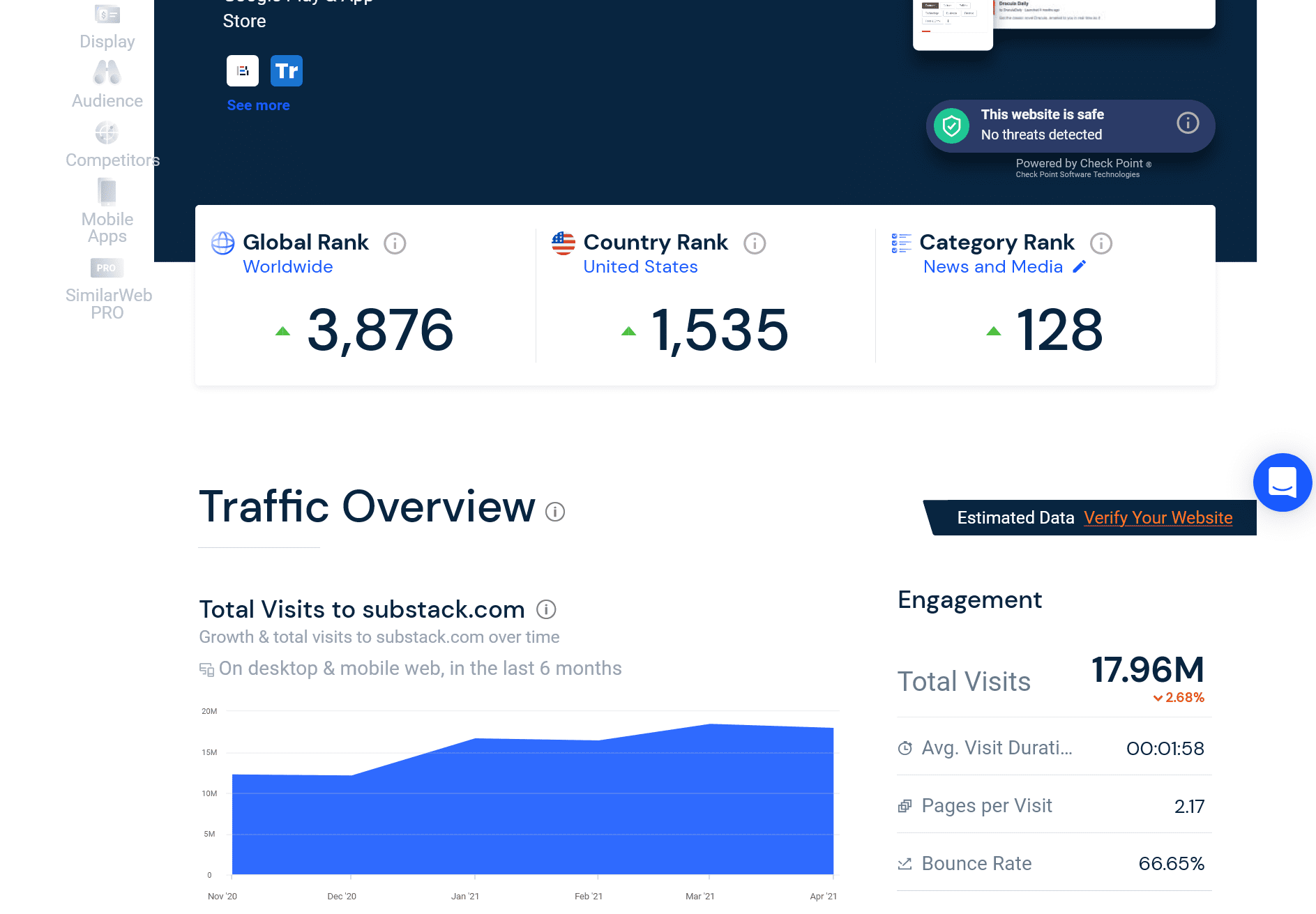 Substack recently acquired People & Company, a Brooklyn start-up focused on community-building, as of May 2021. The goal is to create initiatives such as workshops, meetings, and training sessions, that help foster the writer and reader community on Substack.
Substack has raised $82.4 million dollars over four rounds of funding. The platform secured just over 75% of its total funding in its last funding round on March 31, 2021. 
Substack Funding Rounds:
$120K secured in Pre Seed round (January 2018)
$2M secured in Seed round (April 2018
$15.3M secured in Series A round (July 2019)
$65M secured in Series B round (March 2021)
The last raise values Substack at roughly $650 million.
Investors see great potential in Substack as a platform. Their growing investments in the newsletter writing platform prove their confidence. Although Substack is still in its early years, investors expect the platform to do well, as it has.
Substack is free to use, but it also makes money from its paid subscription model. This means that the company does well when its writers succeed.
Subscribers pay a monthly subscription rate to read their favorite authors and newsletters. Substack takes a 10% fee from what writers charge. After Substack's payment provider, Stripe, has charged fees as well (2.9% on the amount that writers charge and $0.30 cents per transaction), the rest of the profits go to the independent writer.
On the surface, 10% doesn't seem like much until you realize how many paying subscribers this blogging tool has.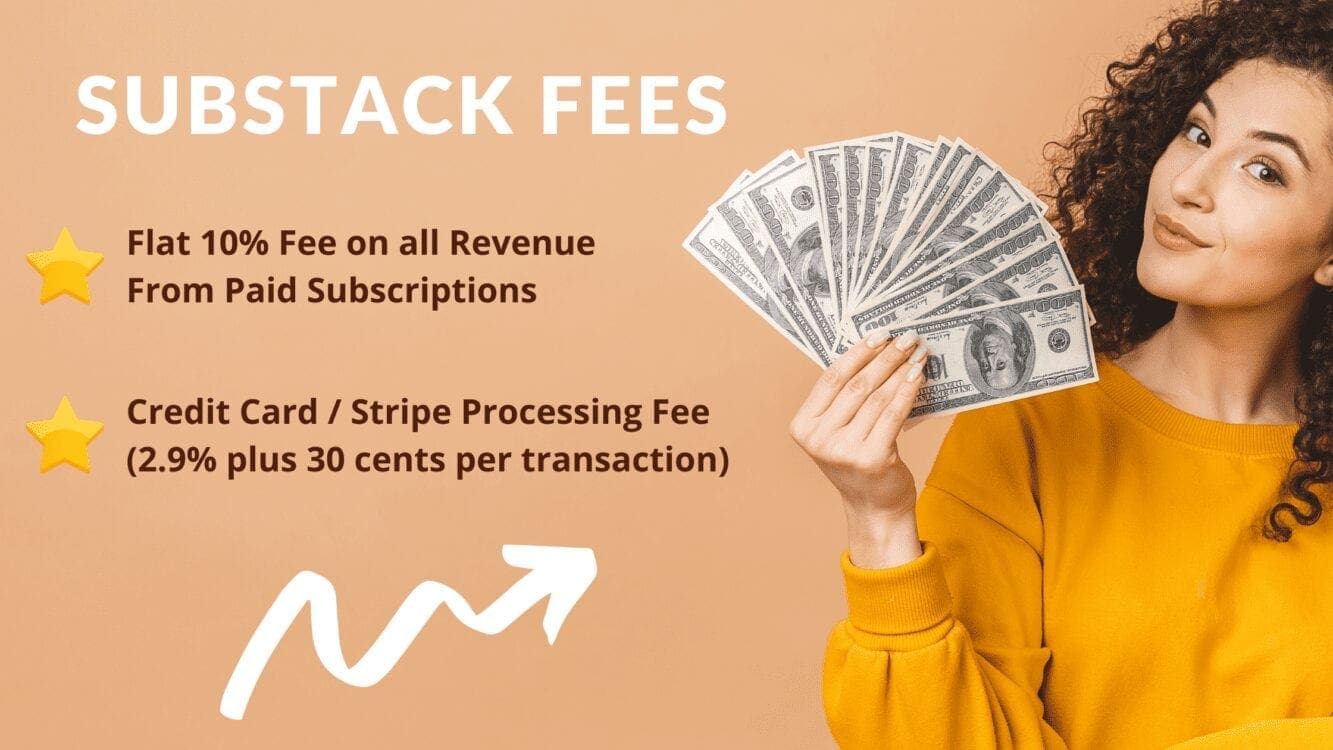 Substack Company Earnings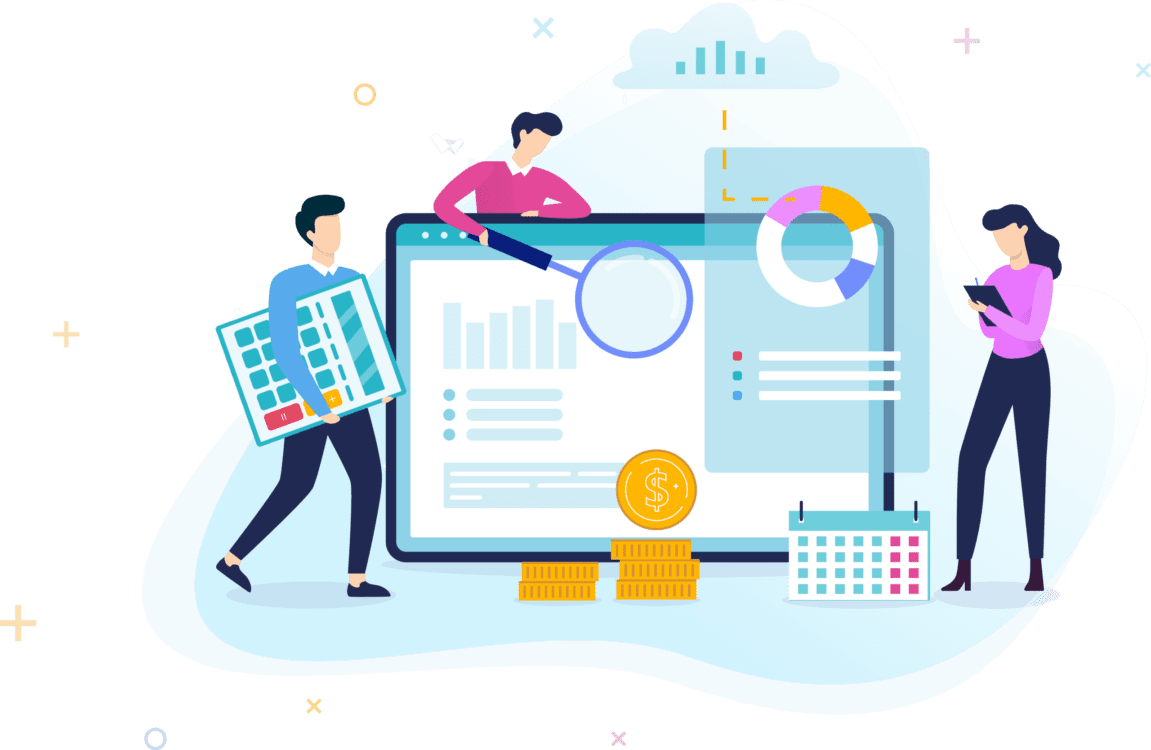 Start Building Your Email Newsletter Today!
These Substack statistics show that this free newsletter writing platform is growing in terms of company revenue, user profits, and authority on the content-based web. Its exponential growth rate indicates that writers and content creators are increasingly flocking to the platform for a piece of the pie.
Substack top earners have created a stream of income that has comfortably replaced their full-time jobs. However, this does not mean that new writers cannot make headway for themselves.
To learn more about Substack, check out our Substack review which includes my experience operating a top Substack newsletter for over a year. You can also check out our Substack platform review which contains dozens of useful resources for writers looking to get started publishing on Substack or our Substack course!