How to Monetize Your Newsletter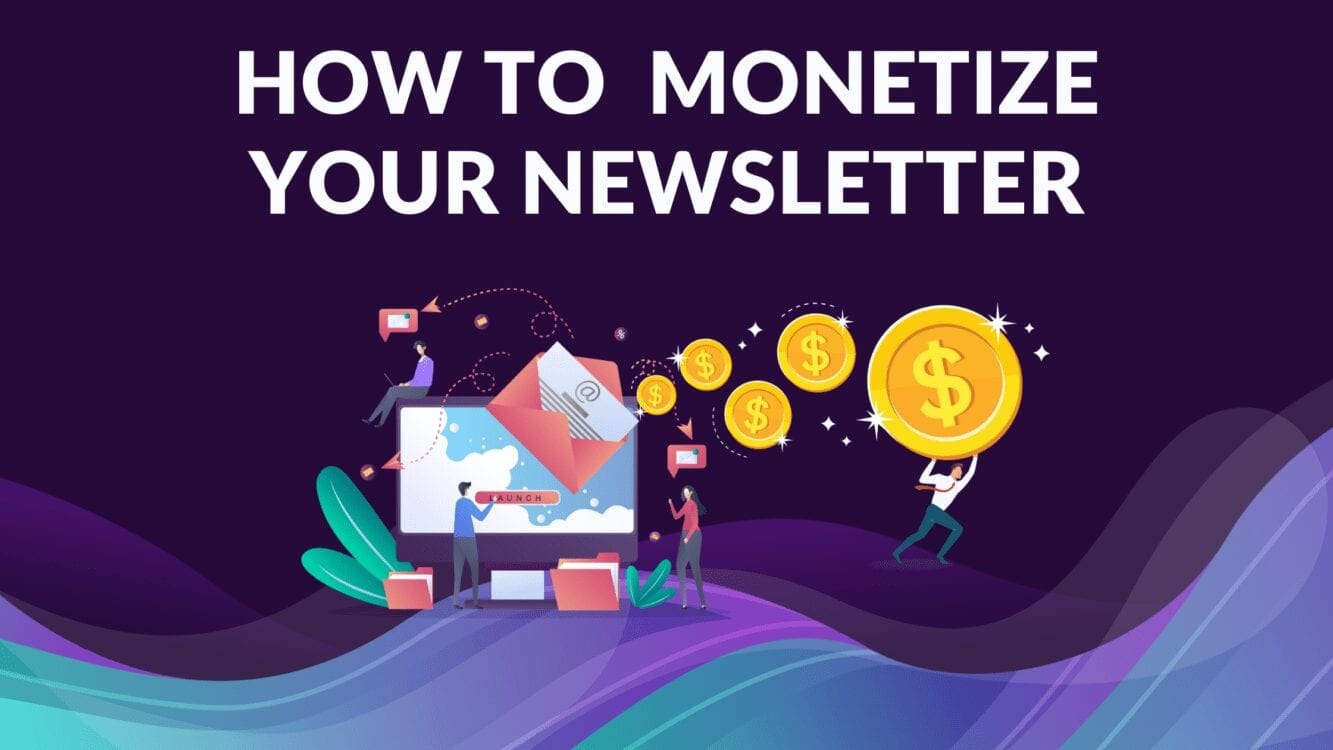 Disclosure: Some of the links below are affiliate links, meaning that at no additional cost to you, I will receive a commission if you click through and make a purchase. For more information, read our full affiliate disclosure here.
Newsletters are one of the oldest forms of communication on the internet. Yet, while everyone involved in internet marketing will tell you that "the money is in the list," there are actually many ways to monetize your newsletter. Many of these monetization strategies have only become viable options to individual content creators in the last few years.
Below is a list of the best ways to monetize your newsletter. Each technique contains examples from real revenue generating newsletters. I encourage you to consider multiple monetization strategies with your newsletter. Newsletters vary tremendously in their content, structure, and audience, so there is no one-size-fits-all solution that works best for every newsletter. Let's begin!
How to Monetize Your Newsletter
1. Selling Direct Subscriptions

Selling subscriptions to your newsletter is one of the most straightforward ways to monetize your newsletter. In its simplest form, the author writes the newsletter and readers pay for access to your content.
With recent advances in digital publishing technology and platforms (such as Substack, Revue, and Ghost), it has become much easier to create and operate your own newsletter.
You can create a subscription newsletter on your own custom platform, but this requires significant technical skills, and is not a strategy utilized by most of the top performing subscription newsletters.
For many newsletter creators, the direct paid subscription model is very appealing. There are a number of reasons that content creators love creating paid subscription newsletters, including:
Scalability-Subscription newsletters are highly scalable. No matter how many subscribers you have, the work required by a creator to produce content for their readers remains constant. In an extreme case, a subscription newsletter operator who has a single paying subscriber would produce content in the exact same way as they would if they had an audience of several million paying subscribers.
Profitability-Subscription newsletters are almost always immediately profitable (discounting the writer's time). There are very low barriers of entry as anyone can create a subscription newsletter, for free, in a matter of minutes. And as implied with scalability, there is little or no marginal cost for adding an additional subscriber to your newsletter's email list.
Portability-While there is always some risk of relying upon a third party platform to collect payments from your readers, there are now a number of alternative subscription newsletter platforms and services you could move your newsletter to, should the need arise. This is because your audience is paying for content coming from you as a creator. You have email list portability and can always connect with your audience, regardless of what platform is your email marketing system. Other models of newsletter monetization in this article are based, at least partially, on the access to a wider audience that is provided by the intermediary email marketing system or content management platform (i.e. display advertisements, sponsored content, etc.).
I have personally experimented with the subscription newsletter model, operating my own newsletter, Blogging Guide, as a paid newsletter on Substack.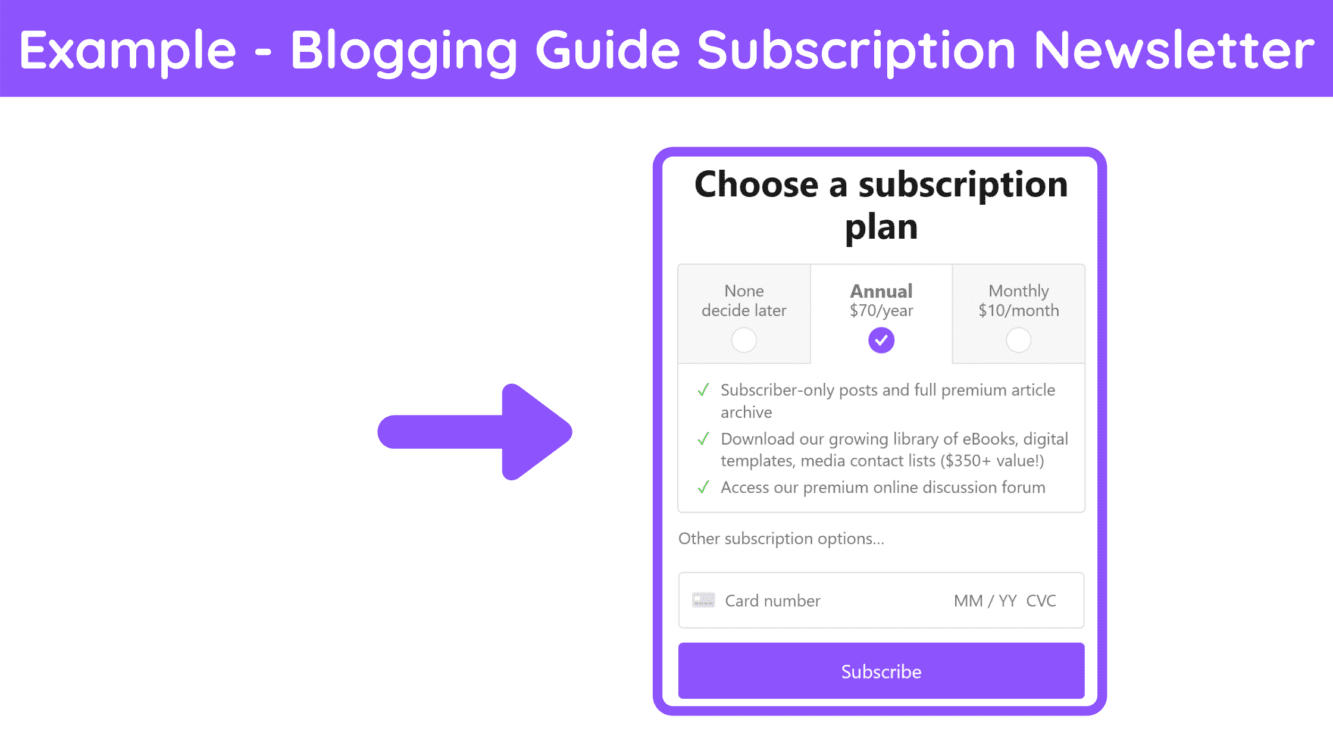 While I have been surprised at the success of my newsletter, operating a successful subscription newsletter is hard. In fact, of all the methods on this list, I would say it is by far the most challenging.
While the business model is attractive and very easy to understand at a high level, don't be fooled into thinking the successful launch and operation of a direct paid subscription newsletter will be simple.
Oftentimes this monetization method requires the creation of an online community, courses, eBooks, and one-on-one support for that newsletter to grow. Subscription newsletters also require high levels of digital marketing experience (or a pre-existing online fan-base) as you are responsible for driving all of the lead generating traffic to your newsletter).
2. Brand Sponsorship
Sponsorships through email can take multiple forms. One common approach is to allow a third party to sponsor your content in exchange for an advertisement or endorsement in your email. Here's that approach in practice in a daily newsletter called TLDR.
TLDR is a daily, curated newsletter with links and TLDRs of the most interesting stories in tech. It is the ideal place to advertise developer tools, technical courses, developer job sites and tech conferences
The sponsorship approach allows TLDR to make money through advertising while maintaining control and trust with their readership. Like a native ad, this sponsorship fits in with TLDR's content and is also in line with the TLDR brand.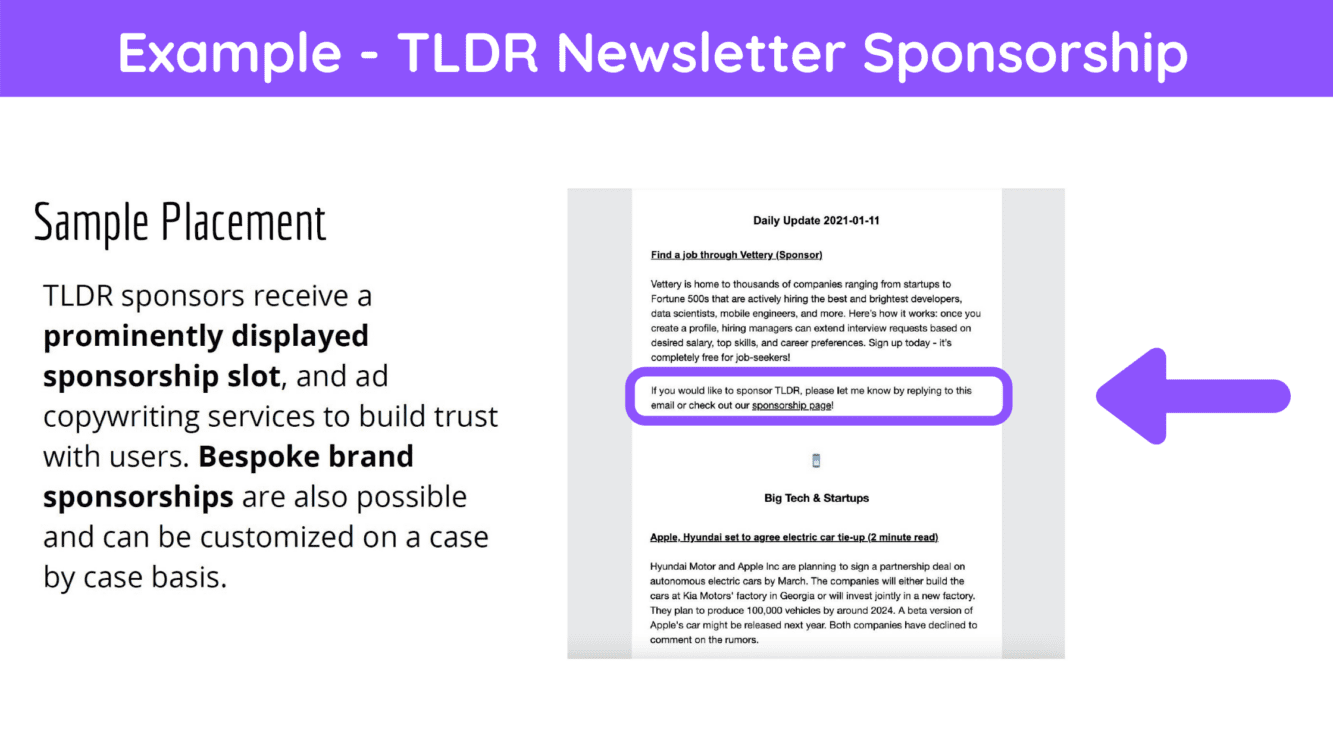 3. Display Advertising

Display advertising refers to the process of advertising a product or service through visuals like images and videos on networks of publisher websites or relate properties (i.e. newsletters).
Newsletter display ads are placed on relevant third-party newsletters in the form of banner, image, and text ads.
This is an ad placed in an email from vegan magazine VegNews. The ad perfectly blends in with the email and intrigues the reader with its text, "best snack of the year." If you're subscribed to VegNews's email list, you're likely interested in vegan snacks, so placing an ad informing subscribers of the year's best rated vegan snack right above the recipe section is a perfect conversion setup.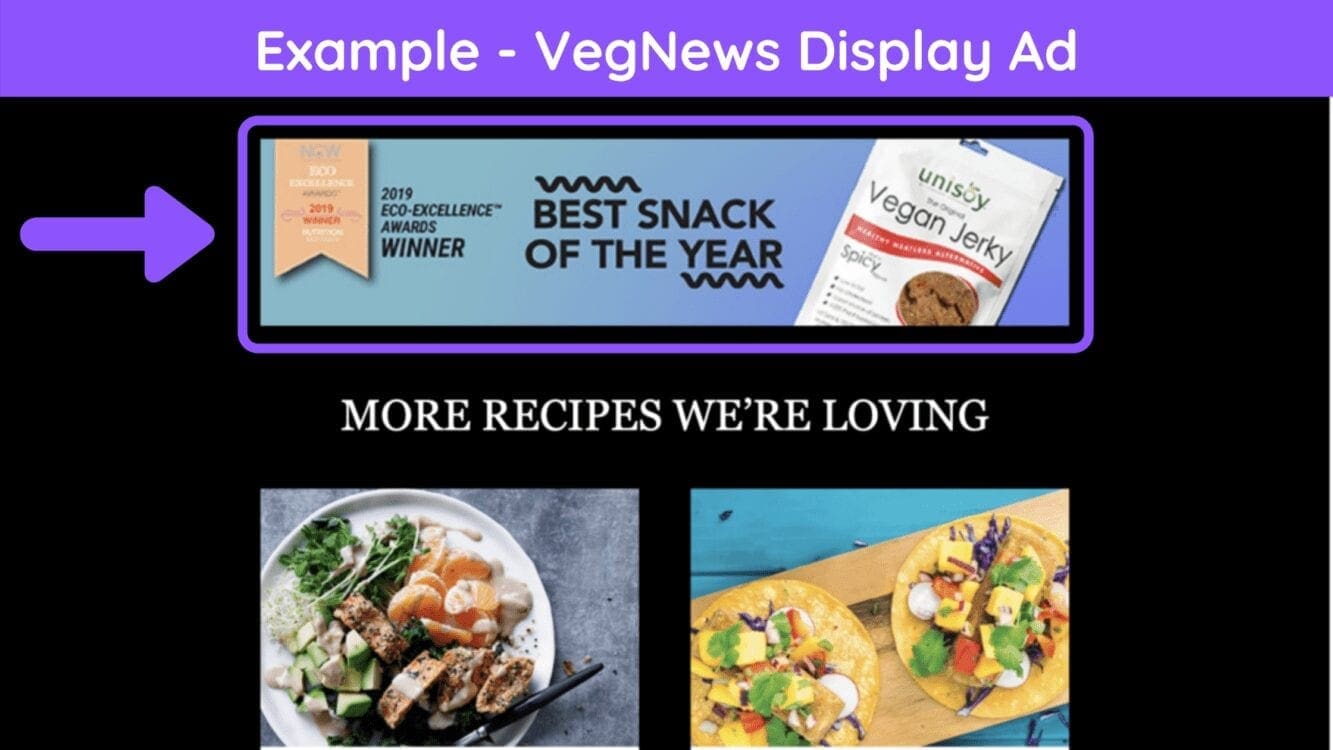 4. Classified Advertisements
Classified ads are an increasingly popular way for newsletter creators to monetize their newsletters. Classified ads are a hybrid between sponsored content and display ads.
Advertisers pay to be listed in a section of your newsletter (usually labeled "classified ads"). Unlike display ads, classified ads are hand picked by the newsletter creator and are usually highly relevant services or products to the readers of the newsletter.
And unlike sponsored content, they tend to make their sales pitch in a short sentence or two (not a post written by the newsletter creator, which is typically written as an endorsement. The other advantage of classified ads is that the newsletter creator can hand pick the acceptable ad content, making the classified ads a value add for readers.
A good example of a newsletter monetizing through classified ads is Josh Spector's newsletter (and related online community and products), For The Interested. For The Interested is a newsletter that explores ways creators can produce, promote, and profit from their creations.
The classified ads in For The Interested are a great example because the content being advertised is all highly relevant to the topics discussed in its newsletter (creating your own digital products, increasing your productivity using social media and other digital tools, writing, etc.).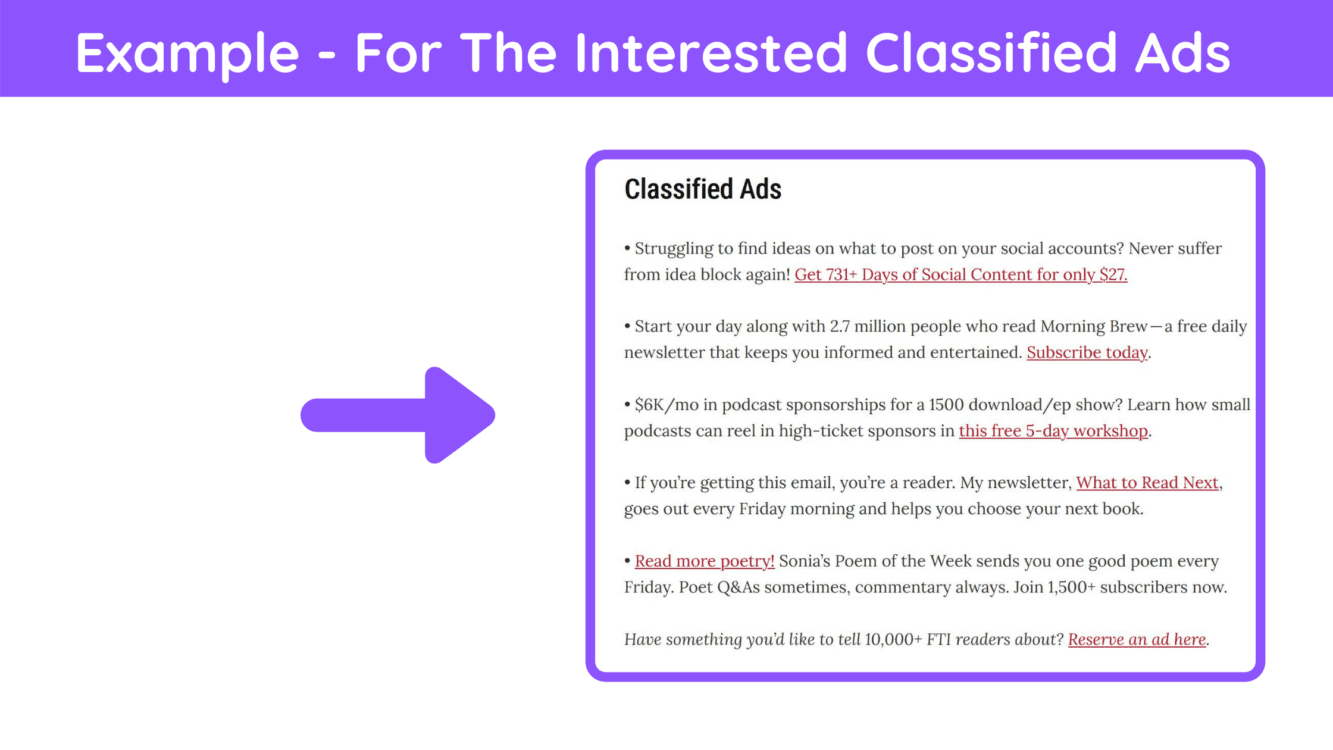 5. Affiliate Marketing
Affiliate marketing is the process of earning a commission by promoting other people's (or company's) products. You find a product you like, promote it to others and earn a piece of the profit for each sale that you make. This monetization strategy can also be implemented in a "free newsletter."

As an example, take a look at Wellness Captain. The site describes itself as:

This is the place where you can find out how to look and feel better, stronger and happier than ever. It's the place where we all come together with the right kind of information to improve our health, nutrition habits, and wellbeing.
Like many websites, there are numerous sign up forms advertising their free newsletter: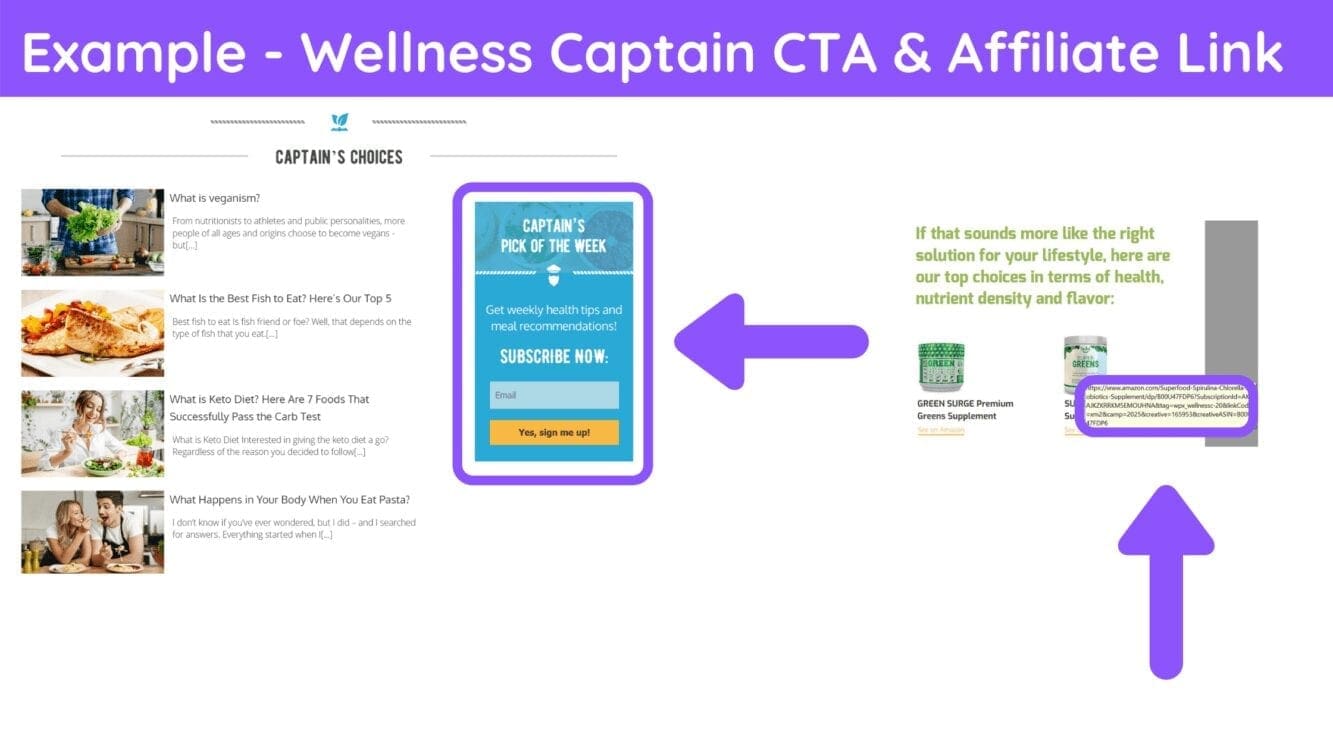 Wellness Captain sends its subscribers recipes, health tips, and meal recommendations. As seen below, if you click on most of the product links, you will be taken to Amazon's website. The link contains a tracking code which helps Amazon attribute the source of the sale.
If a newsletter reader clicks on a link, and makes a purchase on Amazon, the newsletter creator receives a commission as part of the Amazon Associates Program. This is evident not only upon inspecting the link, but in fine print at the bottom of their website (this disclaimer is required of all Amazon Associates affiliates).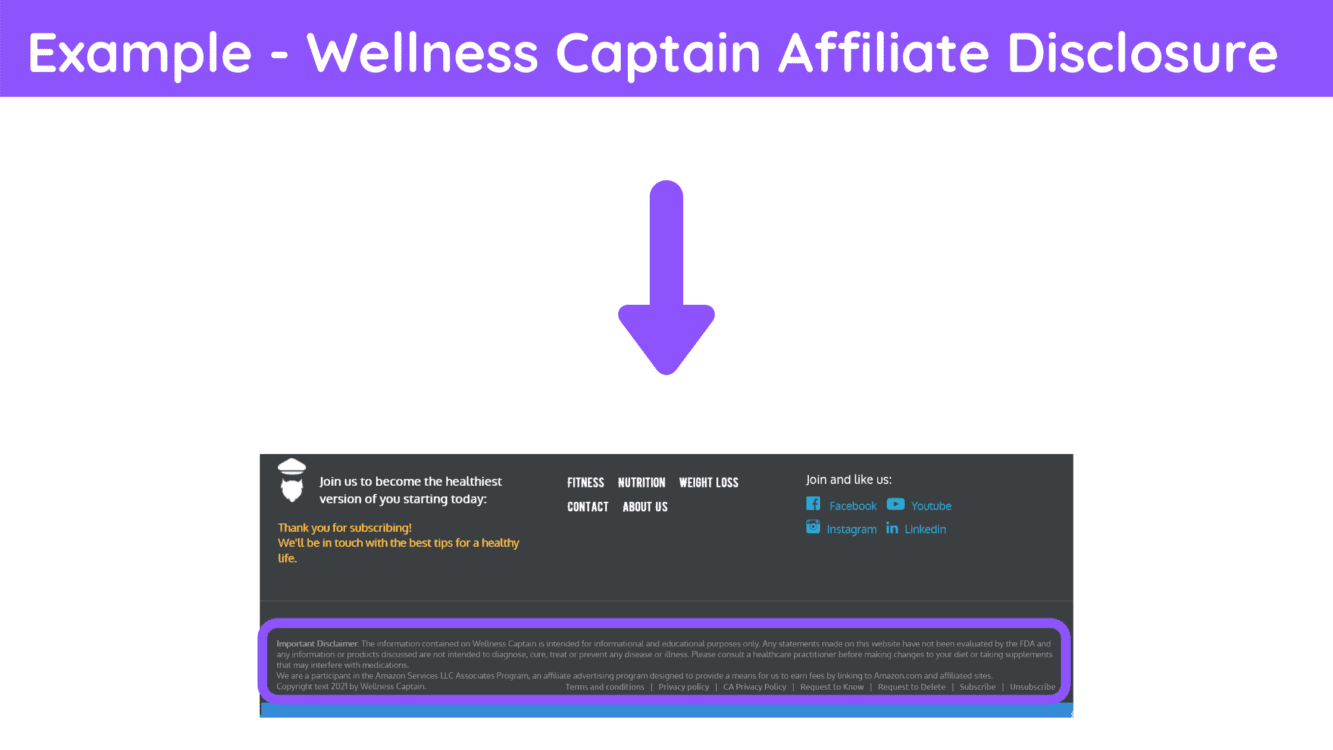 Although most affiliate commissions are relatively small, if a newsletter is targeted toward a very specific niche, this can lead to a higher than average click-thru-rate (CTR). It is also a strategy that becomes far more valuable as you grow your newsletter subscriber base.
6. Sell Your Own Information Products
When it comes to selling digital products, your email list is your most valuable sales asset. It's the bridge that connects you and your audience, allowing you to share information, pitch products, and develop deep relationships that become more and more valuable over time.
In fact, according to a report published by eMarketer, email marketing has an ROI of 122%, compared to just 28% for social media and 25% for paid search, making it a powerful tool for any creator looking to build or grow an online business.
A good example of an organization that earns money by selling its own digital information products through its newsletter is Bellingcat.
Bellingcat is a British investigative journalism website that specializes in fact-checking and open-source intelligence. The Bellingcat newsletter is occasionally promotes eBooks, courses, or other tools that are can be purchased from their site directly. Below is an example of such a newsletter issue: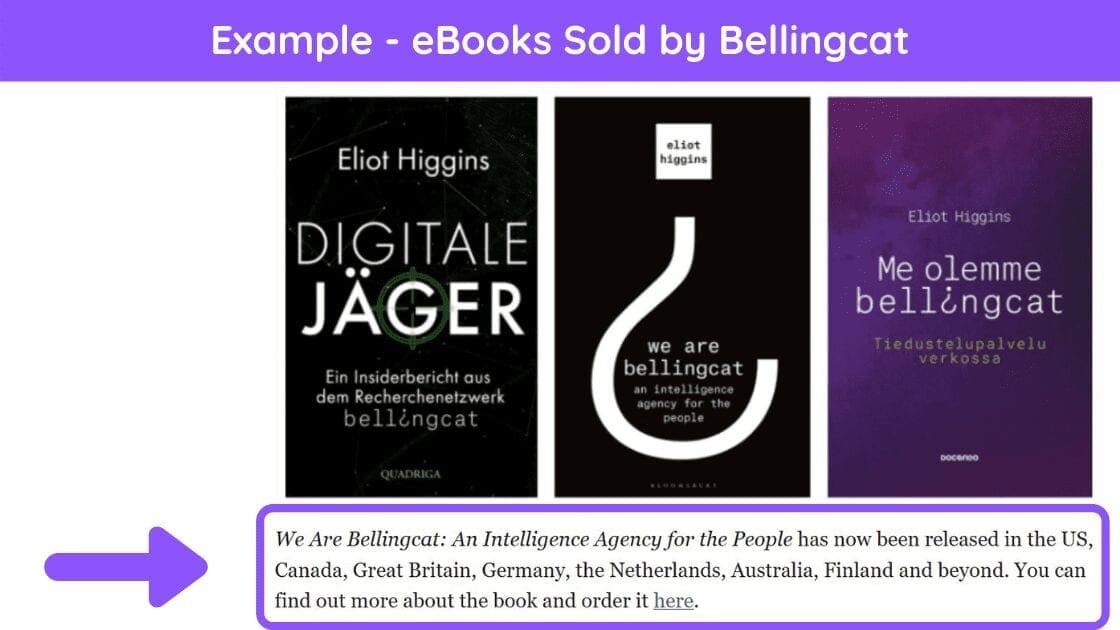 7. Sell Merchandise
Finally, you can make money by selling merchandise affiliated with your newsletter. As with any brand, this will most likely require having an audience who is deeply invested in your brand.
A good example of a newsletter that is at least partially monetized by the sale of merchandise, is Morning Brew. Morning Brew is a daily newsletter that delivers news highlights and quick articles, geared toward millennial readers.
Readers can earn "points" by referring friends. Points can be used to order Morning Brew-branded merchandise. These products can also be purchased separately by readers and act as a major source of revenue for the newsletter.
8. Ask Readers for Donations
Another way to monetize your newsletter is to ask your readers for donations. Services like Patreon and Ko-Fi enable readers to donate a one time amount to creators of their choice (or support them on an ongoing basis). The concept is similar to Kickstarter and IndieGoGo project based publishing platforms and relies solely on the generosity of the targeted audience.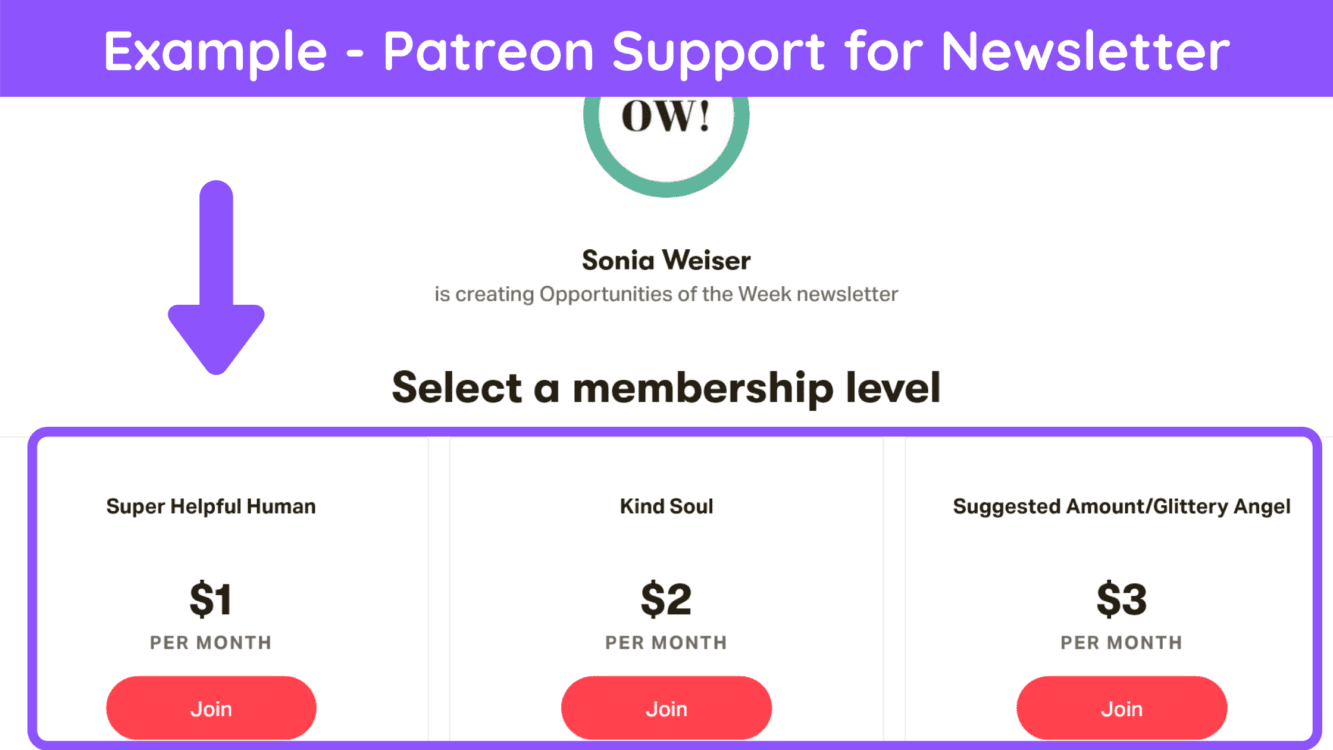 An example of a newsletter that raises money through donations is Sonia Weiser's newsletter Opportunities of the Week. Sonia describes her newsletter as:

A few years ago, I made it a habit to spend 2-3 hours per night looking for pitching opportunities and writing jobs. If I didn't, I'd get anxious about missing out on work—something that I couldn't (and still can't) afford to do.

So, I've created a twice per week newsletter to share all the calls for pitches that I can find. It also includes career advice, helpful resources, a place to showcase your landed articles, and more.
There has never been a better time to start a newsletter (well, other than yesterday…) and there has never been more tools to help creators distribute content. Ultimately, I would encourage you to try a mixture of the strategies described in this article if you are considering monetizing your newsletter.
Every audience is unique, but at least one of the newsletter monetization strategies listed above will work for you. In fact, I would venture that most newsletters could monetize their content using several of the methods above, at the same time.