Disclosure: Some of the links below are affiliate links, meaning that at no additional cost to you, I will receive a commission if you click through and make a purchase. For more information, read our full affiliate disclosure here.

If you don't already have Thinkific, try it for free! Thinkific makes it ridiculously simple to create and showcase your courses with themes specifically designed for selling education.
CASEY BOTTICELLO
Founder, Blogging Guide
With well over 100 million enrollments, Thinkific has long established itself as one of the leading virtual learning platforms around. The online education solution stands out for its ease of use and commitment to helping individual creators and businesses expand their eLearning offerings.
But is Thinkific the right solution for everyone looking to launch an online course business?
The platform has helped thousands of creators earn a living, and helped millions of students upgrade their skills over the years, but Thinkific is not without its drawbacks.
That's why it is important to know what else is available so you can compare and make the best decision for your digital education business. We went ahead and did the research and found the best Thinkific alternatives!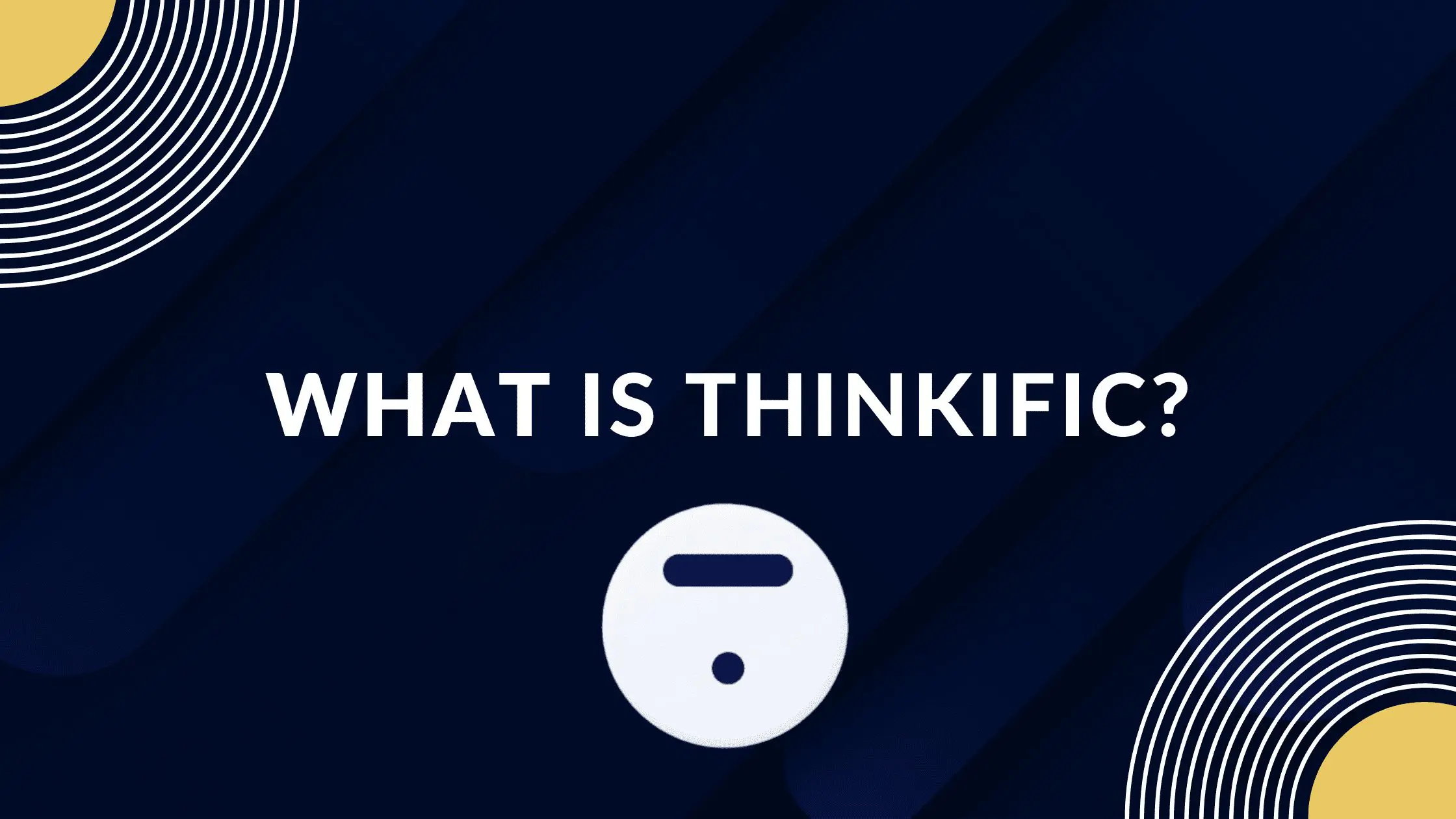 Thinkific describes itself as "a technology company with a platform that allows people and businesses to create online courses from their existing knowledge and then deliver or sell those courses to their audience from their website, and under their own brand."
If that sounds a bit long winded, a simple definition is that Thinkific is an online education solution equipped with all the necessary tools to create, manage, and distribute courses. The platform allows both individual creators and businesses to easily share their knowledge and potentially earn an income.
At the same time, Thinkific also helps instructors deliver a great experience for students by offering a diverse mix of learning aids, including course players, quizzes, tests, live classes, gamification, communities, and even course completion certificates.
Thinkific is praised for its simplicity in use. It is easy to create an account, build a course, and design your own course website. What's more, Thinkific allows users to integrate dozens of third-party apps to help with design, student management, and marketing, among other activities. You can literally offer any kind of experience to students and build your course website in a variety of ways.
The  wide range of features for online course development and delivery make Thinkific an ideal choice for educators, creators, and businesses alike. Of course, it is not all perfect. Let's look at some of Thinkific's top pros and cons.
Pros:
Ease of use for creating courses and building a course website

Free plan which makes it possible to try out the core features of the platform

Full-service eLearning platform that also includes course marketing, student management, and payment handling capabilities

No coding skills necessary – offers a drag and drop site builder and course editor

Comprehensive app store offering all kinds of helpful integrations

Ability to create unlimited courses (premium packages only) and host an unlimited number of students

Customizable to suit your brand design (full white label only available with Premier Plan)

Custom domain possibility

Compatible with other web platforms such as WordPress, Weebly, etc., allowing users to add courses to Thinkific from other websites

Customer support includes email and phone, as well as an extensive knowledge base

A variety of course delivery and payment options to suit different kinds of students and learning styles

Supports live hosted classes, one-on-one training, group sessions, and pre-recorded webinars

Multiple forms of learning content supported, including PDF, text, video, HTML, audio, presentations, and more

Highly scalable – users include large education companies with dozens of courses and thousands of learners, as well as independent creators with much smaller operations

No transaction charges on student payments for accessing learning content

API access (Premier Plan) + the ability for those with the requisite skills to edit the underlying code
Cons:
Free plan only offers the most basic of features

Premium plans can be expensive for those just starting their online course business

Some users lament the lack of an in-house email marketing tool. A third-party app must be used, resulting in additional costs

Thinkific does not offer a mobile app (although their course player is fully mobile responsive)

Some reviews point to the site builder being too limited
Another factor to look at is cost. Thinkific is not the cheapest option among online learning platforms, but it is also not the most expensive. The cost is really dependent on the kind of education business you want to set up and the features you need. However, the cost can also be impacted by the amount of third-party integrations you decide to include, as most of them will require a fee. That being said, here is an overview of the Thinkific pricing plans.
Free Plan: Offers all the core features required to set up and launch an online course, and includes:
One site admin account

Unlimited students but limited courses

Drag and drop course builder

Full e-commerce capabilities

Access to app store

Website templates

Email and telephone support
Basic Plan: Suitable for those wanting to build their first online course with more features than what is available with the free plan; covers all the free features, in addition to:
Unlimited courses

Custom domain

Live chat function

Ability to set up drip scheduling

One-on-one email with students

Ability to offer coupons and promotions

Thinkific Academy basic courses
Pro Plan: Best for experienced course creators who want to expand their course business and provide more support for learners. In addition to Basic Plan features, the Pro Plan also includes:
Two site admin accounts

Hidden/private courses

Priority support

Advanced course building tools and features

Flexible pricing options, including subscriptions

Course completion certificates

One community

Thinkific Academy Pro courses
Premier Plan: For those wanting to further develop their existing course businesses at scale. Includes:
Up to five site admin accounts

Unlimited communities

Ability to create groups

Full white label and API access

15 group analysts

Integration for Brillium exams
Alternatives to Thinkific

You should now have a clearer picture about what Thinkific offers in terms of launching an online education business. Clearly, the platform is valuable to people who want to create online courses and possibly earn revenue from their efforts. However, it is worth getting familiar with alternative solutions to see if there is a better choice for your specific needs.
From the list of alternatives mentioned earlier, we picked five to discuss – not necessarily based on whether they are better or worse but on how they match up with Thinkific.

Often compared to Kajabi, Podia is another all-in-one solution that can be used to create and sell a variety of digital products. Webinars, memberships, downloadable files, and courses are all welcome on Podia.
When compared to Thinkific, Podia is a much lighter solution for creating online courses. The platform is easy to set up and provides a simple, one-page site that can be customized to meet your online course needs. At the same time, Podia is integrated with a number of marketing tools that creators can use to engage students, promote their offerings, and even create analytical reports.
Podia Features
Upselling tools to increase sales

Section by section drip scheduling of course content

Student dashboard emails, plus the ability to track open rates

Allows content to be embedded from over 1,900 third-party apps

Ability to offer coupons, course bundles, pre-sales, and payment plans

Zoom and YouTube integrations making it possible to host live and pre-recorded webinars

Robust email marketing tools to share broadcasts and create campaigns
Podia Advantages
Lower upfront costs to get started with selling online courses + you can get started for free

Unlimited everything to include courses, students, content, and emails

Allows users to offer other digital products alongside courses, including downloadable files, webinars, memberships, and communities

You can build your course with any kind of content, whether text, videos, images, PDFs, audio files, PSDs, etc.

Ability to customize your course site with logo and brand colors

Modern site builder with flexible layout options

No transaction fees when using a paid plan

Comes with community and discussion features to help boost engagement
Podia Disadvantages
Lacks many of the learning management tools and advanced features required to deliver an online classroom experience

No advanced analytical or reporting tools

Inability to create a fully white label course website

Free plan offers only very basic features and attracts an 8% fee per transaction

Site builder comes with limited functionalities
Podia pricing
One of the cheapest options in its class, Podia has three pricing tiers: Mover Plan for $33 per month, Shaker Plan for $75 per month, and Earthquaker Plan for $166 per month. Of course, there is also a free plan.

Teachable is a solution that allows creators to build and sell online courses or coaching services. The platform is similar to Thinkific in that it is built from the instructor's perspective rather than the student's. However, Teachable puts more focus on individual creators and trainers rather than professional educators and companies (although it can still cater to such customers).
The focus on creative individuals means Teachable is quite simple to use. In fact, the platform is among the easiest to manipulate and is devoid of many of the advanced tools available on Thinkific and other similar solutions.
You can literally launch an online course on Teachable within minutes. You only need to provide the content, as much of the technical stuff is already taken care of. To date, Teachable has generated over $1 billion in revenue for the over 100,000 creators who use the platform.
Teachable features include:
Convenient drag and drop course builder

Simple and intuitive user-friendly interface

Supports various course media, including PDF, text, audio, images, video, presentations, etc.

Commenting feature to engage with students

Free plan available that can be used to set up a very basic online course without any costs

Ability to create quizzes and issue course completion certificates

Support for offering course bundles, memberships, upsells, order bumps, and coupons

Affiliate marketing tools and student referral program

Multiple payment settings, including subscriptions, instalments, free trials, and other flexible options

Supports student and course migration from other platforms

Accepts payments in over 130 currencies, as well as Apple Pay, PayPal, Google Pay, and more

Compatible with desktop and mobile

Multiple language support

Support channels include email and live chat, member community, live group coaching sessions, and more

Direct integration with popular tools such as Mailchimp, Zapier, and Google Analytics, among others
Teachable advantages
Ideal for beginners who want to explore the world of online courses without too many bells and whistles

Offers a course marketplace through the Spotlight app, which helps users with getting their courses discovered

The inclusion of marketing and sales tools means users may not have to spend a lot on other third-party apps

Easily customizable allowing some amount of branding capabilities

No technical skills are required, much of the functionality includes drag and drop builders
Teachable Disadvantages
More experienced course creators may find Teachable to be unsuitable due to its lack of advanced learning and educational assessment tools

The free plan is only useful for trying out the platform

Can be expensive, especially for beginners who want more than the basic features available with the free plan

No white labeling option

More recently, Teachable has been prioritizing coaching services, which may cast some doubt on whether it will remain a viable option for course creators
Teachable pricing
Teachable offers a straightforward pricing structure, including a Basic Plan for $39 monthly, a Professional Plan for $99 monthly, and a Business Plan for $499 per month. In addition, large companies can sign up for an Enterprise Plan, which requires dialog with the Teachable sales department.

As the name suggests, Skillshare enables the sharing of knowledge through its virtual learning platform. The online education solution offers self-paced video courses (referred to as classes) that both individuals and teams can take from anywhere.
While anyone can create a course on Skillshare, many of the instructors happen to be experts in their fields. Some of the teachers on the platform include high-profile names such as Gary Vaynerchuck, Seth Godin, and Roxane Gay.
Browsing through the approximately 35,000 classes published on Skillshare reveals that, as a Thinkific alternative, the learning material is skewed towards creative and business-minded individuals. There are plenty of courses involving graphic design, animation, photography, writing, web development, and productivity, for example. There are also practical, non-traditional educational content in fields such as motivation and life hacks.
Skillshare features
Individual and group classes

Video-based courses

Short, mini lessons

A shared learning experience

iOS and Android mobile app, in addition to desktop access

Easy class creation and publishing, with no application or approval process

Learning community for teachers and students

Student feedback

Premium class catalog

Referral system

Networking channels

Class planning tutorial to help instructors organize ideas and learning content

Class promotion capabilities

Students can view learning content offline (premium members only)
Skillshare advantages
Open to anyone who wants to share their expertise or learn from others

Functional and stable cloud-based platform

Learning community encourages sharing of information to improve educational content

Bite-sized lessons and projects help to enhance learning experience for students

Unlimited earning opportunities based on student memberships

Referral program allows instructors to earn from every new student who becomes a premium member

Includes live sessions

Free trial available
Skillshare disadvantages
No robust learning management features as a Thinkific alternative

Inability to verify quality of learning content

No course completion certificates or accreditation

Inability to build your own learning website

No free classes (except for free trial), although members are often privy to ongoing discounts and promotions

No white labeling features

Online classes is the only offering (unlike all-inclusive options such as Gumroad or Kajabi)
Skillshare pricing
Skillshare offers a 7-day free trial that you can use to access all courses on the platform. Beyond that, however, its pricing plans are not clear for individuals. For teams, Skillshare offers a Starter, Enterprise, and Revive plan. The Starter Plan is suitable for teams of 2 – 19 people and costs $159 annually per user. The Enterprise Plan covers 20 or more users and requires users to contact Skillshare sales. The same goes for the Revive Plan, which caters to teams of 51 or more users.

In addition to online courses, Gumroad is another option that makes it possible to sell a variety of digital products. Printables, e-books, software, memberships, and more are among the accepted offerings. The platform is actually an online marketplace used by thousands of creators around the world.
You can easily create your own store front on Gumroad and get access to a ready-made audience of over 200,000 monthly visitors. In addition, Gumroad allows you to sell your courses through your social media pages or existing website and makes it possible for you to collect payments via credit cards and PayPal.
Gumroad features include
Simple but useful eCommerce tools geared towards audience building and conversions

The ability to create custom URL links that can be shared anywhere

Powerful payment processing to include most major credit cards and PayPal

Flexible payment options including subscriptions, installments, one-time payments, etc.

User-friendly interface

Versatile page editor with options to add brand colors and more

Embeddable power-ups including social networking and payment platforms

Supports multiple currencies

Import/export for email list and followers
Gumroad advantages
Simple selling model – set up storefront, upload courses, start selling

No monthly fees, so no direct startup costs to use the platform

Transaction fees are reduced as lifetime earnings increase

Ability to offer additional digital products (memberships, printables, software, e-books, etc.) in tandem with your online course

Access to all features from the get-go as there are no price tiers

Vibrant support community
Gumroad disadvantages
Although it is free to sign up, users with lifetime earnings below $1000 are charged a 9% transaction fee + 30 cents on each sale

No free trial to test out the platform

Lacks advanced learning management capabilities

Mobile app comes with limitations

No significant tracking or analytical reporting features
Gumroad pricing
Gumroad is free to use for creators, the platform makes money from transaction fees when there are sales.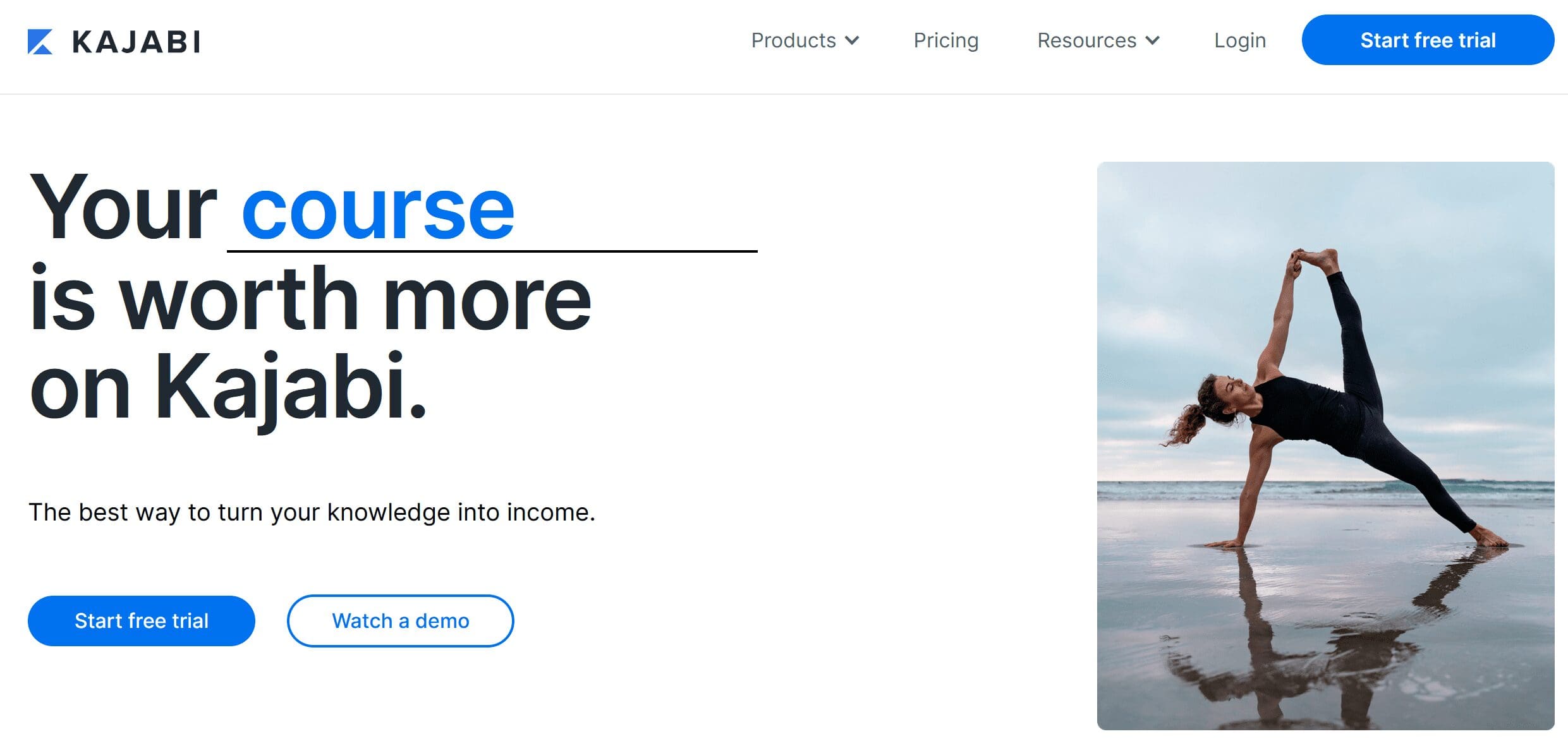 Kajabi is an all-in-one solution geared towards the market segment referred to as "knowledge entrepreneurs." The platform is used by skilled professionals such as educators and business owners, as well as DIY creators looking to earn from a variety of digital products. As such, the platform is used for hosting online courses, creating membership websites, offering coaching services, podcasting, and building digital communities. 
As it relates to selling courses, Kajabi makes it easy to build and launch online courses with its ready-made templates. The platform equips users with a variety of tools and features in the areas of sales-based landing pages, creating marketing emails, and setting up automations.
In addition, users have access to tools designed for creating course websites, managing students, setting up quizzes and assessments, and more. Having been around since 2010, Kajabi has helped over 50,000 users generate more than $3.5 billion in revenue.
Kajabi features include
A mobile-friendly app for both iOS and Android, in addition to desktop access

Various tools needed to create, market, and monetize learning content

Assists creators with building and selling other digital products such as podcasts, memberships, and coaching services

Support for up to three custom domains/websites

Basic discussion forum and social networking features

Drag and drop website builder

Extensive email marketing and automation tools to help creators increase their earnings

Built-in SEO
Kajabi advantages
Built-in email marketing and management tools means users do not have to spend on other solutions (unlike Thinkific)

Integrated checkout allows creators to collect payments through Stripe or PayPal

Unlimited video hosting means you can build courses with audiovisual content at no extra cost

Has a reputation for providing great customer support

Easy to get set up and launch an eLearning business, as well as other digital products

14-day free trial allows you to try out all the features before deciding to purchase a plan
Kajabi disadvantages
Does not offer a free plan (although there is a free trial)

Among the most expensive Thinkific alternatives, with the cheapest option costing more than Thinkific's middle tier

Does not offer a robust learning management system as Thinkific or even Teachable

No option to create unlimited courses

Some reviews have mentioned that the website builder is lacking certain expected features
Kajabi pricing
As mentioned, Kajabi is more expensive than many of its competitors – with the Basic Plan costing $149 per month, and the second tier (Growth Plan) being $199 per month. However, the Pro Plan, which is the most expensive plan for Kajabi, appears quite competitive at $399 per month when compared with other platforms. Additionally, you can get 20% off the listed prices when billed annually.
Thinkific offers plenty as an online education platform, but it has limitations and drawbacks that make it unsuitable for many individuals and businesses. The search for competent Thinkific alternatives will reveal that the ones listed above are among the most recommended. Be sure to do a good comparison of pricing, features, and how each matches up with your long-term goal before making a final decision.