Best Affiliate Programs for Craft Bloggers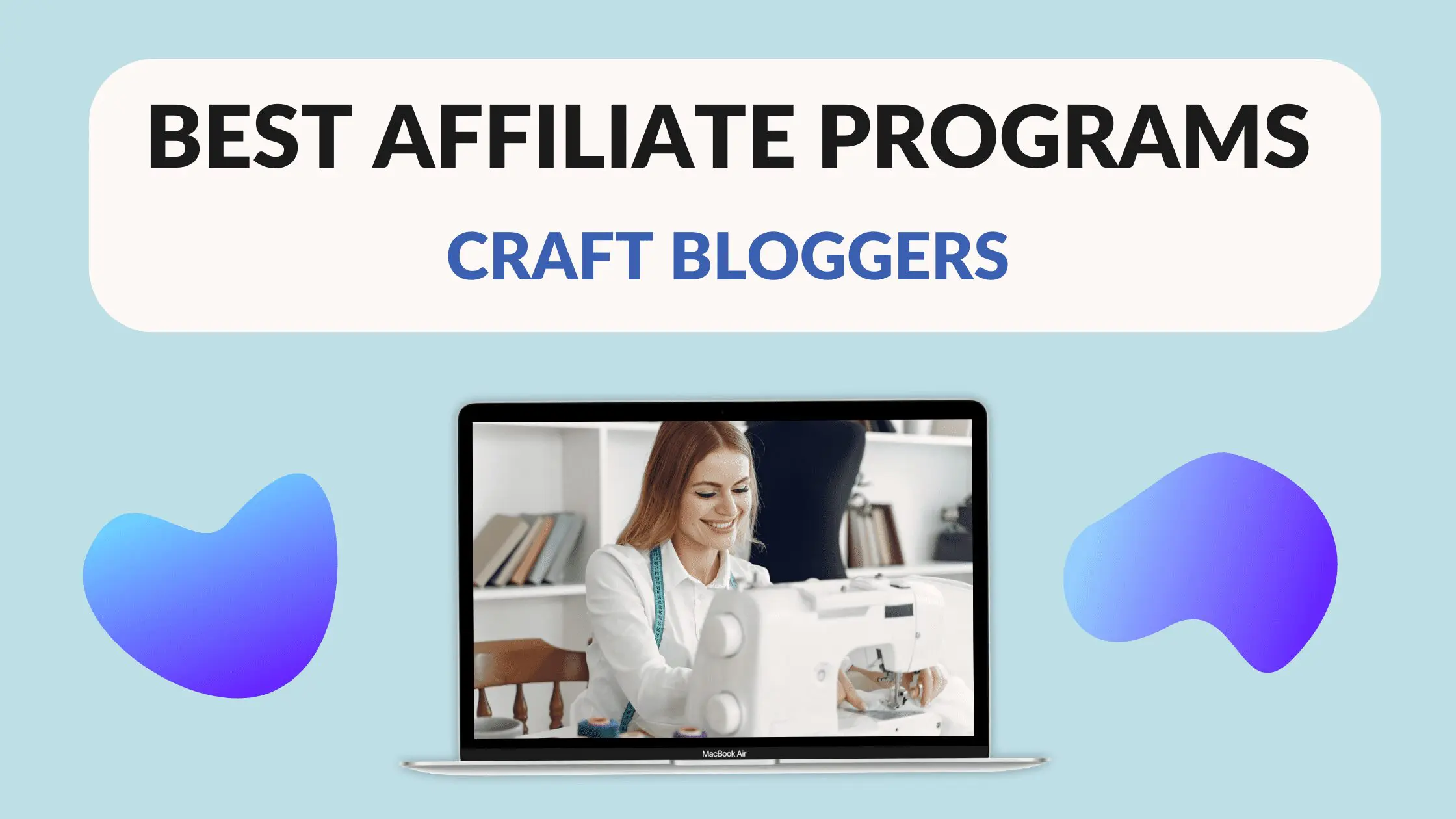 Disclosure: Some of the links below are affiliate links, meaning that at no additional cost to you, I will receive a commission if you click through and make a purchase. Read our full affiliate disclosure here.
Are you a craft blogger looking to make a little bit of extra income?

Affiliate programs can be a fantastic way to do so, and only require a minimal amount of effort from you once they're set up.
Read on to find out what some of the best affiliate programs you can sign up to as a craft blogger are!
What Are Affiliate Programs?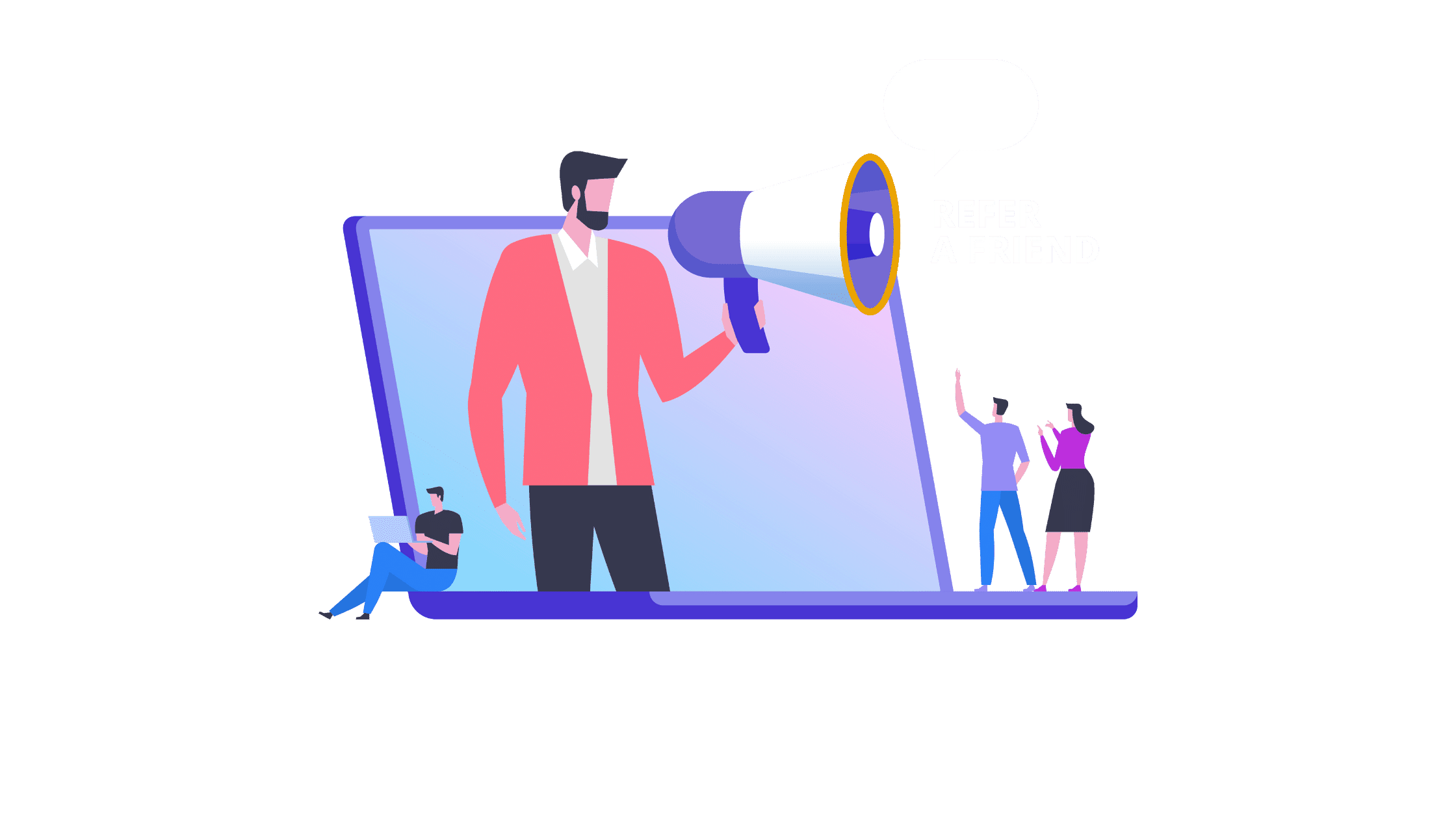 Affiliate programs fall under the wide umbrella of affiliate marketing, in which companies give commission on sales to third parties (otherwise known as affiliates) who market their products. 
Affiliates run blogs or websites that are known as affiliate pages– they provide content that aims to help the user, while promoting relevant products alongside.
These programs track the nature of referred site visits. They provide information such as the source and length of the visit, and most importantly, whether it resulted in a sale or not. 
Most affiliate partnerships only result in paid commission when a sale is made. In the past, advertisers sometimes paid per click, but this was particularly susceptible to manipulation.
The best affiliate programs for craft bloggers are those which give the highest commission while being tailored to the blog's audience, like specializing in the sale of coquetting equipment or fabric.
To see the maximum possible returns on your craft blog, pick an affiliate program that fulfills the following criteria:
Sells products relevant to your page content

Will accept you and your site as affiliates

Is industry-approved, i.e. if it has positive reviews and other affiliates working with it, you can probably assume that it's reputable and won't disappear when it comes to paying you!
Best Affiliate Programs for Craft Bloggers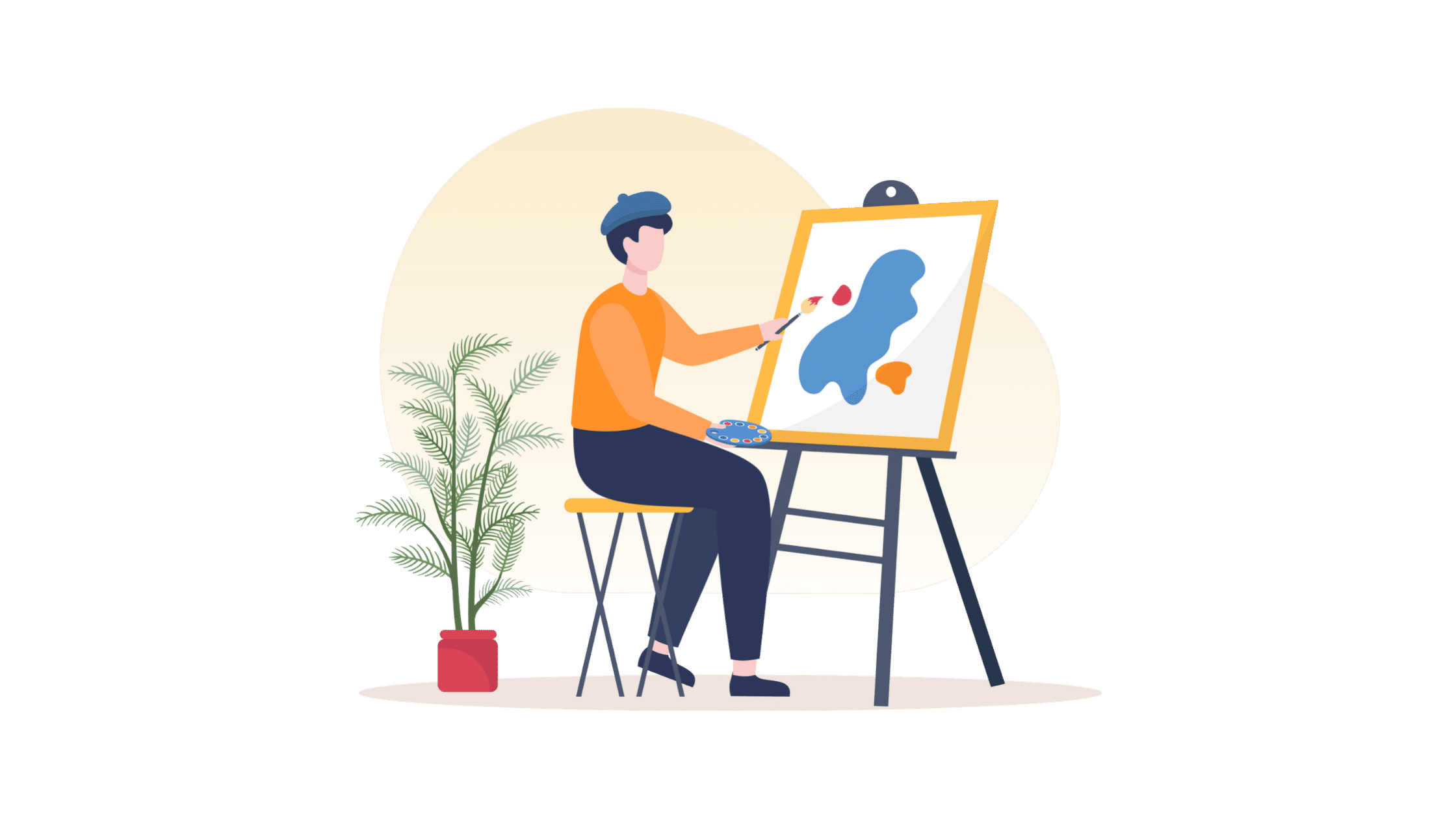 There are so many affiliate programs out there, it can be hard to decide which one is the best fit for your website. 
Like all business tools they have their pros and cons, as each is designed with a specific purpose in mind. Not all will fit your needs, or even the needs of craft blogs in general!
The individual benefits (and potential disadvantages) of some of the best affiliate programs for craft bloggers are detailed below: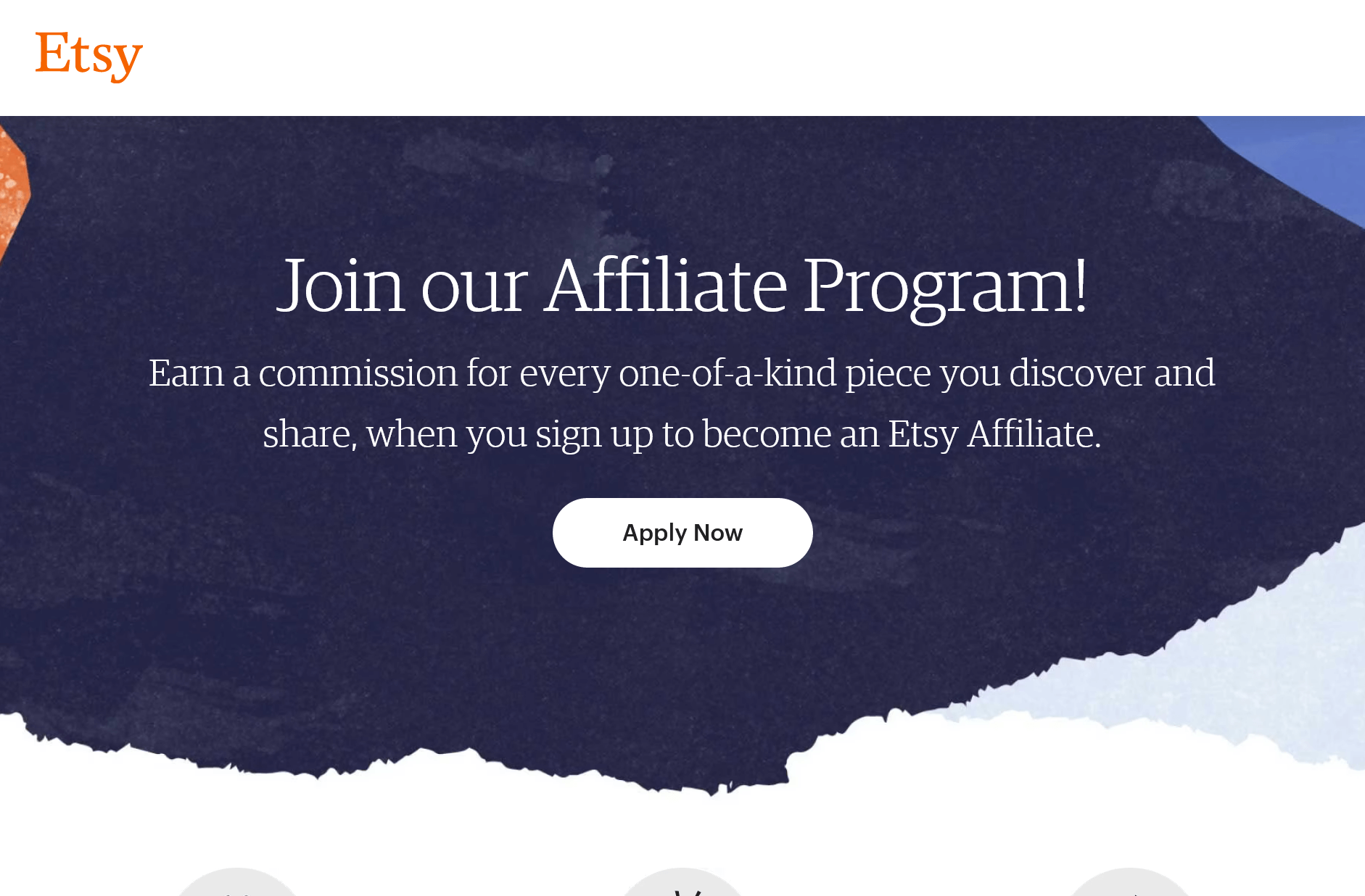 Etsy is a fantastic marketplace for those who sell their handmade, unique goods and crafts. With a highly reputable name, Etsy is certainly well-known in the crafting and DIY industry.
But did you know that they also have a free affiliate program you can sign up to? 
Not only that, but they can support English, French, Italian, Spanish, and German speaking affiliates.
Once you're approved into their program, you can start earning commissions (typically around 4–8%)– though this will depend on the order price, and exclude shipping, tax, delivery, return, and cancellation costs. 
However, tracking cookies last for 30 days, making this potentially a good earner.
You should note that sign ups are through Awin and you'll have to pay a $5 sign up fee, though this will be refunded in your first payment.
When you become an affiliate, you'll be given access to certain materials to help. This includes banners, tracked links, curated inspiration pages, a newsletter, the Etsy blog, and search access on Etsy. You'll also receive customer support, should you need it.
There are also a number of third party Etsy blogs and other resources created by sellers on the platform.
Cashback and voucher sites are ineligible for the Etsy affiliate program, and they have some terms and conditions. Be sure to read up on them and check your own eligibility!
Payments are made either monthly or bi-monthly, and come through either by check or direct deposit.
One other neat feature about Etsy as an affiliate program for craft bloggers, is that Etsy recently launched its Dynamic Ad Unit (still in Beta), which seamlessly integrates into your site content. This tool will allow you to promote Etsy, earning additional ad revenue (10% commission) along the way!
An example of this new ad unit is seen below:
Michaels are one of the primary stores for arts and craft supplies. Their affiliate program is a great one to get involved with if you're also a crafter or maker.
Simply sign up for free, write blog posts with links to your favorite products–  and everytime someone clicks through and makes a purchase, you'll earn up to 10% commission.
In addition, there are also paid advertisements you can access during peak Holiday online shopping times and promotional periods. Think Black Friday, Christmas, and during the Back-to-School period!
Both new and top performers have the opportunity to earn performance-related bonuses, too. You can even earn a $100 sign-up bonus once your application has been approved, and you've made some initial sales.
However, bear in mind that there's only a one-day tracking cookie with the Michaels affiliate program, which is very short.
3. JOANN Fabric and Craft Stores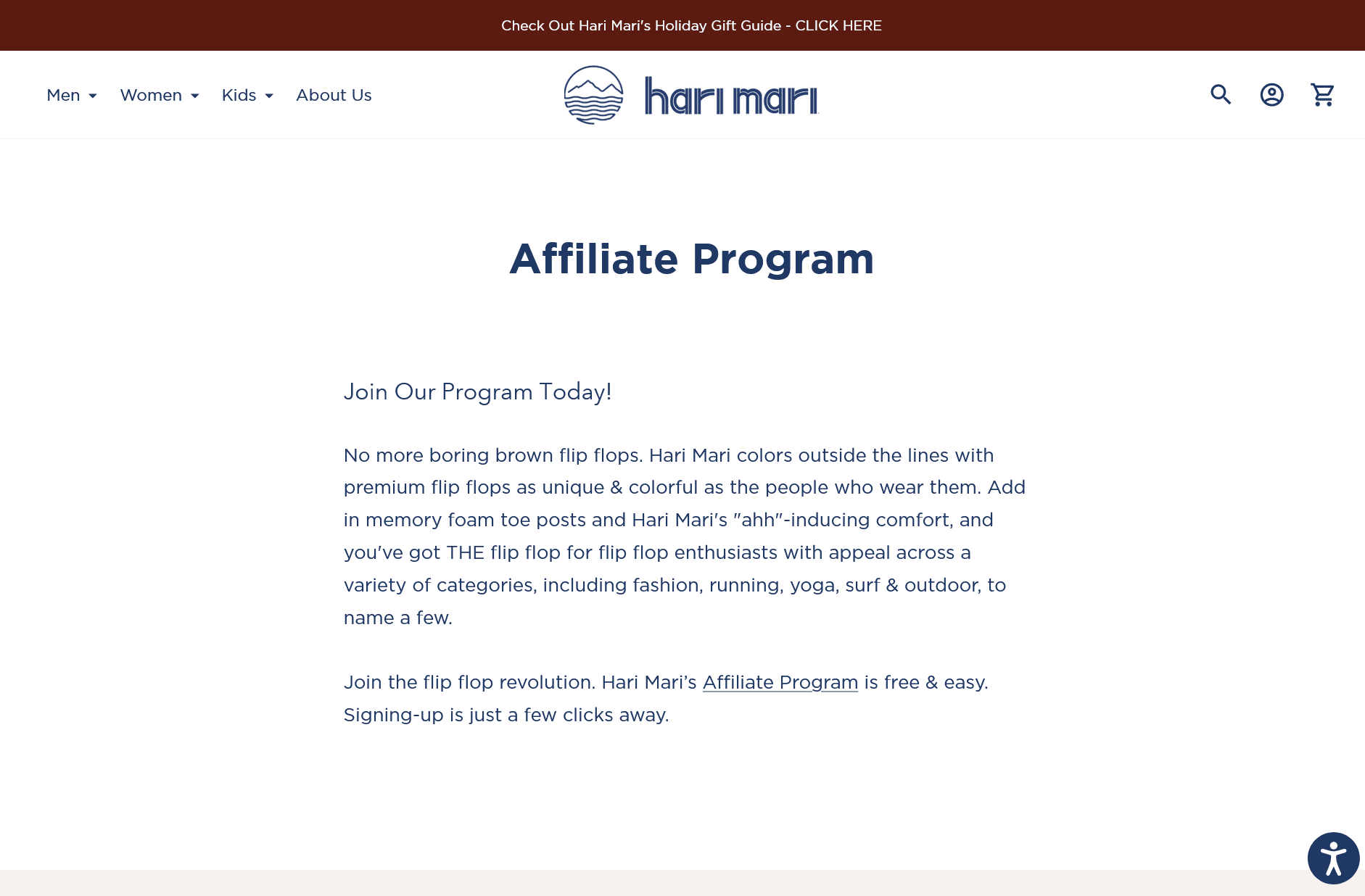 JOANN Fabric and Craft Stores is one of the biggest specialty fabric and craft retailers and has over 860 stores nationwide. They also have weekly sales, which can help boost your affiliate sales.
You can earn both as an affiliate or as a content creator.
Affiliate partners can earn a 4% commission rate, but the tracking cookie only lasts for a single day. Payouts are every 30 days.
If you have an active audience who already shop at JOANN, then this affiliate program may be a good fit for you. 
If you sign up as a content creator, there are several more bonuses available to you as well. You can receive products and gift cards, and may even receive a decent base pay! All of this is on top of the regular affiliate commission.
If you're a maker and a content creator, it could be well worth your time signing up as a JOANN partner in order to really reap the benefits. However, this route will require significantly more effort and input from you.
You can sign up for the JOANN affiliate program here.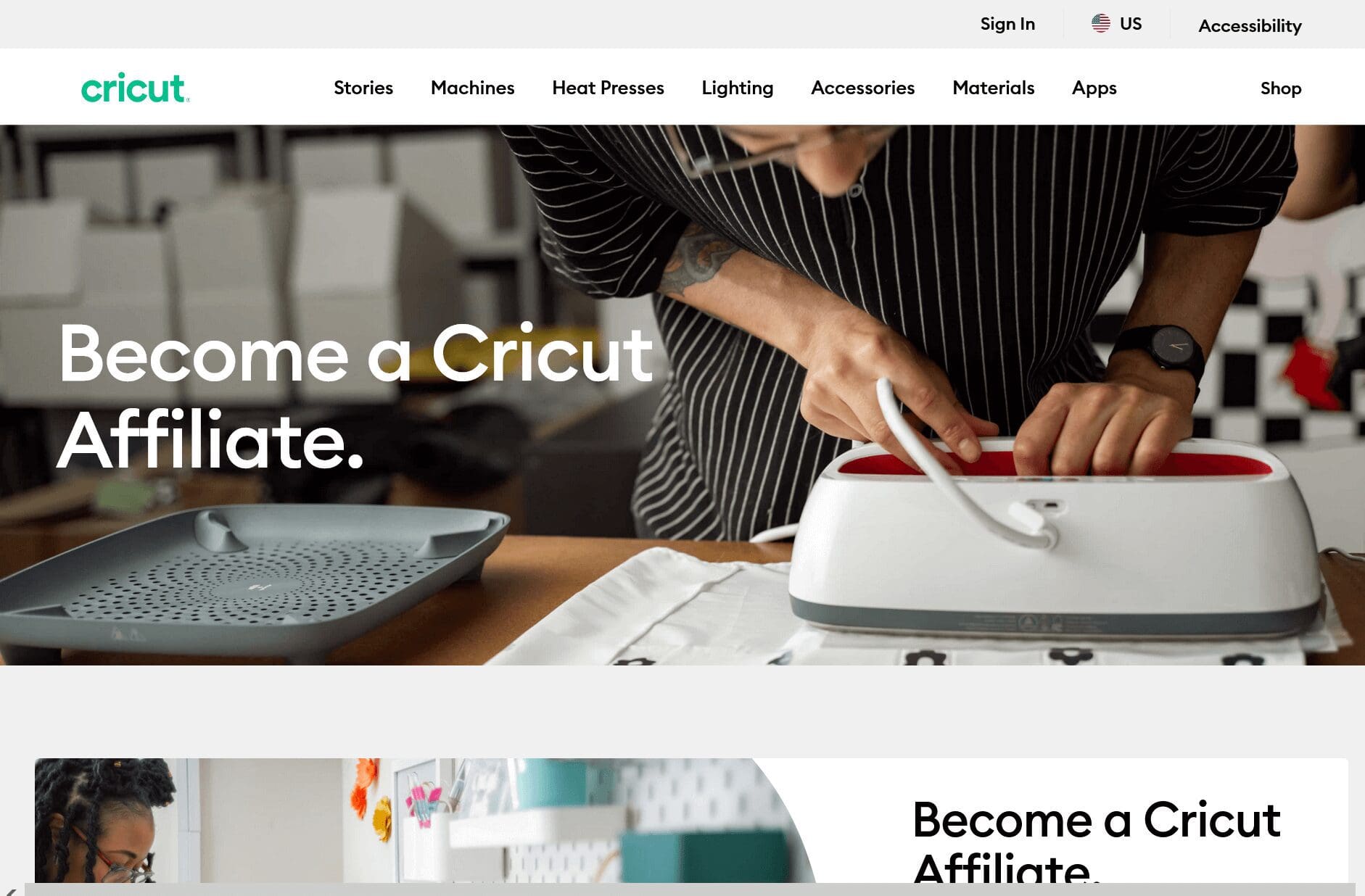 Cricut is an incredibly popular and powerful cutting tool, allowing creators to personalize pretty much anything. 
From wall decals, to T-shirt designs, and labels, Cricut machines have taken the DIY world by storm.
Once you've been approved as an affiliate, you can earn up to 12% commission through unique links. New members will also receive a 30% discount welcome gift from Cricut.
Cricut has regular sales which you can earn through, as well as monthly mystery boxes. However, you should note that the Cricut affiliate program won't provide you with free products for either collaborations or sponsorships.
Tracking cookies last for five days, which isn't too bad, and for every person you refer who signs up as an affiliate, you'll earn $10!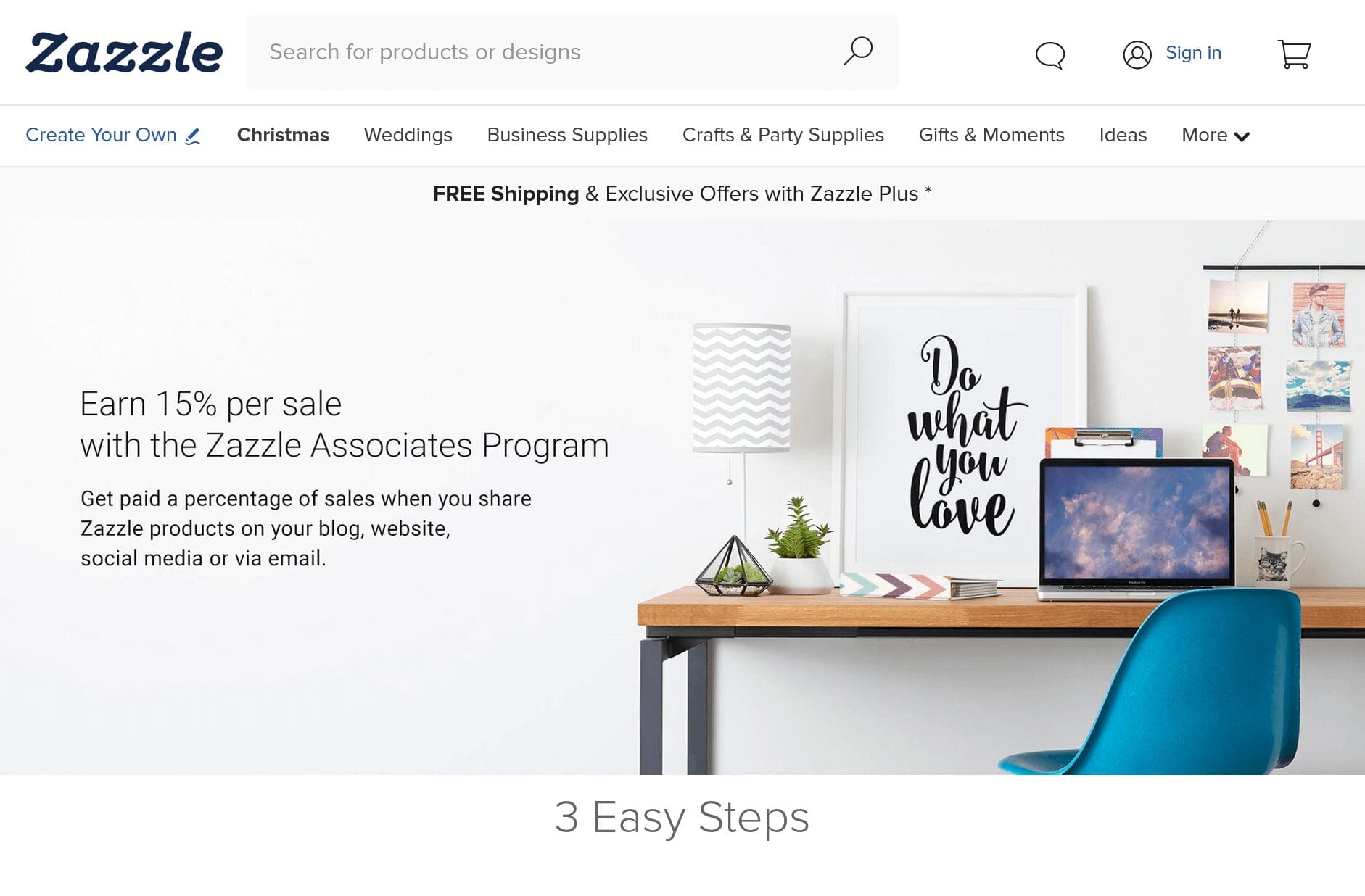 Zazzle allows you to print your own designs on a variety of different products. For those looking for a customizable gift or decoration for their home, Zazzle is where to get it done!
The affiliate program for Zazzle is fairly decent, too. You'll earn a 15% commission per sale through your blog, website, email mailing list, or social media pages. Not only that, but the tracking cookies last for 45 days, which is excellent.
You'll also receive various promotional tools, including banners and a guide for link building. Any referrals you make can earn you $25, too, making this partnership very attractive.
Payouts are either through PayPal or by check. However, you should bear in mind that you need to earn a minimum of $50 in order to receive your payouts.
Registering to become a Zazzle affiliate is free and once you've been approved you can choose from their catalog of products. With millions in the bank, you're bound to find something that will fit your blog and readership.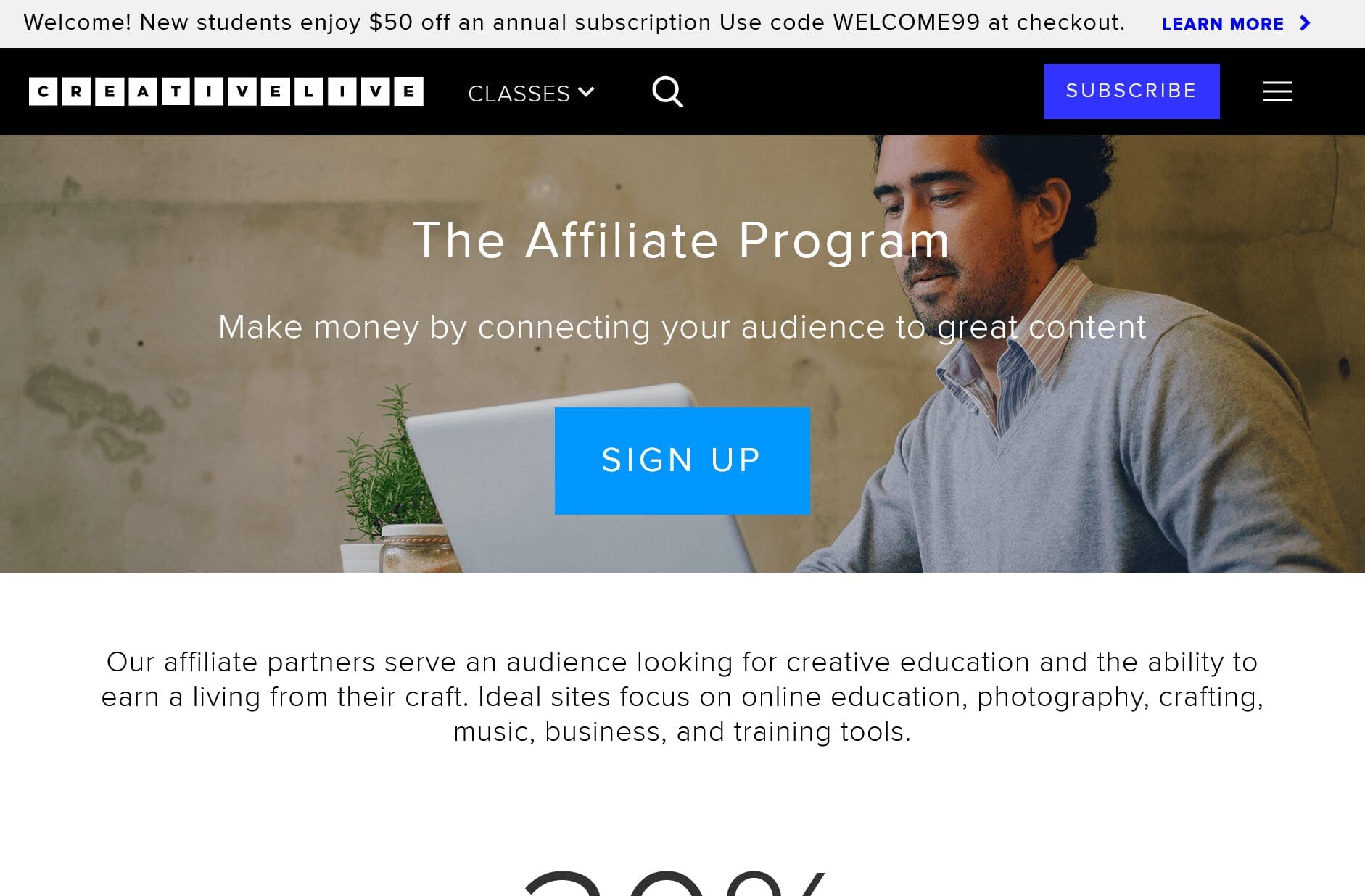 CreativeLive is an online learning resource that's been running now for over a decade and has over 10 million creators. 
With online classes that can teach crafters how to level up, this is a great and reputable brand to align yourself with. It's also a little different from the other businesses on this list.
Once you're approved into the affiliate program, you can earn a 20% commission on new customer purchases, or a 10% commission on returning customer purchases. 
You can even earn $1 for every new registration! There's also no limit to how many links you place throughout your blog or website.
Payouts are monthly either by check or direct deposit. However, you can only be paid out once you've earned a minimum of $50.
Tracking cookies last for 30 days, which is a decent length of time, and you'll receive customer support to help you on your affiliate journey. As an affiliate, your resources will include banners, links, and promotional materials.
Not based in the US? Luckily, CreativeLive will allow you to join– as long as ShareASale, who sign ups are through, is able to support you.
You should be aware that CreativeLive will not give you any discounts, however, and they have a strict policy when it comes to coupons. 
Be sure to check out the full list of terms and conditions before you sign up, as this may affect your decision!
You can sign up for the CreativeLive affiliate program here.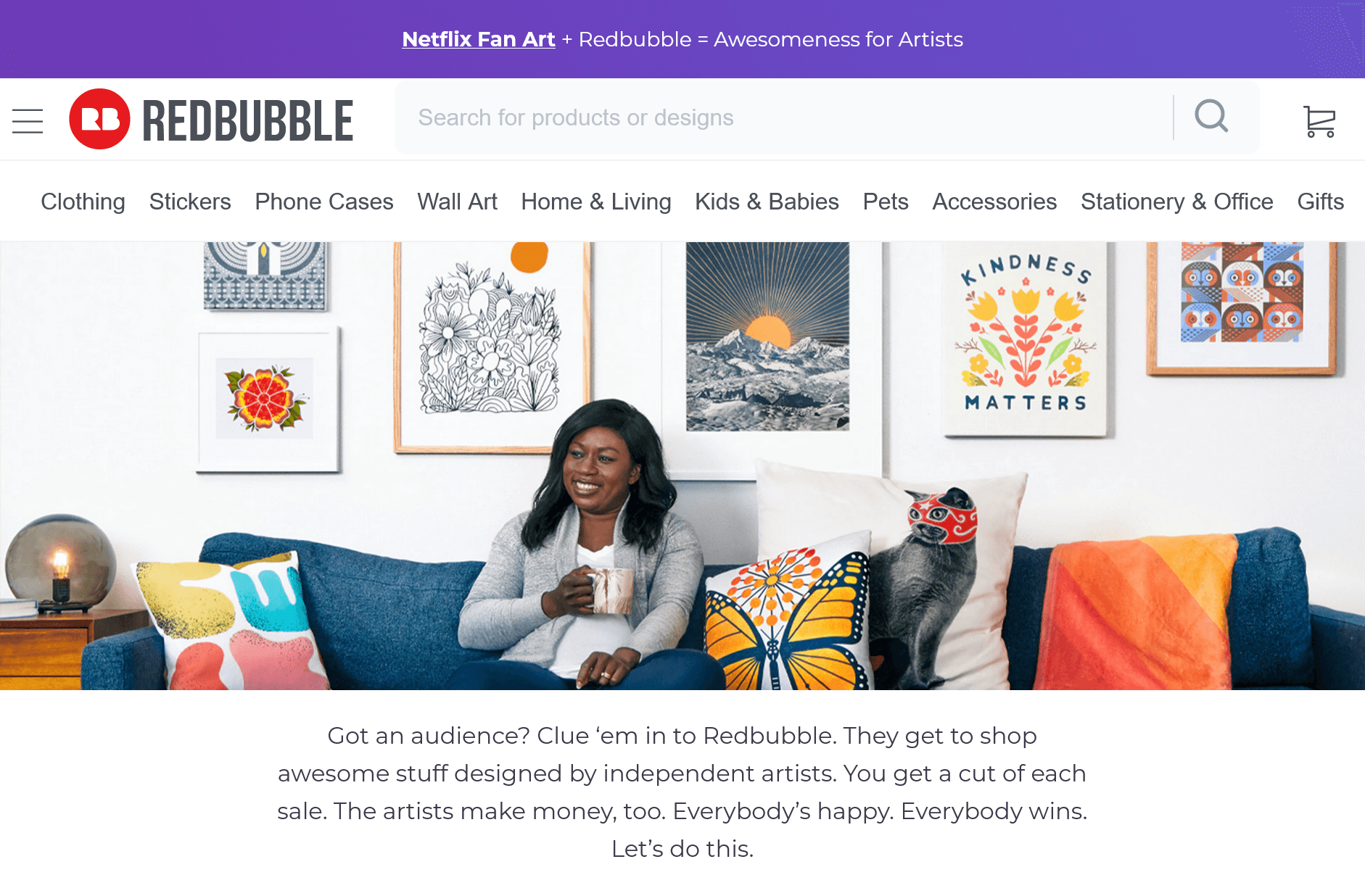 RedBubble, similar to Zazzle, allows you to create print-on-demand products. However, as it's a site for artists, they hold their own copyright, set their prices, and their product range.
RedBubble is a company with a huge amount of growth, and is expecting to hit $1.25 billion in revenue by 2024. They're therefore a great company to be affiliated with, as they hold significant brand trustworthiness.
Signing up to be an affiliate consists of a simple application and approval. Once approved, you can earn up to 10% commission on click-through purchases, as well as bonuses. 
You should bear in mind that while the system is relatively easy to sign up for, you still need manual approval for the program.
Tracking cookies last for 30 days, which is ideal for a site like RedBubble!
Sign ups are through Impact, and you can also access real-time tracking for your affiliate account with them. You'll also have access to a dedicated affiliate manager, though their support can be a little slow at times.
You can be an affiliate for RedBubble from any country, and payouts are made by check, wire transfer, and ACH bank transfers. However, in order to receive your payout you must have earned a minimum of $50.
You can sign up for the RedBubble affiliate program here.
Ultimately, if you're a craft blogger, joining an affiliate program is an excellent way to monetize your blog.
Working with reputable brands can help raise your own blog profile, as well as offer your readers something of value.
Affiliate marketing, when done properly, can be a great earner. Just be sure to remain honest and authentic, and partner with brands who reflect your blog's messaging and audience interest.
Have you signed up to any of the above affiliate programs? Do you agree with our recommendations? Let us know in the comments!