Best Affiliate Programs for Bloggers to Make Money
Disclosure: Some of the links below are affiliate links, meaning that at no additional cost to you, I will receive a commission if you click through and make a purchase. Read our full affiliate disclosure here.
If you are blogger who is trying to monetize their blog, chances are that you've looked into a number of affiliate programs. However, not all affiliate programs are created equal. Some may offer high commissions, but may ultimately have low conversion rates dues to a short cookie duration, poorly designed landing pages, or issues with the product that lead to higher than average returns, cancellations, or chargebacks. This article will focus on some of the best affiliate programs for bloggers to make money, based on my years of experience as both a blogger and a digital marketer.
What are Affiliate Programs?
Affiliate marketing is the process by which an affiliate earns a commission for marketing another person's or company's products. The affiliate simply searches for a product they enjoy, then promotes that product and earns a piece of the profit from each sale they make. The sales are tracked via affiliate links from one website to another. 
Generally, this relationship is beneficial to both the product creator (seller or merchant) and the publisher (blogger who markets these products).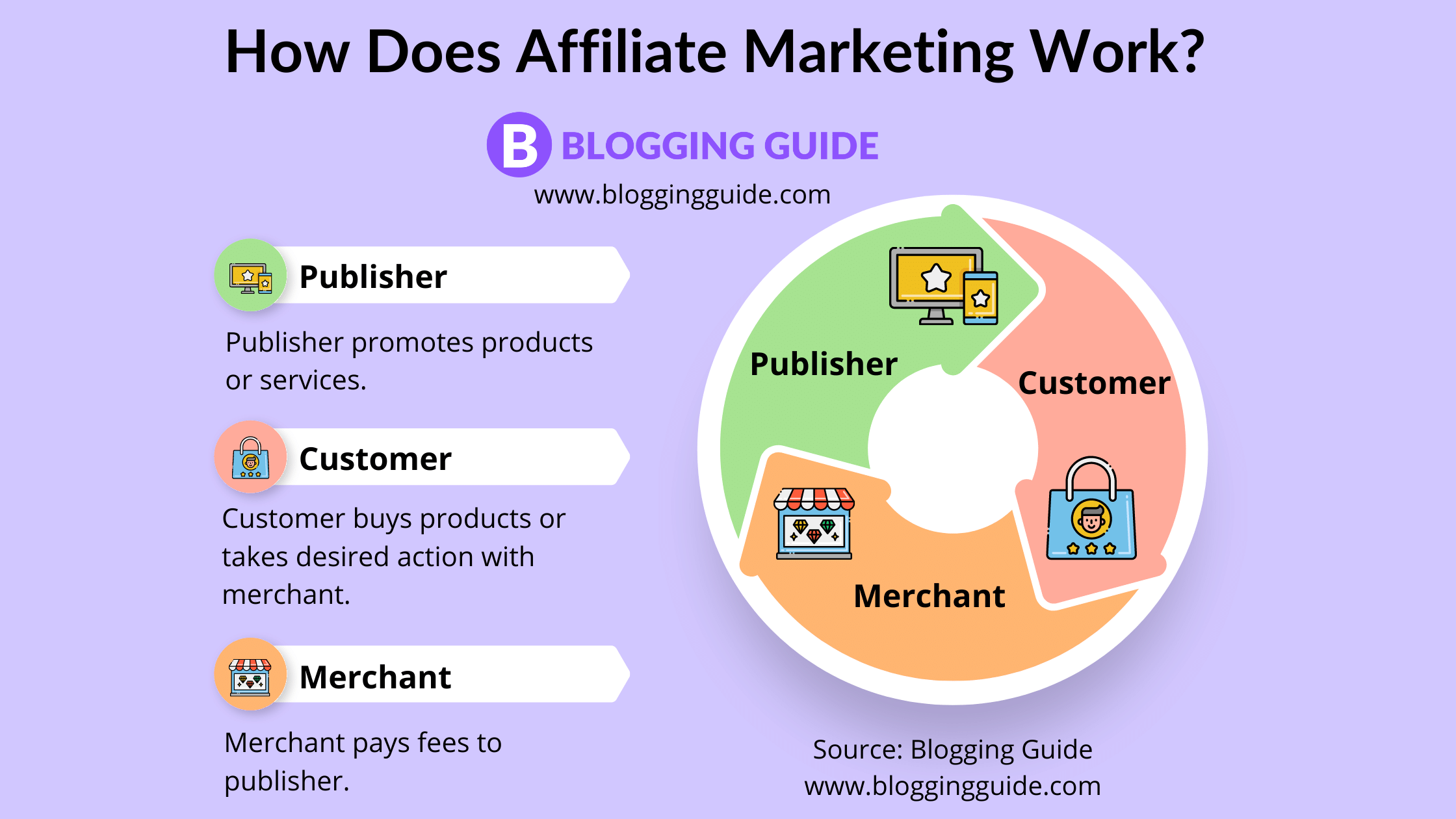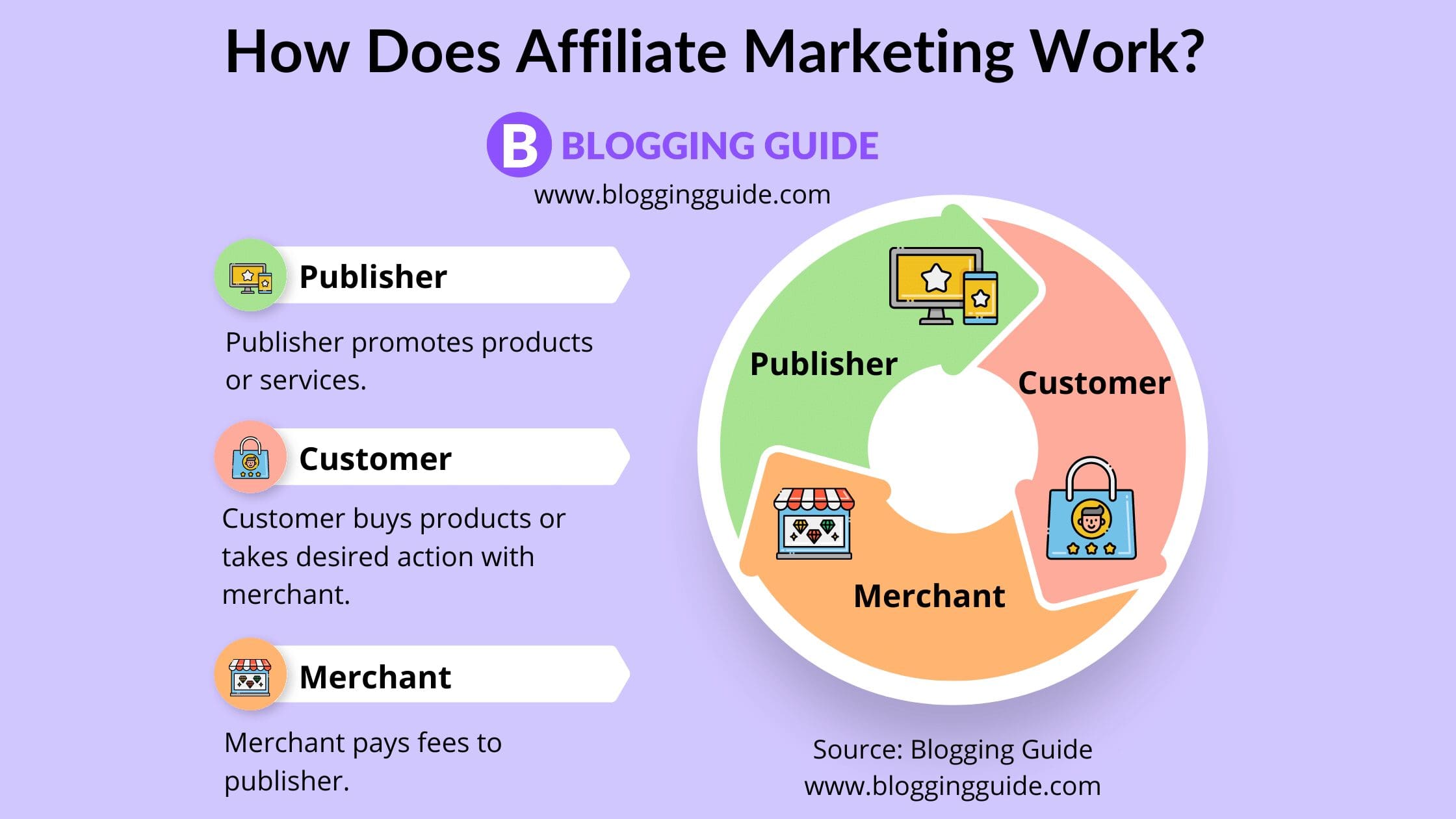 Note: One of the few downsides to affiliate marketing is the tedious application process required if you are applying to many programs. One of the ways around this, however, is applying to one of several major affiliate networks, which have established ties with many individual companies. We've reviewed several of the larger affiliate networks (Awin, Impact, etc.) in previous articles. If you plan on applying to a ton of affiliate programs, it is probably best that you do so methodically, and apply through these networks, as some affiliate programs can be accessed through multiple platforms, but it is far easier to apply and manage your affiliate programs using one or two main accounts.
Best Affiliate Programs for Bloggers to Make Money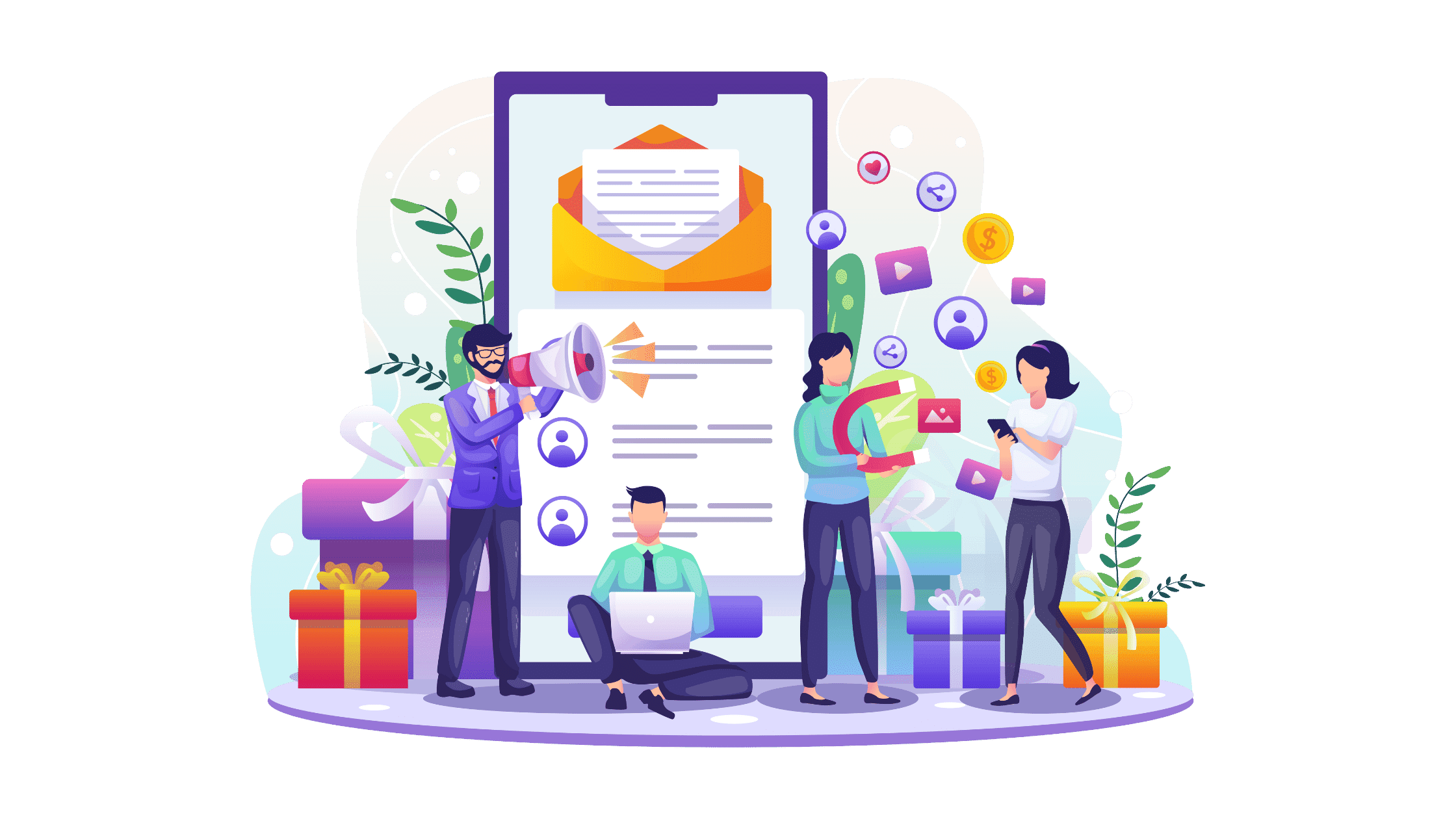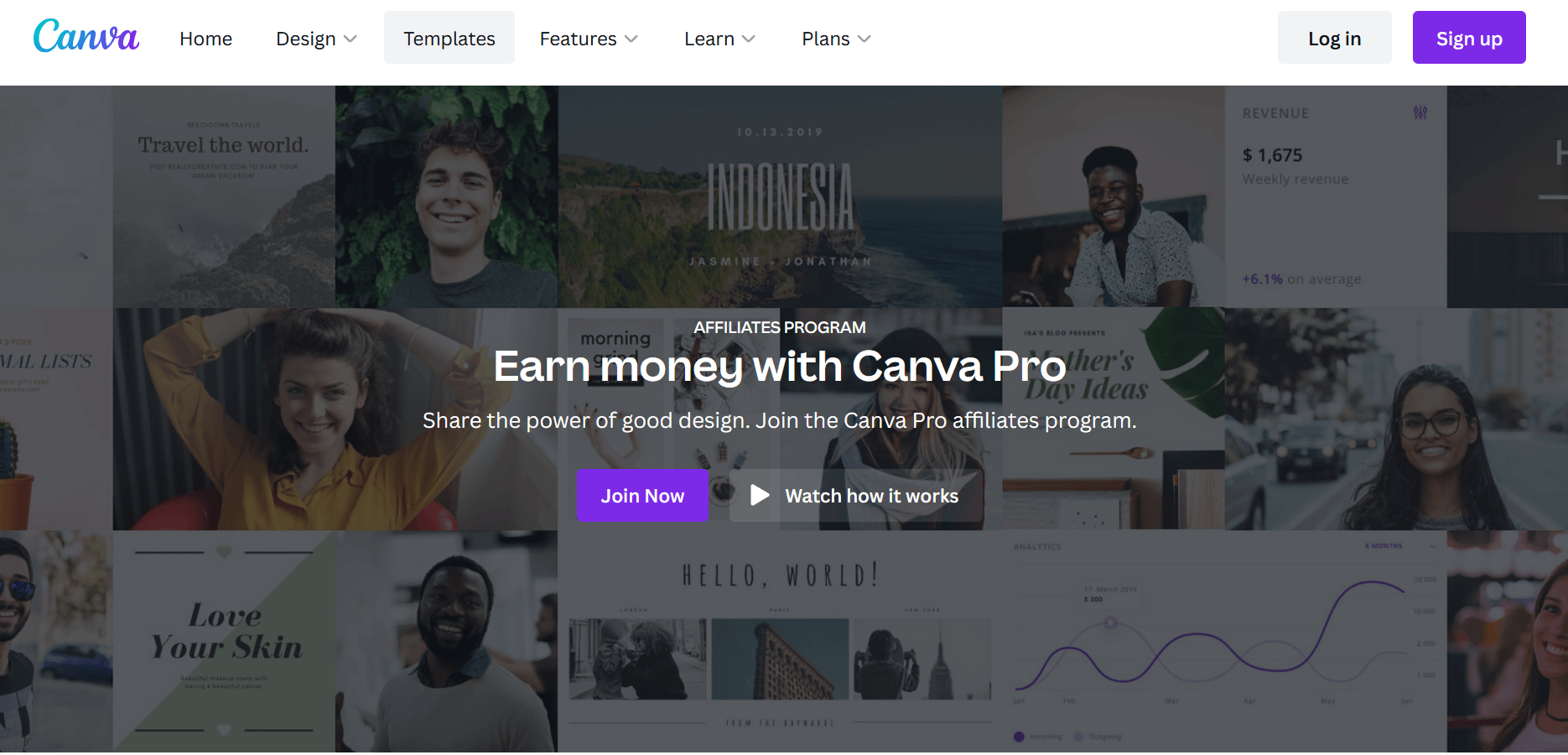 The Canva Affiliate Program is a great option for most bloggers to promote, because almost every niche requires content creators to create graphics or perform some basic level of graphic design. And Canva is definitely the most popular of these easy-to-use graphic design tools.
Earn up to $36 for each new Canva Pro subscriber that signs-up with your unique referral link. Canva offers regular and flexible payment options.
Additionally, Canva is in the midst of a massive period of growth, meaning this is the ideal time to become an affiliate (there is a huge addressable global market, and Canva is available in 100+ languages).
I've personally made hundreds of dollars per month with the Canva affiliate program, and can indeed confirm that the earning potential and the subscriber conversion rate, is very high.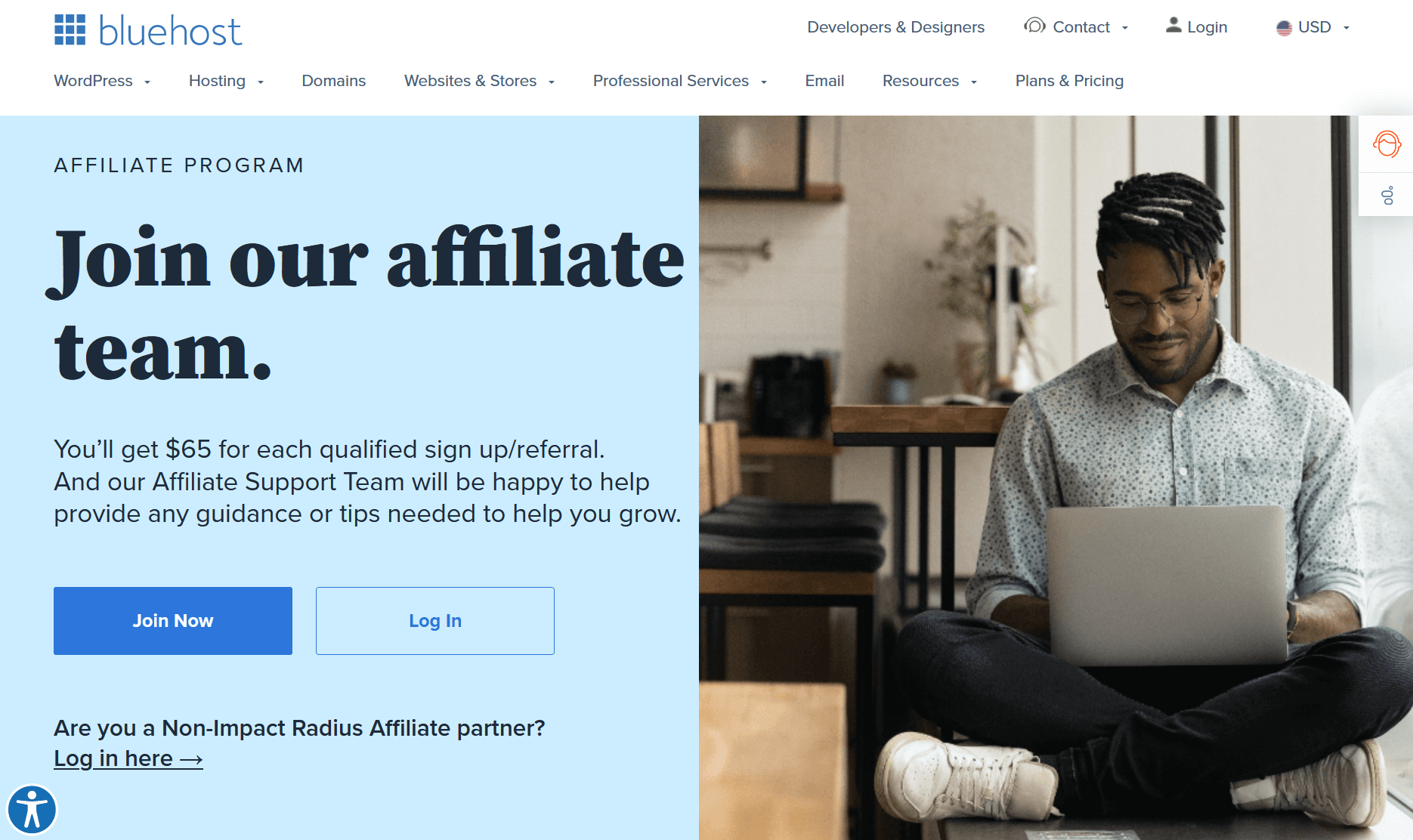 Bluehost is one of the most well-known web hosts used by more than 2 million sites globally. It is a reliable and secure hosting plan that offers blazing fast site speed and a secure one-click WordPress install.
It is also one of the highest-paying web hosting programs of the current time. Bluehost offers you a chance to make a minimum $65 commission by just promoting Bluehost hosting services to your target audience. You can join it for free and they offer one of the most accurate tracking systems and great affiliate support.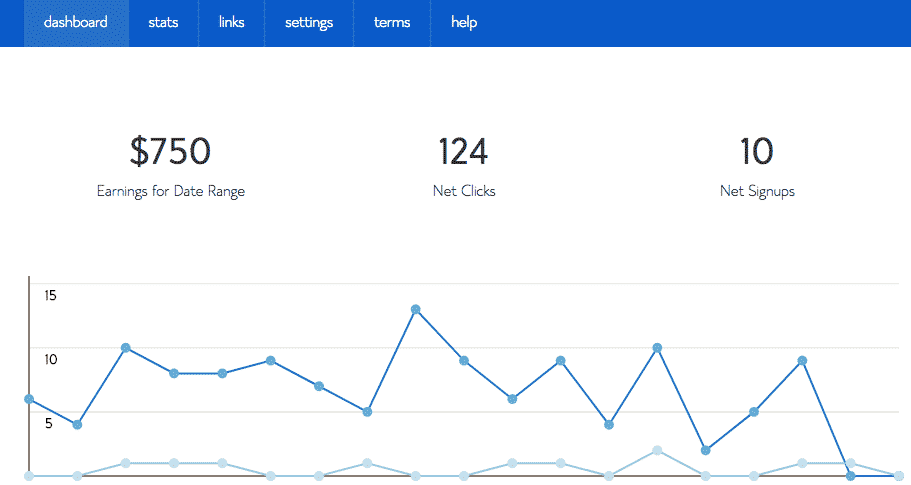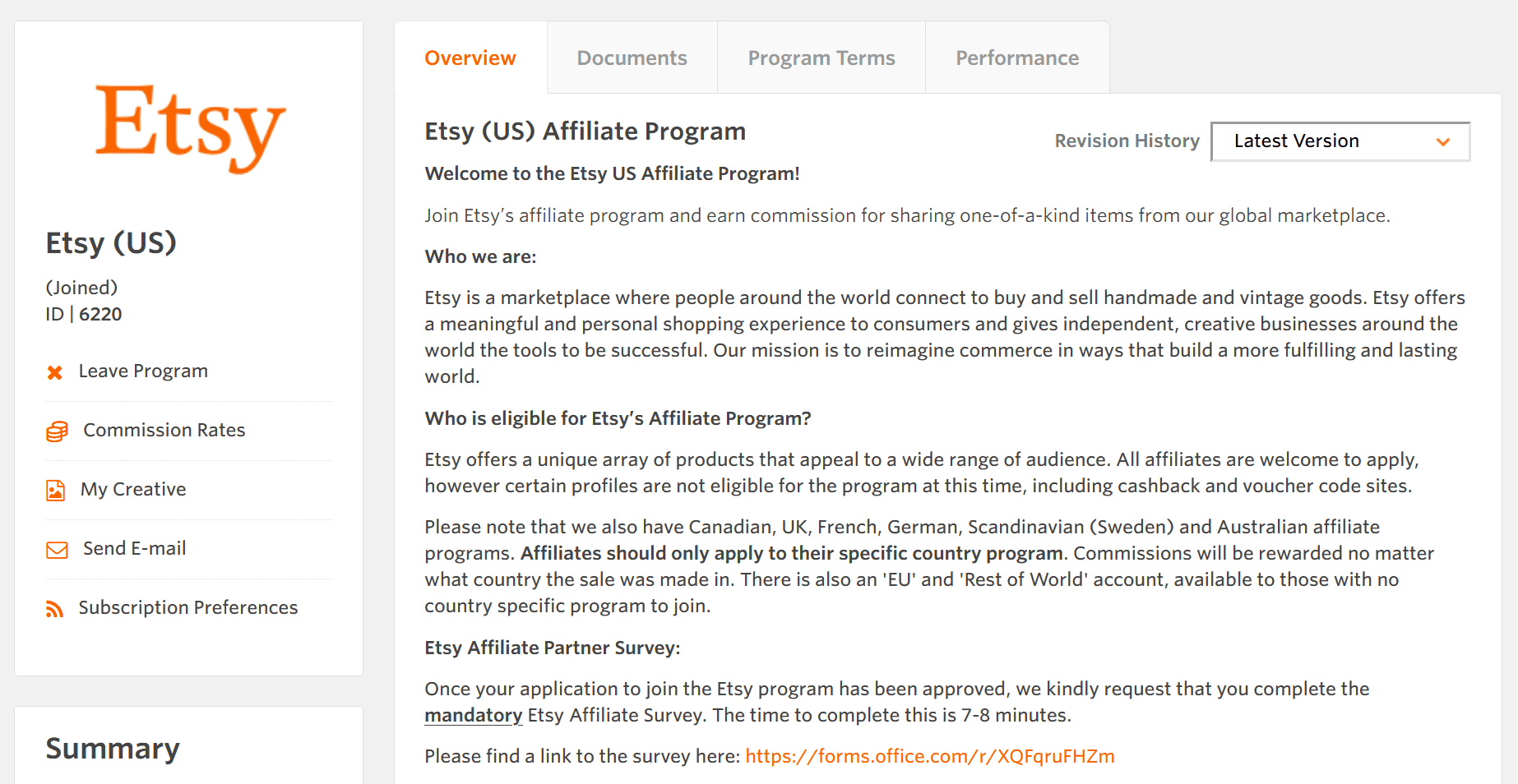 Etsy presents a wide range of products that appeal to the audience, including but not limited to jewelry, accessories, art, toys, and vintage goods.
ll affiliates can apply to register, including Etsy sellers. Affiliates can only post affiliate links to social media news feeds that match their website URLs, such as Twitter, Instagram or Facebook. Posting Affiliate links are forbidden on certain sharing sites such as Pinterest and Tumblr. When an affiliate publishes Etsy content on social media, it is his responsibility to comply with the terms and conditions of the affiliate links of each site.
Program details
2% cashback, loyalty;
4% on each qualifying sale(excluding sale returns and sale cancellations);
30 day cookie period;
Commissions for each confirmed sale except returns and cancellations;
Average Order Size: (varied).
Etsy's affiliate program is a bit like Amazon's in that they both pay relatively low affiliate commissions. But like Amazon, Etsy can still be lucrative because the site is already driving massive amounts of traffic and has a huge existing customer base.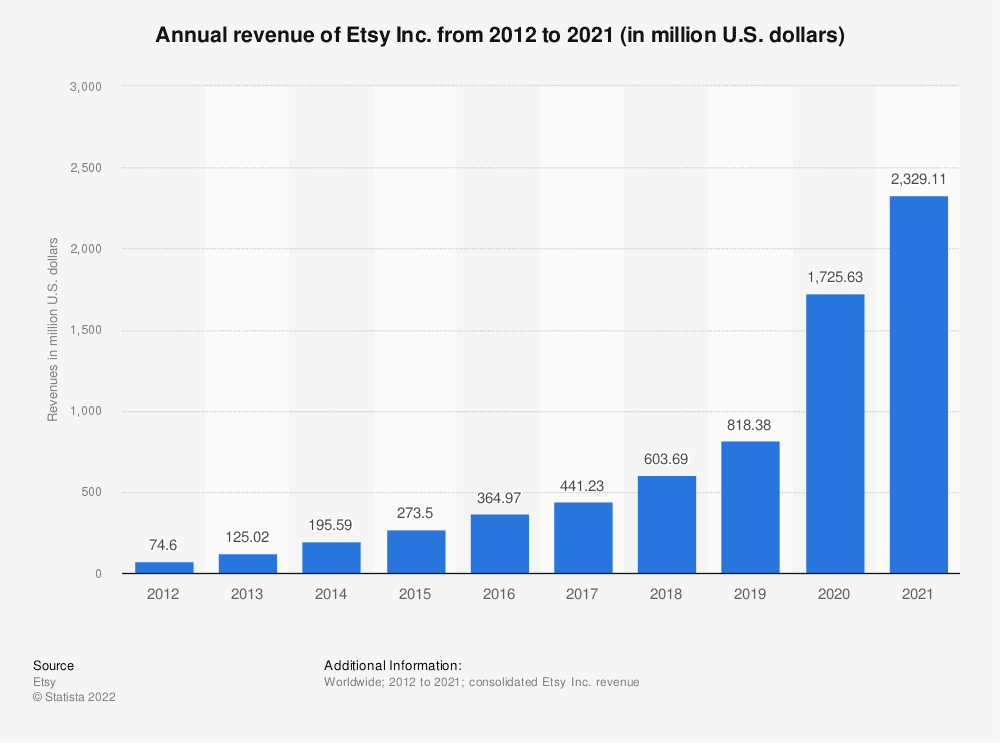 Combine this with a 30 days cookie period, and Etsy will likely be one of your highest converting affiliate programs when you join Awin.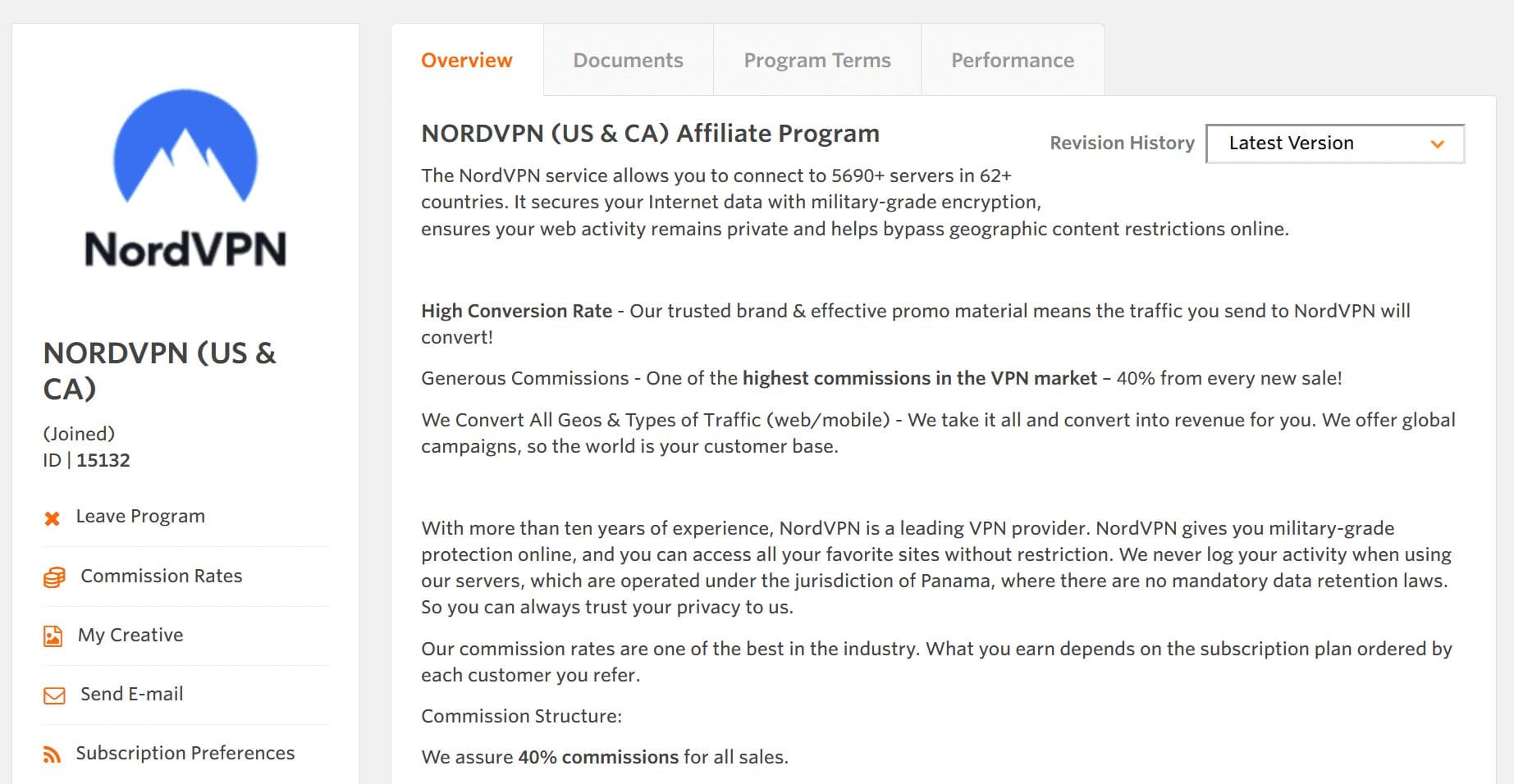 NordVPN is an online VPN service that encrypts your internet traffic and hides your IP with physical location.
A good VPN service provides you a secure, encrypted tunnel for online traffic to flow. Nobody can see through the tunnel, get their hands on your online data, or find your real IP address and location. NordVPN is the best VPN if you're looking for peace of mind when on public Wi-Fi. Securely access personal information or work files, encrypt your internet connection, and keep your browsing history and online identity private.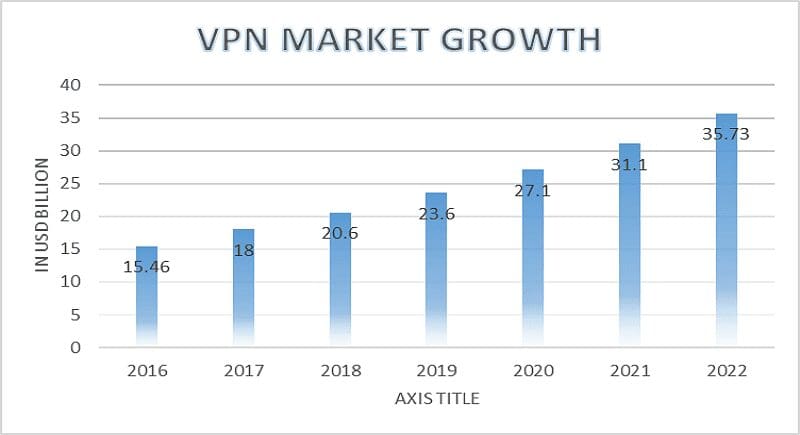 With the rise in the use of VPNs, and NordVPNs position as one of the leading VPNs, affiliates can make considerable affiliate income from this program.

Tailwind is a social media marketing and scheduling tool that is used to automate publishing on Pinterest and Instagram.

The Tailwind affiliate program is great for bloggers because almost all content creators struggle with social media marketing, and Tailwind is one of the few well known solutions!
Tailwind is also a great affiliate product to promote because it offers recurring revenue to affiliates, while still remaining at a relatively low price point, making it a very good affiliate program to start with. There is even a free tier!

Tailwind's affiliate program is also great because the commissions you earn increase the more sales you make!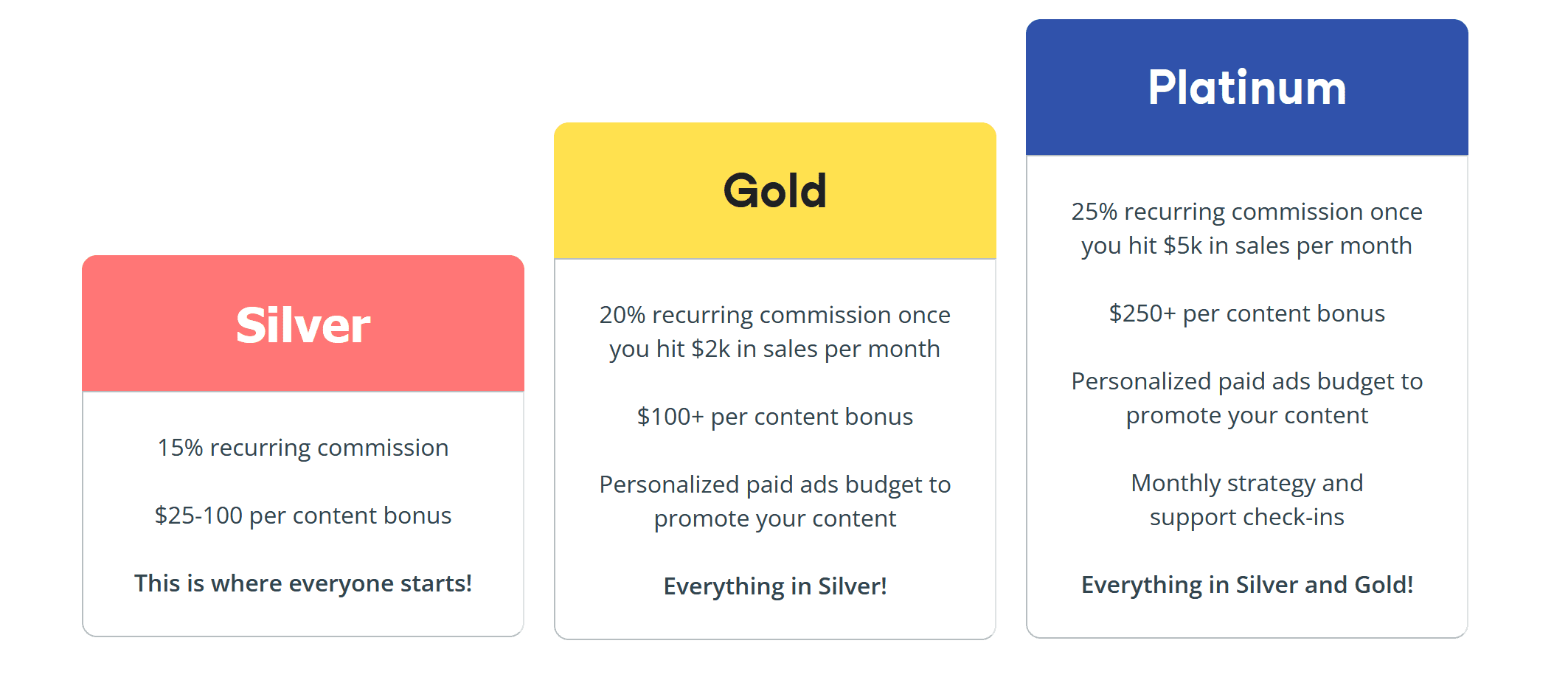 Constant Contact has one of the longest running (and perhaps most successful) affiliate programs.
Affiliates earn $5 for each referral that signs up for a trial and $105 when they pay for a new account.
The fact that affiliates get paid for free email leads and paid subscribers, really makes this program ideal for new bloggers!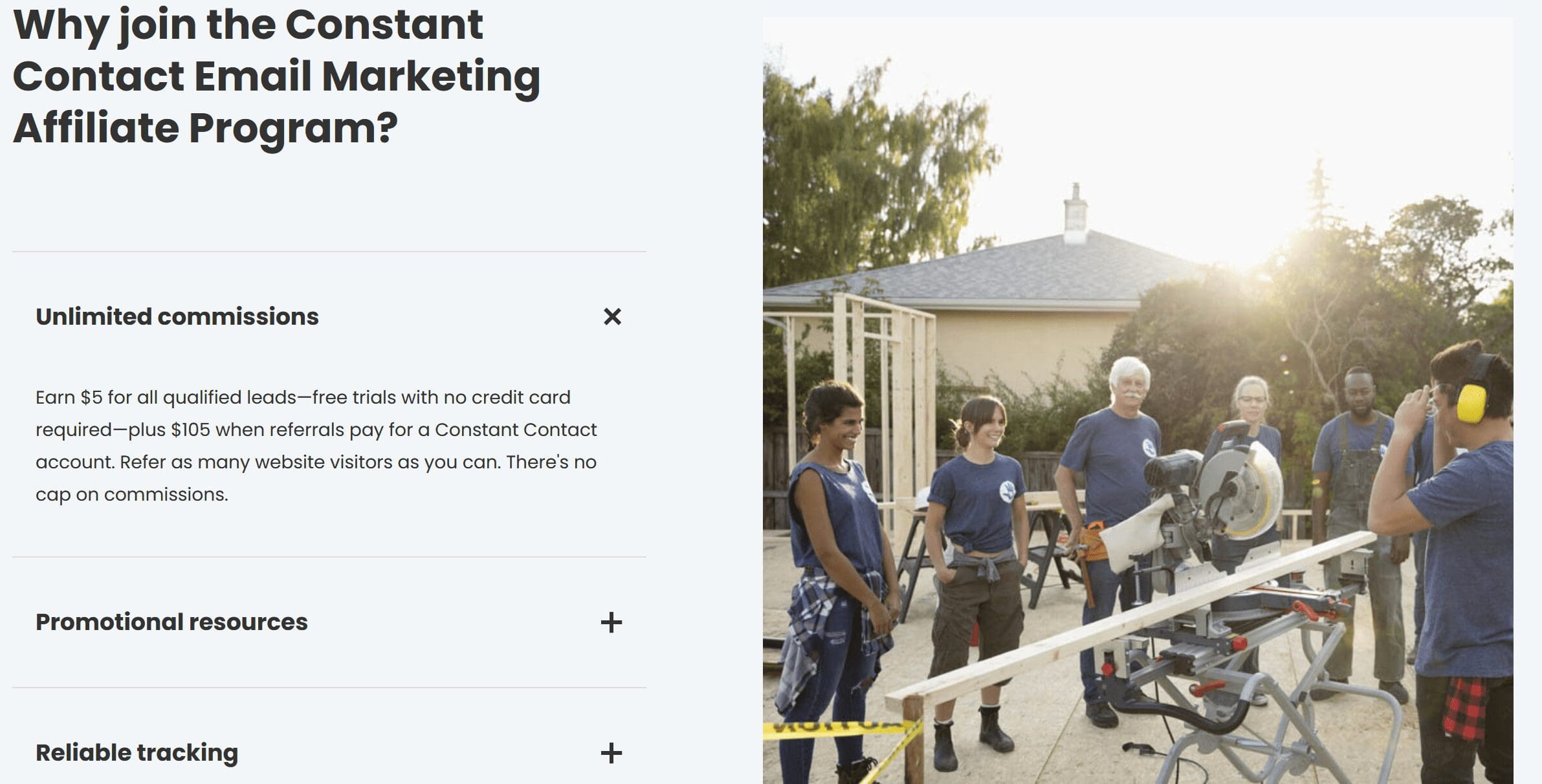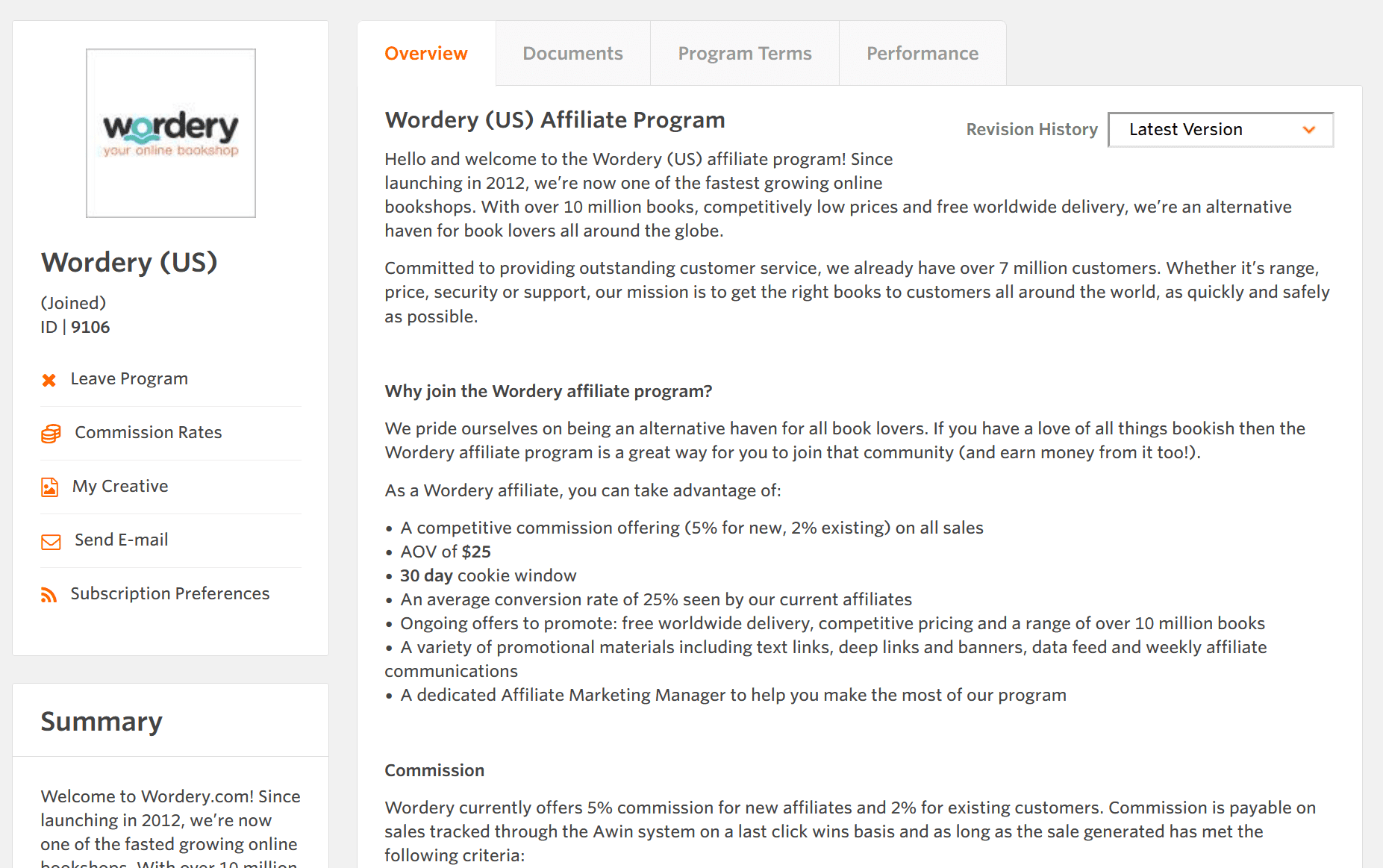 Wordery is one of the fastest growing online bookshops, with a mission to provide you with an alternative haven to buy the books you love for the lowest prices. They offer over 10 million books and provide free delivery to over 100 countries. If you are a bog blogger, or plan to casually promote books using affiliate links in your blog, Wordery's affiliate program is worth checking out.
As a Wordery affiliate, you receive:
A competitive commission offering (5% for new, 2% existing) on all sales
AOV of $25 
30 day cookie window
An average conversion rate of 25% seen by our current affiliates
Ongoing offers to promote: free worldwide delivery, competitive pricing and a range of over 10 million books
A variety of promotional materials including text links, deep links and banners, data feed and weekly affiliate communications 
A dedicated Affiliate Marketing Manager to help you make the most of our program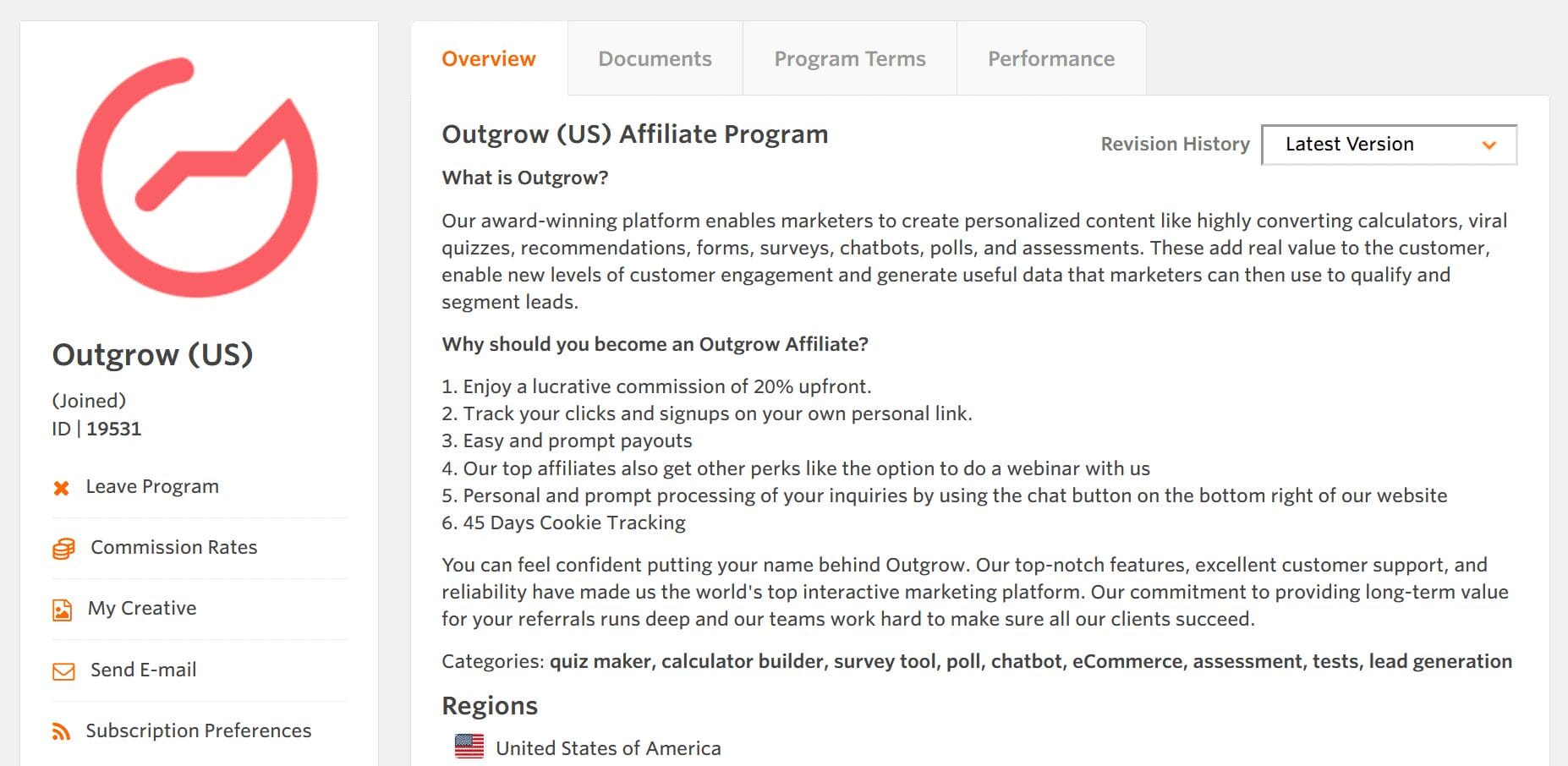 Outgrow is a tool for creating quizzes, assessments, surveys, polls, contests, chatbots, product recommendations & calculators that generate leads & traffic. These add real value to the customer, enable new levels of customer engagement and generate useful data that marketers can then use to qualify and segment leads.
It is one of the best affiliate programs offering recurring payments and upfront commission.
Affiliates earn a 20% commission upfront and 20% on recurring payments, making this a highly lucrative affiliate program on Awin!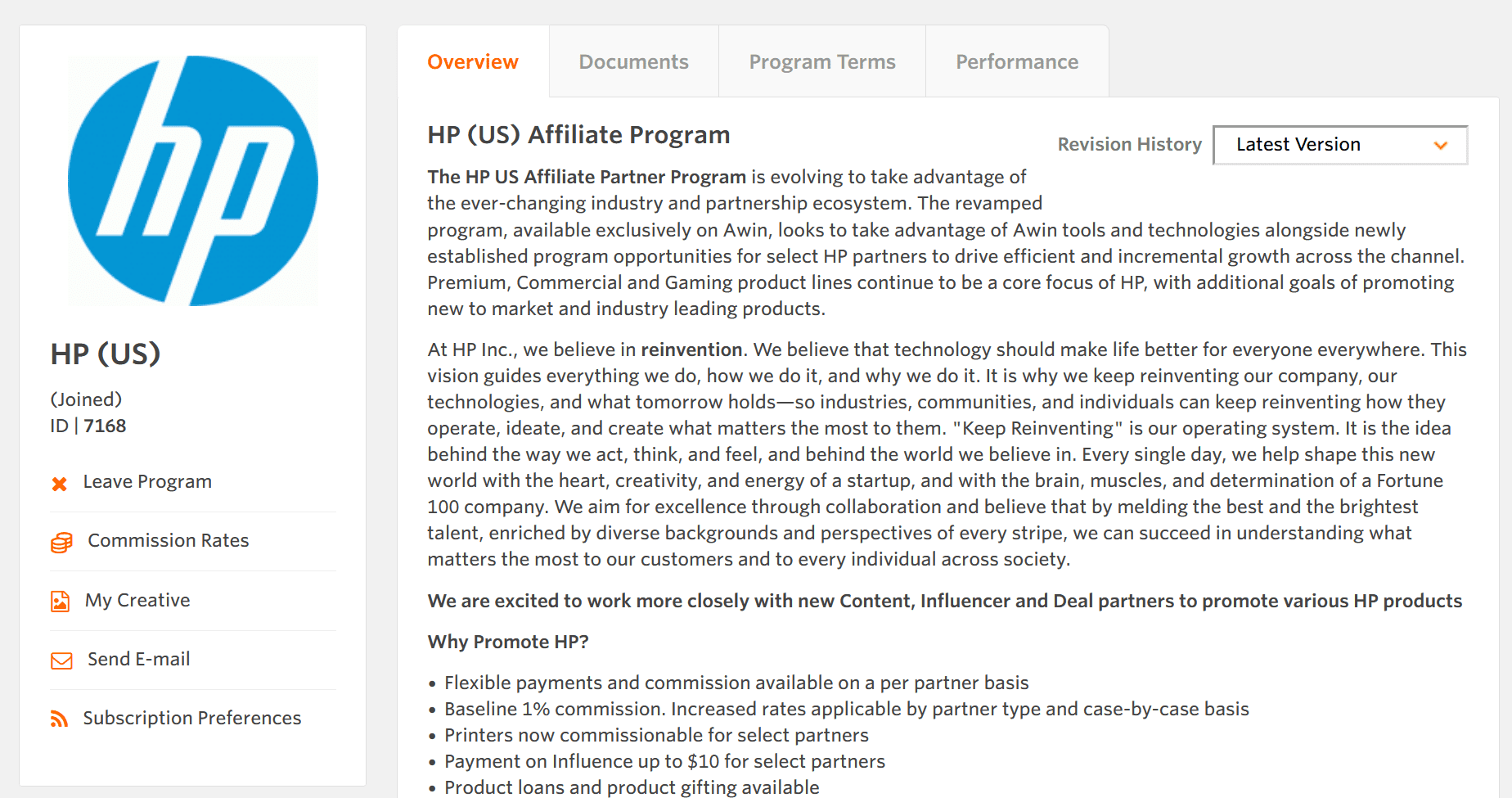 HP's pay outs apply to consumer and business personal systems (ie. Laptops, desktops, all-in-ones) accessories (Bags, Cases, Mice, Monitors) and for select partners, Print systems (inkjet, laserjet, designjet, sprocket printers). All ink, toner, printheads & paper will not be eligible for commissions.
Why Promote HP?
Flexible payments and commission available on a per partner basis
Baseline 1% commission. Increased rates applicable by partner type and case-by-case basis
Printers now commissionable for select partners
Payment on Influence up to $10 for select partners
Product loans and product gifting available
30 day cookie
While HP pays out a relatively low affiliate percentage, the average order value has the potential to be much higher than most other products you'd promote via Awin.
I hope that you found this article on the best affiliate programs for bloggers to make money, useful! Affiliate marketing is a key source of income for most bloggers, and perhaps best of all, it is an easy way for anyone to get started building passive income!