Best Affiliate Programs for Health & Fitness Bloggers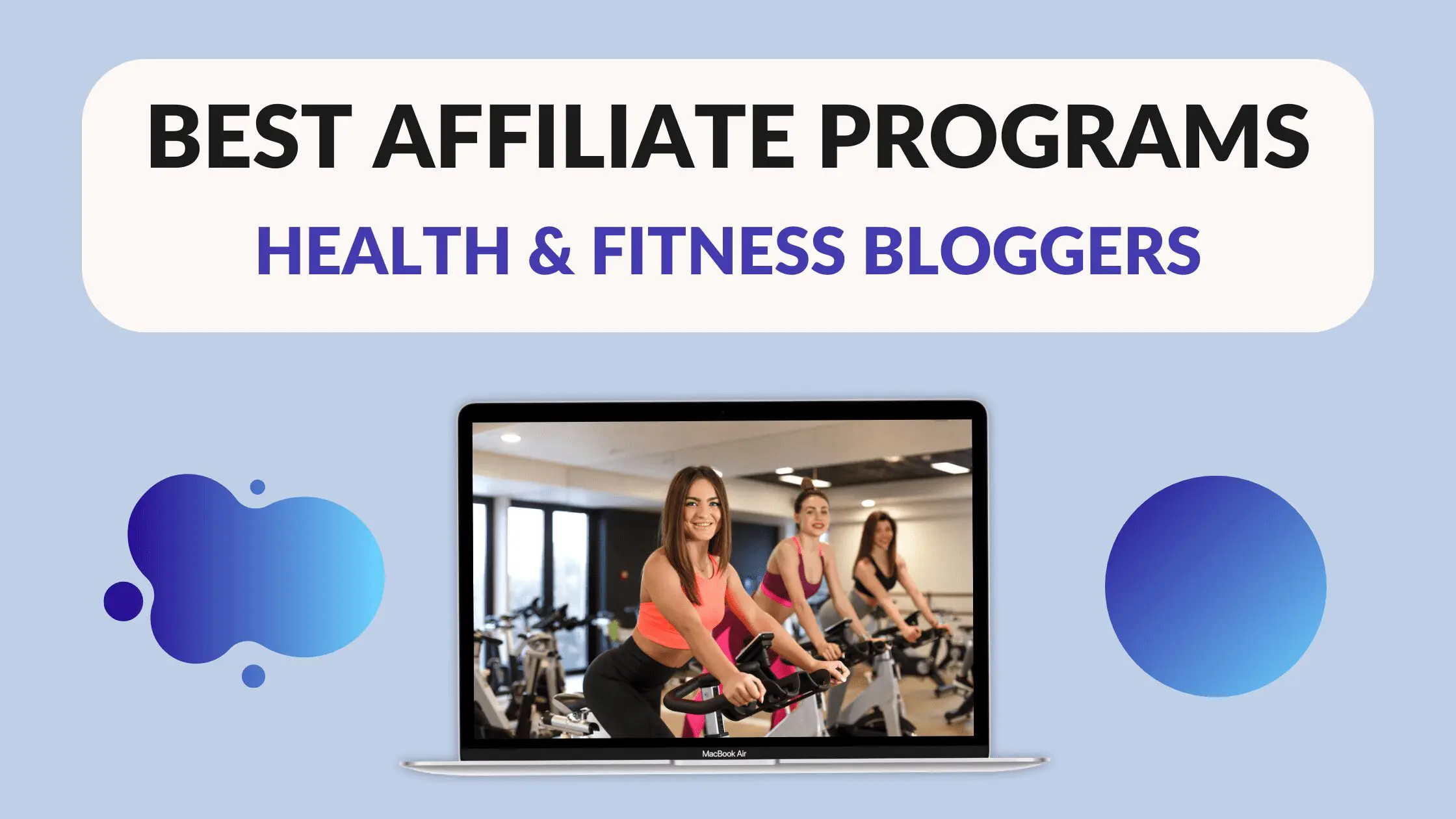 Disclosure: Some of the links below are affiliate links, meaning that at no additional cost to you, I will receive a commission if you click through and make a purchase. Read our full affiliate disclosure here.
The health and fitness blogger sphere is a huge market, and only expected to grow bigger.
With a 30% increase every year between 2020–2026, it really pays to get in on the ground floor of the online fitness community and industry.
However, as we all know, it can get pretty pricey staying on top of fitness trends, equipment, and more! That's where affiliate programs can help out.
In this article, we've rounded up the best affiliate programs out there for health and fitness bloggers. 
Read on to check them out and to earn some awesome commissions from your health and fitness passion!
Best Affiliate Programs for Health & Fitness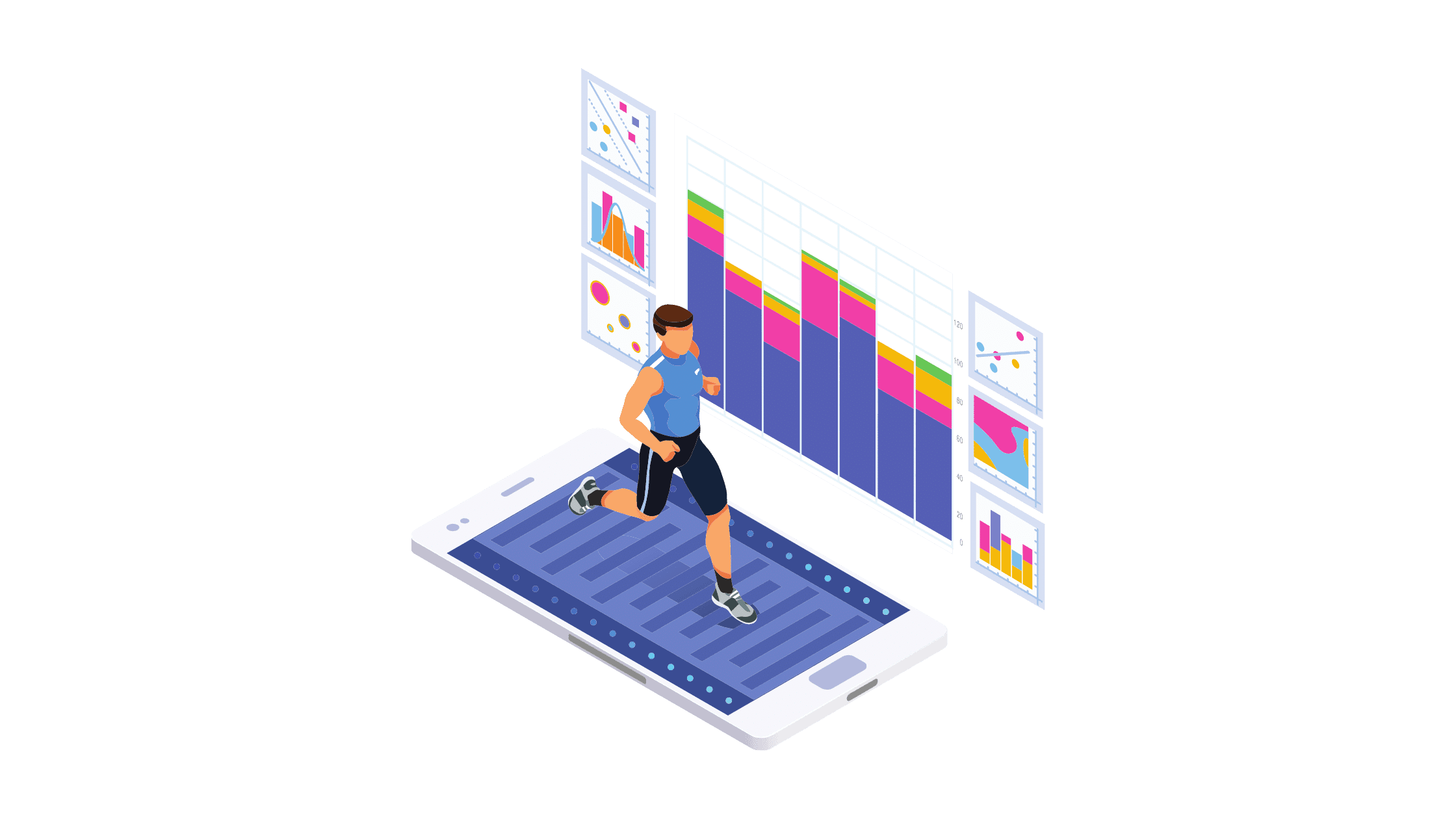 With all of these affiliate programs, you can earn a commission when you refer someone to the services of their brand.

On top of this, you may also receive some new products or early access offers as part of the marketing scheme.
Pay attention to who the affiliates are— do they fit with your brand and your audience?— as well as the tracking cookie duration. 
A longer cookie window means that you'll still receive the commission if your referred customer returns to the website within that period of time, clicks through to the affiliate program, and purchases!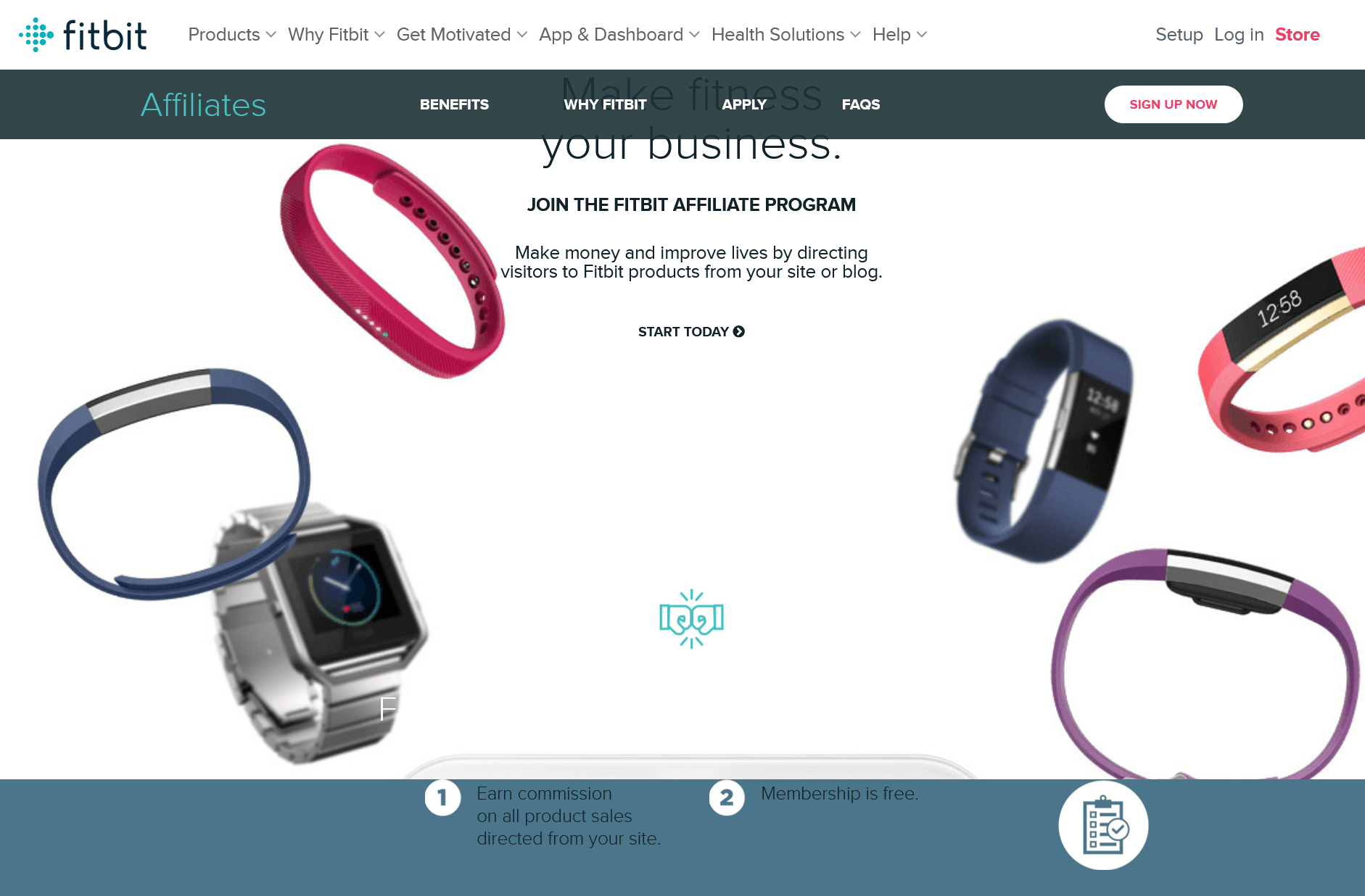 We've all heard of Fitbit. After all, they make up a whopping 72% of the health and fitness market in the US! 
However, did you know they also have an affiliate program for US and Canadian websites and blogs? 
Once approved, you'll receive a 3% commission every time a customer purchases through one of the Fitbit links or advertising banners on your site or blog.
While 3% is a little on the low side, Fitbit will reward high-performing affiliate marketers with higher rates. 
There's a 15-day cookie window, which again is one of the lower ends of the market. However, you could still potentially have great earnings with this partnership. Don't forget, Fitbits are still the number one Amazon bestseller on the market!
Applying to be a Fitbit affiliate is free, and there are even dedicated affiliate managers to help you on your journey. 
If you're a fan of Fitbit, already own one, or are passionate about fitness trackers and tech, this could be a great affiliate program for you.
Sign up to become a Fitbit affiliate here.
2. National Academy of Sports Medicine (NASM)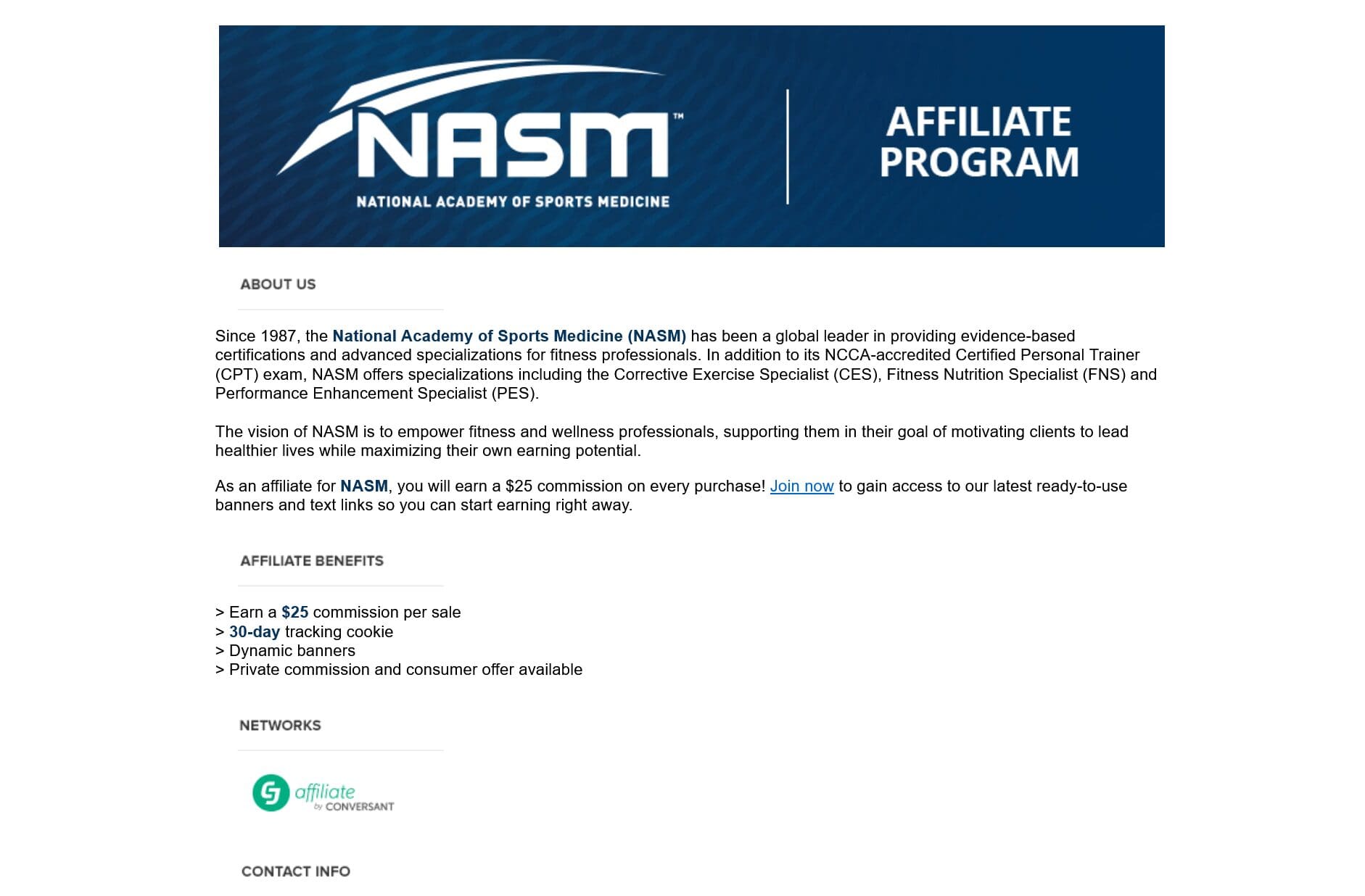 The National Academy of Sports Medicine (NASM) are leaders in their field, providing evidence-based certifications and advanced specializations for those in the fitness industry. 
Sometimes, with affiliate marketing, it can be hard to know just how accurate the credentials of different organizations are. 
However, in terms of professional organizations to be affiliated with, the NASM is the organization.
Once approved on their affiliate program, sales will earn you a $25 fixed commission with a 30-day tracking cookie. 
There is opportunity to earn more, too, if you manage to become one of their top affiliate marketers.
This affiliation will best suit those who focus on fitness training, and have an audience of fitness professionals (or aspiring professionals).
Sign up to become an NASM affiliate here!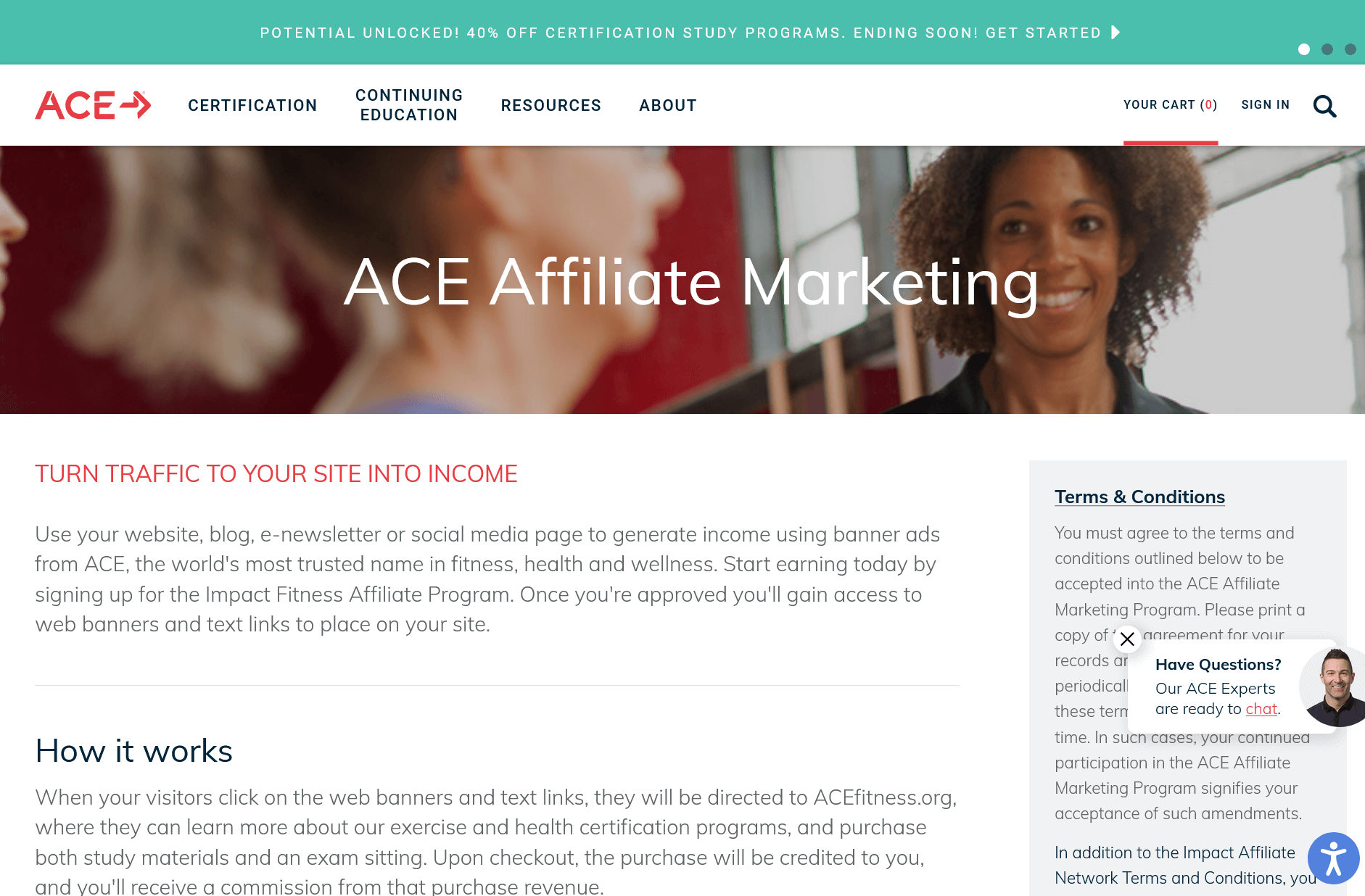 ACE is a very well-known and trusted brand in the wellness and fitness market. 
In addition to workouts and balanced recipes, they also offer accredited certifications to those wanting to become professional fitness coaches.
Once accepted into the affiliate program, you'll earn up to 8% commission on every sale, with a 30-day tracking cookie. 
Payment methods include PayPal, check, wire transfers, and direct deposit, so there are plenty of ways to get paid.
Provided affiliate links include text links as well as banners, allowing you to place them anywhere on your website or blog– or even in the signature of emails!
If you promote home fitness, or healthy recipes, this could be a great affiliate partnership for you. 
Rakuten Publishers can sign up to become an affiliate for free. Otherwise, you can sign up here to become an ACE affiliate.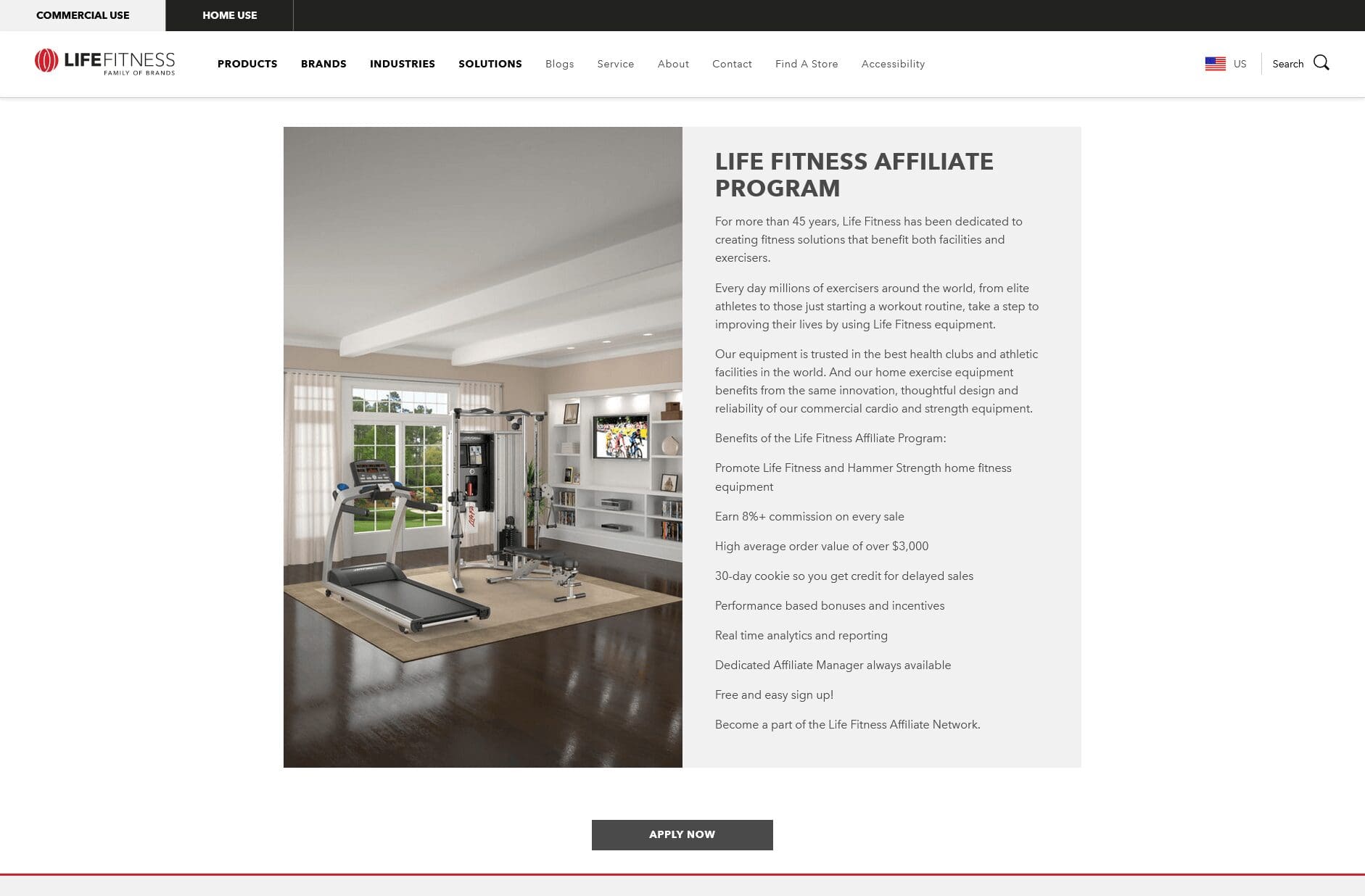 Life Fitness supplies fitness equipment and gear (including accessories and digital tools) all around the world in over 100 different countries. 
In addition to this, they also offer various training programs, designed to upskill professional fitness trainers.
When you become a Life Fitness affiliate, which involves promotion of home fitness equipment and gear as well as writing reviews on your blog or website, you'll earn an 8% commission, minimum. 
Signing up is free, and a 30-day tracking cookie is offered. Life Fitness will also supply you with various different marketing tools to help.
As the commission is a minimum, you can earn higher commissions if you perform well as an affiliate. 
You'll also have access to reporting and real-time analytics, as well as an affiliate manager.
The Life Fitness affiliate scheme is best suited to those who focus on fitness regimes, and maybe in the more professional sphere. 
However, home workout fanatics will still find something for them—just be sure to choose which products you promote carefully!
Sign up to become a Life Fitness affiliate here.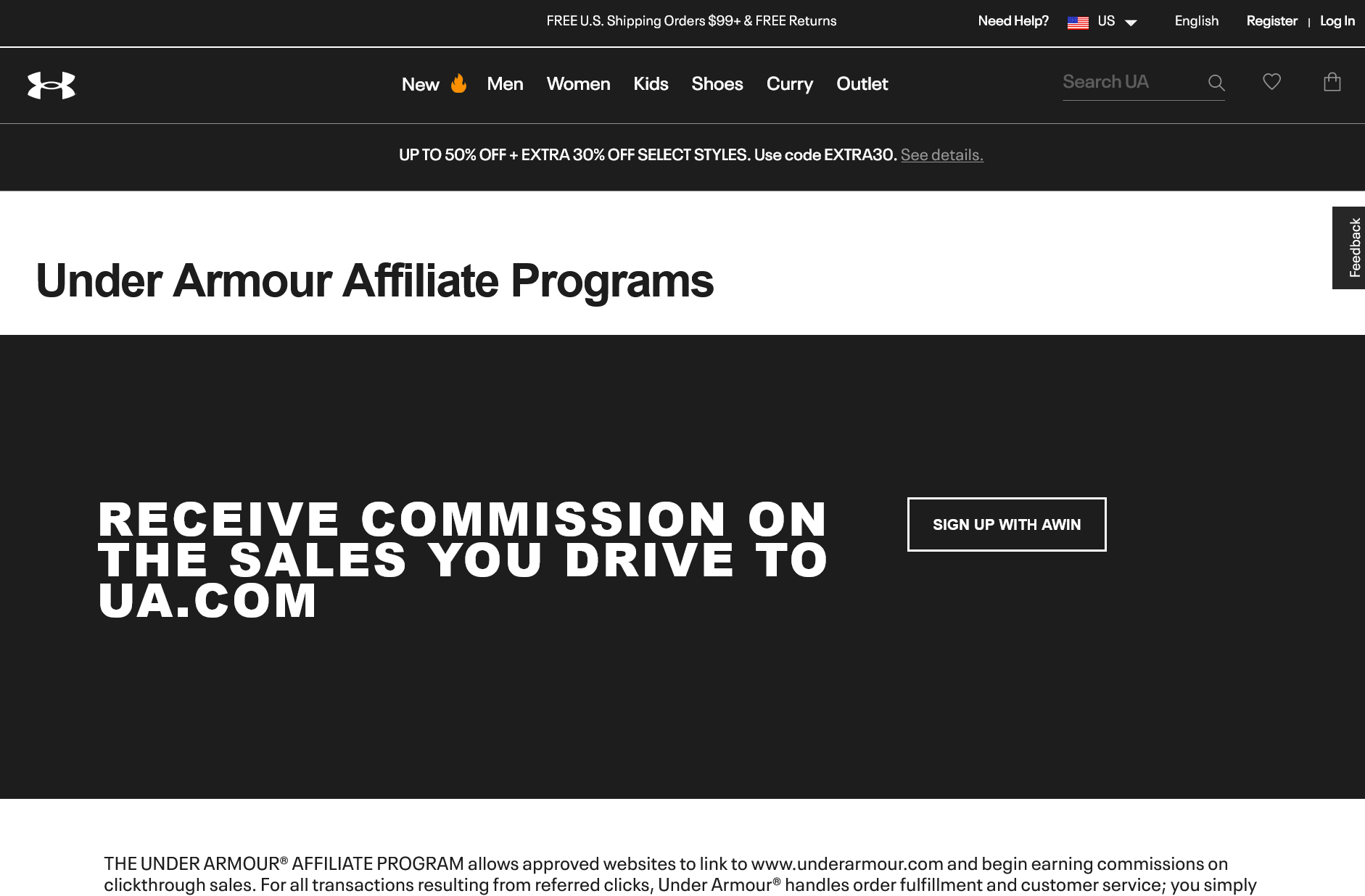 Under Armour makes trendy and fashionable activewear. As a health and fitness blogger, you really couldn't ask for a better affiliate program– especially when the average spend is around $100.
After you've signed up (for free) and been approved, you can earn a 5% commission on click-through sales. 
There's a 30-day tracking cookie, and Under Armour will supply you with a variety of resources to assist with marketing, including a unique link for your blog or website.
Under Armour will give you access to reporting and analytics, so you can track how your sales and marketing strategy are paying off. Military and veterans, police force, EMTs, and students are all eligible for a 10% discount, too.
If you have a young and trendy audience who love active-wear, it makes perfect sense to become an affiliate marketer for Under Armour!
For information on how to sign up to become an Under Armour affiliate, see here.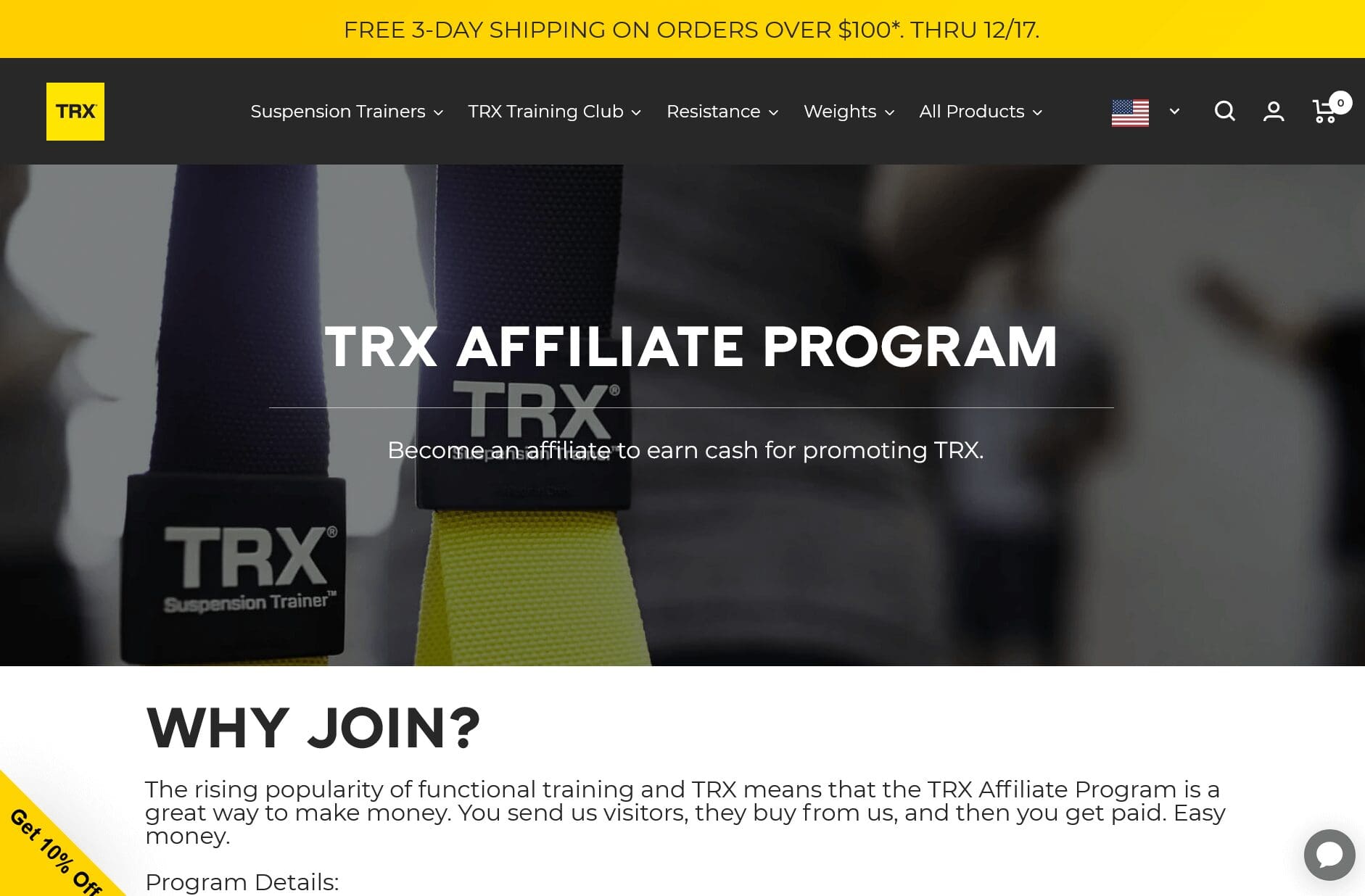 TRX (Total Resistance Exercise), founded by a former Navy SEAL, makes suspension and body-weight training equipment. 
This sort of equipment is becoming extremely popular for the home fitness crowd who may not have space in their homes for large, bulky pieces of equipment.
Once you're approved to become an affiliate marketer for TRX, you can earn a 10% commission on US-based click-through sales with a 30-day tracking cookie.  
With an average order value of $200, a 10% commission could definitely go a long way.
In addition, you'll have an affiliate support team to help assist you every step of the process.
If you're a home fitness blogger who uses resistance training– or have an audience who do so– then this could be a really successful affiliate marketing partnership for you!
Sign ups to become a TRX affiliate are through Avantlink.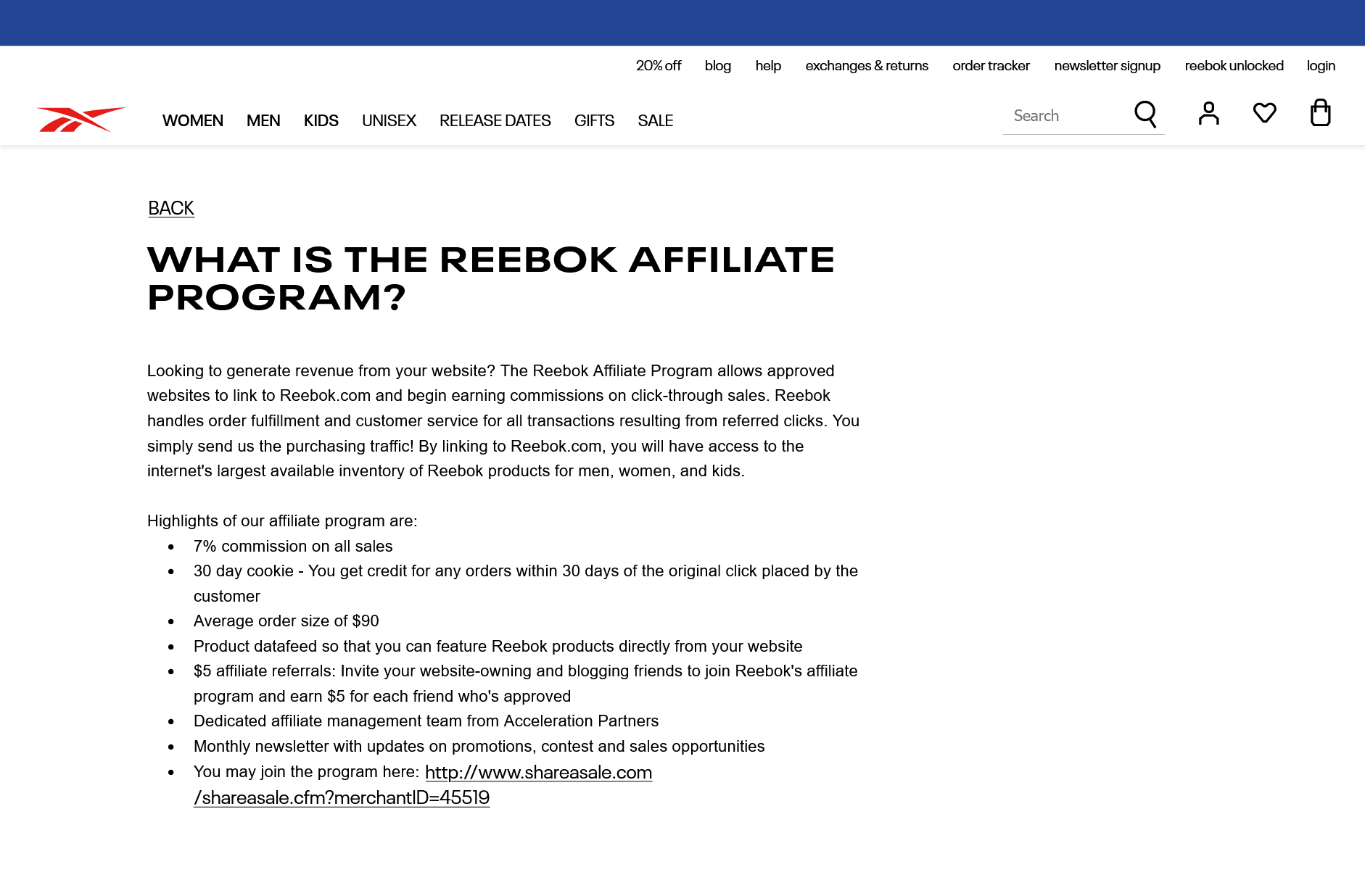 When it comes to iconic brand names, Reebok is right up there. 
A well-known lifestyle and fitness brand that's been around since the 1890s, it's now worth over $2.4 billion and is very recognisable.
Reebok may be a harder affiliate program to earn through as it is available so widely, including in physical stores. 
However, once approved, you can earn a 7% commission for any US-based click-through sales, with a 30-day tracking cookie.
According to Reebok, their average order value is around $90. This means that a 7% commission is still a pretty good deal!
In addition, you'll also earn $5 each time you refer a friend to the affiliate program and they're approved.
Becoming an affiliate also puts you onto a monthly newsletter list which offers more sales opportunities, as well as promotion and contest updates and information. Reebok also have dedicated affiliate managers who can assist you at any point.
No matter what kind of blog or website in the health and fitness realm you run, a partnership with Reebok is a good choice for affiliate marketing. 
As it's such a well-known and trusted brand, you can capitalize on their brand recognition!
Sign ups to become a Reebok affiliate are through ShareASale.

If you have a health and fitness blog and are looking to earn a side-hustle, affiliate marketing programs are a great way to do so. 
Not only can you earn, you'll also be helping your readers with their health and fitness goals by recommending ideal products.
Remember to pay attention to the terms and conditions of the various programs when picking and choosing which ones you want to be associated with. The most important things to look at are:
Will it cost to sign up?

What is the commission?

What's the tracking cookie window?
On top of all this, you'll also want to make sure that your audience will match with the various affiliate programs. If not, start to tailor it now, and work on your overall SEO!
The health and fitness industry, more than ever, is experiencing a boom– especially in the home fitness category. 
Get in as early as possible, and pretty soon you'll be reaping the rewards of your hard work!