Best Affiliate Programs for Home Decor Bloggers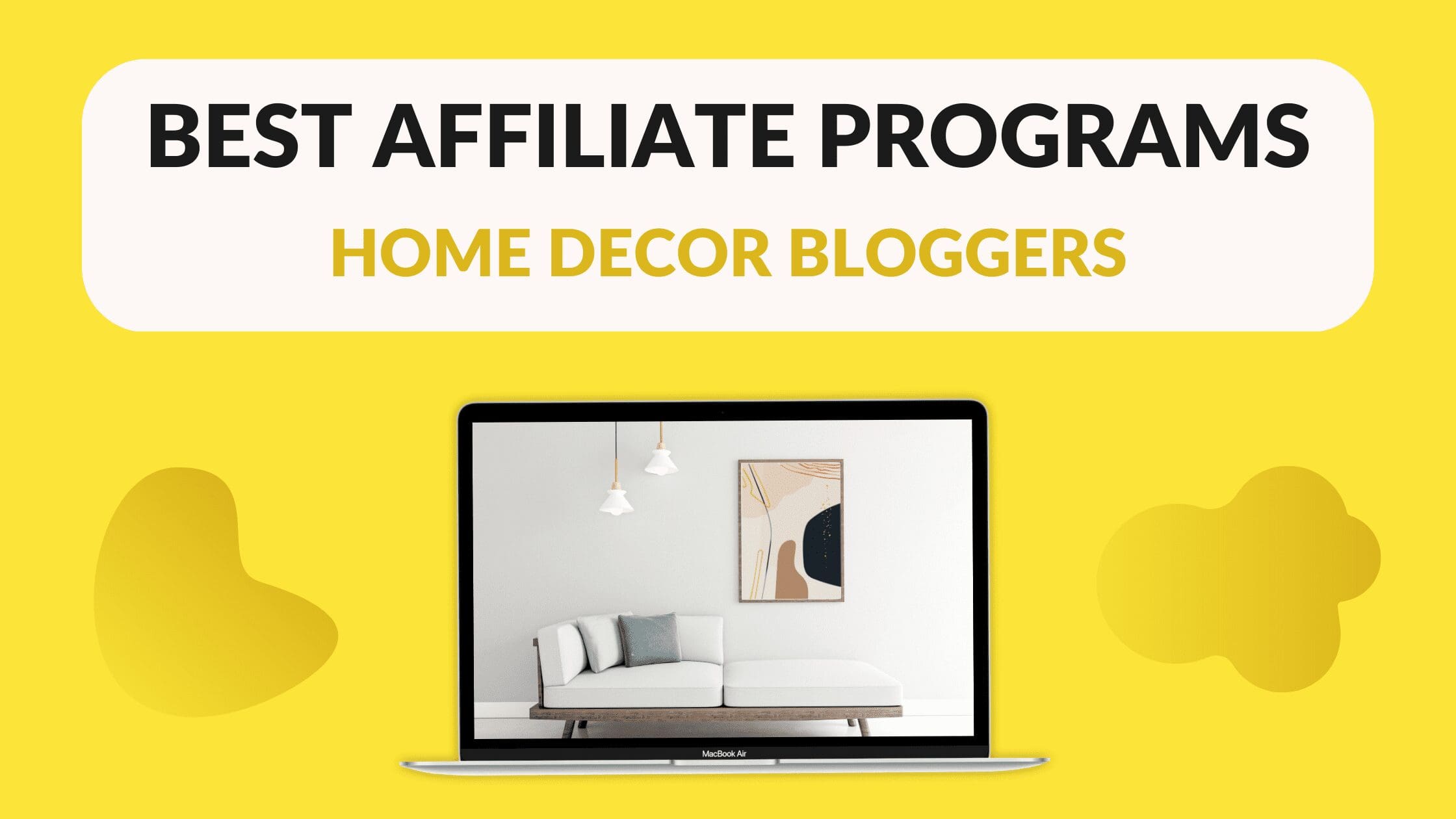 Disclosure: Some of the links below are affiliate links, meaning that at no additional cost to you, I will receive a commission if you click through and make a purchase. Read our full affiliate disclosure here.
If you're a home decor blogger looking to make a bit of extra cash, you might've heard of (or considered) joining an affiliate program. 
However, with plenty of different programs available out there, it can get confusing trying to weigh each one's pros and cons.
Struggling to get started and figure out which affiliate program would be best for you? 
Look no further, because you've come to the right place!
In this article, we'll take a look at seven affiliate programs that are great options for home decor bloggers. We'll explore:
The target audience of each program, and what sets each one apart from the rest

The commission rate you'll stand to earn and the average sale for each site

Other perks and special promotions that come with joining the program

Why you should partner with the programs on this list.
With this list, you should be able to make an informed decision about which potential affiliate program you'd like to partner with. Let's dive in!
Best Home Decor Affiliate Programs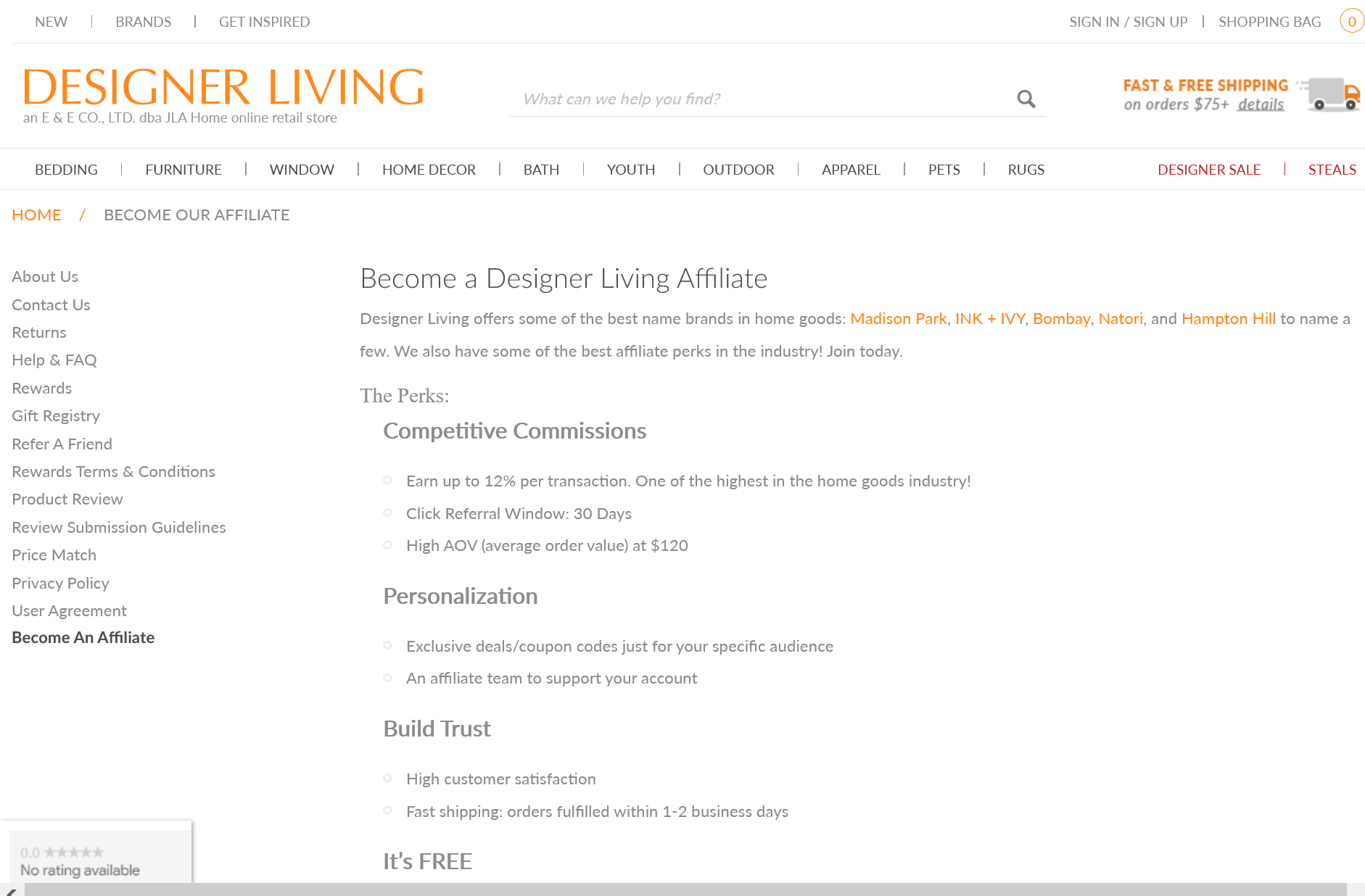 If the sound of a large commission tickles your fancy, you may want to consider joining Designer Living as an affiliate. 
Offering a whopping 12% commission per transaction, this company has a lot to offer you as a partner!
Designer Living has a large range of home decor and furniture — over 10,000, to be precise — and will suit a blog that aims to showcase products that appeal to a variety of budgets and lifestyles. 
When potential buyers use your affiliate link, your referral will be active for 30 days afterward! 
With this lengthy timeframe, you have a great chance of earning those commissions within the weeks following your referral. 
Becoming an affiliate with this brand can also help you build deeper trust and great credibility with your audience due to Designer Living's rapid shipping times of 1–2 business days.
Shoppers will definitely appreciate the quick service they receive and may be more likely to turn into return customers through your website and links.
You can also further personalize the affiliate experience by partnering with Design Living for exclusive deals and coupons that only your specific audience can use!
The Designer Living affiliate program is simple and free to join, so if you're looking into promoting a range of homewares that suit various budgets and lifestyles, consider getting in touch with the marketing team for more information.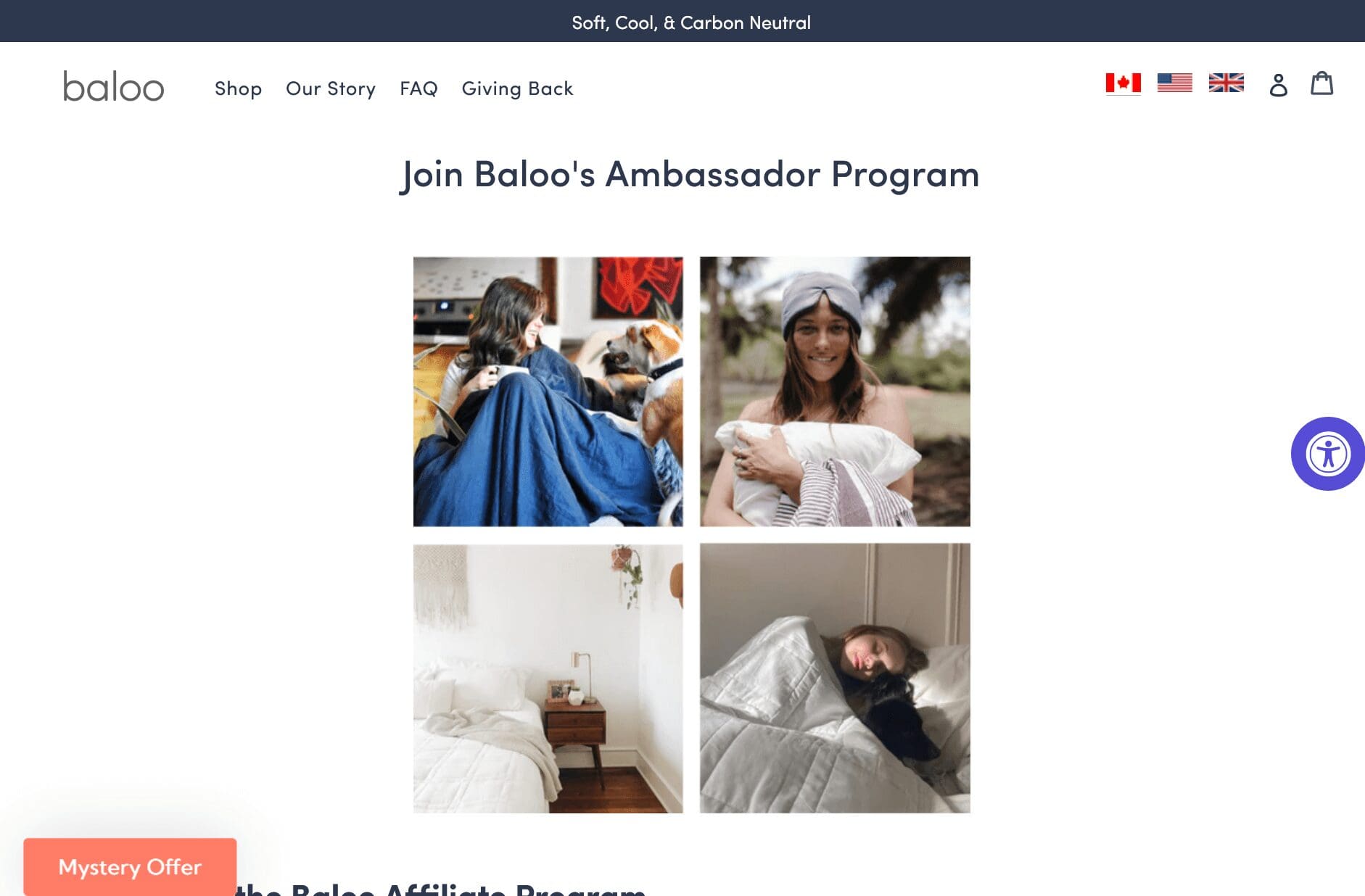 Baloo is on the lookout for affiliates to help promote their passion for self-care and wellness through its vast array of products. If you have similar areas of interest, then their ambassador program may be for you!
With Baloo, you could choose to promote weighted blankets, self-care items, and sleep accessories, among other products.
When promoting Baloo's products, you can expect a commission of 15% through your affiliate link – which could earn you a pretty amount as the average order comes in at $170.
Cookie referrals last for 30 days after your link is used to view products on the Baloo website, so you have a decent window of time to be affiliated with sales after you promote their products. 
Becoming an affiliate with Baloo will also give you the chance to receive special promotional offers and other exclusive deals on the Baloo product range. So, if you're looking for a program with a ton of perks, then this might be a good choice for you.
Sustainability is a big part of Baloo's brand ethos, and it'll no doubt mean a lot to your eco-conscious followers if you promote products that aim to better Mother Nature rather than harm it.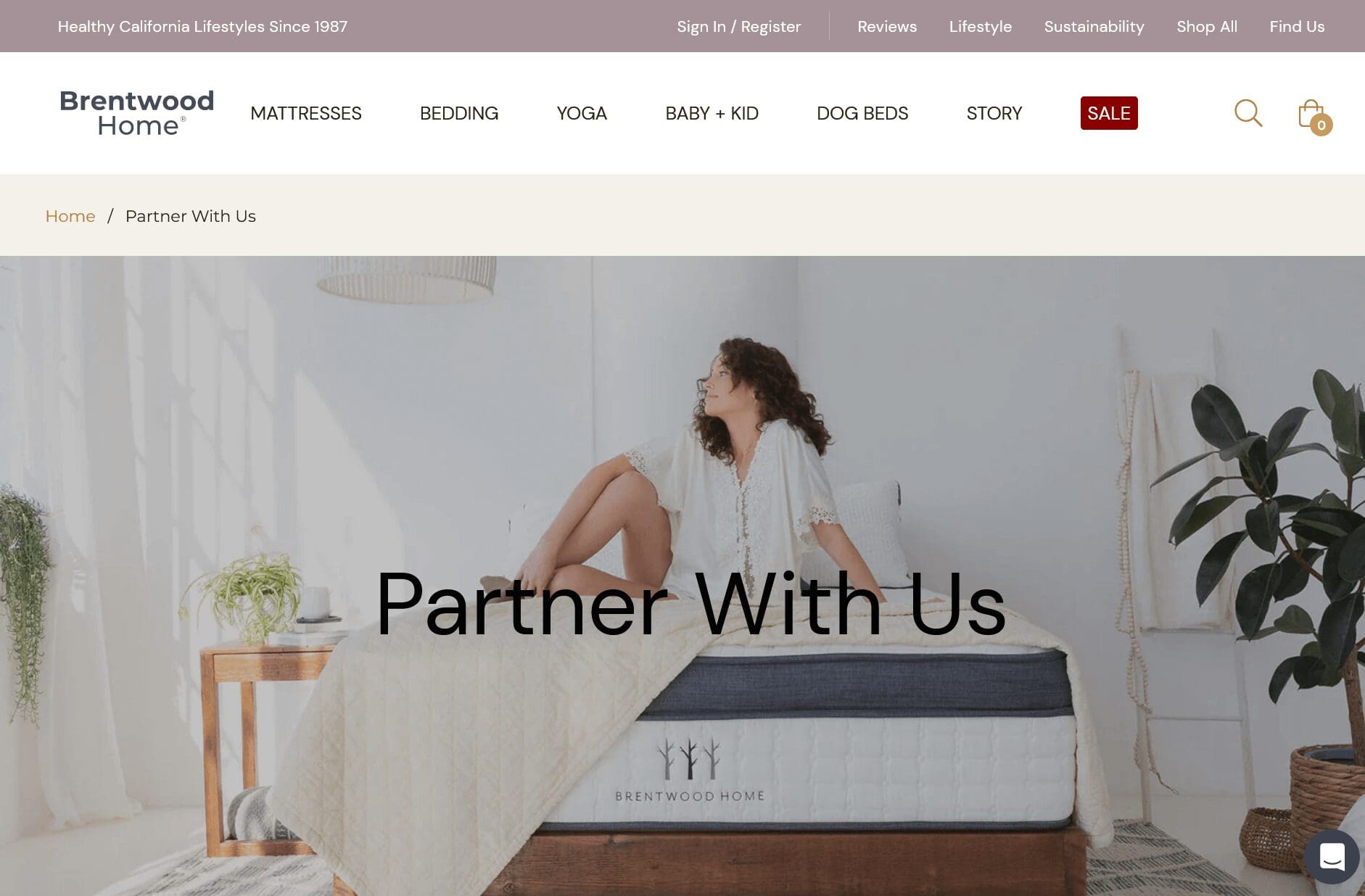 As a brand, Brentwood Home supports "all things green" and is looking for affiliates who will carry this message for them through product promotions.
If you choose to become an affiliate for this company, your cookies will be tracked for a whopping 120 days after the link is used! 
The commission rate you receive is determined by the level of reach you have online, as well as the volume of exposure you bring to the company. However, it typically ranges between 5% and 8%.
While working as a partner, you'll have access to a dedicated affiliate manager who'll help you to be as successful as possible in your role! With Brentwood Home, you simply won't have to go at it alone.
The ideal affiliates for this company include bloggers, reviewers, non-profits, and more. There are also a variety of ways you can support Brentwood Home without being an affiliate, such as:
Writing about Brentwood Home products

Promoting their products by becoming a Brand Ambassador

Joining their Trade Design Program.
If this sounds like something you'd be interested in as a home decor blogger, be sure to get in touch with Brentwood Home to learn more about the process of becoming an affiliate.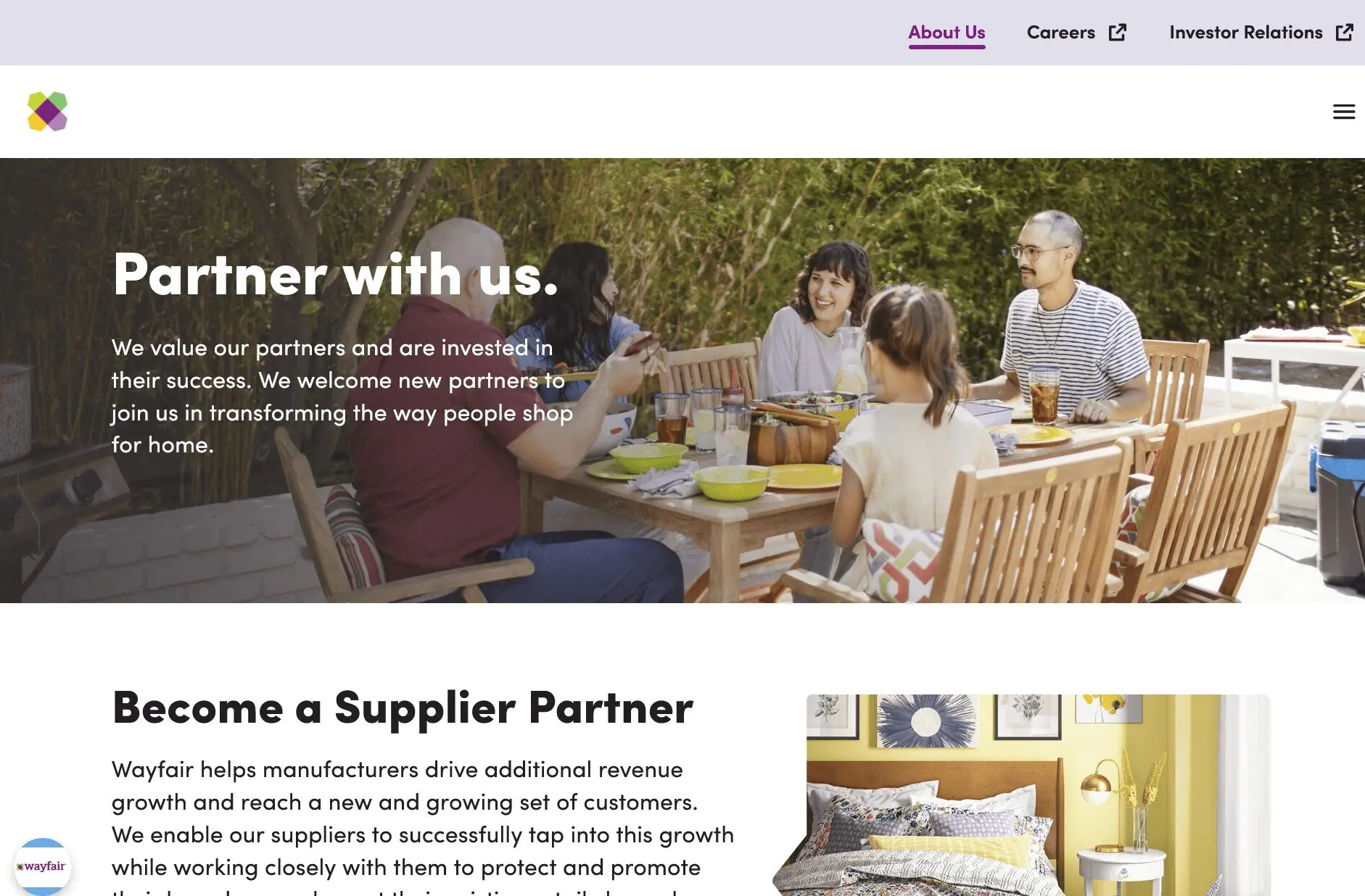 Does the sound of working as an affiliate for one of the largest online furniture and decor distributors excite you? If so, Wayfair may be a great fit for you and your blog!
At only 7%, Wayfair's commission rate is lower than the other options mentioned above on this list. 
However, this shouldn't be a major problem, as the average order from Wayfair is worth $300! 
Further, the lower commission rate can be made up for by how many customers are already aware of and spending on the company's furniture, and this is something you can definitely influence further through your blog.
Aside from that, Wayfair will also only track your cookies for 7 days. This is definitely on the shorter end, and you'll only have a week to score that referral percentage after visitors use your link.
With the short tracking time and low commission rate, you may have to think more deeply about partnering with Wayfair.
If you do decide to become Wayfair's affiliate, your followers will benefit from free two-day shipping, exclusive deals, and a fantastic customer service team – so you can feel confident that Wayfair will look after anyone who's come from your readership.
Building trust between the brands you promote and your followers will keep your reputation high – which in turn will be great for your bottom line and peace of mind!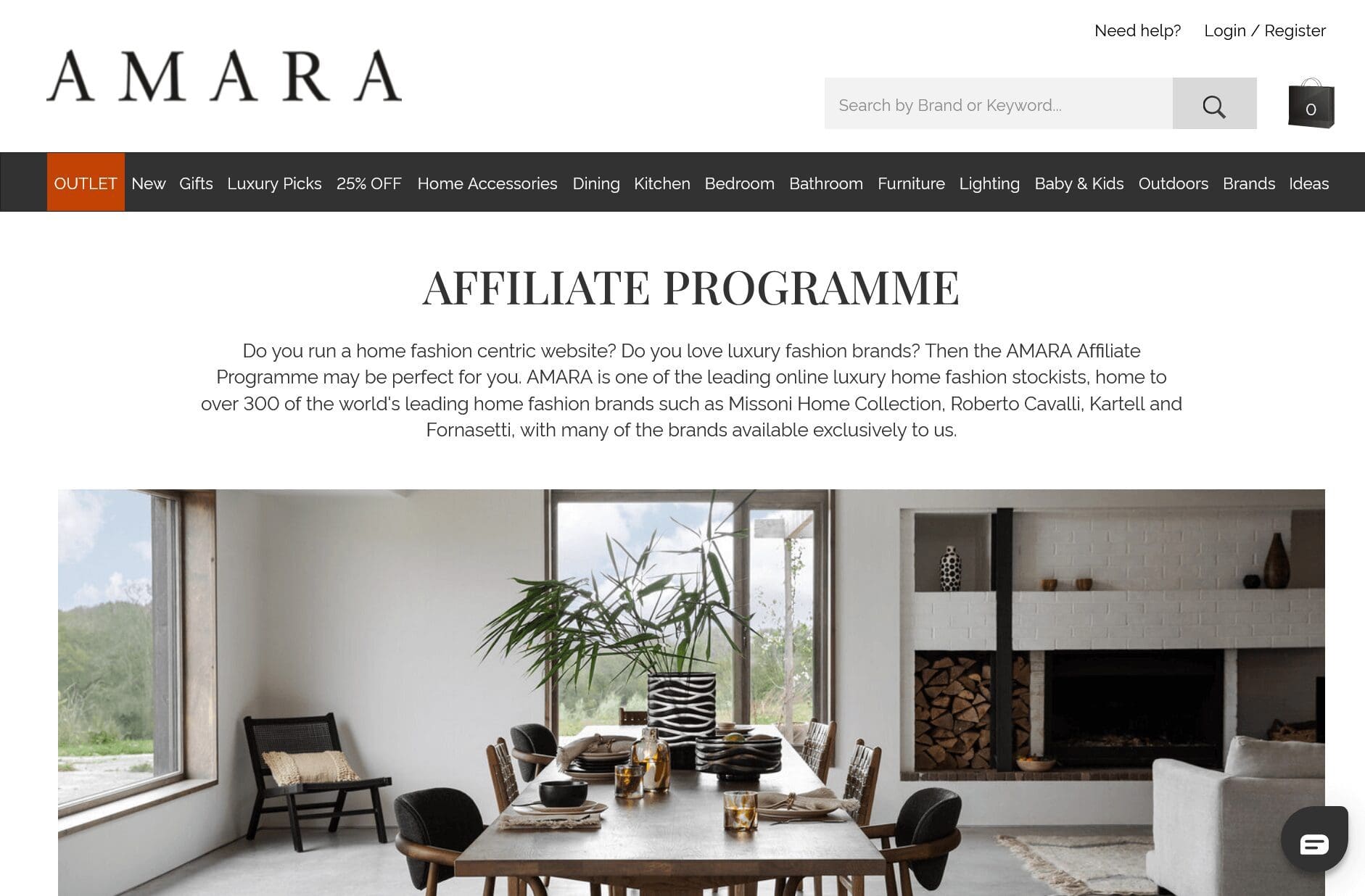 If you blog about fashion-forward homes, luxury homeware items, and just home beauty in general, then Amara may be the affiliate you've been waiting for! 
With over 20,000 products available for purchase, Amara's diverse range is simply divine.
Becoming an affiliate with Amara is free, and they offer a commission of up to 6% for each sale completed through your links. 
You'll be given a 30-day cookie window for customers to affiliate their orders with you, which should allow your followers enough time to take your recommendations and try these out for themselves!
Aside from that, you'll also have the ability to pick anything you'd like from Amara's list of luxury home items and curate a selection for your followers.
As an affiliate, you may also be given the opportunity to work alongside the team for special promotions – making you even more involved in the company. 
Currently, there are over 300 luxury home fashion brands that Amara stocks. It might just be time to hand in your application if this sounds like the dream partnership for you!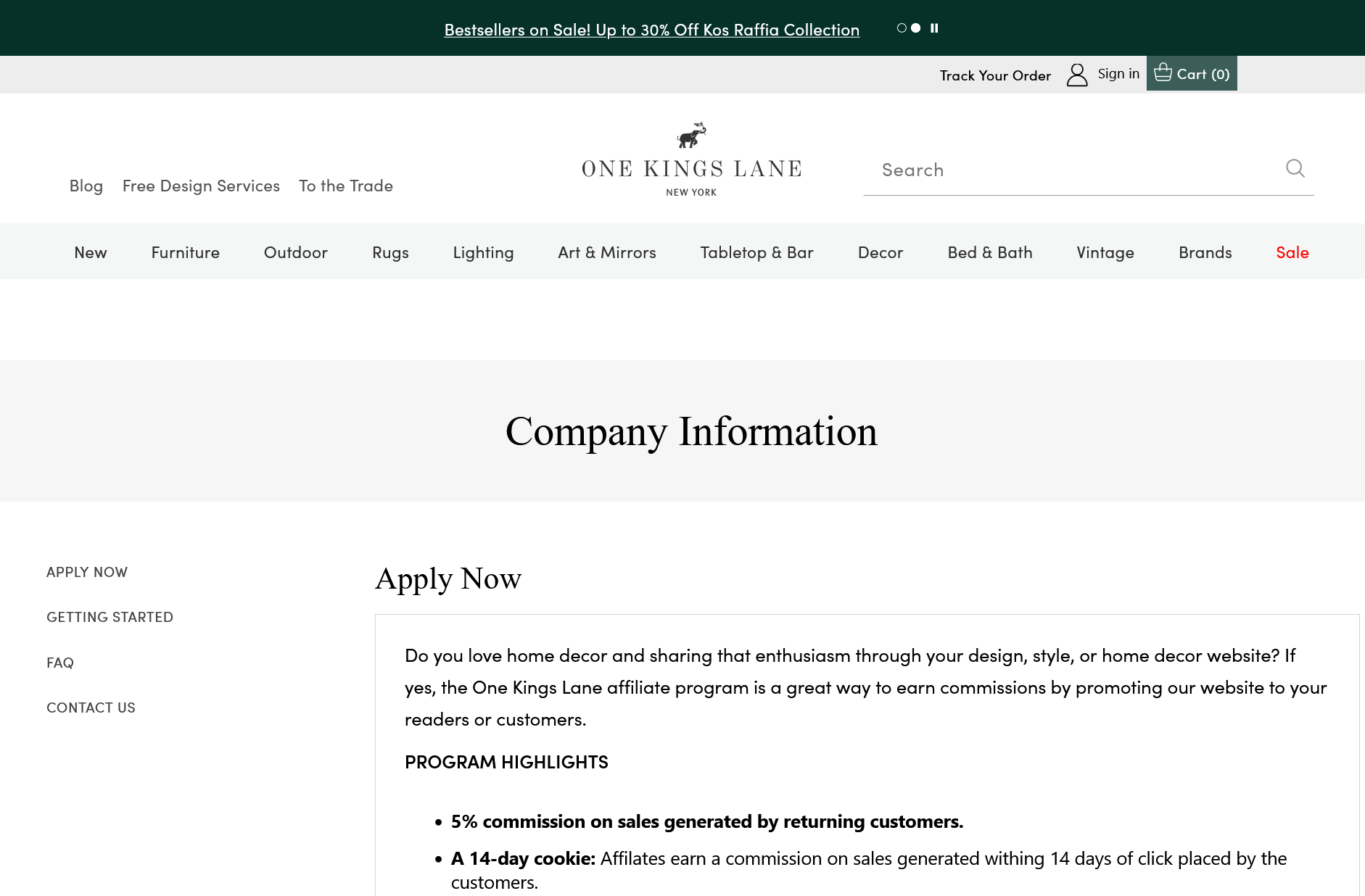 One Kings Lane is a fantastic affiliate program option if you're into all things designer, vintage, and exclusive! 
This brand has the potential to add a lot of unique content to your blog while also giving you the chance to make some extra money.
One thing to note about this brand is that it has the smallest commission rate out of all the programs on this list at just 5%. It's also important to note that this rate applies to sales generated by returning customers.
Despite the low rate, the average order is valued at $200; if you can influence enough followers to become regular customers, there's definitely potential to make a large amount of money from this affiliation.
Your cookies will be referred for 14 days, and you'll work alongside an affiliate management team who will be there to help at every step of the journey.
As an affiliate, you'll receive monthly newsletters detailing any new competitions, offers, and promotions available for your followers. These are designed to generate an even larger amount of success through your partnership.
There's a plethora of information, inspiration, and irresistible pieces of furniture and homeware available from One Kings Lane. 
As such, becoming an affiliate with this brand could be the next big step for you and your blog as you share all your favorite finds with your online followers!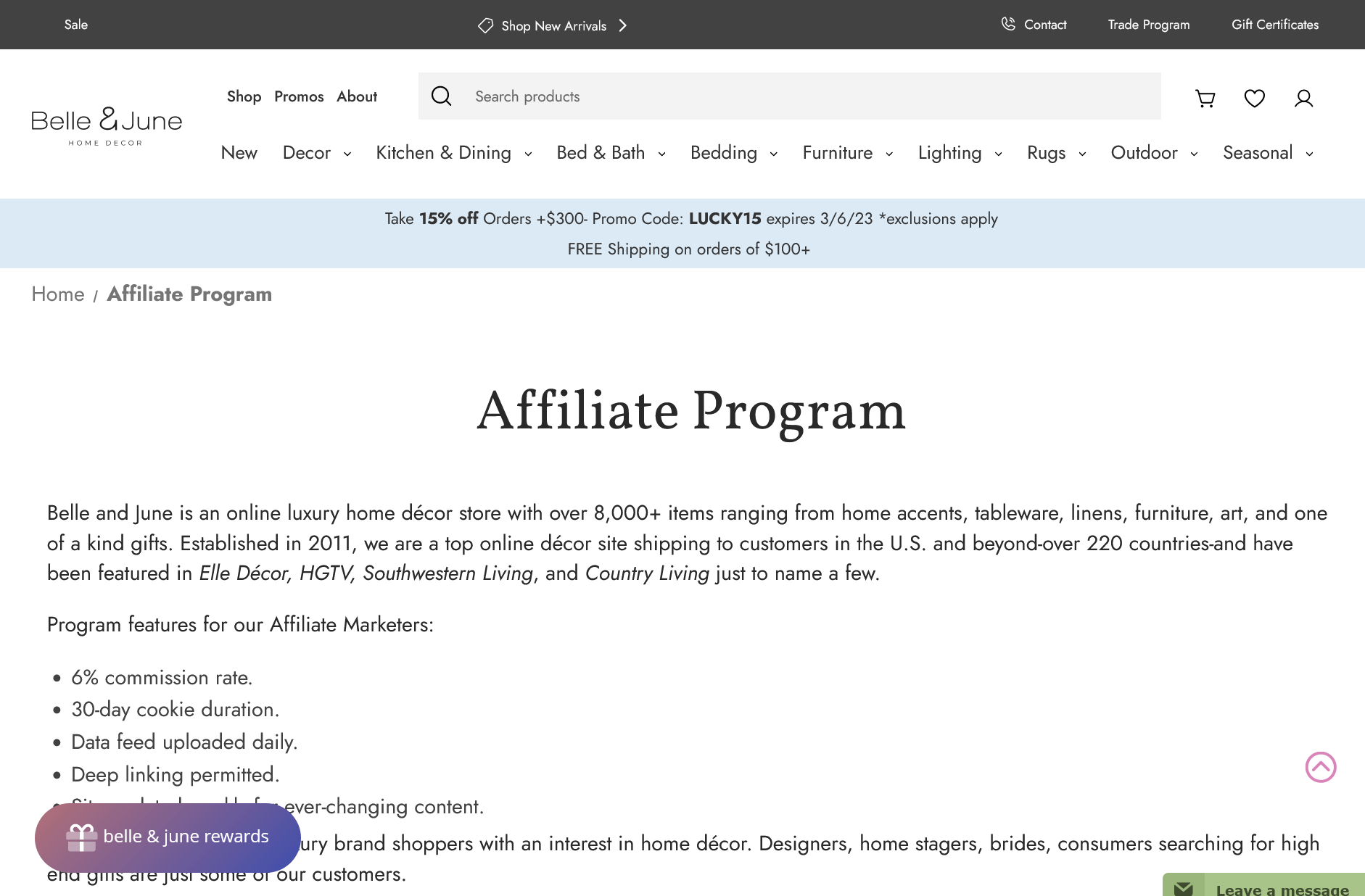 Belle and June is a luxury brand that specifically targets brides, customers searching for high-end gifts, designers, luxury shoppers, and more. If Belle and June's audience coincide with yours, then this affiliate program could work well for you!
Your commission at Belle and June is 6%, which—while it isn't exactly the highest—covers plenty of luxury products. This means that a good percentage of sales you make are likely going to be pretty expensive!
The brand also ships internationally, providing you access to a much broader audience of buyers.
Belle and June also keeps track of your cookies for 30 days, giving you plenty of time to earn those lucrative commissions.
It's quite easy to join Belle and June's program. To enroll, all you need to do is fill out an application and send it in for approval. Once it has been greenlit, you'll immediately become an affiliate and receive a welcome email containing your link! 
Like many other affiliate programs on this list, you'll also have access to special offers, promotions, and other coupon codes. Together, these will make buying Belle and June's products all the more enticing.
In sum: if you're into high-end, luxury goods, you shouldn't miss out on the chance to work with Belle and June!
Key Takeaways for Home Decor Bloggers

There are a plethora of affiliate programs out there that cater to home decor bloggers. 
Finding one that suits your needs perfectly may take a few tries, but we hope that you find the one you love on this list!
Whether you're into sustainable products or luxurious choices, there's bound to be a program for you. Just remember to check the terms and conditions before signing up to ensure you have all the information you need.
That aside, there's really no reason for you to hold back. So get out there, apply for your preferred partners, and have a great time blogging!