Best Affiliate Programs for Outdoor and Camping Bloggers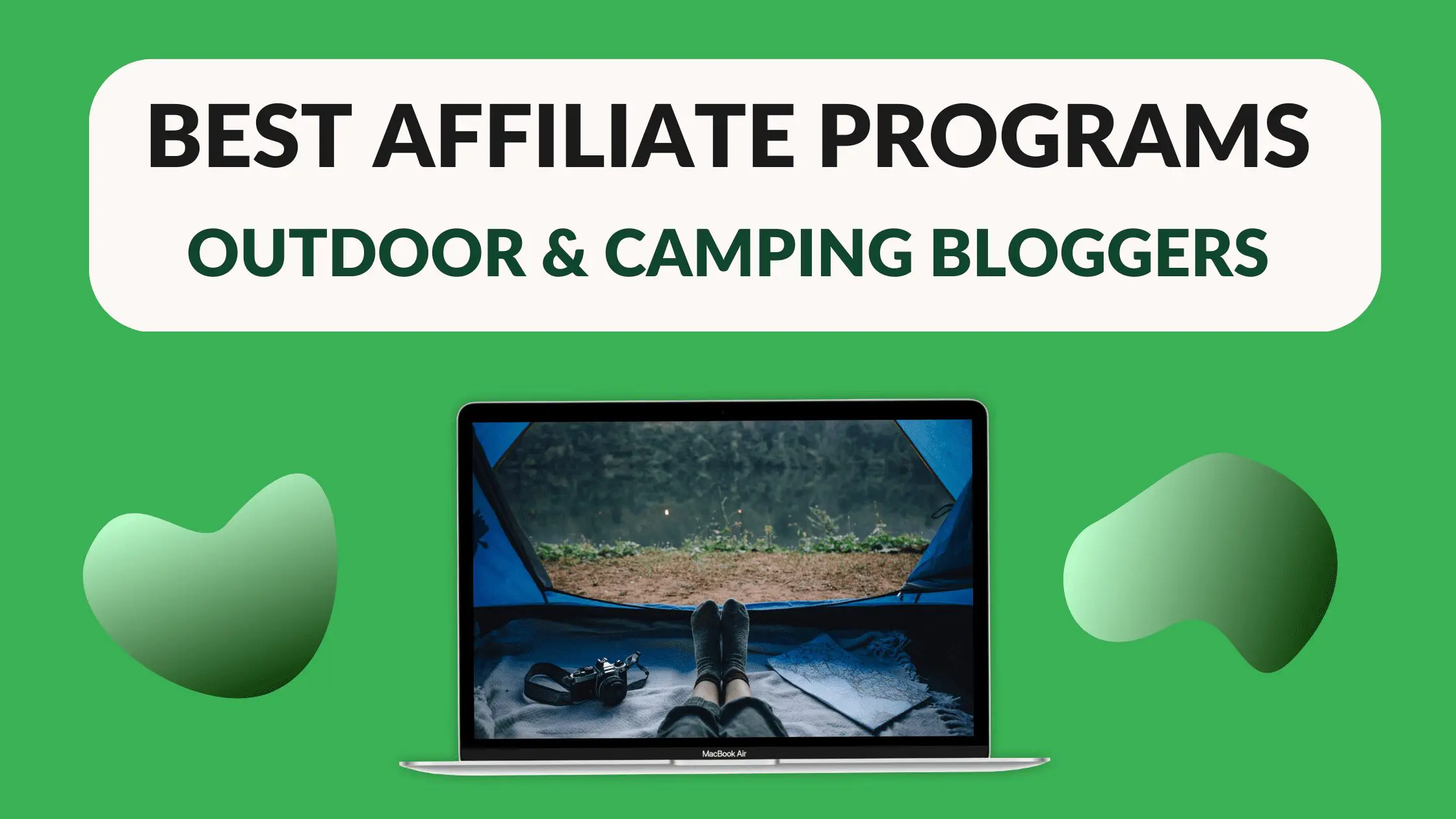 Disclosure: Some of the links below are affiliate links, meaning that at no additional cost to you, I will receive a commission if you click through and make a purchase. Read our full affiliate disclosure here.
With so many affiliate program options available to bloggers, it can be hard to find the ones that suit your blog within the haystack – much less choose between them individually!
Outdoor and camping blogs are no different, with a wide variety of businesses that offer affiliate marketing opportunities.
Not all of these programs are created equal, however, and some have significantly better commissions, cookie windows, and perks than others.
We'll be covering the following things in this article:
A variety of affiliate programs you can use as an outdoor blogger

The cookie period for each program

How much you are paid in each program

The brand reputation and what kind of outdoor or camping blog each would suit.
Let's get into it!
Best Affiliate Programs for Outdoor and Camping Bloggers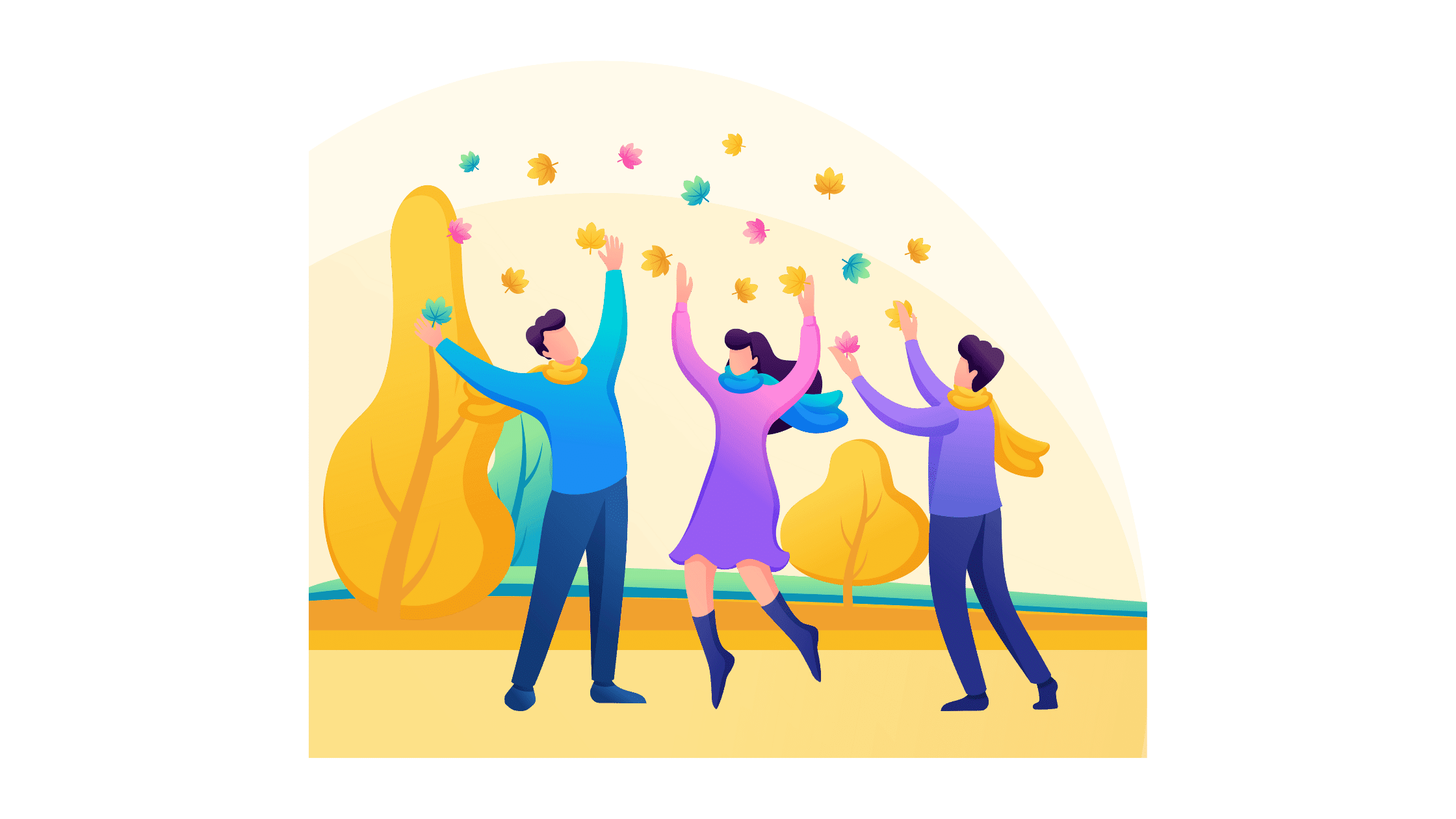 There are so many affiliate programs out there, it can be hard to decide which one is the best fit for your website. 
Like all business tools they have their pros and cons, as each is designed with a specific purpose in mind. Not all will fit your needs, or even the needs of camping and outdoor blogs in general!
The individual benefits of some of the best affiliate programs for outdoor bloggers and camping bloggers are detailed below:
1. Outdoorsy Affiliate Program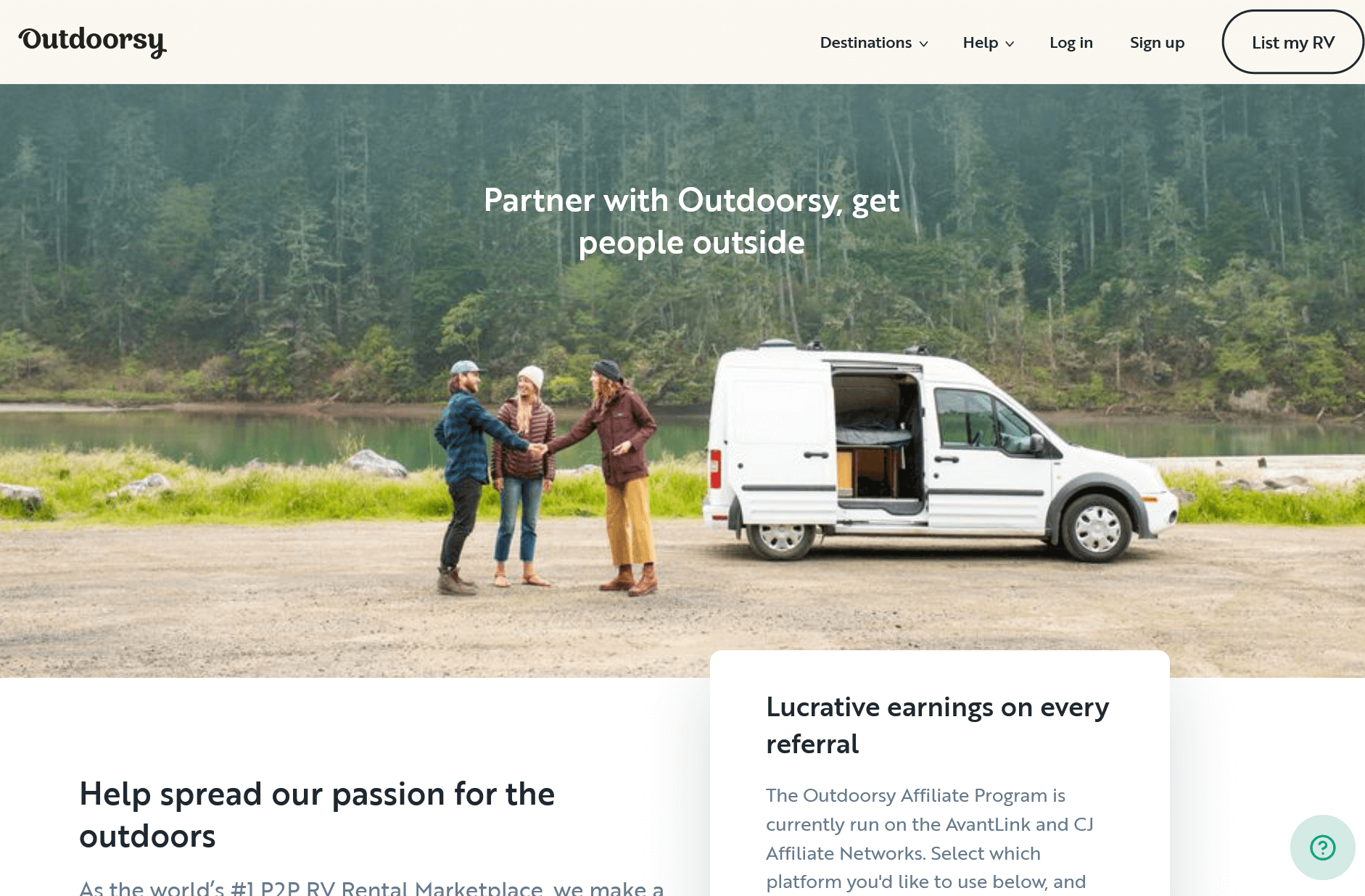 Outdoorsy's affiliate program is perfect for blogs that produce content about RVs. 
As a company, Outdoorsy is designed to connect RV owners and those who are interested in renting one for a few days.
A major draw is that the cost per night is relatively cheap, with many offers at the lower end of the $199–$1420 range.
However, Outdoorsy doesn't cover much else other than RV rental. They have a small offering in cabin rental but it's certainly not their main focus.  
As a result, this affiliate program will likely only suit a blog with a heavy focus on RV adventures.
You can join the affiliate program through one of three networks: AvantLink, CJ, and HasOffers.
If you refer a renter, you'll receive a commission when they confirm their first booking. If you instead refer an RV owner, you'll receive a commission when they complete their listing process.
Unless otherwise specified in your agreement, the attribution cookie lasts 30 days – which means that any interaction a customer has with Outdoorsy that is commissionable within that period will earn you money.
Commissions with Outdoorsy can be worth $60 or more, making them quite a lucrative deal.  
However, because the payout only occurs once you have a confirmed listing or rental – and these events are not as common as, say, a customer buying an item from a retail store – you're not likely to earn masses unless you have a sizeable audience.
2. Marmot Affiliate Program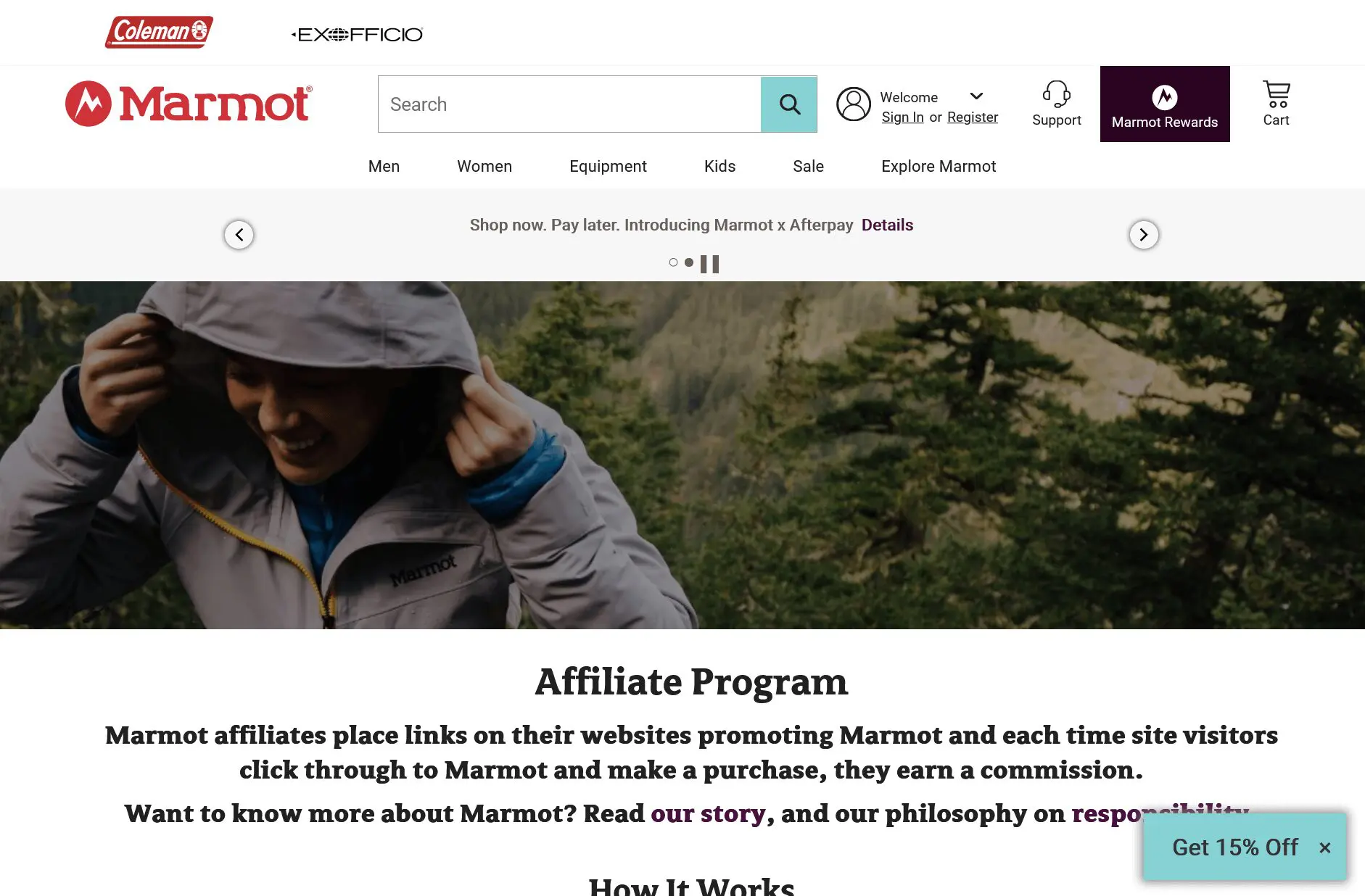 Marmot's affiliate program is a great choice for blogs that cater to hikers and campers who are outdoors in all kinds of weather and conditions. 
Marmot sells a variety of outdoor equipment and clothing, including rainwear, snow gear, tents, and packs.
Each eligible purchase a customer makes on the Marmot web store as a result of your affiliate link(s) earns you 8% of the sale value. 
With many items in the store costing upwards of $200, that means you are likely to be earning around $16 on average per successful referral.
The cookie period is also quite long at up to 90 days, meaning that you have plenty of time for your blog visitors to make up their minds about buying a particular item.
While their gear is high-quality and does what it says on the tin, Marmot has received complaints around their customer service team. 
This is something you may want to consider, particularly as you'll be tying yourself to their brand by becoming one of their affiliate marketers.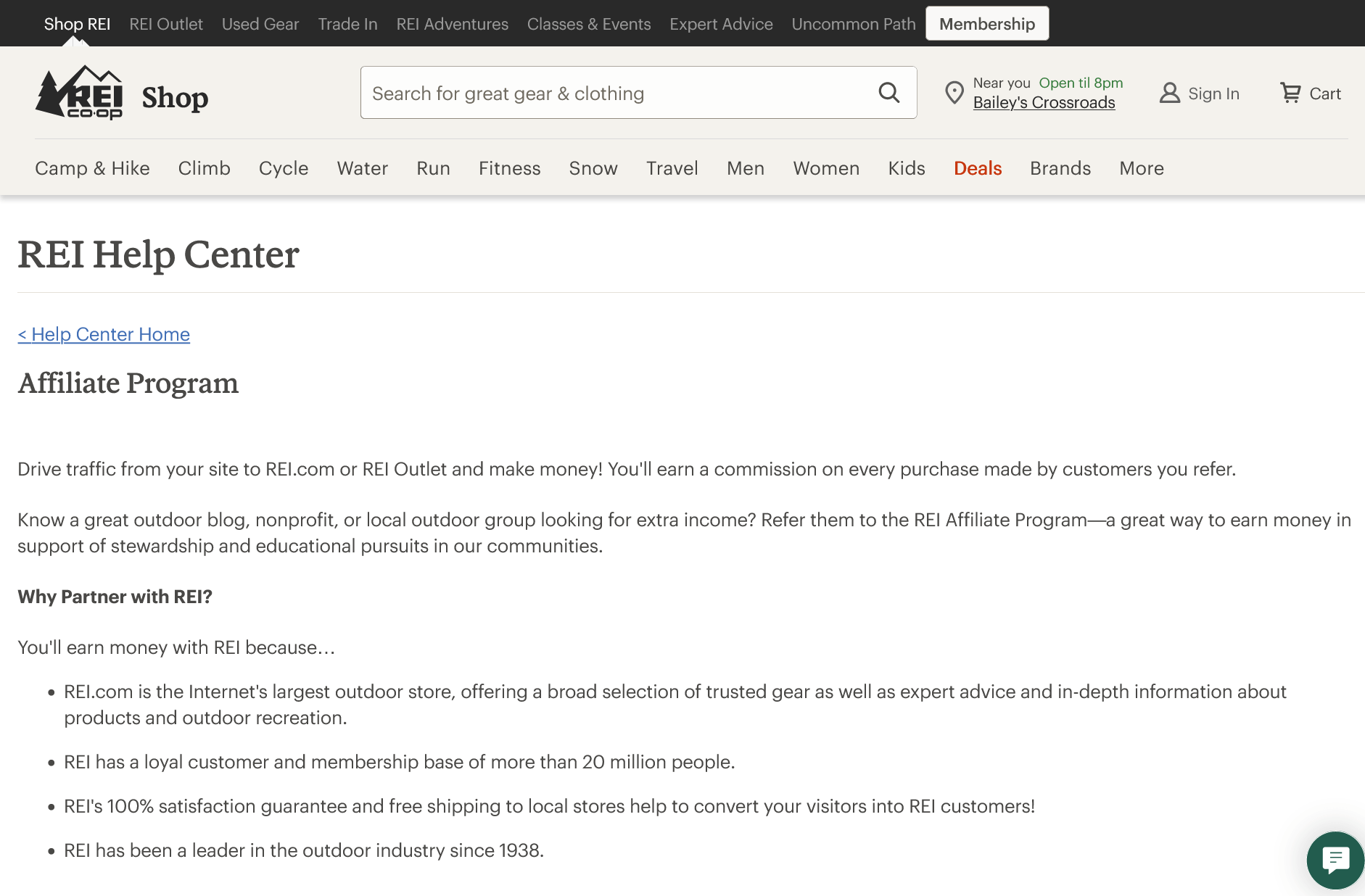 REI's affiliate program is another great option for blogs that deal with hiking and camping! 
As another outdoor supplies retailer, it's applicable to a wide variety of outdoor activities.
Along with packs, sleeping bags, snow gear, and wet and cold-weather gear, REI also sells bicycles and climbing gear – meaning it's great for specialized blogs that deal with these subjects in particular.
REI's program is one of the less generous that we've covered in this article, with a commission rate of only 5% on each sale and a cookie window of just 15 days.  
This means you'll need to have your blog visitors convert quickly to REI customers to make money from your links.
Customers have also expressed complaints recently about REI's change in shipping carrier, along with some around poor customer service. 
However, REI does claim a 100% satisfaction guarantee, which means you can reassure your blog viewers that these issues are not the norm and that they are resolvable.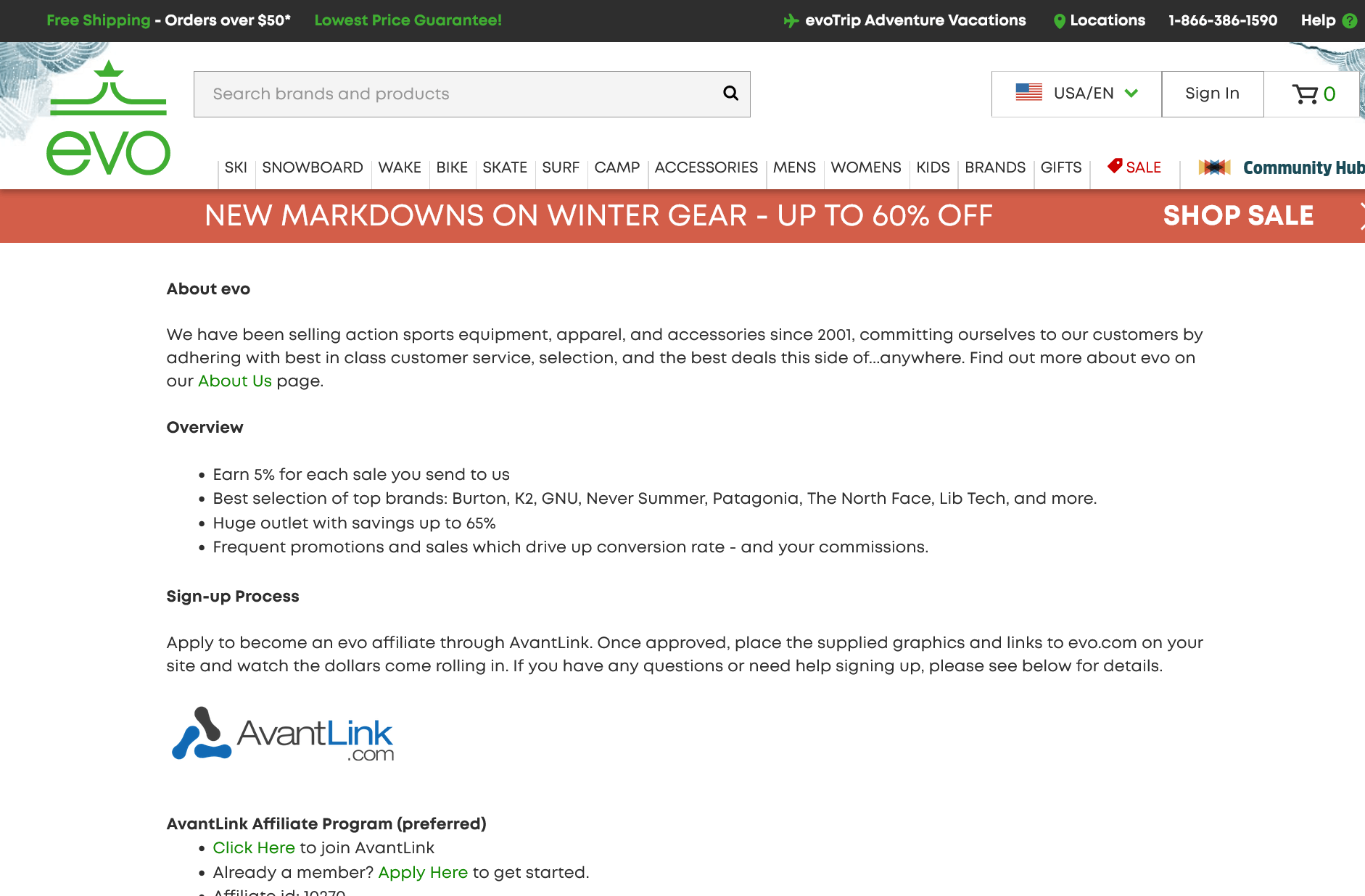 EVO's affiliate program is another great option for blogs that deal with general outdoor activities due to their wide range of offerings, from skiing and surfing gear to camping equipment.
They also offer significant savings in their sales, which can help encourage customers to purchase from the website and drive up the amount of commission earnings you make as a result.  
These sales can extend up to 65%, which will be undeniably attractive for your blog readers!
In addition to this, EVO's customer service record is very good, with many four and five-star reviews.  
This is a great contrast with the previous two retail outlets we've looked at, as it means that your blog visitors will likely have a good experience with them if they purchase – improving your reputation as well as EVO's.
The affiliate program is run through AvantLink and grants a 5% commission on each sale made from one of your links, with a cookie period of 30 days.
5. Patagonia Affiliate Program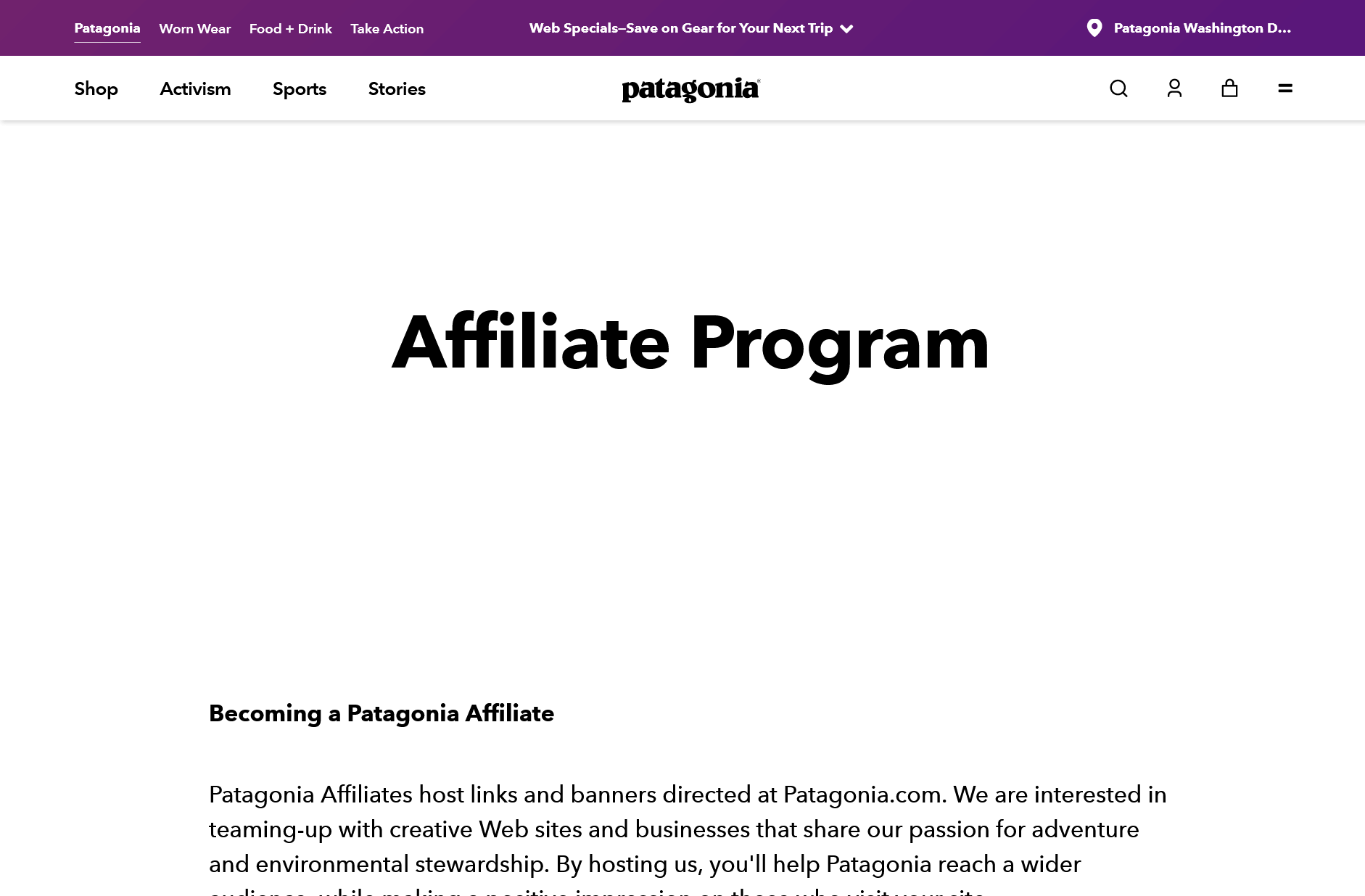 Patagonia's affiliate program is a great choice for bloggers who are targeting an audience in need of outdoor gear.

The brand is a household name in the world of outdoor equipment and is well known for its high-quality products, meaning that there's a high likelihood of converting your readers to customers at the store.
With a large number of positive reviews, it's clear that their customer service skills aren't lacking either – making this a very attractive brand to partner with.
The company also has a very strong environmental message, having shifted all of its stock to environmental-protection-focused trusts and charities and distributing its revenue among various organizations to assist eco-activism and sustainability efforts.
This makes its affiliate program perfect for the eco-conscious blog or reader.
With a 60-day cookie duration and a commission of 8% on each sale you refer, it's also a reasonably generous affiliate program. 
Additionally, they're up-front about likely conversion rates and sale amounts (5% and $185, respectively).  That means you could make an average of around $8 for every 20 readers of your blog that click through!
6. Hyperlite Mountain Gear Affiliate Program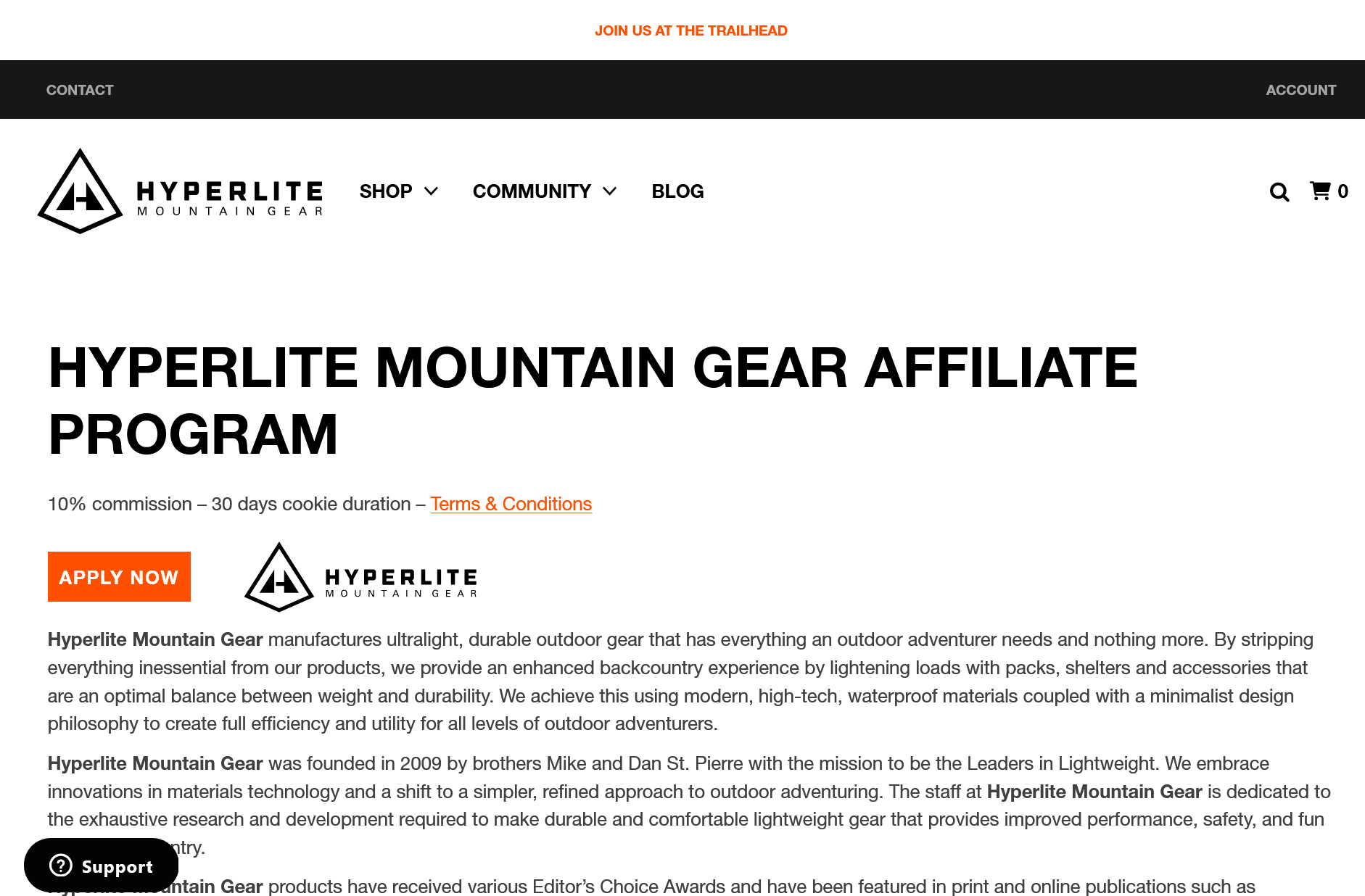 Hyperlite Mountain Gear's affiliate program offering is great for those who focus on mountain exploration, and camping and hiking in particular
With a variety of tents and packs, Hyperlite's main aim is to equip adventurers with the gear they need to transport their other equipment and be sheltered on their travels. 
They also sell various other accessories and storage equipment, such as storage pods to keep gear organized within a pack.
Their reviews are also very positive, meaning that your visitors are likely to have a positive experience with the brand!
The affiliate program offers a 10% commission over a 30-day cookie window, with an average order value of $350. That means you could be making around $35 per converted sale.
However, because their offerings are more limited than some of the other outdoor retail outlets we've looked at so far, it's possible you'll make fewer conversions overall.
7. YETI Affiliate Program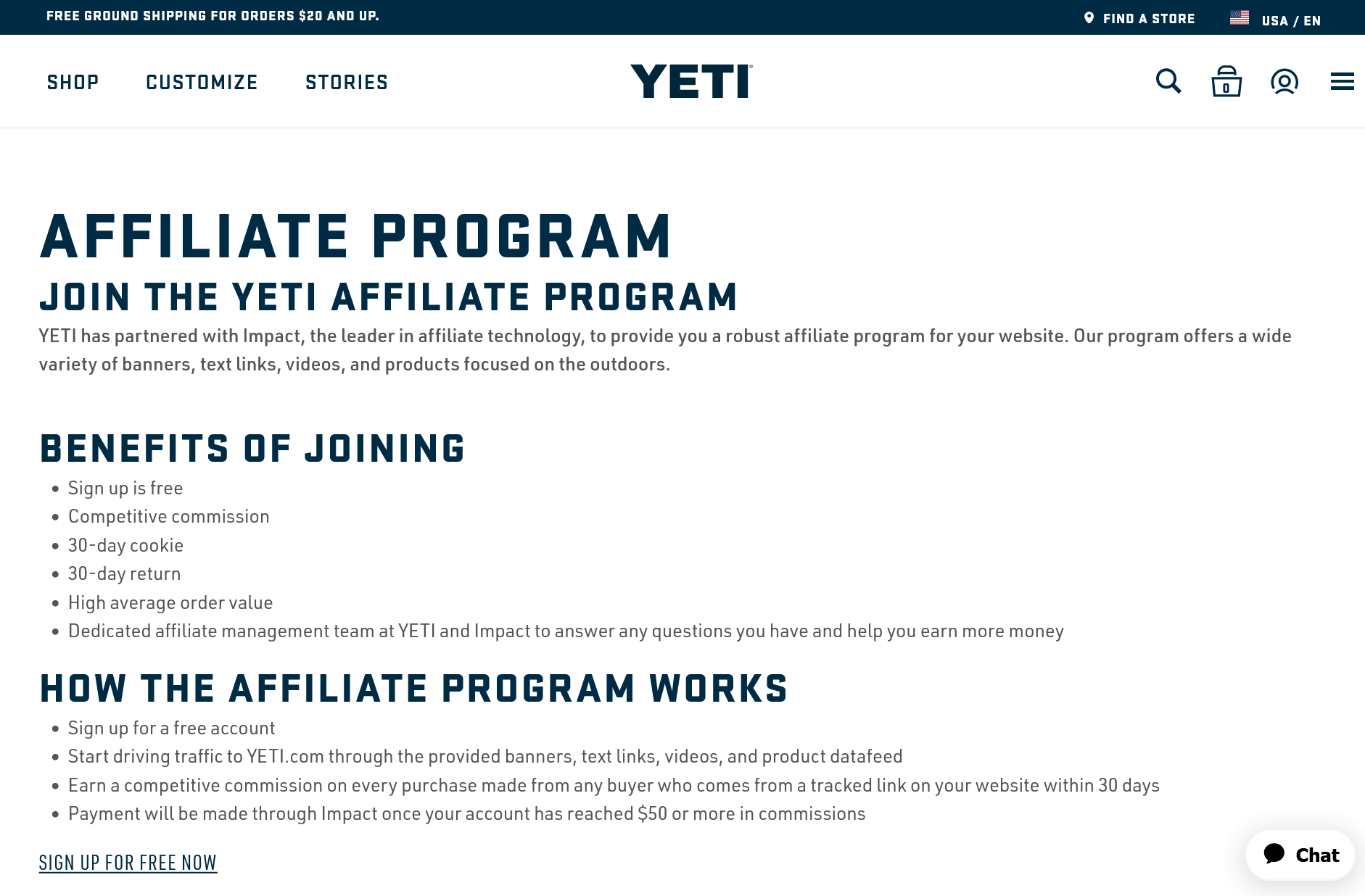 YETI's affiliate program is perfect for casual outdoors blogs targeting those who enjoy an afternoon out at the campground or beach.
YETI focuses mainly on coolers and drinkware for the outdoors, which means that it's probably not as suited for "serious" mountaineers, hikers, campers, and the like.  
However, because it's tapping into a more casual audience, you're likely to be able to get more people interested due to the lower skill barrier to entry.
If you're blogging to an audience of casual outdoors adventurers – or even just starting out in the outdoors blogging environment on a website that previously catered to a different audience – this might be the program choice for you.
Unfortunately, their customer service team doesn't have great reviews even though their products seem to do what they're supposed to. As a result, you may want to think about whether you're comfortable referring your visitors to them.
The program offers a 5% commission on orders, with a cookie length of 30 days, making it one of the lower commission offerings in this article. 
There are a wide selection of affiliate programs that are perfect for outdoor and camping blogs, from those focused on RV rentals to others that are extremely well-known outdoor retail stores.
Always remember: when picking an affiliate program, choose one that will be most relevant for your readers! 
It may also be more profitable to choose partnerships with longer cookie periods and higher commission percentages to ensure you get the most out of your affiliate links.
Finally, don't forget to tell your readers that these are affiliate links – vital for both staying in line with terms and conditions, and for maintaining the trust of your visitors. Good luck!