Best Affiliate Programs for Personal Development Bloggers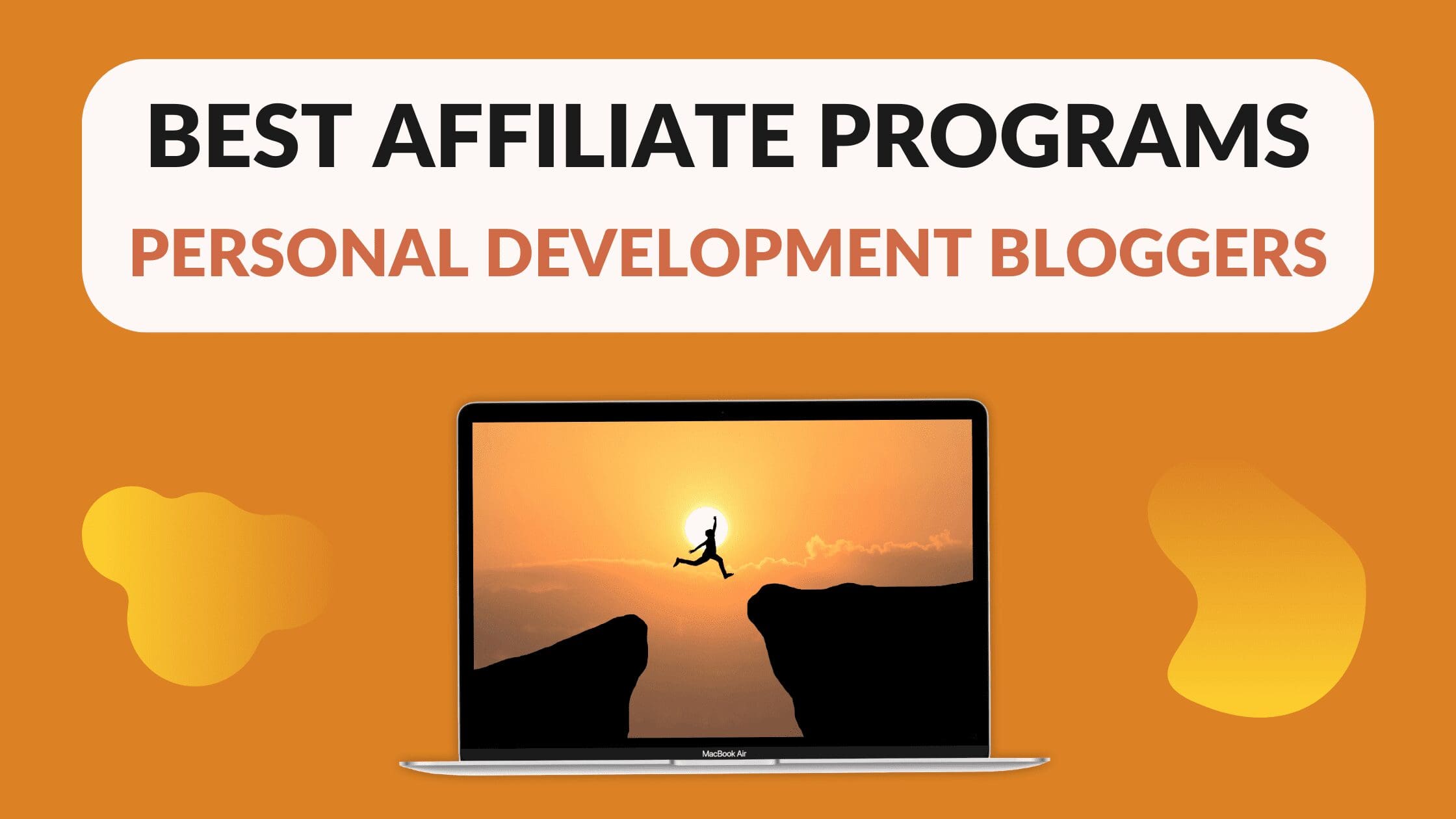 Disclosure: Some of the links below are affiliate links, meaning that at no additional cost to you, I will receive a commission if you click through and make a purchase. Read our full affiliate disclosure here.
Ready to take your blog to the next level? By joining an affiliate program, you may be able to start earning passive income without even changing what you post! 
Affiliate programs provide you with a commission for any purchase that a customer makes through the link on your site. 
All you need to do is embed these product links that you love into your content, and you may be able to quickly get a bank account boost!
Since there are plenty of different services out there, it pays to be picky and ensure that these affiliate programs are consistent with your brand.
In this guide, we'll explore some of the best affiliate programs that personal development bloggers can incorporate into their websites. Particularly, we'll look at:
Our top nine affiliate programs that cater to the personal development niche

Their commission rates and cookie tracking window

Other perks and benefits that you'll gain by joining these affiliate programs.
Let's get into it and get those clicks rolling in! 
Best Personal Development Affiliate Programs

1. Optimal Thinking Affiliate Program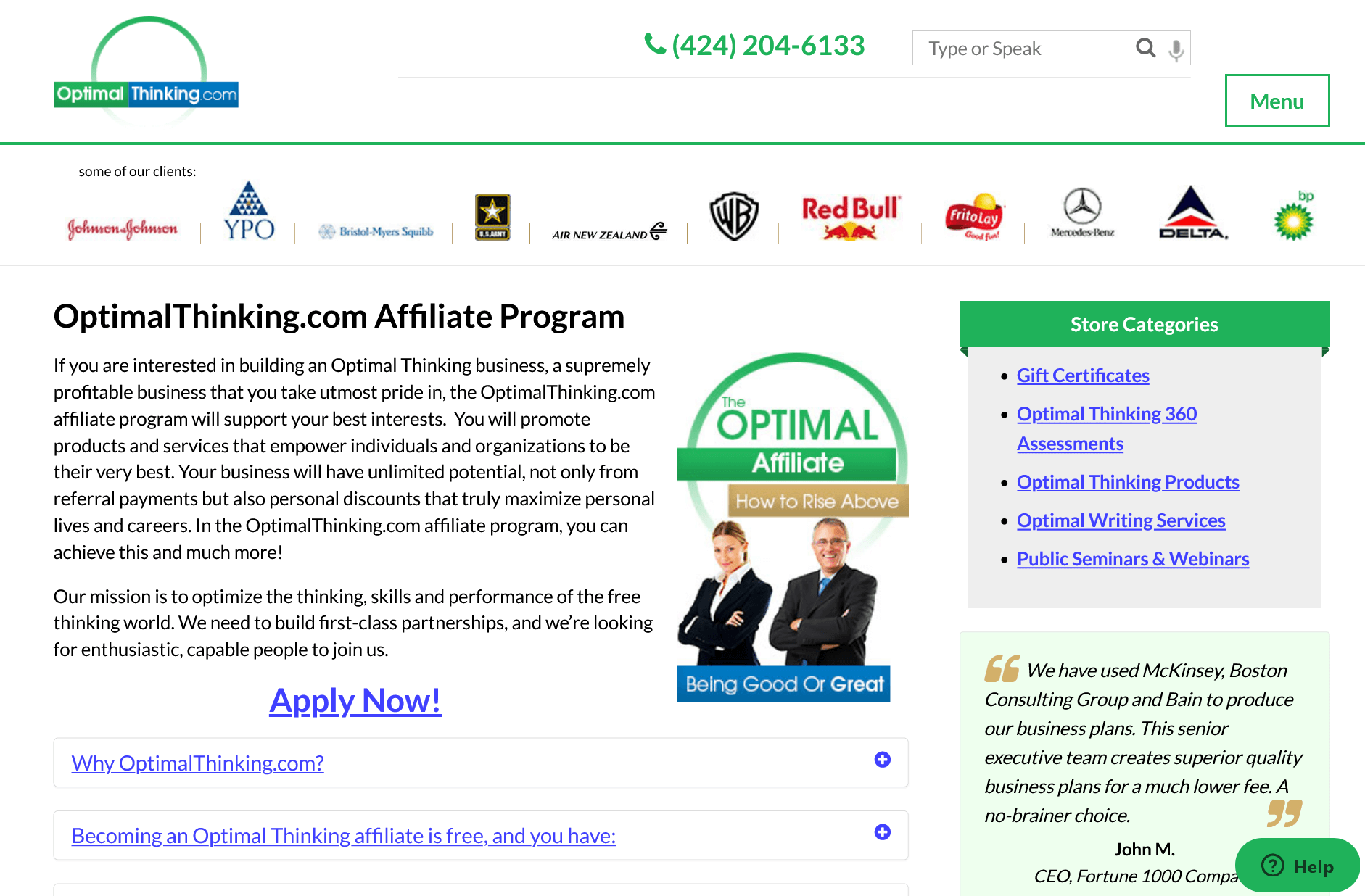 Optimal Thinking is a self-improvement course provider that offers books, audio, personal coaching, and more! 
If you want to motivate your followers to become their best selves, this could be the partnership for you.
This affiliate program offers a high commission rate of 30% and a cookie tracking period of a year. You'll receive your cut when a customer visits Optimal Thinking through your site – even if they spend an excessive amount of time making the actual purchase!
Some of the perks of partnering with Optimal Thinking include having no initial cost and access to promotional materials and online product training. If you're just starting out, this program is a great choice.
It also offers emailable links, so you don't even need to own an established website to start making money!
2. Coach and Grow R.I.C.H. Affiliate Program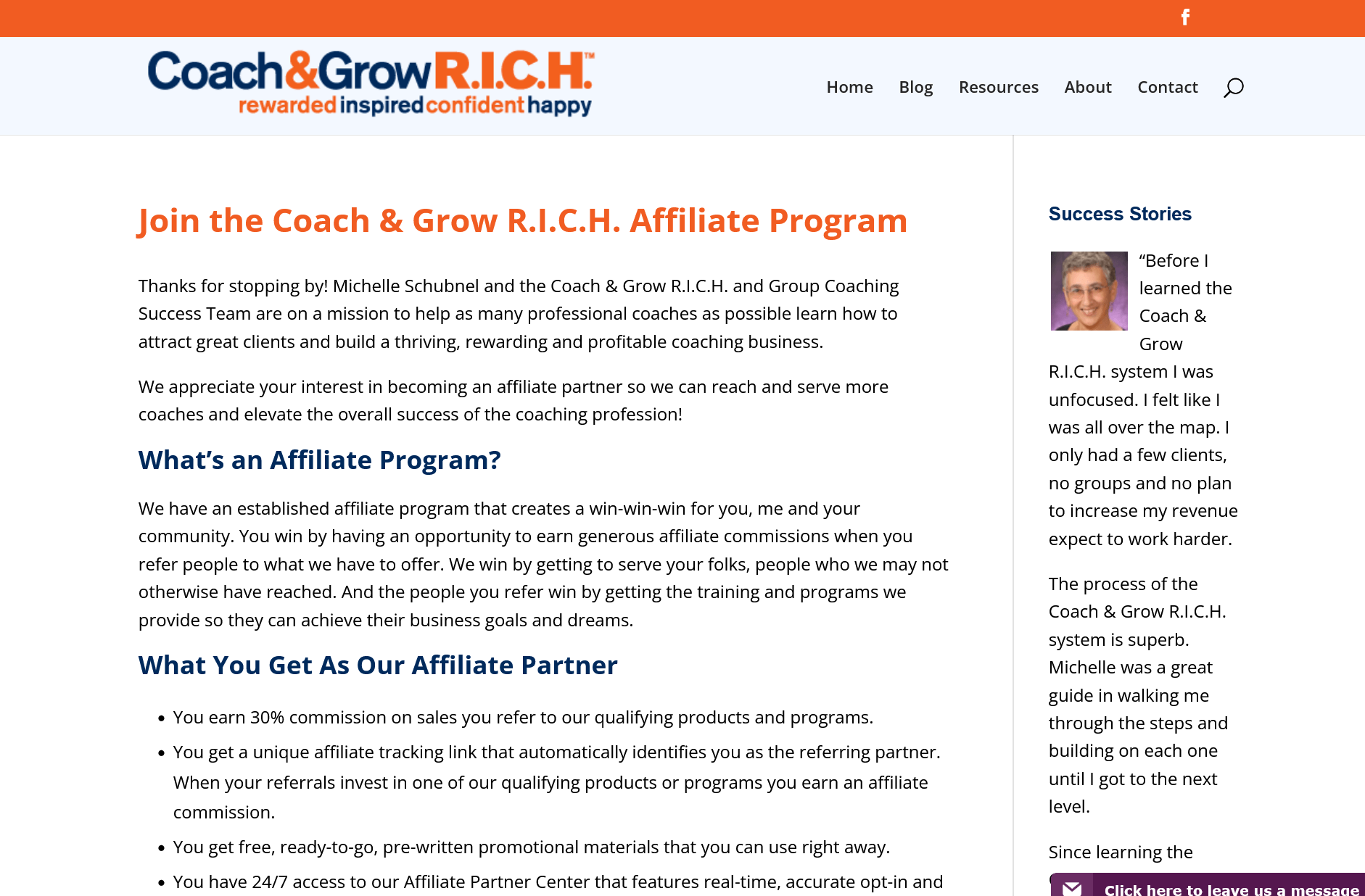 Coach and Grow R.I.C.H. (rewarded, inspired, confident, and happy) is a great choice for bloggers with a focus on life coaching. 
That's because the company is the coach for coaches and offers great resources for starting and running mentorship programs.
This affiliate program offers a 30% commission for all purchases within a year of the referral. To receive your commission, you simply need to link to any of Coach and Grow's online training sessions or other programs on offer. 
However, it's important to note that you won't earn commissions for referring one-on-one coaching sessions.
Some of the unique features of the Coach and Grow R.I.C.H. program include access to a 24/7 Affiliate Partner Center, with which you can track your sales, referrals, and upcoming payments in real time. 
As for your payment options, the company offers payment via checks too if PayPal isn't a viable option!
3. Mindvalley Affiliate Program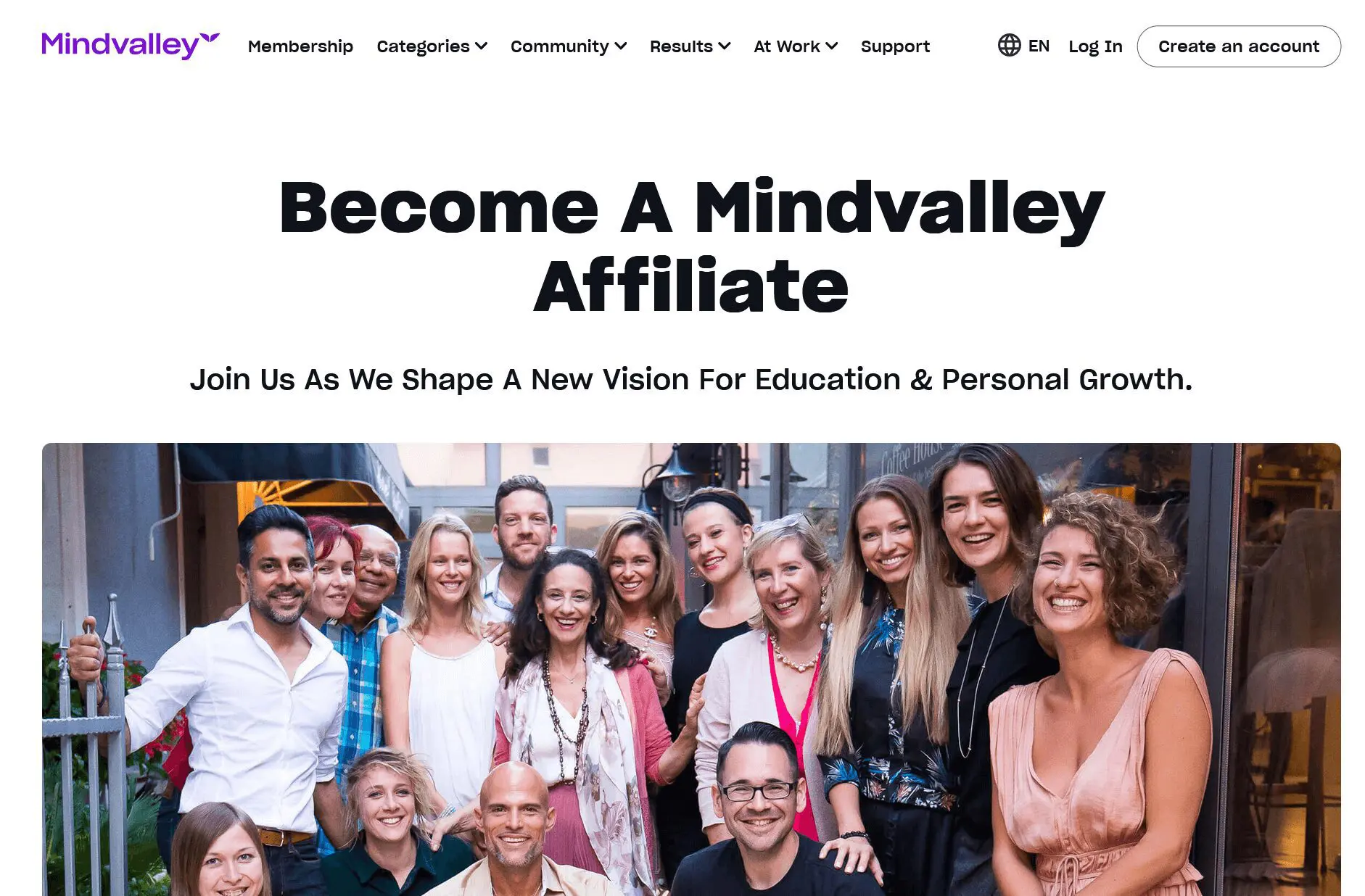 Mindvalley provides its community with tools to help them grow on their own, such as quests to complete, guides from experts in a wide range of fields, meditation resources, and a private social network. 
As such, the company is an excellent partner for creators with a focus on mindfulness, spirituality, health, or entrepreneurship. 
The Mindvalley affiliate program offers a baseline commission of 30%, and there are also plenty of opportunities for higher rates for top performers.
Cookies are tracked for a period of 30 days, which is a little on the shorter end. However, with an average sale of $300, you likely won't feel too much of a  difference. 
Mindvalley also offers its affiliates free access to 24 quests — including one guided by a trainer — as well as webinars and courses to help you along your way. 
In addition, they also provide retargeting software to help your site get more traffic overall! 
This program is better suited to experienced social media creators as the company is more exclusive than most due to the high-profile nature of its services. 
Notably, Mindvalley only partners with those who have a following of 200,000 or more, and the company also checks interaction rates and traffic when considering your application. 
4. Brian Tracy Affiliate Program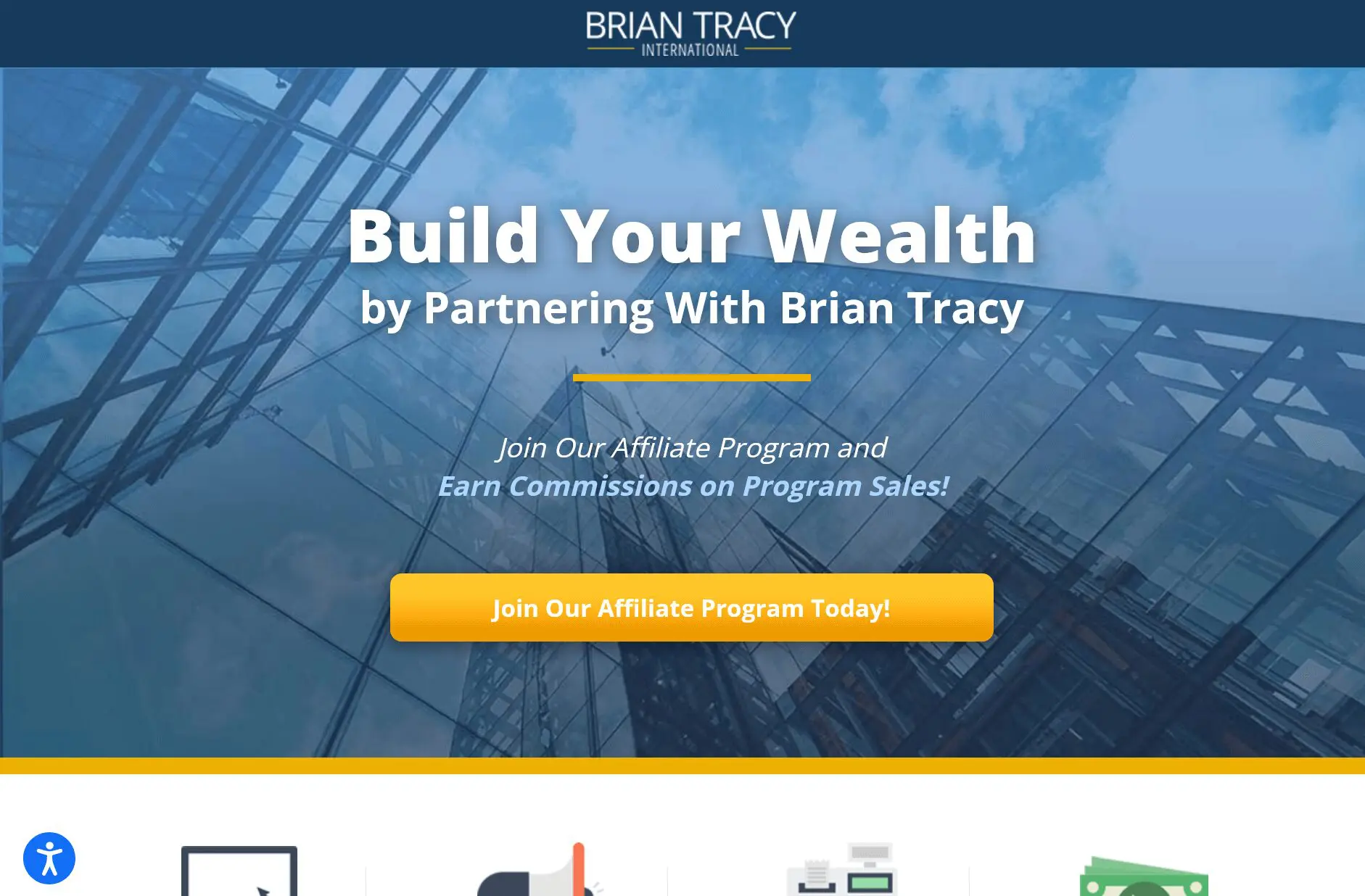 Brian Tracy is a popular motivational speaker whose website offers training programs in public speaking, writing, selling, and productivity — virtually everything that helped launch his own career of self-made wealth!
For that reason, ideal affiliate partners are those who have a similar focus on finance, entrepreneurship, and self-improvement. 
The affiliate program offers a generous commission of 35%, as well as lifetime cookie tracking.
Yes, that's right: you'll get paid for any purchase a customer that you refer makes, forever!
Additionally, if you refer another affiliate to the program, you also stand to receive a 10% commission on all of their sales as well! 
The program has flexible product links and will happily partner with affiliates who have email lists, LinkedIn groups, or any other type of online presence. 
Small- or medium-sized followings are fine as well, as long as your content is relevant to Brian Tracy's products.
5. Coursera Affiliate Program
Coursera is an online learning site that has over 4,000 courses on every subject under the sun. It also partners with universities and training organizations to offer formal certifications and degrees.
If your content promotes education, career boosts, or finding your path in life, then Coursera would likely be an excellent program of choice!
Coursera's affiliate program has a variable commission scheme that depends on the products that are purchased.
The baseline commission rate stands at 15%, but for some products (such as specialized certificates or a Coursera Plus subscription) you'll be earning up to 45%! Coursera has a tracking period of 30 days from the initial website visit.
This affiliate program also offers bonuses for strong performance and additional commissions for customers who purchase multiple items. You can even receive earnings from people who are already registered with Coursera!
Take note, however, that affiliates only receive a commission on the first month of a purchased subscription service; Coursera doesn't operate on a recurring payment scheme.
6. Neurogym Affiliate Program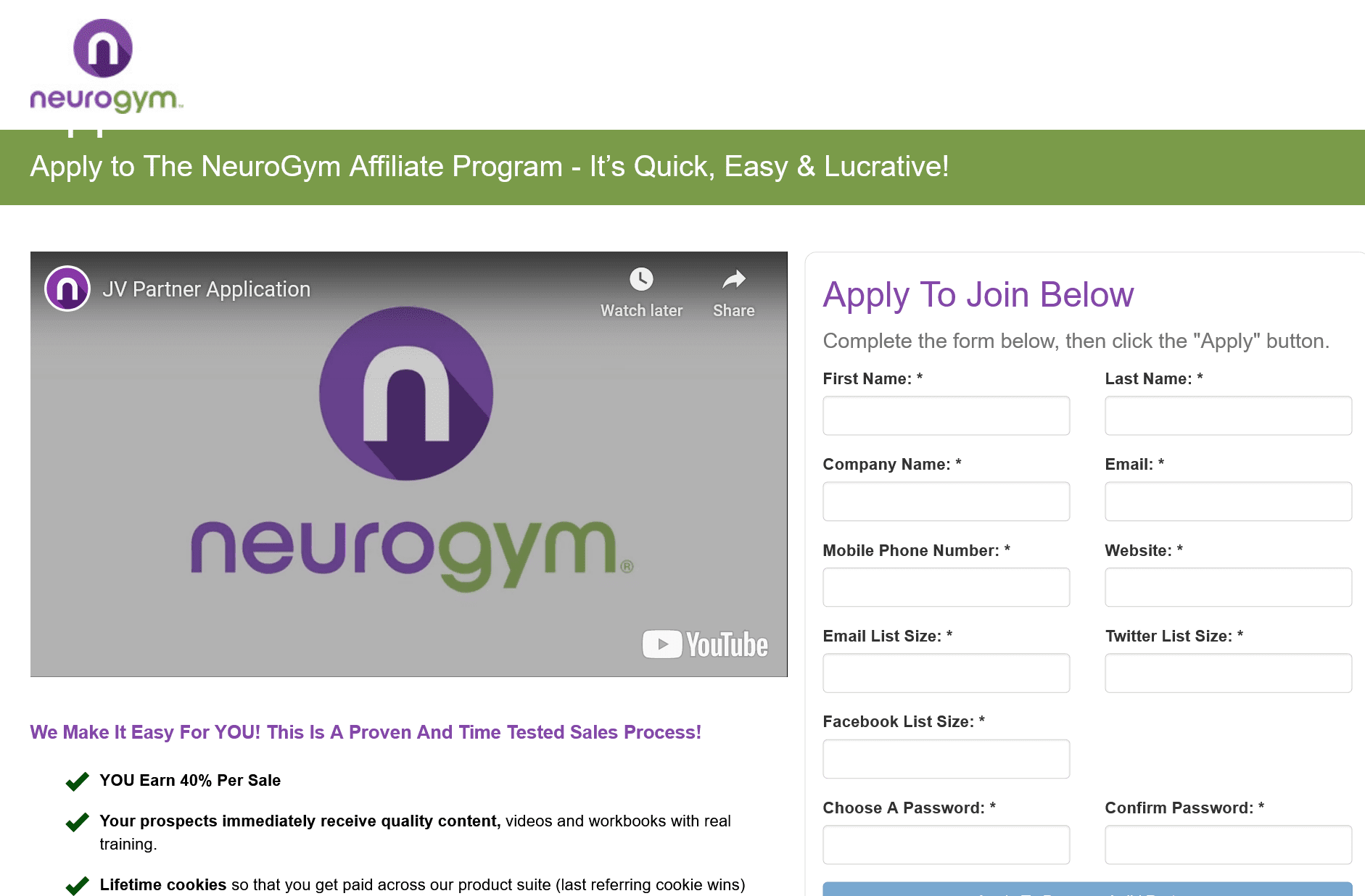 Neurogym is all about "Innercise" and offering workouts for your mind! 
The service's product line includes life coaching and brain training tools with a special focus on mindfulness, productivity, financial strategy – and even weight loss! 
This affiliate program offers a 40% commission rate and lifetime cookies, making it arguably one of the best deals on our list. 
Additionally, Neurogym also offers 10% of the sales made by any other affiliates that you recommend to the program!
If you partner with the company you'll also receive bountiful promotional material, and the customers you refer will also be able to access free services including videos and training workbooks when they follow your link.
Neurogym boasts having a very fast sales cycle, with the average being around eight days (sometimes as short as three!) compared to the standard monthly payout that other programs adhere to.
7. Panda Planner Affiliate Program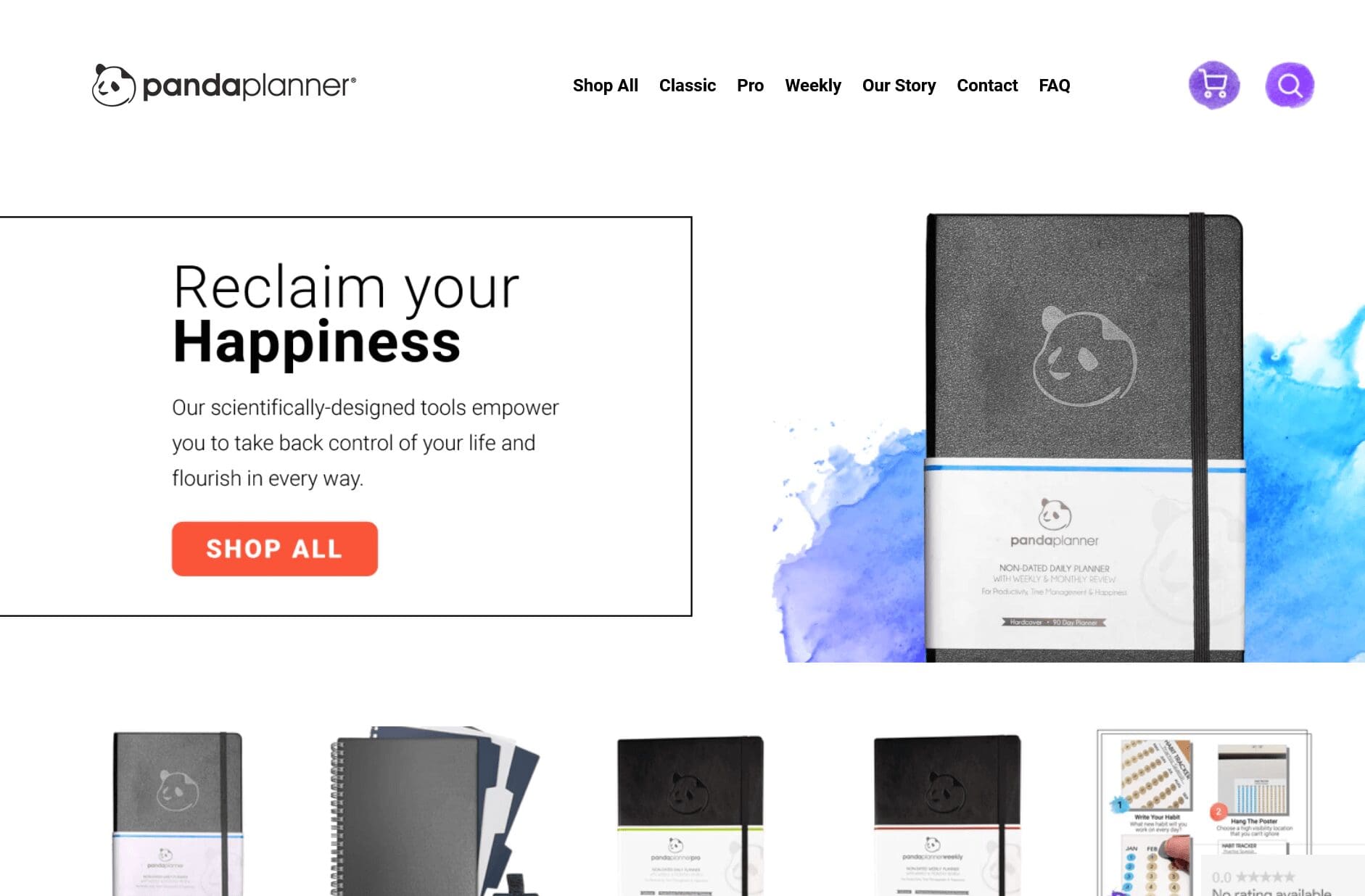 The Panda Planner is a physical paper planner that features positive, psychology-based self-monitoring techniques and easy and stress-free organization. 
The products include mood check-ins, habit trackers, reflection sections, and more. 
If you think that your followers might be interested in something that will help them become healthier, happier, and more productive, then this could be the program for you! 
Panda Planner pays a 12% commission, so this program is best if you're anticipating a lot of sales or if you're pairing it with another affiliate program. The company also offers a reasonable cookie tracking period of 45 days.
There are no restrictions on traffic or following size at Panda Planner, making it an excellent choice for those wanting to dip their toes in the world of affiliate marketing.
Since the program runs through CJ, an affiliate publisher conglomerate, you'll need a website — but that shouldn't be a problem since you're already blogging!
8. Tony Robbins Affiliate Program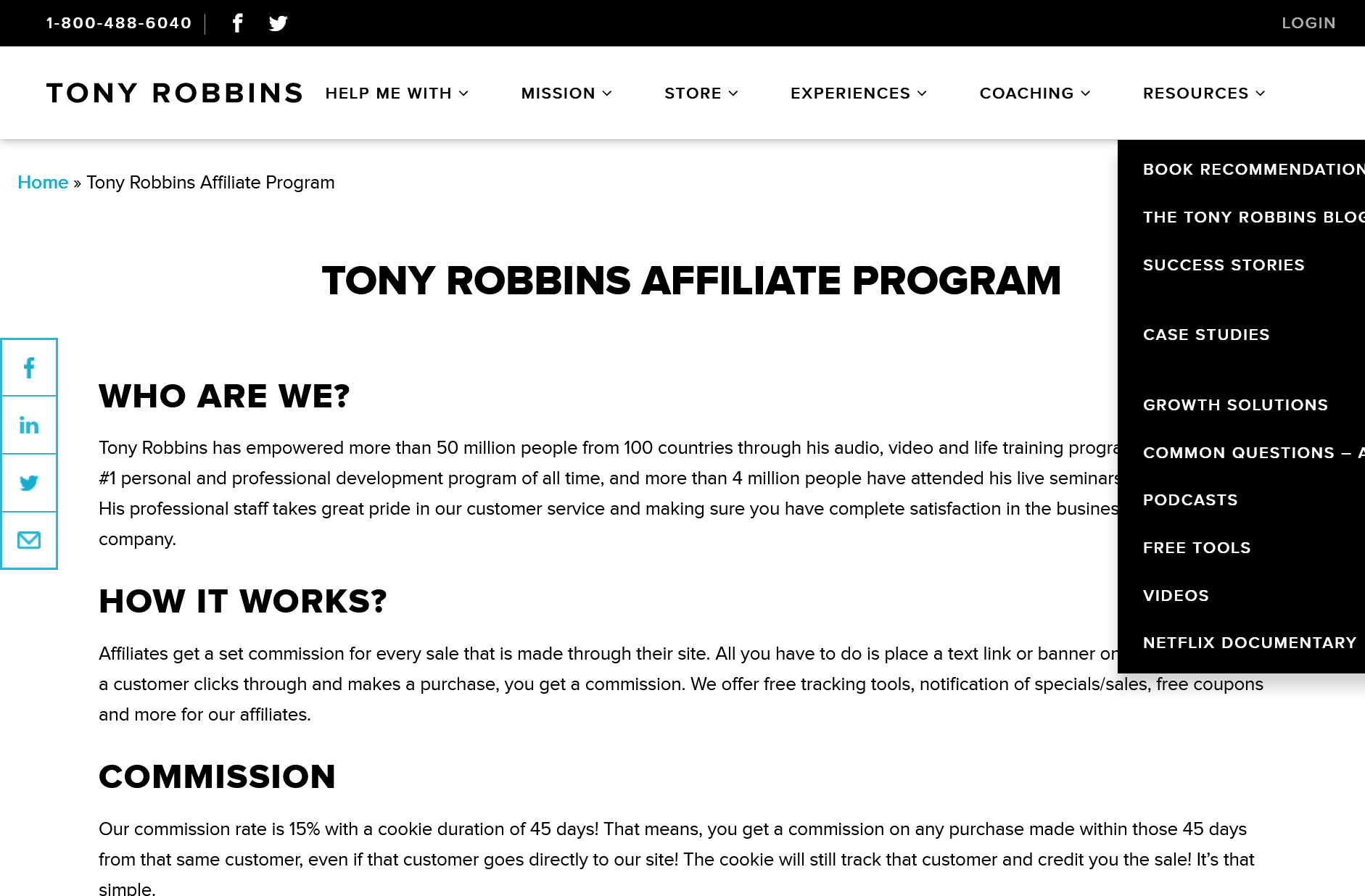 Tony Robbins is a world-famous personal coach and motivational speaker, and his website offers a range of video guides, audiobooks, and training sessions. He even sells health supplements, if it's your physical health that needs a boost!
Because of the wide range of subjects and products available — from relationships to productivity and finance—this affiliate program would be a great fit for pretty much any site that focuses on personal development.
The program is also offered through CJ, so you can easily pair this in conjunction with other affiliate partnerships. 
As for the perks, partners receive a commission rate of 15% and a 45-day cookie window. You'll also receive extras such as free coupons, early bird notice of sales, and tracking tools to monitor your clicks and earnings.
9. Tai Lopez Affiliate Program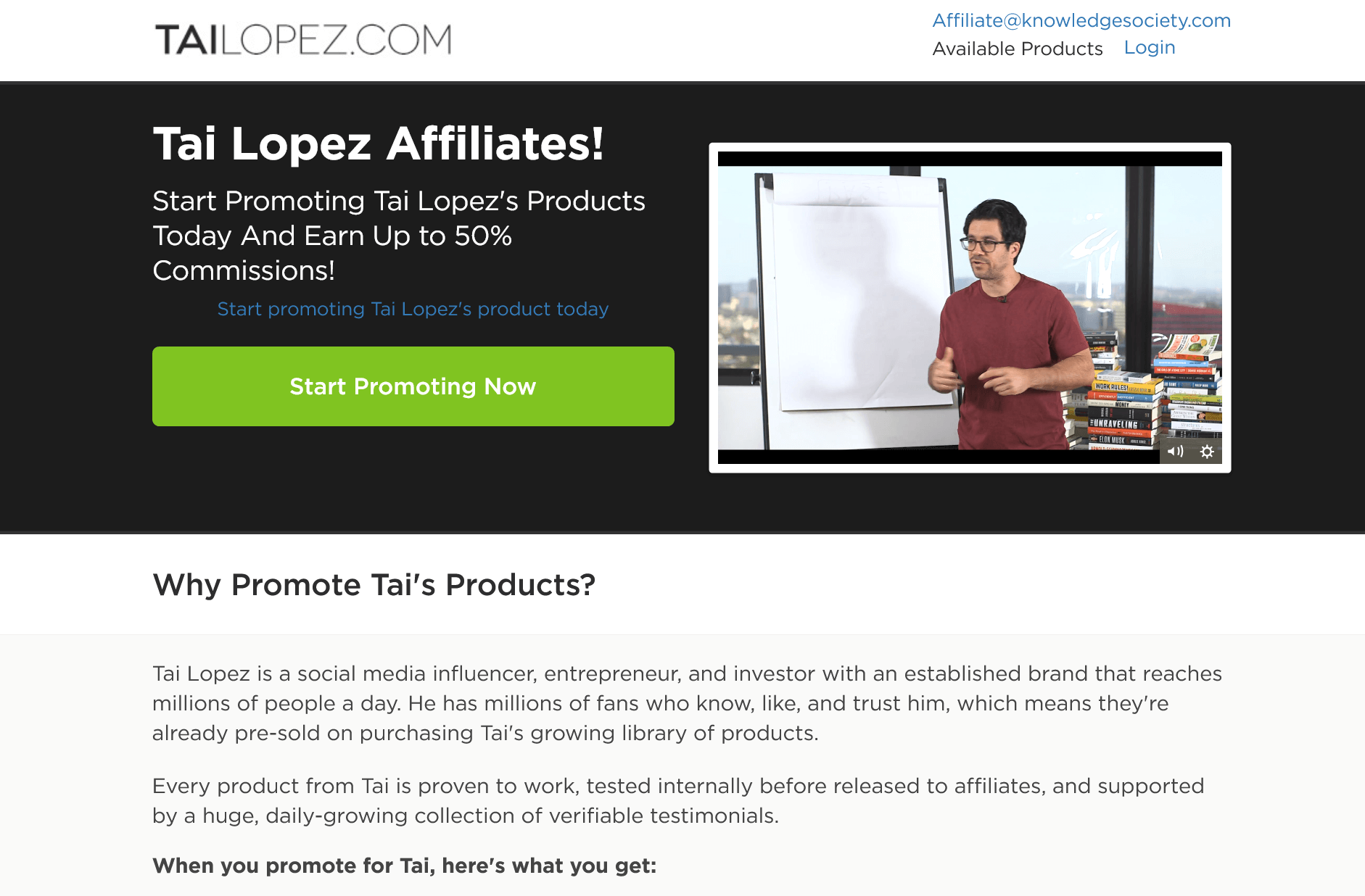 Tai Lopez is an entrepreneur, investor, and (slightly controversial) YouTube star. His website offers ebooks, courses, and videos about finance, finding your path, and social media management.
Therefore, his affiliate program could be a good fit for any blogger who focuses on these areas! 
The program offers high commission rates of up to 50% – which for some products means earning over $300! 
You'll also get a range of free promotional products such as banners, demographic insights, and email swipes, as well as free one-on-one support from Tai's affiliate management team.
The site also boasts having the lowest refund rates in the industry and guarantees an earning-per-click of up to $40 for its affiliates.
Excited? Well, here's the catch. There's currently a waiting list to join this program due to its (and Tai's) popularity, so it might be a bit before you can start raking it in.
Whether you're just starting out on the internet or have been a personal development blogger for a while now, there's an affiliate program on this list that will fit in with your content and appeal to your audience!
From mind training and self-monitoring programs to those that aim to expand your education and provide you with tools to succeed professionally, there are so many different options that you can choose from.
Be sure to choose the product and service carefully, then sign up and start enjoying that cash flow!