The Best Podcasts About Blogging
Disclosure: Some of the links below are affiliate links, meaning that at no additional cost to you, I will receive a commission if you click through and make a purchase. Read our full affiliate disclosure here.
Whether you are new at blogging or a seasoned blogger, there is always much to learn. Keeping abreast with the changing trends in the industry, as well as the varying needs of your target audience can be hard work. But with many sources of information around, it is not that difficult to keep up. One of the best ways to stay ahead of the curve is by listening to podcasts that are created specifically for bloggers.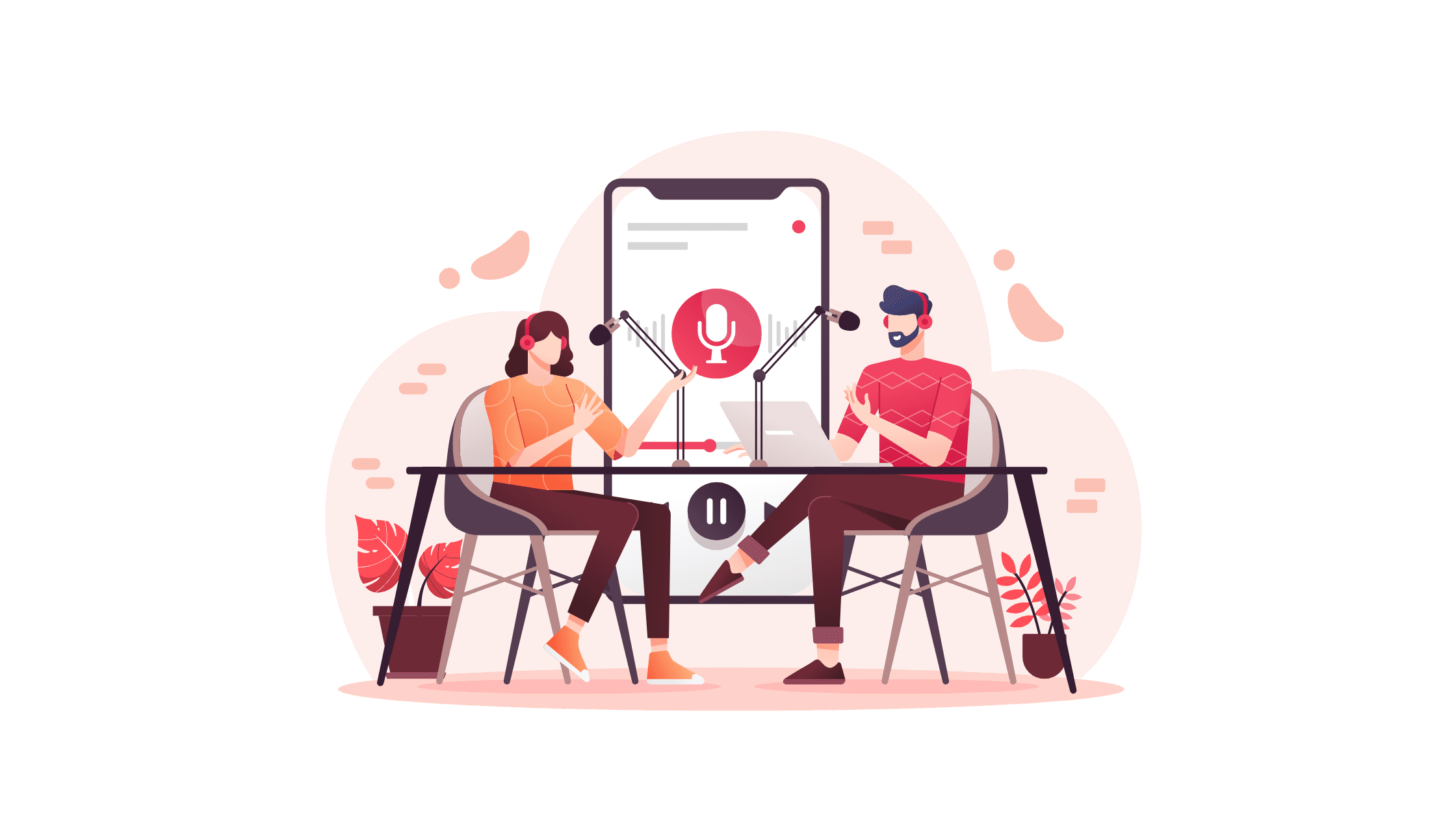 Most people listen to podcasts to get news and entertainment. Bloggers might also find it worth their while to jump on the podcast train if they don't already indulge.
For one, podcasts are among the most convenient and affordable mediums to get all types of information. You can easily stream podcasts on the go from your mobile device, laptop or smart auto entertainment system.
Many offer free episodes, and you can access many blogging podcasts through your Apple, Spotify, or even Amazon Music subscriptions.
If you don't subscribe to any of those services, there are tons of other platforms that make it easy for you to consume podcasts, including SoundCloud, Stitcher, and through RSS Feed. Some podcasts can also be downloaded for use at a later date.
People in the U.S. listen to podcasts at home almost half the time. However, 22% of podcast listeners do so while driving or commuting, and 11% say they listen while at work. The point is, you can listen from anywhere.
Another plus for bloggers is that podcast episodes are usually short in length, with most lasting anywhere from 15 minutes to an hour. This means you can listen to an entire episode in just one sitting most of the time.
Best Podcasts for Bloggers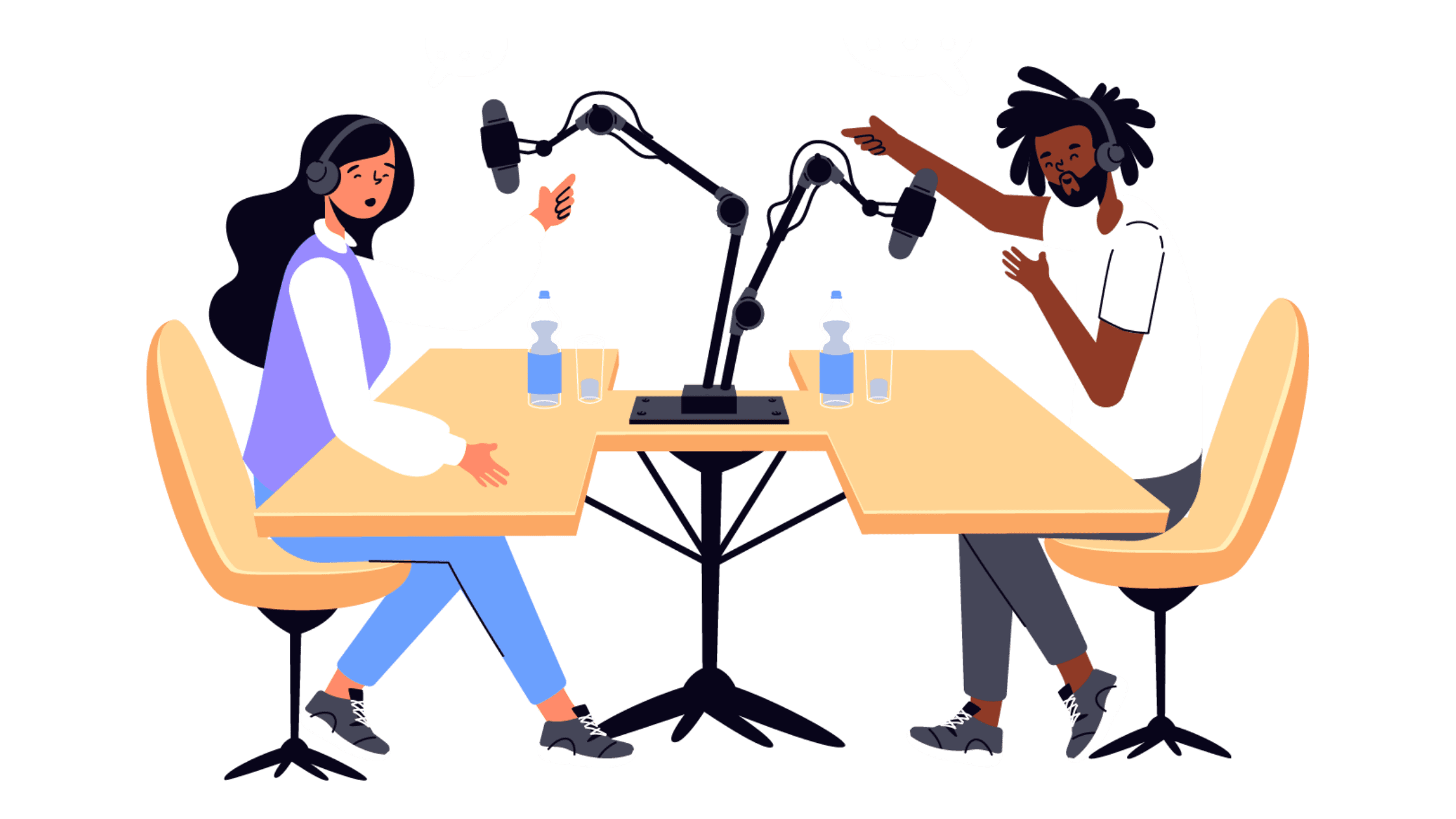 Upgrading your skills and knowledge can certainly be enhanced by listening to podcasts. The thing is, though, not all podcasts for bloggers are created equal. You may not get the level of meaningful value you want by picking random podcasts. That's why we have done some of the heavy lifting for you to find some of the best podcasts for bloggers.

1. The Blogger Genius Podcast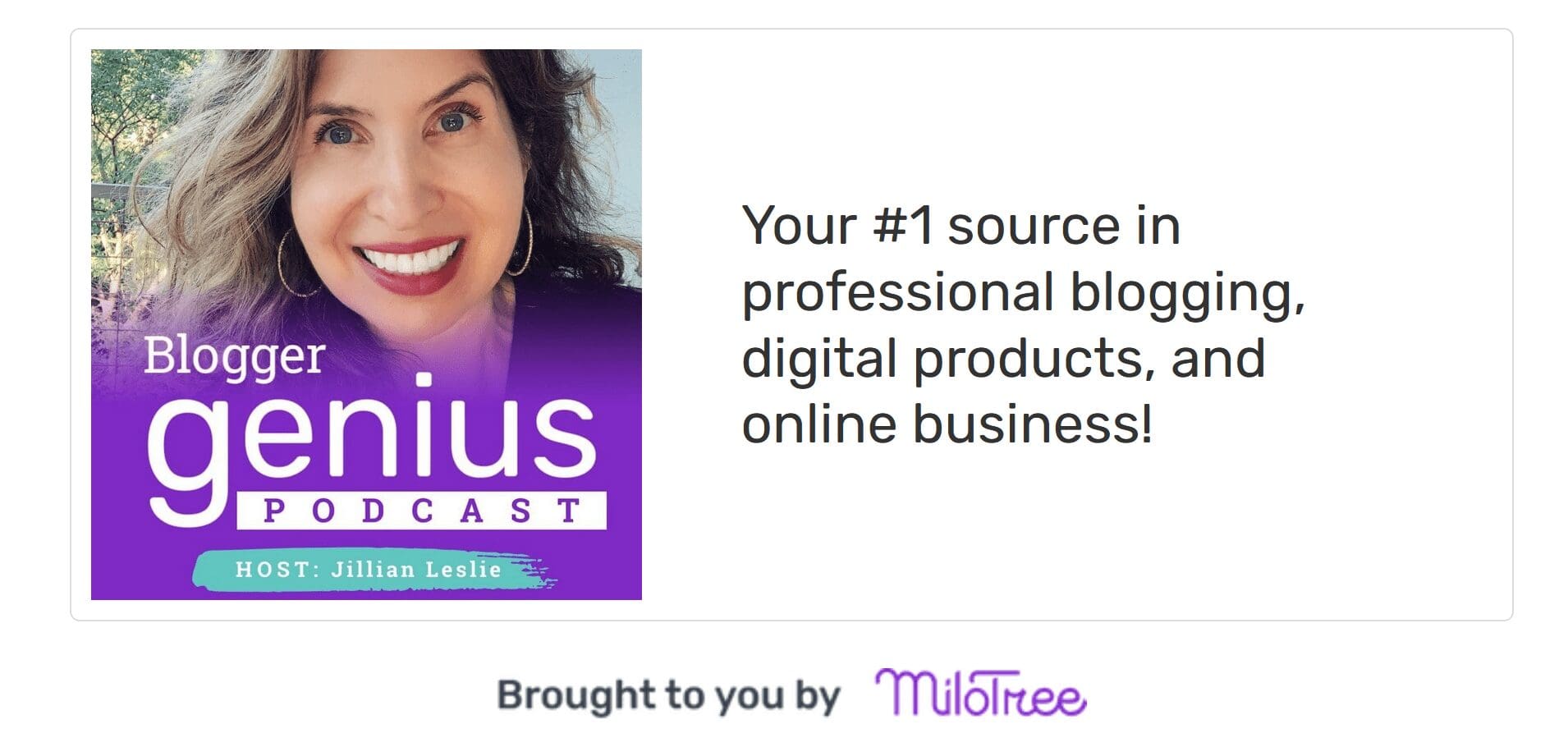 I was recently interviewed on this podcast! Check out the episode, here:
2. Self-Made Writers Podcast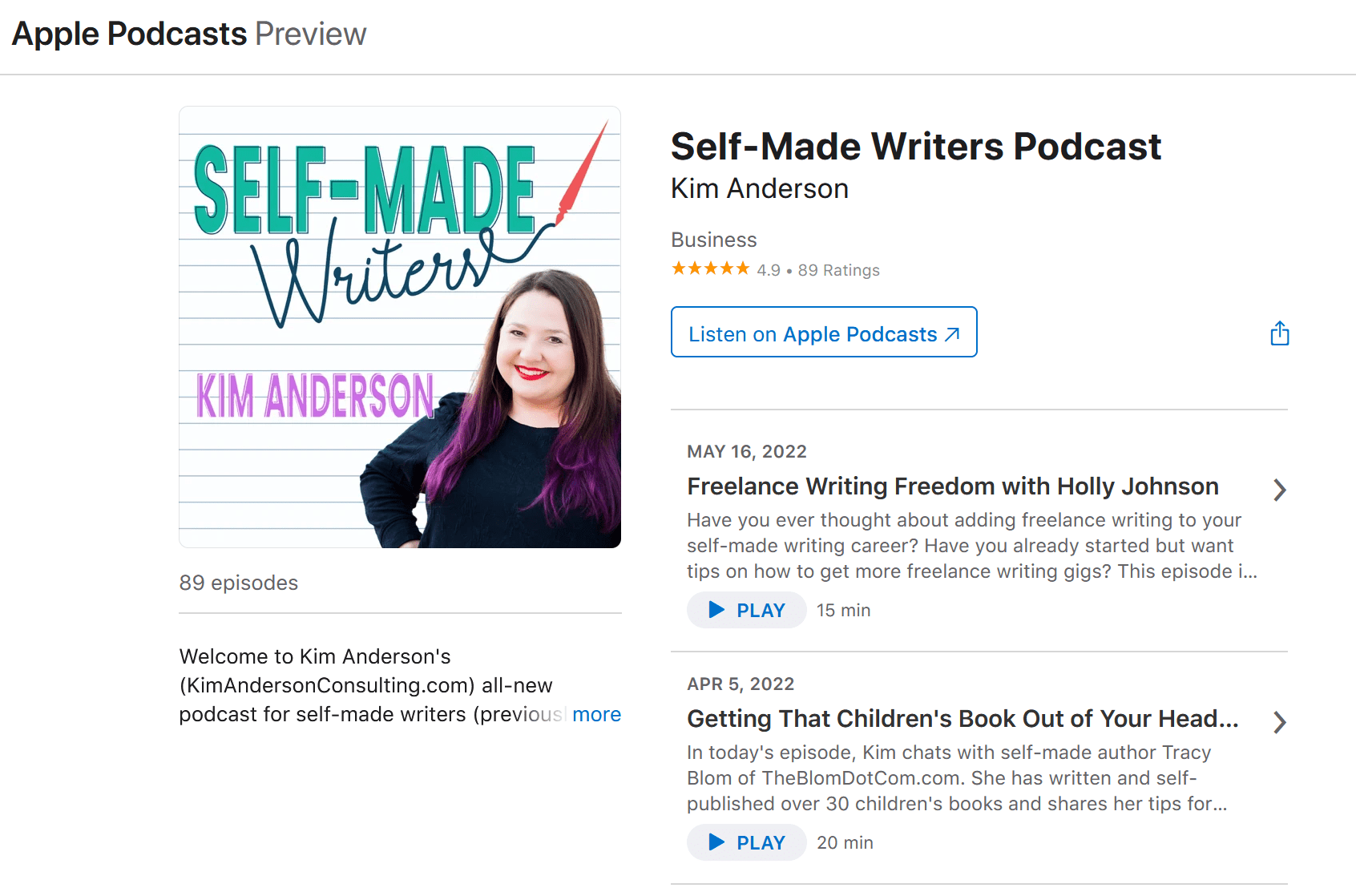 Formerly called Just Keep Blogging, this is an all-new podcast by Kim Anderson, who has built a solid career helping writers achieve their goals. The podcast covers a plethora of topics on the business of blogging, from content creation and SEO strategies to self-publishing and building digital products.
In between, she provides listeners with valuable tips, lessons, and encouragement on the possibility of building successful blogging careers. What's more, the Self-Made Writers podcast is available on various platforms, including Apple and Google Podcasts, Spotify, Radio Public, and via RSS Feed.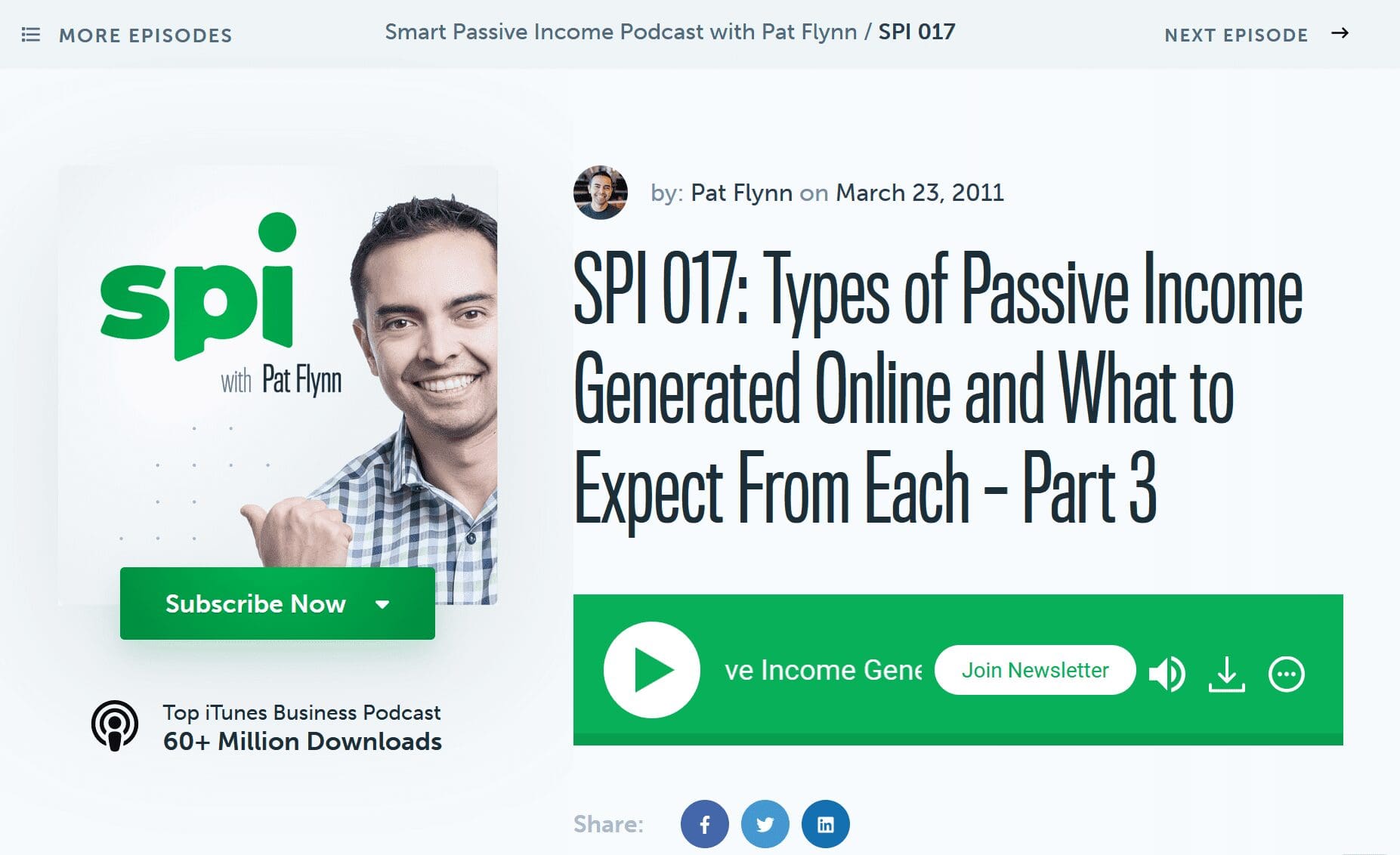 With over 47 million downloads to date and several industry awards, Smart Passive Income is one of the most popular podcasts on this list. The weekly presentation is the product of Pat Flynn, who has been in the podcast business since 2009.
The Smart Passive Income podcast is ranked as the top iTunes business podcast and involves valuable discussions on different aspects of running a successful business. Flynn himself is full of ideas, having been behind two successful podcasts and other online enterprises.
However, the conversations are further enriched by industry experts and professionals across the blogging and entrepreneurship spheres. As such, Smart Passive Income is not only for bloggers, but anyone who wants to learn all the ways to become successful working online.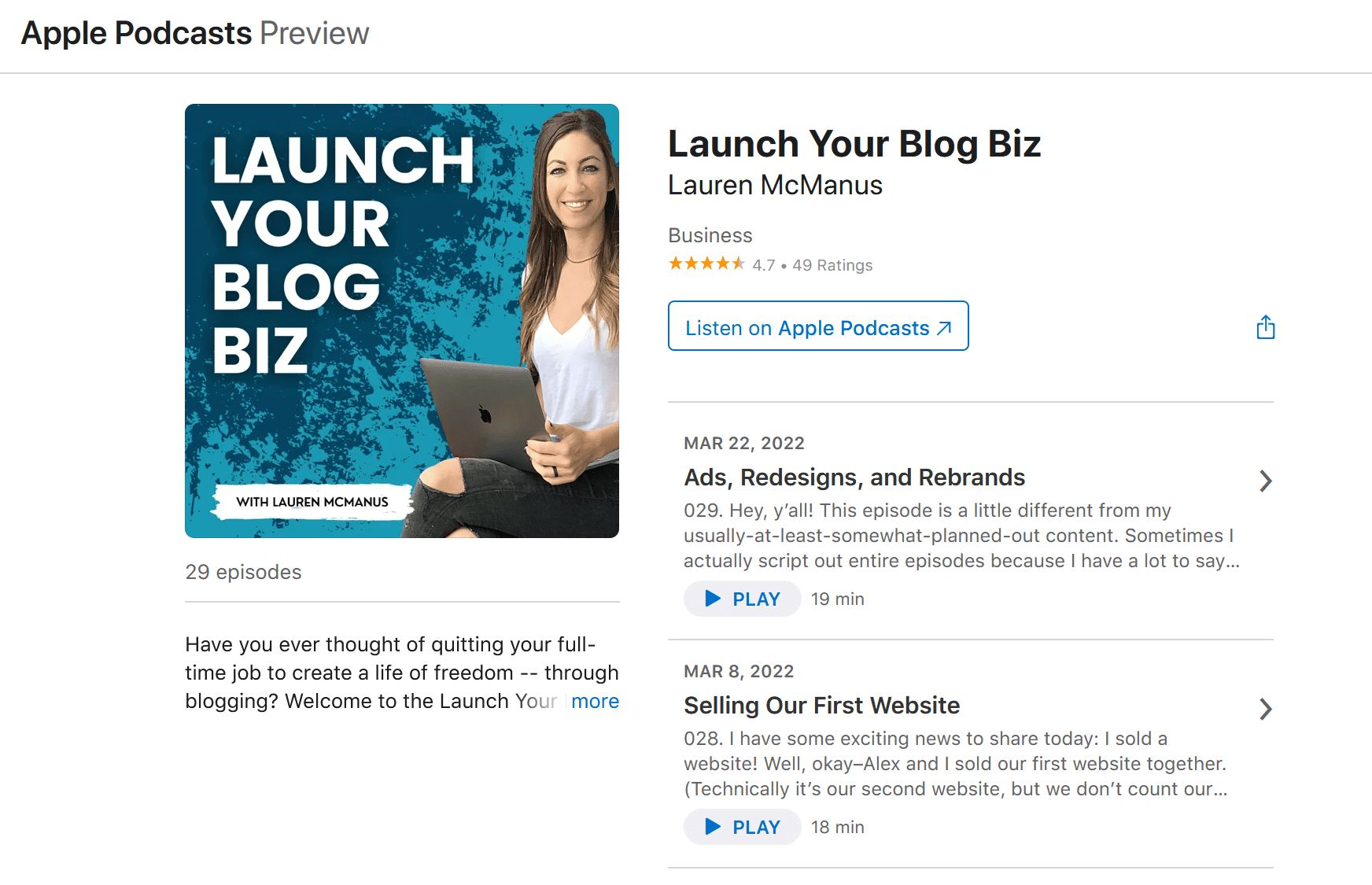 One of the relatively new podcasts on this list, Launch Your Blog Biz is a spinoff of the highly popular CreateAndGo blog, owned by Laura McManus along with her partner. The first episode was released in Q1 2021, and since then the podcast has grown in leaps and bounds.
McManus helps aspiring bloggers learn the ropes of how to build a valuable business and gives inspiration from her own story about quitting her 9-5 job to become a full time blogger.
The podcast draws on her experience in the blogging world, with much of the content covering the areas of starting a blog and making money from it. There are two episodes each month, with most wrapping up in under 30 minutes, making the content timely and easy to digest.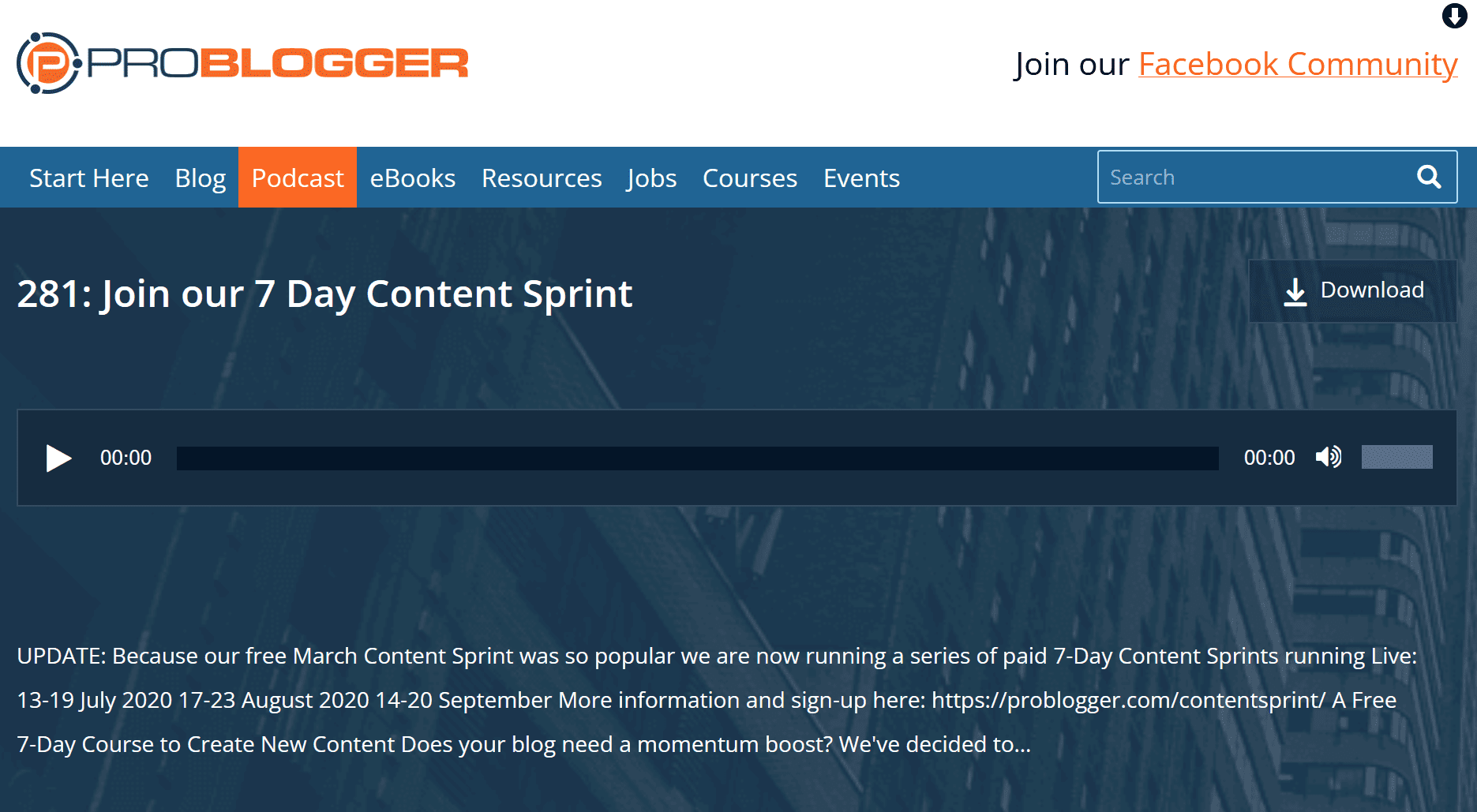 The ProBlogger website is one of the most well-known blogging communities, comprising a network of over 300,000 bloggers. It is no surprise, therefore, that their podcast is also among the leading shows of its kind in the space.
Led by its founder, Darren Rowse, the ProBlogger podcast tackles a variety of topics, including content creation, audience building, and creating multiple income streams. The discussions are backed by case studies, lessons, and challenges that are designed to help beginners and experienced bloggers build their empires.
And with hundreds of episodes, the podcast has touched on basically all the relevant aspects of blogging success. Expect a diversity of content, from short, targeted lessons to hour-long conversations that go in-depth on making a living from blogging.
6. Do You Even Blog Podcast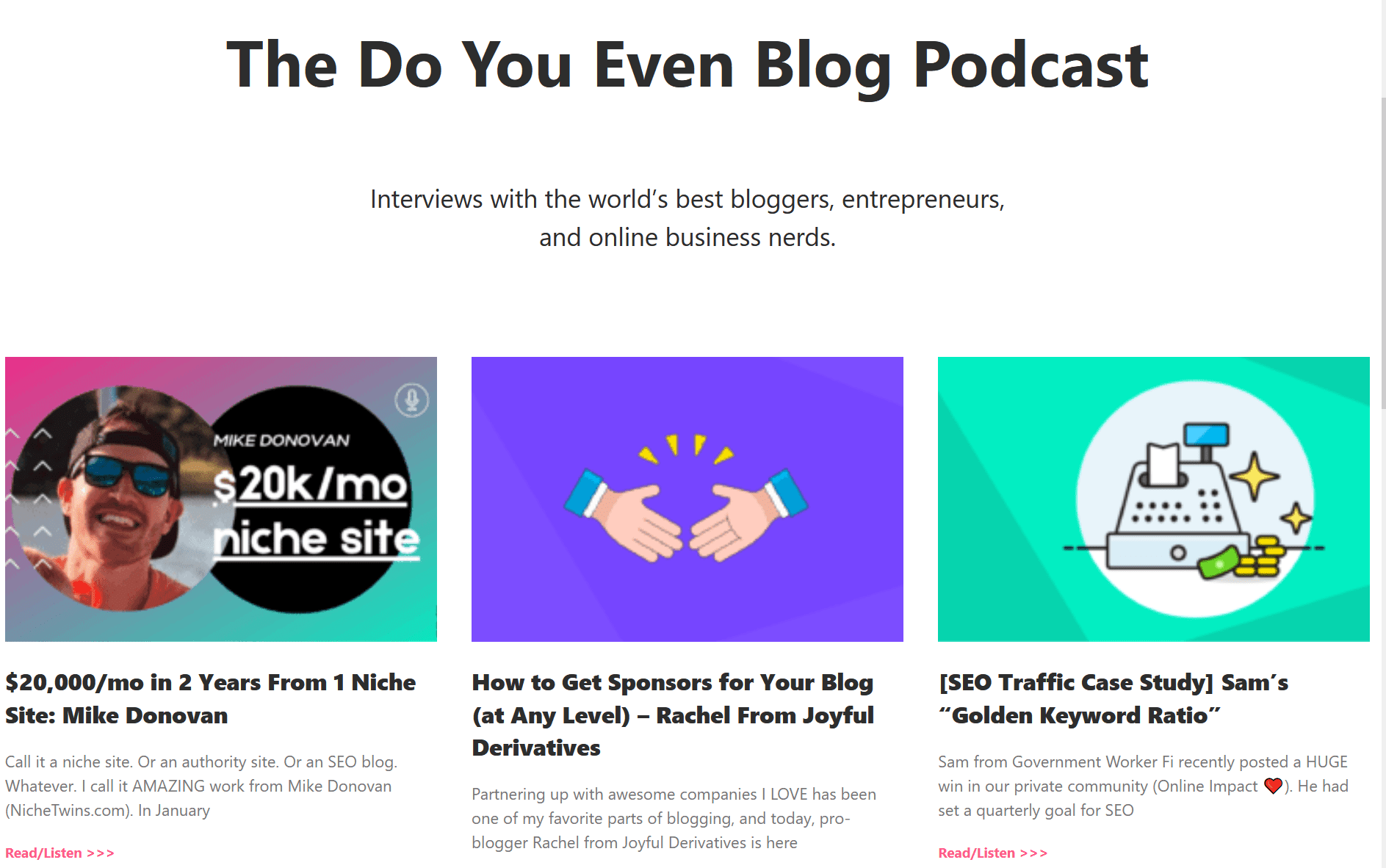 Do You Even Blog is made up of a blog, YouTube channel, and podcast. One of the unique things about the podcast is that the content primarily includes interviews with actual bloggers, as well as entrepreneurs and other business minds. As such, Do You Even Blog offers a great opportunity for bloggers who want to hear from different perspectives.
The topics hashed out between Pete and his guests are as diverse as the personalities. Everything related to content creation and optimization, as well as monetization and audience building, are hashed out in the show. You might even learn how to launch your own podcast.
Most episodes are under 30 minutes and appear once per month, on average. You can access the podcast on Apple Podcasts, Google Podcasts, and Spotify.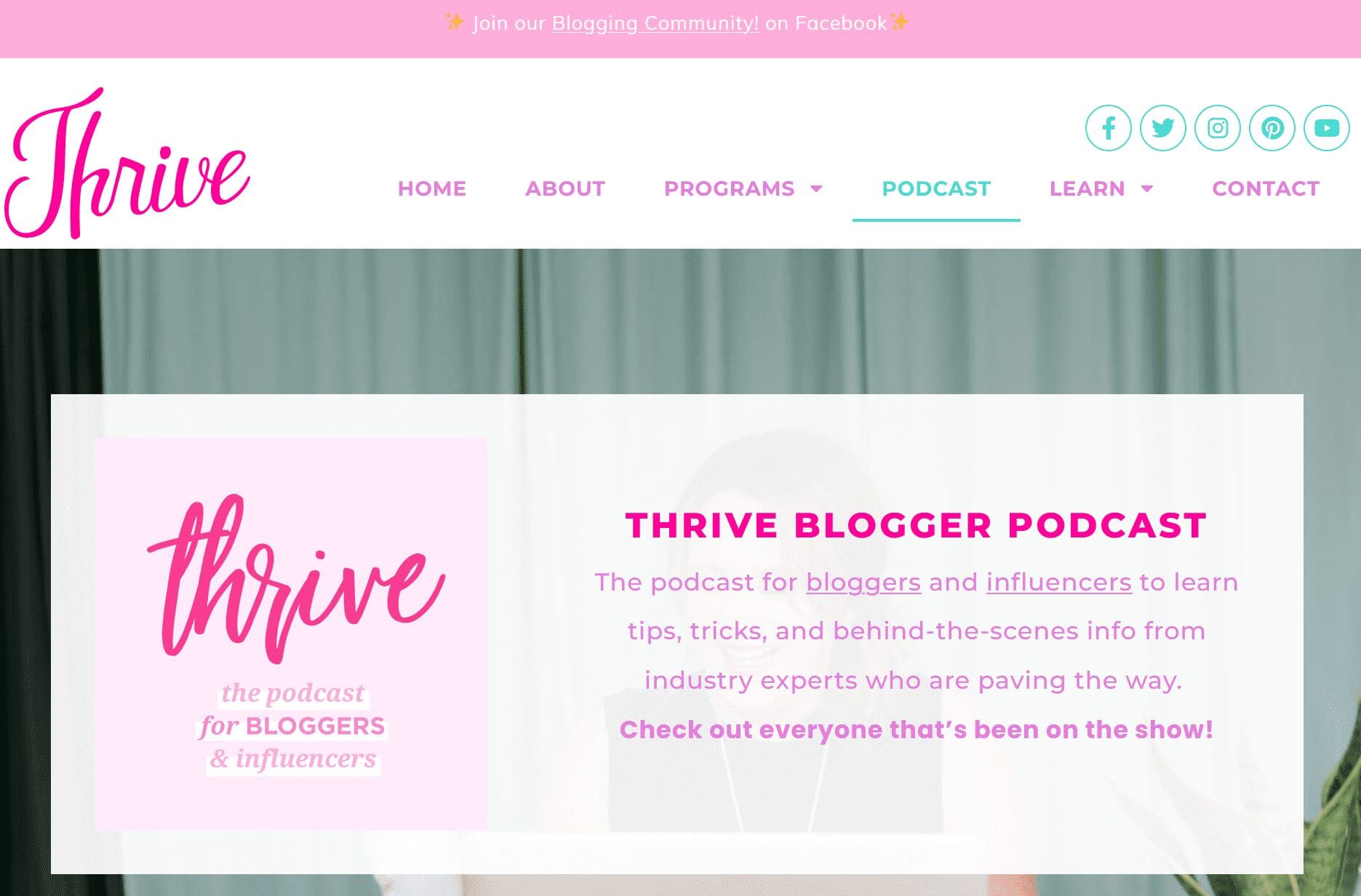 Described as the podcast for bloggers and influencers, The Thrive Blogger podcast offers listeners various tips and tricks on building an online empire. The conversations revolve around a number of topic categories, including launching a blog, branding, social media, blogging tech, and even photography tips.
Founder, Bree Pair (who is also responsible for the Thrive blog), conducts interviews with some of the top industry experts, which ensures the information shared on each show is valuable, timely, and relevant.
Episodes are made available weekly and are usually between 30 minutes and an hour long. You can catch up with the Thrive Blogger podcast on iTunes and Spotify.
8. The Blogging Millionaire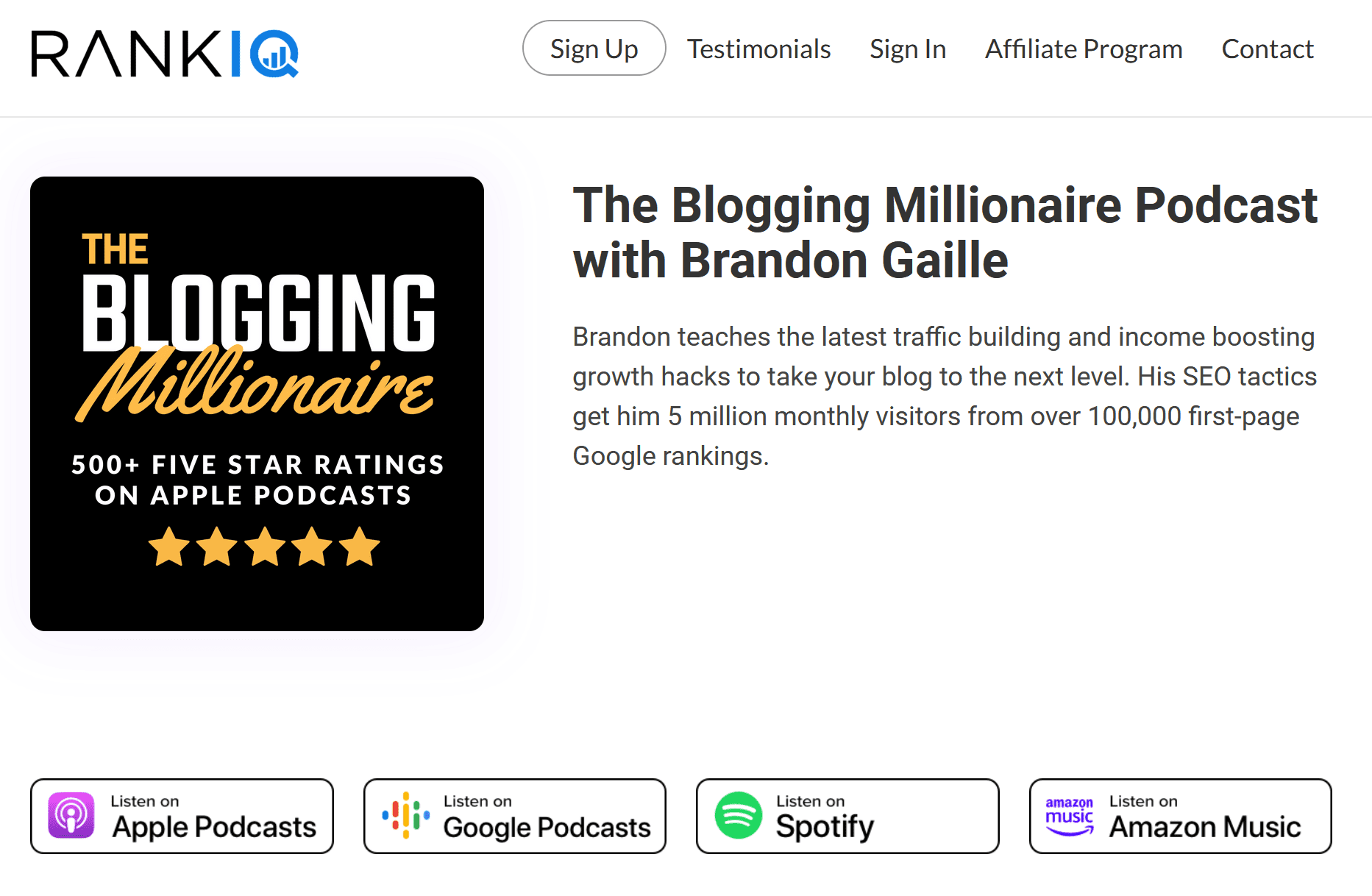 Also referred to as The Blog Millionaire, this podcast is among the most popular of its kind on Apple Podcasts. It has an audience of over one million visitors, many of whom tune in to hear some of the secret blogging strategies that have helped Brandon and other professional bloggers achieve success.
Much of the advice draws from Gaille's experience of having attracted over a million monthly visitors to his own blog in under two years. You will hear various strategies on how to boost traffic, monetize content, make the most of WordPress, and list building, among other topics.
Most episodes from this podcast are under 20 minutes long, making the podcast binge-worthy. In addition to Apple Podcasts, you can also listen on Amazon Music, Spotify, and Google Podcasts.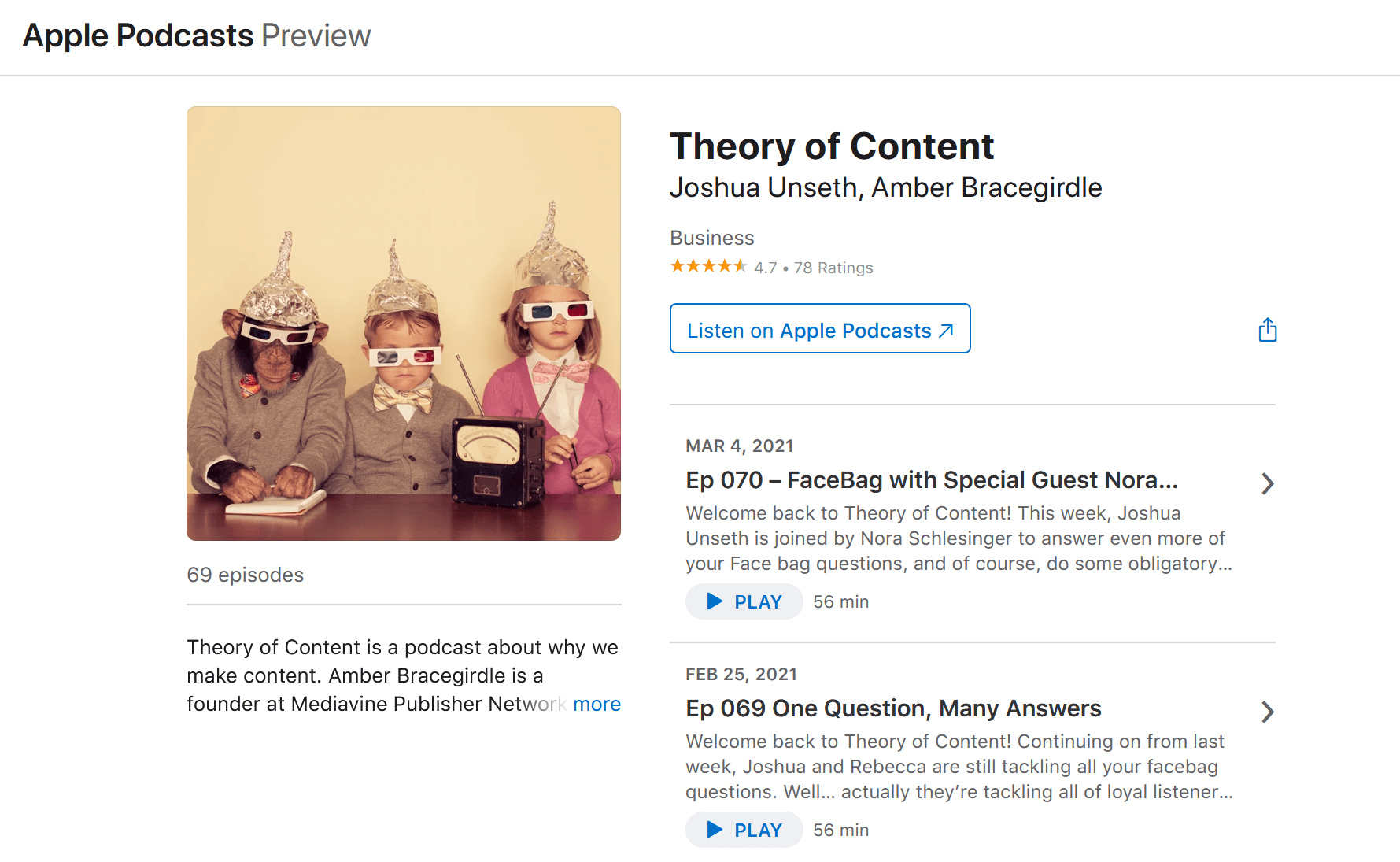 Content creation is a big part of the puzzle when it comes on to building and running a successful blog. The Theory Of Content podcast covers all the vital areas where this topic is concerned. It is run by two professionals in the fields of content marketing and publishing.
The two are often joined by special guests who have advanced knowledge on the topic, making each episode a rich resource for bloggers who want to get better at making high-quality content.
Lengthwise, many of the episodes linger around the 50-minute to one hour mark. Also, the posting schedule for this podcast is admittedly on the haphazard side of things, with many long gaps between episodes at times. However, the value of the information has resulted in the show being highly ranked among Apple Podcasts listeners.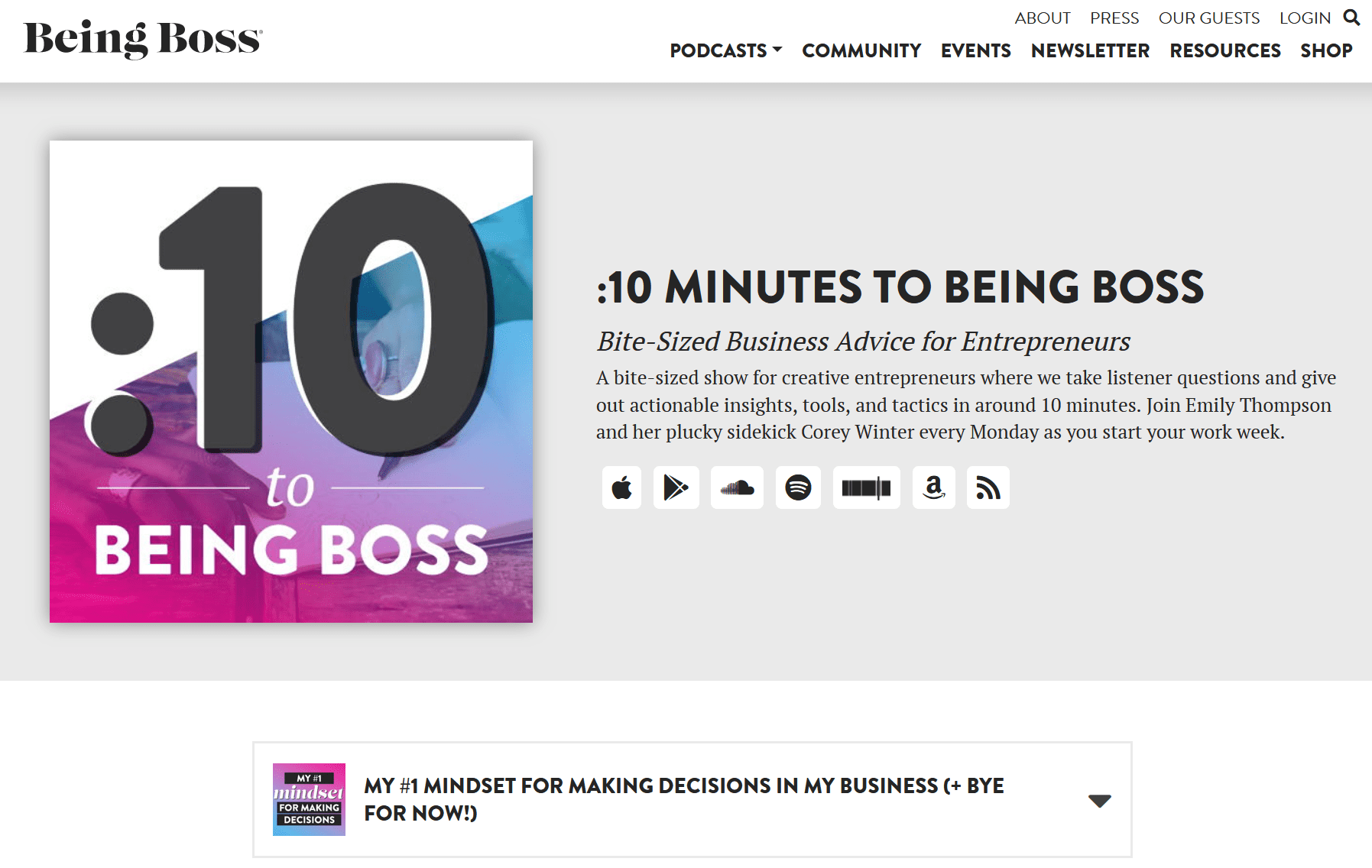 This weekly podcast is part of the HubSpot Podcast Network and meant for all kinds of creators, including freelancers, full-time business owners, and entrepreneurs. In essence, the messaging of the podcast is all about how to be a boss; that is, running your show effectively while living life on your own terms.
The episodes are chock-full of tips, tactics, and mindset hacks from knowledgeable guests on how to get started on your journey and forge a path of sustainable growth. Bloggers, specifically, will enjoy episodes that explore how to win at social media, creating online courses, acing the writing process, and how to avoid burnout.
Episodes are delivered weekly and many of them last up to an hour. You can consume Being Boss episodes on a variety of platforms, including Apple Podcasts, SoundCloud, Spotify, Amazon Music, and Google Podcasts. There are also transcripts of each episode on the Being Boss website for those who would probably prefer to read than listen.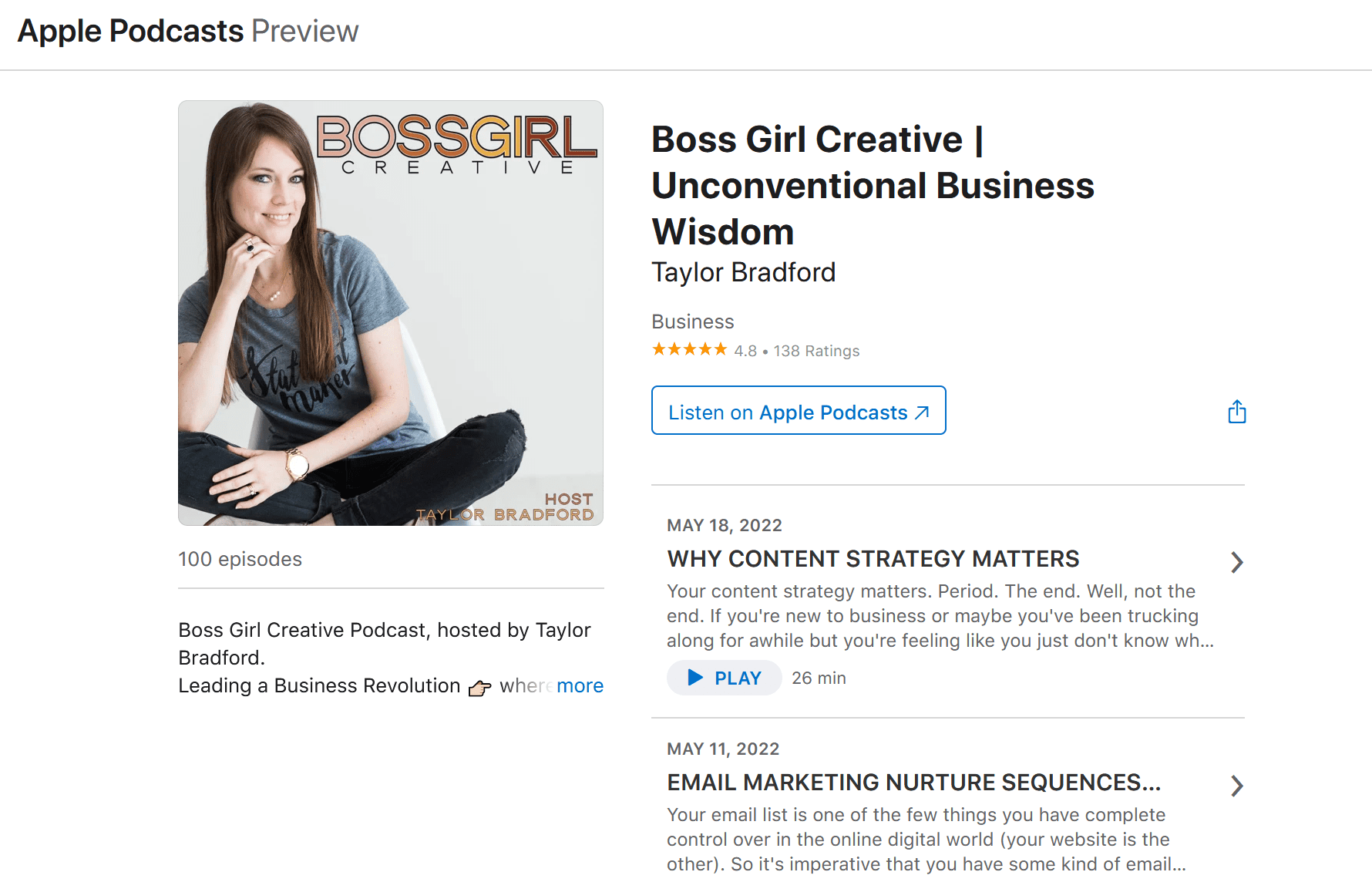 The Boss Girl Creative podcast is aimed at helping women become their own bosses by starting their own online businesses. The show started as far back as 2015 and has gained a following of thousands of women since.
The brainchild of Taylor Bradford, herself a successful entrepreneur, Boss Girl Creative covers a variety of topics on how to get started working online, self-care, and branding best practices. From time to time, Bradford is joined by other women who are experts in the field to also share their perspectives on how to become your own boss.
There is an entire category of episodes dedicated to blogging, with discussions on SEO, blogging fundamentals, social media marketing, and even WordPress. Episodes are delivered weekly and are often less than 30 minutes long.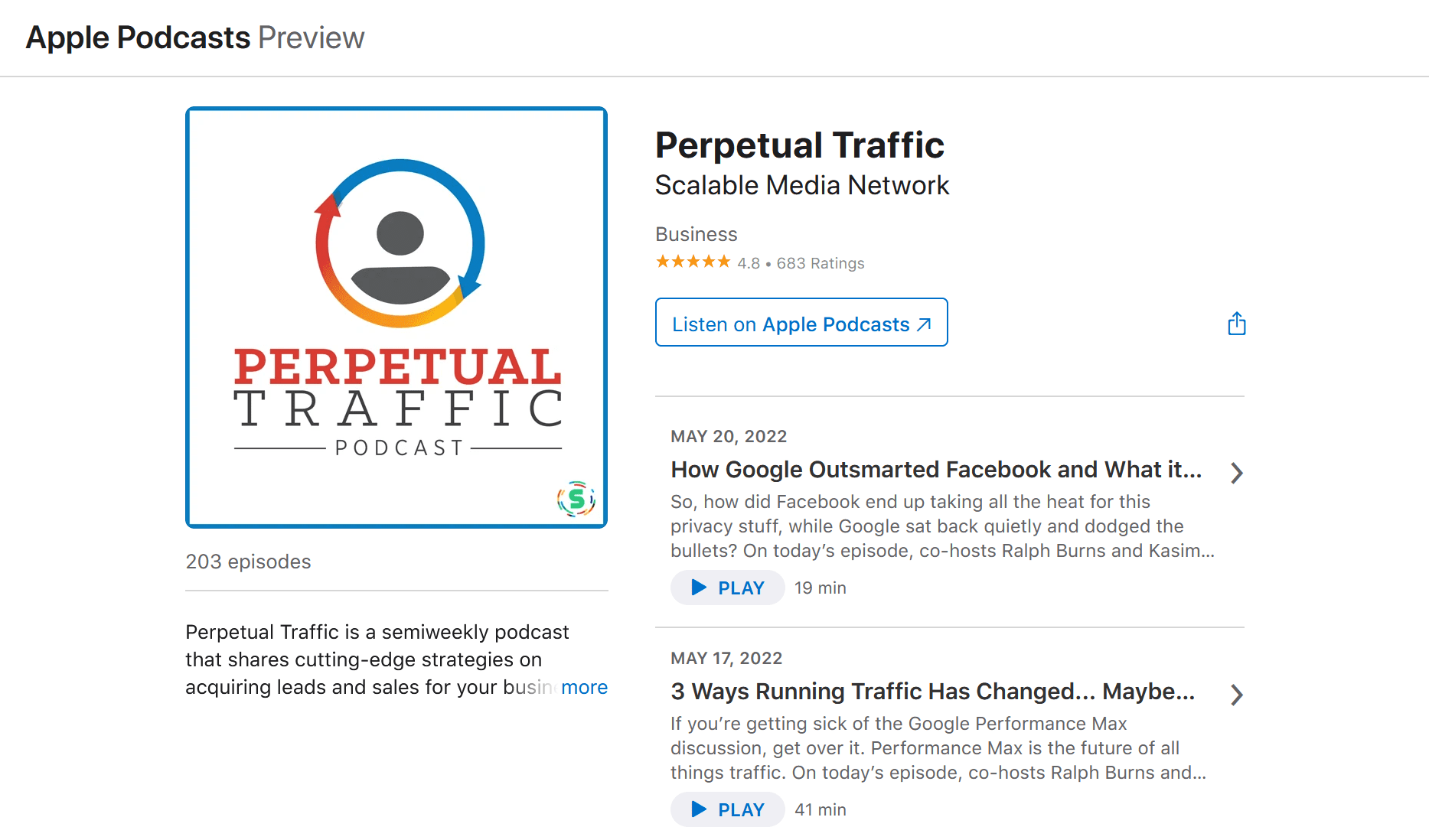 Perpetual Traffic labels itself the #1 digital marketing podcast. Whether that is true or not, the podcast has attracted an attentive audience of bloggers and online marketers, racking up over 30,000 downloads, on average, each week.
Produced by Scalable Media Network, the show's presenters tap into their experience as digital marketers to help listeners understand how to grow an online business and build goodwill. The advice is often backed up by guest appearances from top industry voices.
From mastering social media to winning at LinkedIn advertising, bloggers will find a diversity of valuable content. Episodes are posted bi-weekly and range in length from under 20 minutes to over one hour.
13. The Food Blogger Pro Podcast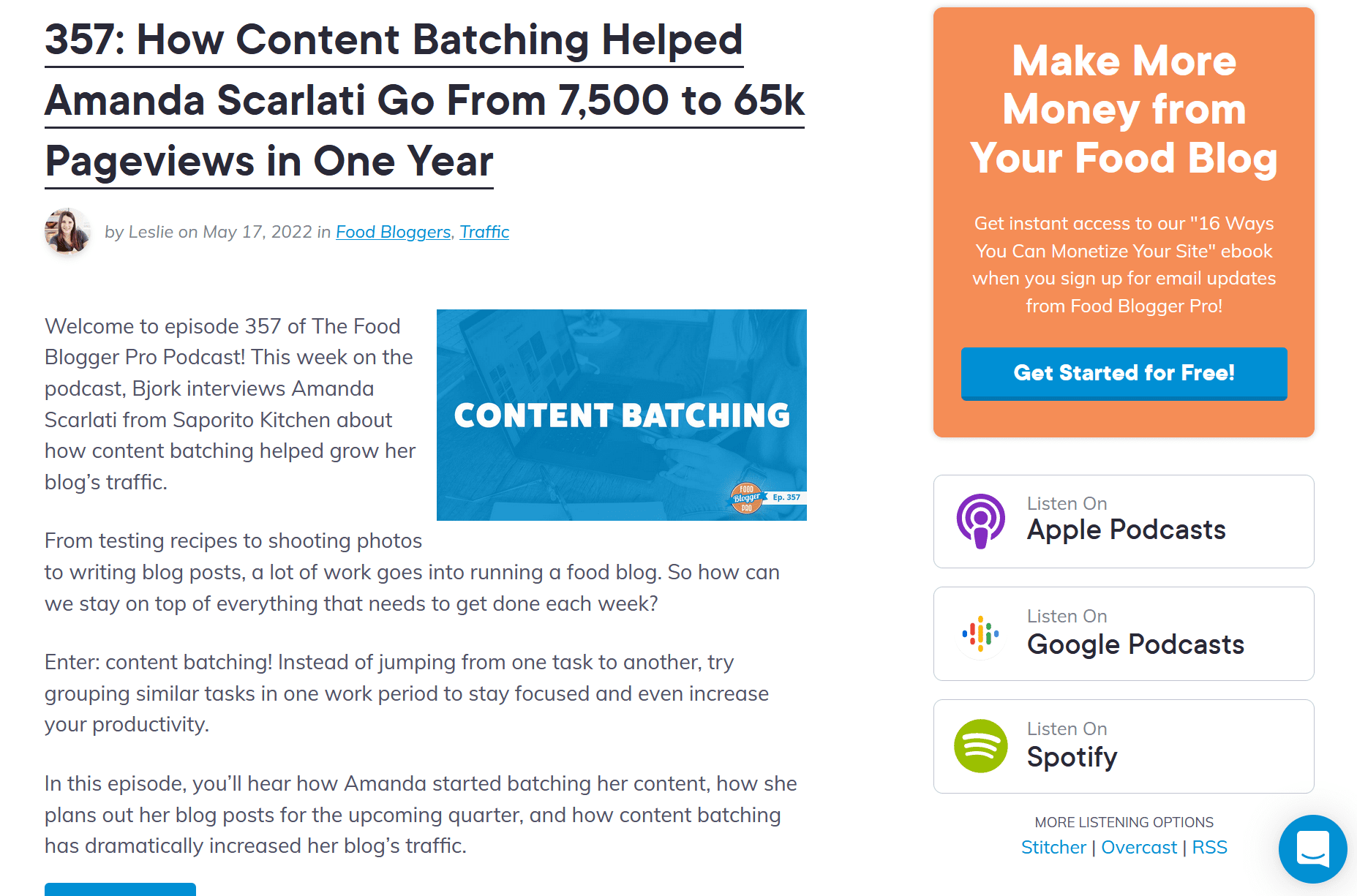 As the name suggests, this podcast series is directed straight at food bloggers. The show releases one episode every Tuesday and features insightful interviews from other food bloggers and knowledgeable experts in the industry.
New and established food bloggers are exposed to discussions that are meant to inform and educate about everything from getting started to excelling in the food blogging niche.
Topics covered include SEO strategies for recipes, food photography, boosting traffic, and monetizing content. Episodes range in length from under 30 minutes to over one hour. You can catch episodes on Apple Podcasts, Spotify, and Google Podcasts, as well as on the Food Blogger Pro website.
14. Blogging Your Passion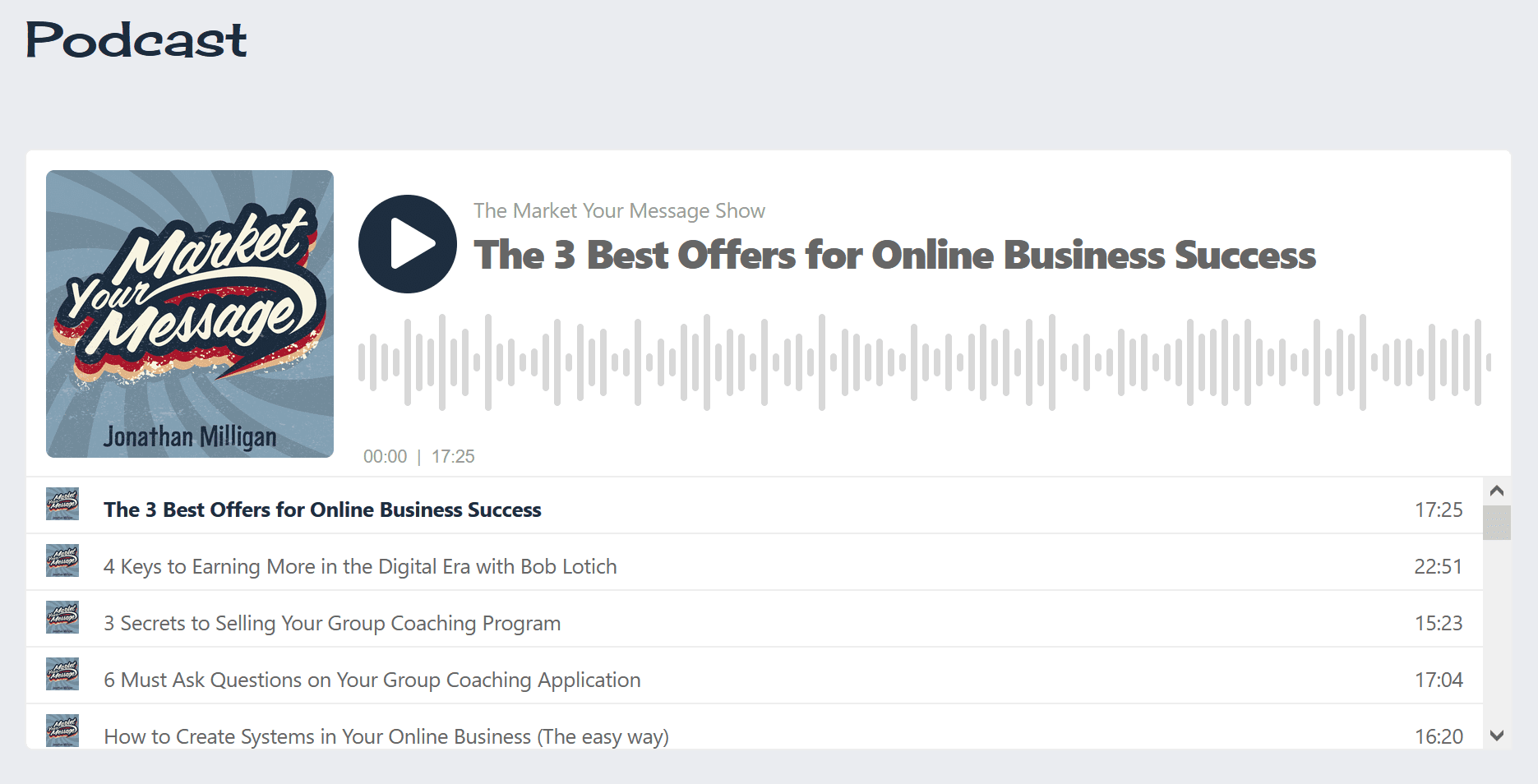 Jonathan Milligan started his blog in 2011. Since then, he has created a number of resources, including e-books and courses, which are meant to help new and upcoming bloggers on their journey.
The launching of the Blogging Your Passion podcast added another dimension, making it possible for even more aspiring bloggers to learn the secrets that have helped Milligan throughout his career. The podcast encompasses various aspects of blogging, including SEO, content creation, and monetization.
It is interesting to note that Milligan has set a goal of helping 1,000 people create full-time careers out of blogging. You can expect at least one new episode per month, with most episodes ranging from 10 – 30+ minutes.
I hope that you found this list of the best podcasts about blogging, useful! While blogging may be firmly based in the medium of writing, listening to advice from successful bloggers, creators, and digital marketers is a great way to expand your blogging related knowledge.
If you are looking for more blogger resources, check out our blogging tools guide.