Amazing Ghost Website Examples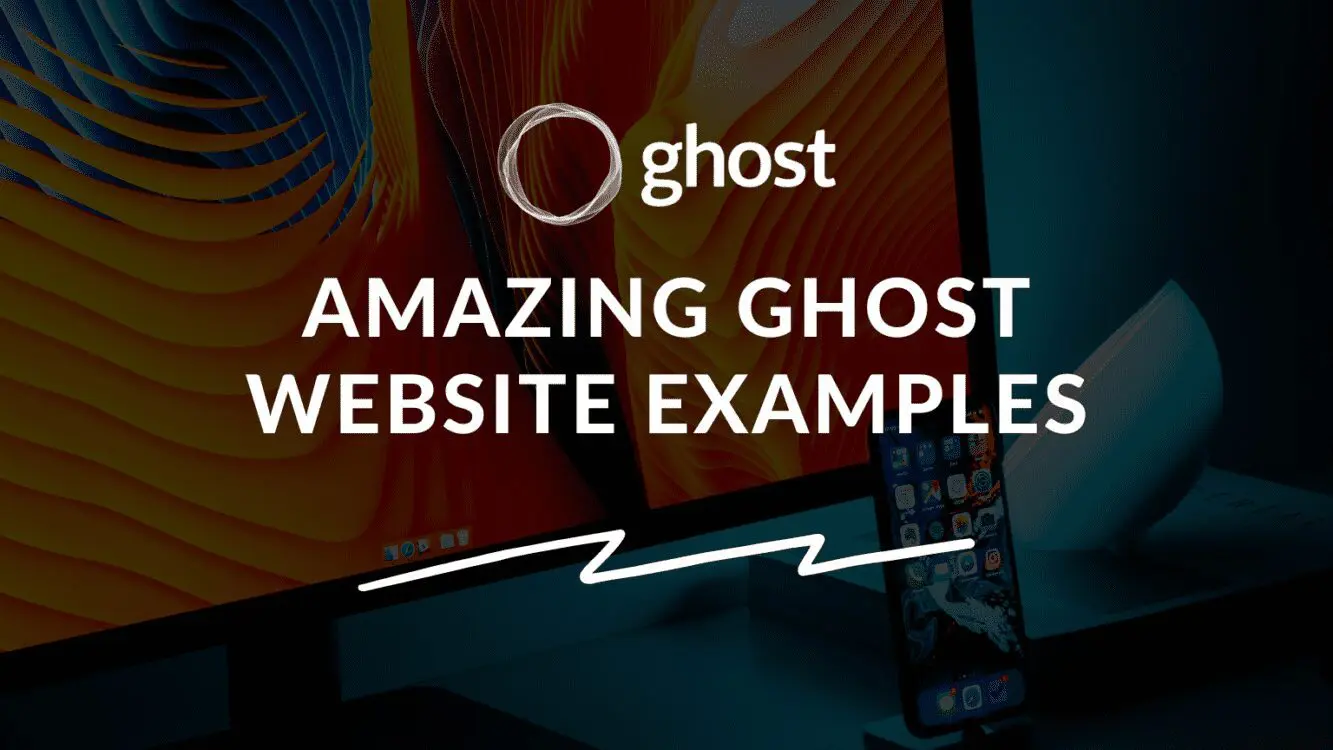 Disclosure: Some of the links below are affiliate links, meaning that at no additional cost to you, I will receive a commission if you click through and make a purchase. Read our full affiliate disclosure here.
Ghost is without question a leader in the digital publishing and blogging space. This article will examine several of the best Ghost website examples. These sites showcase a wide range of Ghost features for bloggers, newsletters, and other creator economy individuals, as well as several examples of the large companies that power their blogs using Ghost.
Ghost is an open source blogging platform for writers and other digital publishing content creators. Ghost's initial focus was on blogging, and they have kept the interface and features simple on purpose. This makes their site easy to use for beginners and keeps their interface clean and free of clutter.
More recently, Ghost has added membership and newsletter features that are perfect for content creators who are looking to monetize their following. Creators can add a payment gateway and sell access to their content. Ghost also allows users to send out beautiful, professional-looking email newsletters to their subscribers, making Ghost a Substack competitor.
If you are curious to see what some of these features look like on real websites, read this article covering various Ghost website examples.
Ghost Website Examples (by Individual Creators)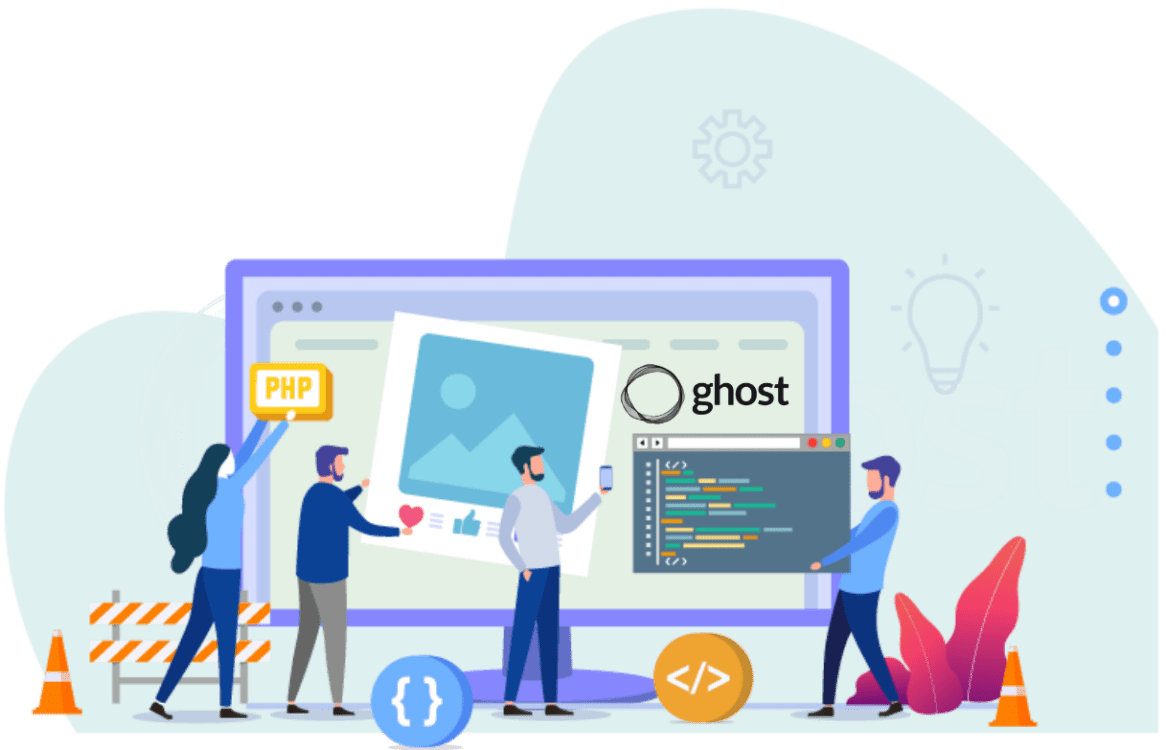 Ghost's strengths are best illustrated by the thousands of websites created by solo writers and creators. Below are some example of amazing websites powered by Ghost:
1. Ali Abdaal (aliabdaal.com)

Ali Abdaal built his personal website/blog as a central repository for all of his in depth guides, courses, newsletter, and videos. These information products cover a wide range of topics, but are all organized under his personal brand on one site.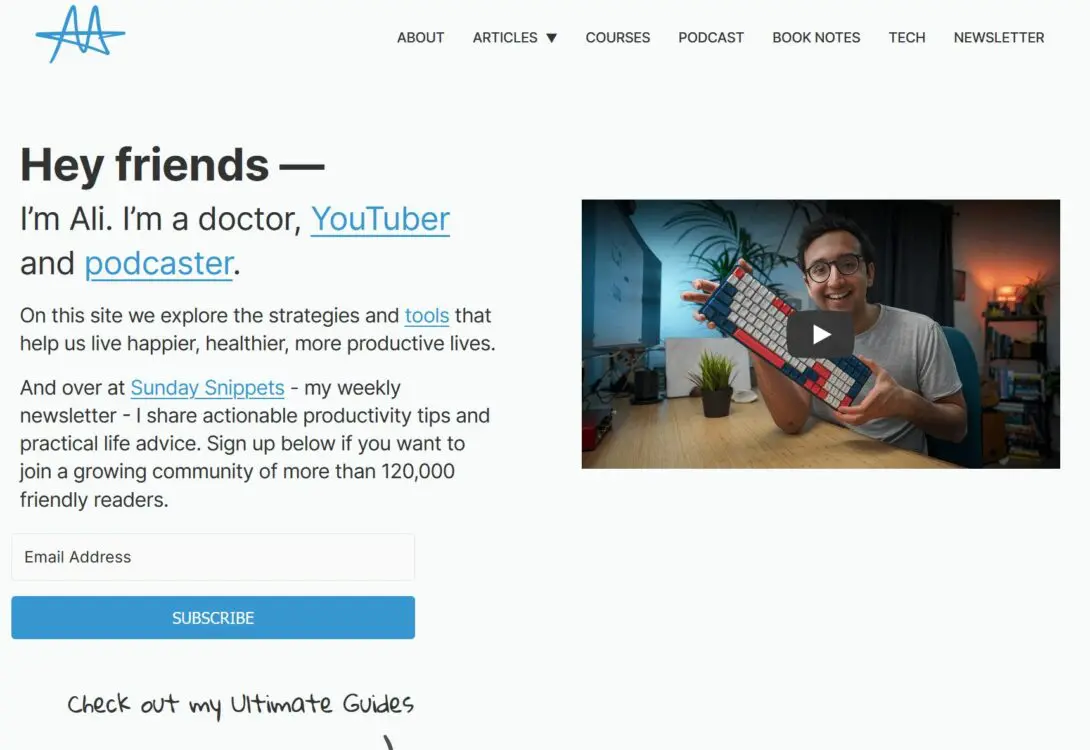 What makes Ali's Ghost powered website so cool is how he manages to clearly layout such a large amount of content, in a clear and concise fashion. His content can easily be sorted by topic, resource type, or post recency.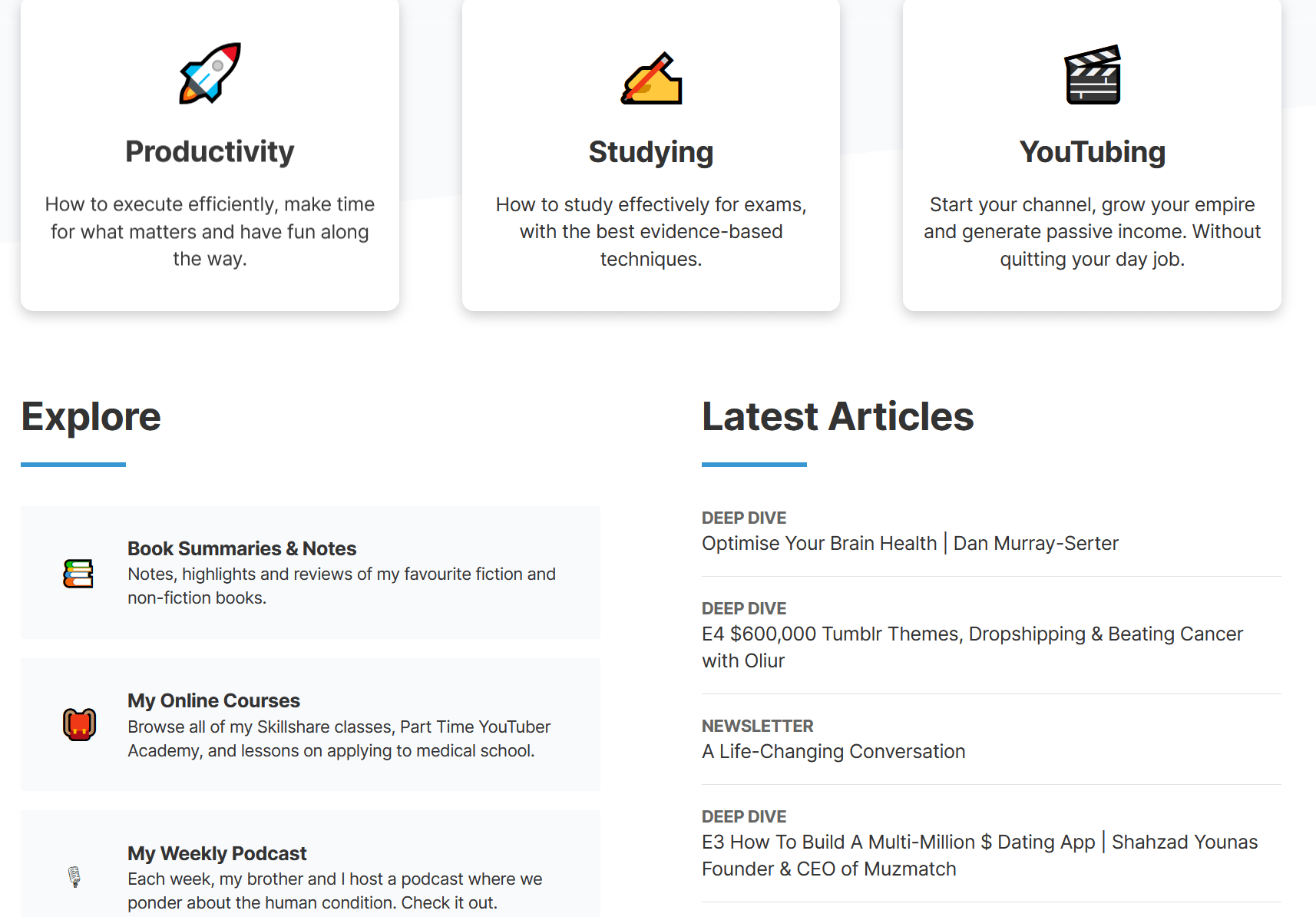 He also uses his Ghost website to showcase an interesting mix of both paid products (such as his courses on Skillshare) and free content (YouTube videos):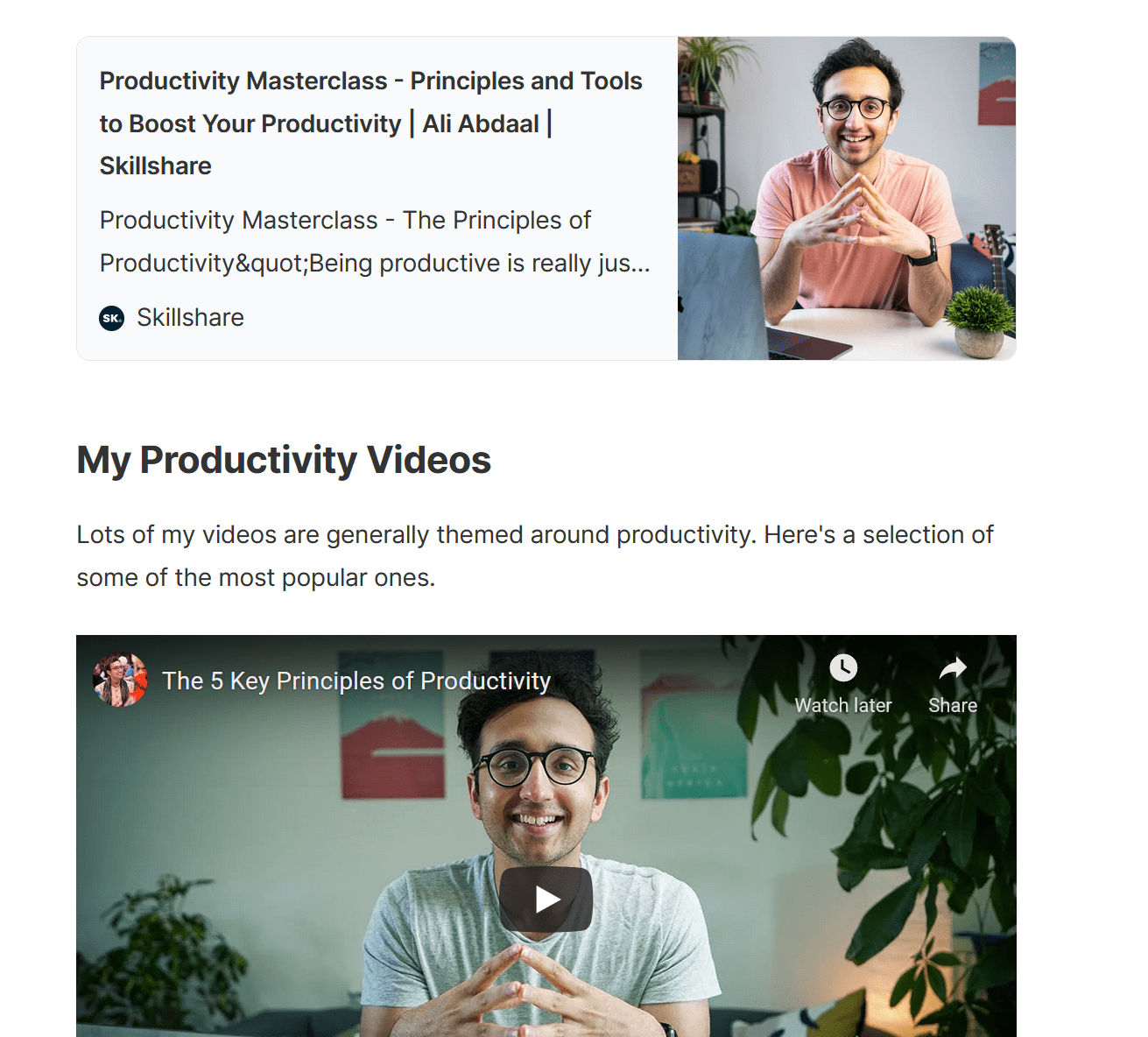 One of the other interesting way Ali makes his website really standout is by creating a "Notion-like" series of subpages, with a clear and visually appealing table of contents. This both encourages a reader to explore his content, but also makes it much easier to find specific articles/resources, despite the vast volume of content listed on his website: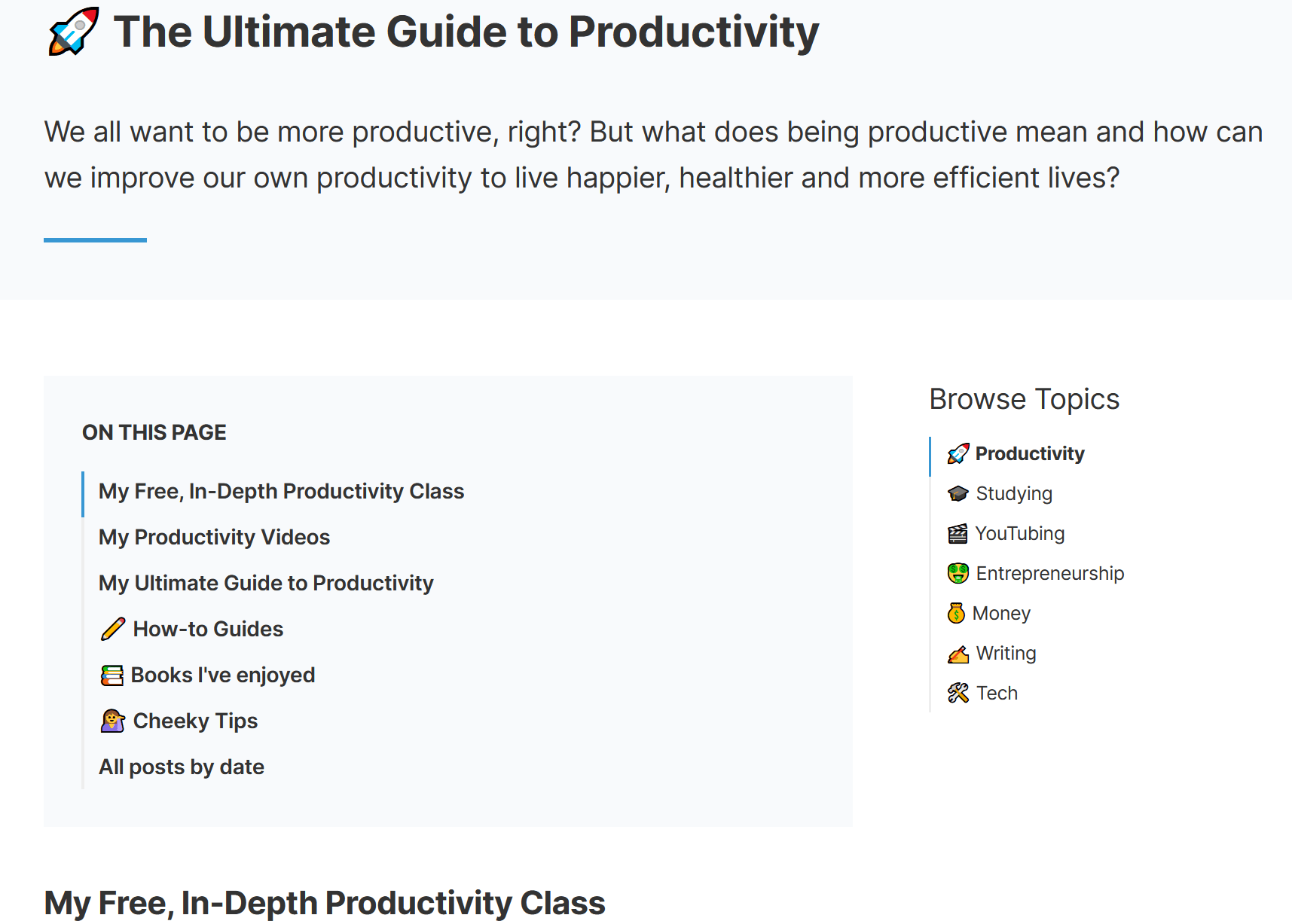 2. Yeezy Mafia (yeezymafia.com)

Yeezy Mafia began 2016 as a members-only website that sold "carts," which are more commonly known as sneaker bots. Bots are code that automatically add a product to your online shopping cart, and allow you to check out faster than any human could. Yeezy Mafia only accepts a a few members at a time, who can then purchase a limited number of "carts" prior to release day to dramatically increase their odds of securing the sneakers. The website stays true to it's stylish but under the radar aesthetic by building their website on Ghost.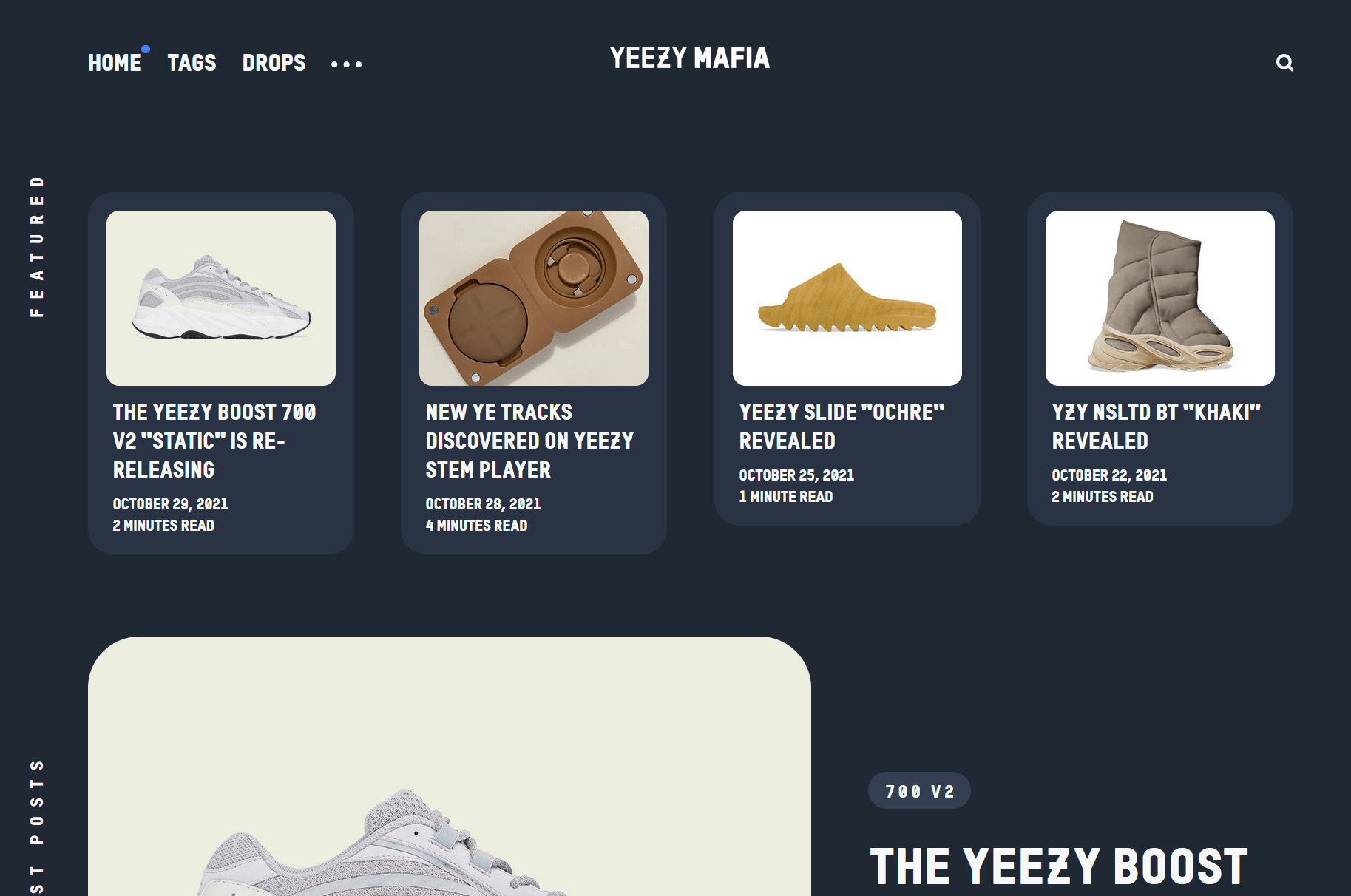 It's not just the Yeezy Mafia homepage that looks great. Each indivdual post utilizes the full functionality of Ghost to clearly organize posts by topic and to create a distinct and consistent brand theme throughout all website pages:
3. Borderline (borderlinepod.com)

Borderline is journalism and community for defiant global citizens. It helps build thriving global lives and careers by informing and providing community for those whose life story and identity straddle borders. Borderline is made by, for and with immigrants, nomads, expats, third-culture kids and anyone who can't give a straight answer to that dreaded question: "Where is home?"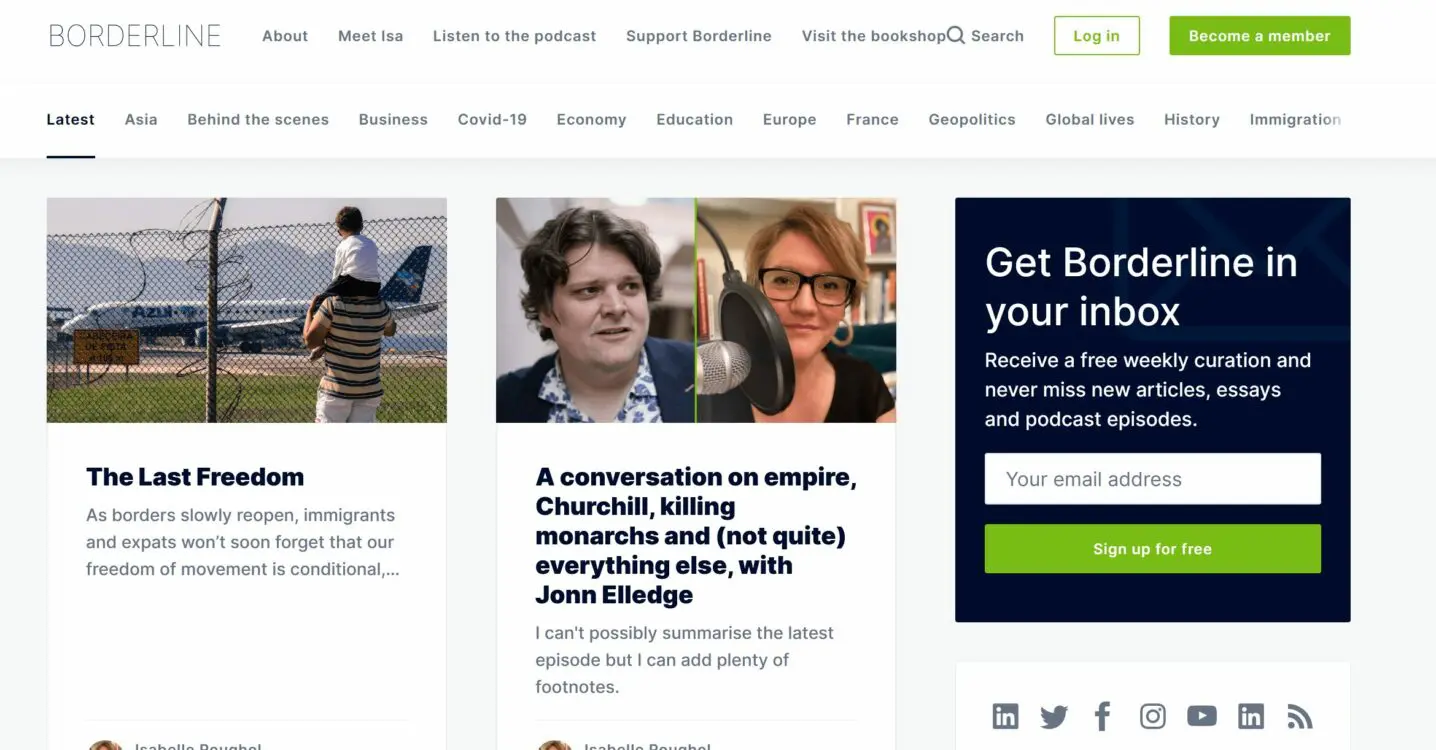 One specific feature that the Borderline website showcases really well is the ability to publish both standalone written posts (as seen in a traditional blog) and to post shorter posts which include sleek and modern looking embedded podcast episodes. Combined with the membership functionality, Borderline is a great example of the websites that can be made using Ghost.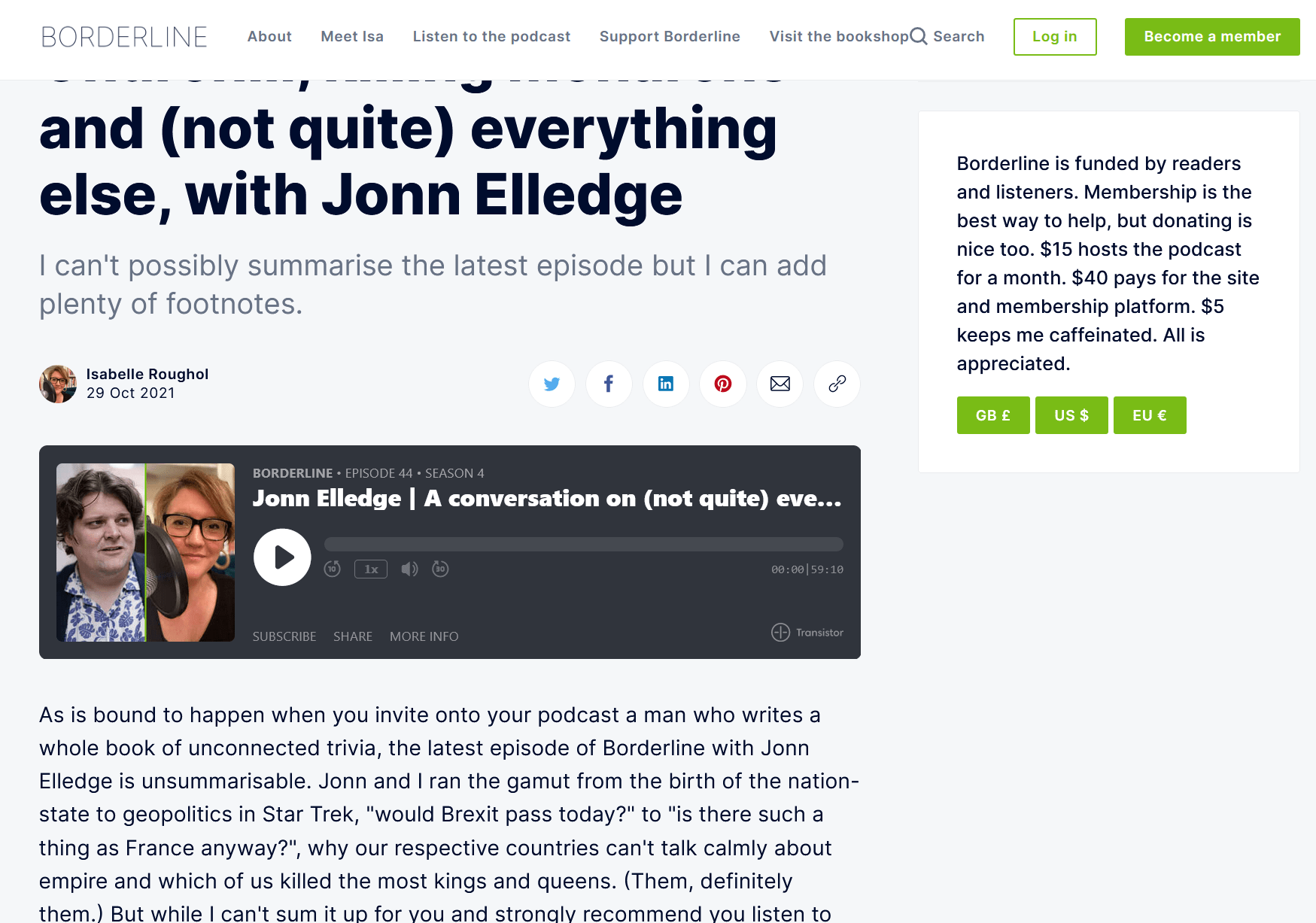 4. Ashley Janssen (ashleyjanssen.com)

Ashley Janssen is a productivity consultant, writer, speaker and serial entrepreneur. She runs her personal website on Ghost, and provides a great example of the type of websites users can build with Ghost: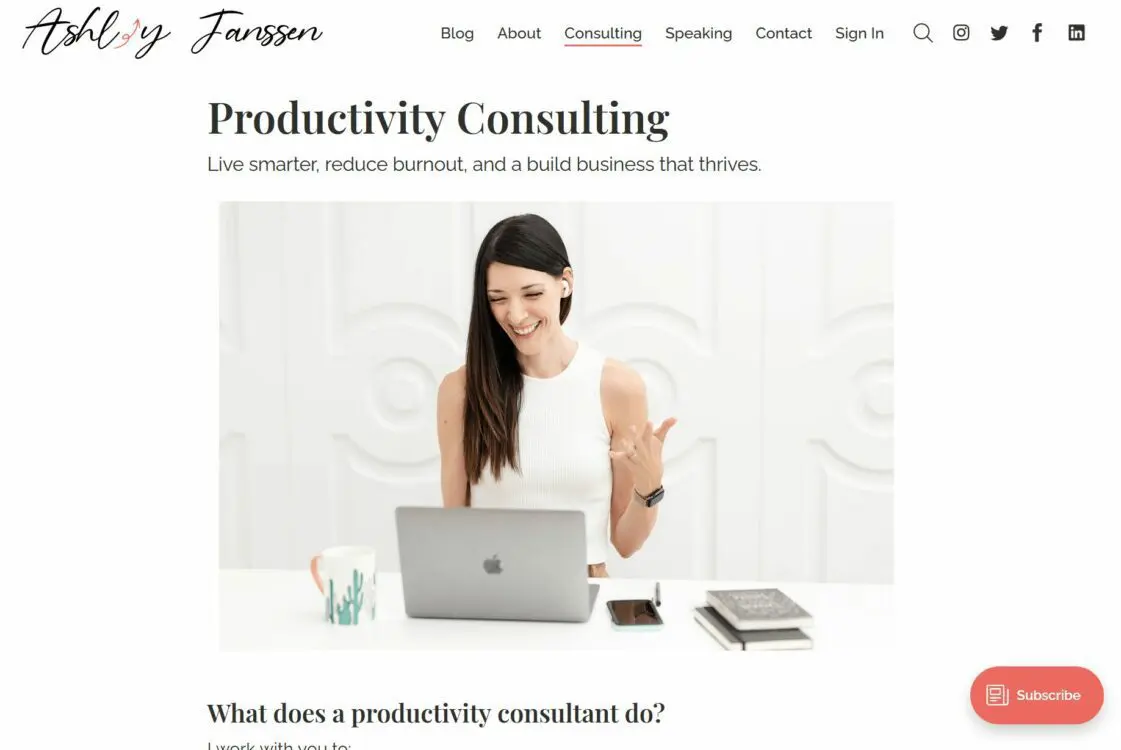 Ashley's website is clear, well-organized, and filled with numerous small eye-catching details. Perhaps most importantly, she manages to showcase her services (consulting, speaking), blog, bio (about), contact info, and social media profiles, in an easy to navigate header menu (along with her logo):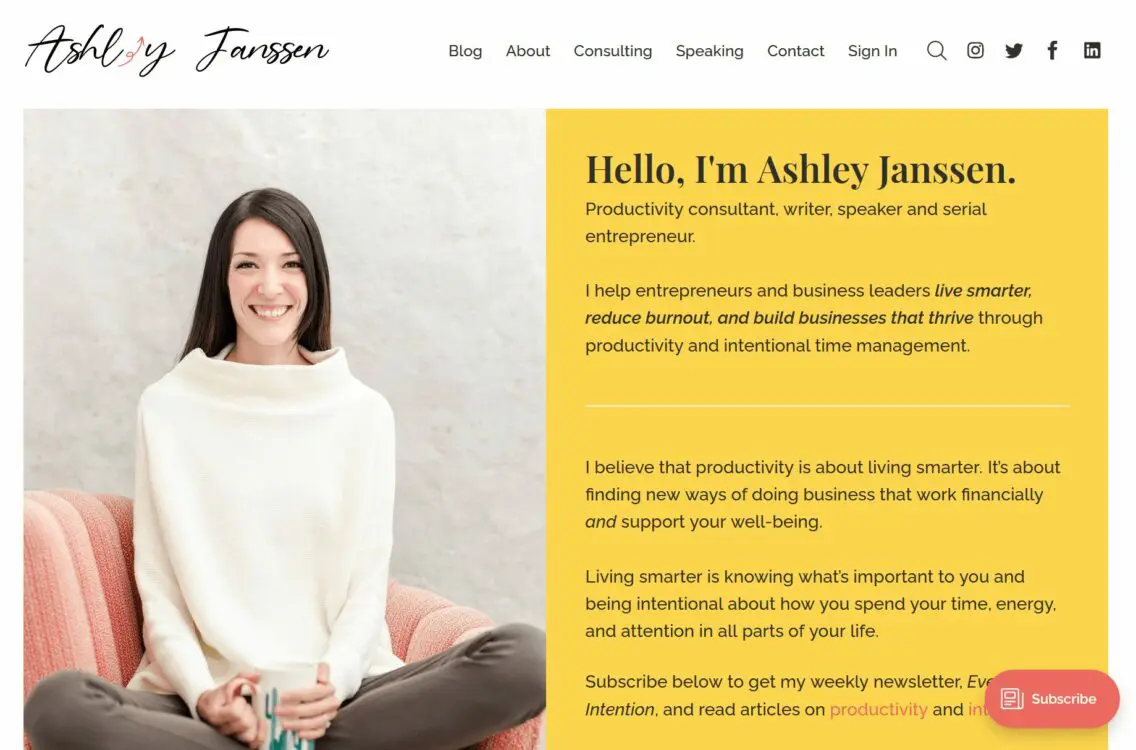 5. Exponential View (exponentialview.co)

Exponential View is a popular newsletter and online community geared toward understanding the near future, by Azeem Azhar. Exponential View is an interesting example of a Ghost subscription newsletter/hybrid paid membership community because Exponential View was originally hosted on the subscription newsletter creation platform, Substack. Both Ghost and substack are major players in the creator economy and digital publishing arenas, and Exponential View offers a glimpse at some of the custom functionality that website creators can achieve with Ghost (and not with Substack).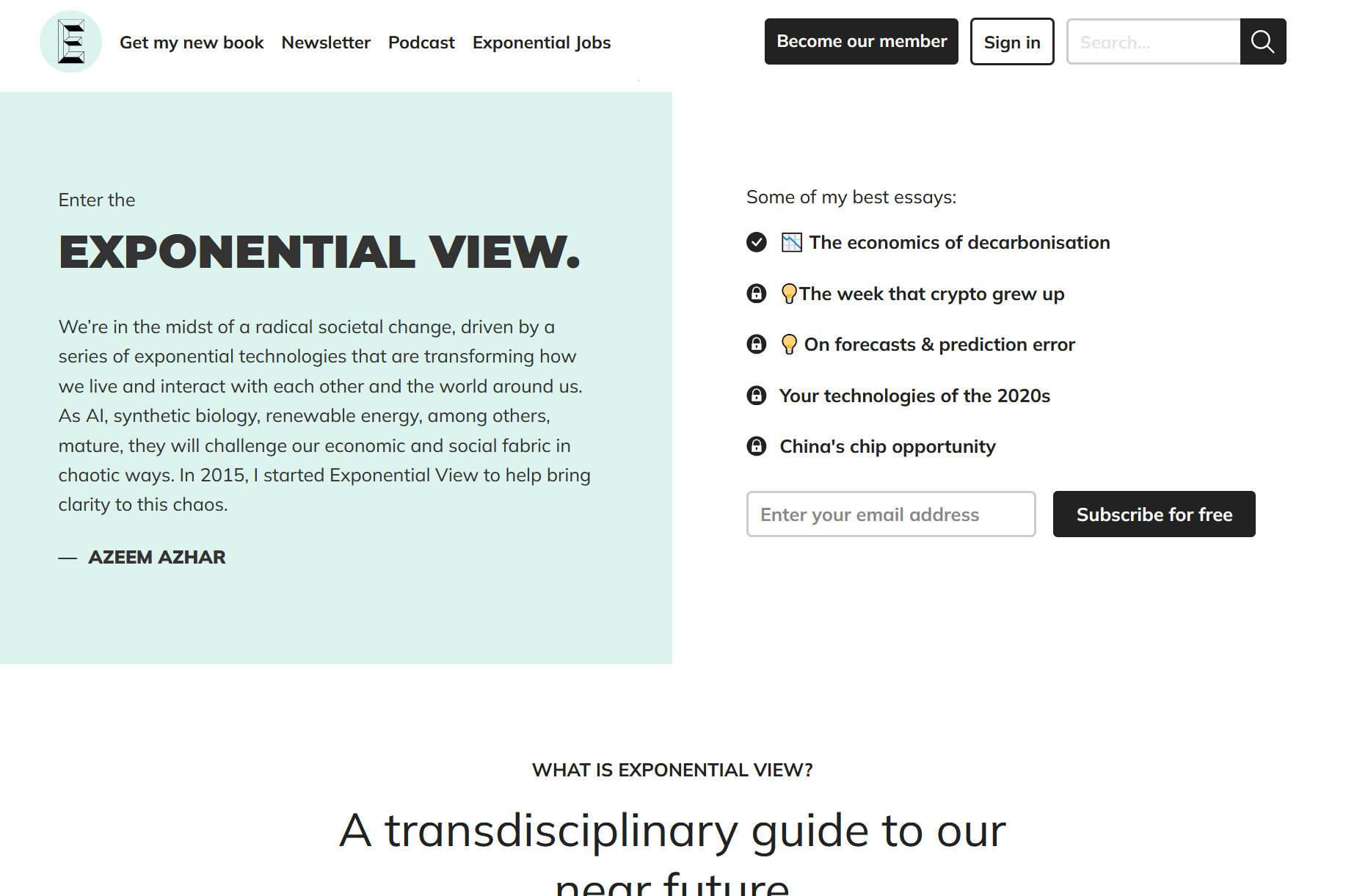 While Exponential View's Ghost powered newsletter is similar to that of the standard Substack publication layout, Azeem manages to incorporate additional information that Substack users are not able to add to their newsletter landing page. Some of these features include: multiple custom CTAs, links to multiple resources (newsletter, podcast, newest book), and most critically, ample space for social proof in the form of testimonials: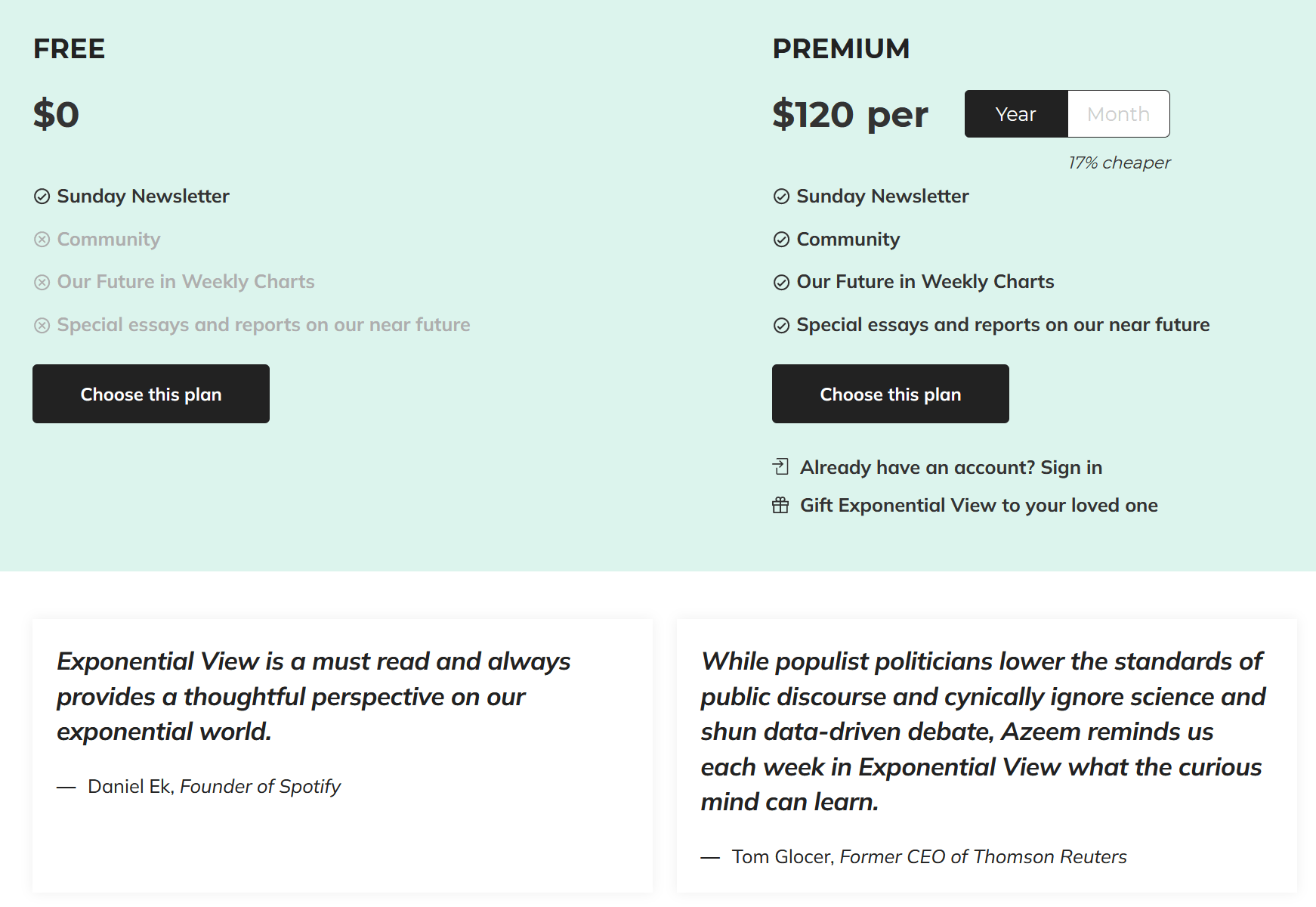 6. Opportunity Overload (opportunityoverload.com)

Victor Phillips sends out a bi-weekly email for his newsletter Opportunity Overload, which covers the best entrepreneurial opportunities—with a occasional touch points that may be stories, inspiration, reports etc.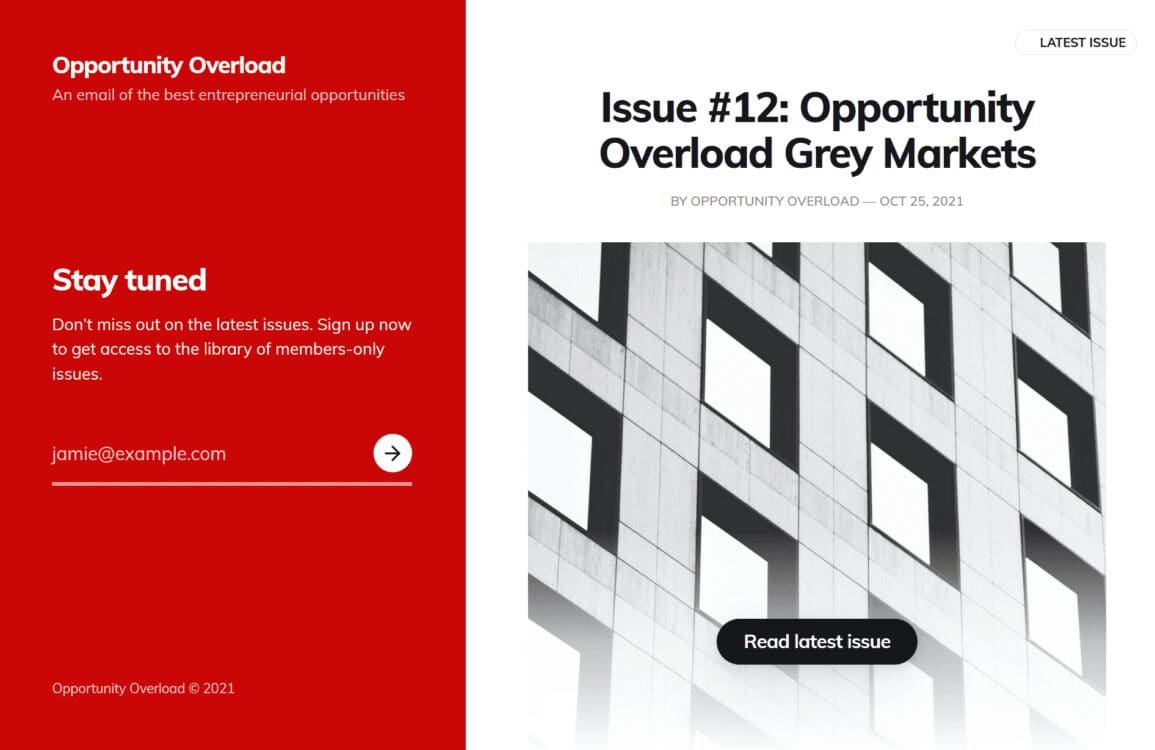 Opportunity Overload demonstrates how Ghost can be used to create a sleek landing page for a subscription newsletter. It's also a good example of how Ghost can be used to showcase your latest newsletter post, even if it's just a snippet from a paid issue. Unlike many other services, Ghost's paywall works well at protecting member-only content (encouraging interested readers to subscribe):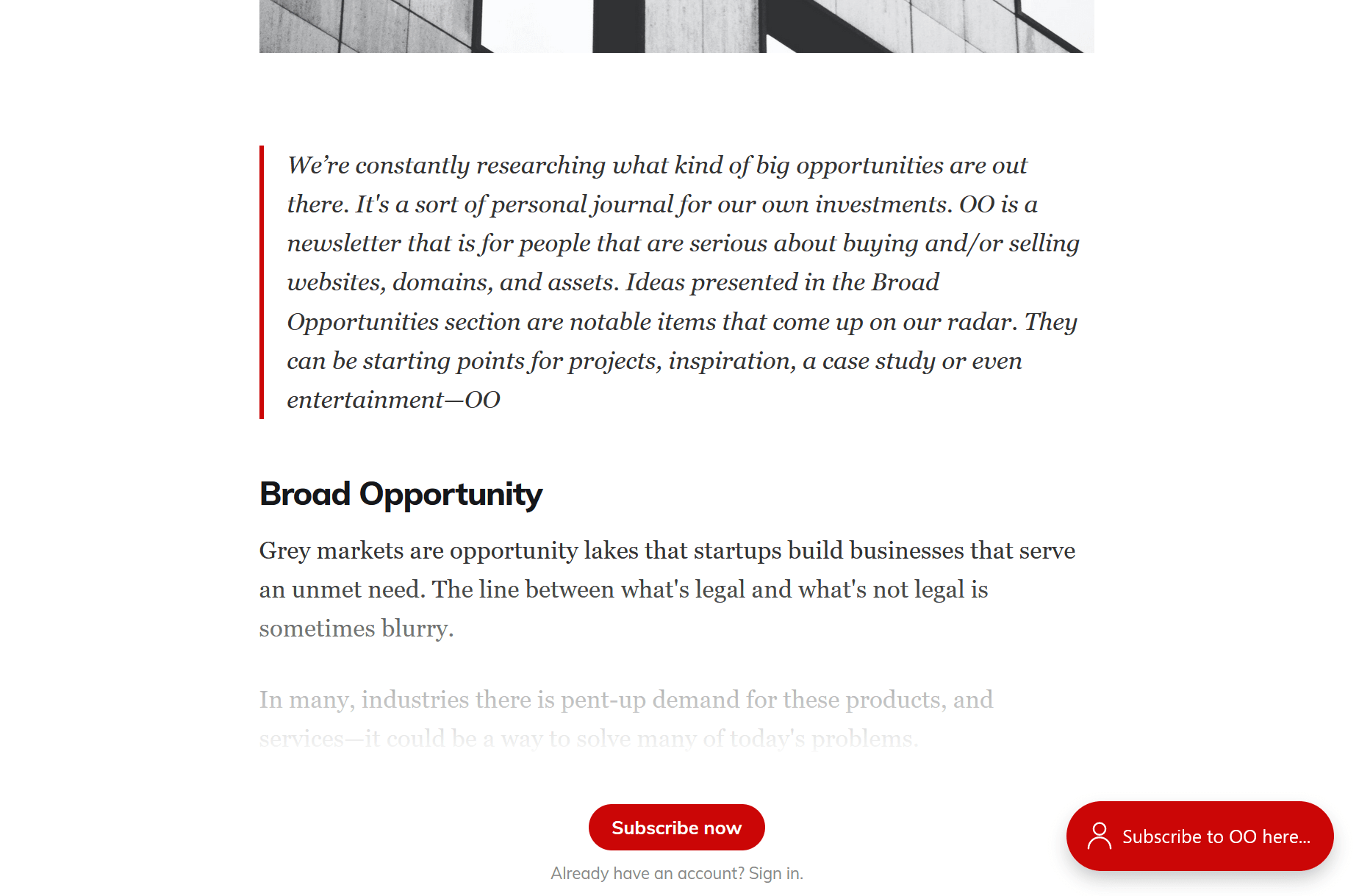 7. From Filmers to Farmers  (fromfilmerstofarmers.com)

Allan Stromfeldt Christensen published From Filmers to Farmers on Ghost, a membership site focused on the collapse of industrial civilisation and the renewal of culture.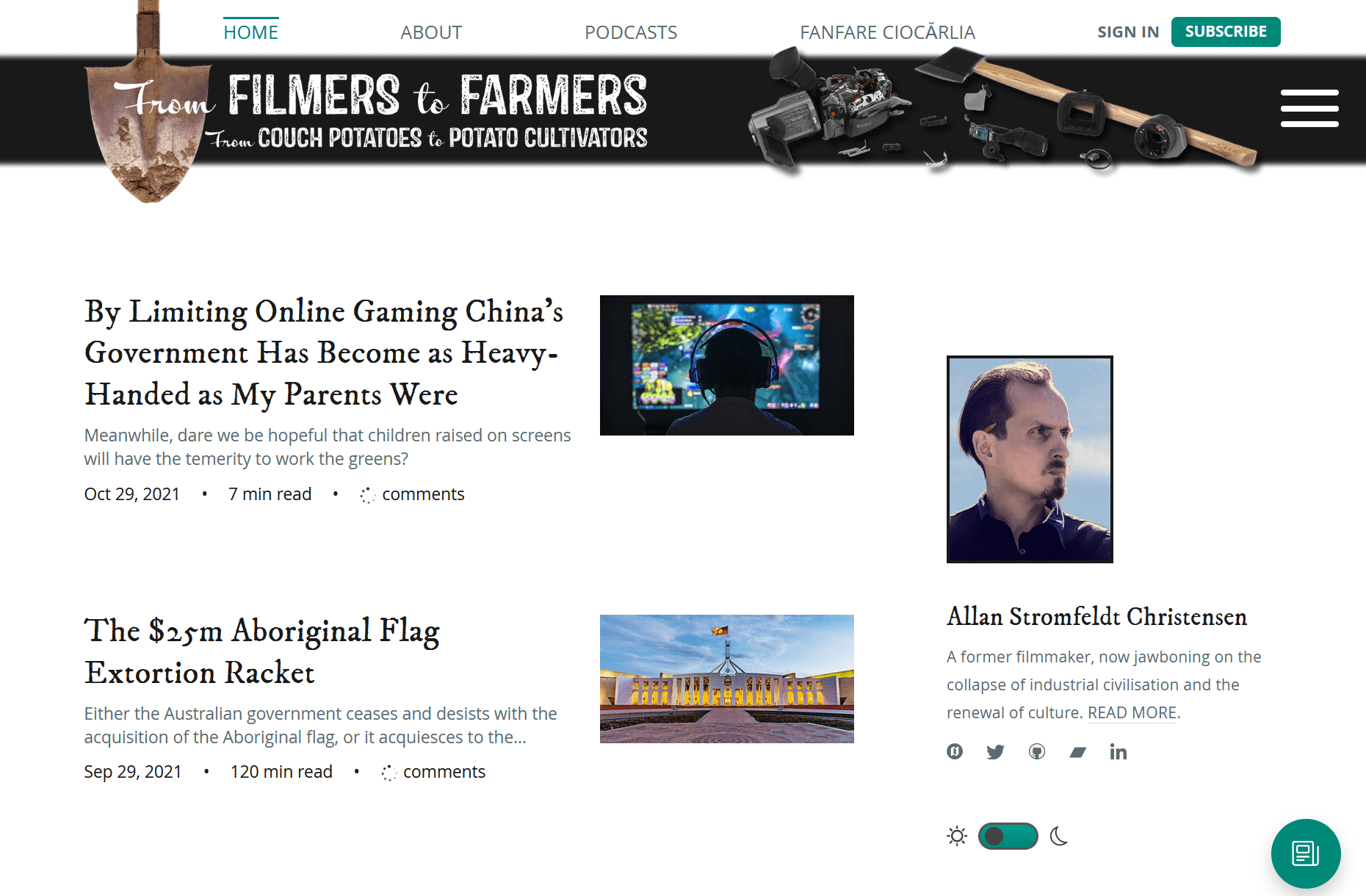 From Filmers to Farmers showcases a number of custom features available in Ghost, including: custom dark mode functionality, mega-site navigation for desktop tablets and mega dropdown for mobile devices, reading time eler, floating header with progress bar , and created a members welcome page for new signups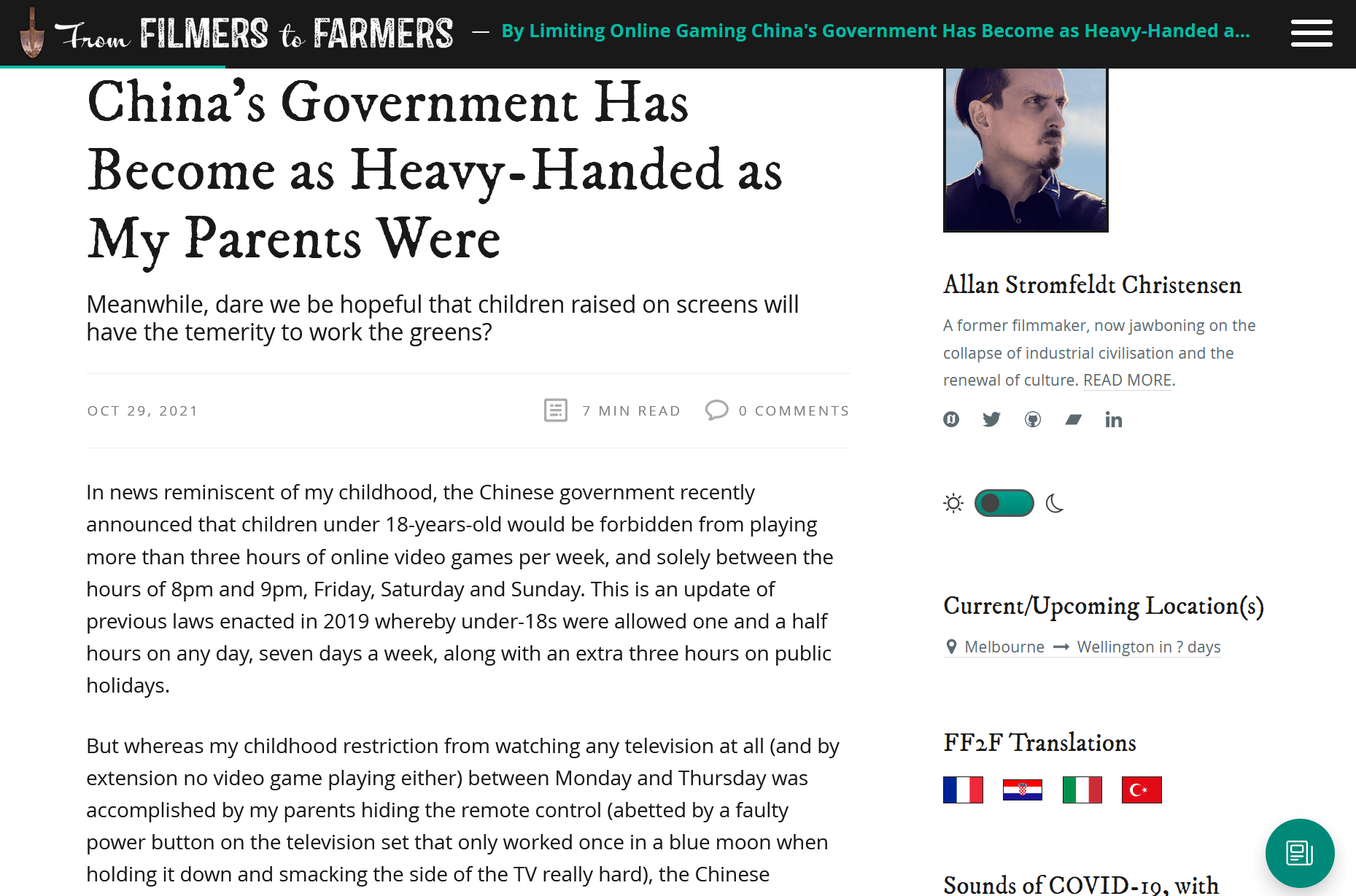 8. Sara Lobkovich (saralobkovich.com)

Sara Lobkovich is the founder and principal consultant at Red Currant Collective, a strategy and change consultancy that serves thinky-doers and status quo challengers. She powers her personal website with Ghost. Like Exponential View, her website replaces her former Substack newsletter.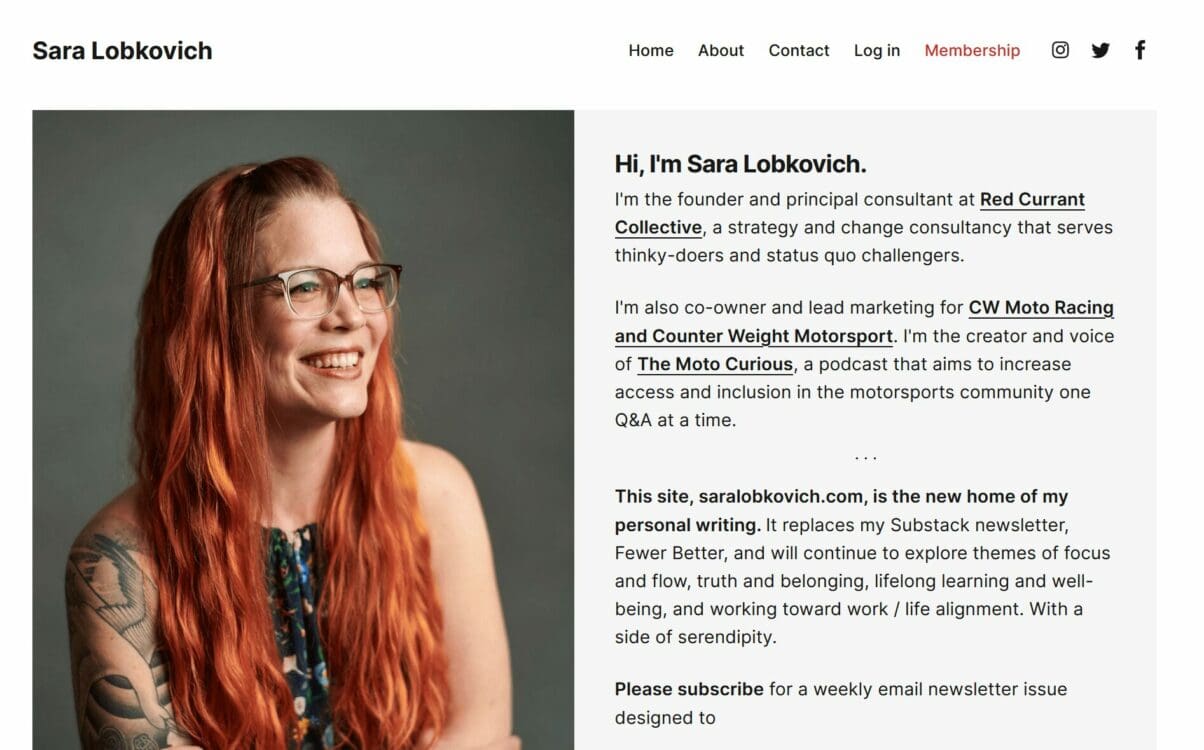 One of the cool aspects of Sara's site is her clean, yet unique layout of her recent blog posts. They all contain a custom layout with the blog post title, post subtitle, featured image, date, and post properties (whether the posts are public or for paid members only).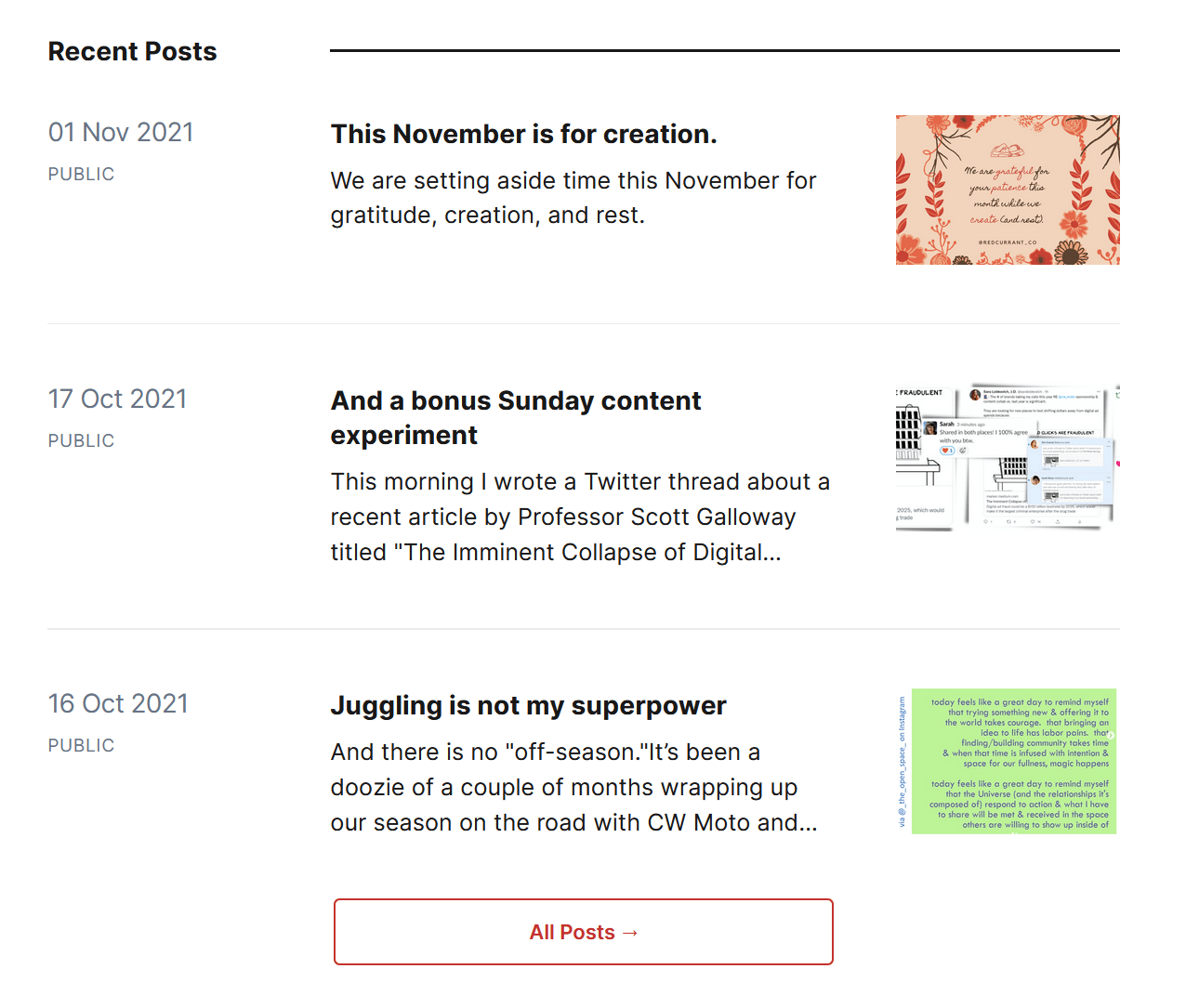 9. Pascal Andy (pascalandy.com/blog)

Pascal Andy is an interesting example of a Ghost website, that feels like a traditional blog, but contains many custom design features which make the posts really stand out. Some of these features include: the custom design behind the post previews, the custom photo shape of the blog post previews and meta data, and the custom accent colors seen on buttons and links within the website.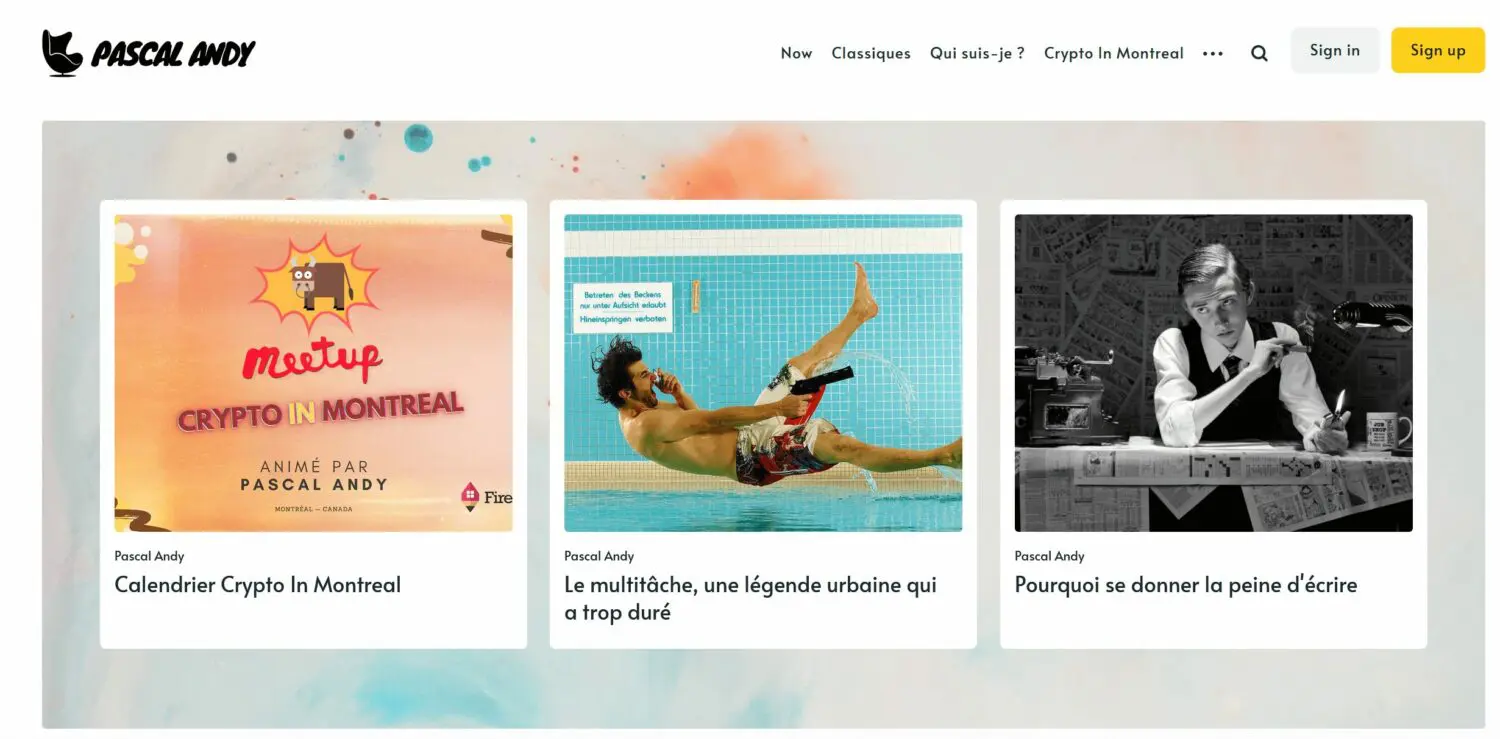 In many ways, the blog post below is similar to blogging platforms such as Medium (plenty of white space, black and white text, and modern/clean fonts). However, the post really sets itself apart from other blog posts by incorporating images and visual structures not typically found in a free blogging platform: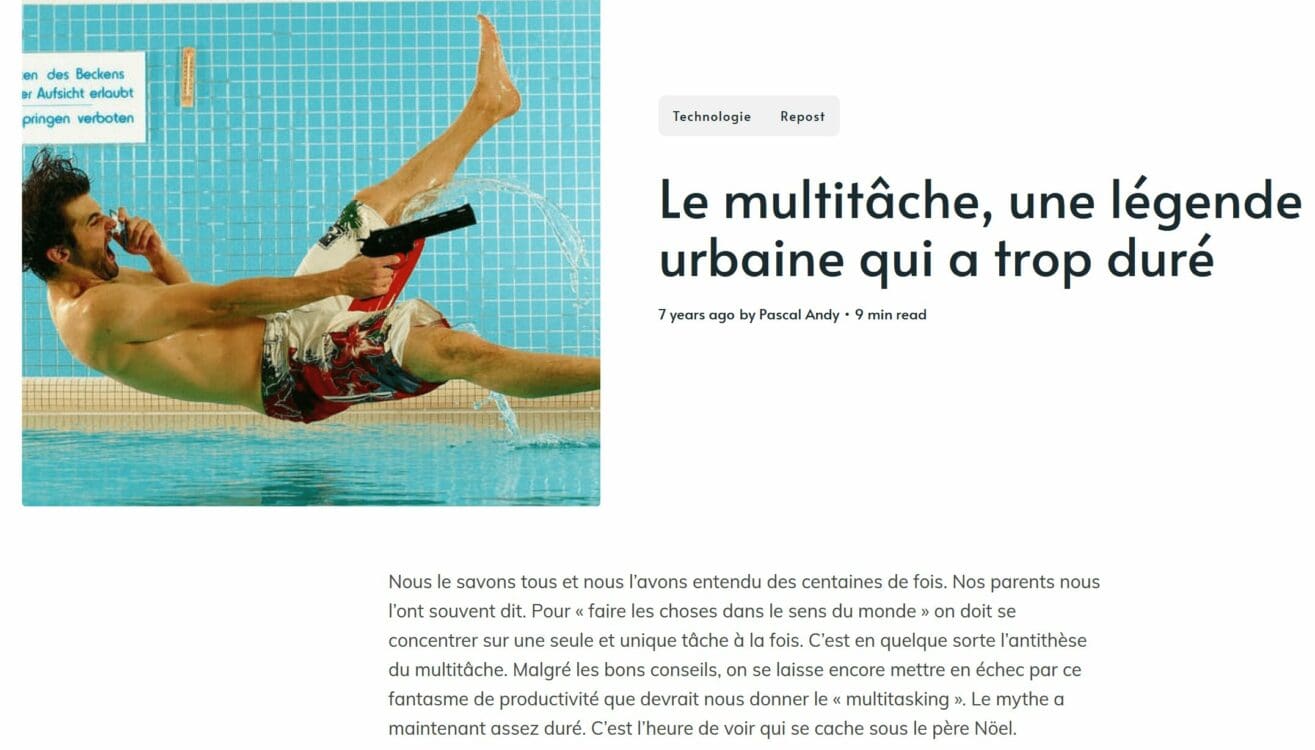 10. Creative Tim (creative-tim.com)

Creative Tim is an eCommerce store/Ghost powered website selling fully coded UI tools to create web and mobile apps. While there are not a ton of example of Ghost websites showcasing the potential eCommerce features, Creative Tim offers users a glimpse at what is possible.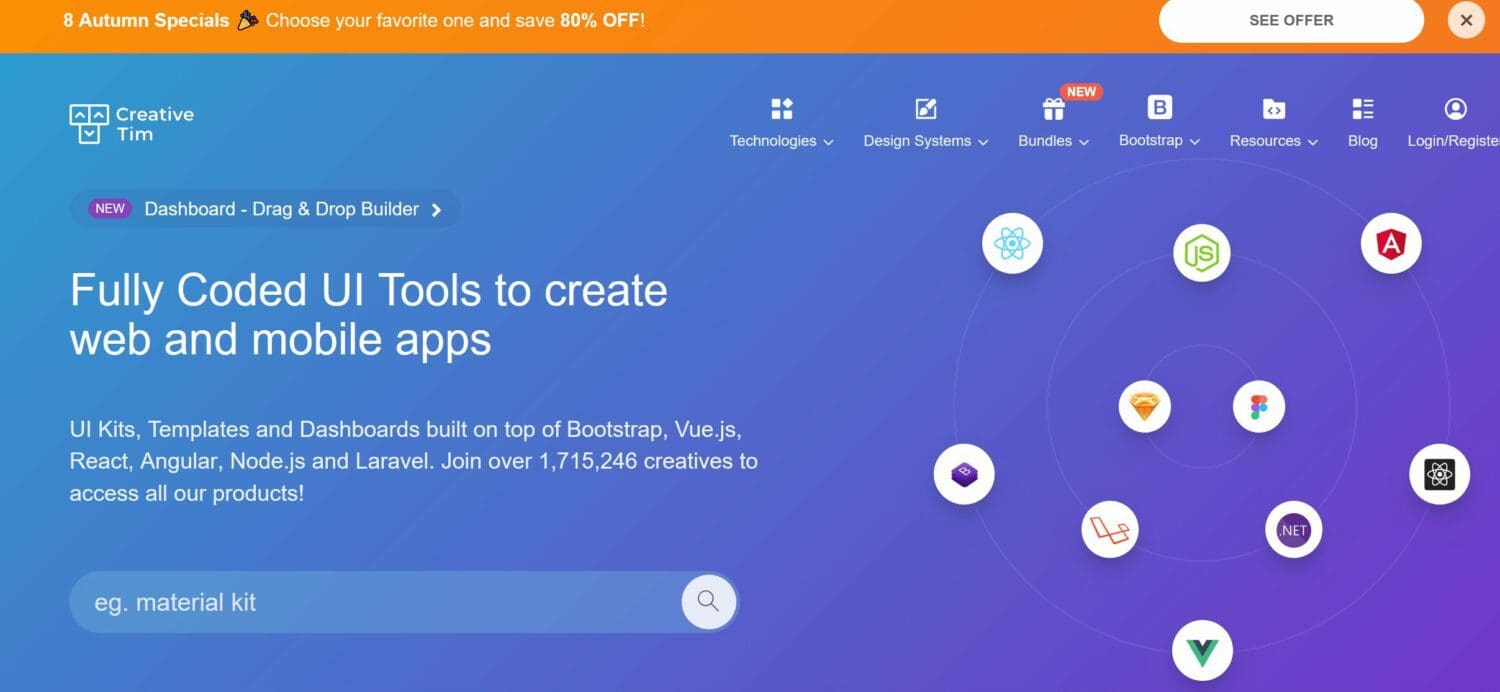 One of the most impressive details of Creative Tim is its ability to organize and display a wide array of products and services, on just a few key pages. The products also contain various tags which function as social proof (featuring metrics like downloads or 5 star rankings):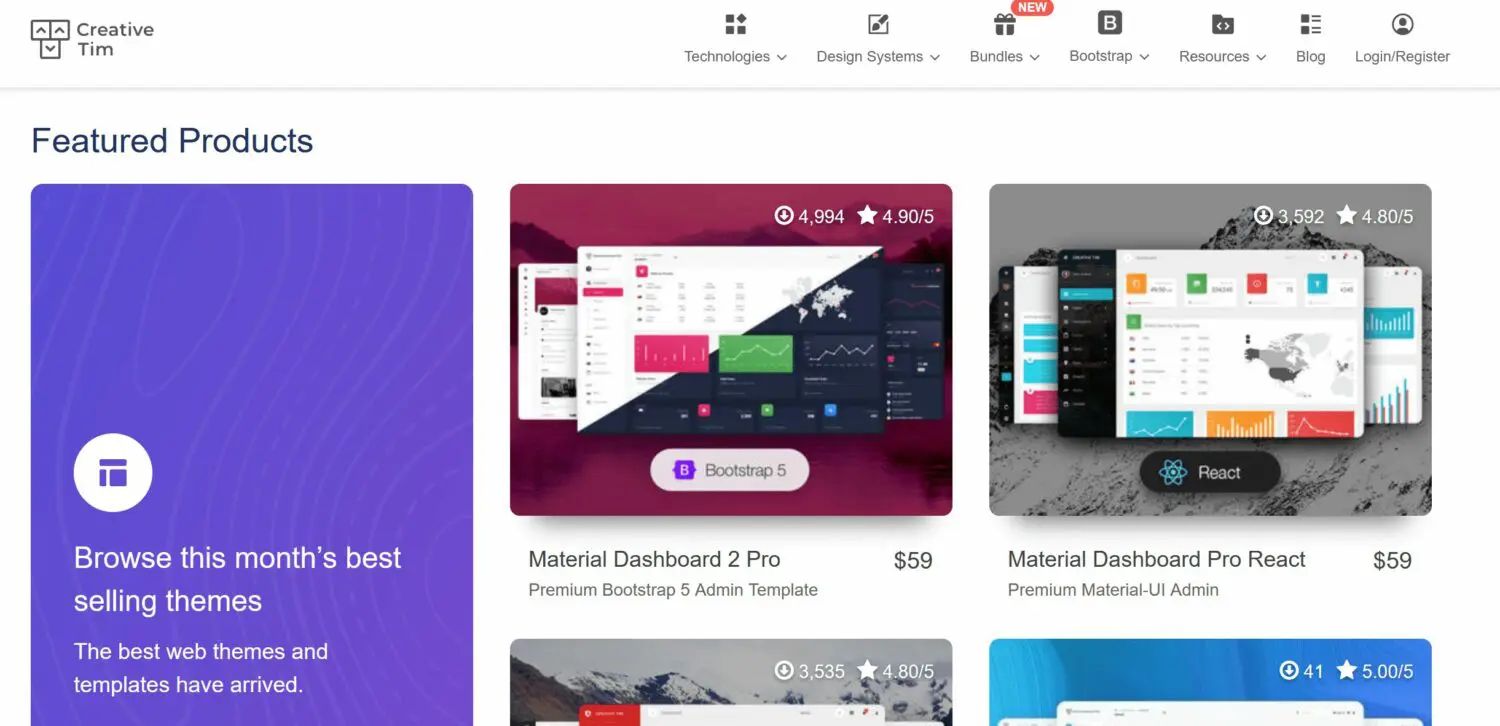 Sample Ghost Websites (by Large Companies)

1. Buffer Blog (buffer.com/library)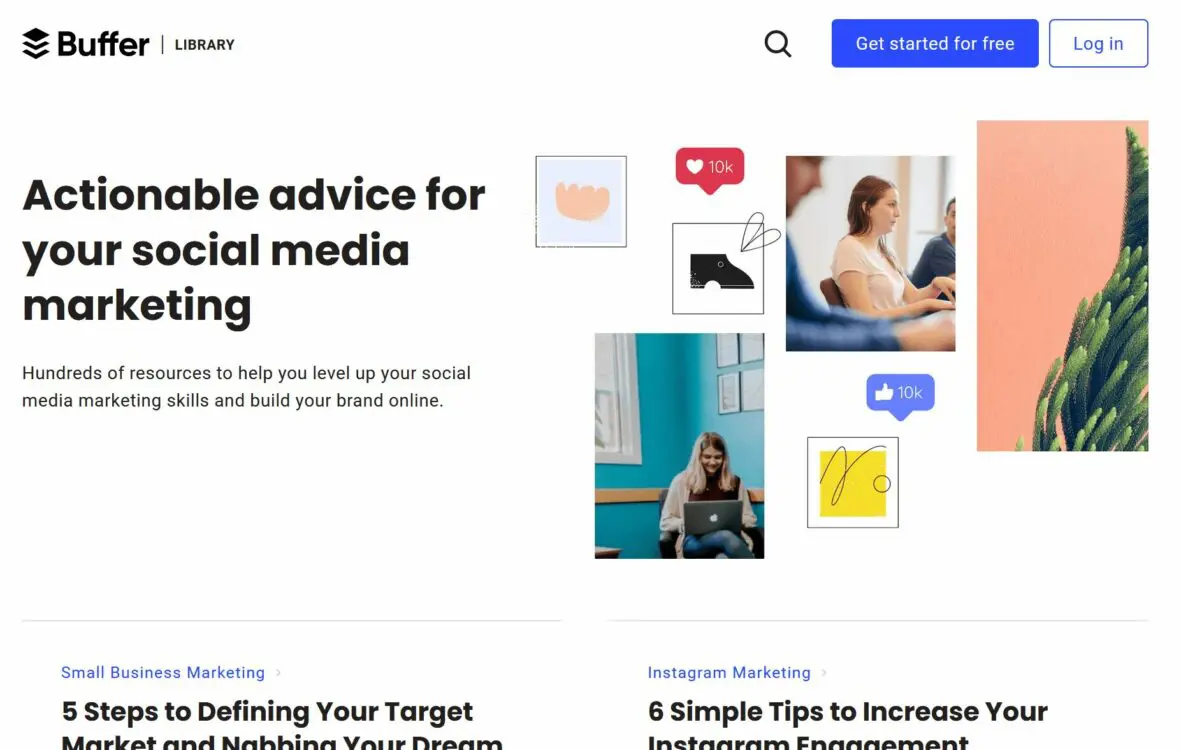 Buffer is a software application for the web and mobile, designed to manage accounts in social networks, by providing the means for a user to schedule posts to Twitter, Facebook, Instagram, Instagram Stories, Pinterest, and LinkedIn, as well as analyze their results and engage with their community. Many of the world's best content marketing teams, including Buffer, use Ghost to publish.
2. OpenAI (openai.com/blog)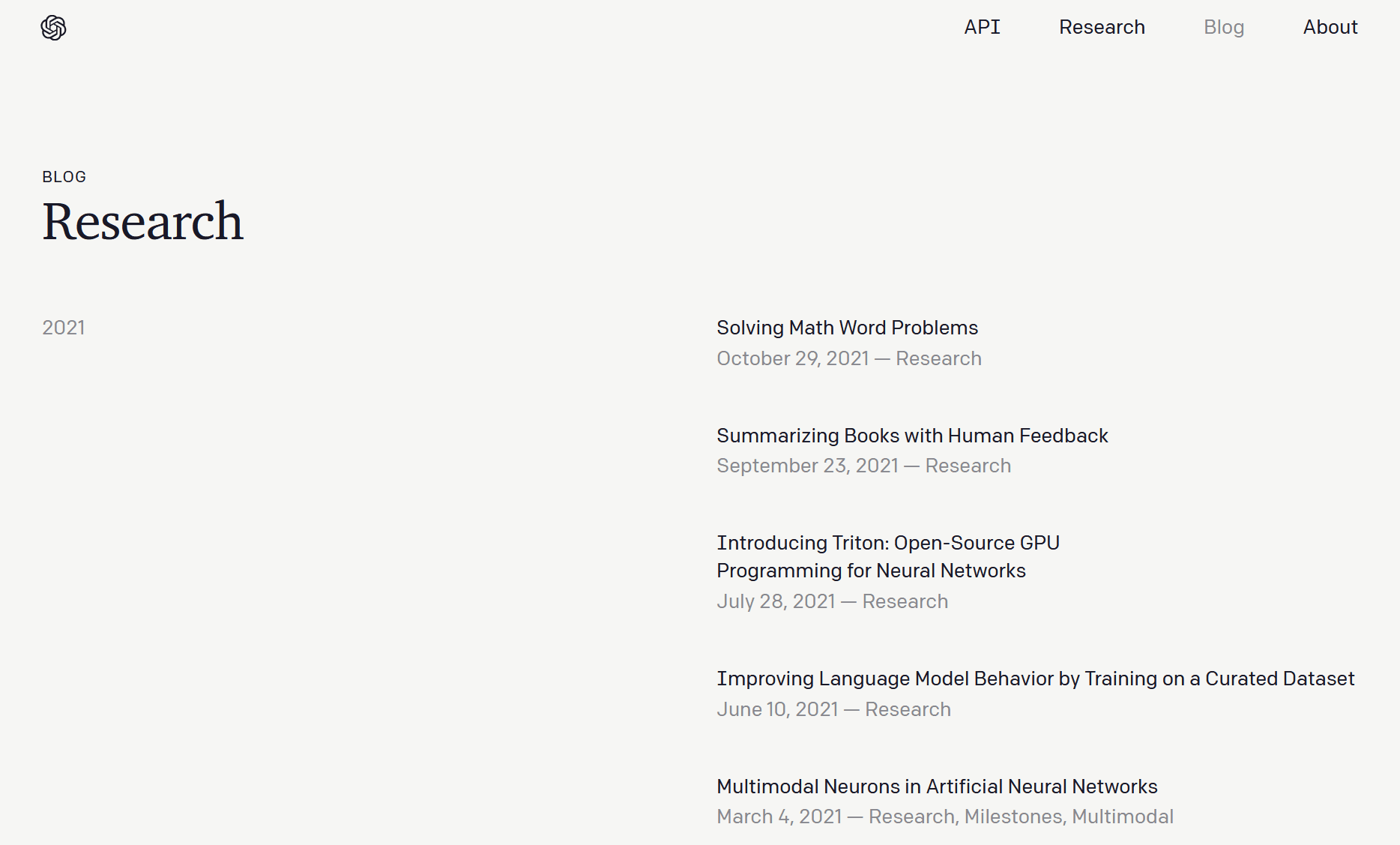 OpenAI is an artificial intelligence research laboratory consisting of the for-profit corporation OpenAI LP and its parent company, the non-profit OpenAI Inc. Ghost's advantages attracted Elon Musk's OpenAI team to publish all of their research using Ghost.

3. Airtable (blog.airtable.com)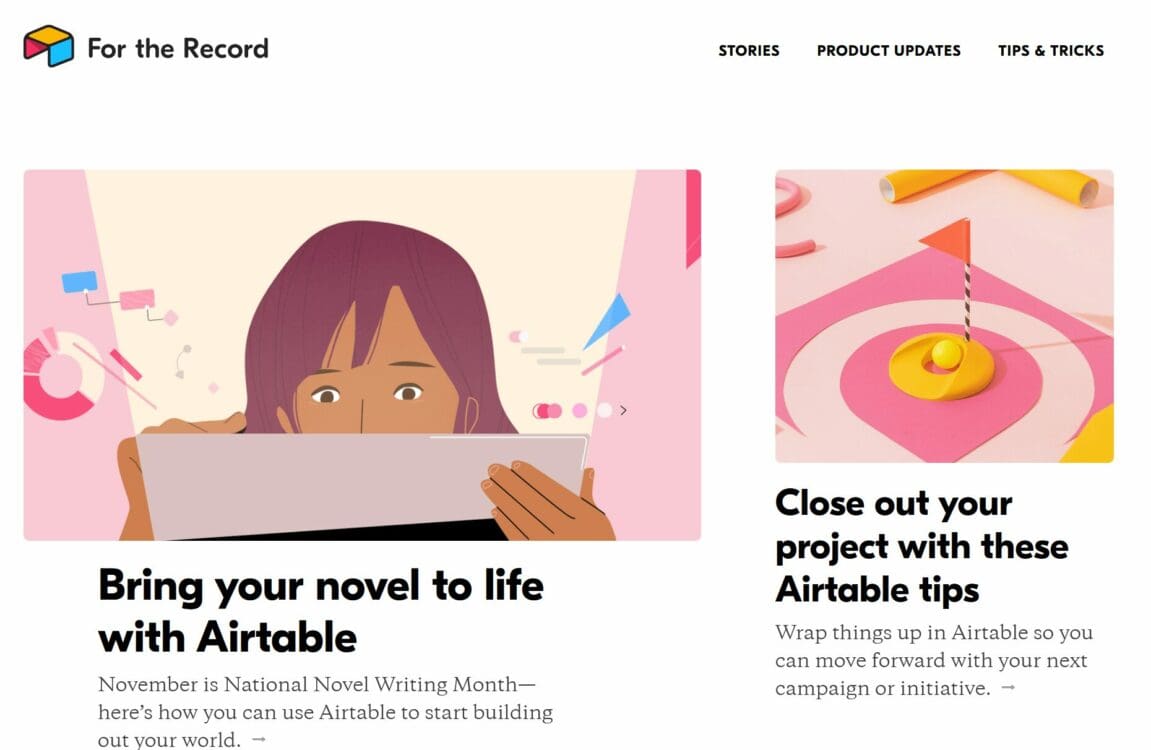 Airtable is a low-code platform for building collaborative apps. You can easily customize your workflow, collaborate, and achieve ambitious outcomes. Airtable runs a popular blog (For the Record) which offers stories, product updates, and tips & tricks.

4. Duolingo (blog.duolingo.com)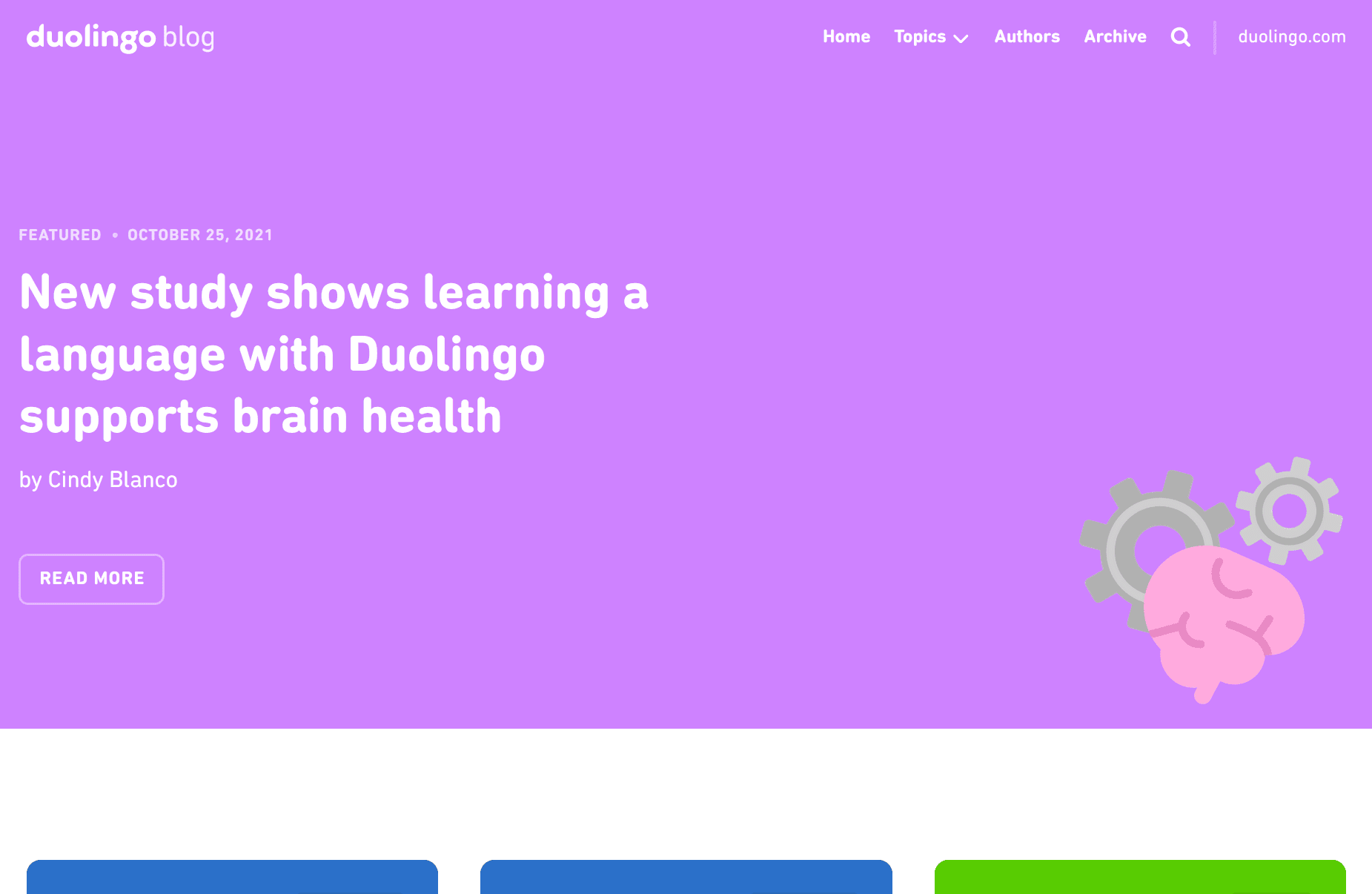 Duolingo is an American language-learning website and mobile app, as well as a digital language proficiency assessment exam. The company uses a freemium model: the app and the website are accessible without charge, although Duolingo also offers a premium service for a fee. Duolingo publishes research, product updates, and even language tests on their Ghost powered website.

5. Unsplash Blog (unsplash.com/blog)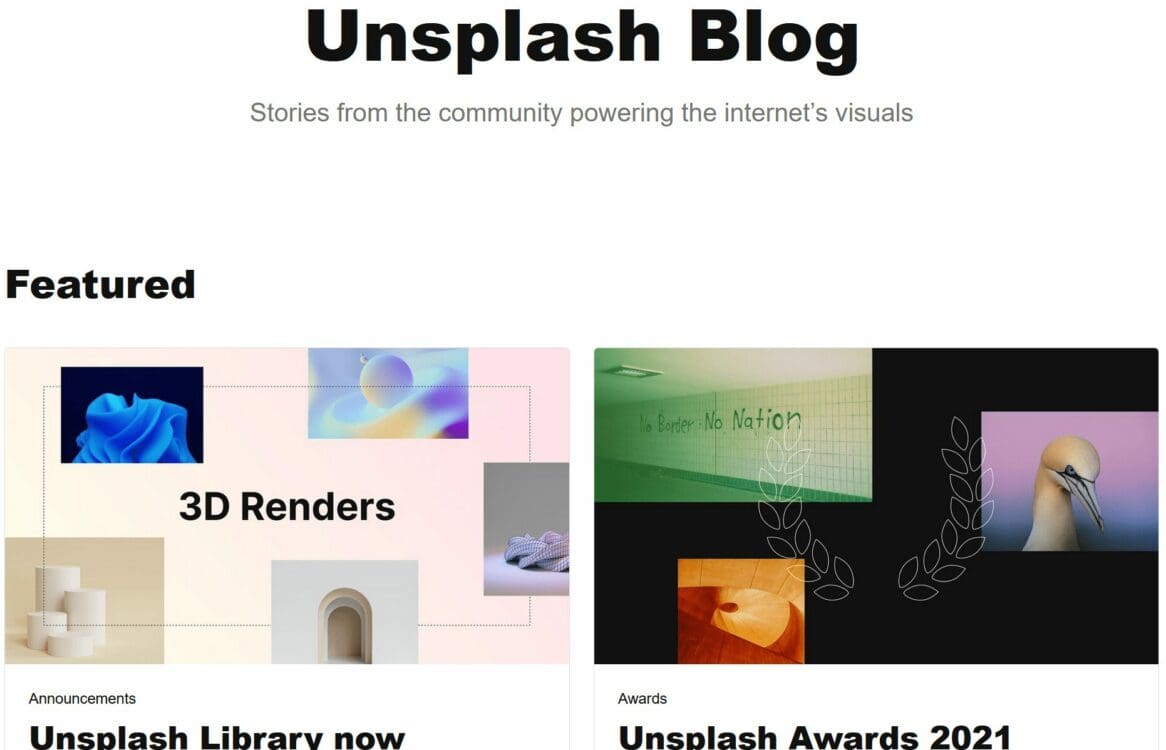 Unsplash is a website dedicated to sharing stock photography under the Unsplash license. Since 2021, it has been owned by Getty Images. The website claims over 265,000 contributing photographers and generates more than 16 billion photo impressions per month on their growing library of over 3.2 million photos. Unsplash uses their Ghost powered blog to showcase their latest product updates and announcements about winners of their various photo contests.

I hope you found this article on some of the most amazing Ghost website examples useful! Ghost is one of Blogging Guide's top rated blogging platforms. Click here to start building your website today!