How to Create a Splatter Effect in Canva

Disclosure: Some of the links below are affiliate links, meaning that at no additional cost to you, I will receive a commission if you click through and make a purchase. For more information, read our full affiliate disclosure here.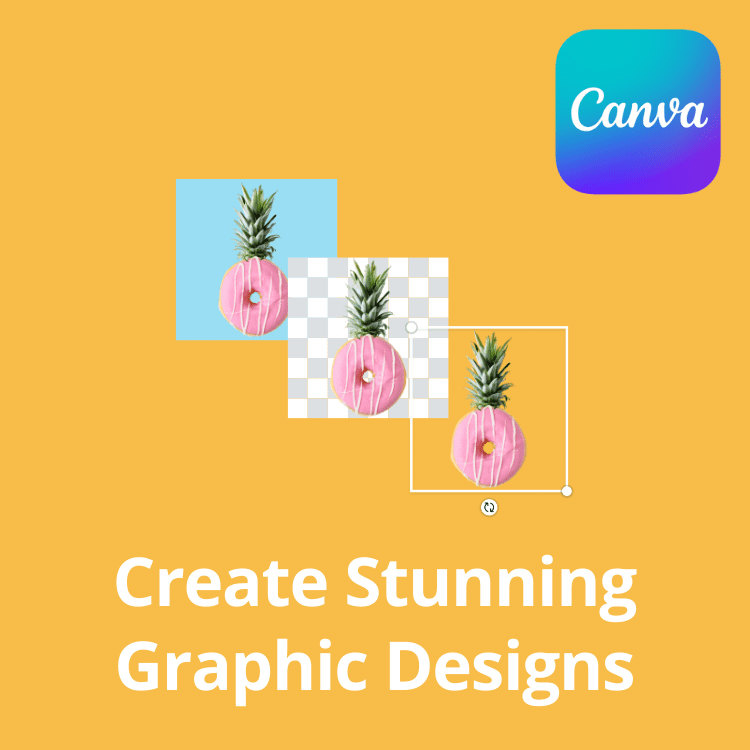 If you don't already have Canva, try it for free! Canva makes it ridiculously simple to create blog banners, edit photos, and design social media marketing content. It is also one of the few blogging tools that I use on a daily basis.
CASEY BOTTICELLO
Founder, Blogging Guide
Particle effects like dispersion and splatter are always eye-catching. Particularly in the case of dispersions, it can be hard to know exactly what the person has done to achieve the effect, making it all the more impressive! In this tutorial, you'll learn how to create a splatter effect in Canva (aka a dispersion effect in Canva).
Steps to Create a Splatter Effect in Canva
1. Remove Background From Desired Image

First, search for the image that you want to create a splatter effect with. Add this image to your Canva page.
Next, we'll remove the image background. You can convert the background to a transparent one by clicking once on the image the image, clicking on the "effects" button, and then selecting the "Background Remover Tool."
Note: This method only works for Canva Pro users. If you have the free version of Canva, and want to make you image background transparent, you can use RemoveBG as a free alternative at this stage. Or you can try Canva for free for 30 days!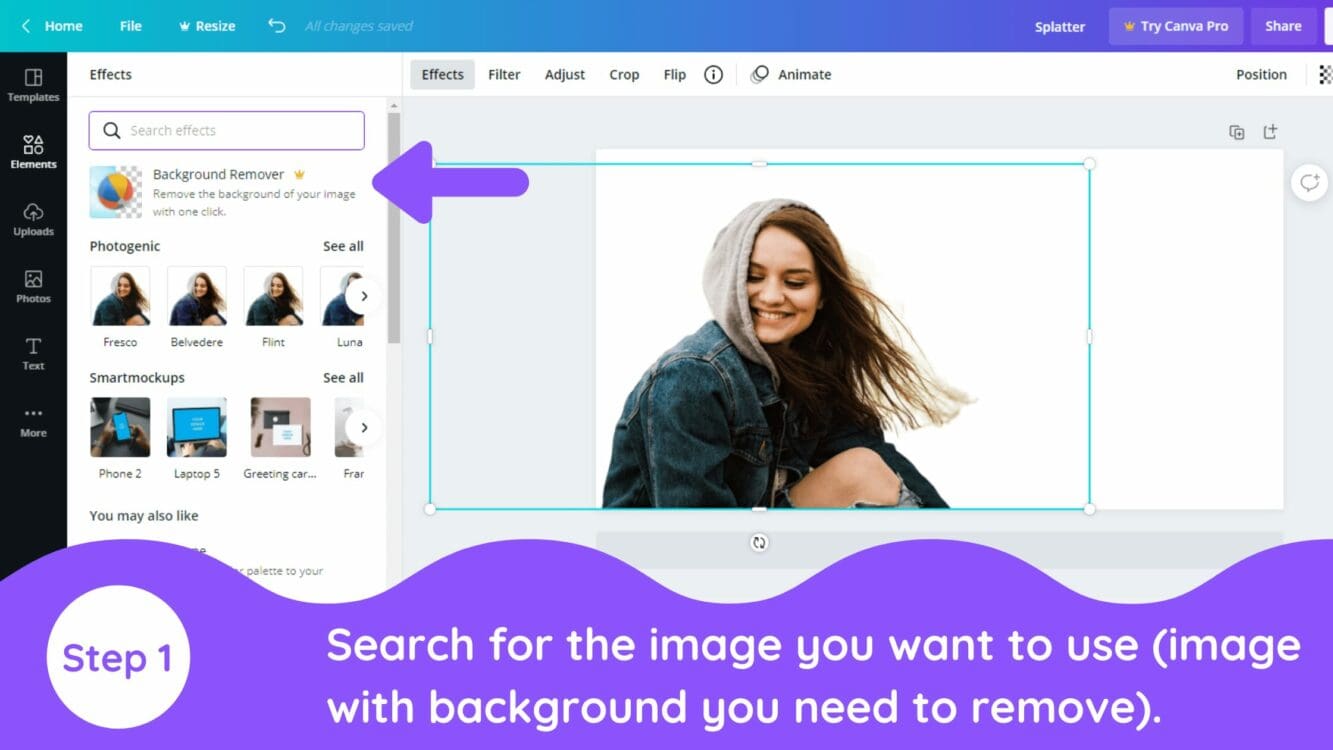 2. Search for "Splatter" in Elements
Now go to 'Elements' and search for 'Splatter'. You will be able to see more splatter and paint brush splash-type effects.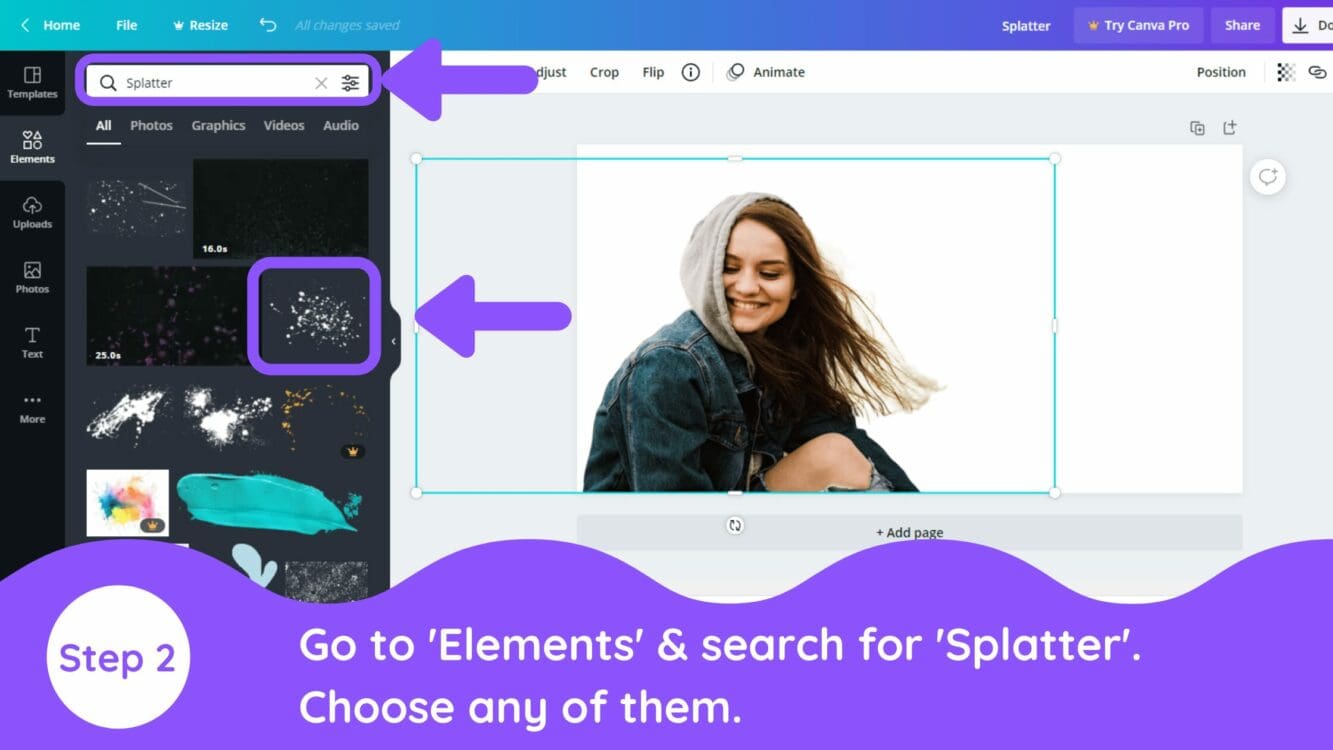 3. Layer the Edges of Your Image with White Colored Splatter Elements
All you need to do is select one or more effects and start layering it on the picture. The first layer would be with White color splatter objects. So try putting splatter using white color on the edges of the picture and then spread them outside using the same colors used in the picture.
Note: For the purposes of this tutorial, we have used a solid white background, which is probably the most easy background to create the splatter effect for. However, you can achieve a similar effect by choosing colors other than white to match a background of another color.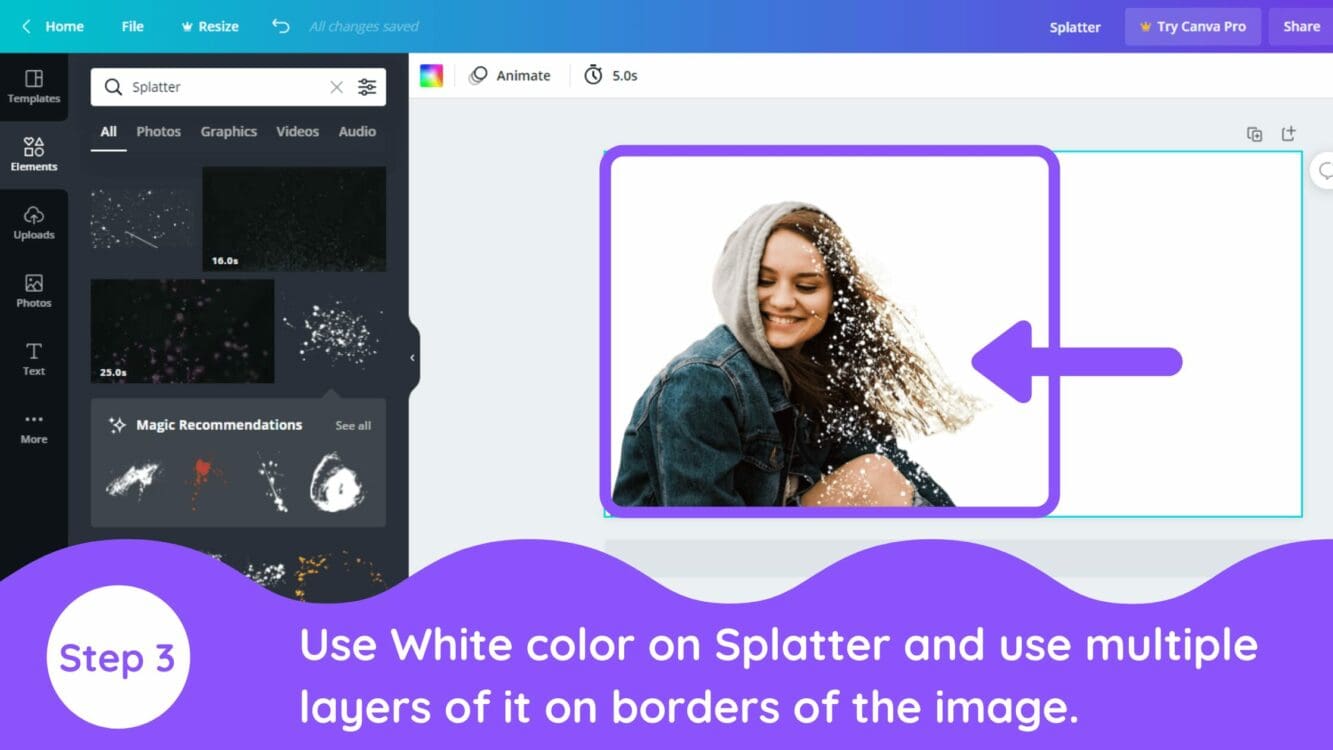 Final Product
Congratulations! You just created a splatter effect in Canva!
You can adjust the splatters according to your creativity and the amount of time you want to spend on a given graphic design. The key to a great splatter effect in Canva is taking the time to create many layers of splatter, all with similar but slightly different colors and sizes. This is what allows you to create a realistic dispersion effect.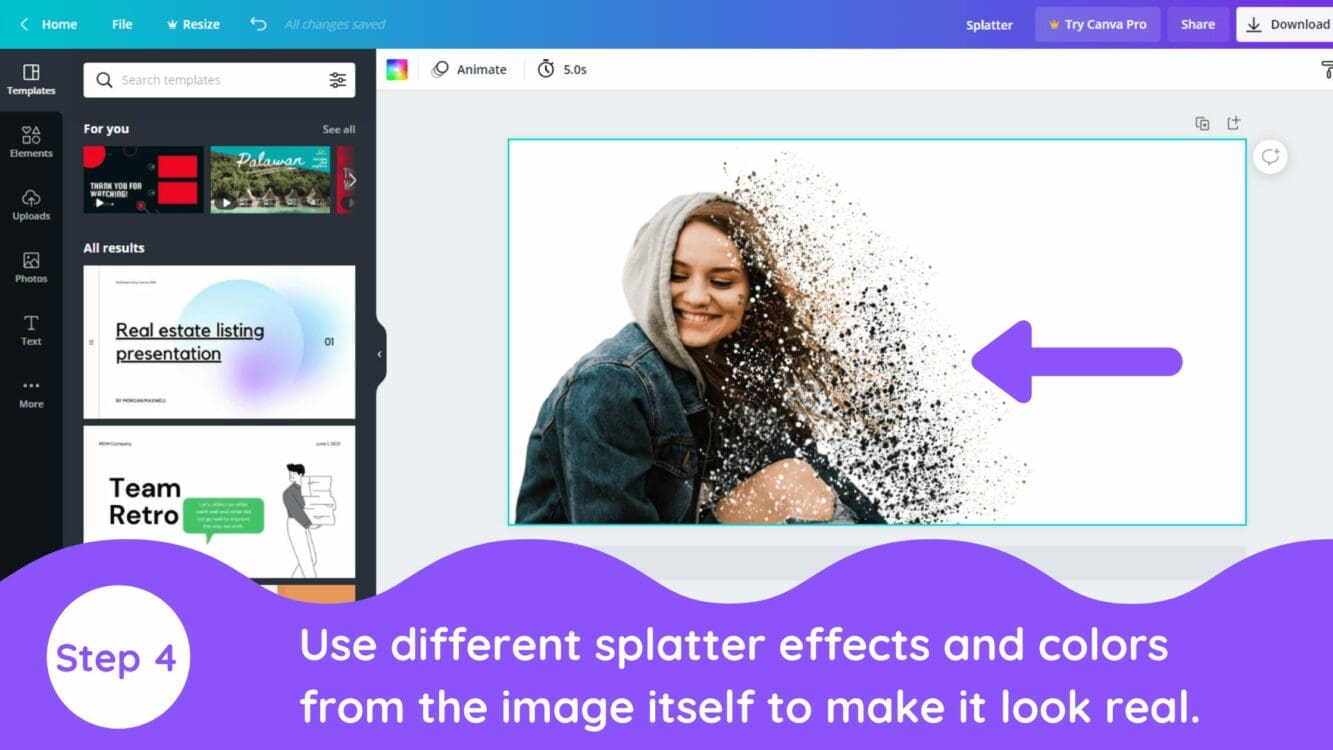 Canva is a great free graphic designing tool for beginners as well as professionals providing infinite number of features for you to boost your career. I hope this tutorial helped you to learn how to create a splatter effect in Canva and get the most out of it. Click here to read our comprehensive Canva Guide. If you are interested in downloading Canva or trying Canva Pro for free, click here. Below are several related Canva tutorials that you might find useful: