Mediavine vs. AdSense: Does Mediavine Pay More Than AdSense?
Disclosure: Some of the links below are affiliate links, meaning that at no additional cost to you, I will receive a commission if you click through and make a purchase. For more information, read our full affiliate disclosure here.
One of the most common monetization strategies for bloggers, marketers and small business owners is online advertising. This is where advertising platforms are permitted to display relevant ads on a website, generating revenues whenever those assets are viewed and/or clicked.
A big benefit of display advertising is the possibility of eventually earning passive income. The only requirement for this to happen is having a website that contains useful content. Of course, you also need to have traffic (people visiting your website), since the more people see the ads, the higher your earning potential.
Getting into advertising is rather easy, too. You just need to sign up with an advertising service (provided that you meet their requirements), follow a few simple steps, and ads will start showing up on your site. After that, you don't have to do much else but watch the revenue flow in.
But your earning potential is often directly impacted by the advertising company you decide to team up with. Two of the leading choices in the display advertising space are AdSense and Mediavine. Consequently, there have been plenty of Mediavine vs AdSense comparisons, especially to determine which one pays more.
As you have seen in the title, this article is another one that seeks to split the differences between the two. Before we get to the specifics, however, it is helpful to get an understanding of what display advertising entails.
Overview of Display Advertising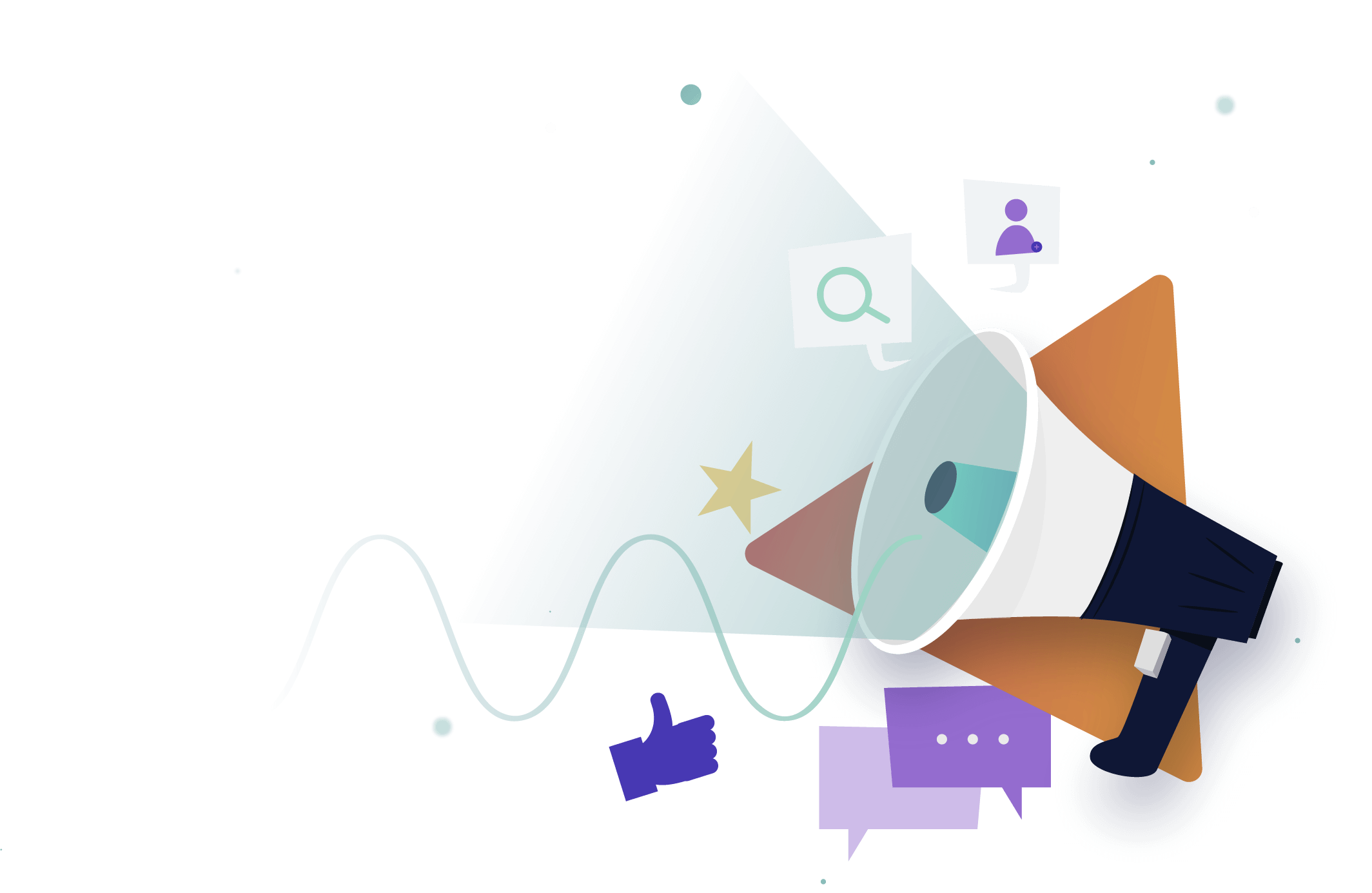 Permitting ads on your website, whether it is a blog or affiliate platform, is one of the leading ways to earn passive income. Unlike selling courses, e-books or downloadables, you will hardly ever need to do anything else once you have set up your ads. In addition, display advertising is a perfect monetization strategy for website owners who don't have anything else to sell on their website.
That being said, a display advertising network helps to facilitate the third-party advertising process. They are sort of a go-between, helping companies that want to reach more customers get their message on the right websites and in front of the most relevant audiences.
In the absence of these advertising networks, business owners would find it difficult to reach the amount of people they want to in order to meet their goals. This is because advertising networks have the power to target people in places that a company on its own would not.
Moreover, website owners who want to have a shot at earning ad revenue would have to reach out directly to various advertising companies in order to work through many of the complexities of online advertising. Issues such as matching the best fitting ads with a website's audience, producing ad copy, conducting ads management, and determining the amount of advertising revenue to be paid out can get murky real quick without the presence of a display advertising network.
As you can imagine, it would be a mammoth undertaking for any prospective publisher, especially since there are literally millions of advertisers to choose from. The display advertising network handles everything in the background, so you get the right ads on your website and simply get your cut of the revenues at the end of the month.
An additional feature of reputable display advertising networks is that they continuously work to make the ad experience better for website visitors. They draw on humongous amounts of data, especially from the Google system, and use technologies such as artificial intelligence to match the right ads with the most suitable audiences. Also, the ads served by these platforms tend to be of a high quality and click-worthy.
Importance of Choosing the Right Ad Partner for Your Website

Display ads can be in the form of text, images, videos, or even GIFs. Most advertising networks will assess your website to determine what kinds of ads will work best based on your audience profile, location, and preferences.
But those are not the only reasons why it is important to choose the right online advertising partner. The display advertising network you pick can have a huge impact on your earning ability. With that said, Mediavine and AdSense are among the most popular choices for website owners who want to run ads as a way to boost their income. There are a number of other display advertising networks worth checking out, including:
Taboola

Facebook Audience Network Ads

Leadbolt

Apple Advertising

Yahoo! Network

Ezoic

mMedia
You are free to look into the above options on your own. But since this article is about Mediavine vs AdSense, those are the two we will continue to discuss.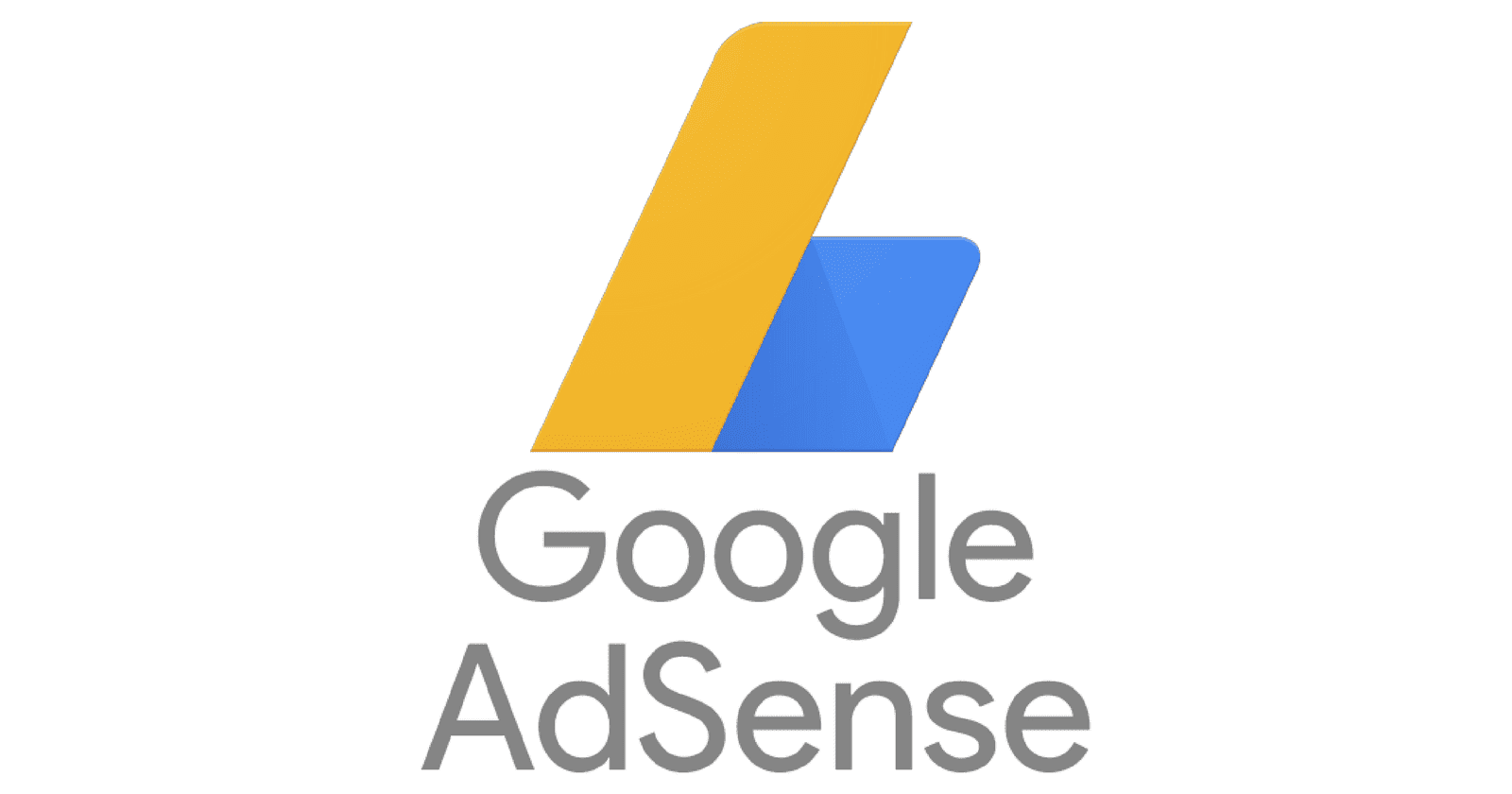 Known fully as Google AdSense, this advertising program is of course a Google product. It is, therefore, not surprising that AdSense is the display network most ad publishers are used to. AdSense has also been around longer than most other solutions, having been launched in 2003 when Google was still in its infancy stages. AdSense has grown in tandem with the Google Advertising platform and, to date, serves over two million advertisers while putting ads in front of billions of customers.
Access to mountains of data, courtesy of Google Search, means AdSense has set the standard when it comes to helping advertisers find suitable audiences for their offerings. At the same time, AdSense makes it easy for all types of bloggers and website owners to have the best fitting ads placed on their platforms. There is also no minimum traffic requirements, so whether your site is getting thousands of visitors or only a few hundred per month, you can use AdSense.
That's one of the reasons why AdSense tends to be the go-to choice for new website owners and those trying out display advertising for the first time. Another reason is the level of control afforded by the Google AdSense program. It allows you to customize where ads show up on your website and choose the best fitting ads for your audience. You can even block ads that you dislike for whatever reason.
No minimum website traffic. This means any website owner can join the program, whether they are getting visitors or not. That being said, your website will need to have content that is family-friendly in order to have a chance of qualifying for ads publishing.
No exclusivity agreement. AdSense does not try to restrict you to its own service, you can use other programs as well to increase your overall earning ability.
Easy to get started. You can simply go to the Google platform and sign up for AdSense to start the process. Once approved, you will receive a snippet of code to add to your website. Google will automatically start showing ads that are optimized to match the layout of your website.
Offers display advertising tools. The AdSense platform comes with learning resources, which is helpful for newbies who may not understand how to make the best of the display advertising landscape. You can even learn how to optimize ads so you can improve your reach and hopefully get better results.
Built in compatibility with other Google products. Users of AdSense gain access to Google Analytics, which can provide helpful insight about your advertising strategy. In addition, it offers the ability to view data relating to revenues generated per ad, audience response, best performing ads, and viewership numbers for your ads.

No guarantee of website approval. Although there are no minimum traffic requirements, you have no control over whether Google will actually give you access to the AdSense network. However, having some amount of traffic coming to your website means there is a high chance that your website will be accepted, as opposed to not having any traffic at all.
Low earning potential. AdSense is often criticized for having one of the lowest revenue per thousand impressions (rpm) payouts on the market. Websites often have to welcome tens of thousands of visitors each month in order to see any meaningful returns. As such, although there is a low barrier to entry, website owners with low traffic are unlikely to earn any substantial financial benefits.
Lack of support. The AdSense website may offer some learning resources, but that's about it. Users are left to figure out most things on their own, which can be difficult considering the size of the internet advertising market and all that it entails. In addition, the content controls offered by AdSense can be tedious in themselves because there is a high number to go through, and users may not know which options to use for what.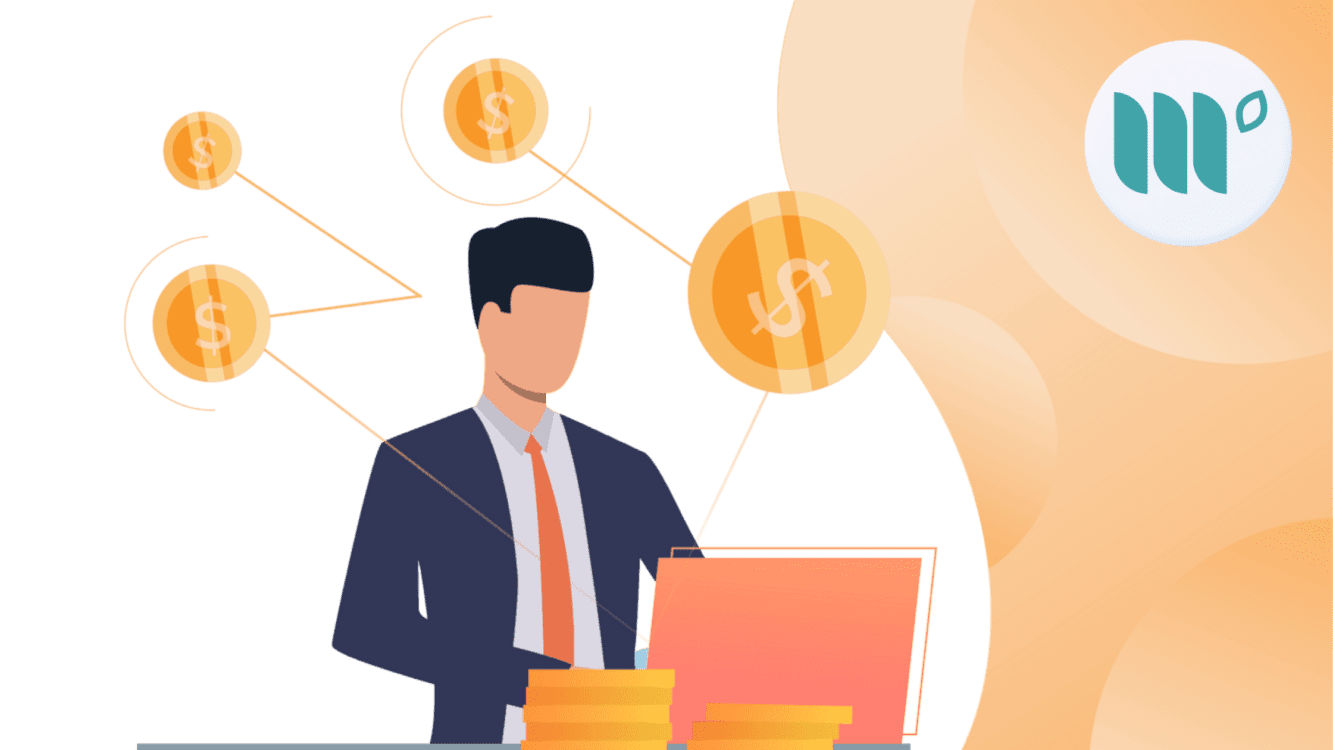 Mediavine does not consider itself to be an advertising network. Instead, it leans towards the description of being a full-service ad representation platform that helps content creators build sustainable businesses.
Launched in 2004, Mediavine has established its brand as a leading player in the display advertising industry. Not only is Mediavine a Google Certified Publishing Partner, but it is constantly developing new advertising technologies that it tests intensively before rolling them out to clients. Currently, Mediavine works with over 9,000 publishers and reaches over 125 million customers.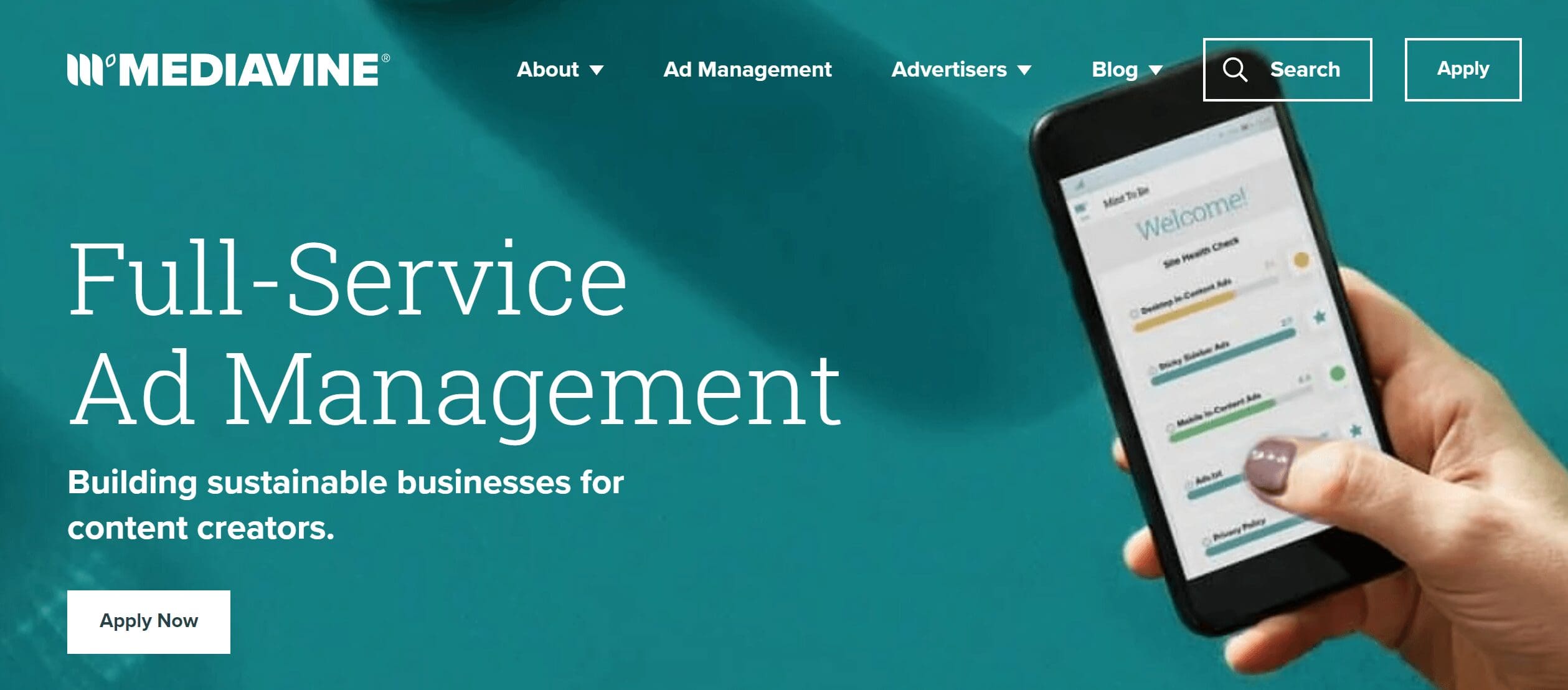 Although Mediavine is a Google advertising partner, the platform differs vastly from Google's AdSense. For one, it was built by creators and is geared towards assisting content publishers who share high-quality content. This leads to a holistic approach to advertising that is supported by quality content.
Moreover, Mediavine gets a significant amount of its ad inventory from Google's AdExchange. This is basically a premium version of AdSense and offers bigger advertising buys and enhanced targeting functionalities. This is probably one of the main reasons why Mediavine offers better earning potential through a higher rpm.
Another standout feature of Mediavine is that it has partnered with several dozen other media networks apart from Google. This is opposite to AdSense, which only serves ads via the Google ecosystem. The result is that Mediavine's practices lead to stiffer competition between all the display advertising networks (including Google) for advertising space. This is what drives up the bidding price, leading to higher prices and higher payouts.
Higher revenue potential. Most reviews covering Mediavine vs AdSense comparisons are quick to point out that the former offers significantly higher rpm. Whereas top earners with AdSense appear to have to average at least 100,000 views per month, many publishers have shown evidence where their earnings doubled or even tripled with similar numbers on Mediavine. This was my own experience after getting accepted to Mediavine.

It should be noted that Mediavine is a programmatic advertiser, meaning advertisers' ad spend depend on past performances of their ads, as well as type of content and audience. Also, Mediavine uses a session rpm rather than website impressions. Still, with all these variables, website owners have consistently maintained receiving more revenue from Mediavine over AdSense with similar traffic numbers.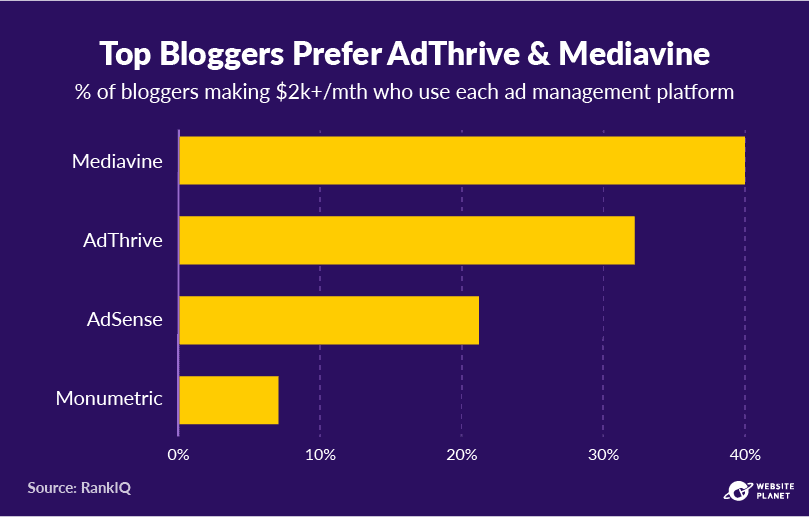 Superior account management. With most display advertising networks, including AdSense, all transactions are handled by automated systems and artificial intelligence. This is not the case with Mediavine. For starters, customers are assigned human account managers who will help with optimizing your campaigns and website to boost rpm.
In addition, Mediavine will assume the position of an ad manager, allowing the website owner to focus their attention on delivering great content and growing their audience. A user-friendly dashboard also allows publishers to access data that can help them better understand how to tweak their content to improve results:

Ongoing Support. Instead of just a forum or documentation, Mediavine helps users get answers to their questions by way of a vibrant, private Facebook group. This community is made up of experienced bloggers and content creators who have deep knowledge of how to get the best out of advertising with Mediavine.
Whether it is questions on how to increase web traffic, best hosting companies to use, or even how to optimize website content for advertising, members of the group can always get useful answers and support. Additionally, Mediavine has 24/7 customer support that can help with troubleshooting any issues with setting up ads or making changes to your website.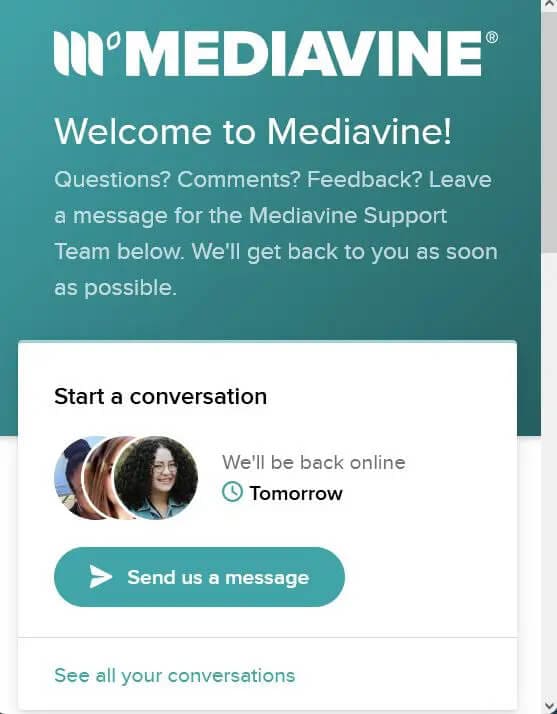 Better ad experience. Another plus of getting on board with Mediavine is that they try to deliver the best ad experience, so website visitors are not negatively impacted. To begin with, they use lazy loading technology to ensure ads do not slow down the user's website. In addition, ads are strategically inserted, so that viewers have a good chance of enjoying the content they are interested in, without being impeded by annoying popups, for instance.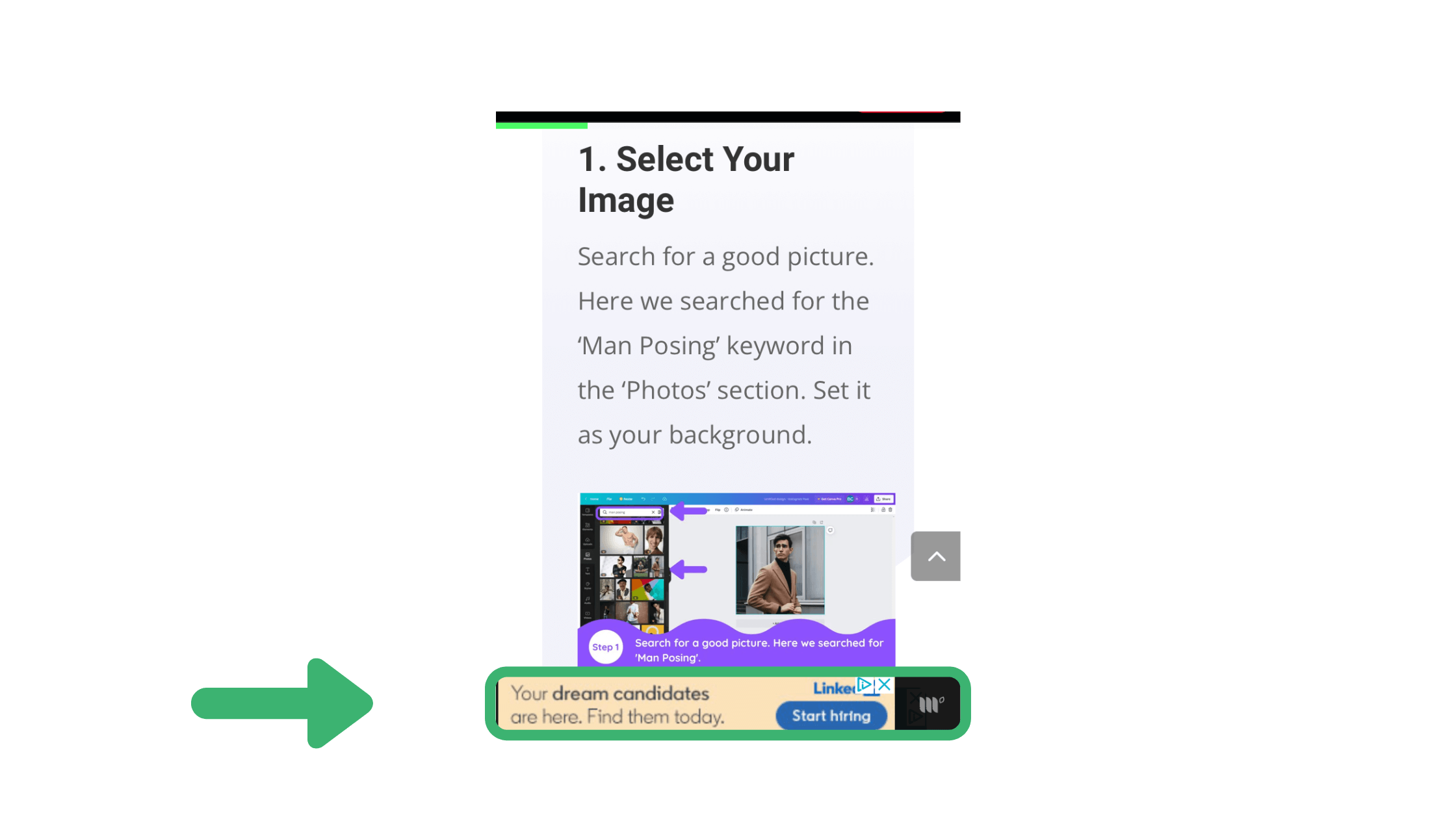 Access to exclusive Facebook group. This may sound like a small benefit, but Mediavine offers all publishers access to its exclusive Facebook group. This group is one of the single most valuable forums and is always a great way to connect with other successful bloggers.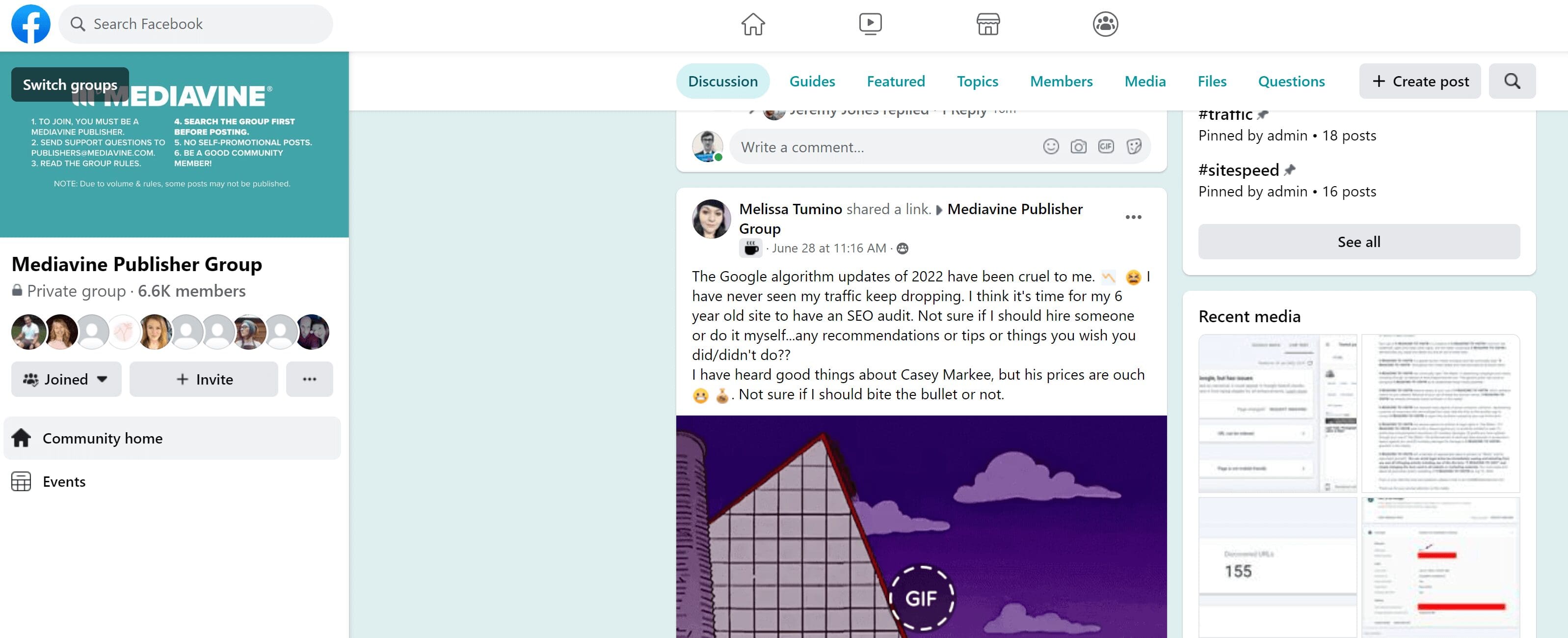 High traffic requirement / stringent standards. As of 2020, publishers who want to work with Mediavine must record a minimum of 50,000 sessions per month, in addition to being AdSense approved. This is a huge deterrent for blogs and small businesses that have small niche audiences or are just not yet attracting that level of traffic.
Even with the required 50,000 sessions per month, there is still a fairly high probability that a website may not get approved for the Mediavine advertising program. That's because the platform has stringent standards regarding the quality of content and the kind of traffic.
Having poorly written blog posts will get you turned down, as well as any sign that there are bots making up your traffic count. Traffic from countries considered to be non-premium will also result in your application being denied. While all these requirements might seem strict, it all makes sense considering Mediavine has a reputation for delivering a high-quality ad experience.
Exclusivity agreement. Unlike AdSense, which allows publishers to place ads with other networks, Mediavine demands exclusivity. You can't have ads placed by any other network once you have decided to get in bed with Mediavine.
In addition to forsaking other advertising portals, you have to commit to working with Mediavine for at least three months. This means you do not have the luxury of testing out its services before going all in. However, most publishers do not have a problem with this. That's because Mediavine makes it clear that the 90-day period involves working closely with publishers to help them develop a winning strategy so they can get the best results from their efforts.
By now, you should have gotten your answer to the ultimate question of which advertising service pays more. Based on numerous Mediavine vs AdSense comparisons posted online, publishers who have tried both solutions almost always agree that they made more money with Mediavine. In my own personal experience, Mediavine tends to pay about 5x more per view than AdSense.

Even without looking at reviews, the evidence suggests that you have a higher income earning opportunity using Mediavine. There are multiple reasons for this. For one, AdSense is more concerned with serving as many ads from the Google network onto a publisher's website. This often means lower quality ads with low rpm performance are likely to get through.
On the other hand, Mediavine works with strategic partners to ensure only the best-fitting and highest quality ads are placed on a website, almost guaranteeing a higher overall rpm for each asset.
Still, Mediavine is not the easiest advertising solution to get set up with. For that reason, AdSense continues to be a first choice for most newbie bloggers and small startups that are in the process of growing daily traffic. But once you have reached the minimum threshold of 50,000 sessions monthly (in addition to having valuable content published on your website), it might be a good move to begin the process of making the switch to Mediavine.