Best Affiliate Programs for Gaming Bloggers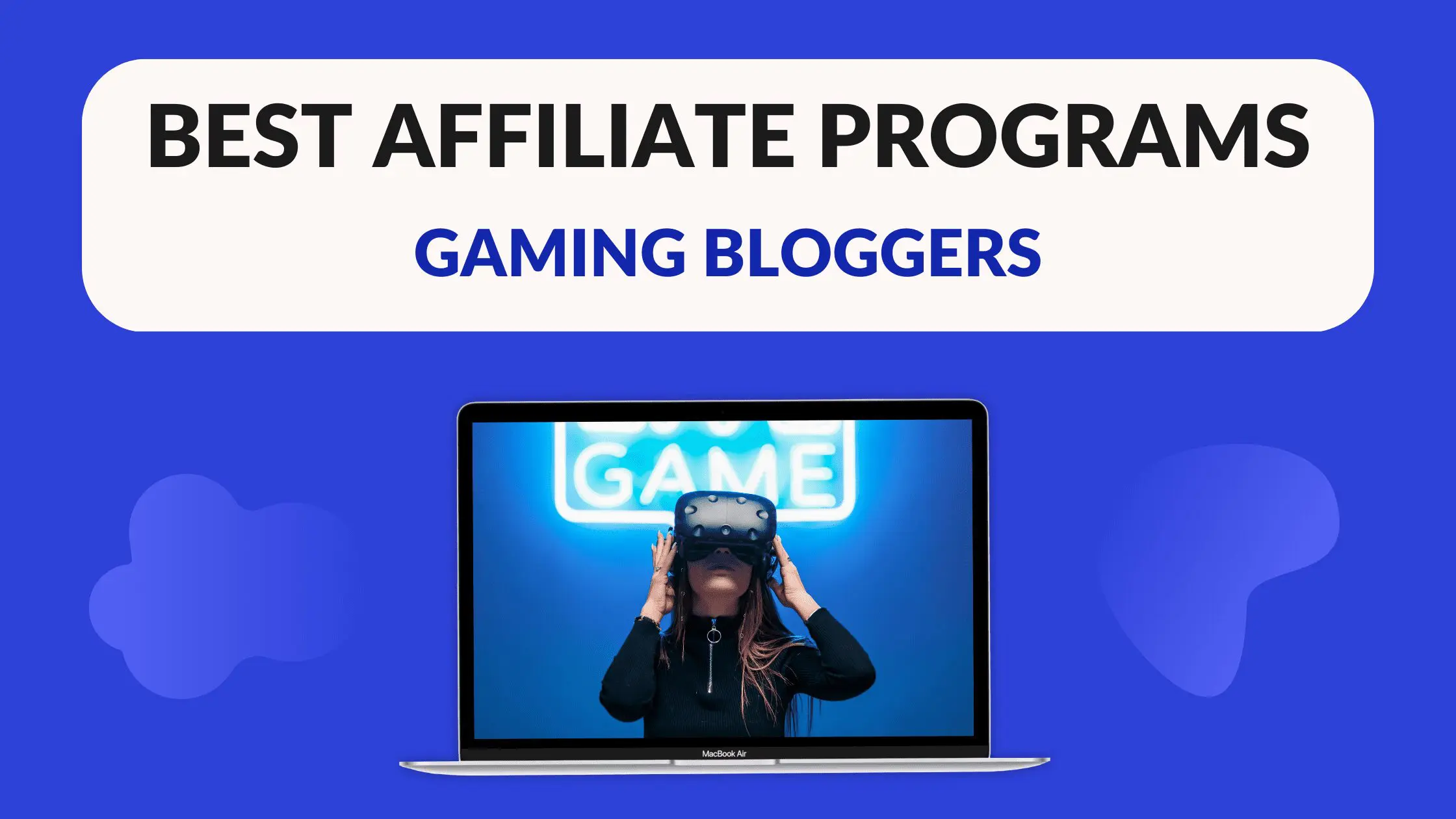 Disclosure: Some of the links below are affiliate links, meaning that at no additional cost to you, I will receive a commission if you click through and make a purchase. Read our full affiliate disclosure here.
Having a blog that revolves around the gaming world is a great way to turn one of your favorite hobbies into something that other people will see and enjoy – while earning some money at the same time!
One of the best ways to earn money from a gaming blog is by joining an affiliate program. 
With so much equipment associated with gaming — whether it's a console, PC, peripheral hardware, or the game software itself — there's a wide variety of manufacturers and distributors who'd love to have their products advertised on your blog.
In this post, we'll be looking at a selection of the best options for a gaming blog-focused affiliate program. In particular, we'll be looking at:
Five great affiliate programs that cater to the needs of a gaming audience

The brand's reputation and which blog subtype best suits each affiliate program

The tracking period of the cookies that are provided by each

How much each program pays per successful conversion.
Let's get into it!
Best Affiliate Programs for Gaming Bloggers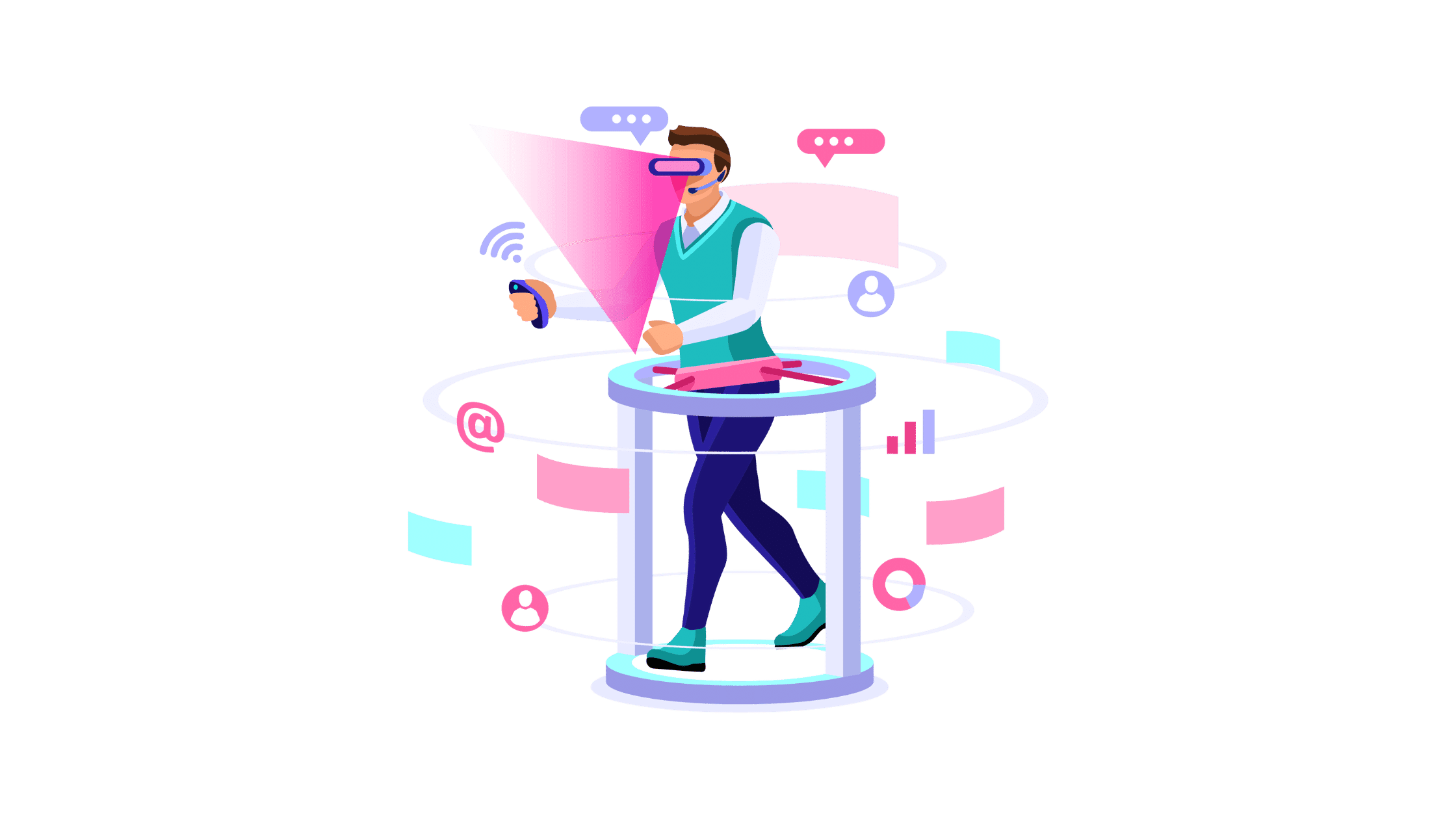 1. Logitech Affiliate Program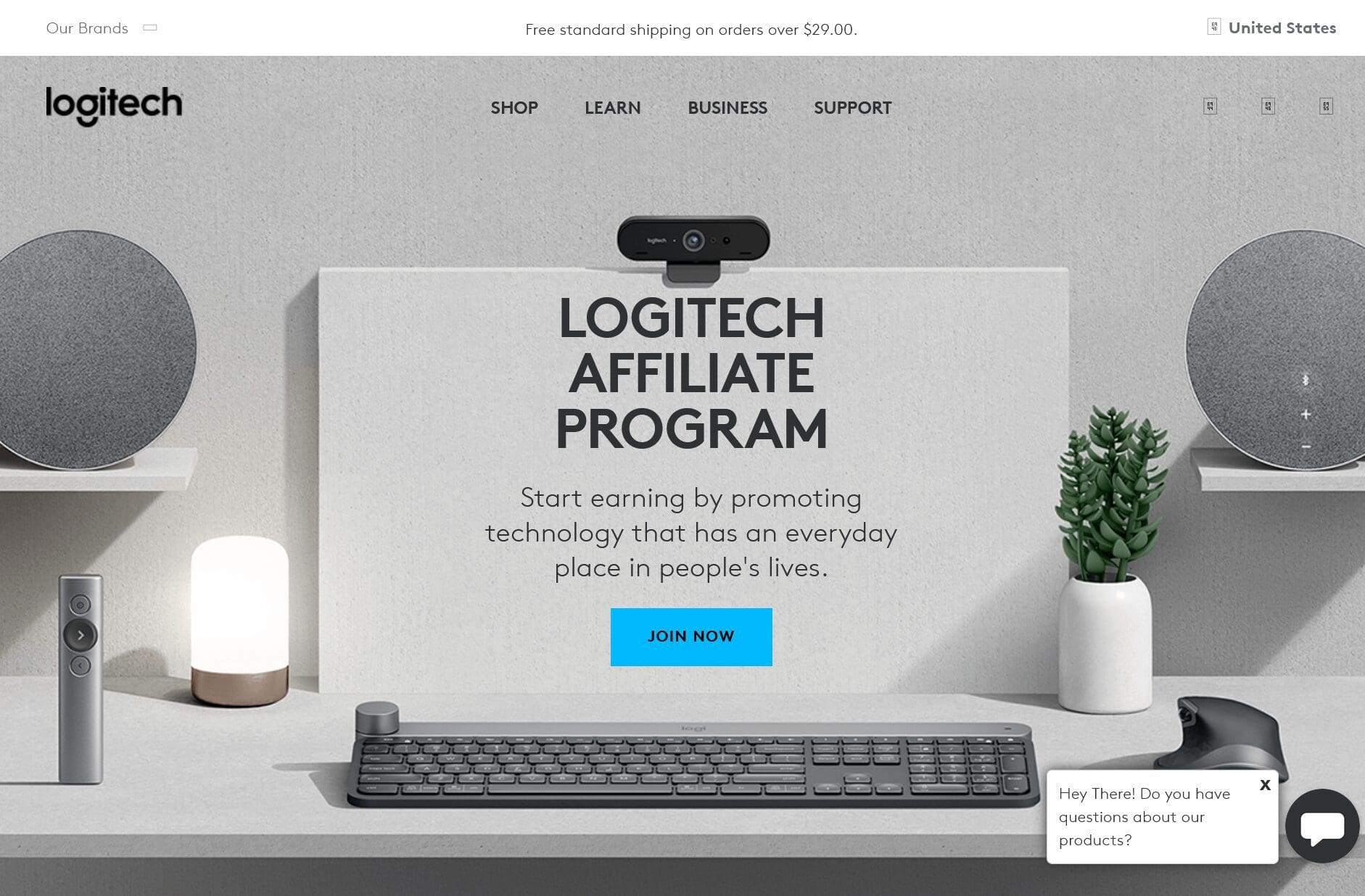 Logitech's affiliate program presents itself as a great choice for blogs targeting an audience who might need to get their hands on peripheral hardware to improve their gaming experience.
Whether it's something from Logitech themselves, or from one of the brands under the same umbrella (such as Logitech G, ASTRO, Ultimate Ears, and Blue), you can potentially refer your readers to a very wide range of products.
While you might know the company best for its keyboards, Logitech also provides a wide variety of microphone and audio equipment. 
These products are an excellent recommendation to any audience who is potentially interested in streaming or recording their gameplay.
The main products you'll want to be promoting are not from Logitech itself, but rather from its gaming arm Logitech G.  
With gaming mice and keyboards, gaming chairs, audio equipment, and some less common peripherals such as flight sticks and driving simulator wheels, there's a huge range of products to promote to your visitors!
Among these, the last two are particularly useful if your blog targets racing or flight simulator enthusiasts.
Now, to the specifics: Logitech's affiliate program provides a 30-day cookie tracking window where you can receive a commission between 4% and 10%. The exact rate varies depending on the brand.
That aside, you'll also have the chance to earn additional incentives depending on the season and your blog's performance!
2. Epic Games & Fortnight Affiliate Program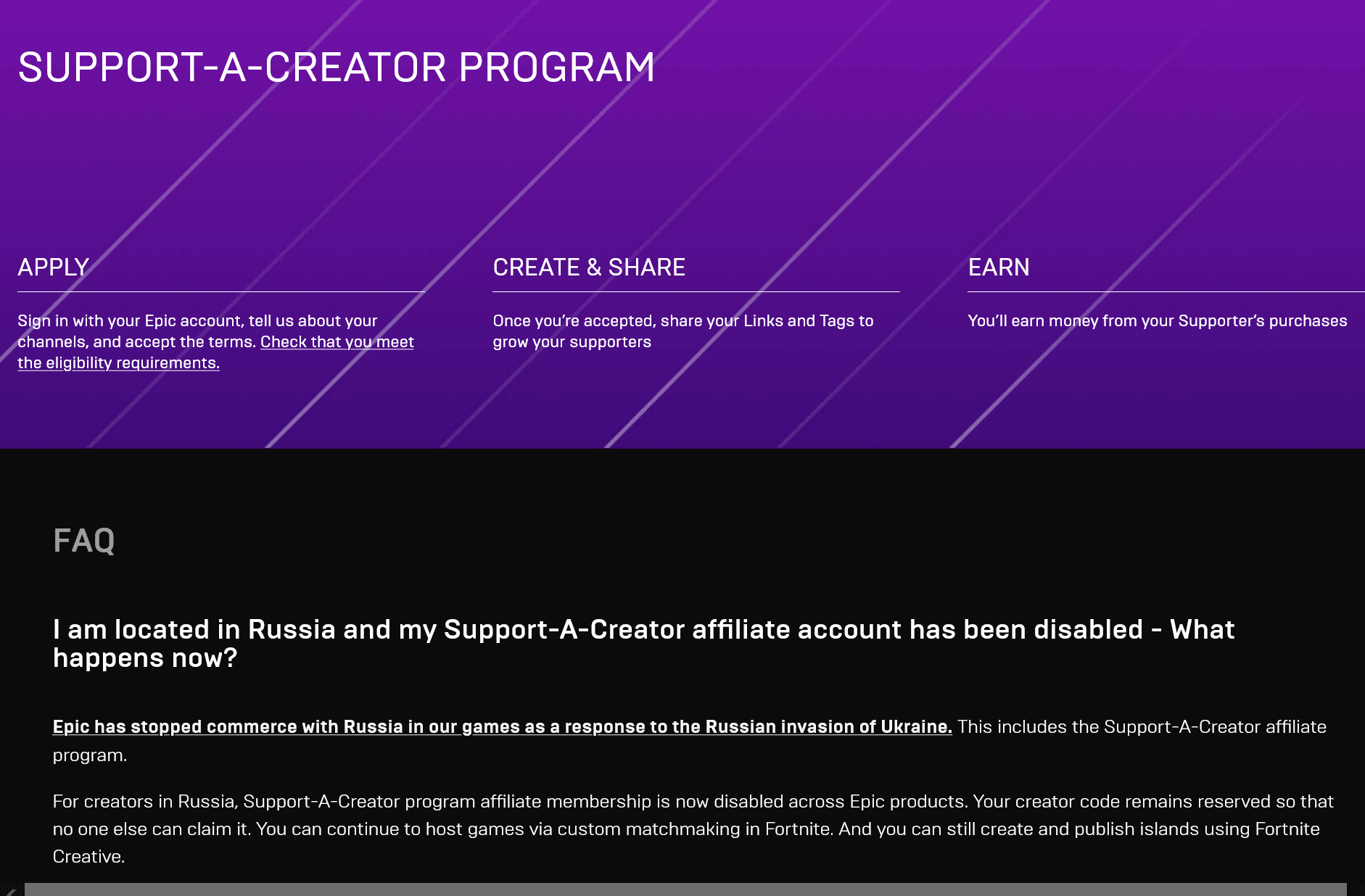 Aside from making video games, Epic Games also has an affiliate program – which is great news for gaming bloggers who focus more on new releases and the games themselves, rather than making content for streamers or about gaming hardware!
Epic Games is, of course, best known for Fortnite – a title that took the gaming world by storm when it was released in 2017. That aside, it also operates Rocket League and the Epic Games Store. 
With its diverse range of game offerings, being one of Epic Games' affiliates allows you to target most PC gamers.
The affiliate program itself allows you to earn in multiple different ways. The classic affiliate link is one means, but you can only use this to promote games on the Epic Games Store.
As an affiliate, you'll also receive a creator code that allows you to earn commissions on in-game purchases in both Fortnite and Rocket League. These codes can also be used in the Epic Games store.
One thing to note, however, is that the program requirements are quite strict and necessitate a minimum following of 1,000 people on Twitch, YouTube, Instagram, Facebook, Twitter, or VK (unless you're an Epic-approved Fortnite Creative Island builder).
As such, many traditional blogs might be out of the running for this program, so you'll have to make sure that your multimedia content distribution is up to scratch first!
In terms of earnings, you'll get a minimum of 5% commission on any Epic Games Store sale that you refer (although the amount can be higher if the game's creator chooses to offer a higher rate). Cookies are tracked for a period of 30 days.
Aside from commissions, you also earn 5% of the value of in-game purchases in Fortnite and 5% of the credits spent in Rocket League by those using your creator code.
However, it's important to note that you won't receive any money from the program unless your commissions total $100 or more over a one-year period. 
Creator codes also auto-expire after 14 days (and must be re-entered by the user to continue giving you revenue).
3. NVIDIA Affiliate Program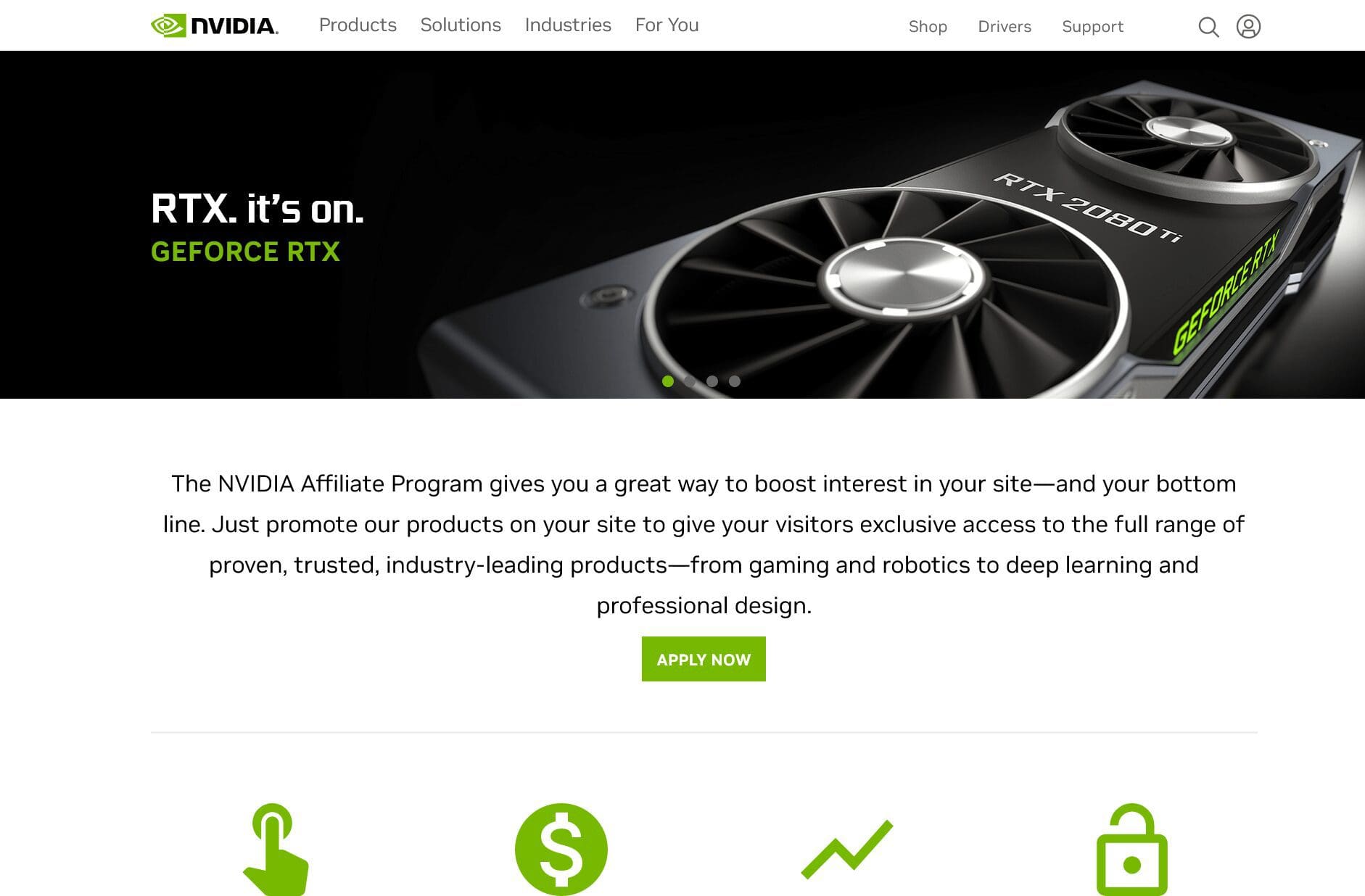 NVIDIA's affiliate program is perfect for those targeting audiences with hefty hardware requirements. It's therefore a great choice for blogs that focus on the newest PC games with the best graphics and gameplay experience!
NVIDIA's wide range of hardware offerings — including many of the leading technologies for gaming graphics (such as the new RTX 4090, which gets rave reviews for being one of the gruntiest cards currently available on the consumer market) — is perfect for blogs focusing on the equipment side of the PC gaming industry.
Aside from high-powered options, NVIDIA also offers cheaper, lower-end graphics cards for the readers who don't have the budget to splurge on the latest and greatest offerings (or the PC rig to actually install it).
The company is somewhat coy about its cookie tracking length and commission rate, but some sources estimate the rate to be between 2% and 5% of sales referred within 30 days.
Although this doesn't sound like a lot, you have to remember that NVIDIA's products often come with a hefty price tag. For example, if you were to refer a customer who purchased the 4090 we mentioned above, you'll earn up to $80!  
On the other end of the scale, NVIDIA's cheapest product at the time of writing is $249.99, which would give you around $13 as commission. Not too shabby!
4. Razer Affiliate Program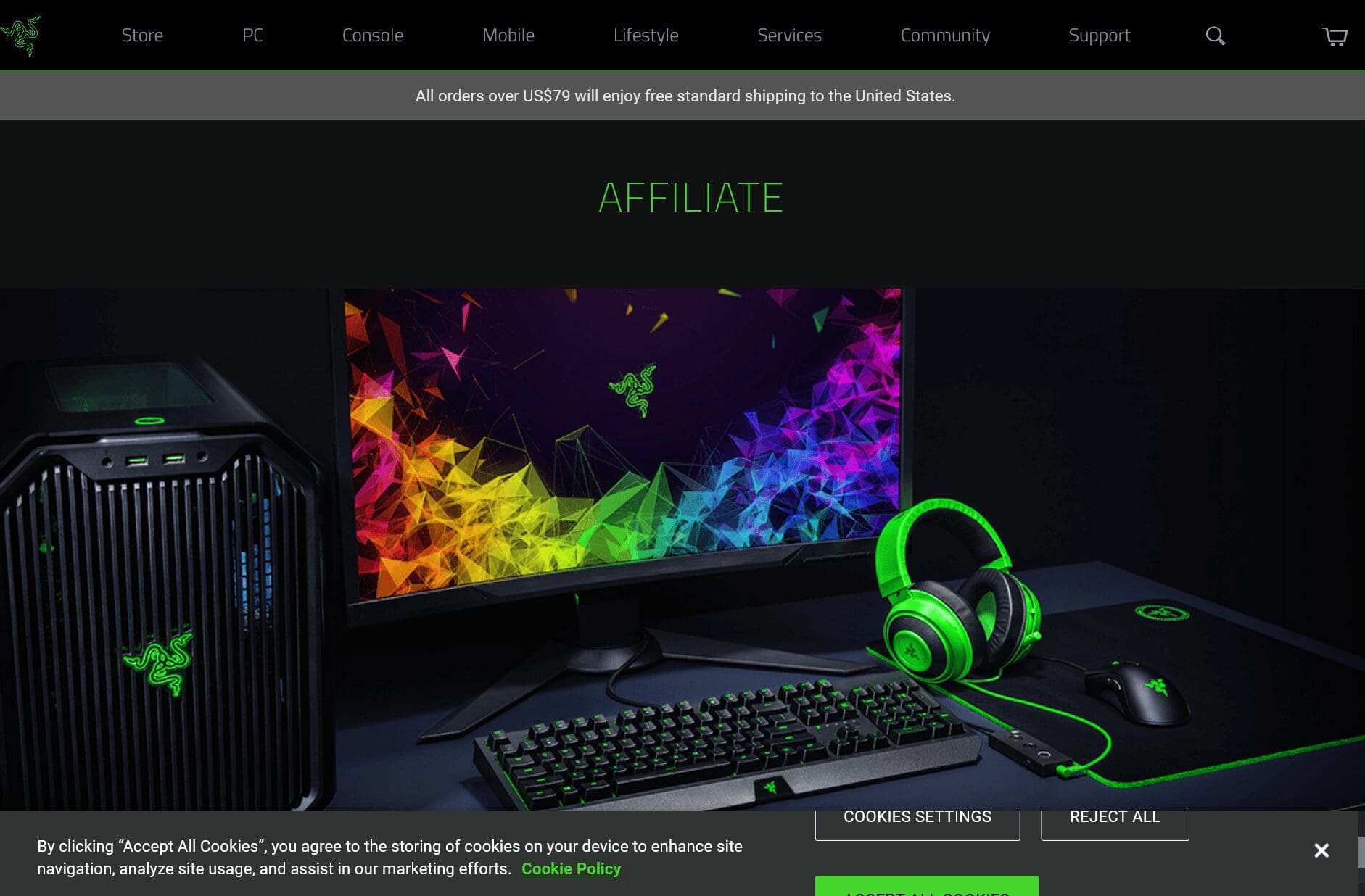 Razer's affiliate program is another great option for gaming blogs focusing on hardware options and what equipment to use to improve the overall gaming experience. 
The company is well-known for its gaming mice and keyboards, which are some of the best in the market. 
However, Razer also offers other equipment such as a small selection of pre-built PCs and PC components, gaming laptops, audio equipment (such as microphones and headsets), stream controllers, and audio mixers for those into content creation.
Again, this program is perfect for those whose blogs target the PC gaming market.  
However, unlike NVIDIA's offering, Razer's products are potentially more accessible as they are generally cheaper, and many (such as keyboards and mice) don't require building a new PC or rearranging an existing one.
Be careful not to confuse the affiliate program with the Razer Streamer initiative, which partners specifically with content creators who stream or record video.
Razer's own site gives two figures for commission rates. You'll be earning up to 10% on sales of Razer products directed by your links, but the site also notes that you'll earn a 3% commission on peripherals and $5 for each system sold.
The program has a relatively short cookie tracking period of only 30 days.
5. Acer Affiliate Program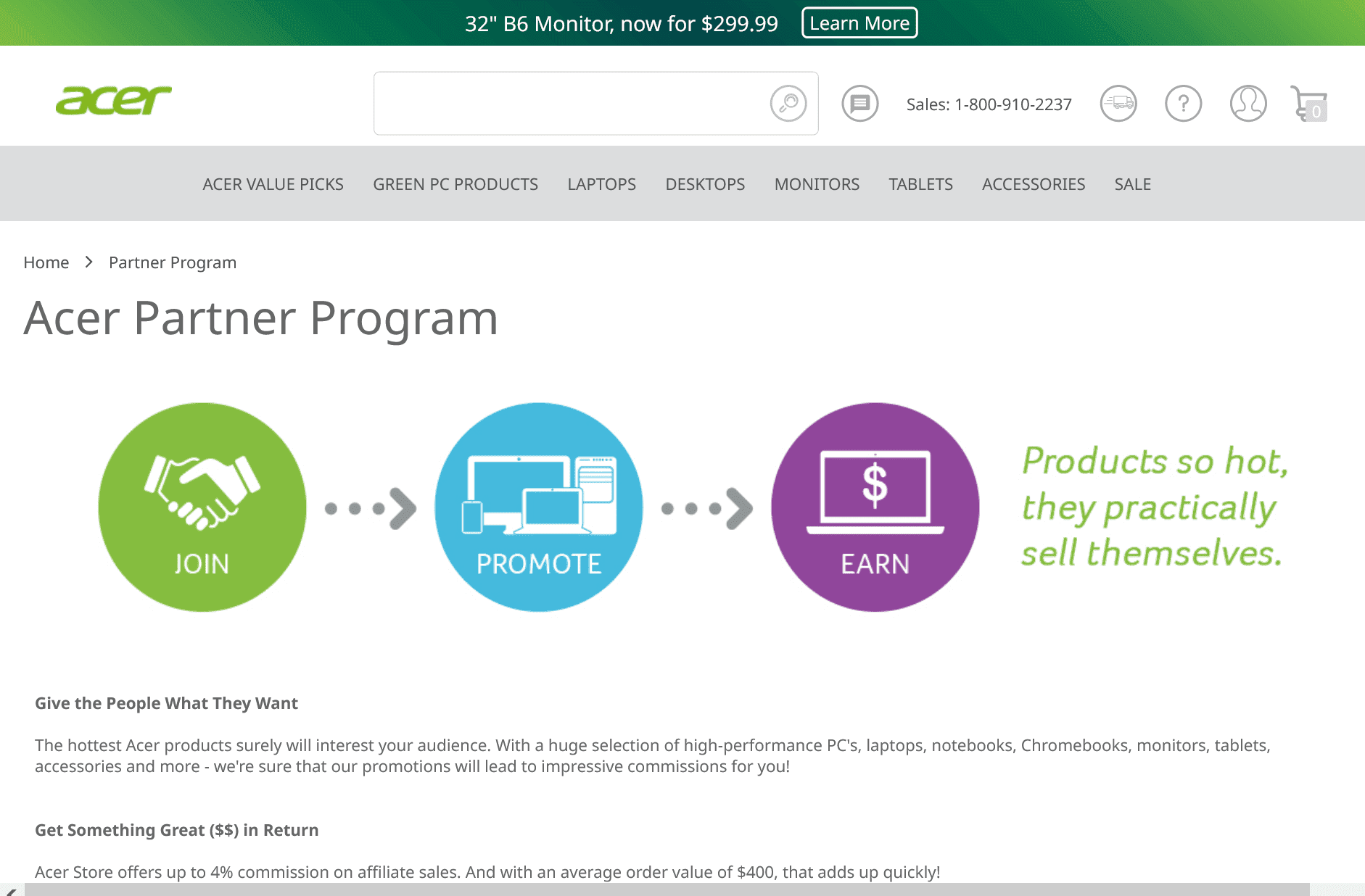 Acer's affiliate offering is a perfect choice for blogs that deal with gaming and technology in general, due to the company's wide range of tech offerings that suit everything from school devices to gaming hardware.
Chromebooks and lower-end laptops comprise a large quantity of what Acer offers, making it an excellent choice if your blog targets people on a budget. 
Because Acer also offers high-end gaming software, they're just as suitable if your audience includes people looking to grab a device for their children while they order something from the company's gaming line-up for themselves!
Some of Acer's laptops have up to 32GB of RAM along with a 3080 graphics card, so whatever you pick from the web store won't leave you wanting for more powerful specs.
Acer also sells pre-built gaming desktops – something that the other affiliate programs we've looked at in this post rarely offer. Aside from that, the brand has a selection of tablets and peripheral hardware for good measure.
The affiliate program nets you a 4% commission on all sales except those of eRecovery media, warranties, Chromebooks, low-inventory products, pre-order products, and any item with an MSRP of over $5,000.
Again, that doesn't seem like much, but remember that the hardware Acer sells costs at least $200 each!
The program's cookies have a life cycle of 30 days, and you'll also get unlimited referrals through your links. Acer tracks across devices, so you'll still get a referral even if your viewers end up purchasing on a different device.
There are a wide variety of affiliate program options for gaming bloggers that suit virtually any audience! 
Aside from the ones mentioned, there are many more programs out there that may fit your needs perfectly.
Whether your blog caters primarily to those interested in the release of the newest games or people who are predominantly interested in the latest advances in gaming hardware, you're sure to find a partner that works for you. 
As always, remember to abide by the terms of your affiliate program and declare to your visitors that you're part of one. Once that's done, you'll be ready to get out there and start earning those commissions!