Best Content Writing Services
Disclosure: Some of the links below are affiliate links, meaning that at no additional cost to you, I will receive a commission if you click through and make a purchase. For more information, read our full affiliate disclosure here.
Consistently writing and publishing high-quality, engaging content is no easy task. Good content drives the marketing machine, helps search engines to deliver your pages to the right audience, generates revenue, and helps you to get your message across.
But the internet has gotten good at churning out blogs, articles, and websites that offer real value, educate audiences and help brands to build trust. This content is upping the game, forcing creators to invest more time, energy, and expertise into their work. So we outsource writing.
We turn to professional blog writing services to take care of those ever-evolving content needs – we turn to the best content writing services online. 
Modern bloggers are struggling to keep up with increasing workloads and a more demanding audience every day. As digital market expectations change and the competition increases, finding a way to reach your audience without getting swamped either by the sheer volume of online content around you or by its improving complexity is key to succeeding in the digital content game. 
Content and blog writing services offer everything from a once-off exchange for getting that crucial blog post in before the deadline is due to a way to outsource writing to a bespoke agency offering to partner in developing an online brand from scratch.
We look at the best content writing services in 2022, paying extra attention to those with whom bloggers can choose to collaborate. We'll explore how and with whom the internet's master creators are partnering and the marketplaces, agencies, and services behind the killer content that dominate SERPs and allow bloggers to create more while scaling their budding enterprises. 
What is a Content Writing Service?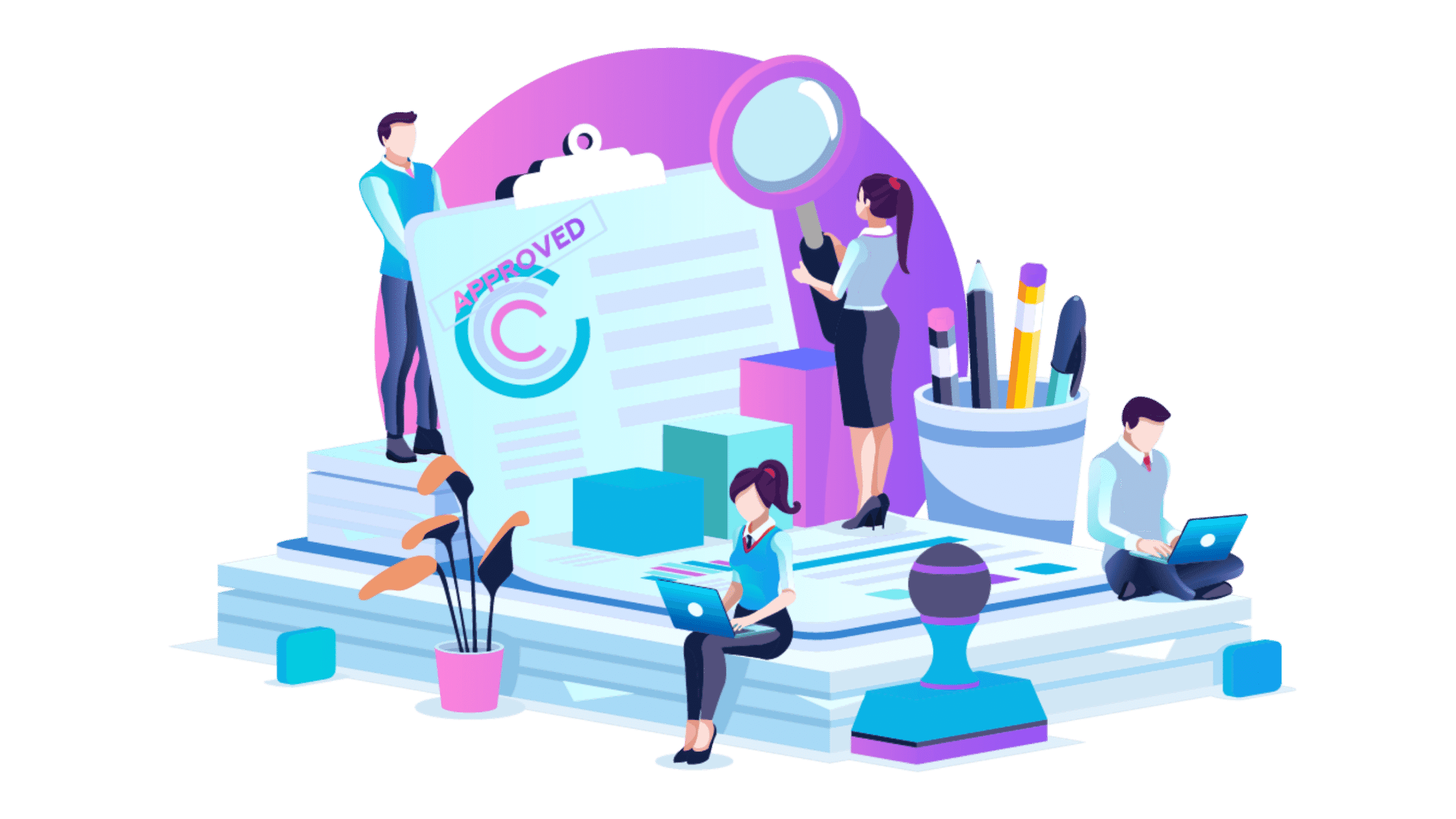 Think of the best content writing services as an opportunity to outsource your blogging needs without worrying that you'll see a drop in quality or consistency. Content writing services consist of businesses, websites, and writing platforms powered by content creators, just like you. These experts pool their collective talents into a consolidated online content and blog writing service dedicated to creating rich content or connecting creators with customers looking for those creators to handle their content needs.
Why Should I Use a Content Writing Service? 
These services provide a way to ensure that your copy looks good, performs well, and appeals to your market niche. They allow you to outsource writing efforts and take care of the hard work that goes into conducting research, writing, editing, and SEO so that you don't have to.
What Does a Content Writing Service Offer?
Content writing services craft anything from blogs, articles, and webpage content to product descriptions, reviews, social media posts, press releases, case studies, white papers, and more.
Who Works at a Content Writing Service?
You'll find professional writers, bloggers, transcribers, translators, SEO experts, editors, and graphic designers in one convenient location at the best content writing services. These resident experts are highly skilled, and committed to generating well-written, engaging, optimized content that helps you reach your audience and delivers for your unique needs.
How Do Content Writing Services Work?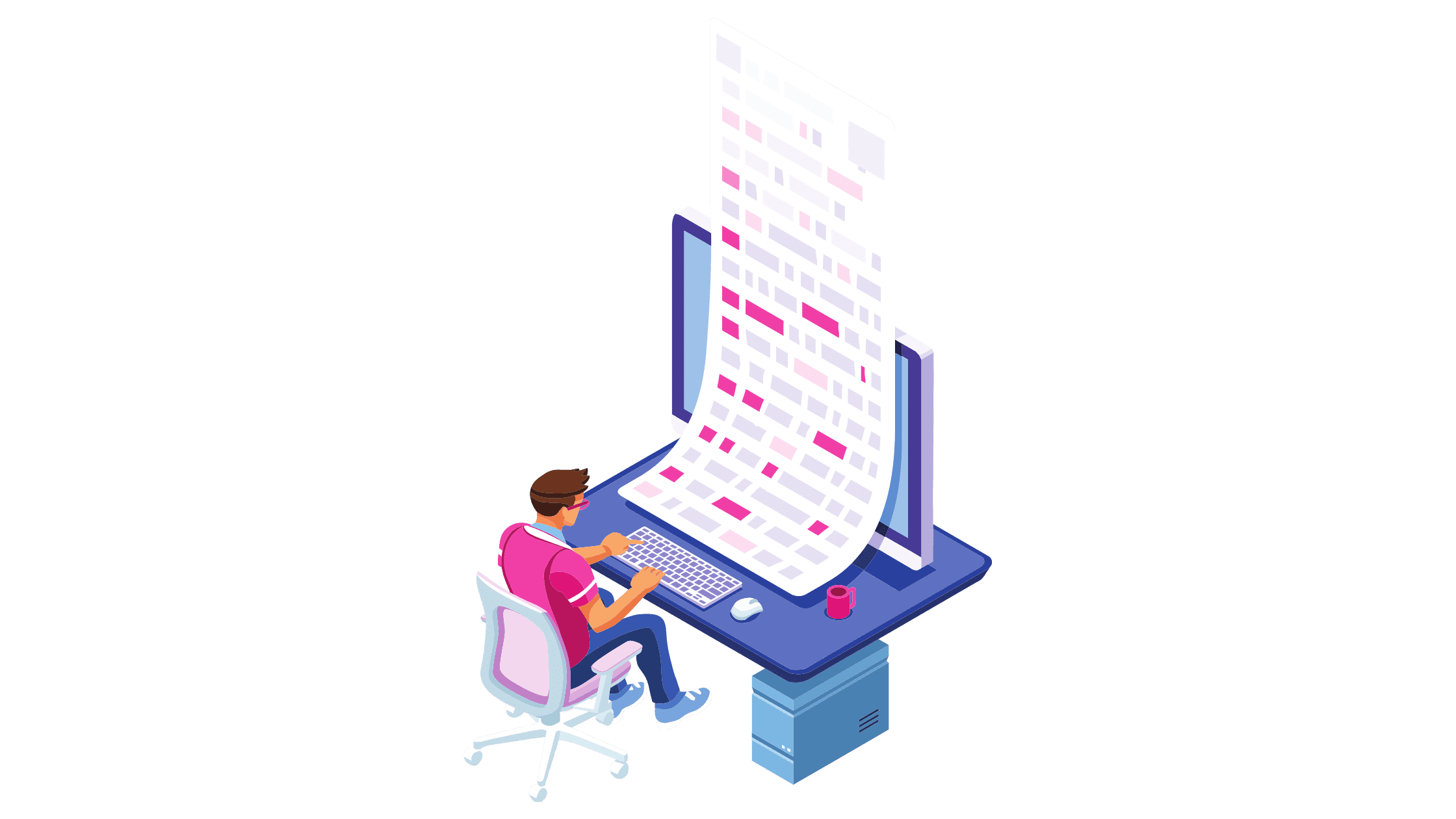 Collaborating with a content writing service is the same as hiring a web designer to create and manage your webpage, paying a marketing manager to come up with an exciting advertising campaign, or contracting an interior designer to breathe new life into your living room.
Bloggers are feeling the pain of increasing workloads and more complex and demanding client requests. Rather than hiring their own copywriters, researchers, and SEO specialists, bloggers can use various content writing services instead. These services come in different configurations:
Agencies – are companies and organizations that directly employ various content specialists. Content writing agencies usually charge a premium for their services, prefer to work on a longer-term contract basis, and can handle anything from drafting a simple blog post to managing your entire SEO and marketing strategy.
Content marketplaces – are sites, and writing platforms that connect customers (bloggers, brands, and businesses) with content creators (professional writers, SEO specialists, and gig bloggers), charging a percentage per transaction. You can choose to collaborate once-off or over the long term. 
Individual content writers – are content specialists who operate independently as freelance or contract content writers. They usually manage their own websites and blogs and promote their services via social media or paid ads. These creators often moonlight as content service writers, sharing their time between independent ventures and various services.
Benefits of Using a Content Writing Service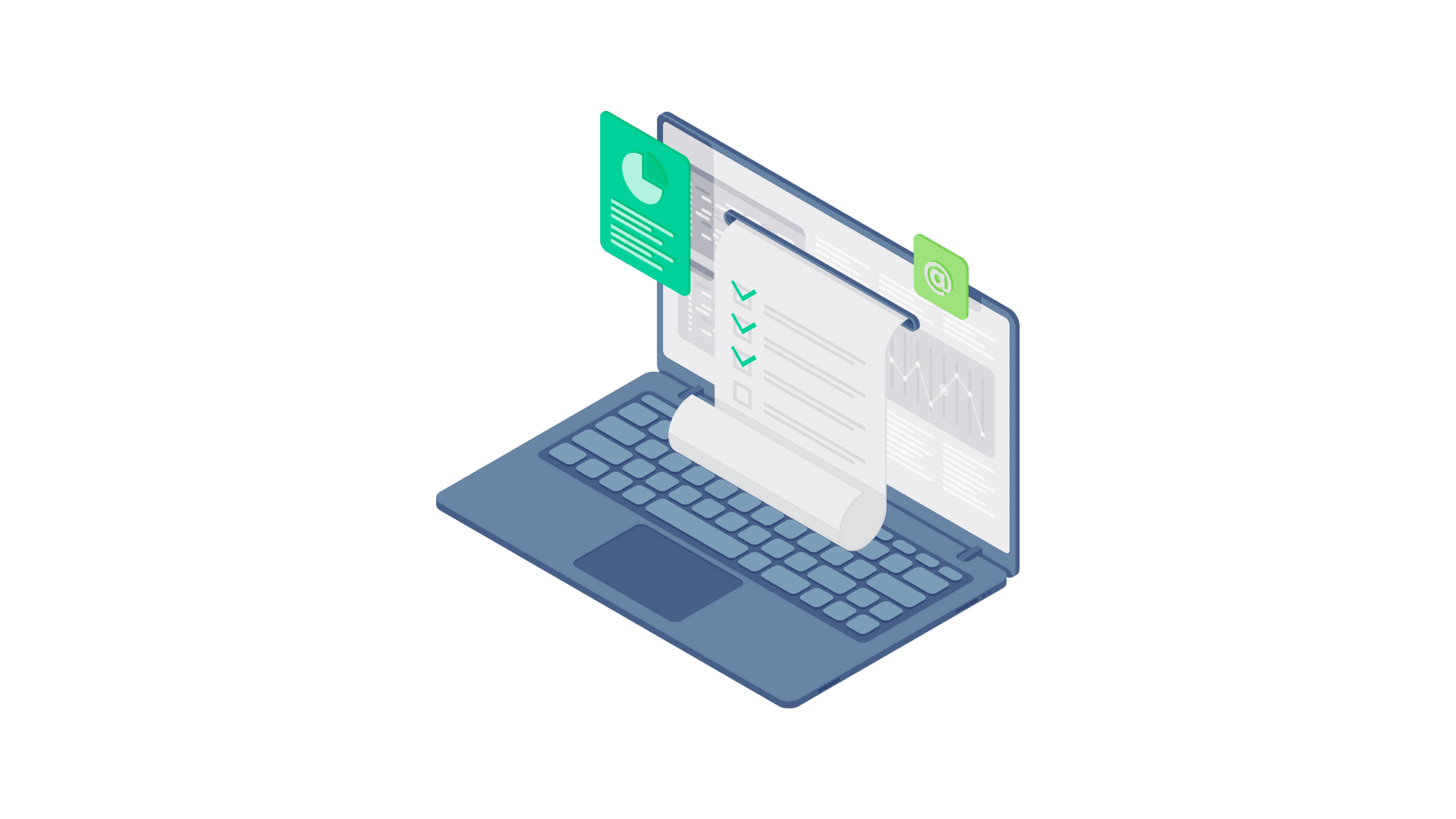 Working with best content writing services can help you create better content faster, increasing your traffic and engaging with your audience, helping you build authority and improving revenues.
Content writing services also solve the problem of time and capacity. In many cases, outsourcing content to a service provider, especially for significant content demands, is easier than building an in-house content team and can often provide a better result altogether.
Alternatively, a service can help supplement your existing content team's capacity.
High-quality writing – Backed by multiple writers, each specializing in their respective field or format, content writing services are known for delivering content that performs well. 
Consistency – Many bloggers struggle to keep up with increasing workloads and demanding schedules. Using content writing services means you'll be able to publish more without compromising on quality. 
Better SEO – Content writing services that offer either SEO as an add-on or a platform that puts you in touch with SEO experts are always a better alternative than going it alone. 
Targeted writing – Content writing services allow you to tap into the skills and experience of experts who know precisely how to put your content in front of the markets that matter most.
More bang for your buck – Hiring full-time writers, editors, and SEO managers can get expensive, fast. Content writing services use economies of scale to provide you with the affordability that hiring in-house simply cannot. 
What the Best Content Writing Services Offer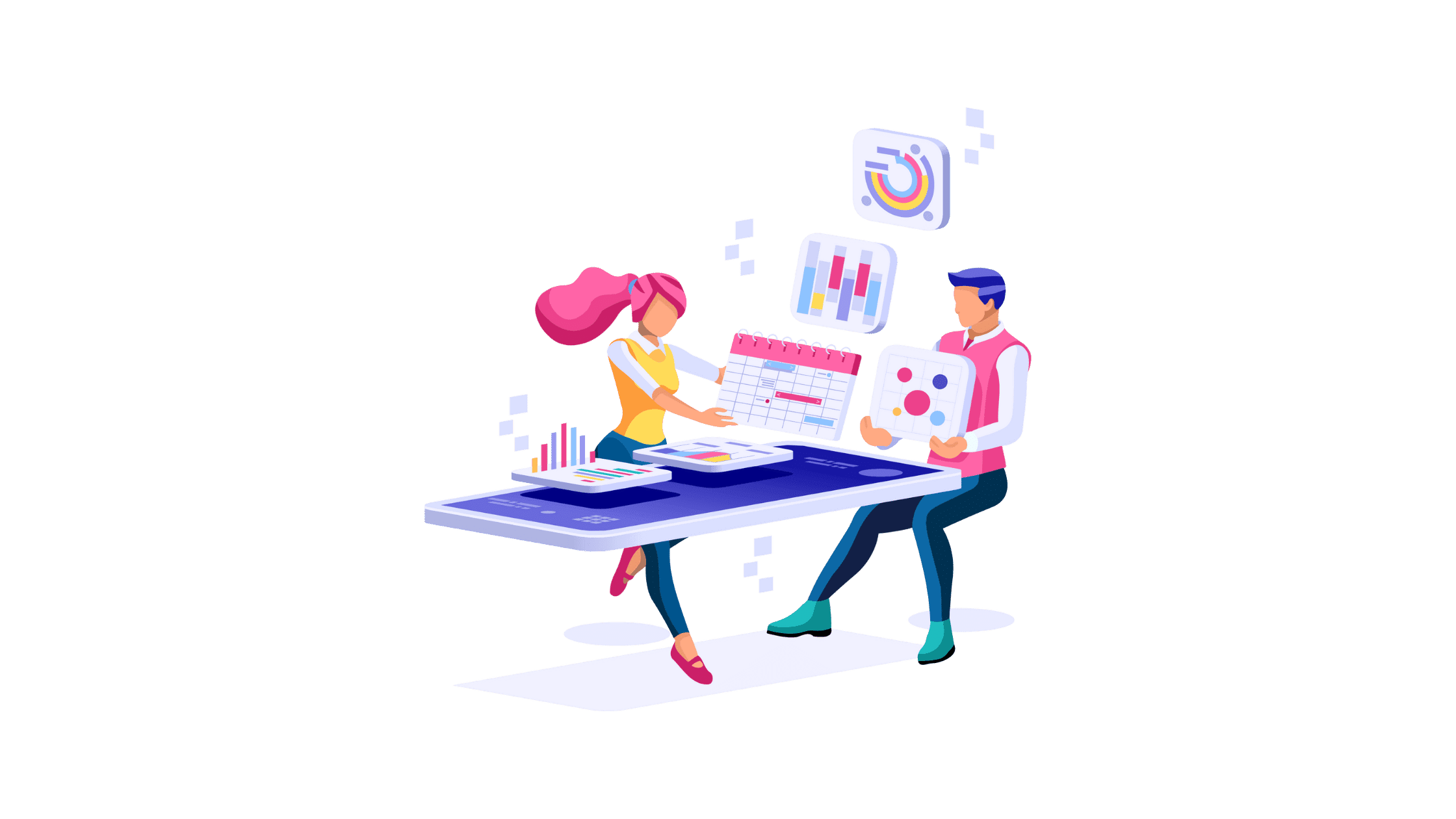 Many content or blog writing services began as specialists offering dedicated writing solutions to niche markets but have grown and evolved to provide a broader range of services to more clients. However, many still hold onto their specialist offerings, using their talents to appeal to customers looking for something more specific. 
Here are some of the general offerings most content writing services provide to their clients:
Keyword Research – forms the 'backbone' of SEO and is why your blog ranks well (or doesn't). Keywords are how search engines find your content, and an entire field of expertise is dedicated to trying to unlock Google's algorithm. 
Content Strategy and Planning – Good content needs a plan. From scheduling to audience targeting and paid techniques, content writing services are experts in developing a strategy that works for you. 
Content Optimization – SEO 101. Search engine optimization ranges from picking the right length of your content to nailing your keyword strategy and backlinking right.
Publishing – Dedicated blog website or content platform? Choosing when and where to publish your content is difficult, but content writing services have the tools, experience, and know-how to get it right. 
Best Content Writing Services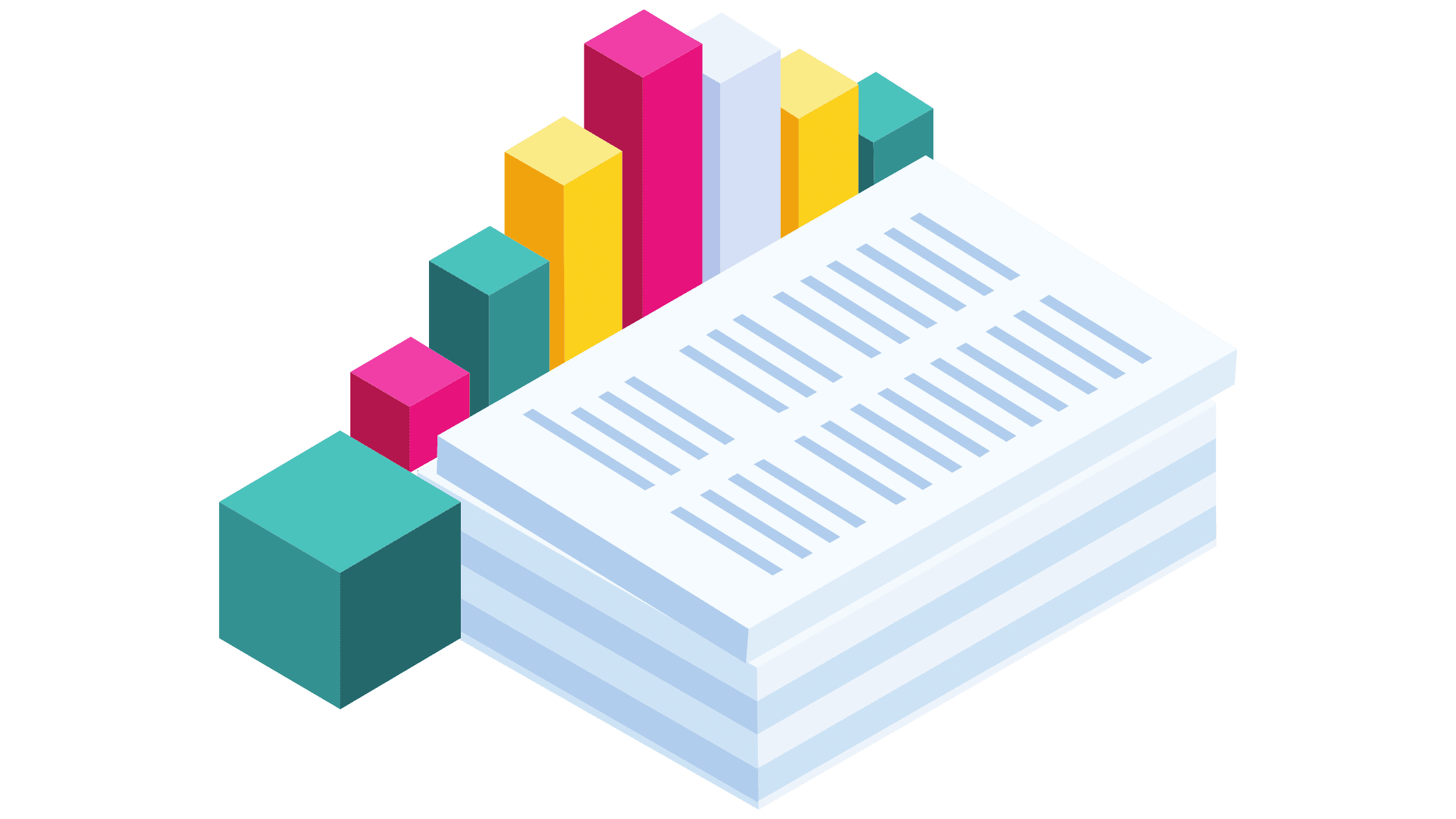 Here are some of the best content writing services available online. While most of the below options offer end-to-end content writing service options, many offer specialist models geared towards providing you with what you need and within the right budget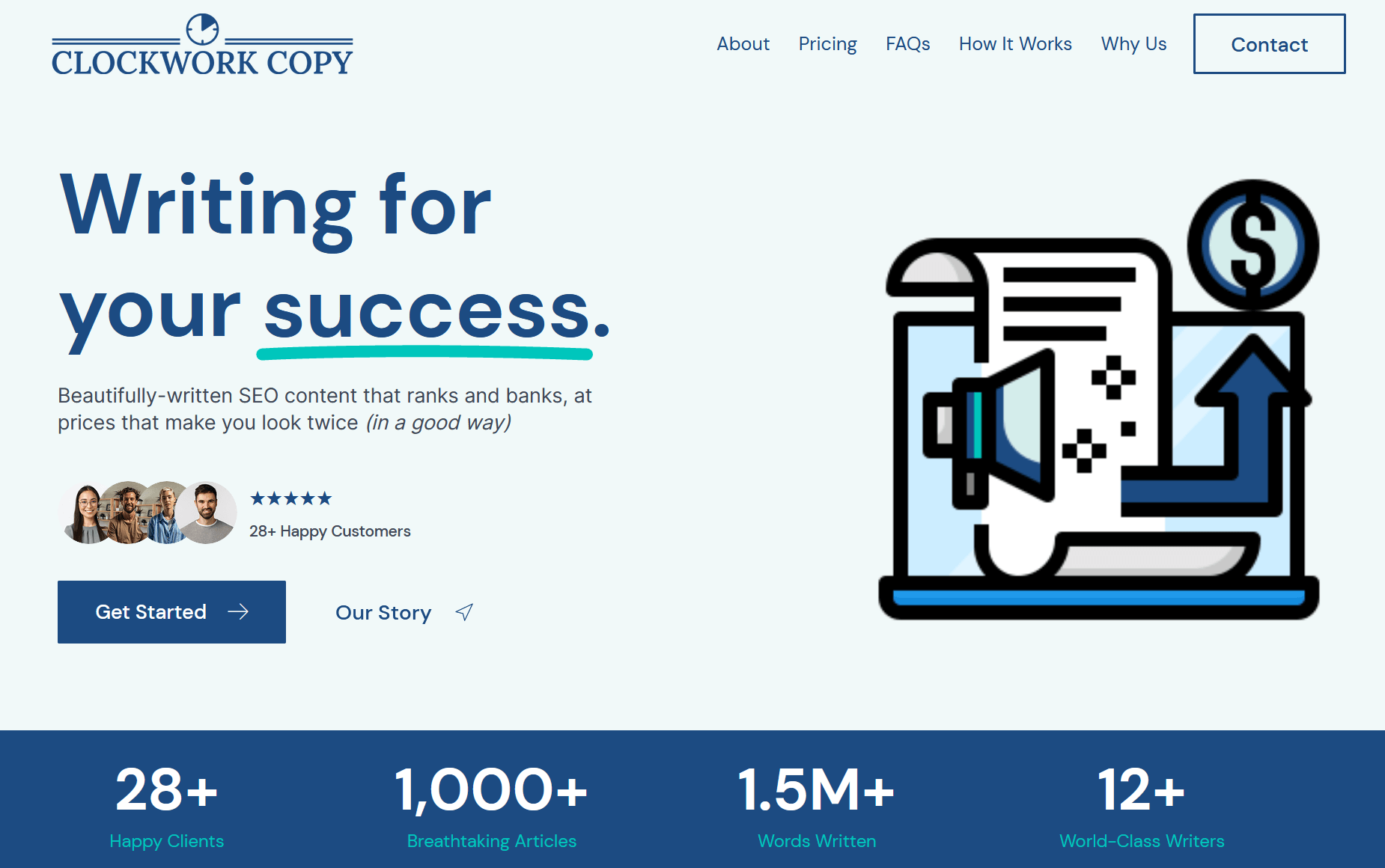 For a more niche-geared service, Clockwork Copy is an exciting prospect in the content writing service space with a lot going for it.
The professional writers at Clockwork Copy are quickly earning a reputation as top-shelf creators committed to providing bespoke, highly original content that impresses. 
The service is already a top choice among bloggers looking for a service that pays attention to detail while ensuring that their copy is fact-checked and edited to perfection.
From SEO that ranks to a strict, zero-plagiarism policy and publish-ready content, Clockwork Copy is sure to challenge the bigger services soon. 
Pricing ranges according to word count, starting at $0.0675/word for the 2,000 – 10,000 scopes up to $0.055/word if you're in need of 100k words or so.
As a relatively new service booming in popularity, the writers at Clockwork Copy are in high demand, so be sure to get in touch soon, as they tend to stop taking orders once their team has their hands full.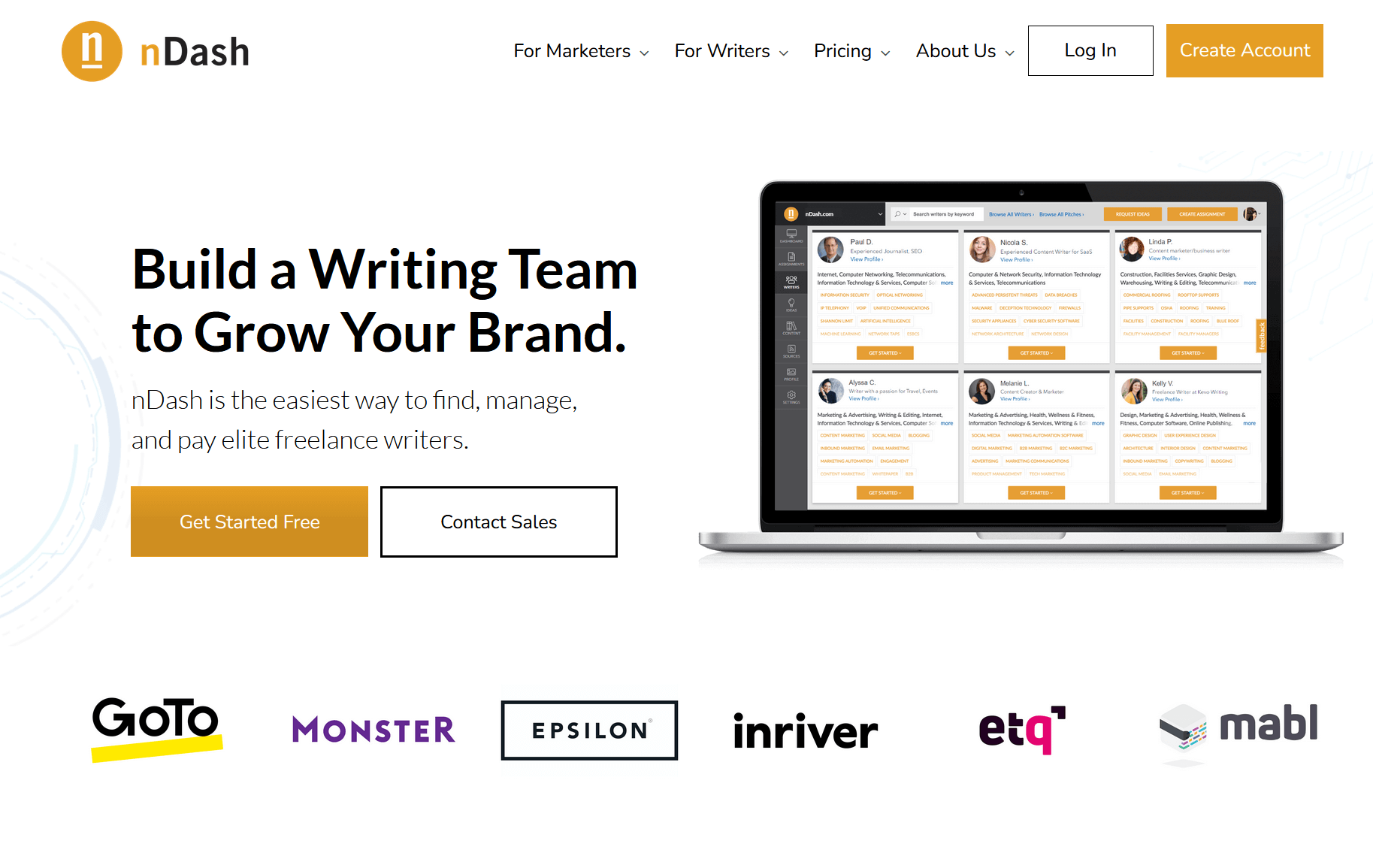 nDash is a content community platform where marketers, bloggers, brands, and companies looking to outsource writing can connect with top freelance writers.
nDash is geared towards helping brands and companies with their content needs and boasts writers who are well-versed in creating corporate and marketing copy that works. 
Like many other freelance marketplaces and writing platforms, writers can set up their profiles, post writing samples, and list their topic specialties. Buyers can then browse the different writer profiles and contact with them before placing an order. 
Companies can sign up for free and place on-demand orders with the service whenever they require content, while their annual $300 Pro plan and high-level Managed package allows you to access premium support and professional writers.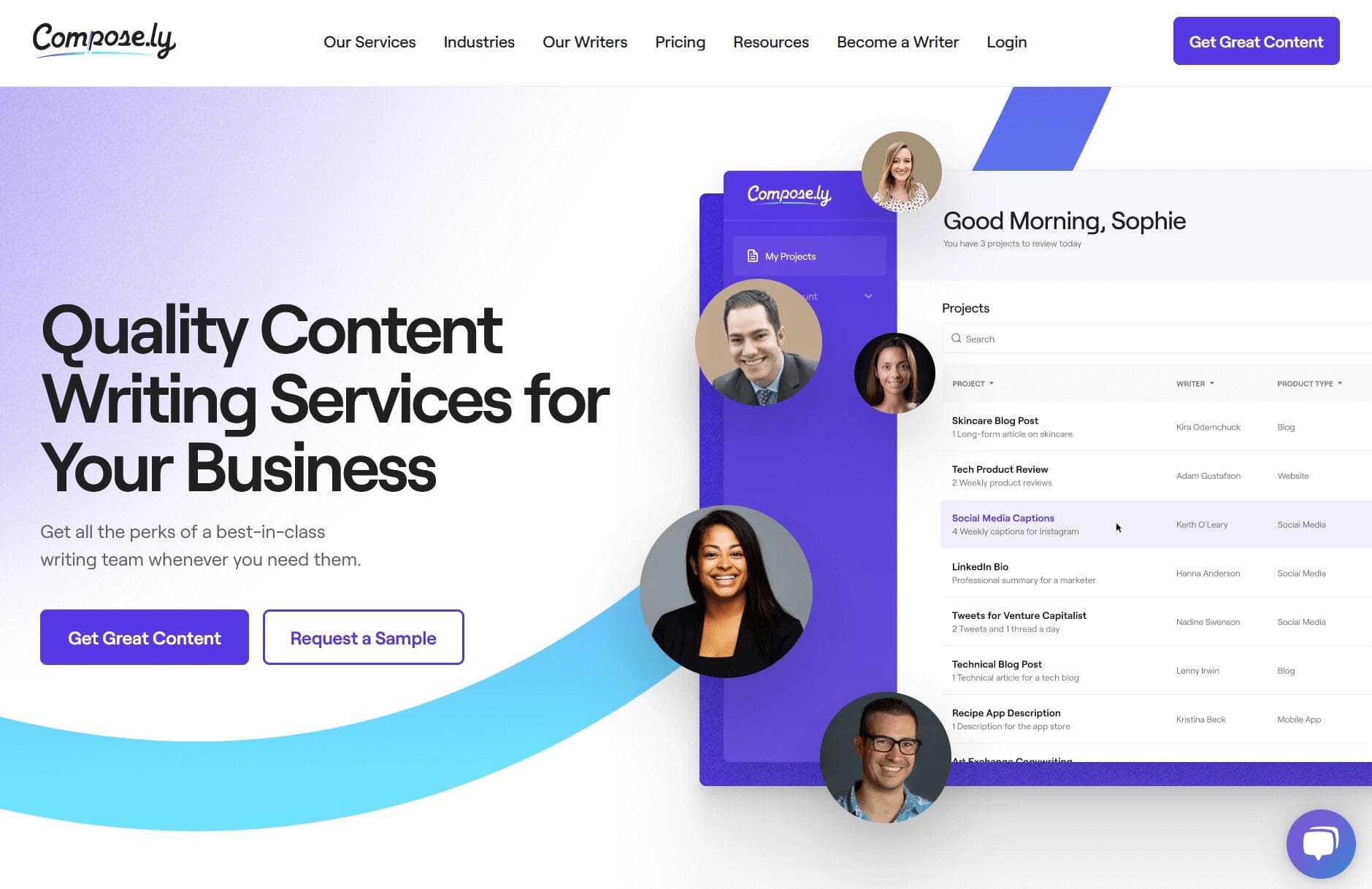 Many in the content game are already familiar with Compose.ly's premium offerings. Slated as an incredibly reliable service that almost always delivers, their higher prices genuinely reflect the quality of work you'll get back.
The platform goes to great lengths to vet and approve its writers before adding less than 1% of applicants to the service, and you'll immediately see the difference in quality from the very first copy.
Compose.ly matches writers directly with people looking for specific content formats, topics, or styles and makes transacting between yourself and the writer a walk in the park.
You can request almost any type of content from the service, from eBooks, white papers, and long-form articles to simple blog posts, product descriptions, and website copy. 
Compose.ly doesn't come cheap. On-demand plans start at $74.95 for a minimum 500-word post, with prices rising in 500-word increments up to the premium 3000-word, $449.95 option.
The site's $999/month managed subscription plan comes with a full-service membership, including a success manager and a dedicated writing team. You get what you pay for – fully edited, high-quality content from one of the best content writing services around.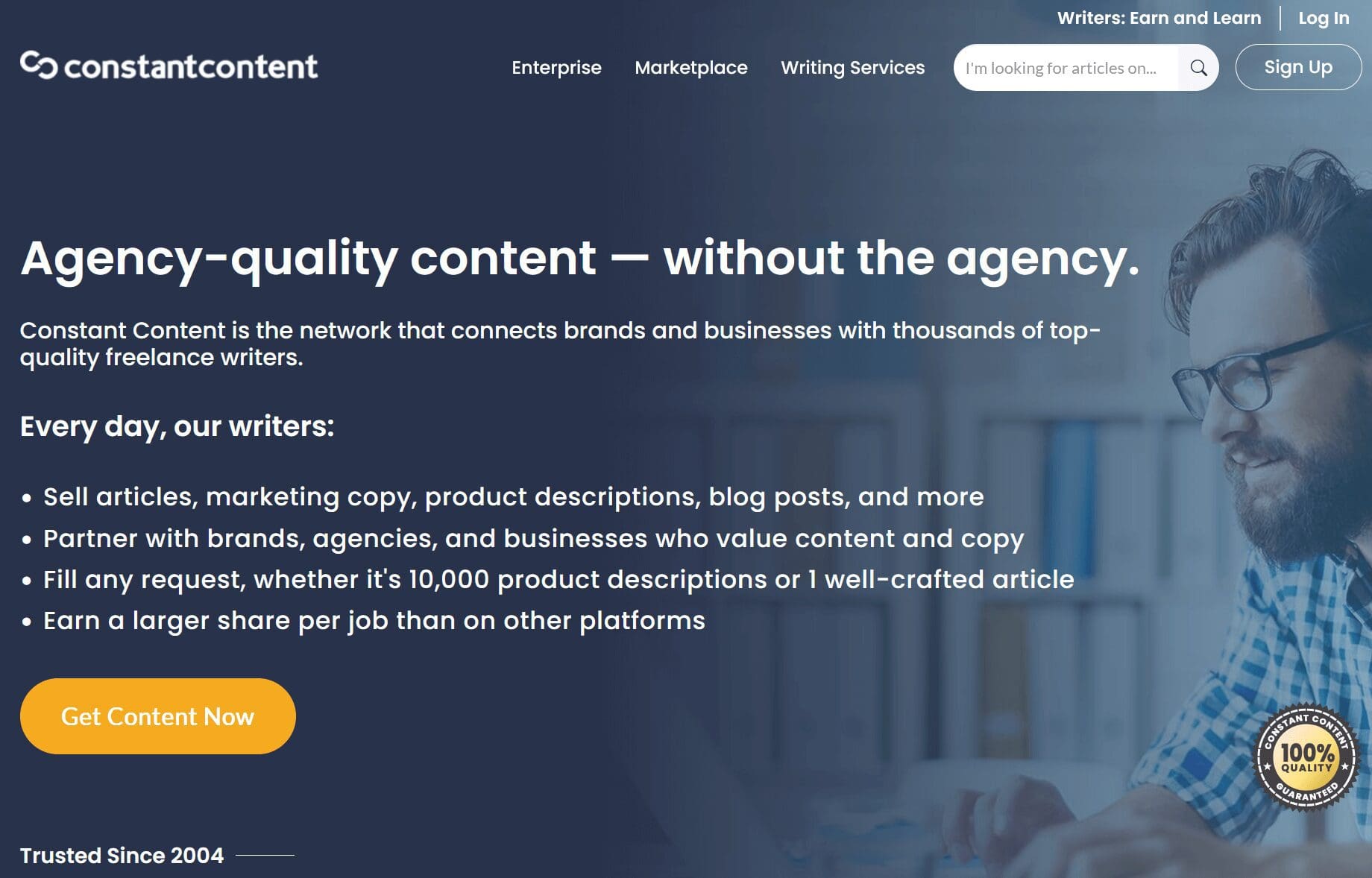 Constant Content brings an innovative, dynamic approach to the best content writing services field. The site works by allowing users to submit a request for the content they need or to buy the rights to pre-written blogs, articles, or copy. This allows you the freedom to choose an on-the-spot solution or to pay for a more customized one. 
The service's pre-written selection is unique in that you can review and purchase articles for sale (for more generic content needs) and is the go-to if you're looking for instant content that has already been checked, edited, and approved. Perfect for those urgent situations or testing the writing pool out. For custom, on-demand collaborations, the Constant Content team reviews your request before forwarding it to their writers, bloggers, and content creators, who can manage anything from an introductory blog post or light article to a custom essay or intricate piece of technical copy. 
There is no fixed per-word pricing with Constant Content. Instead, you get to choose a price range for your request, and the team reviews it, assigning it to one or more professional writers, or reverting with a pitch explaining why they're the best option for the job. 
Constant Content will also appoint an account rep who will act as a liaison between you and the writing team while guiding you every step of the way.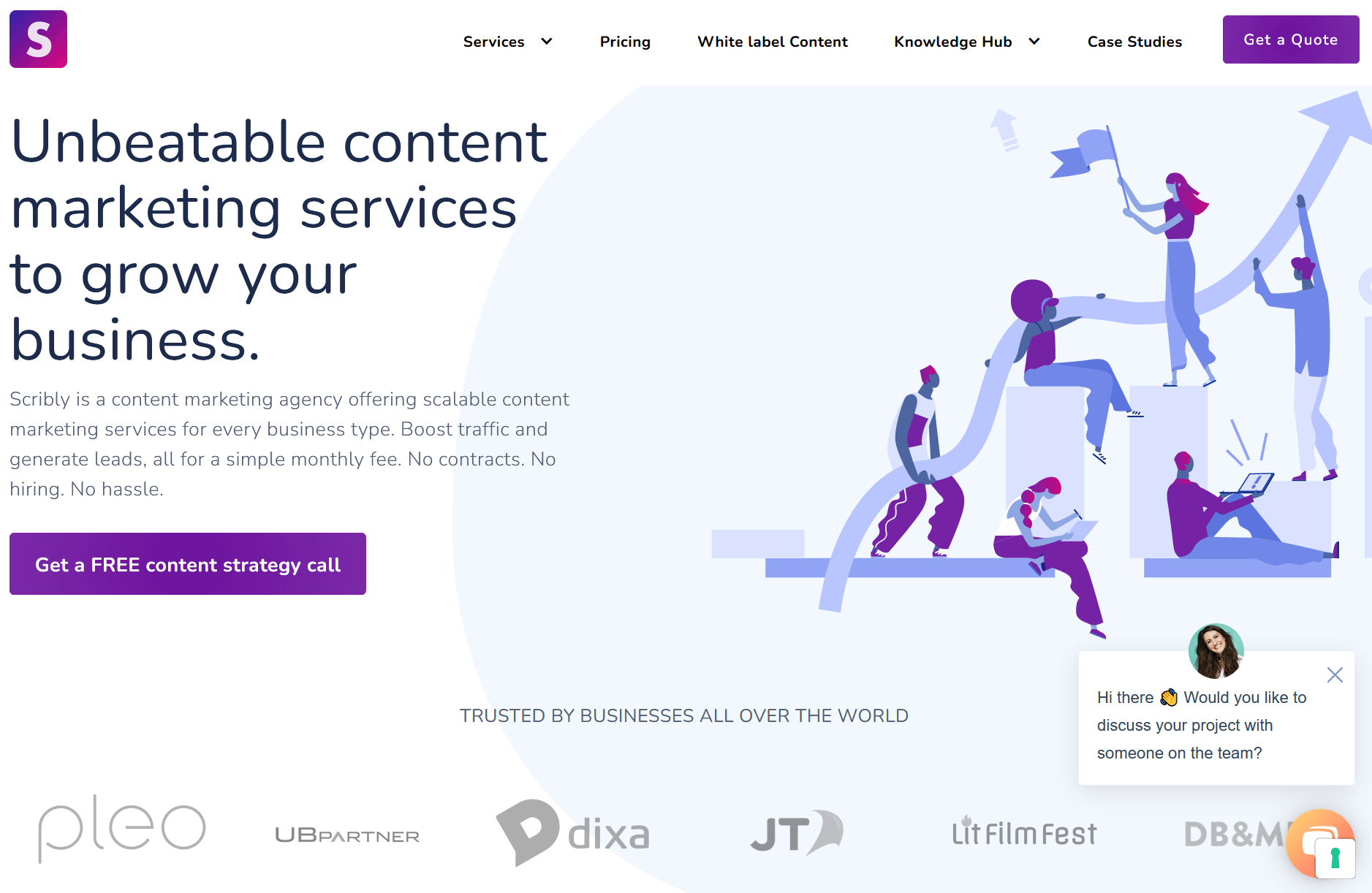 If you need content that is all about SEO, then Scribly is a perfect option to outsource writing. The popular content writing service is famous for its ability to create content that will help you drive traffic to your site and snag those leads with minimal effort. 
The blog writing service offers scalable benefits that appeal to everyone in need of some good SEO, from individual bloggers operating in a high-competition niche to marketing teams at companies who want to rank on page one. Scribly's team of content writers and SEO experts makes this a powerful solution for focusing on your SEO needs.
Like many other premium content services, Scribly charges a monthly subscription fee, starting at $599 per month for up to 2,000 words to an eye-watering $4,300 for 20,000 words.).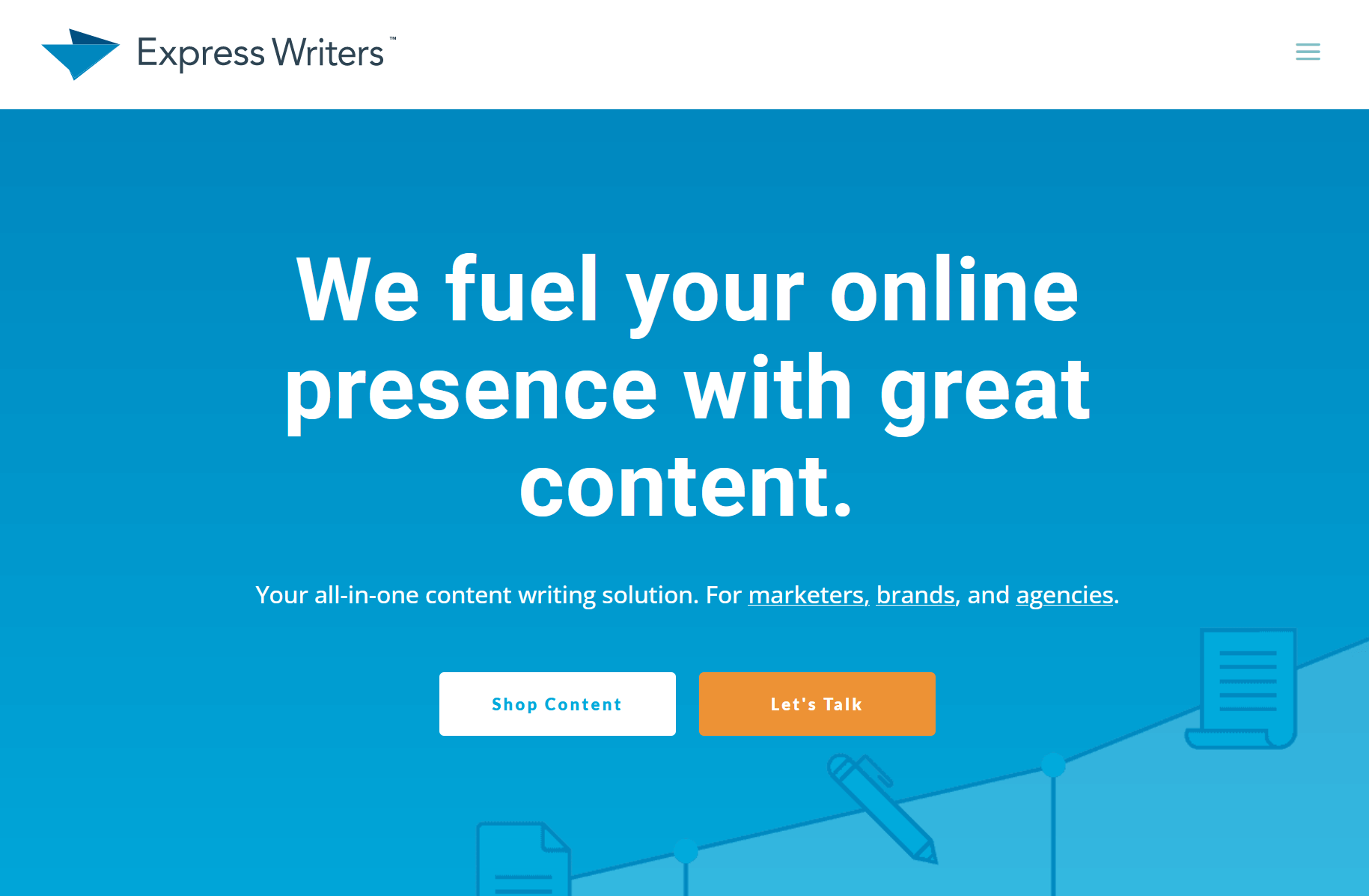 For lightning-fast turnarounds and high-quality content, Express Writers is designed to take care of content on the fly. But there's more to the writing service than speed. Express Writers is more than capable of handling anything content-related and offers comprehensive SEO, research, writing, and editing solutions.  
The UK-based agency ranks pretty well among its competitors and holds its own on the content variety and quality fronts. Aside from their quick delivery times, Express Writers offers an impressive, pre-priced menu of content items alongside their blog writing plans, starting at $500 per month for 4 x 500-word blogs to $3,000 for up to eight 1,500-word pieces. 
Finding the best content writing services can be a tough ask, with many different options available and even more low-quality choices posing as legitimate agencies.
Outsourcing your blog writing to a content writing service that takes care of your needs and affords you access to a selection of different SEO, editing, and strategy features will allow you to boost your writing, despite costing you a little extra.
As the demand for high-quality content surges across the internet and the allure of more divergent views and ideas appeal to changing audiences, you'll find a rich menu of different online content and blog writing services, all offering general or specialized features for outsource writing objectives.
These companies, agencies, and writing platforms consist of multi-skilled experts, dedicated to creating the content you need and that the internet wants. 
So if you're prepared to spend a little more for access to top-quality professional writers who know what they're doing and are experts at helping your content to reach its potential, these best content writing services are for you.