How to Skip the Google Sandbox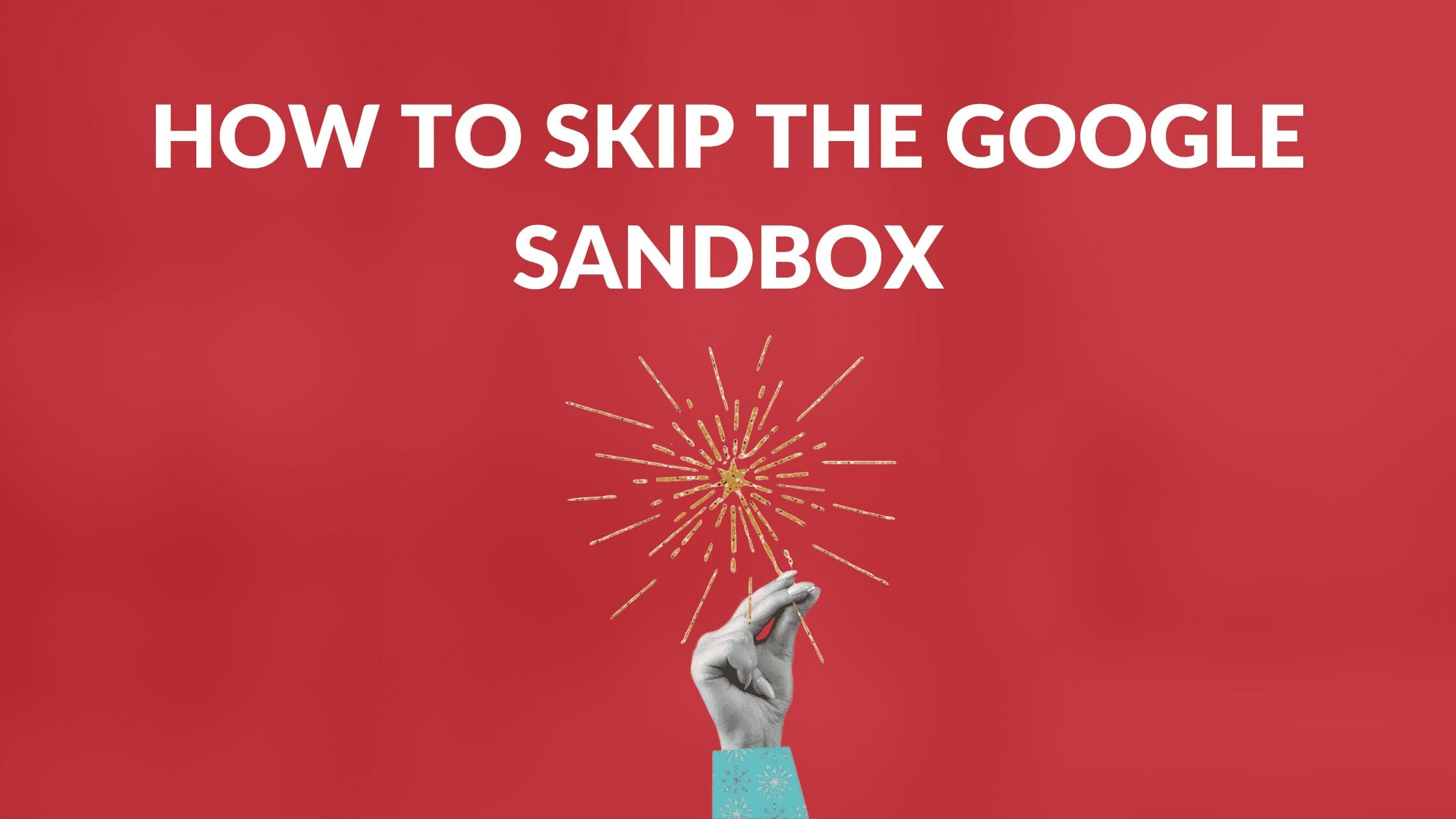 Disclosure: Some of the links below are affiliate links, meaning that at no additional cost to you, I will receive a commission if you click through and make a purchase. Read our full affiliate disclosure here.
Ahhh…The dreaded Google Sandbox!
The Google Sandbox refers to an alleged filter that prevents new websites from ranking in Google's top results.
Google formally denies its existence, but as anyone who has built many websites can tell you, there is definitely a disproportionate struggle to get your content indexed in the first several months of building a website or blog.
So regardless of whether there is actually a formal "Sandbox-like algorithm" or not, there are certainly sandbox-like algorithms in place to make sure only quality and/or dedicated webmasters are given the SERP coverage they need.

This article is not intended as an investigation into whether the Google Sandbox is real. If you want to read some differing opinions by SEO experts, you can do so here. Rather, my hope is that I can help you index your new site relatively quickly.
Blogging is already hard enough, so if there is a way to make new bloggers feel less like they are shouting into a void, and more like they have successfully learned how to skip the Google Sandbox, I am all for it!

Resons Why New Domains Tend to Rank Poorly at All

In order to understand how to avoid the Google Sandbox (or any other "proving period" in Google SERPs), it's useful to consider why new websites tend to struggle ranking in the first place. While there are many reasons new websites struggle, some of the most common and most prohibitive mistakes include:

New websites tend to be built on new domains. If a new website is being built, there is a good chance it's being built on a new domain. The way search works, new domains have a big disadvantage. They just don't have a Domain Rating high enough to compete for much of anything. They may get indexed and rank for the brand, but that's about it at first.
New websites tend to be built by inexperienced bloggers. If someone is an experienced website builder, whether they consider themselves knowledgable about SEO or not, there are a number of things that these individuals tend to do differently. Examples of this include the level/type of website hosting, the post frequency for the first 30-90 days, the types of supporting pages experienced bloggers tend to add, and the overall site structure, which tends to be very messy or incomplete in the case of new bloggers.
New websites tend to have a harder time attracting backlinks. While this is true for any new website, if you are building your first blog, chances are you have no idea how to get backlinks (and may not even know what backlinks are!). Experienced bloggers probabaly address a new site's lack of backlinks quicker.
New websites struggle to gain traffic outside of organic search traffic. GoogExperienced bloggers and digital marketers usually have am appreciation for non search traffic, especially when a site is just launching. Using platforms like social media to signal to Google that a site may be worth indexing is not a strategy most new bloggers are familiar with.
New websites typically lack a clear focus, especially in the first few months of posting. Most new websites are somewhat experimental by nature, meaning the blogger is less likely to "niche down" or target specific topic clusters untill months after a site has launched.
How to Skip the Google Sandbox (Help Your Blog Index Faster)

1. Buy an Aged or Expired Domain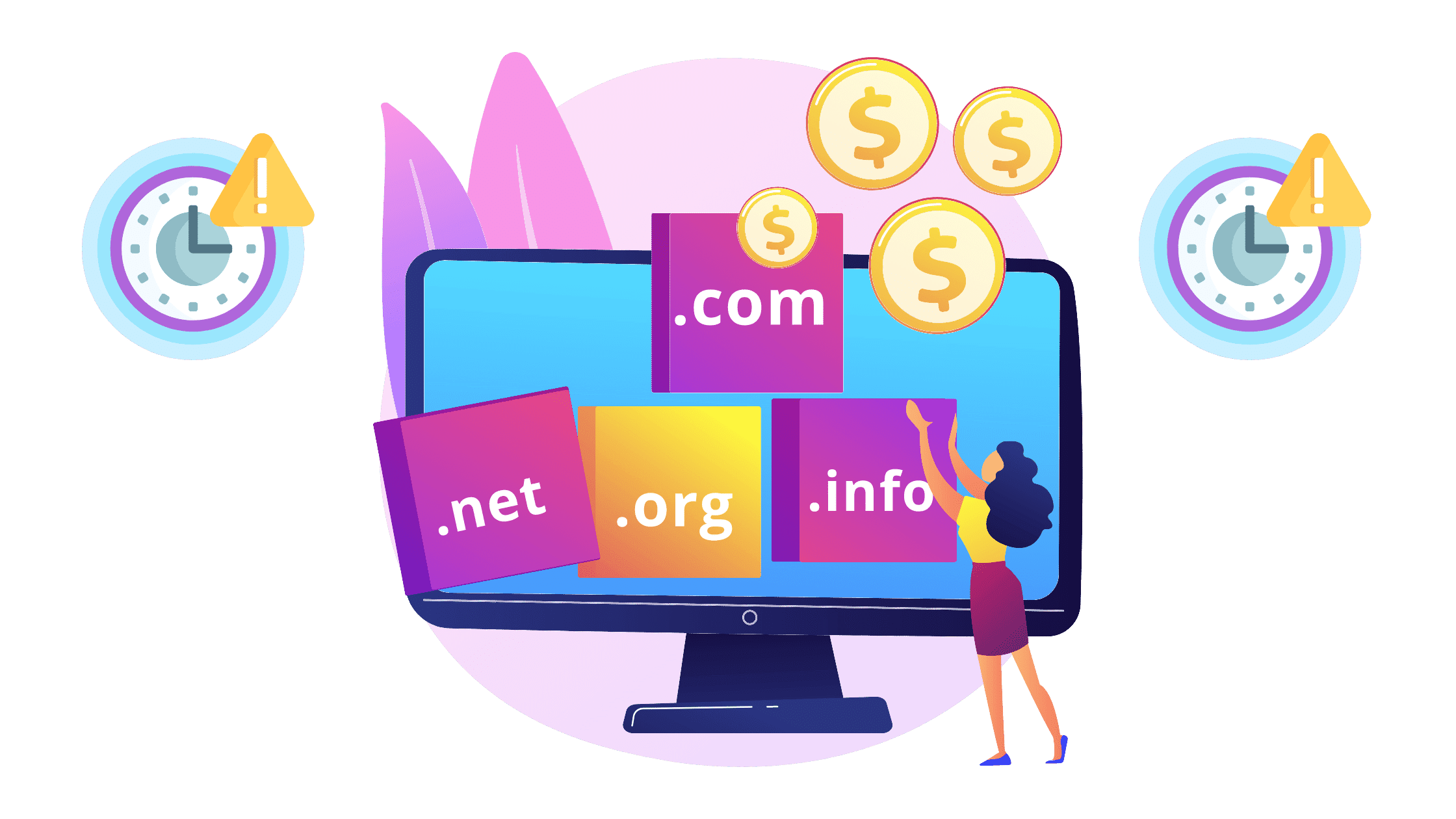 The surest way to skip the Google Sandbox is to purchase an aged domain. This typically consists of buying an expired domain name and building your site on it.
But why is buying an expired domain name so advantageous compared to a brand new domain name?
Domain Authority
Expired domain names give you a head start because the domain already has a certain level of authority in Google's eyes. This allows you to rank for competitive terms faster and with fewer backlinks because domain authority is a major ranking factor in Google's algorithms.
In comparison, when you register a completely new domain, it has no authority or footprint on the internet because of which it takes longer to start driving search traffic.
Domain Age
Google values older domains because it shows that the site has been around for a few years and is not just a quick spammy niche site that only wants to make money.
Ideally, you should go for expired domains that are older than 5 years because that's the age when a domain truly starts to gain value in Google's books.
Existing Link Profile
If you choose the right expired domain, you'll already have a bunch of high authority backlinks from other relevant sites. That's a huge bonus in SEO terms and allows you to grow your search traffic faster.
2. Install and Configure Google Analyitcs and Search Console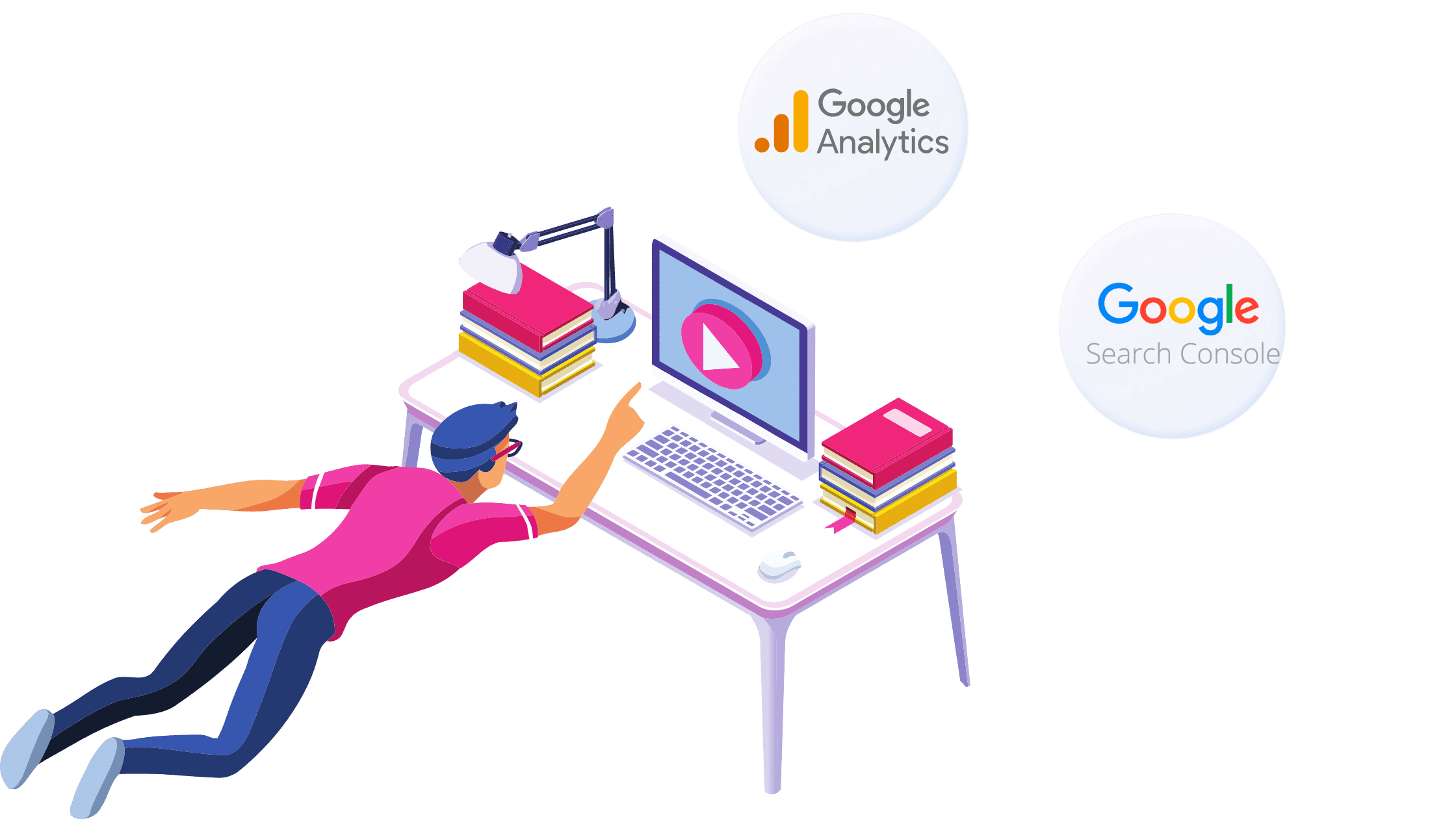 Assuming you don't go the route of expired domains, the first major step in setting up any new blog should be to install and configure both Google Analytics and Google Search Console. The process is fairly straightforward, but if you have questions or want to ensure yore doing so correctly, this video should help:
3. Choose a Premium Web Hosting Provider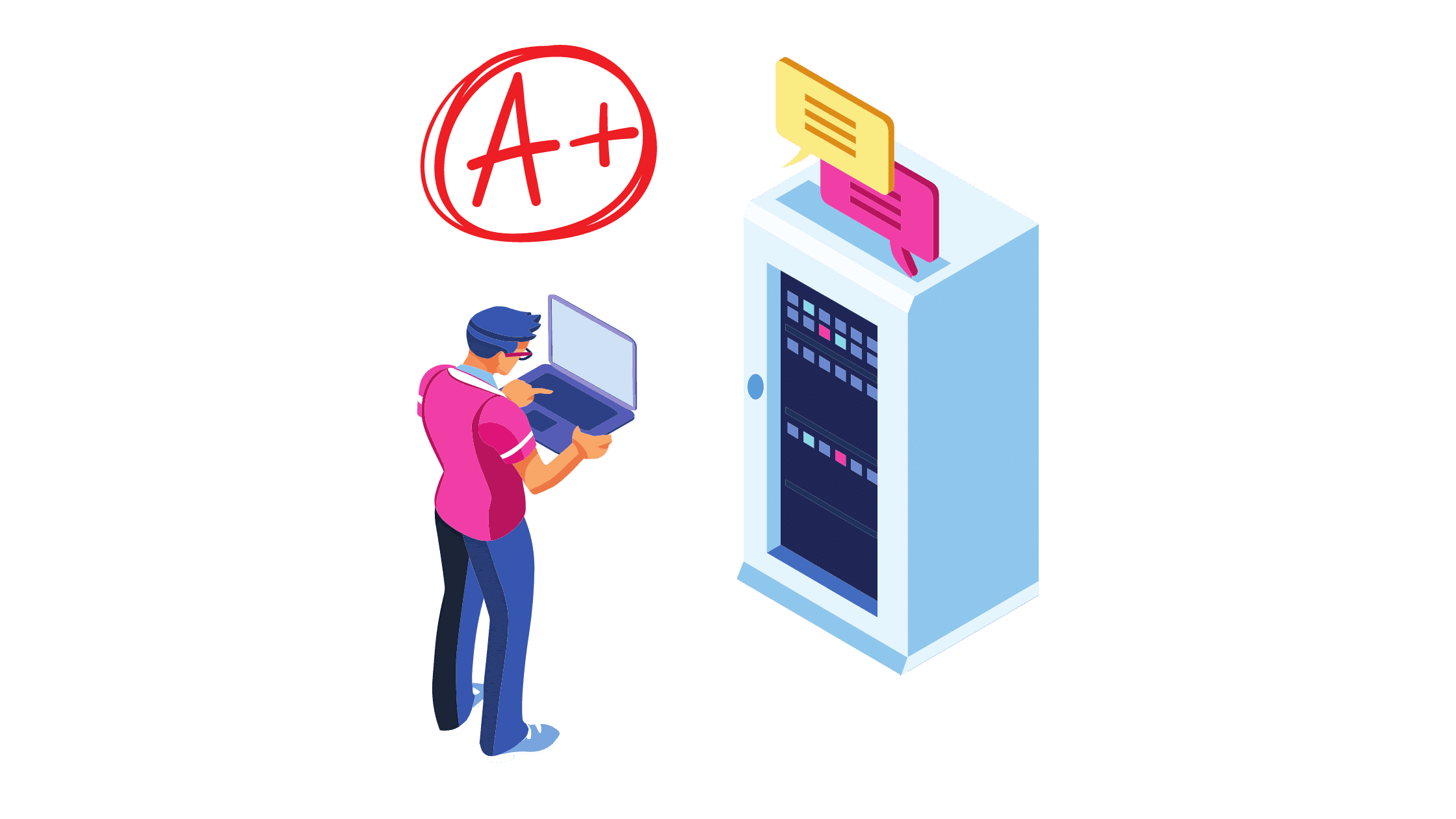 When you first created your website you may have gone with a hosted website on a third party platform. While this is usually the cheapest option, it can hinder your blog from indexing in Google as quickly as possible.
This is due to several factors, but most importantly, self hosted websites allow your site to run faster, which allows Google to crawl your pages easier and it also results in a better user experience for early readers of your site.
A hosted website is one that is built on a website builder such as Wix, Squarespace or WordPress.com. These are Software as a Service (SAAS) platforms offering an all-in-one website solution. They provide the hosting (the servers that house all your website files) and the software to build your website. But you're limited to using their tools and templates, and you have limited, if any, access to the code for customization.
WordPress.org, on the other hand, is a self-hosted website option. It's open source software, which means you can download it and then modify it as you like. The software is free, but you have to open an account with a website host in order to have your files housed on their servers and purchase a domain (the address or URL for your website) from a domain registrar.
So what is the best web hosting for your blog if you want to optimize for speed?
You can read our in-depth guide on the best website hosting providers for bloggers. Or if you are looking for my personal recomendation based on all the sites I've launched, my general advice is to either use Bluehost or Kinsta.
If you are a new blogger, Bluehost is ideal because your site will definitely run fast enough that there won't be any issue with indexing. Bluehost is also very easy to set up with WordPress and is relatively cheap, which is why it's popular among bloggers.
As my sites have grown, and I've learned more about SEO, and have seen the benefits of fast hosting many times, I've started to move both my older and established sites, as well as any new sites that I'm building to Kinsta.
There are many benefits of using Kinsta, and it is significantly e expensive than Bluehost, so I would never suggest using Kinsta purely to try to shorten the Google Sandbox period. But if you have other sites, especially if they have substantial traffic, this may be a good option to look into anyway.
Stay away from cheap shared hosting plans, as these definitely can affect your site adversely.
Some examples of these would be shared hosting on GoDaddy, Hostgator, 1&1 or the lower tiered shared hosting tiers on Namecheap (Note: this is not meant to label Namecheap as a bad provider of web services. I still, for example, use Namecheap to buy and hold almost all of my domains since it is affordable and includes free lifetime Whois privacy).
4. Add Sitemap Plugin to Make Your Site Easier to Crawl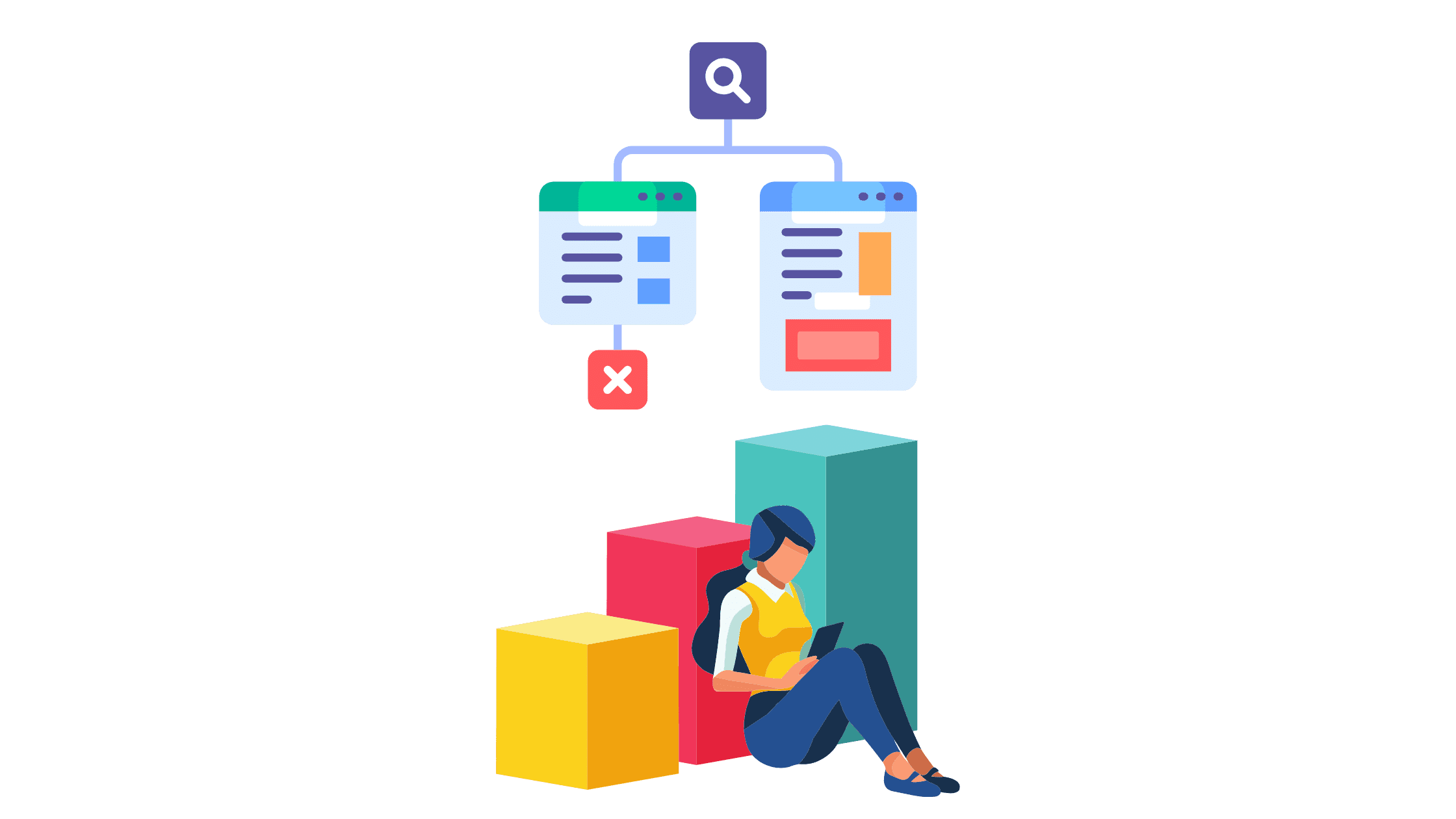 Having your sitemap in your Google Search Console account is necessary to have the best performance in search rankings. Without it, Google will have a much harder time knowing the ins and outs of your website. Or even finding it at all. Luckily, it's easy and free to generate an XML sitemap and submit it to Google.
A sitemap is a file on your website that lets search engines know which pages are on your website. It's quite literally a map of the structure of your site. Some platforms, like Squarespace and Wix, generate sitemaps for your website without you having to do anything, so be sure to check on that before you get started in submitting to Google.
But assuming you are building a self hosted WordPress website, your best bet is to use on of several free and easy to use plugins, which automatically generate a sitemap for your website, which you can then easily submit to Google.
My go to recommendation is Yoast. Although there is a premium version of Yoat, the free version allows you to create a sitemap just fine. They've written a great guide on how to create a sitemap with Yoast and submit it to Google.
5. Manually Submit URL to Google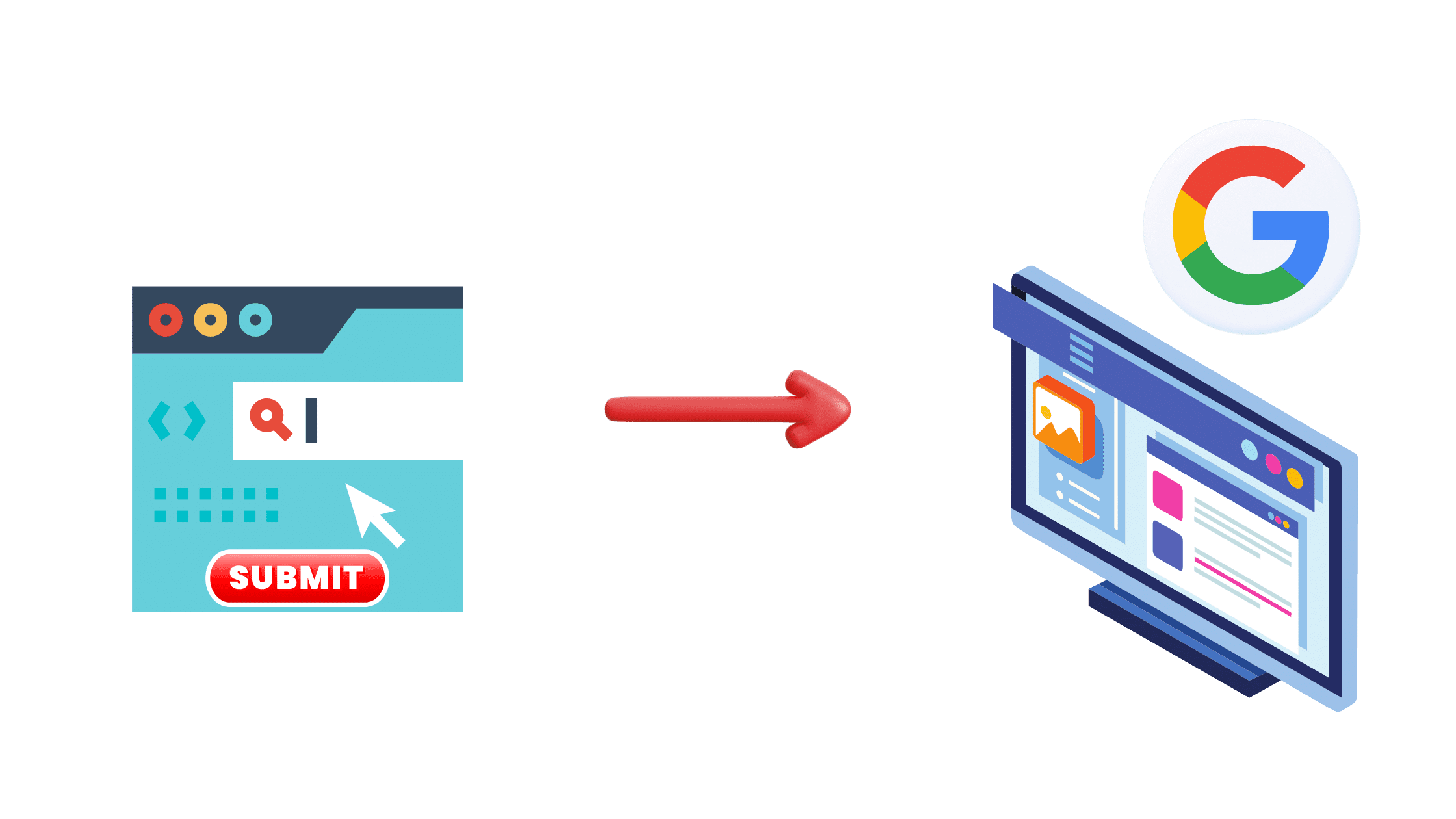 Assuming you followed step #2, you should have set up Google Search console for your website.
Although submitting your sitemap to Google is the most efficient way to help Google crawl your site (and should 100% be done!), if you are intent on helping a specific page rank, you may want to manually submit the URL Google Search Console to make sure that Google at least considers indexing a specific page.
To do this:
1. Login to your Google Search console Account.
2. Click the "Start Now" button in on the Search Console Screen:

3. Copy and Paste the URL of your post (or page) into the search bar at the top of the page, which contains the text "Inspect any URL in "yourwebsite.com":

4. Assuming your link is indeed not indexed in Google, you should see the following message, which includes a button to "Request Indexing." Press this button.

5. You will then see a screen (like the one below) as your link is processed and is tested for indexing:

6. Finally, when your link is successfully submitted you will see the following success message, indicating that indexing has been requested:

6. Publish High Quality, Original Content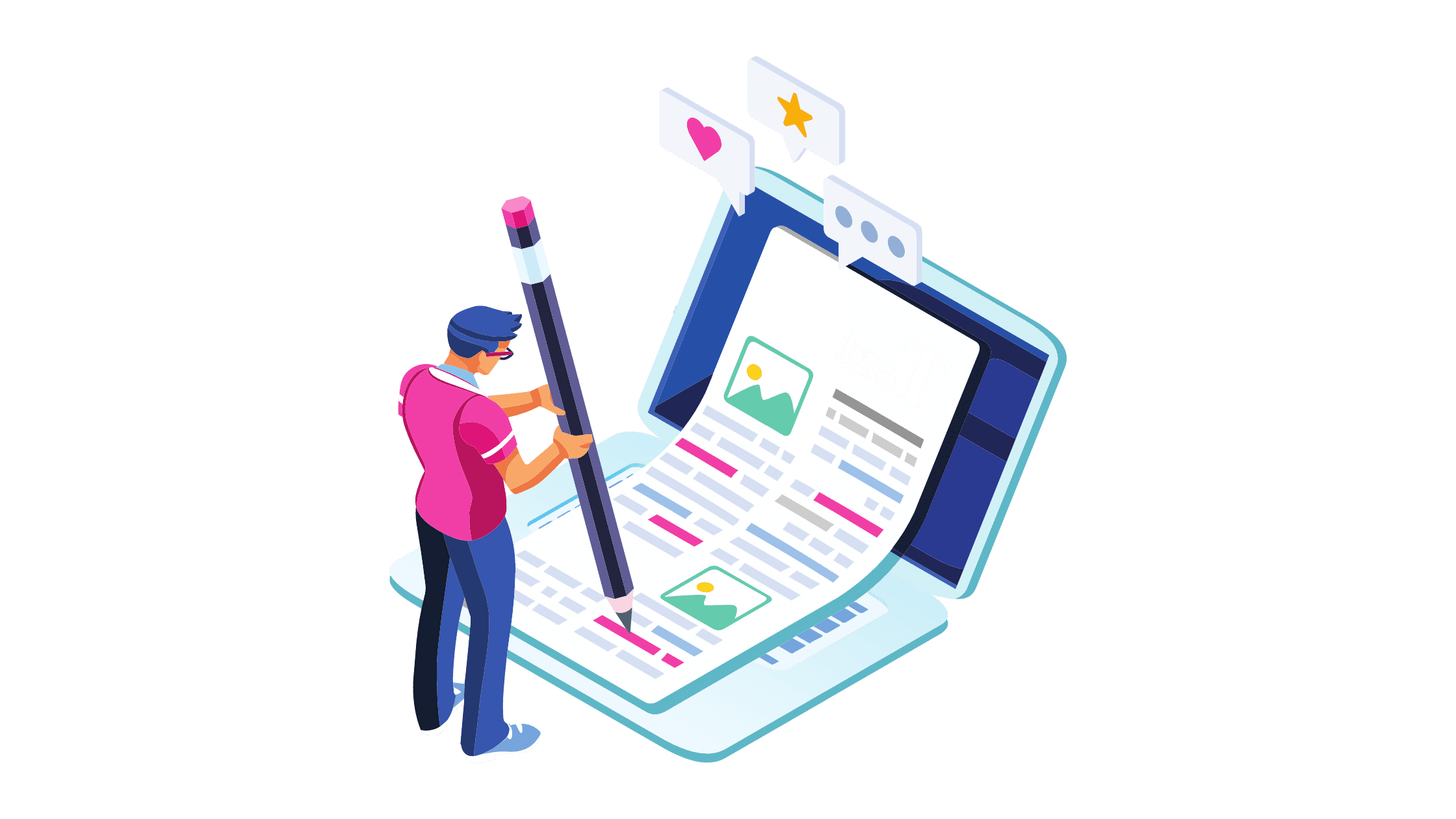 Although this tip may seem somewhat cliche, it is nonetheless critical: you must publsh high quality, original content in order for your site and pages to index. Blank or place holder pages may be overlooked.
And while there is no formal requirement of how often you need to post to minize your time in the Google Sandbox, I would generally suggest posting at least one post per week for the first several months. Ideally, you would post closer to 2-3 times per week to ensure that Google has enough content in order to start deciphering what you blog is about.
7. Target Less Popular Keywords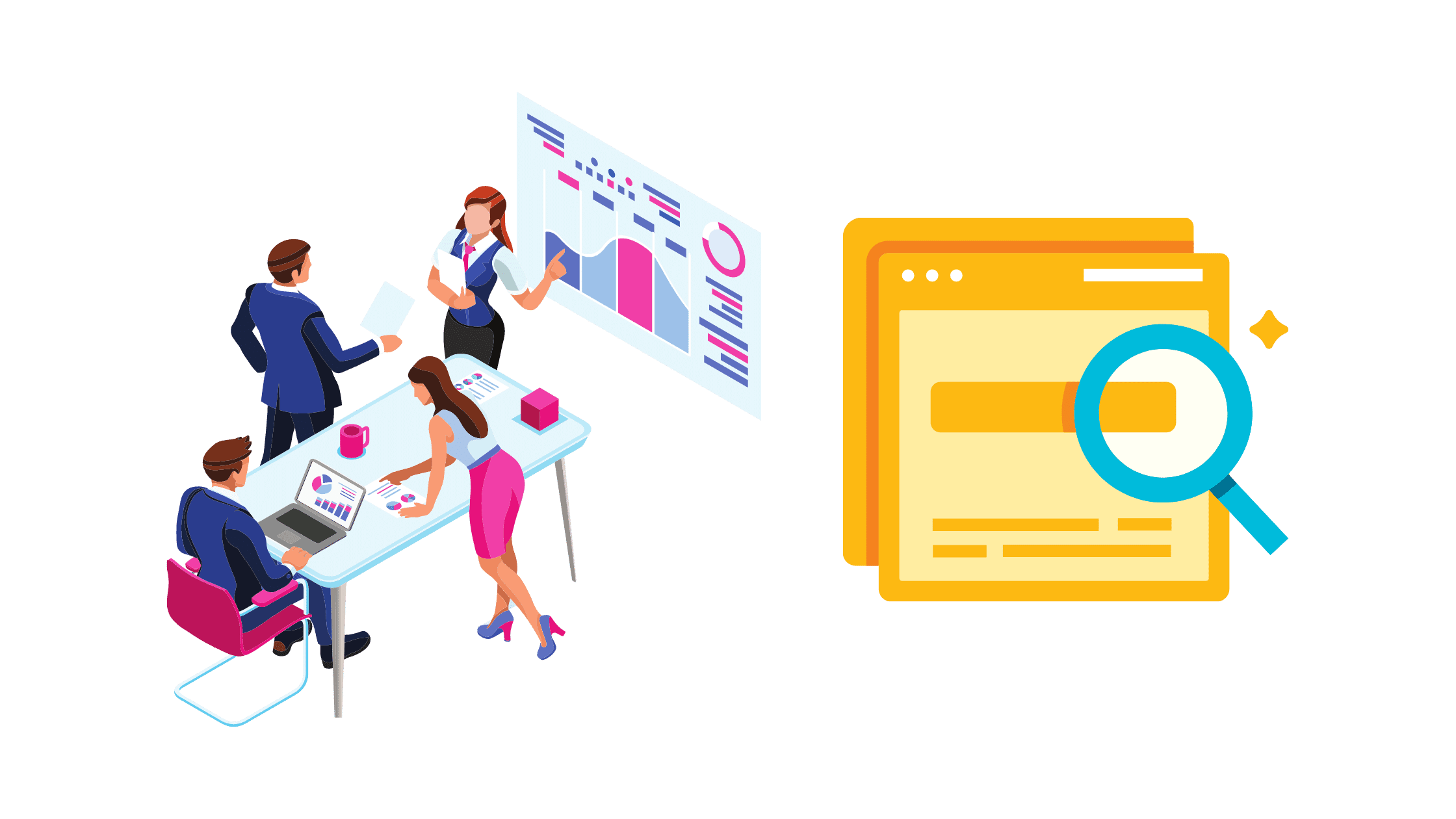 One of the bimistakes that bloggers make in their first 25 posts is that they target competitive keywords. Unless you are an SEO expert, this strategy will almost certainly backfire.
Competitive keywords (from the perspective of a blogger writing on a new domain) are any search query that contain lots of high quality responses from more established sites than you (which, this early on, is pretty much every site).
So what should you target?
Generally, you would be better off targeting low competition key words that are part of a longtail keyword search.
For example, writing a blog post intended to answer the question of "what are the best school supplies?" you might write an article targeting the keyword "best school supplies." This search might have a very high search volume for the top results, but it would be unwise for a brand new website to target such an amitioius and competitive search term.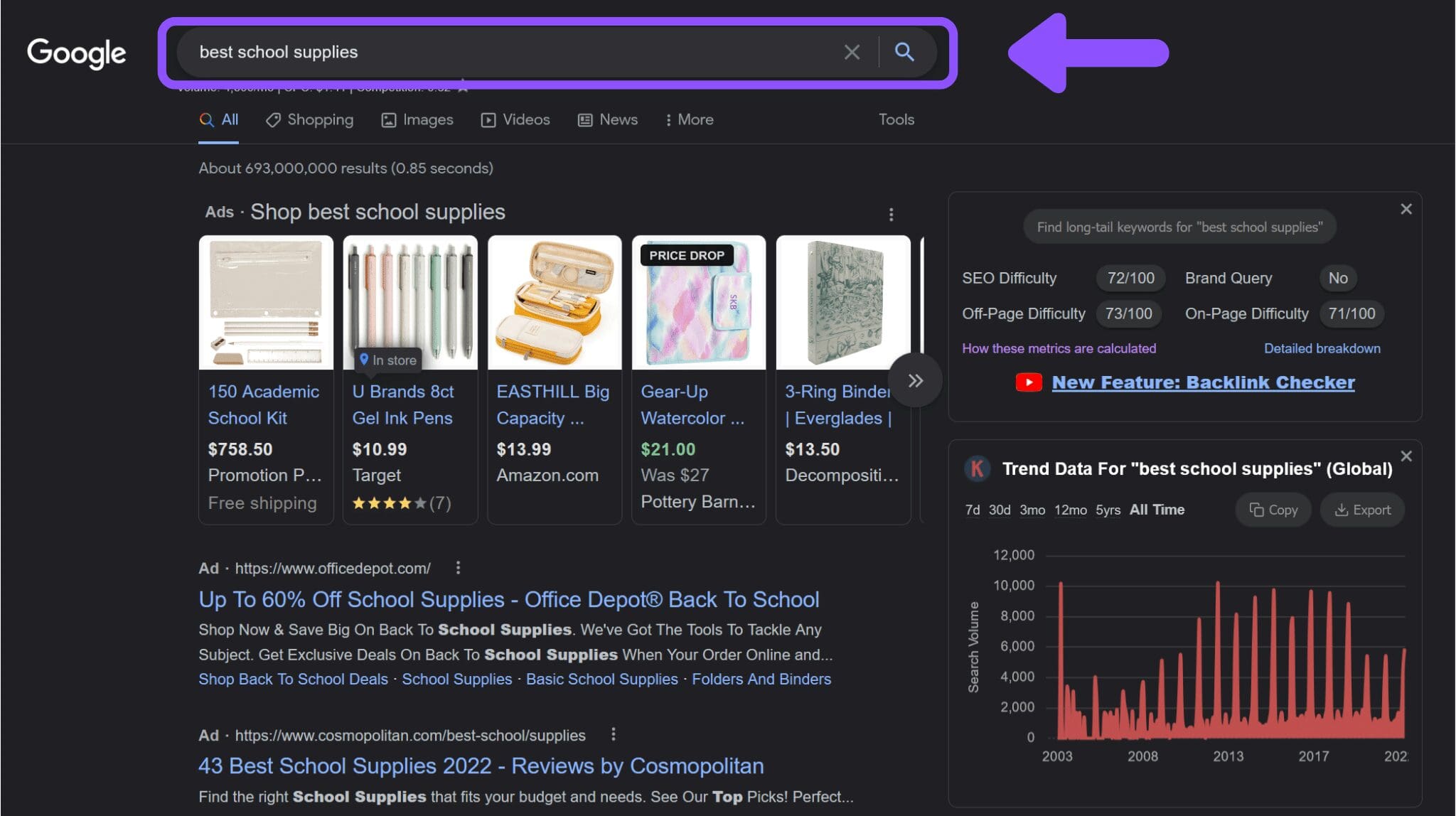 Note: in case you were wondering, the nifty tool that appears in my google search results is a browser add on for Firefox called "Keywords Everywhere." It's a free tool that shows you the MOZ DA below every search results (on a logarithmic scale of 0-100), to help you guage how much authority a page has. It also shows you the estimated search volume in the panels on the right.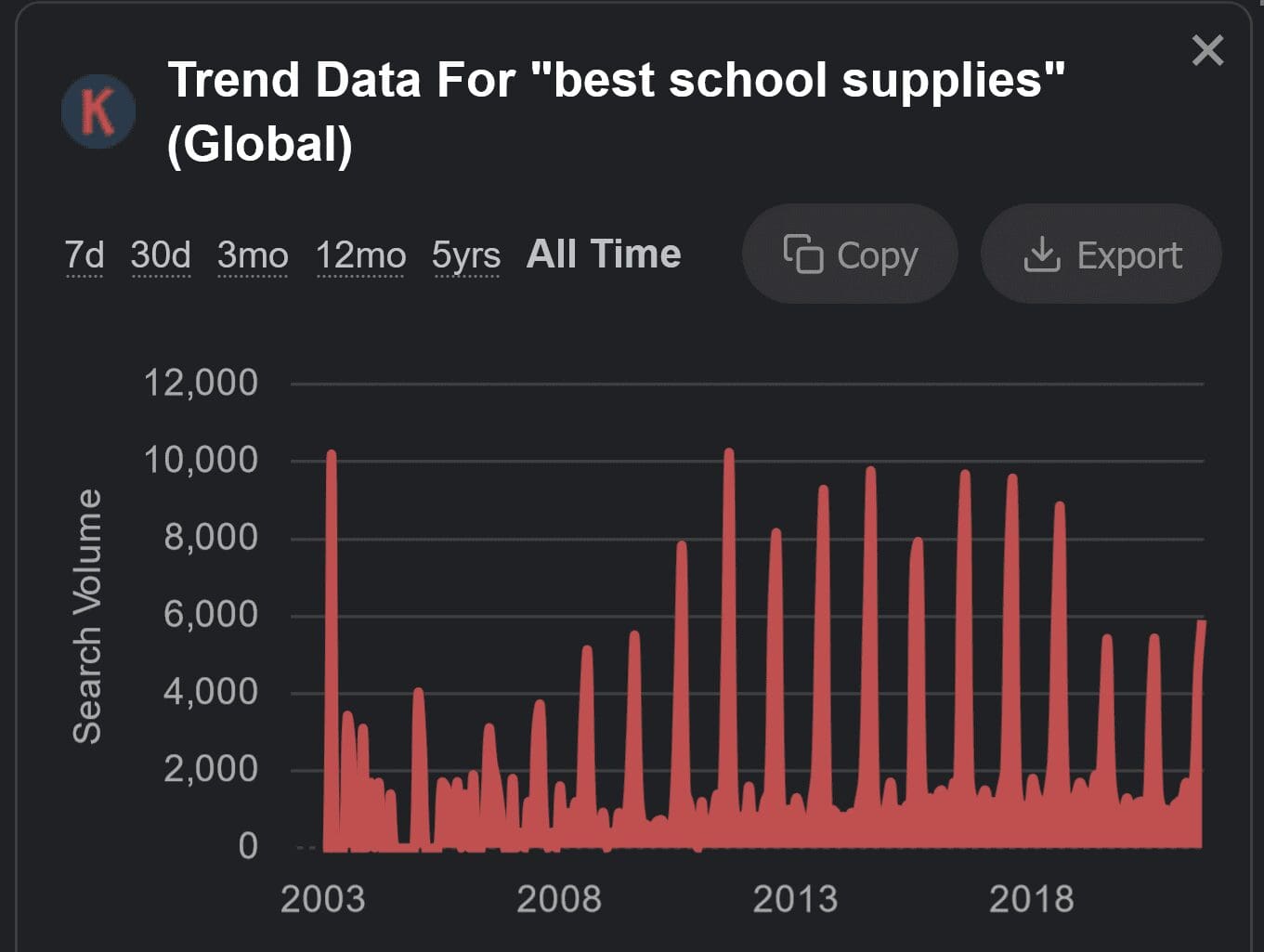 The better option would be for the new blog to target a long tail keyword that has much lower search volume, but conversely is much easier to rank for, such as the keyword "6th grade school supply list 2022 in washington dc area":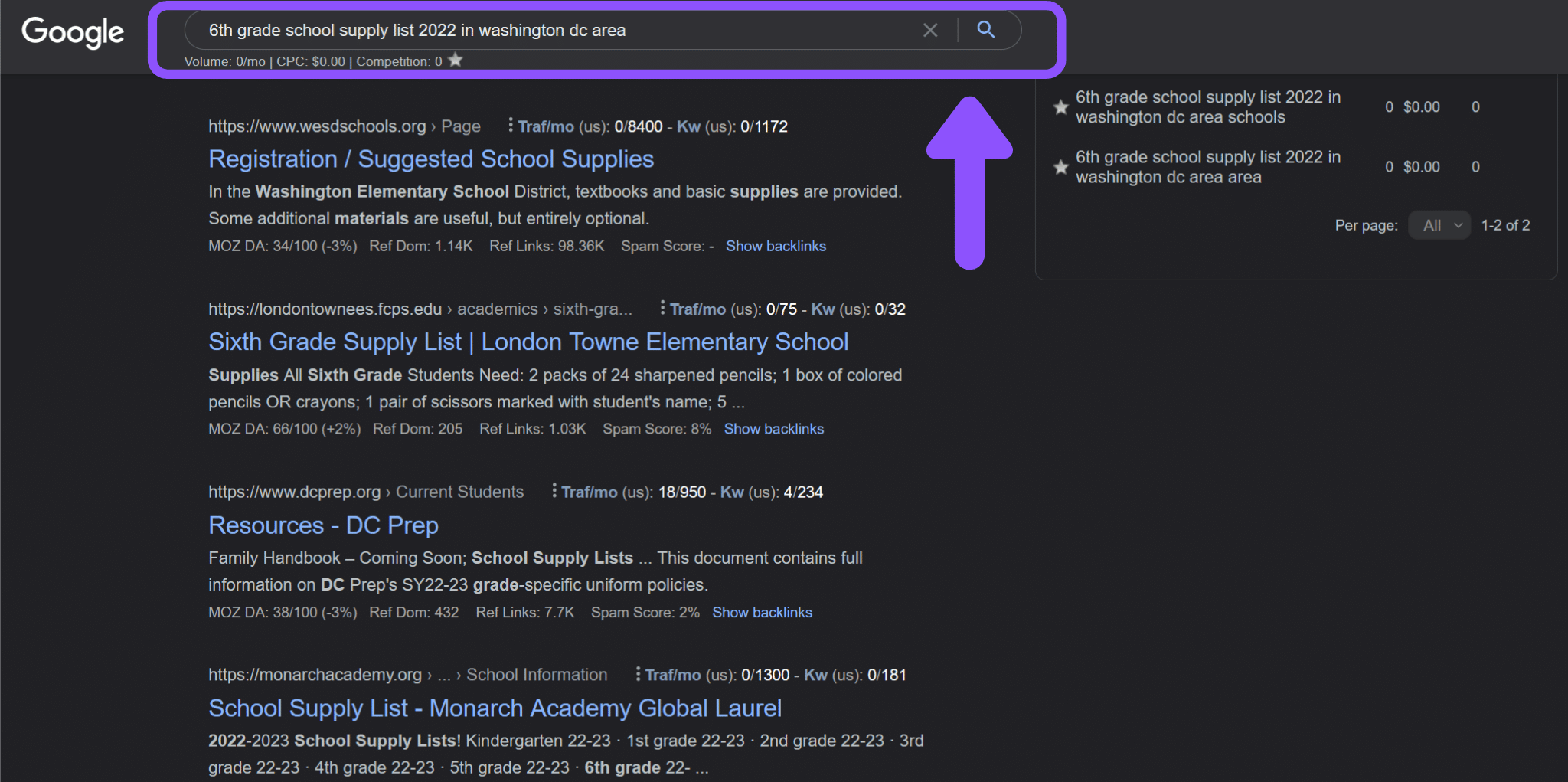 This search is obviously far more specific than the first one, so much so that the estimated search volume is close to 0 (and the historical graph does not even appear.

If we look closer at the SERPs, we can see that the first two results for "best school supplies" are a NY Times article (DA 95) and a school supply niche store (DA 67). This confirms that the top results are much stronger than the results for the longtail search "6th grade school supply list 2022 in washington dc area" which contains lower DA articles (DAs: 47, 29, 34):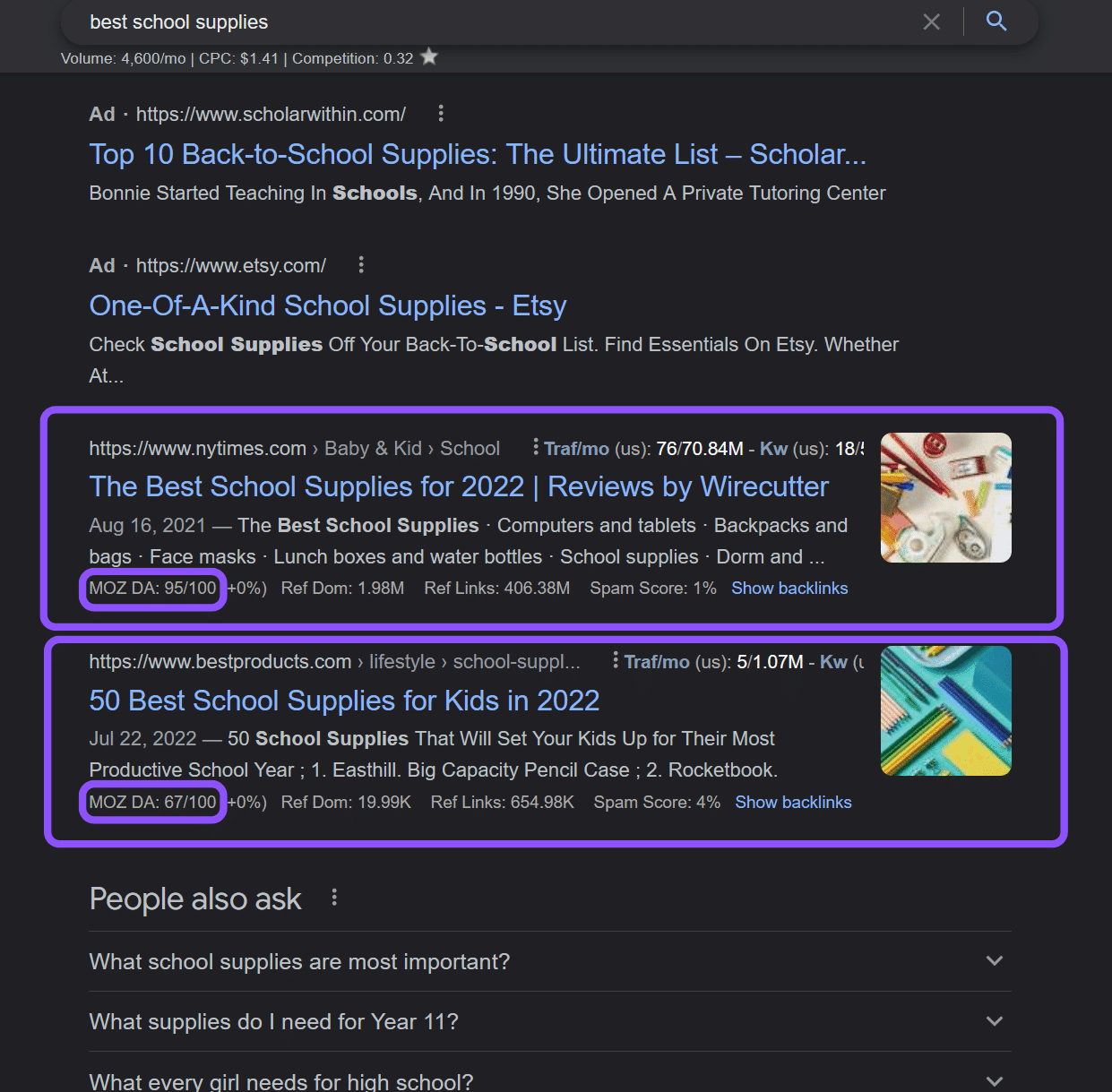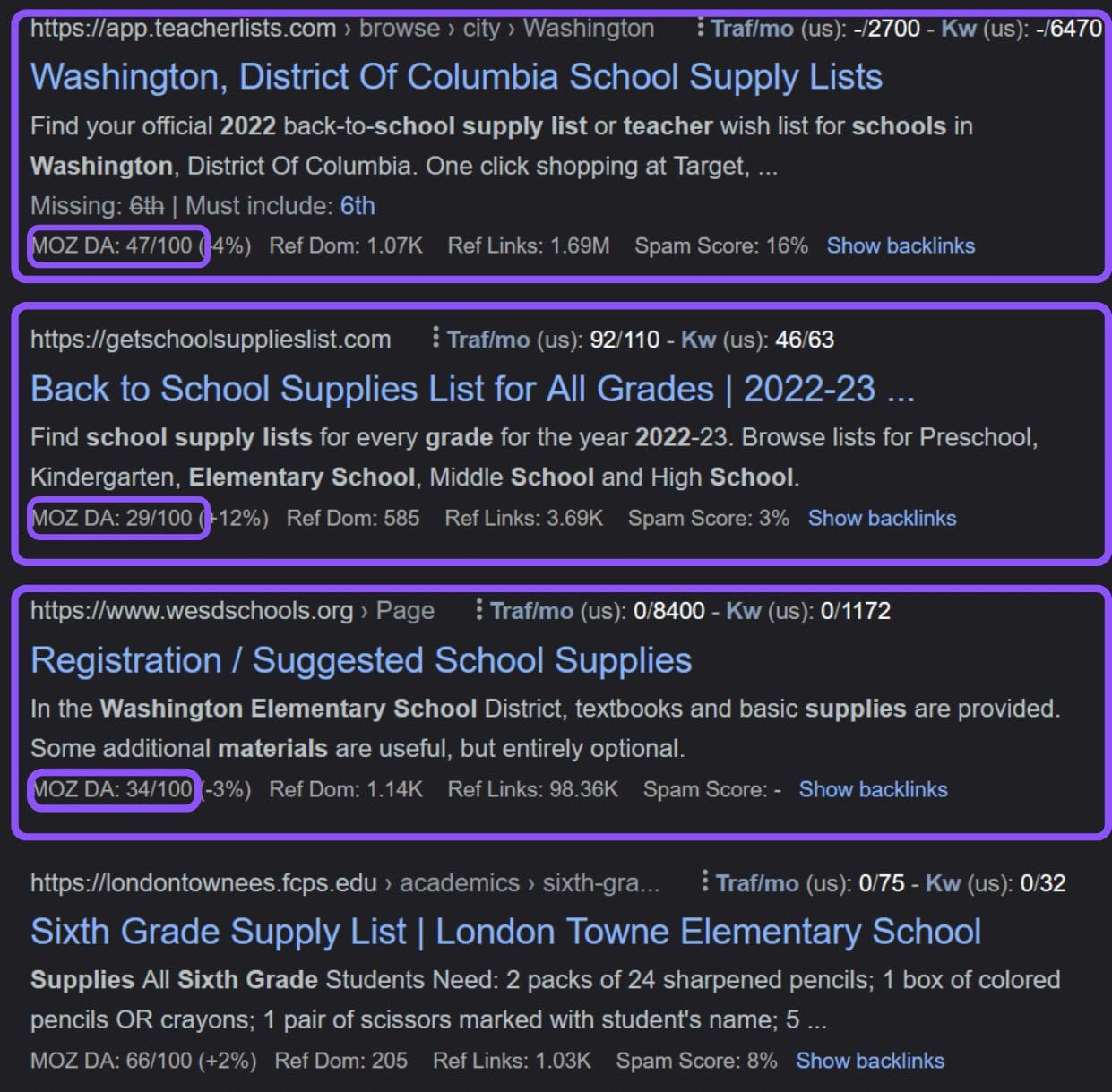 8. Create Social Media Profiles Linking to Your Website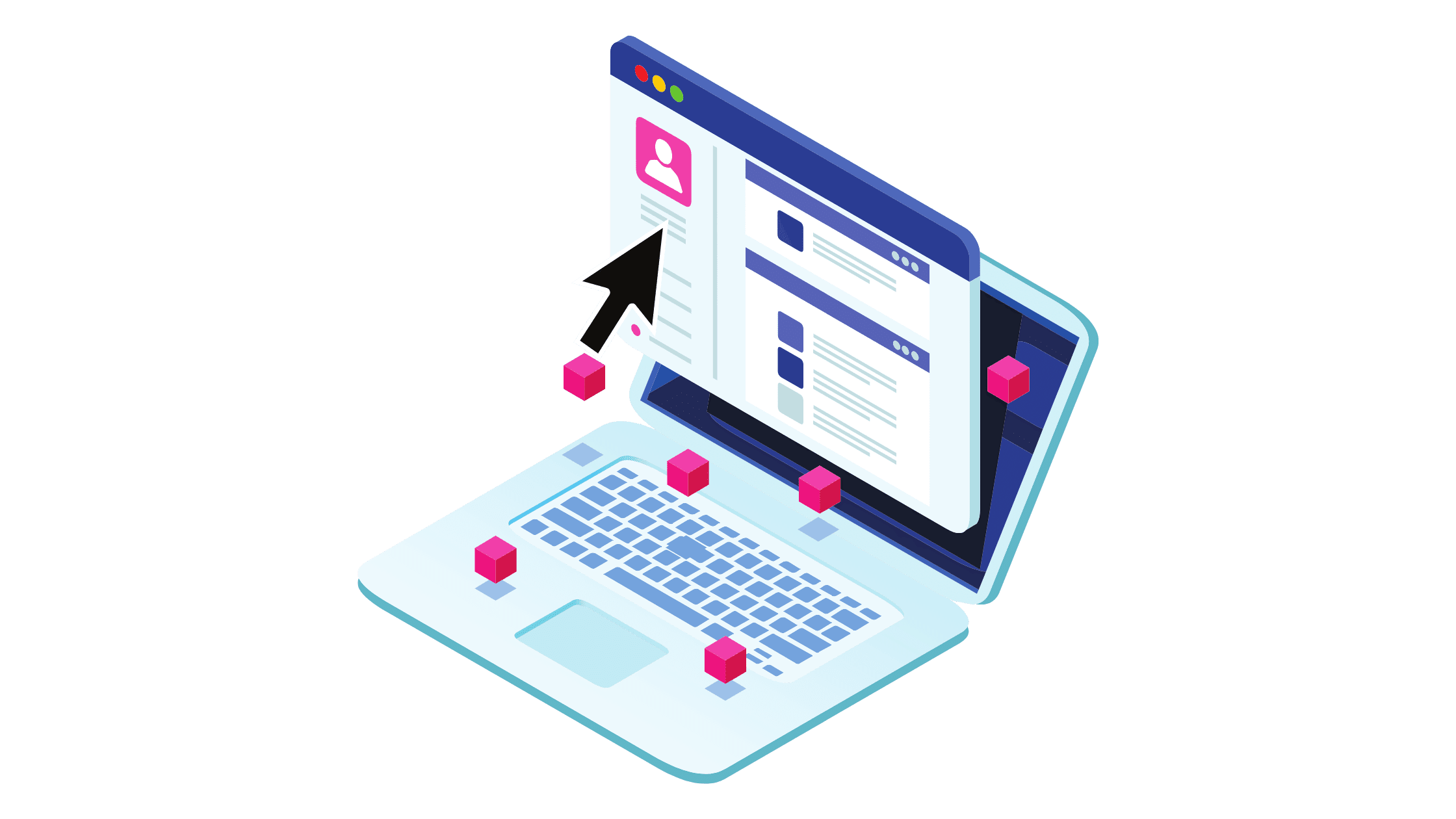 Social media profiles for your website also give you another place to add links pointing to your site or blog.
Twitter profiles, Facebook pages, LinkedIn profiles or company pages, Pinterest profiles, and YouTube channels,  — all of these are easy to create and the ideal places to add links pointing to your website.
If you don't want to create new profiles on social sites for your new site or blog, you can alternatively just add the new site's link to your existing profiles to increase the crawl rate.
If you are trying to create profiles, and want to save time, check in advance for available social media handles.
9. Regularly Update Content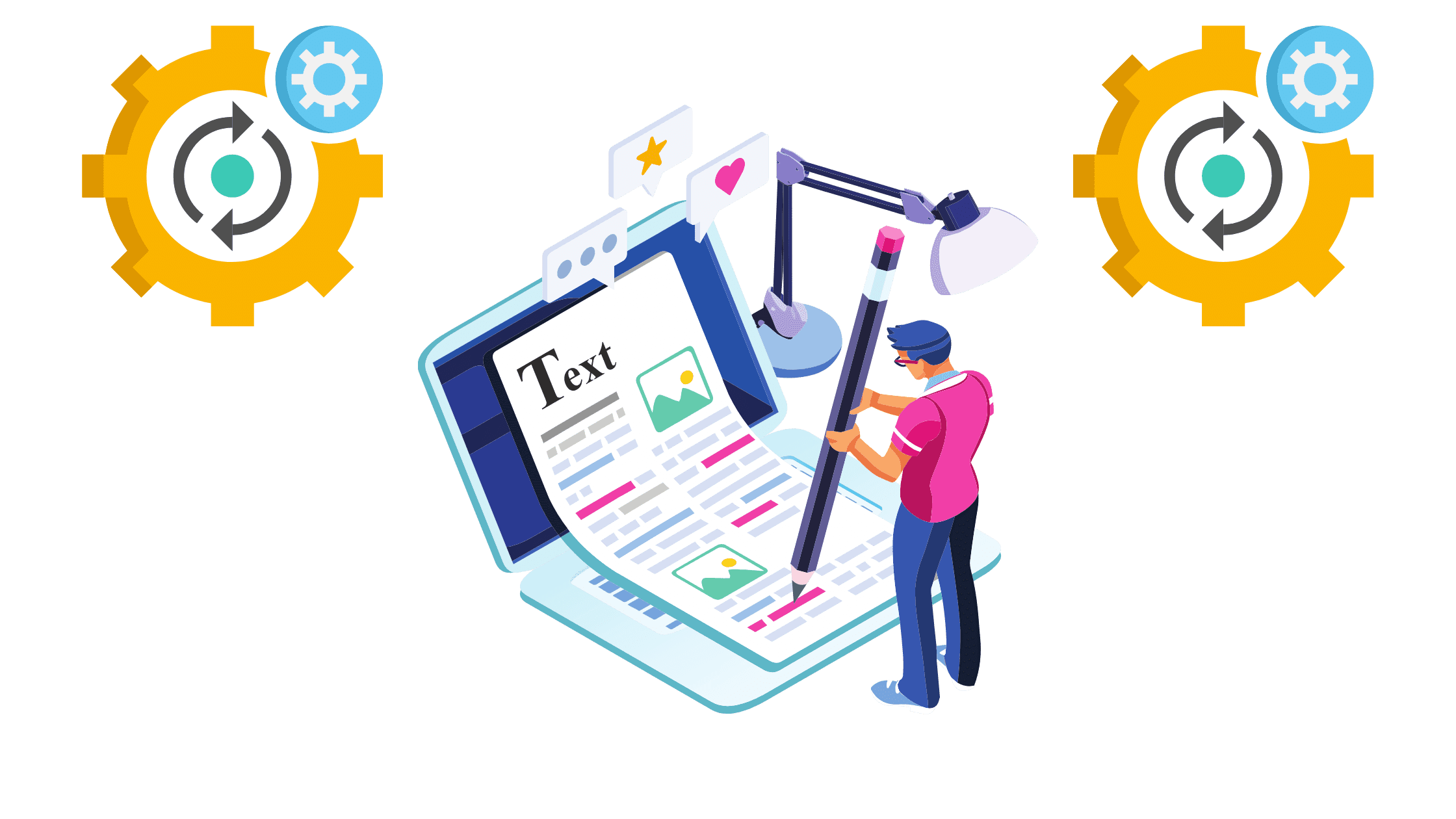 Every time you update your website, Google wants to crawl it more often.
A great way to capitalize on that is to make a plan to regularly update your old content.
For the best impact on your indexing speed, try and update your website at least three times each week. Those three things could be posting one new blog post and updating content in two old posts.
Updating at least three times a week tells Google it better check in with you often to ensure it has the latest version of your site.
10. Add Internal Links to All Your Site Posts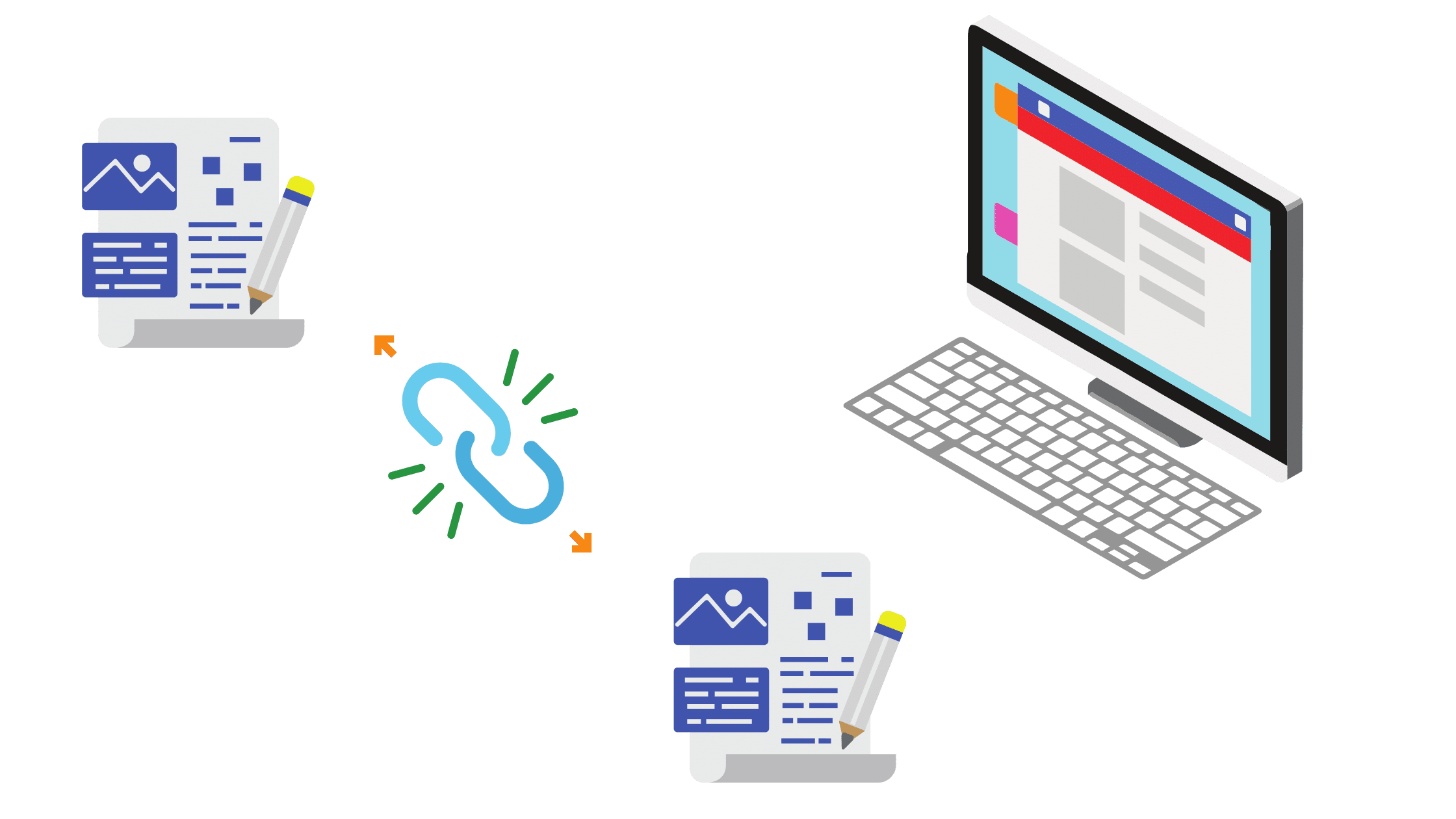 Never underestimate the power of internal linking!
Google crawls websites by following links, internal and external, using a bot called Googlebot. This bot arrives at the website's homepage, renders the page, and follows the first link. By following links, Google can work out the relationship between the various pages, posts, and other content. This way, Google finds out which pages on your site cover a similar subject matter.
In addition to understanding the relationship between content, Google divides link value between all links on a web page. Often, the homepage of a website has the most significant link value because it has the most backlinks. That link value will be shared between all the links found on that homepage. The link value passed to the following page will be divided between the links on that page, and so on.
When you your site begins to rank, you'll quickly notice that more links to a post mean more value. Because Google deems a page that gets lots of valuable links as more important, you'll increase the chance of that page ranking, by careful and consistent use of internal linking.
11. Get Non-Search Related Traffic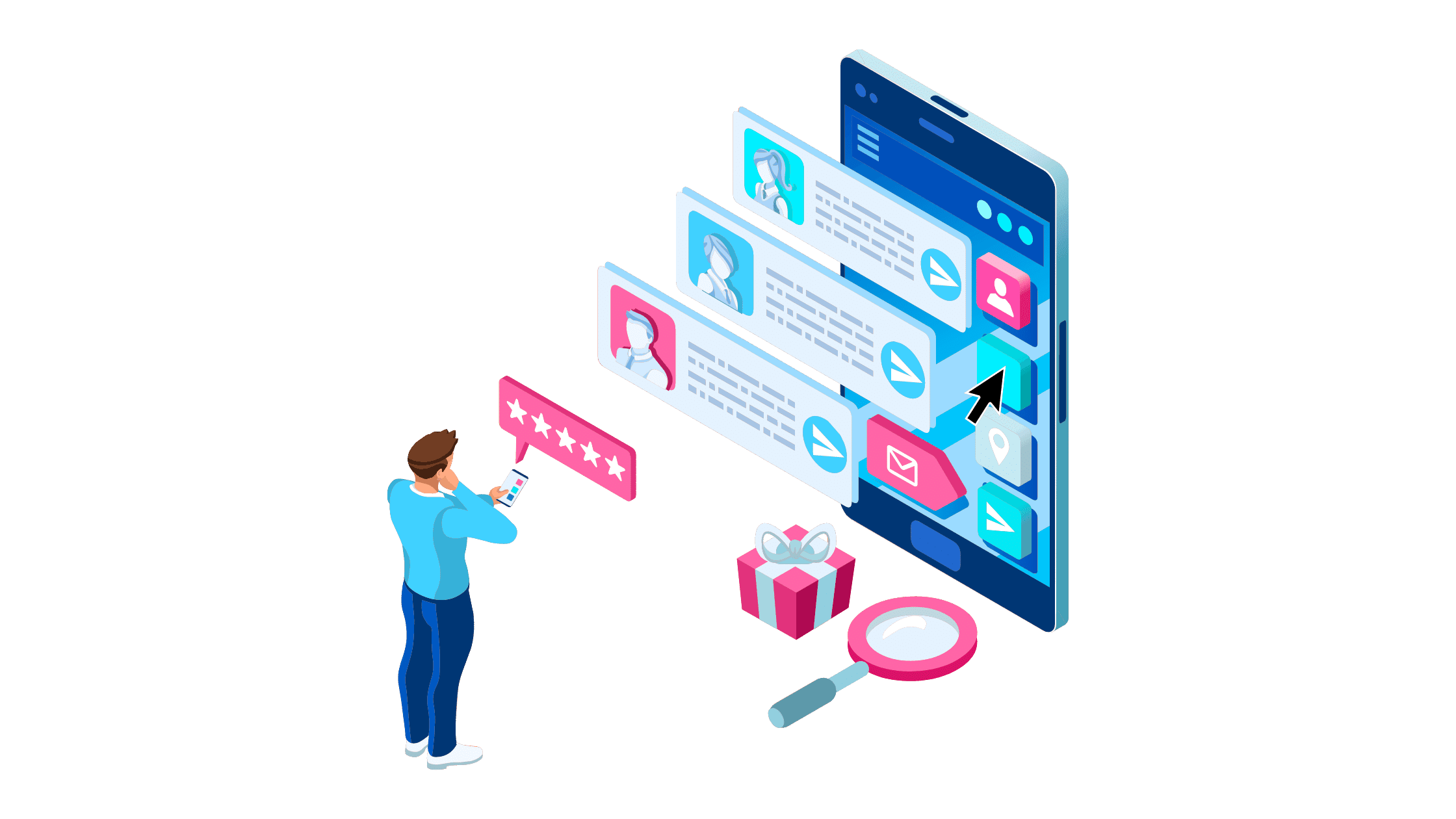 Initially, your new domain will struggle to get even a single view through organic search traffic. But you need traffic as a signal to tell Google your content is worthwhile (kind of a catch 22, right)…So what do you do?
Drive traffic to your website from other sources. Some of the simplest ways to do this aough:
 Sharing your blog posts on social media.
Emailing your articles directly to friends or family.
Linking to your post in a related but unique response on a forum site (i.e. Quora, Reddit, etc.).
Sharing your post link with aggregator sites.
Paying to advertise/promote your article in paid search results or on social media.
12. Create "Support Pages"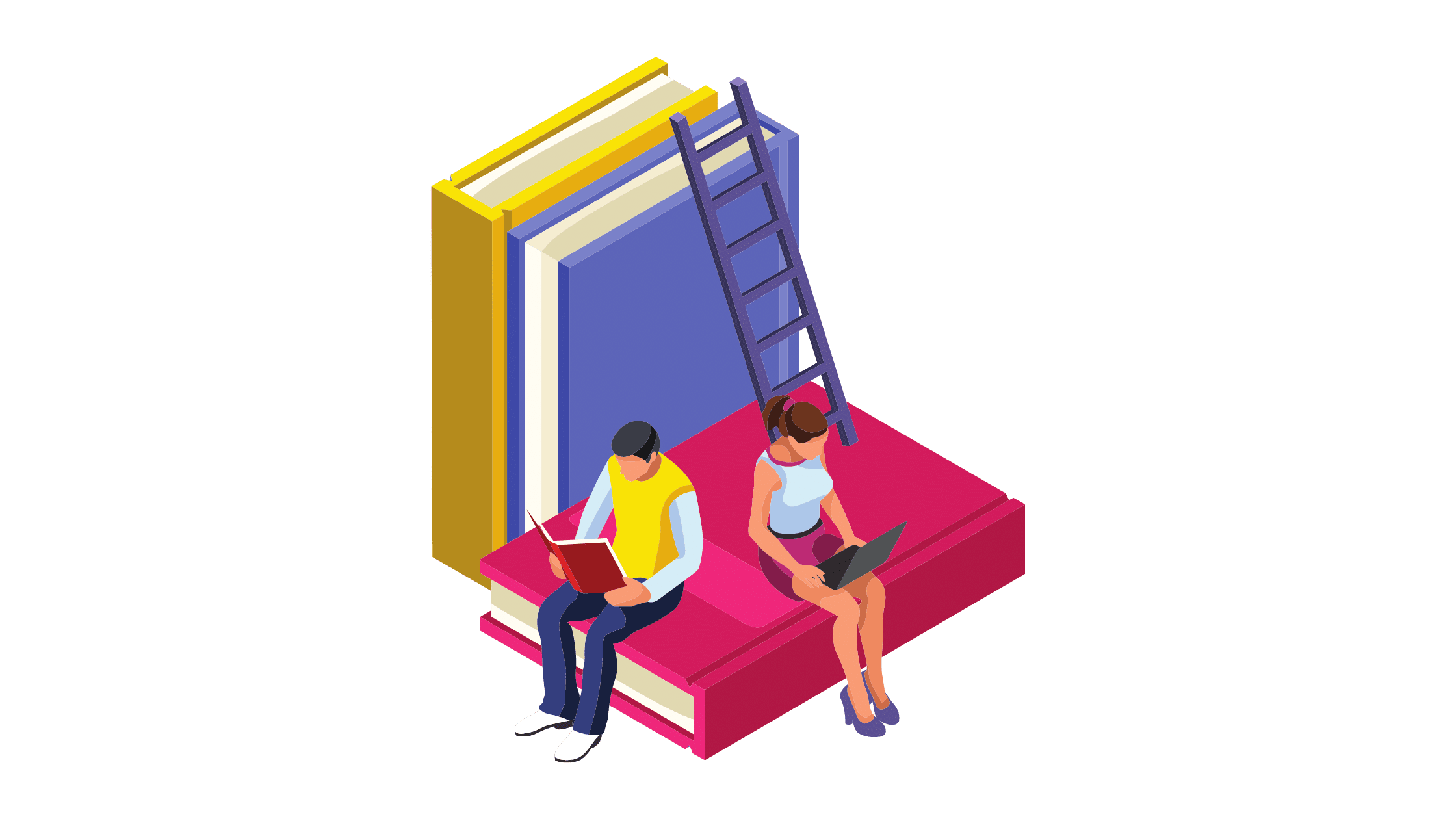 While support pages won't single handedly drive traffic to your website, they are important for the purpose of improving user experience and demonstrating trustworthiness to Google.
While these pages may seem tedious and feel like a waste of time, in Google's eyes they play a major role in making a site appear trustworthy and offer some level of accountability should a user encounter a serious issue with your site (helps meet Google's EAT requirements).
Some examples of "support pages" you should create:
About Page
Contact Page
Privacy Policy / Terms of Service
Affiliate Disclaimer Page (if you have affiliate links)
While there is still some degree of luck in getting Google to quickly trust your site and allow you to rank for competitive searches, if you follow all of the steps above (and generally run a high quality website and avoid engaging in any questionable or black hat tactics), your site is practically guaranteed to emerge from the Google Sandbox faster than other new sites!

Whether or not a Google Sandbox exists, the strategy is still the same. Produce high quality content at the highest rate you can. Optimize your content for basic on page SEO. Edit and update old content. Find other channels to drive traffic to your posts to signal to Google that your site is worth including. Make sure that your site is fast and reliable, ensuring users stay engaged with your content as long as possible or that they don't need to exit your content to find the answer to their search query on another post.
While Google is not always perfect at indexing new sites, it generally is pretty good at identifying high value content, especially over time. So while following all the steps above might result in your site skipping the Google Sandbox altogether or allowing your content to index for competitive searches within a matter of weeks, you shouldn't panic if you don't see quick spikes in your traffic. This will almost certainly take months for Google to "test" your content in the SERPs.
All previous qualifications aside, in the 20+ websites I've built in the past year or two, all of them are indexing and ranking for relevant search terms within 2-3 months, using the strategies outlined above. While one or two of these strategies may be enough to give your site the boost it needs, I typically apply all of these strategies within a matter of days, in order to ensure all my sites get off the an optimal start.