Mediavine is already one of the most popular and highly sought after ad networks for bloggers, today. So when Mediavine announced the launch of Mediavine Pro, many bloggers were very excited. But what exactly is Mediavine Pro? What Does the program offer compared to the normal tier of Mediavine? And what are the application requirements for Mediavine Pro? This article will provide a comprehensive overview of Mediavine Pro!

Mediavine Pro is an invitation-only program for professional bloggers with an individual site earning a minimum of $100,000 in annual ad revenue based on the previous 12 months revenue. While the program is described as an invite only program, and there is no "automated enrollment," Mediavine has confirmed that all who meet the $100k/year requirement (and are currently an existing Mediavine publishers) will be accepted. Invitations will be sent out several times per year, and will be based on a rolling 12 months of revenue.
Benefits of Mediavine Pro

So what is so special about Mediavine Pro? Well, there are several unique benefits for Mediavine Pro publishers:

Higher Minimum Revenue Share (85%). Once accepted to Mediavine Pro, publishers will receive a minimum of 85% in revenue share. This is notably higher than the base revenue share rate of 75% (what most Mediavine publishers begin at). Mediavine offers additional opportunities bases on performance (ad impressions) and its customer loyalty program. If your impression and loyalty bonuses push a Mediavine Pro publisher over 85% for the last 30 days they will receive this amount (up to a maximum of 80% revenue share).
Dedicated Pro Support Team. Once accepted to Mediavine Pro, publishers will receive access to a dedicated Pro support team.
Ability to Onboard Additional Sites at Lower Traffic Threshold. Mediavine currently requires new applicants and current Mediavine publishers (who aren't in Pro) to have 50,000 sessions in the last 30 days of traffic for additional sites. Mediavine Pro publishers can onboard additional sites (sites other than their first site accpeted to Mediavine, at just 25,000 sessions.
Access to a Private Mediavine Pro Facebook Group. Mediavine already offers a private Facebook group to all its existing publishers. But Mediavine Pro publishers will gain access to a separate private Facebook group.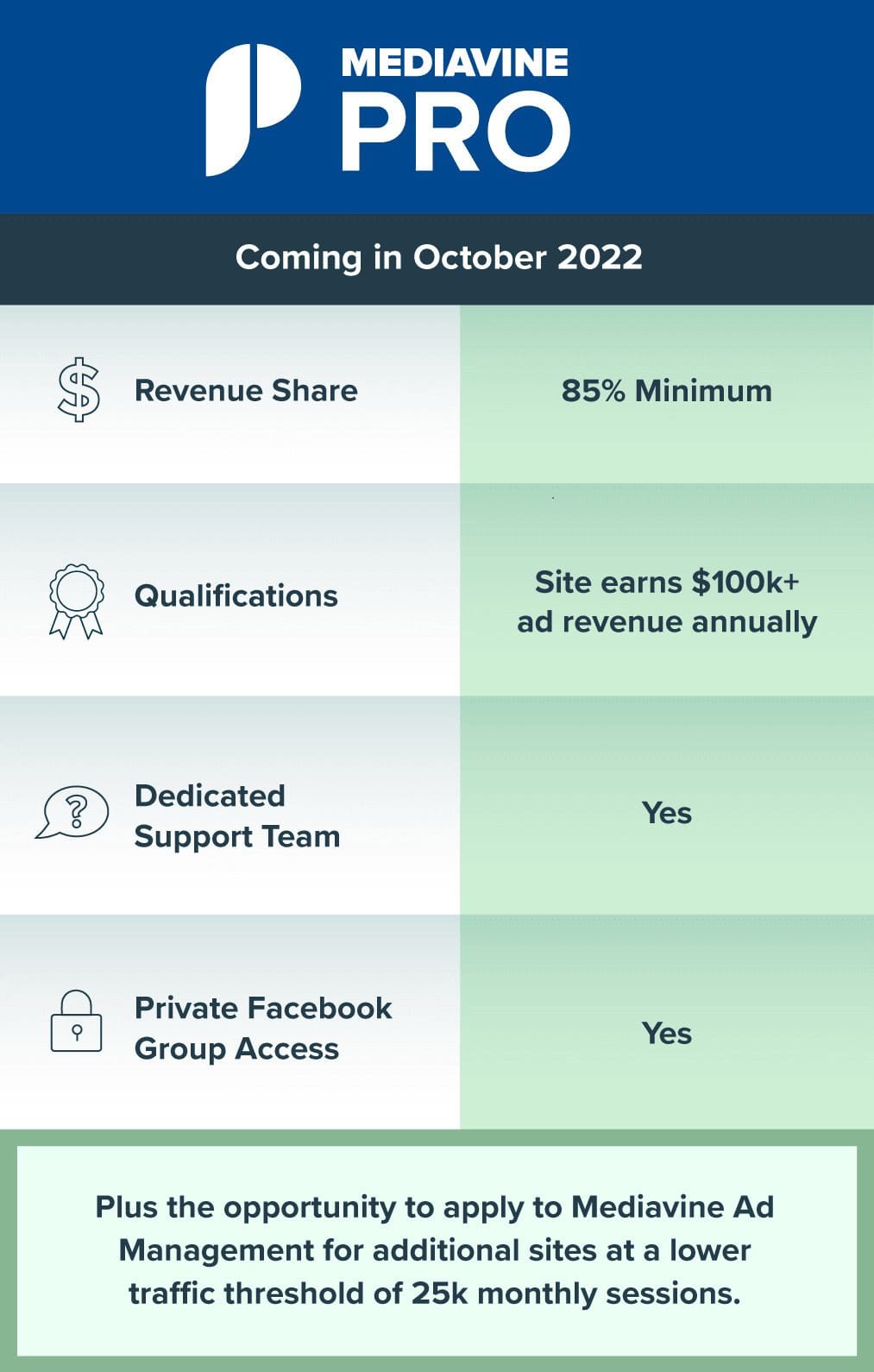 Is the minimum revenue earned over the past 12 months $100,000 for one site or all my Mediavine sites?
Mediavine Pro requires $100,000 in the last 12 month's revenue for a single site.
Does the minimum revenue share of 85% apply to all my Mediavine sites?
No, it does not. Each site is invited/accepted into Mediavine separately. If you have multiple sites, each earning over $100,000 in annual ad revenue, then you can have more than one site. However, if only on site meets the annual revenue requirement, only this site will be enrolled in Mediaivine Pro. Additional sites earning less than the requirement will not be added to Mediavine Pro.
Is Mediavine Pro accepting sites from other ad networks?
Yes, on a case by base basis Mediavine will consider sited currently with other ad managers.
Will these "outside" sites be required to wait 12 months as a regular Mediavine publisher to apply to Mediavine Pro?
Not necessarily. Mediavine will be reviewing external applicants for Pro and will work with publishers to pull relevant data. The team that reviews these applicants can be contacted at publishers@mediavine.com.
Mediavine is without a doubt one of the most important tools for bloggers to monetize their content. While the application process is relatively time consuming, the higher RPMs, fast loading ads, and great publisher support, make the process well worth the effort. If you are already a Mediavine publisher, the route to Mediavine Pro is crystal clear-reach $100,000 in annual ad revenue. If you are not a Mediavine publisher, you could start by applying to Mediavine, or if you are already making $100,000 per year with your site through another ad network, you can reach out to Mediavine directly to switch ad networks.