Best Affiliate Programs for Gardening Bloggers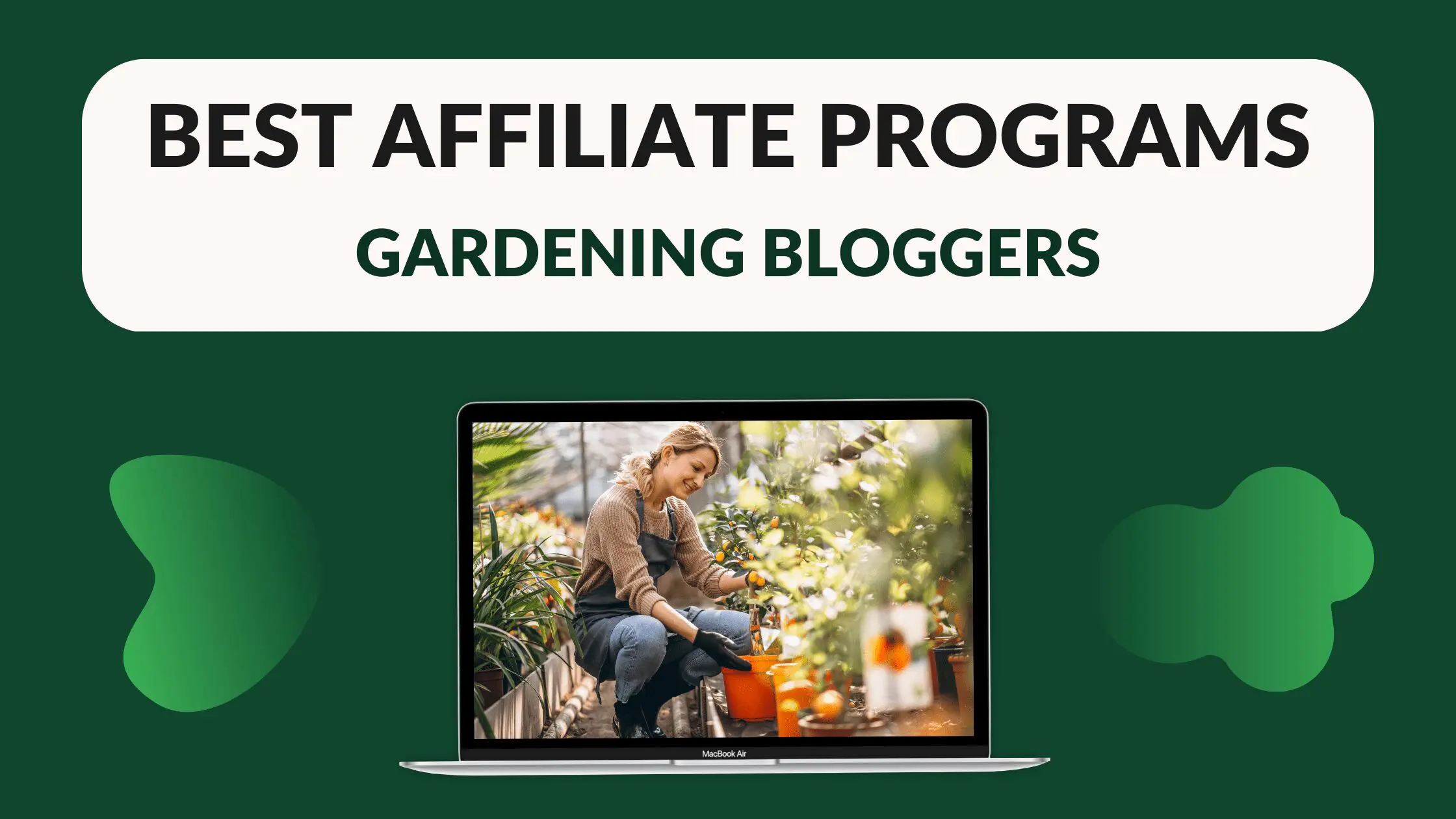 Disclosure: Some of the links below are affiliate links, meaning that at no additional cost to you, I will receive a commission if you click through and make a purchase. Read our full affiliate disclosure here.
So you've sown the seeds of your gardening blog, and tiny buds are starting to come through the soil of your labor.

To reach full bloom and allow you to live fully off your online presence (or simply to supplement your income), why not consider joining an affiliate program specifically designed for gardeners?
It can be hard to know where to start, which is why in this article we're going to cover:
Our top 8 affiliate programs if you have a gardening blog

What each affiliate program is selling (the product)

What percentage commission you could earn and the cookie tracking window

(if available)

.
Let's get into it!
Best Gardening Affiliate Programs

1. Urban Leaf Affiliate Program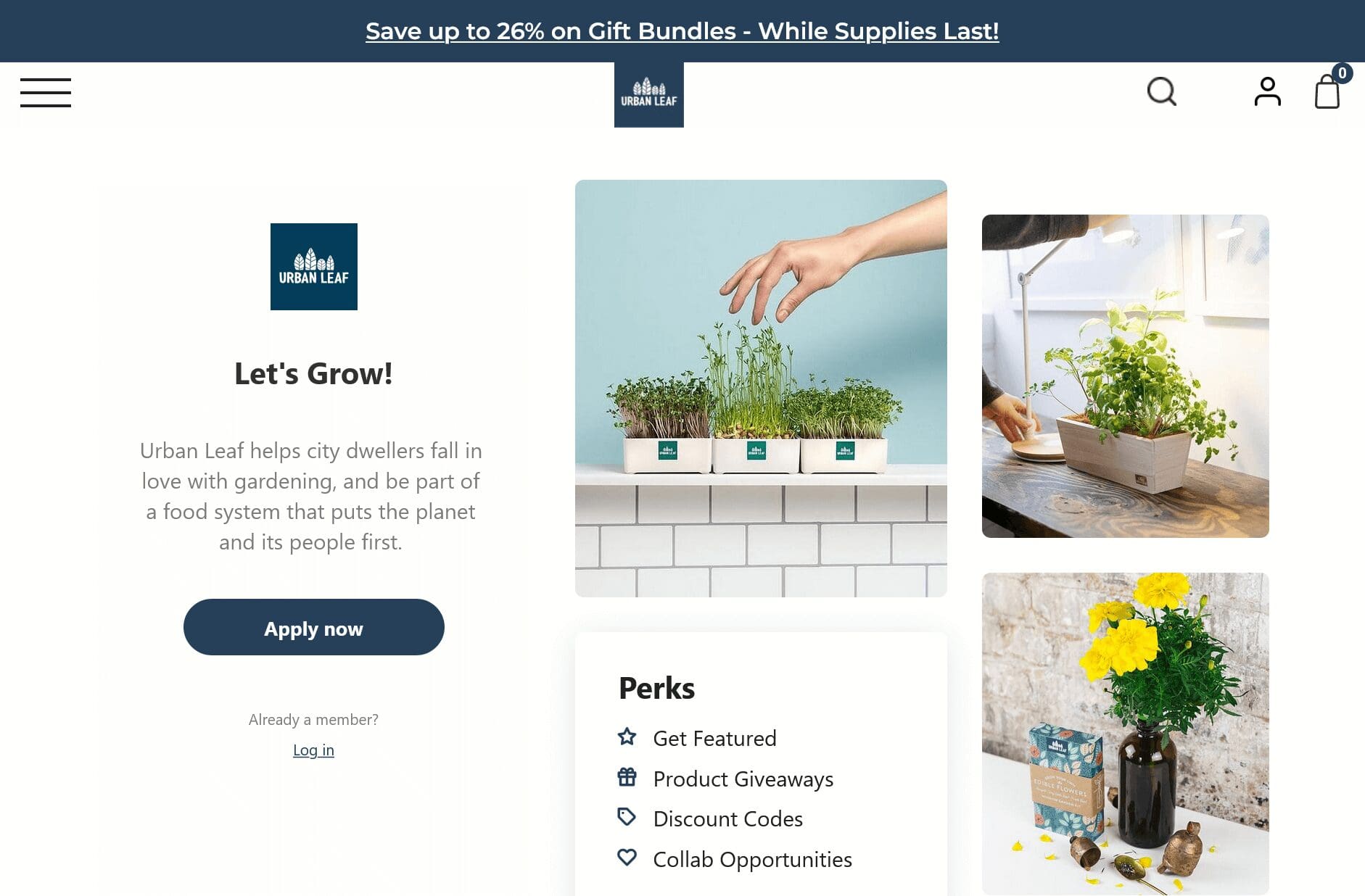 For anyone who likes to dabble in hydroponics, is a fan of recycling, and loves bringing gardening to even the most inner-city of dwellers, affiliating with Urban Leaf could be a great option!
The Product
Urban Leaf looks to bring hydroponics to even the smallest of spaces by running a fully-functional hydroponic system indoors. And it all starts with a simple, empty bottle.
This is a great product to sell to any superfood enthusiasts who may be in your blog audience, as it enables you to grow your own microgreens at home.
Return and Benefits
The Urban Leaf affiliate program provides you with product giveaways, discount codes, and collaboration opportunities.
They'll also give you unique product codes to use on your blog, through which you can earn a 14% commission on each sale. This ends up being roughly a $4 payout. 
While this may seem low, roughly 10% of the traffic that goes through Urban Leaf converts to sales. This means that if you're able to get a high volume of traffic through, you should earn a decent amount.
Additionally, the cookie tracking window lasts for 30 days, which is a very reasonable time period!
2. Earth Easy Affiliate Program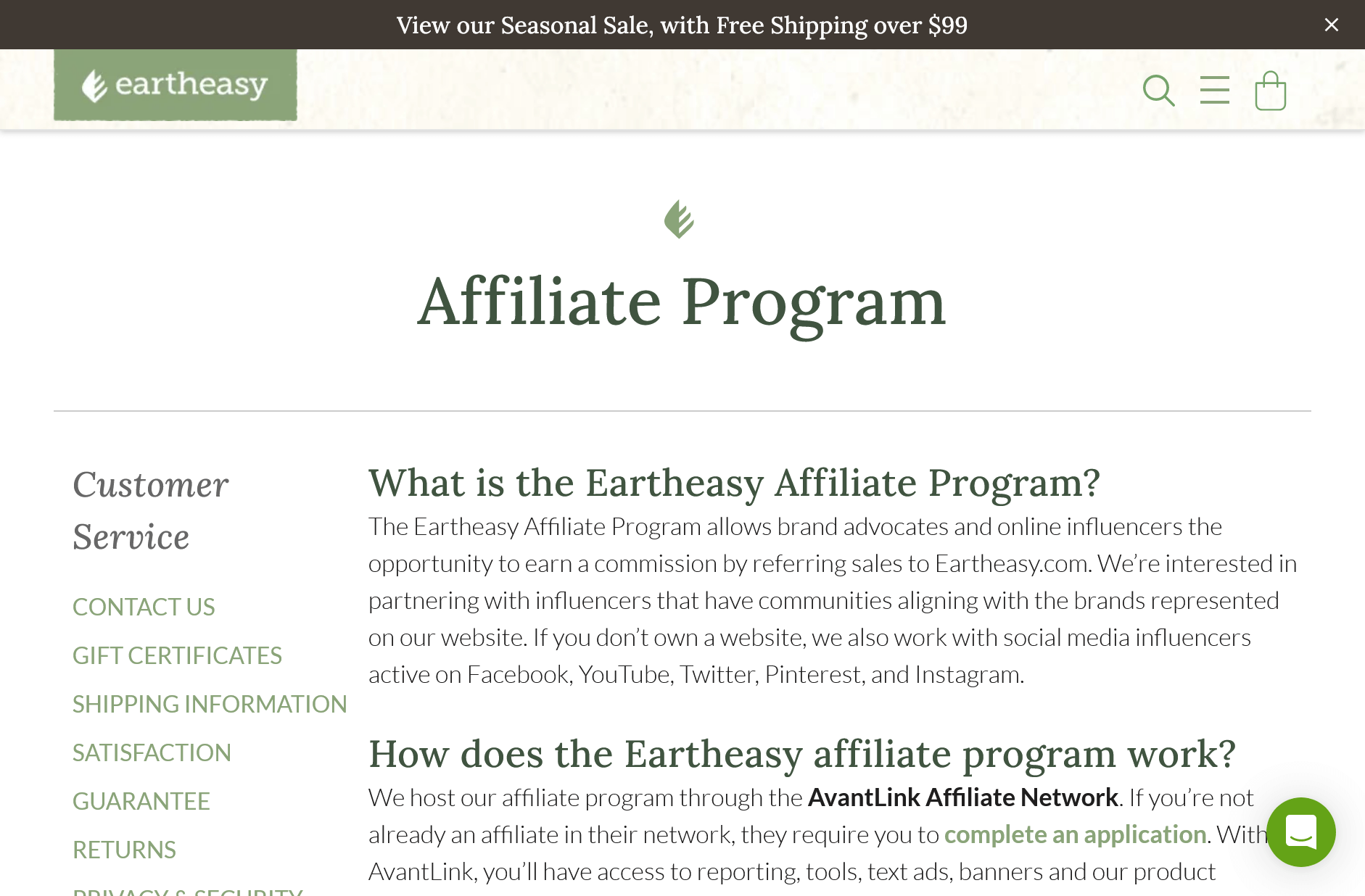 Earth Easy offers a fantastic range of products. 
As well as gardening and backyard products, Earth Easy also sells products aligned with a natural way of life, such as cleaning items, off-grid rigs, camping, baby care, and more. 
Having a range of products to integrate into your blog is an unobtrusive way of guiding more sales. This avoids your viewers from feeling that you are bombarding them into a purchase!
The Product
Buyers can choose any product on the Earth Easy store. Available products are chosen based on alignment with the natural values of the company. 
The company is also family-owned and operated, and carbon-balanced.
Return and Benefits
The Earth Easy Affiliate Program is offered through AvantLink. Once you've been approved as an affiliate you'll be provided with text links, banners, as well as various tools, a product data feed, and access to reporting.
Purchases through any of your affiliate links will earn you a 5–10% commission, with the average sale sitting at about $200.
Plus, the cookie duration is 90 days, which is extremely generous!
We're especially impressed with the free shipping on orders over $99 (for the contiguous United States), as well as their partnership with the Trees for the Future Foundation. 
This program sees Earth Easy planting a tree for every order, which is a great boost for sustainability and could encourage your readers to click through and purchase!
3. Plants.com Affiliate Program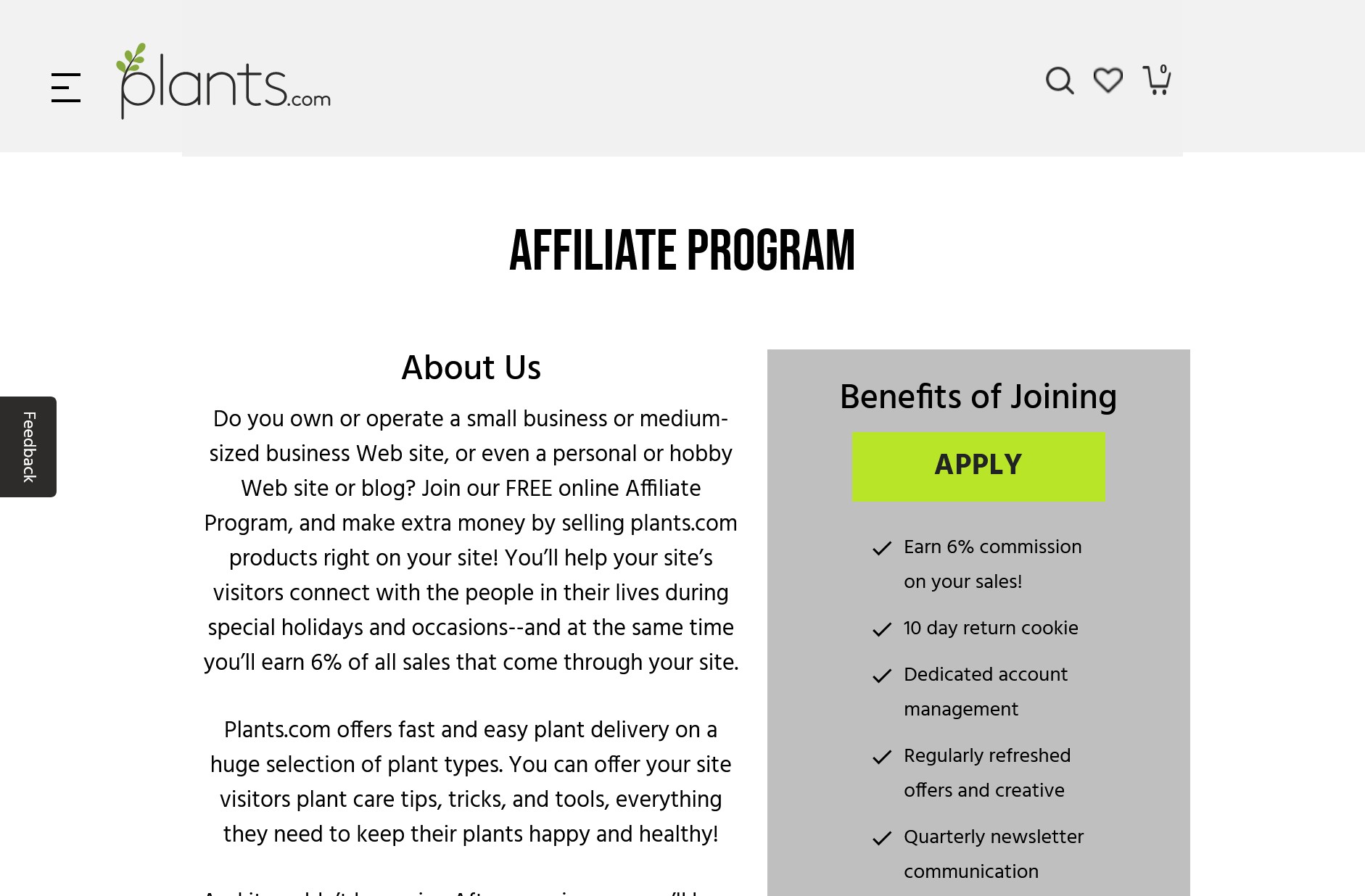 As a green-thumbed blogger, plants may be the closest product to your heart. If this is where your passion lies, Plants.com is a great affiliate choice. 
The Product
Plants are sold based on the size, level of care, and light required, bringing greenery to homes and corporate spaces and for special occasions.
The symbiosis between the products Plants.com provides and the advice and tools on best-care you can relay to purchasers through your blog makes this a no-brainer of a partnership.
Return and Benefits
With the Plants.com affiliate program (provided through Impact Radius) you can earn a 6% commission per sale once you're approved. Additionally, cookies last for 10 days.
You'll be provided with access to a personal Affiliate Management account, where you'll be able to create your own unique links, banners, and be provided with images and video content.
In addition, you'll also receive a monthly newsletter with any seasonal or holiday offers. They turn over their products frequently, so you'll need to update your links and banners as necessary.
While there's a little bit of upkeep required from you, this does mean that you can keep your affiliate links fresh, on-trend, and to encourage repeat purchases!
Bear in mind that Plants.com looks for affiliate partners whose blogs tick a few boxes, so be sure to read the full terms and conditions when applying.
4. AeroGarden Affiliate Program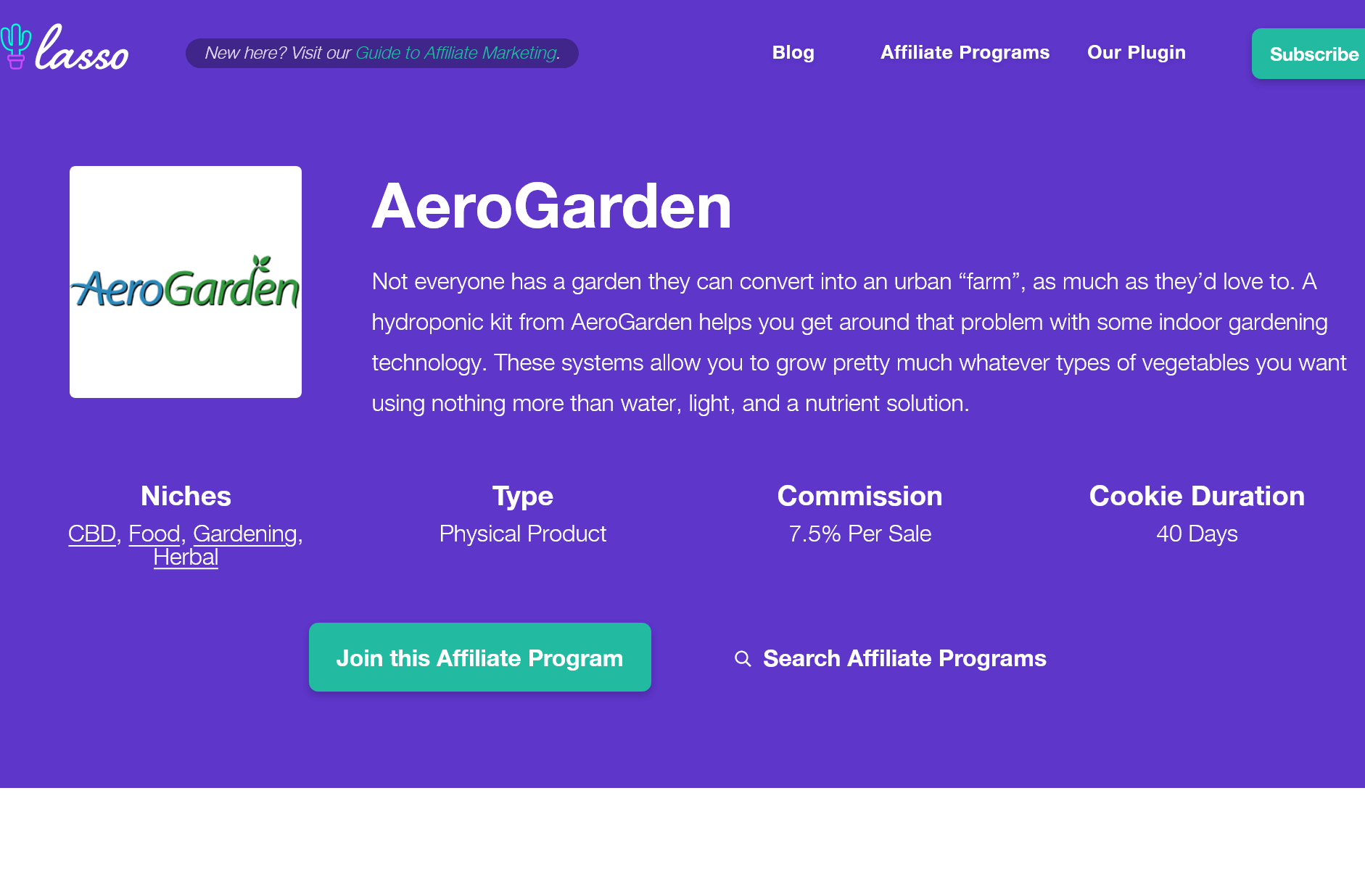 If you are head over heels for the hydroponics movement, why not branch out with several companies that operate this niche, city-friendly gardening technology?
AeroGarden is another affiliate program with hydroponics at its heart!
The Product
These neat hydroponic systems are easy to use, attractive, and have plenty of room for boisterous plant growth. 
Seed kits include a range of herbs, vegetables, salads, and flowers, and buyers can even request a custom seed pod kit.
Return and Benefits
When you're approved for the AeroGarden affiliate program, you'll earn a commission of 7.5% per sale. Additionally, cookies last for 40 days.
While this may not seem like a whole lot, the highest-priced products on AeroGarden cost around $800, netting you a commission of around $60.
Depending on your audience, this could be a nice side hustle to jump on! You're not likely to earn masses, but it could be a good boost to round out your earnings.
5. Garden Tower Affiliate Program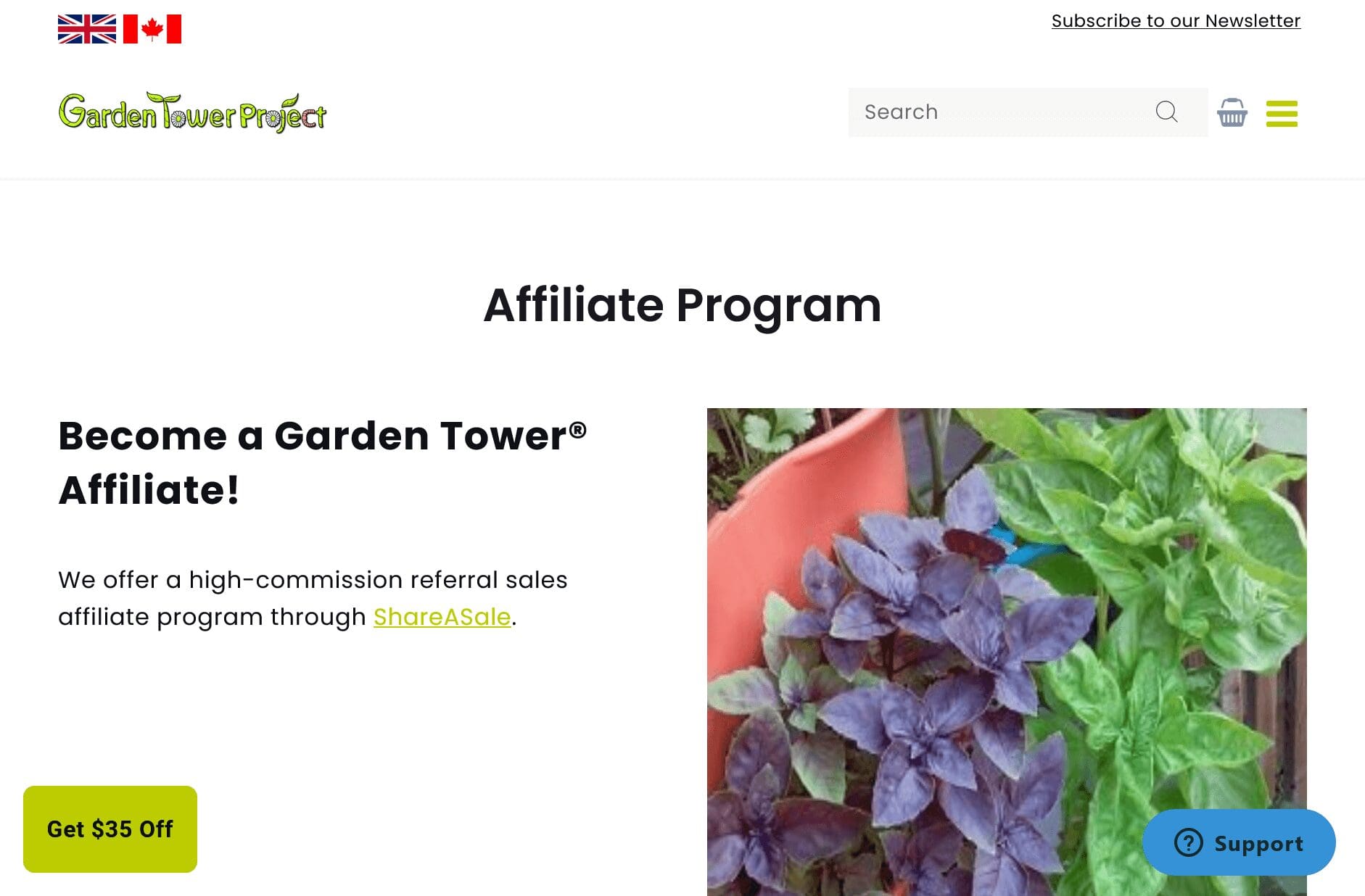 If you like the idea of maximizing growing space, but would rather nourish your plants naturally in the sunshine, affiliation with the Garden Tower Project could be right up your alley. This system is perfect for small decks or balconies.
The Product
The Garden Tower itself has been heralded as "the world's most advanced vertical garden planter". 
The system can fit 50 plants and can rotate 360 degrees to space out sun exposure. Most interestingly, this tower also integrates composting right into the tower itself!
The product is made with safe and FDA-compliant compounds, has UV protection, and is made in the USA.
Return and Benefits
Once again this is a high-value, low-movement product, so commissions may not come through frequently, but when they do, the payback is sizable. 
There have already been thousands of units sold across the USA, Mexico, Canada, and Puerto Rico.
When you're approved into the Garden Tower Project affiliate program, you can earn a commission of 15% on all sales, as well as a further commission if you refer any new affiliates to the program (also 15%).
With each Garden Tower system costing $359, that means your commission per tower will be roughly $57 (with average payouts being around $35).
Tracking cookies last for 60 days, which is a very decent amount of time.
6. Click & Grow Affiliate Program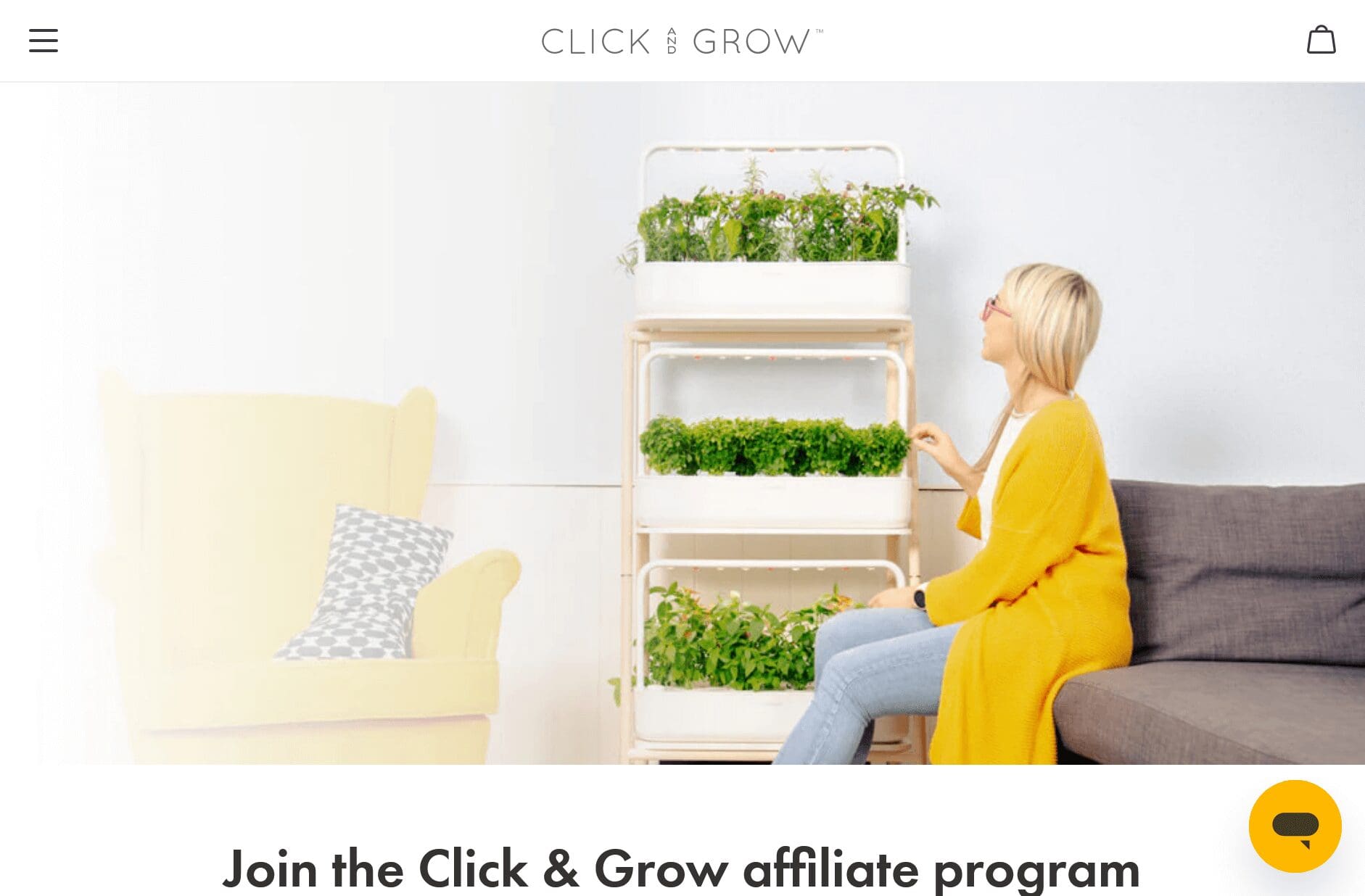 Click & Grow looks to make indoor growing easy, for even the most inexperienced gardener. 
These growing systems are great to market to busy individuals, as well as those looking to dabble in growing their own produce.
The Product
Growing systems include two iterations of their Smart Garden System, a Click & Grow System and a Wall Farm. 
They also sell various bundles and accessories – including a cute Tea Lovers Kit – to grow and dry your own tea blends.
Return and Benefits
When you sign up and are approved for the Click & Grow affiliate program, you can receive a 10% commission on purchases made through your unique affiliate link.
You'll also have access to an affiliate dashboard and receive marketing materials, dedicated support from their team, a 10% audience discount, and — if you have a minimum of 10k followers — free giveaways for your audience as well as a free product kit to test!
Cookies last for 45 days, which is very reasonable, and payouts are made monthly through PayPal. 
Bear in mind that you will need to have a minimum of $50 in earnings in order to receive your payout.
7. Gardening Direct Affiliate Program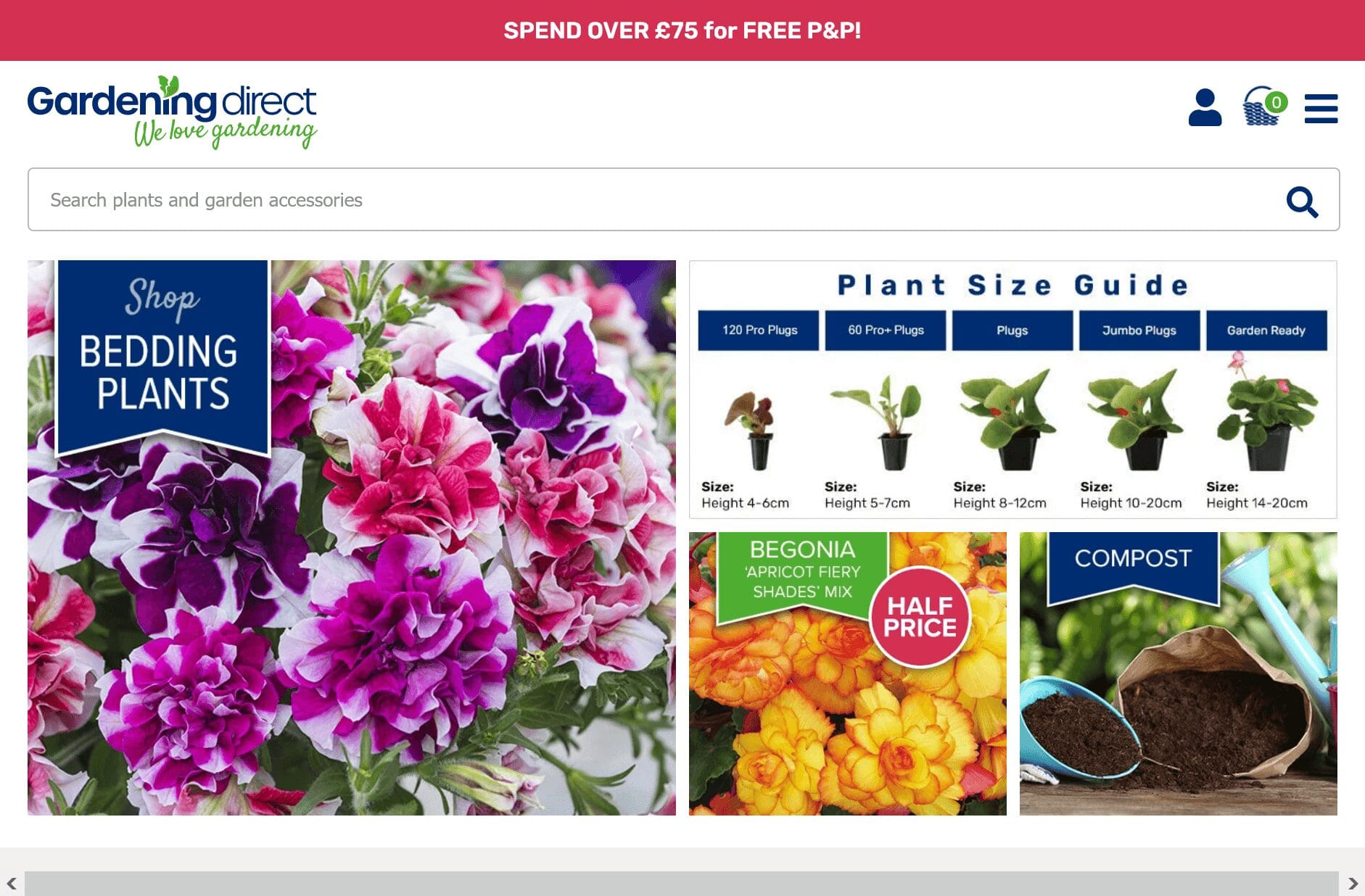 Gardening Direct offers another great program option for the green-fingered gardener.
The Product
Gardening Direct operates in Jersey in the UK, delivering bedding plants door to door, including bulbs, shrubs, trees, and perennials. 
Their range of products varies seasonally, with their biggest range available in spring, and second largest in the fall.Bear in mind that they only offer shipping within the UK.
Return and Benefits
If accepted into the Gardening Direct affiliate program (run by AWIN), you could earn a commission rate of up to 6% on all sales.
Gardening Direct operates on unique voucher codes, and their cookie window lasts for 30 days.
While it's not the highest-earning affiliate program out there, you could earn on multiple different products if your blog caters to a UK audience.
8. SeedsNow Affiliate Program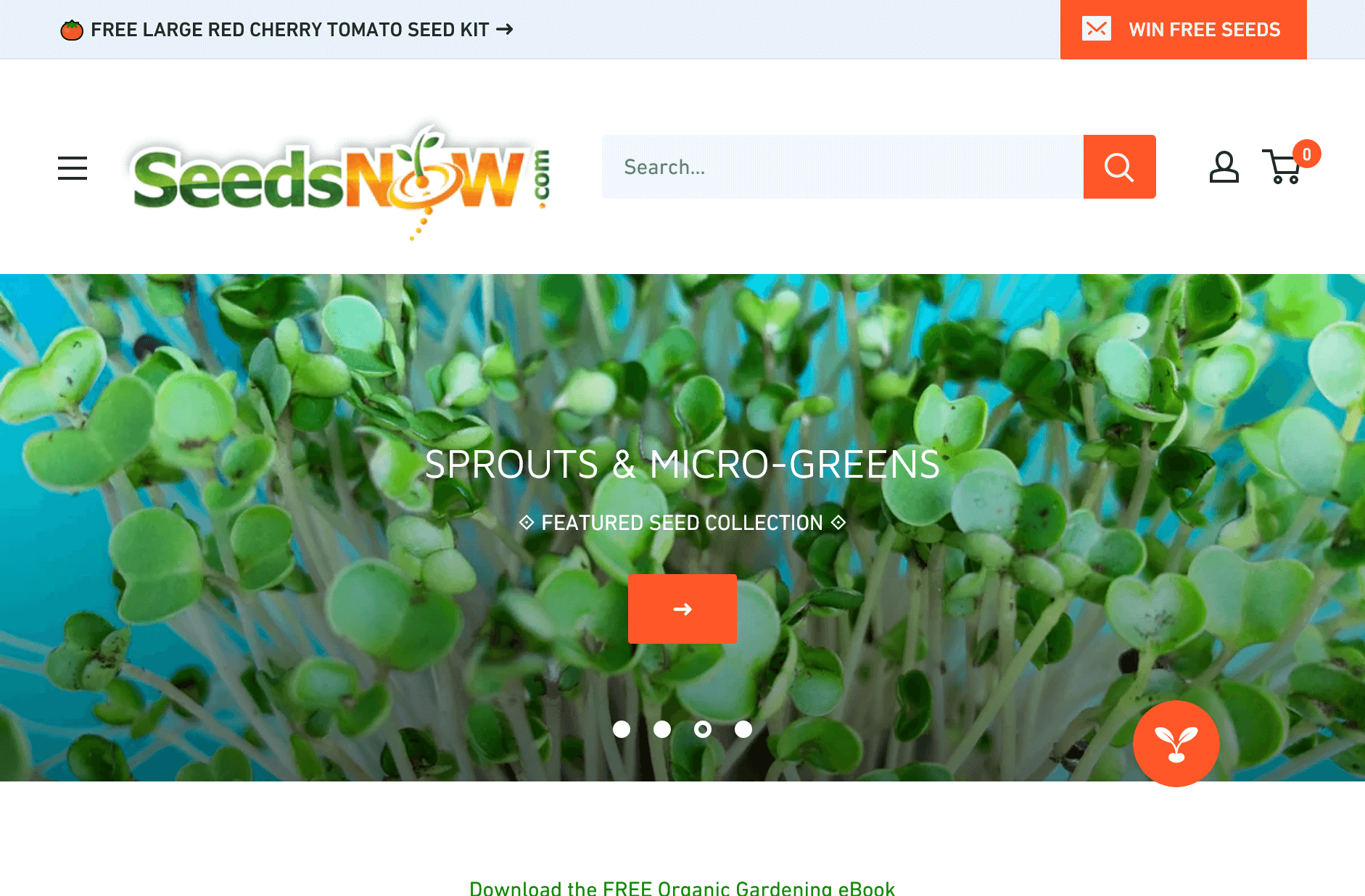 If you love to nourish a plant in the full process from seed to bloom and are passionate about organics, the SeedsNow program could be the choice for you!
The Product
SeedsNow sells untreated, pure, heirloom, non-hybrid, non-GMO, open-pollinated seeds. Some come in packets, others in nifty organic-seed starter pods.
Return and Benefits
If you're accepted into this affiliate program, you can earn a whopping 25% commission on all sales through unique affiliate links.
You'll also get access to your own live affiliate dashboard, where you can create and track your referral link. Cookies last for 90 days, which is — again — very generous.
Plus (and this is a pretty big one): PayPal payouts are made every Friday!
If none of the options mentioned so far piqued your interest, why not check out the following affiliate programs, specifically aimed at gardening bloggers:
Key Takeaways for Gardening Bloggers

When looking for an affiliate program, there are literally hundreds out there. 
They can help you earn a little bit of extra income, as well as provide your readers with opportunities, discounts, and products that could be beneficial to them.
However, it's always a good idea to look into the ethos of each company, as well as what products they offer. That way you can decide whether or not they align with your blog, brand, and audience.
Don't forget to pay close attention to the commission rate, cookie duration, payout terms and conditions, and average sale price. 
That way, you can properly determine whether or not it's a gardening affiliate program worth getting on board with – or not!