Best Affiliate Programs for Music Bloggers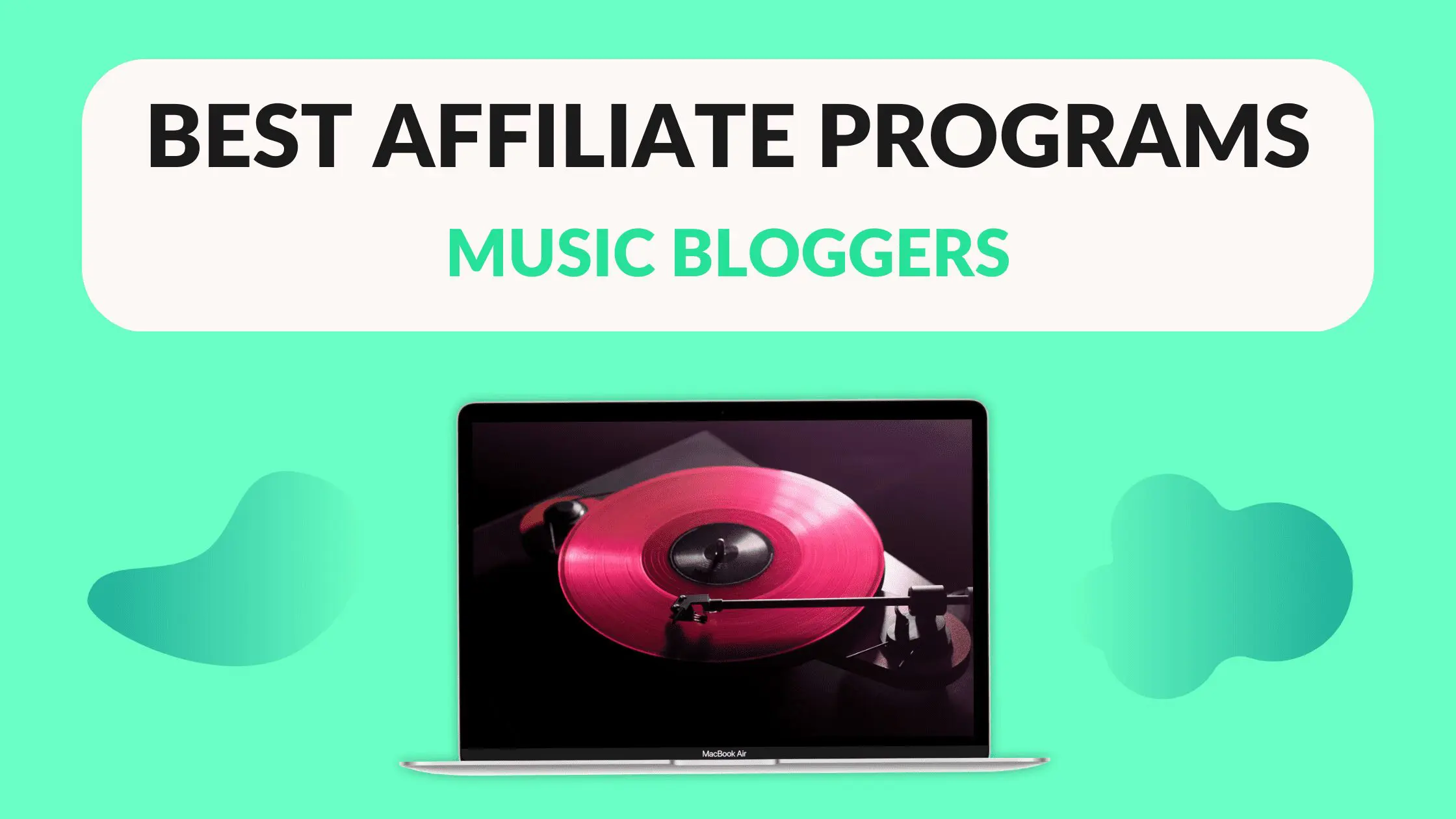 Disclosure: Some of the links below are affiliate links, meaning that at no additional cost to you, I will receive a commission if you click through and make a purchase. Read our full affiliate disclosure here.
Affiliate programs not only help companies reach a wider market, but they can also help you grow your business as a blogger! 
When executed properly, affiliate marketing can have an incredible impact on you and your entrepreneurship. 
Aside from being a viable way to passively earn income, these programs will also greatly help tailor your content to meet your audience's needs.
In this article, we'll be looking at the potential that affiliate programs have for music bloggers. Specifically, we'll explore:
The features and benefits of four top-rated affiliate programs—Amazon Associates, Playground Sessions, Truefire, and Virtual Sheet Music

How much the commission rates are of each affiliate program, as well as other benefits you stand to gain

The people who are best suited for a particular type of affiliate program.
Excited to rock on and reap the benefits of a lucrative affiliate program? Let's get into it!
Best Affiliate Programs for Music Bloggers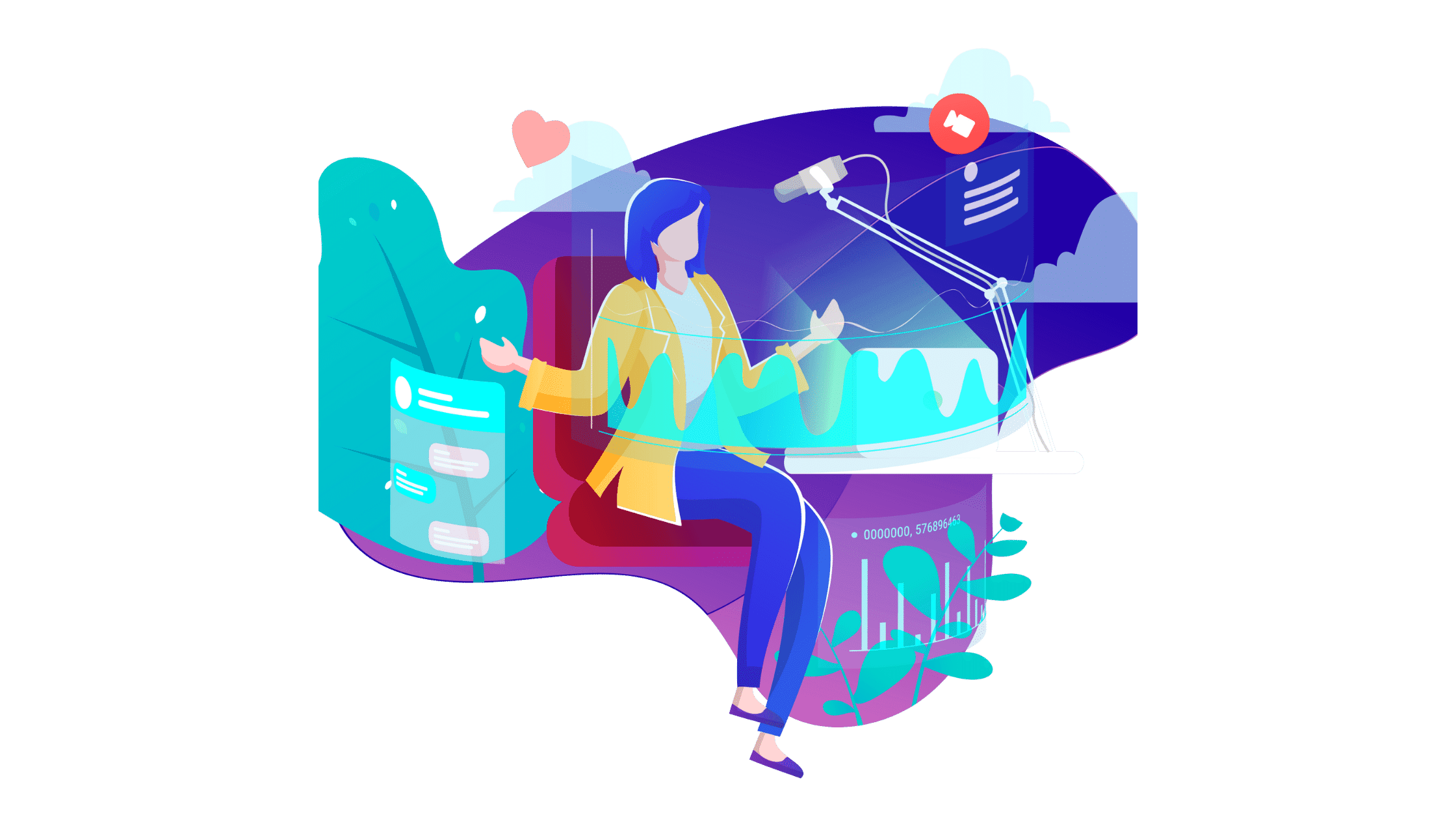 There are so many affiliate programs out there, it can be hard to decide which one is the best fit for your website. 
Like all business tools they have their pros and cons, as each is designed with a specific purpose in mind. Not all will fit your needs, or even the needs of music blogs in general!
The individual benefits (and potential disadvantages) of some of the best affiliate programs for music bloggers are detailed below:
1. Amazon Associates Program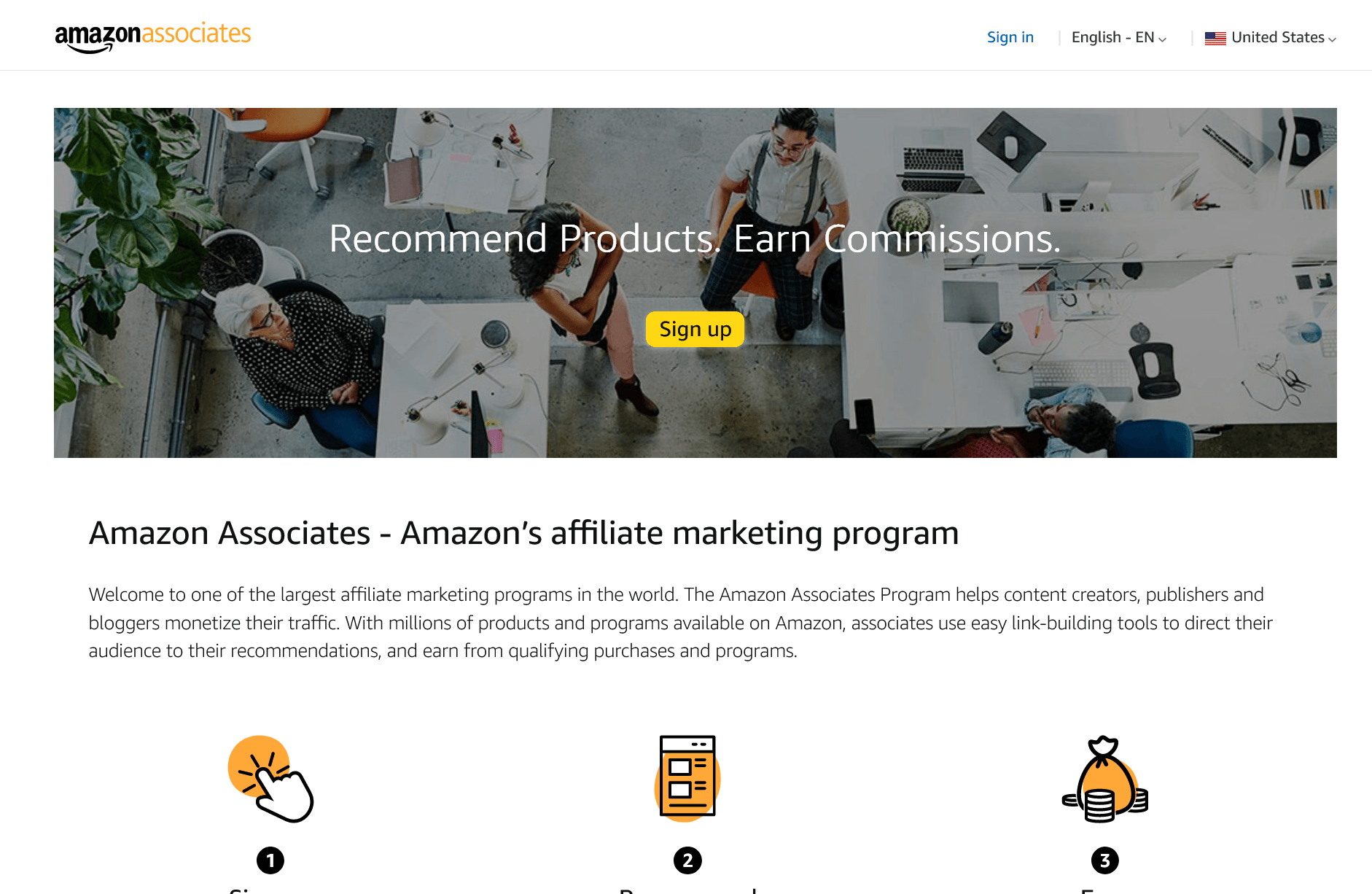 With its huge variety of products available in virtually any category you can think of, you'd be hard-pressed to find another digital marketplace with the same reach or offerings as Amazon.
Music bloggers of any niche will feel right at home partnering with the company as they get to choose exactly what they'd like to promote out of the millions of possibilities available here! 
If you're running a pianoforte-themed website, why not promote a portable keyboard or even accessories for your audience's grand piano? 
Whether your content revolves around providing guitar chords for popular songs, baroque period sheet music, or instrument reviews – there'll be a relevant Amazon listing for you.
By signing up for the Amazon Associates Affiliate Program, you'll gain access to a steady flow of passive income that comes with funneling traffic to the online giant!
The company follows a fixed commission rate, and the exact amount you'll earn depends on which categories the products you promote belong to. 
In particular, music bloggers who promote physical and digital music are entitled to a fixed 5% commission rate. If you're more interested in promoting musical instruments, however, you'll get a lower 3% for each successful sale.
While Amazon's rates are noticeably lower than other affiliate programs available, you nevertheless get the benefit of being an affiliate of a highly prominent company. Practically everyone knows about Amazon, after all – significantly reducing the friction from cart to wallet! 
That aside, Amazon also allows you to weave product linking tools with your content in a seamless way. 
Multiple customization options allow you to insert product links in the form of simple or enhanced images (essentially, images with product details), and even text. 
By utilizing these modes, you'll be able to earn commissions without having to serve a loud Amazon ad screaming at your readers.
For something more direct, there are also customized banners available which come in different shapes and sizes to suit your page. Depending on the occasion, Amazon also offers special holiday promotional banners to truly capture seasonal cheer!
Interested? To qualify for the program, you first need to have a website or mobile app that displays original content and doesn't belong in the category of Amazon's so-called "Unsuitable Sites".
In sum: if you're looking to partner with a company that has a wide range of product selections while also not being too invasive with your site's aesthetic, then the Amazon Associates Affiliate Program can be a great choice – even if they only offer a 24-hour cookie period!
2. Playground Sessions Affiliate Programs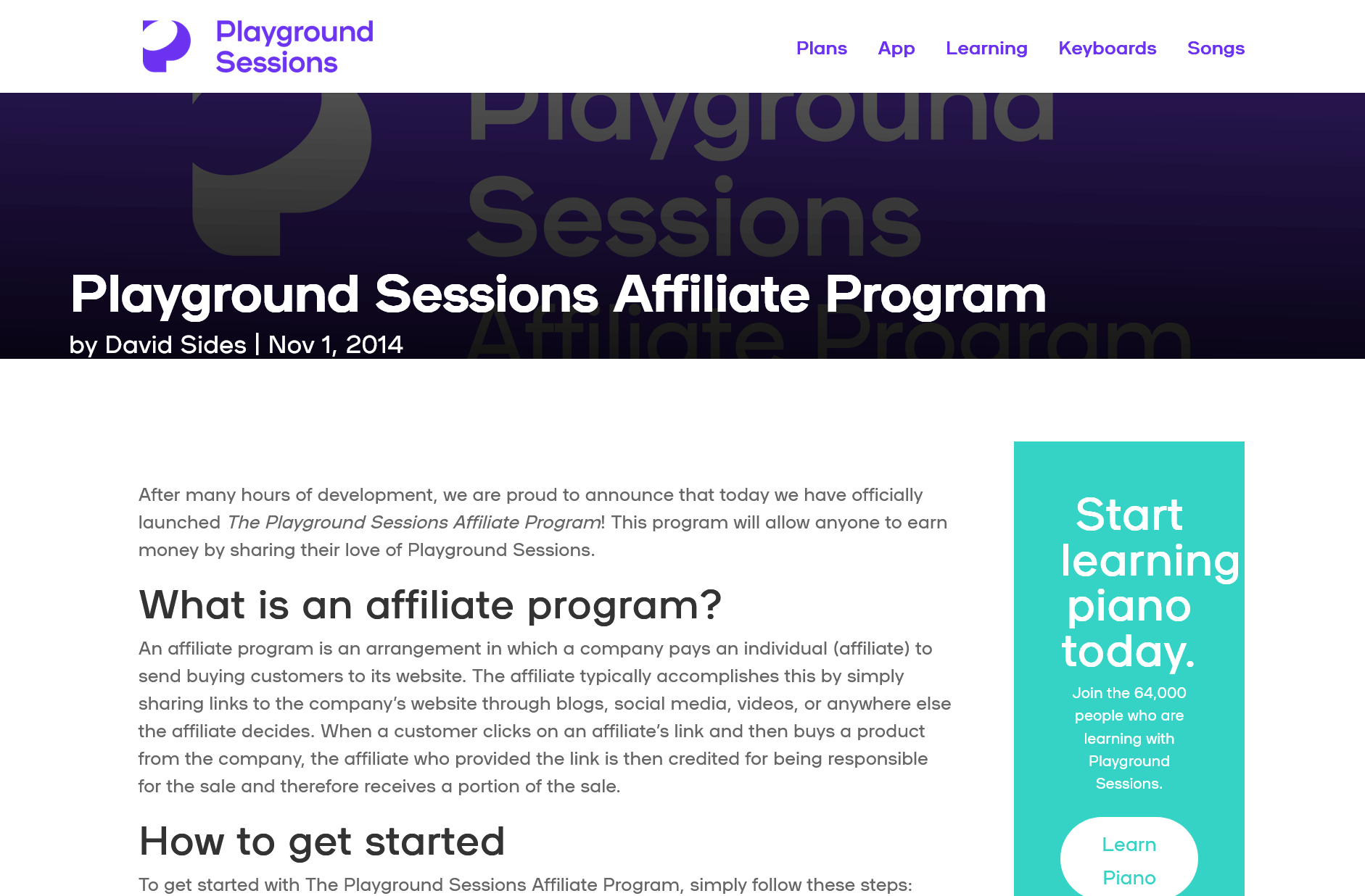 Playground Sessions' Affiliate Program offers significant ease of use when compared to other programs. With its highly user-friendly interface, virtually anyone can take advantage of this affiliate program — even those with little experience.
From the dashboard, you'll be able to see your current commission level and all your orders (past, pending, qualified, and non-qualified). You can also chat with their support team right from there!
Aside from having an extremely simple user interface, Playground Sessions also boasts an extremely simple setup process. 
The three-step setup will guide you through creating your account, filling in your information, and agreeing to the terms and conditions. After that, you're ready to go!
Playground Sessions' commission rate is set up as a tiered system, with a 90-day cookie period. Those who sign up are automatically put into Level 1 and enjoy the following introductory rates:
Keyboard Sales – 5%

New membership/gift codes – 15%

Renewals – 5%

Songs/Lessons – 15% 
Affiliates who earn over $500 in sales will then move to the Level 2 tier where the rates change to:
Keyboard Sales – 5%

New membership/gift codes – 16%

Renewals – 5%

Songs/Lessons – 18% 
Finally, if you earn over $3,000 in sales, you'll be upgraded to the Level 3 tier and enjoy the following commissions:
Keyboard Sales – 5%

New membership/gift codes – 17%

Renewals – 5%

Songs/Lessons – 20% 
Playground Sessions' Affiliate Program is best for bloggers who genuinely enjoy using the services themselves and want to help spread the word.
It's also ideal for those who love simplicity. Considering that other affiliate programs can be difficult to wrap your head around, Playground Sessions offers an extremely simple dashboard that contains all the information you'll ever need.
Finally, if you'd like to feel rewarded for doing more, you'll be sure to appreciate the program's tiered commission rates!
3. Truefire Affiliate Program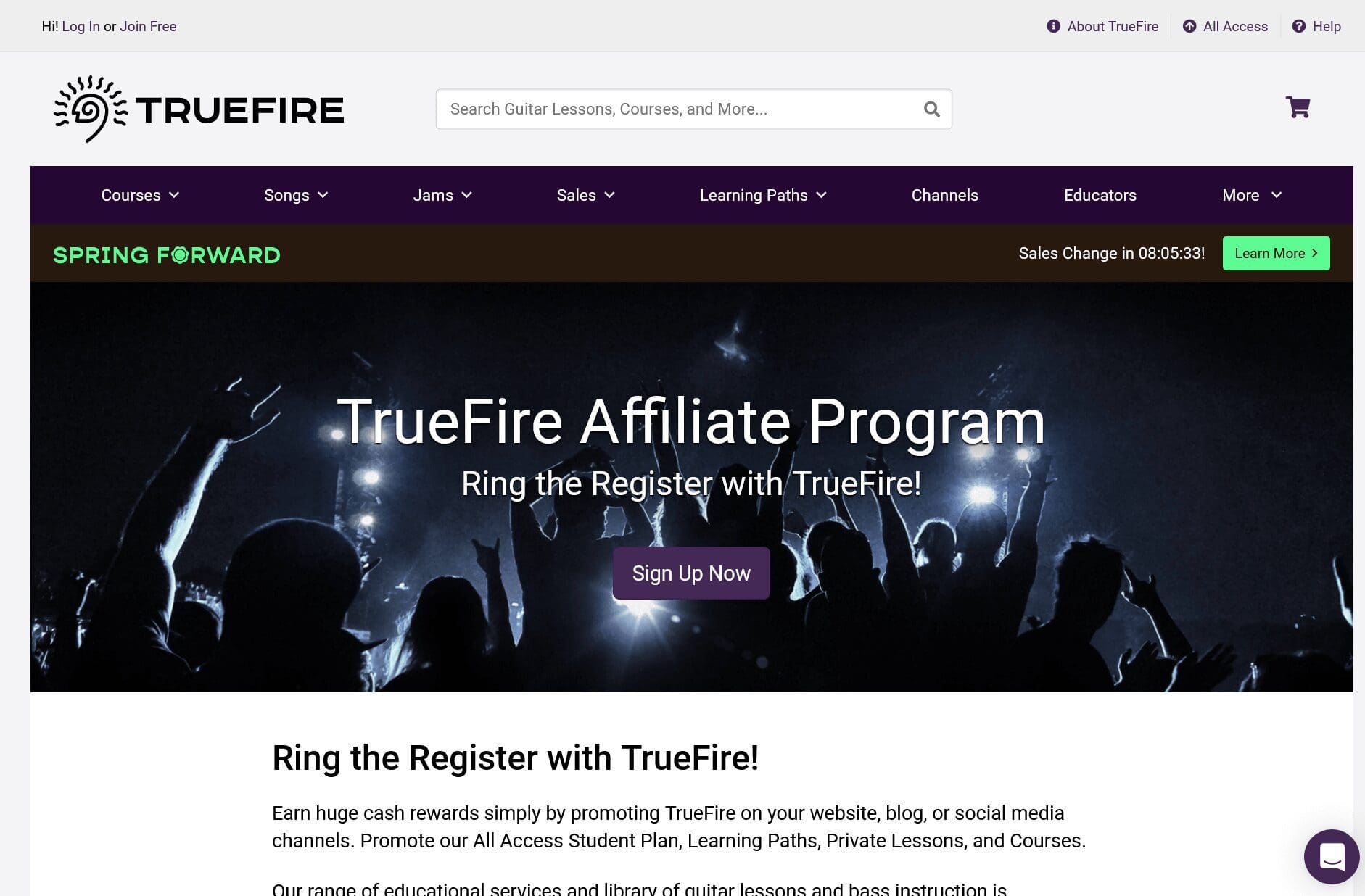 A few features set TrueFire Guitar Lessons apart from the other affiliate programs discussed here. For one, it has a pretty long cookie duration – 60 days – that allows you to be rewarded for purchases made by visitors for long after that initial site click. 
TrueFire also offers the option of tailored affiliate links to promote on your website, allowing your aesthetic and site design to continue to shine even while you promote TrueFire's content.
The company also has some major benefits when it comes to the affiliate program itself.
For one, it offers a large range of digital products that you can promote such as educational services, All-Access Student plans, Learning Paths, Private Lessons, and Courses. 
Having various services available for affiliate marketing means you're not locked into promoting a single item; instead, you can promote what you're truly interested in and what you think will make a difference to others. 
TrueFire's commission rate is set at 10% on all sales, and a flat $50 for all new All-Access Annual Plan enrolments through your link.
Since TrueFire has various guitar-related products and lessons available for promotion, this affiliate program is great for those who have first-hand experience using the company's courses and services. 
Whether it's just one product or all of them, being able to share what has personally helped you will make a huge difference between promoting solely for the sake of commissions or promoting out of genuine passion!
4. Virtual Sheet Music Affiliate Program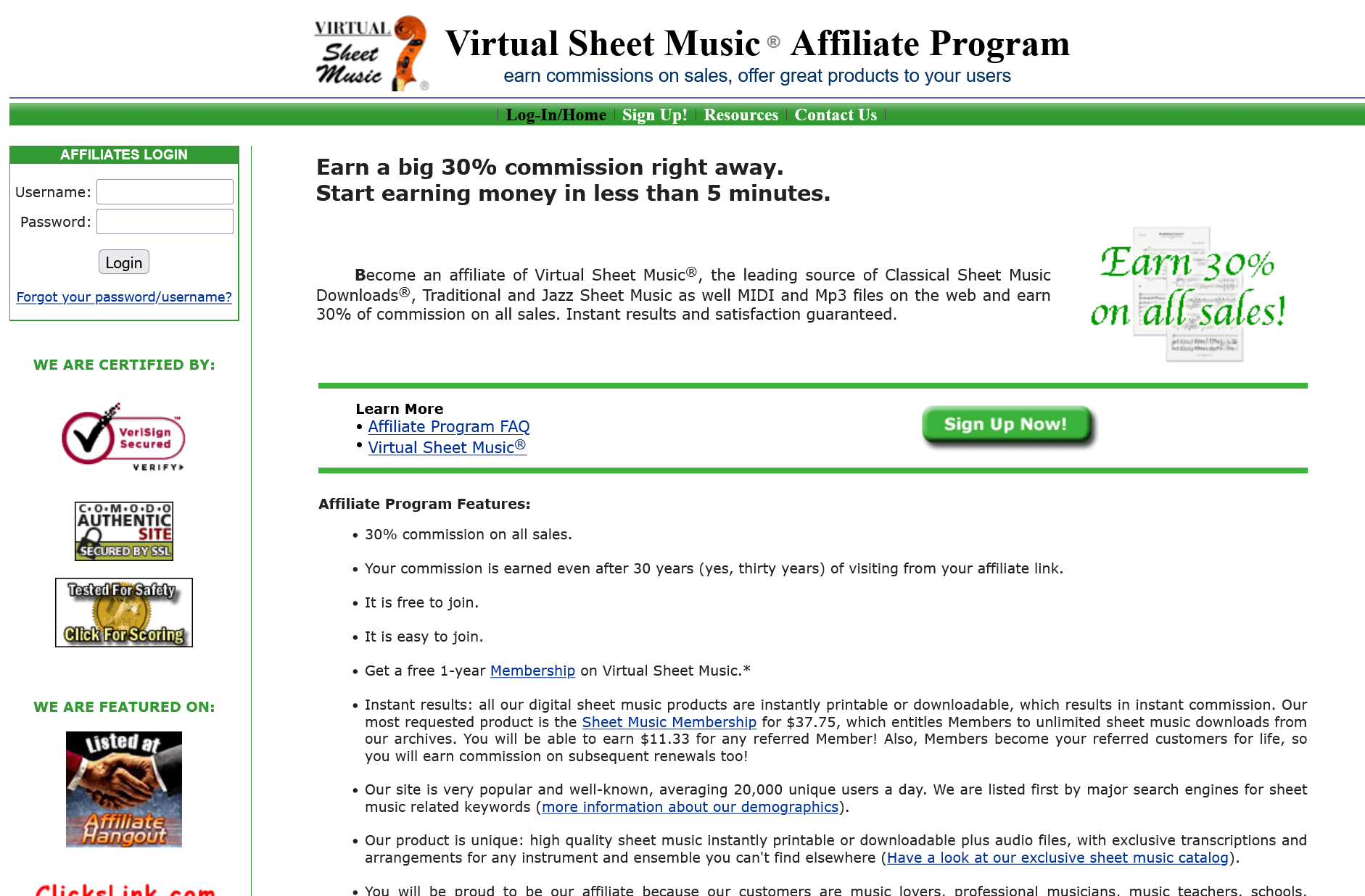 Virtual Sheet Music is a highly popular website that boasts about 20,000 users a day and ranks highly on the SERPs for sheet music search queries. With this impressive brand recognition, you're bound to earn some commission here!
Since Virtual Sheet Music's content is immediately downloadable and printable, this in turn results in an instant commission as well.
While joining any reputable affiliate program is nice, Virtual Sheet Music takes things to a whole new level. Aside from the ability to join up for free as an affiliate, you'll also receive a one-year free membership on sheet music when you do so!
The commission rate is relatively high and stands at an impressive 30% on all sales. And, get this: The cookie period lasts for an eye-watering 30 years!
Yes, you read that right. By the time you become a grandparent, you could still be earning as a Virtual Sheet Music affiliate. 
That's not all. Another amazing thing about the program is that you'll continuously earn a commission, even after the initial sign-up. 
Those who use your link to become Virtual Sheet Music's members will also be your referred customers for life, so you'll still earn those lucrative recurring commissions on their subsequent product renewals.
What this offers is highly-valuable earning stability: if the subscribers enjoy the website and continue to use it, you'll also continue making money! This easily sets Virtual Sheet Music apart from other affiliate programs.
All told, Virtual Sheet Music's affiliate program is great for those who enjoy playing a large variety of music (as there are major benefits in it for yourself, besides the commission) and those who are music lovers. 
Whether you play music for your friends, family, school, or just for yourself, Virtual Sheet Music could be a wonderful choice for both you and your target audience. 
Music affiliate programs have a variety of benefits to offer to both you and your audience. 
As we've discussed in this article, Amazon Associates, Playground Sessions, TrueFire, and Virtual Sheet Music are four of the best affiliate program for music bloggers currently out there! 
Of course, these four are only a few examples out of the (realistically) hundreds of affiliate programs that are also available. 
When choosing the best one for you, it's vital to assess what suits your needs best and impacts the way that your content is delivered to your audience in a positive manner.
At the end of the day, it's about choosing what's right for you and where you'd like to take your content. With the help of affiliate programs, you'll be able to make a difference in your audience's lives – and in your bank account!