Passion Economy Statistics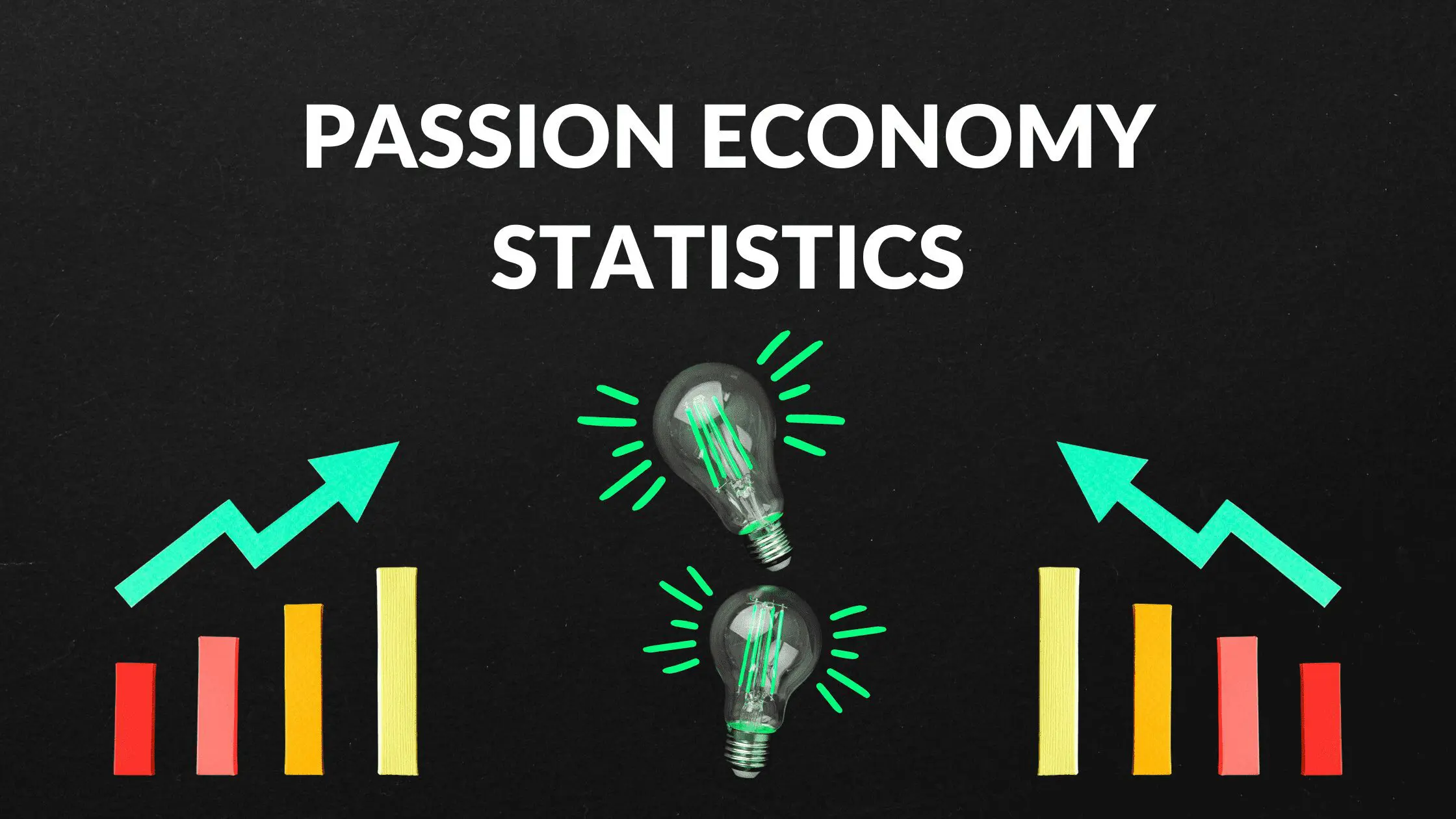 Disclosure: Some of the links below are affiliate links, meaning that at no additional cost to you, I will receive a commission if you click through and make a purchase. Read our full affiliate disclosure here.
Welcome to the Passion Economy – a digital financial ecosystem revolving around the people who have taken the online 'creator' role and evolved it into one that is focused on monetizing their expertise by building brands, businesses, and communities on digital platforms. The world in 2022 is very different from the pre-pandemic one, and the internet of things has taken center stage in almost everything we do. From the rise of eCommerce and the online course boom to streaming for entertainment and the 'side hustle,' things are changing – fast.
The Passion Economy has emerged as an important online emerging market, hosting creators, artists, bloggers, digital sellers, course developers, and coaches – to name but a few. Creative experts from around the world are discovering the massive potential that digital platforms have for monetizing their skills, and the incredible growth of the creator and gig economies have already shown us how. 
This article explores the statistics that power the Passion Economy, drilling down into the most important metrics that make this digital ecosystem so exciting. From revenue data to creator demographics and user stats, we look at the numbers behind this burgeoning online goldmine and examine the trends defining this new digital territory.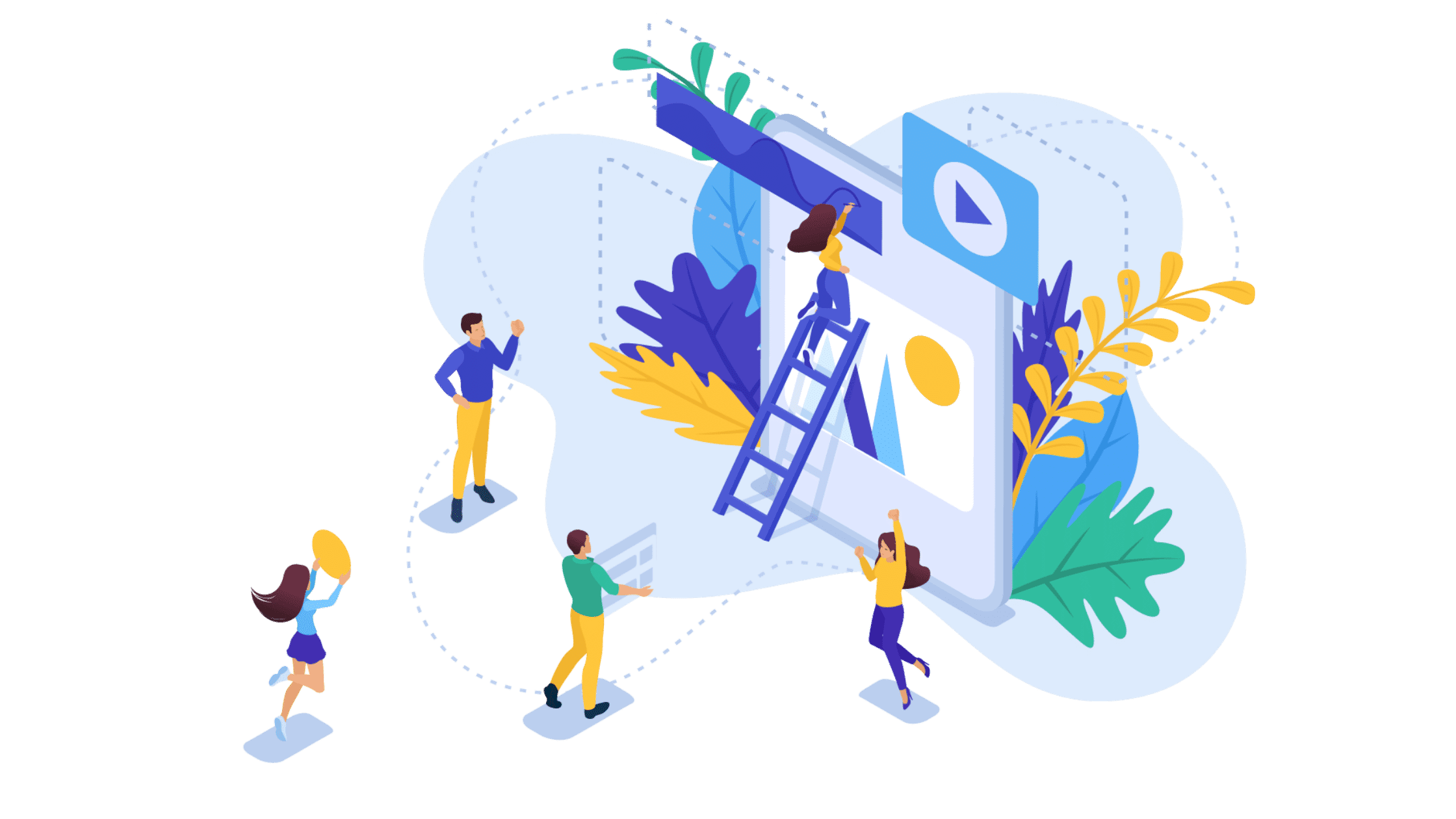 The Passion Economy is an ecosystem of businesses managed by online entrepreneurs and creatives specializing in individuality and creativity. These people have found ways to monetize their skills and talents by earning stable transactional revenue directly from their customers. From learning how to become a creator to actively participating in the Passion Economy means taking a passion, skill, or personal interest and turning it into a source of income by packaging it and offering it to a niche community or audience who shares these interests and values. 
The Passion Economy features people who are driven to establish and grow their own brands, businesses, or communities and to feature prominently on digital platforms. Their content is based on shared passions, and creators are focused on generating content that people are passionate about, associate with value, and can relate to rather than finding it notable just for being different.
The Passion Economy relies on the ability of creators to give consumers unique experiences, demonstrate credible expertise, and maintain authentic relationships with their communities. What sets the Passion Economy apart from the traditional working model – where people exchange time and effort for income – is its focus on building communities and giving people access to things they're passionate about. 
The Passion Economy has emerged as a result of platforms like Shopify and Teachable, enabling creators to build their own businesses and generate a sustainable income by leveraging toolsets designed to help them market their brands. These digital platforms have found ways to allow these creators to connect with their audiences and build relationships without having to gain massive followings first. 
Passion Economy vs. Gig Economy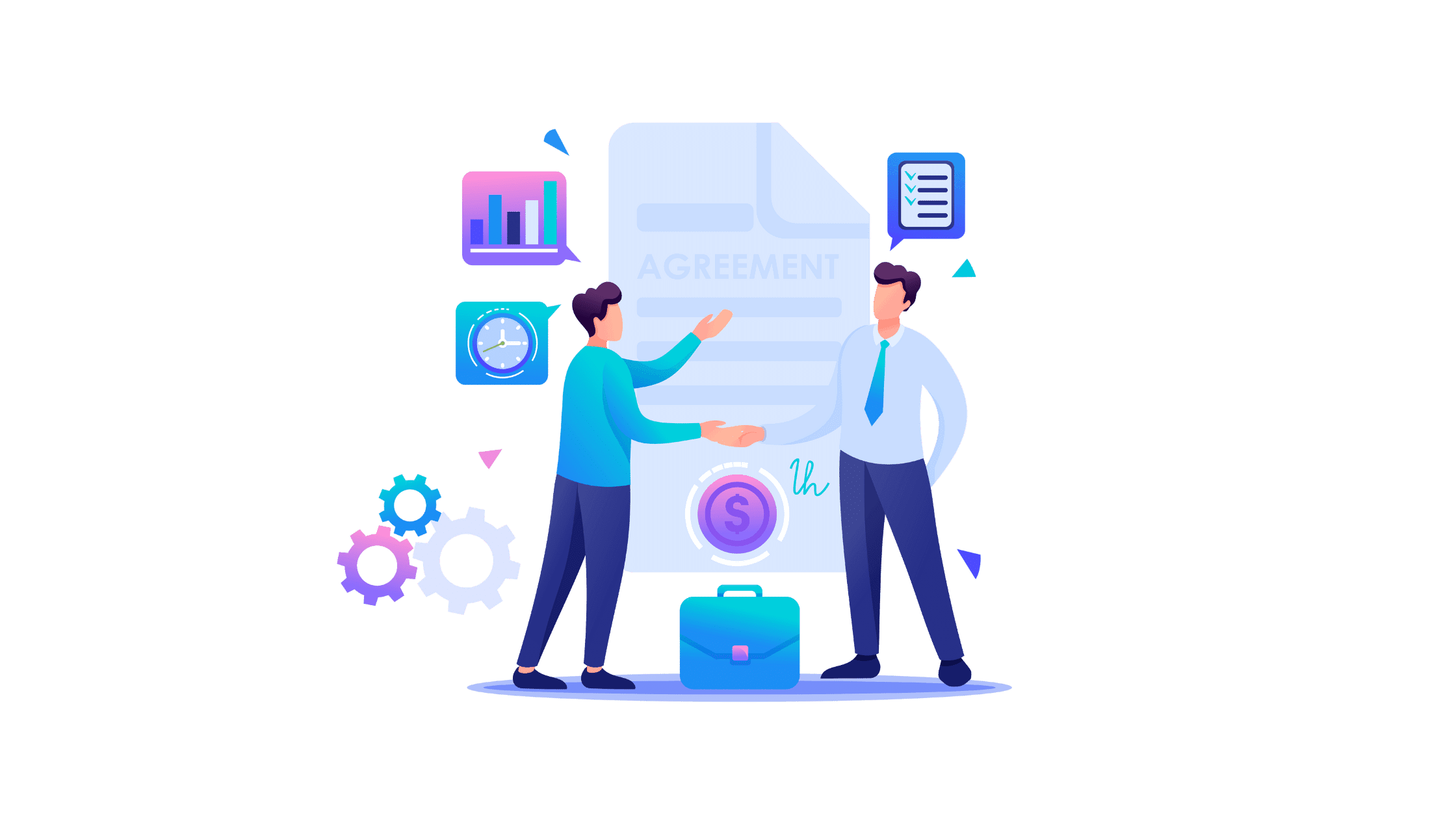 The Passion Economy should not be confused with the Gig Economy – they're different and serve different purposes. The Passion Economy is about people doing what they're passionate about, while the Gig Economy represents an ecosystem where people exchange their time and effort for short-term work 'gigs.' The Passion Economy is about separating the concepts of 'work' and 'employment' and helping people build careers around doing what they want to do instead of what they have to do.  
The Gig Economy relies on people having to hunt down jobs and then work on them while searching for the next one. In the wake of the COVID pandemic, the Gig Economy exploded with platforms like Uber, Fiverr, DoorDash, and Airbnb, attracting hordes of people looking to monetize their labor. Pretty soon, millions were earning an income either as freelancers, part-time 'side hustles' or as full-time gig workers. But the Gig Economy makes it very hard to go independent and establish yourself as a business owner, and many Gig Economy platforms take big commissions. The Gig Economy has since grown to place a big focus on productivity and not creativity – something the Passion Economy is changing. 
How the Creator Economy Helped Drive the Passion Economy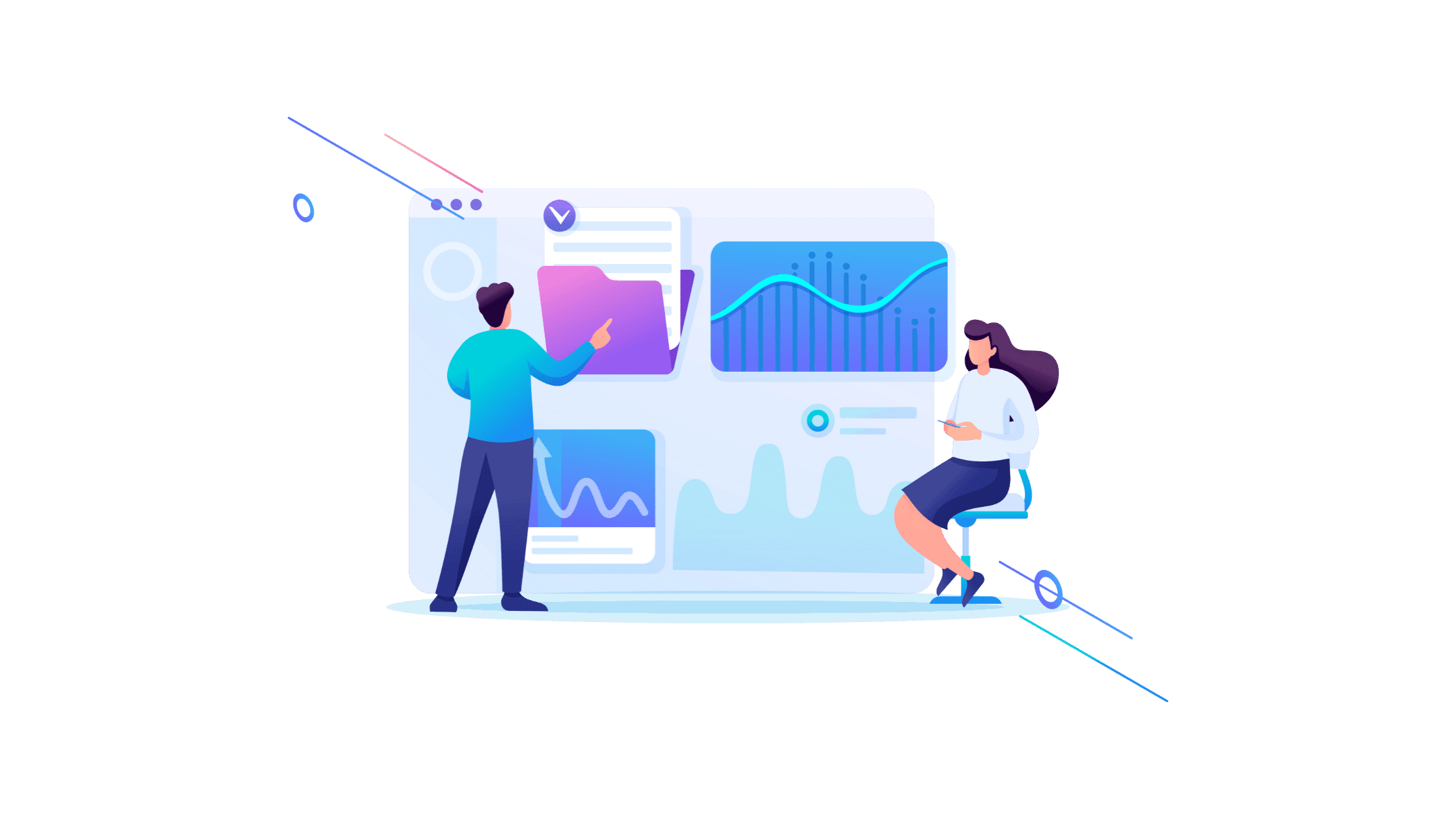 The Creator Economy can be considered a subset of the Passion Economy since it has become more about social media and content creators who generate revenue from advertising and sponsorships than anything else, making entry into it challenging. People trying to discover how to become a creator within the Creator Economy soon wanted more than just earning revenues through affiliates on YouTube, and only a few could snag those sponsorships on Instagram, so the Passion Economy came to the fore. 
Both the Passion and Gig Economies use new, emerging platforms to enable their participants to earn revenues. The Patreon platform – part of the creator and passion economies – allows creators and artists to establish and grow passionate communities of niche subscribers while connecting and engaging with them. Fiverr, on the other hand – a classic Gig Economy platform – allows people to offer freelancing gigs to customers for a one-off fee (though the platform has recently begun offering subscriptions too).
The Passion Economy encompasses the social media-centric Creator Economy. It utilizes the coming together of entertainment, technology, and media forms to offer audiences an engaging mix of creative digital products and services. The Passion Economy is also geared toward allowing people to pursue the things they're passionate about rather than being compelled to focus on being as productive as possible. Passion Economy participants are enabled to establish and grow their businesses, catering to niche markets and earning directly from their customers. 
Examples
A course creator who used to work in finance but loves to write fiction has used Podia to build a three-part coaching course on writing a novel. The creator then sells this course on their website – designed using a website builder – and earns passive income every time a customer downloads it.
A ghostwriter who offers their writing services on Fiverr for a fee. The writer then agrees to create a draft copy of a novel idea for a customer who pays them per chapter, promising to deliver the first draft in 30 days.
An English literature college graduate who posts videos on her YouTube channel about coming up with new ideas for a novel. The YouTube star earns money from YouTube's affiliate program based on the number of views her videos receive. 
So while these online financial ecosystems all use digital platforms and depend on existing monetization strategies, the Passion Economy is notable for the ability of its users to monetize whatever they want to while earning a decent income from doing so.
Statistics for the Passion Economy in 2022

We look at the numbers contributing to the Passion Economy and its growing prominence in the market. From the trends emerging from shifting creator economies to the statistics and data behind this exciting emerging marketplace, as the numbers demonstrate, there is much to be excited about. 
The Passion Economy General Statistics
The Passion Economy is still considered an emerging market with vast untapped opportunities for creators new to the digital ecosystem. But as creators continue to shift their audiences away from traditional Creator Economy channels and to more Passion Economy-linked ones, the numbers paint a fascinating picture.
There are an estimated 200 million total content creators worldwide, with 50 million participating in a growing Creator and Passion Economy. While this may not sound like a big chunk of everyone involved in creating content for the online marketplace, it's the speed at which the proportion is growing that matters. (Source: Signalfire). 
According to Forbes, kids today are three times more likely to aspire to be a YouTuber than an astronaut, with 29% of US high school students selecting 'Creator' as their professional career option of choice. A strong indictment of the creator profession and a good indicator of where professional aspirations are headed. In 2021 alone, the number of creators shot up by a staggering 48% from 2020, and the trend is continuing. (Source: Stripe).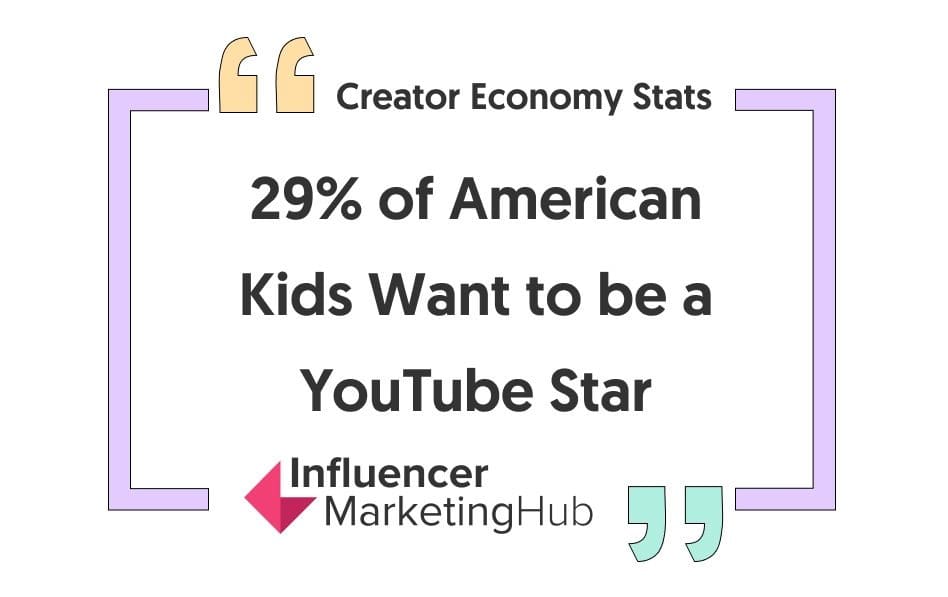 Of these 50 million active creators, 46.7 million are considered 'amateurs,' and around 2 million of them, 'professional' content creators. This includes anyone who uses their skills, talent, or time to create content, gather an audience, and monetize how their users get to experience it. (Source: Linktree)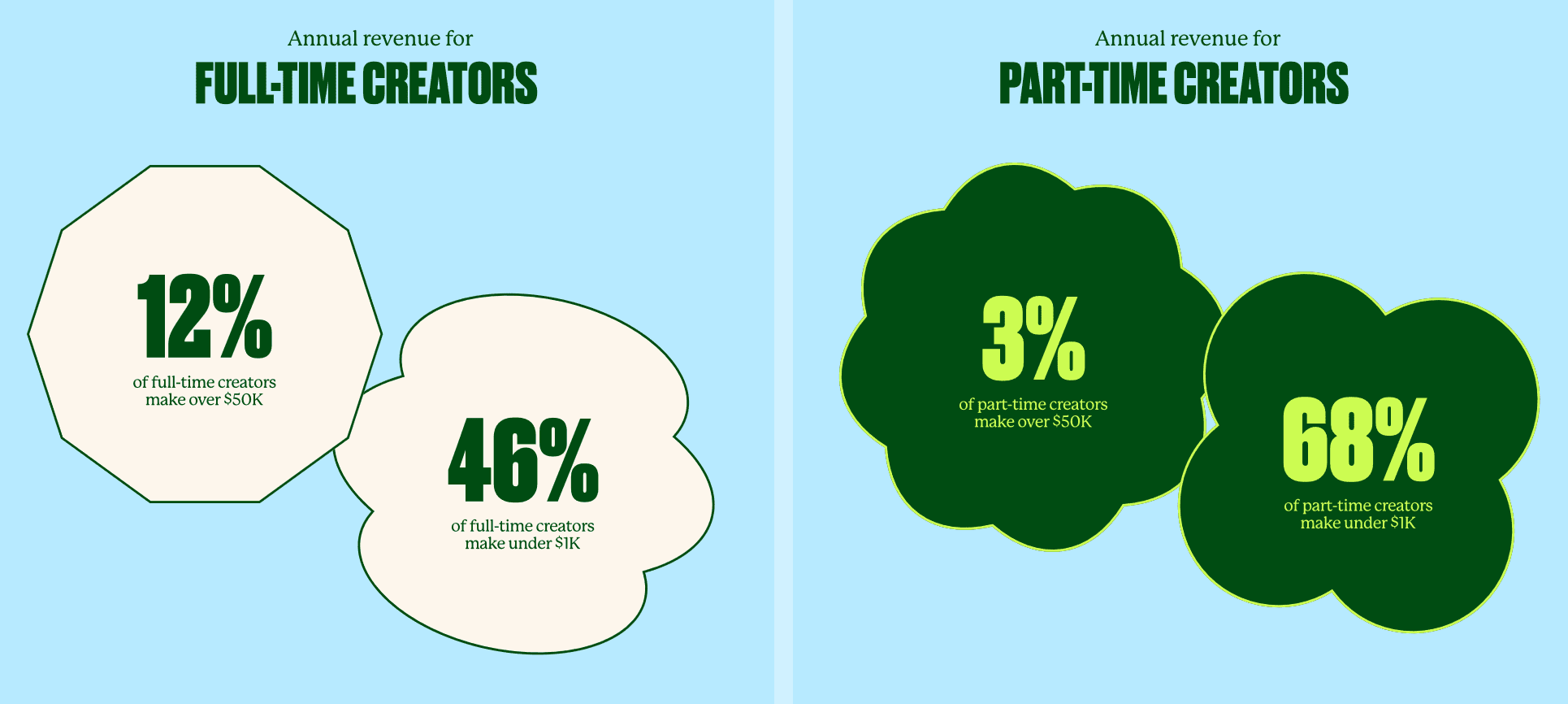 Learning how to become a creator is popular. Of these nearly 47 million 'amateur' creators, 30 million of them participate on Instagram, 12 million on YouTube, 2.7 million on Twitch, and 12 million monetize their offerings on various other channels. Things look a little different once you look at the 'professional' creator side of things. 50% of full-time Passion Economy creators monetize on YouTube, with Instagram only snagging 25% of that professional share. (Source: Signalfire).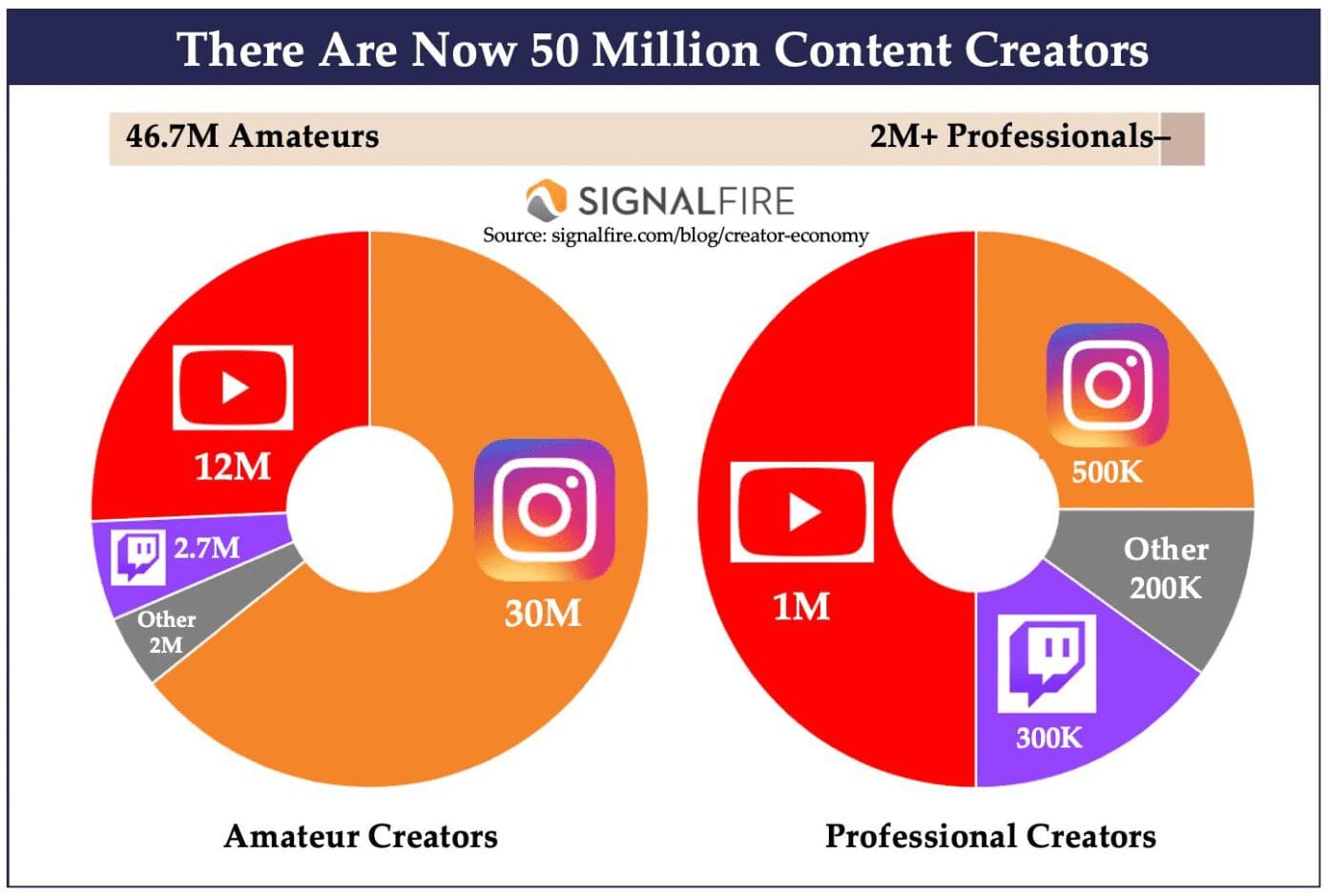 So with only 2 million of the total 50 million creators out there earning a liveable income, this means that only about 4% of creators working online today have successfully found ways to monetize their content. This makes sense, though, considering that only 2.5% of YouTube creators make enough to exceed the US poverty line. (Source: Signalfire).
The Passion Economy was estimated to be worth around $38 billion in 2020, with that figure anticipated to grow massively over the next few years. Already, the Creator Economy alone is attracting billions from all sectors, including over 500 new creator-focused startups over the past year. In fact, some estimates are pointing to the Passion Economy catching up to the enormous Gig Economy. (Source: Neoreach Report).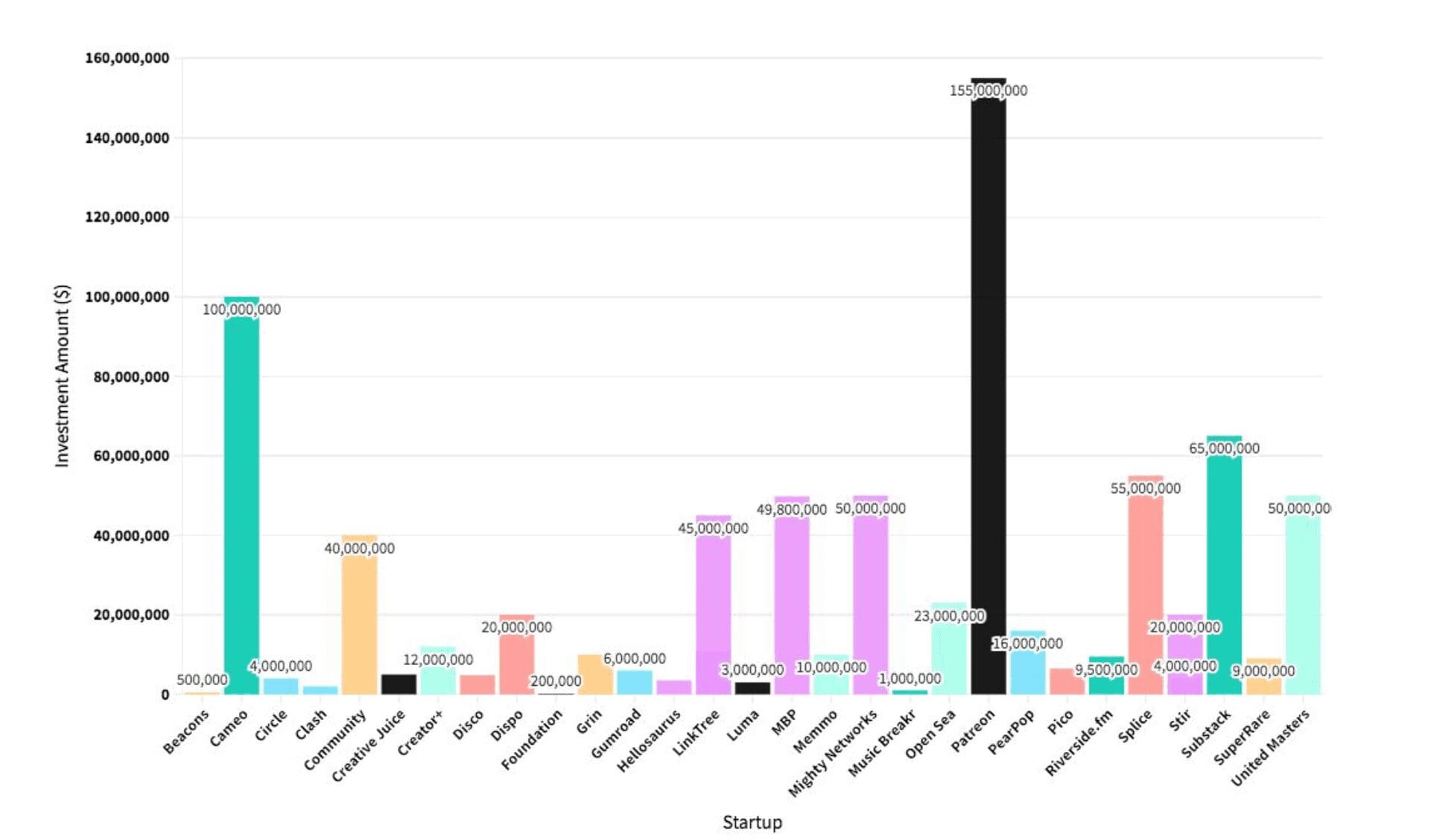 Revenue Numbers

Understanding exactly how much money creators are earning from the Passion Economy is difficult. While most of us have heard about the YouTube superstars and TikTokers raking in millions, this represents a tiny fraction of the overwhelming majority of creators – most of whom are battling to make ends meet. But these trends are slowly re-configuring, with creators still struggling but making up ground on the revenue front. 
Passion Economy creators are balanced when it comes to those choosing between creating full-time or part-time. According to The Tilt Report, 52% of creators work on their business full-time, with 48% focusing on part-time work. These numbers are changing quickly, however, with more and more people realizing that full-time options are far more lucrative than sticking to the 'side gig' model. (Source: Tilt Report).
Looking at the Passion Economy in more detail, things get fascinating when considering which segments make creators the most money. Interestingly, life coaching is the most significant income earner, boasting around $15 billion in total revenue for 2019, followed by self-improvement ($11.6 billion) and influencers (only snagging third spot), making $8 billion. (Source: Disciple Media). 
Creators are earning from a variety of channels. However, some are proving more lucrative than others. Among the most popular – and profitable – monetization options available to Passion Economy creators, offering online courses on their own platforms is valued by 16% of surveyed creators, with membership fees contributing the bulk of 7% of creators' primary revenues. Creator Economy income streams like affiliate marketing (9%) and advertising and sponsorships (13%) still offer decent returns, though. (Source: Tilt Report).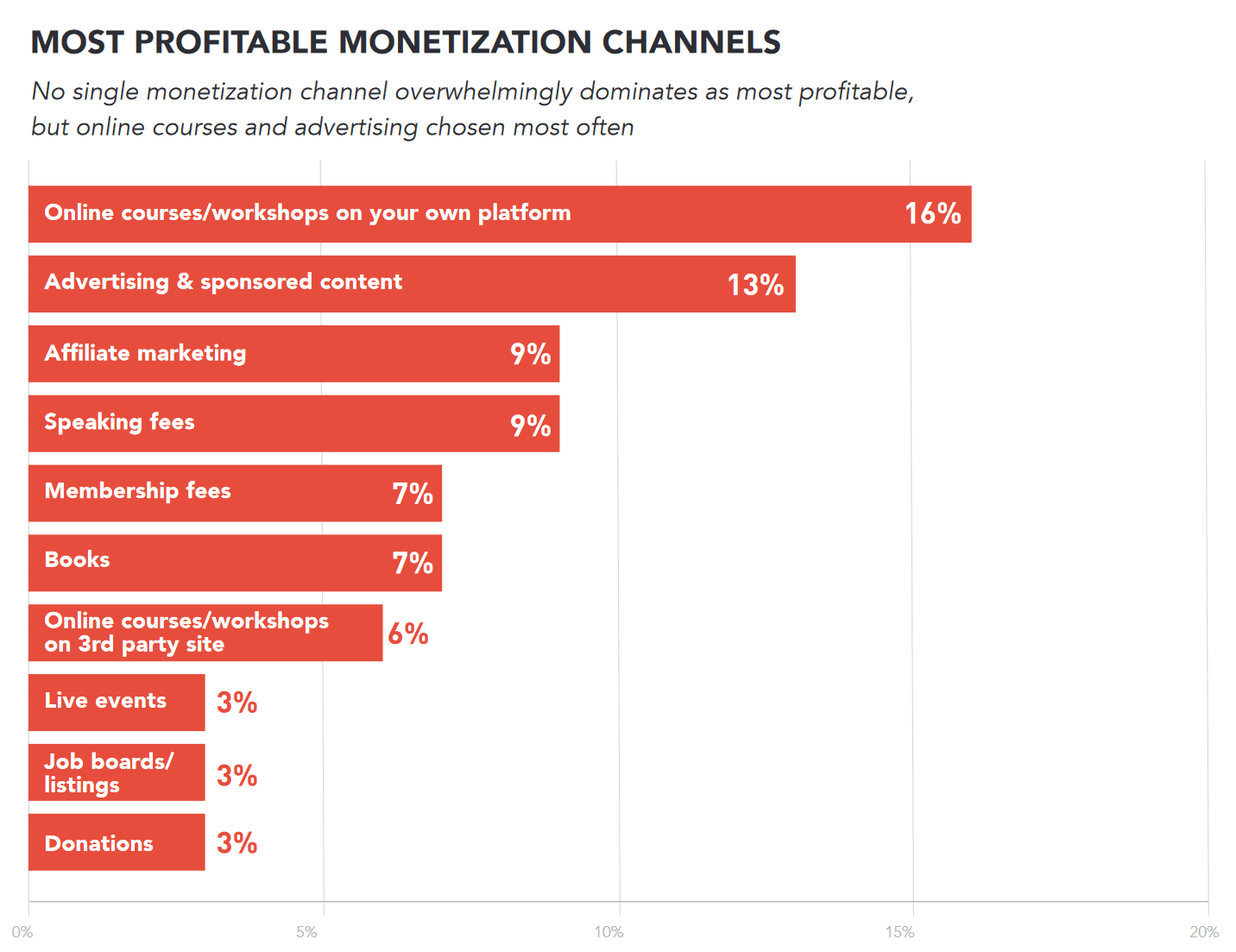 In 2017, US online creators netted $6.8 billion in revenue from nine platforms. While YouTube topped the list, earning creators over $4 billion, other sites like Etsy ($1.4 billion), Amazon Publishing ($220 million), and WordPress ($347 million) raked in a sizeable portion of that revenue. Fast forward to 2022, and those numbers have grown – significantly. (Source: Influencer Marketing Hub).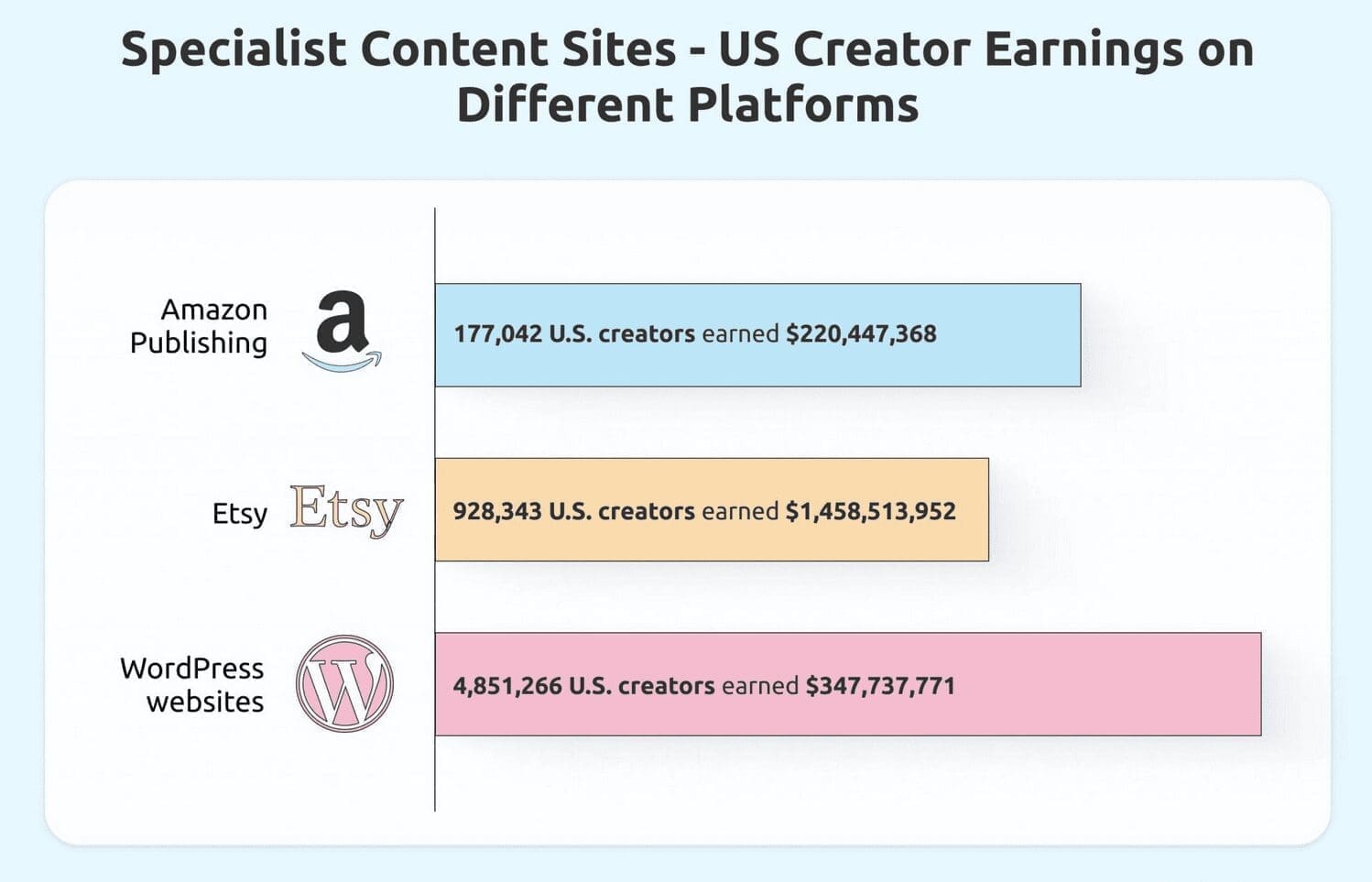 Passion Economy creators are balanced when it comes to those choosing between creating full-time or part-time. According to The Tilt Report, 52% of creators work on their business full-time, with 48% focusing on part-time work. These numbers are changing quickly, however, with more and more people realizing that full-time options are far more lucrative than sticking to the 'side gig' model. (Source: Tilt Report).
Community Figures



Of the more than 50 million self-identified creators out there, only a fraction have discovered how to monetize their offerings. This number is sure to grow at an accelerated pace over the next few years as more and more people join the Passion Economy and new platforms find ways to give them the tools they need to succeed.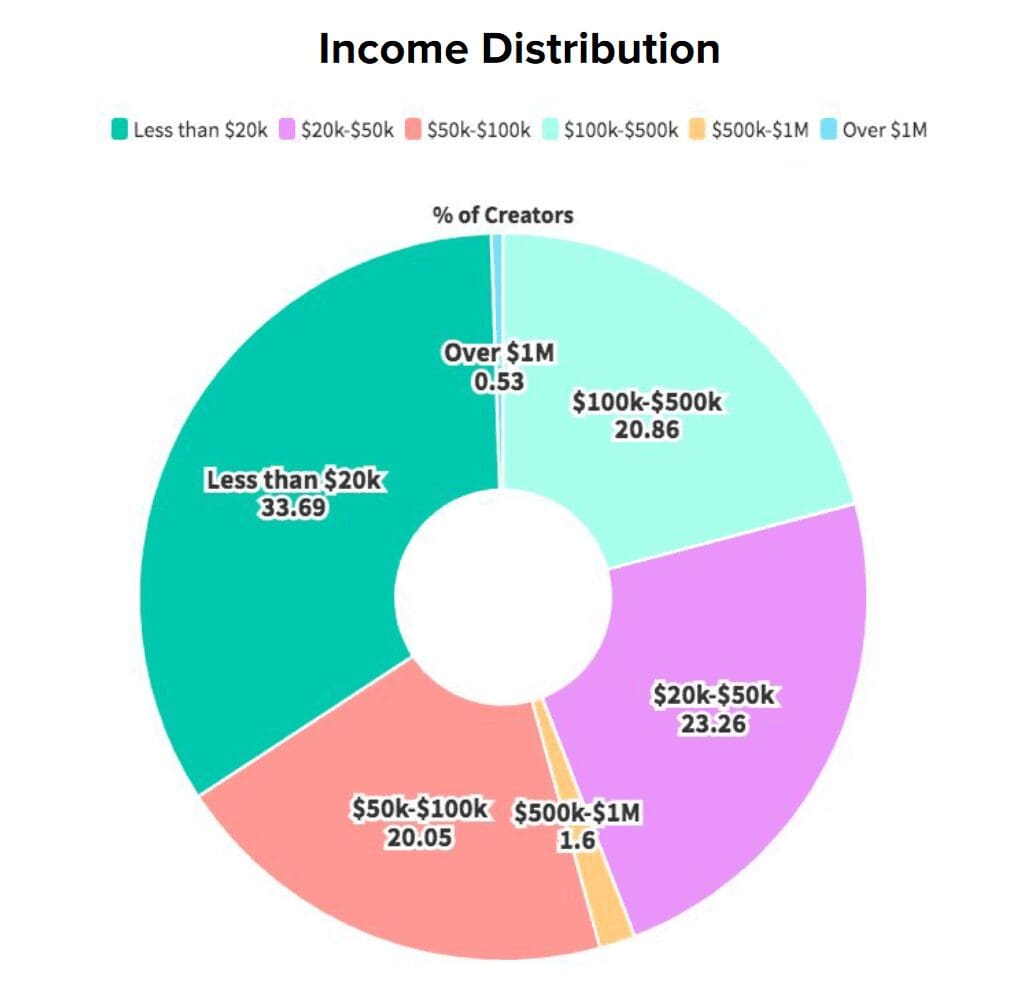 The problem is, getting started. Passion Economy creators are finding earning in the early days tough. As many as 59% of new creators (those with less than 1 year's experience) have not yet monetized their offerings, while 35% of those who have, aren't earning what is considered a "livable" income. When looking at beginner creators who have managed to cross the $10k mark, only 6% have achieved this goal. (Source: Linktree).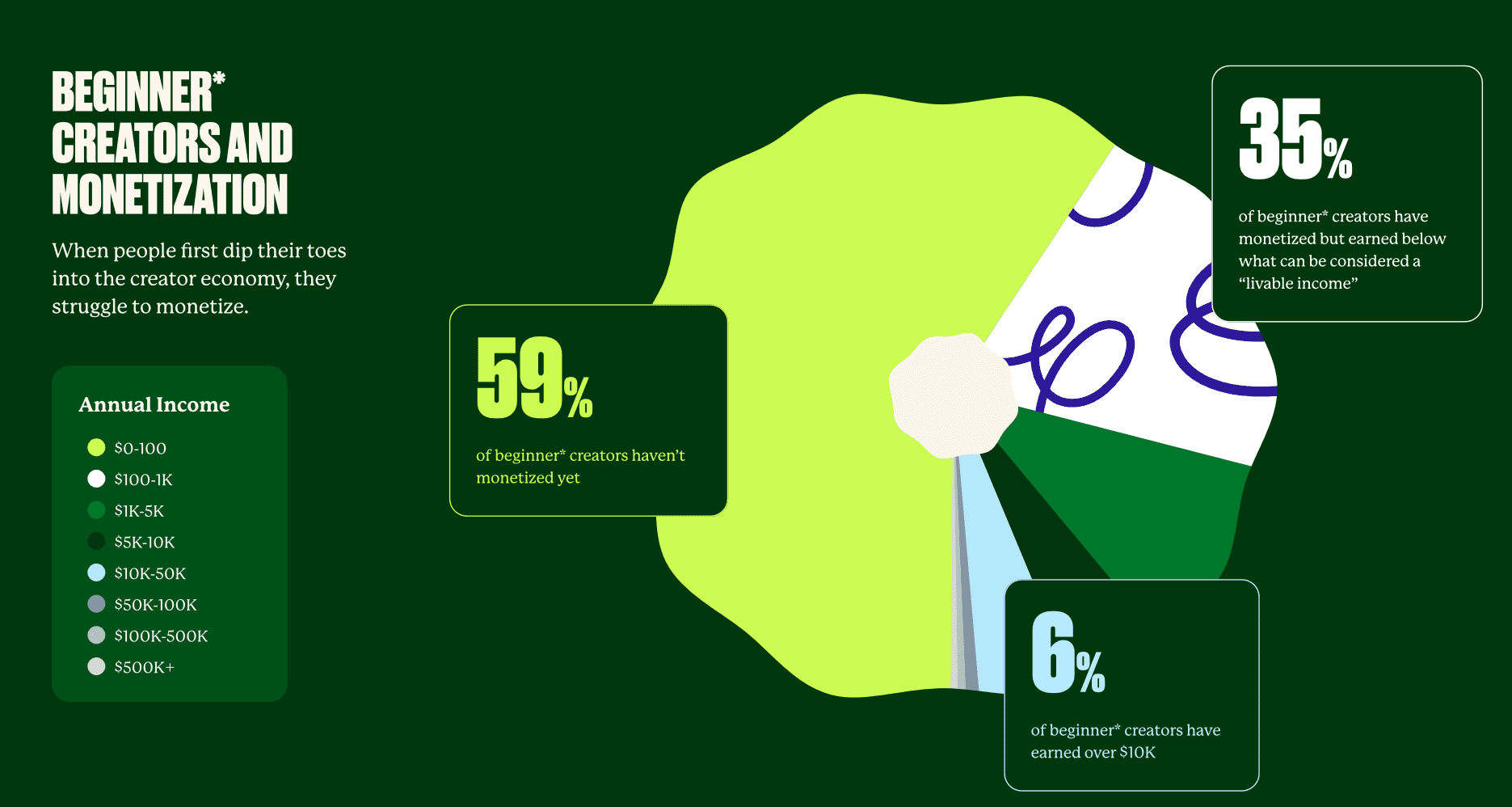 Creators are finding that making more by committing full-time to a creator lifestyle can be challenging. While 78% of full-time creators earn more than $23,500 annually (Source: Neoreach Report), only 12% of the part-time creators earn more than $50k per year. (Source: Linktree).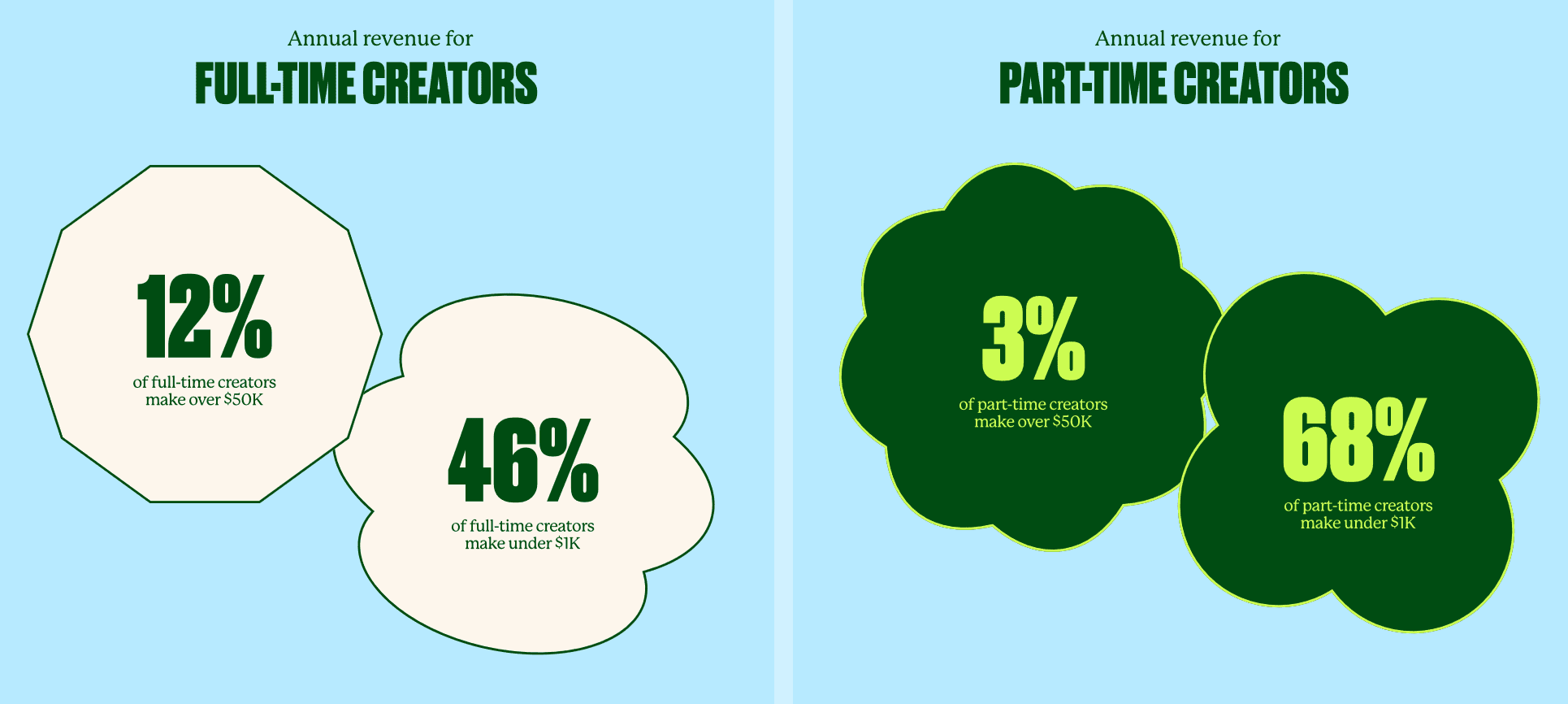 And yet 30% of creators operate some form of small business outside of their regular day-to-day work, with 2021 seeing a 39% increase in the number of creators kicking off their new content businesses into 2022. This represents a big jump in the number of creators moving their fans away from mainstream social media sites and onto Passion Economy platforms and independent businesses. (Source: Influencer Marketing 2022 Marketers Playbook).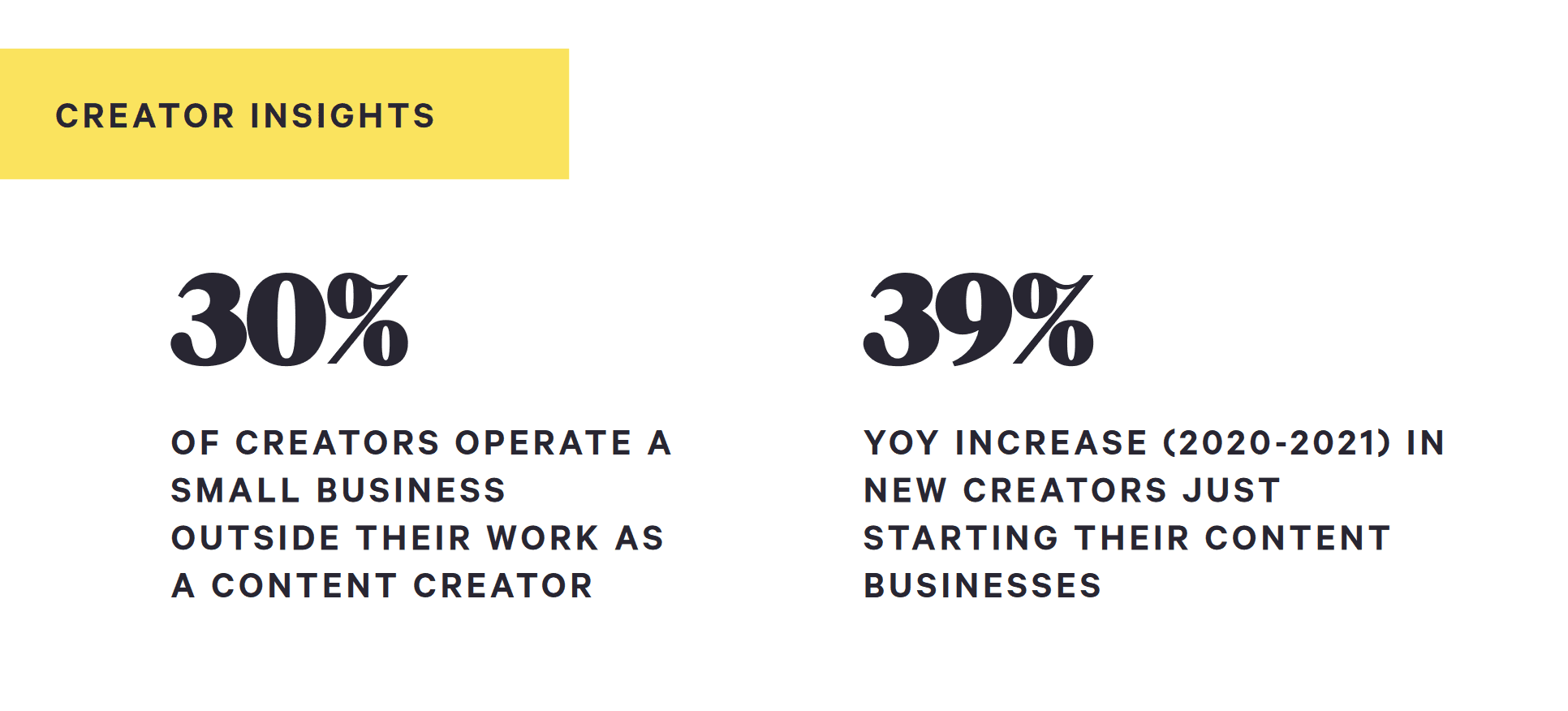 In terms of how much time creators are spending plying their respective trades, 43% of those part-time creators spend less than 5 hours per week directly creating content, while those who shift to creating full-time stay there. Over 25% of full-time creators can fully support themselves after three years, more than half who continue past four years break through the $50k annual income mark, and after six years, 84% of creators have moved to creating full-time. (Source: Influencer Marketing Factory)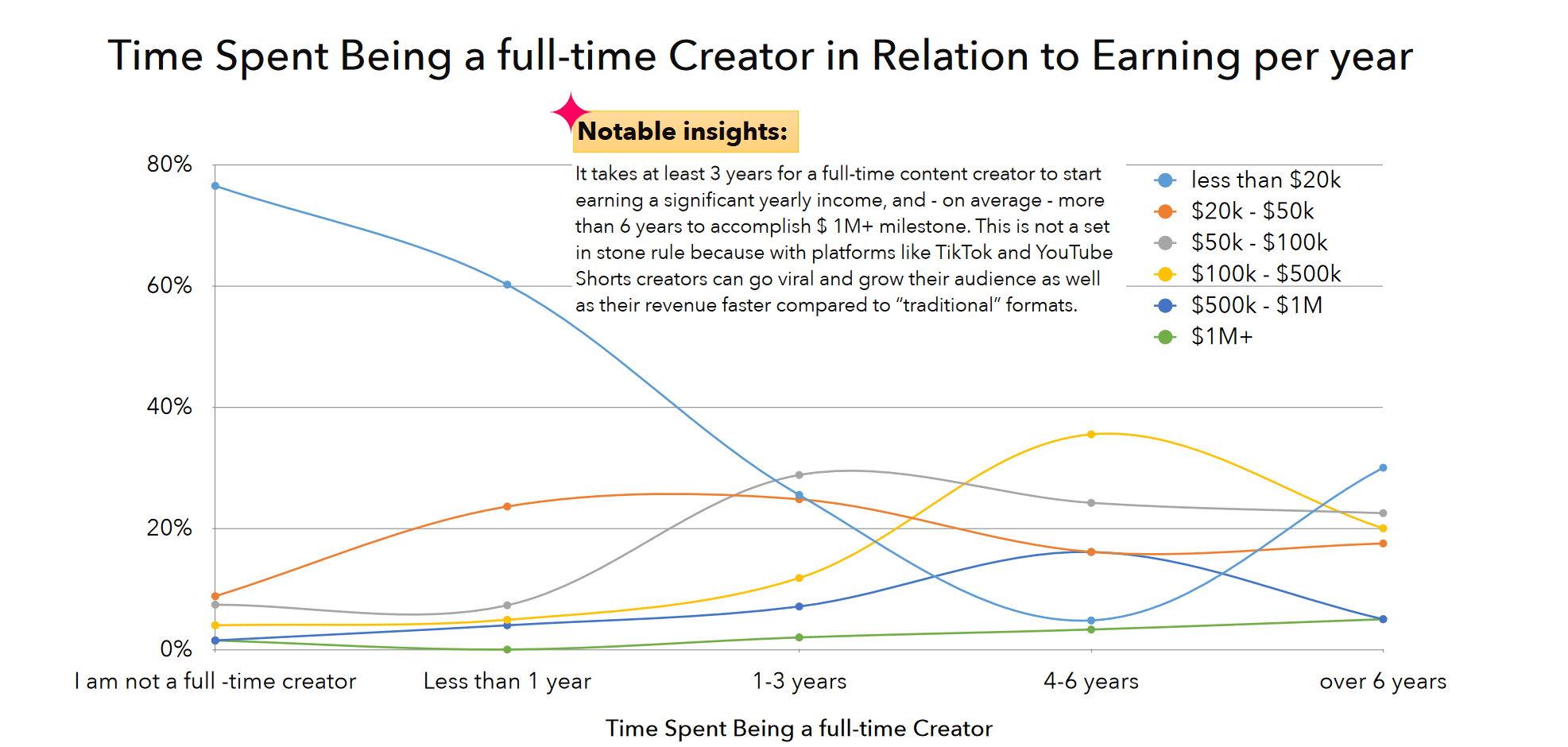 Creators choose to join the Passion Economy for various reasons and motivations. While these may shift and change over time, as things stand, people are most concerned with enjoying a better life-work experience than much else. Creators indicate that the most valuable benefits arising from operating within the Passion Economy include more independence (78%) and flexible working hours (69%). (Source: Tilt Report).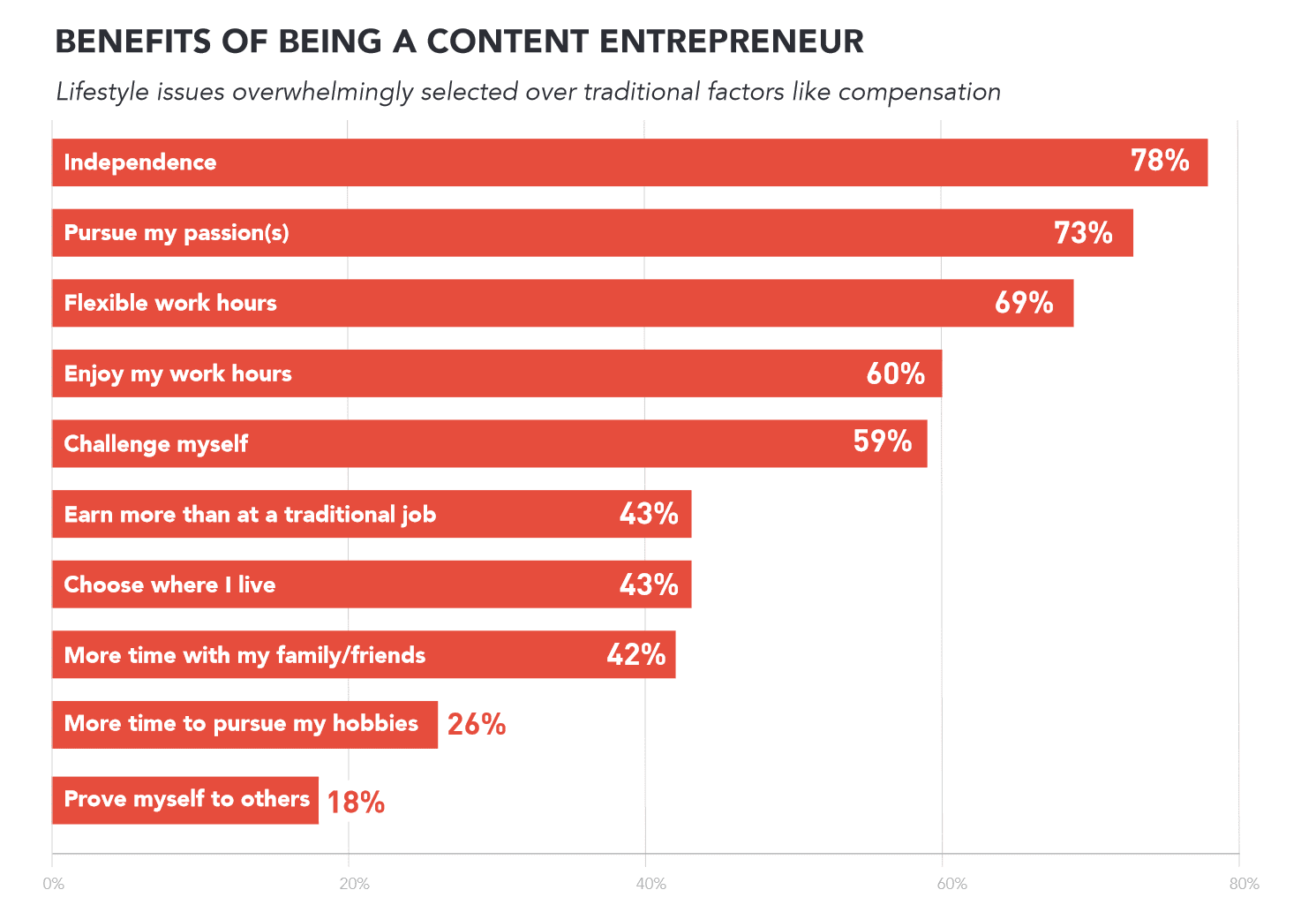 The New Passion Economy



The Passion Economy is emerging into a macro-economy with investors, audiences, and creators quickly seeing the vast economic and career potential it has to offer.
When the gig economy (already established and growing by the time COVID changed the world) took root, and the 'side-hustle' became a mainstay for many, creators around the world began to find new, innovative revenue streams but still weren't making enough money to get by. 
Never before has it been easier to learn how to become a creator or to attract niche audiences willing to pay for access to curated content built and showcased on a variety of easy-to-navigate platforms and apps. Web3 is rendering many traditional workplace roles obsolete with increasing automation and even the emergence of AI threatening day-to-day jobs.
People are turning away from regular 9 to 5 work that requires them to commit to manual, repetitive tasks and gravitating towards not just doing the things they love but making good money in the process.
The post-COVID landscape of work-from-home trends and mass resignations means that the Passion Economy is set to grow massively over the next few years. As new platforms continue to innovate and enable Passion Economy participants fresh access to swelling markets, it's only a matter of time before the Creator and Passion Economies challenge for top honors. 
As the Passion Economy continues to grow and Web 3.0 opens new doors and opportunities for creators and audiences alike, expect big things from this exciting new digital ecosystem. 
With billions being plowed into startups and creator-centric opportunities, creators themselves are moving beyond relying on traditional social media platforms, sponsorships, and endorsements, still reserved only for mega-influencers and brands. They're discovering the value – both in life and financially – in course offerings, owned blog websites, and digital platforms that offer niche value, more enablement, and normalized revenues.
As more and more people join the Passion Economy, things are sure to get crowded moving forward. But with only 2 million active 'professional' creators currently contributing to the market, now is as good a time as ever to learn how to become a creator and consider saying goodbye to your office cubicle and uncompassionate boss before striking out on your own.
Imagine a world 20 years from now where traditional "companies" have been replaced by vast communities and networks of former office professionals-turned-creators, bloggers, developers, coaches, and artists, all lending their unique talents and passions to a greater economic ecosystem. No more monopolies; no more price-fixing; no more mass layoffs. Just thriving communities, all working for themselves, driven by a passion for doing the things they love. 
If the numbers here point to anything, it's that this future is looking even more possible than ever before.