Canva Elements Keywords List
Disclosure: Some of the links below are affiliate links, meaning that at no additional cost to you, I will receive a commission if you click through and make a purchase. For more information, read our full affiliate disclosure here.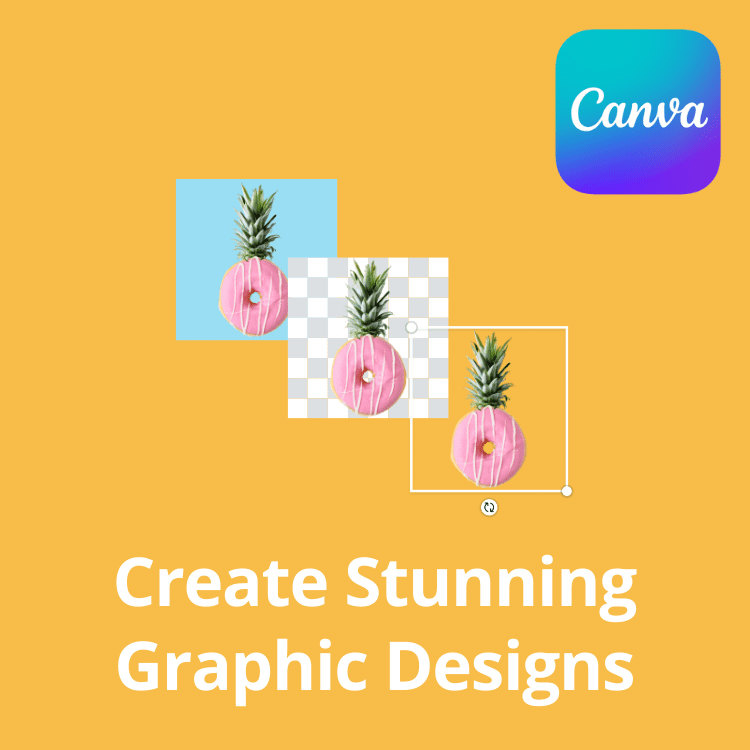 If you don't already have Canva, try it for free! Canva makes it ridiculously simple to create blog banners, edit photos, and design social media marketing content. It is also one of the few blogging tools that I use on a daily basis.
CASEY BOTTICELLO
Founder, Blogging Guide
Great graphic design is powered by great element selection. But picking great design elements is a challenge for most people. Luckily, Canva has made adding great elements to your designs much easier. In this tutorial, our team of design experts will cover the ultimate Canva elements keywords list.
This list of keywords is very useful to anyone who is looking for the perfect Canva elements to compliment their design aesthetic. The list will contain top Canva element keywords alongside an image showing you a preview of the Canva element aesthetic before you waste any time searching.

Canva Elements Keywords List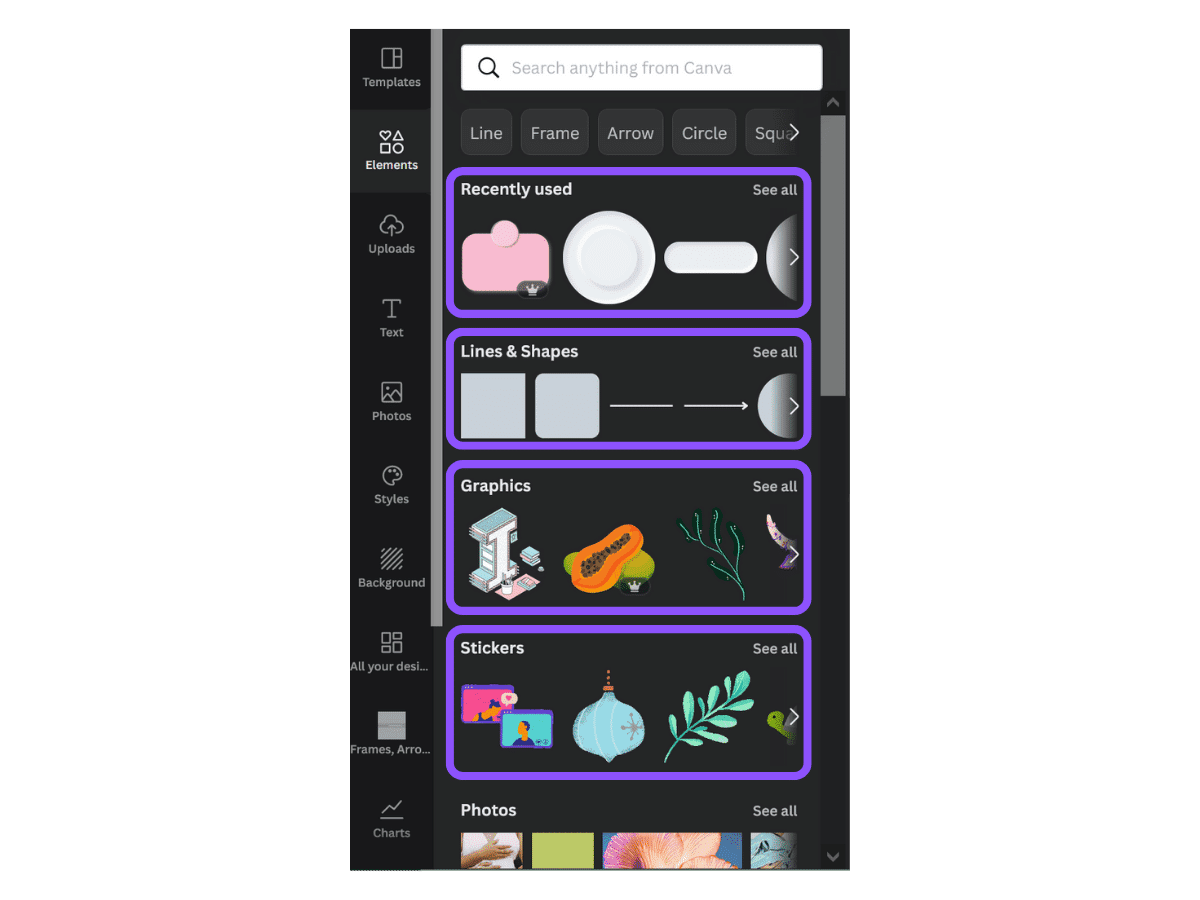 Canva is an amazing graphic design tool. One of the best features of Canva is its custom elements. This Canva tutorial will teach you how to find unique Canva elements by searching Canva using keywords to uncover these elements.
Elements are available in the free version of Canva, and there are even more elements in Canva Pro.
Canva elements are divided into several categories, including Lines, Shapes, Frames, Stickers, Charts, Grids, and Gradients. Canva elements can be either static or animated. some are created by Canva, others are submitted by third-party graphic designers.
Canva elements are a great way to customize any image or graphic design.
However, as anyone who has ever searched for elements in Canva knows, it is very hard to find some of the best elements and many of these hidden gems are buried deep in the Canva search.
This post will show Canva users a series of search keywords, which allow users to search for images that are all designed in a similar style or theme. Similarly, if you want to search by Canva element brand code (showing search results of Canva elements created by the same designer), you can check out our article on the best secret Canva brand codes!
How to Search for Canva Elements Using Keywords
Searching for elements using keywords is fairly straight forward.
1. Open a Canva design of any size.
2. Click on the "Elements" tab from the side toolbar.
3. Enter the keyword you want to search for into the search box: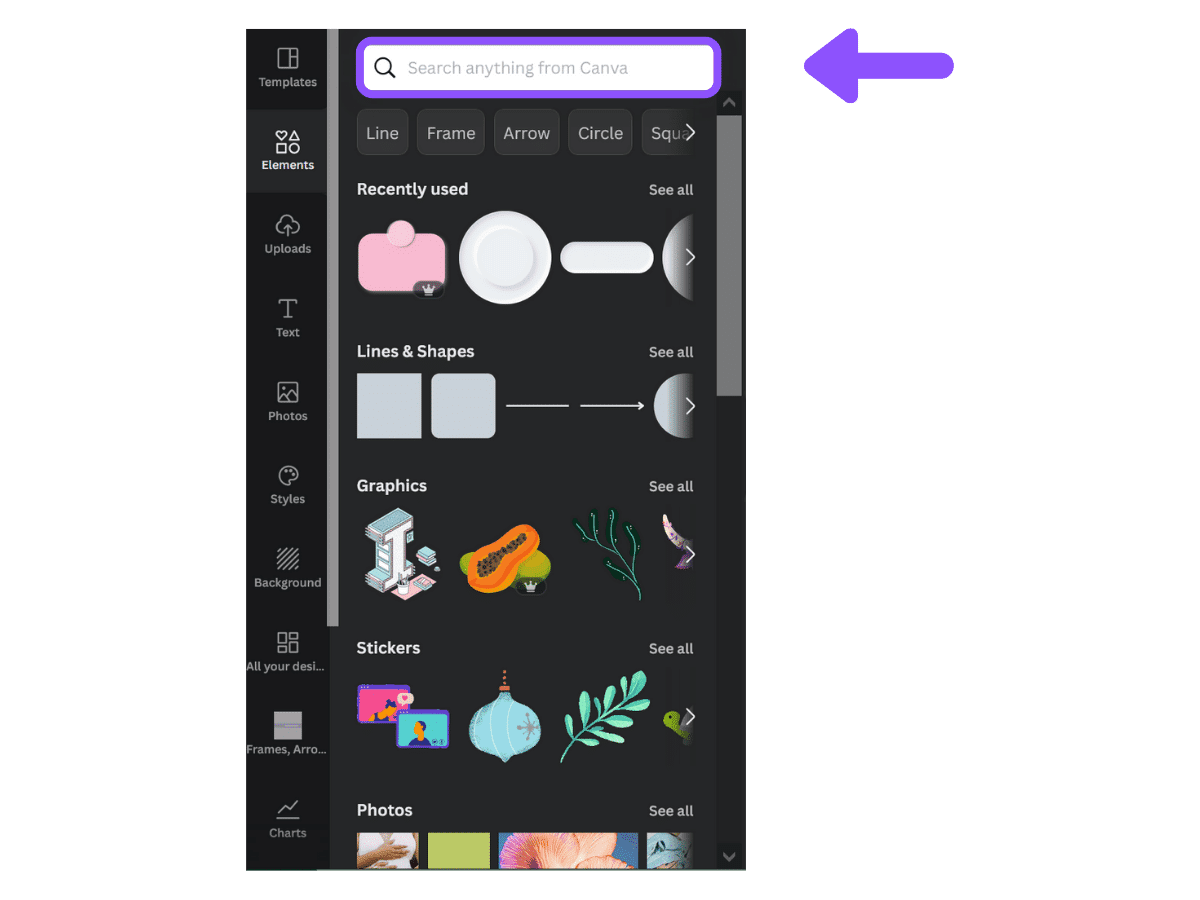 The following sections contain keywords that result in some very cool Canva elements appearing in the search results. This list was developed after years of trial and error searching, as an avid Canva user. You can also search for Canva elements by brand code, resulting in elements designed by the same designer. Both methods allow you to find new elements for your Canva designs!
Canva Keyword: "Neomorphism"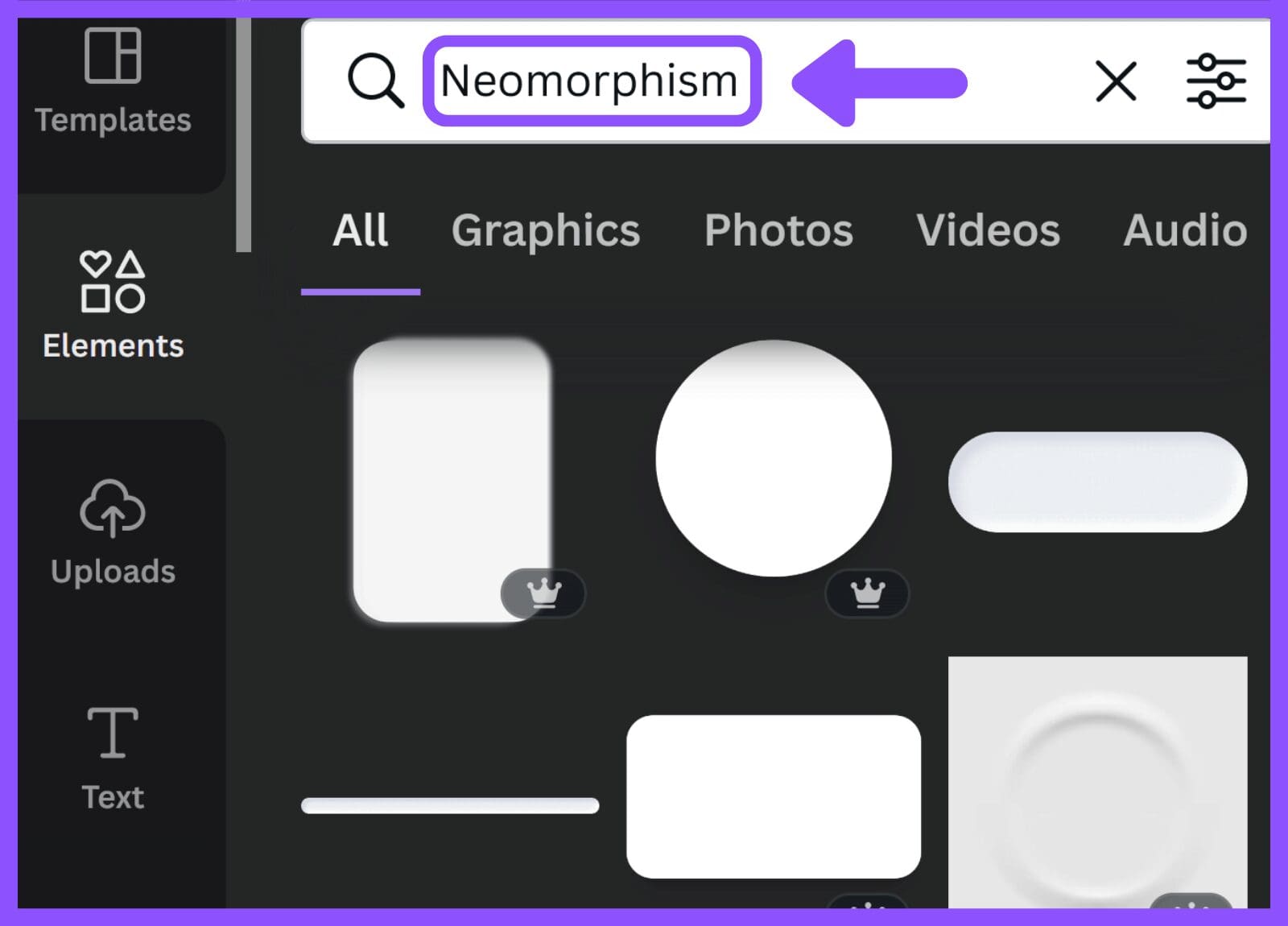 Neomorphism (aka Neumorphism ) is a relatively new design trend and a term that's gotten a good amount of buzz lately. It's aesthetic is marked by minimal and real-looking UI that's sort of a new take on skeuomorphism — hence the name.
Neumorphic design is a visual trend that has gained traction with UI designers and become a popular aesthetic choice for contemporary software, websites, and mobile apps. Drawing on aspects of photorealism and 3D design, neumorphism brings simulated physical attributes—such as shadows and textures—to digital interfaces.
I personally use these elements frequently in my own Canva designs, and while their effects are subtle, they can really help make certain design elements "pop" off the page (especially buttons, icons, tags, logos, panels, labels, etc.).
Canva Keyword: "3D Illustration
Realistic
"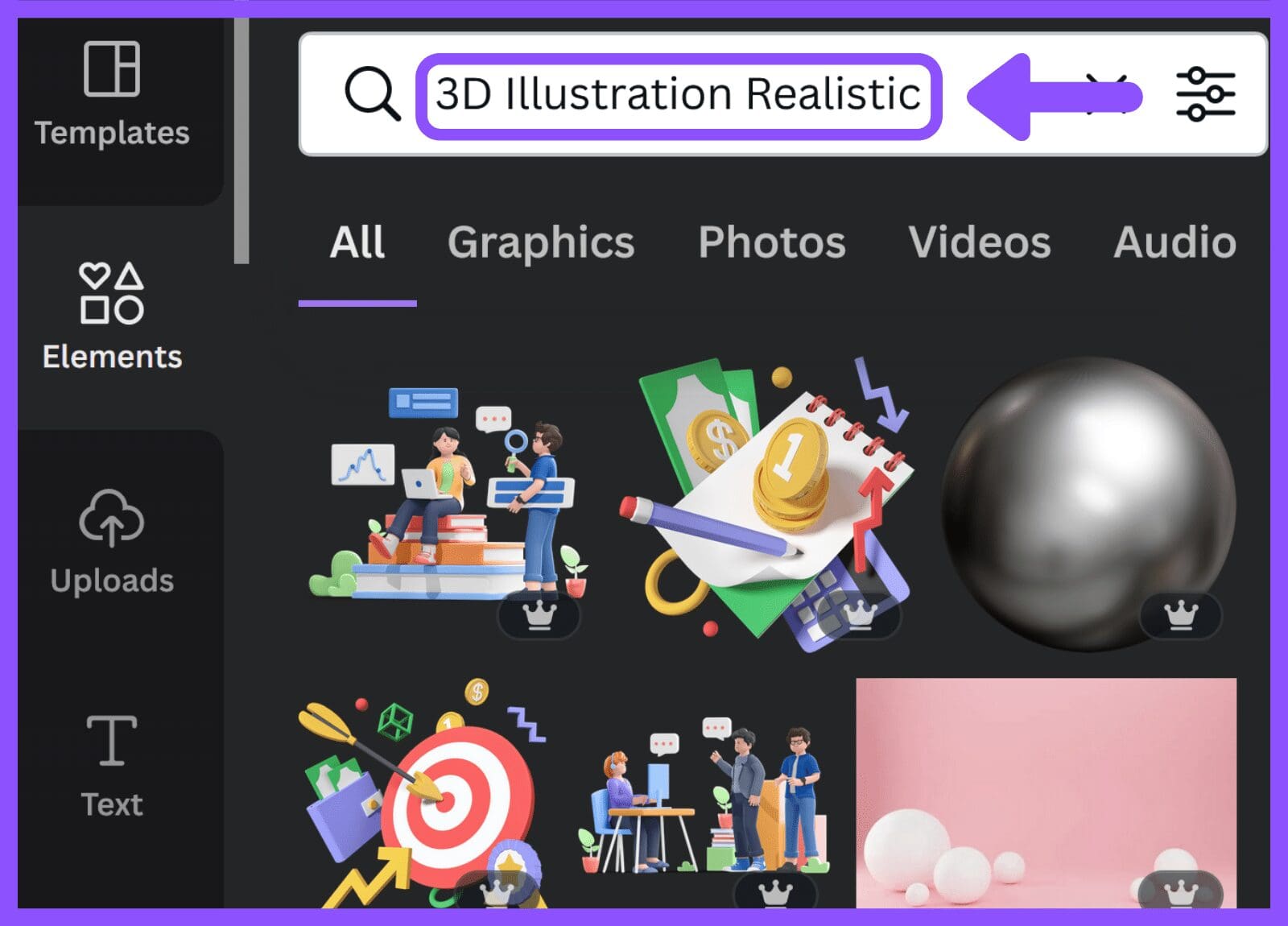 3D Illustration Realistic returns a number of very cool custom 3D Canva elements. 3D illustration is one of the biggest design trends of the past year.
The practice of 3D design allows designers to lift their 2D ideas off the page and bring them to life in 3D. It's a visual style that's perfect for graphic design and website design, from digital interfaces to social media assets and everything in between.
These types of Canva elements are perfect for someone who want to despict scenes of people or demonstrate concepts, without having to rely on the standard 2d flat images many designers use.
Canva Keyword: "Neon Line
"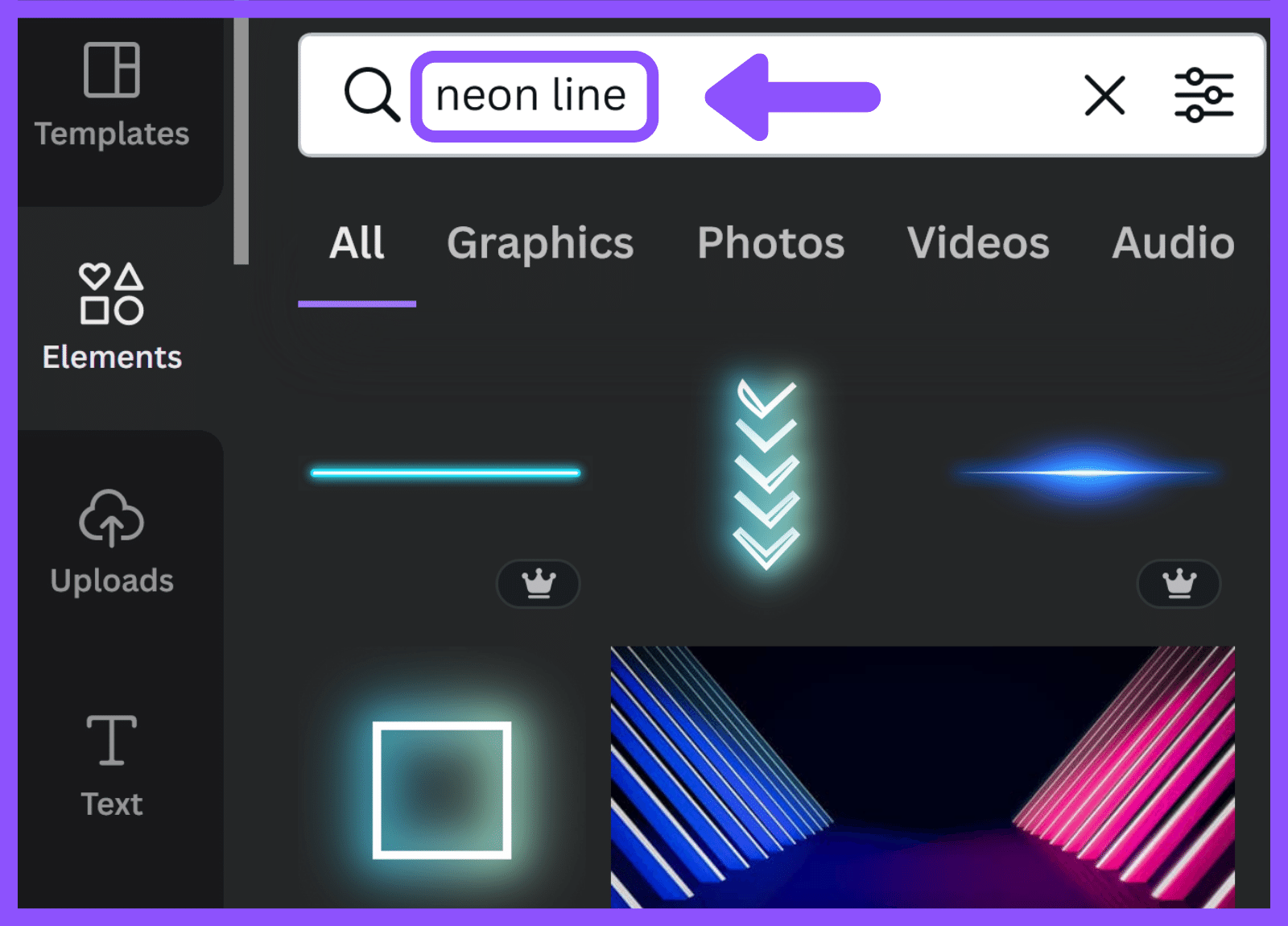 Searching for the keyword "
neon lines
" will return a wide range of neon lines and neon shapes. While Canva already has tools in place for designers to create a
neon text effect in Canva
and to create a
glowing neon outline around an image
, sometimes you just want to add some simple neon elements to your Canva designs. In these cases, the neon lines keyword search is very useful.
Canva Keyword: "Plastic Texture
"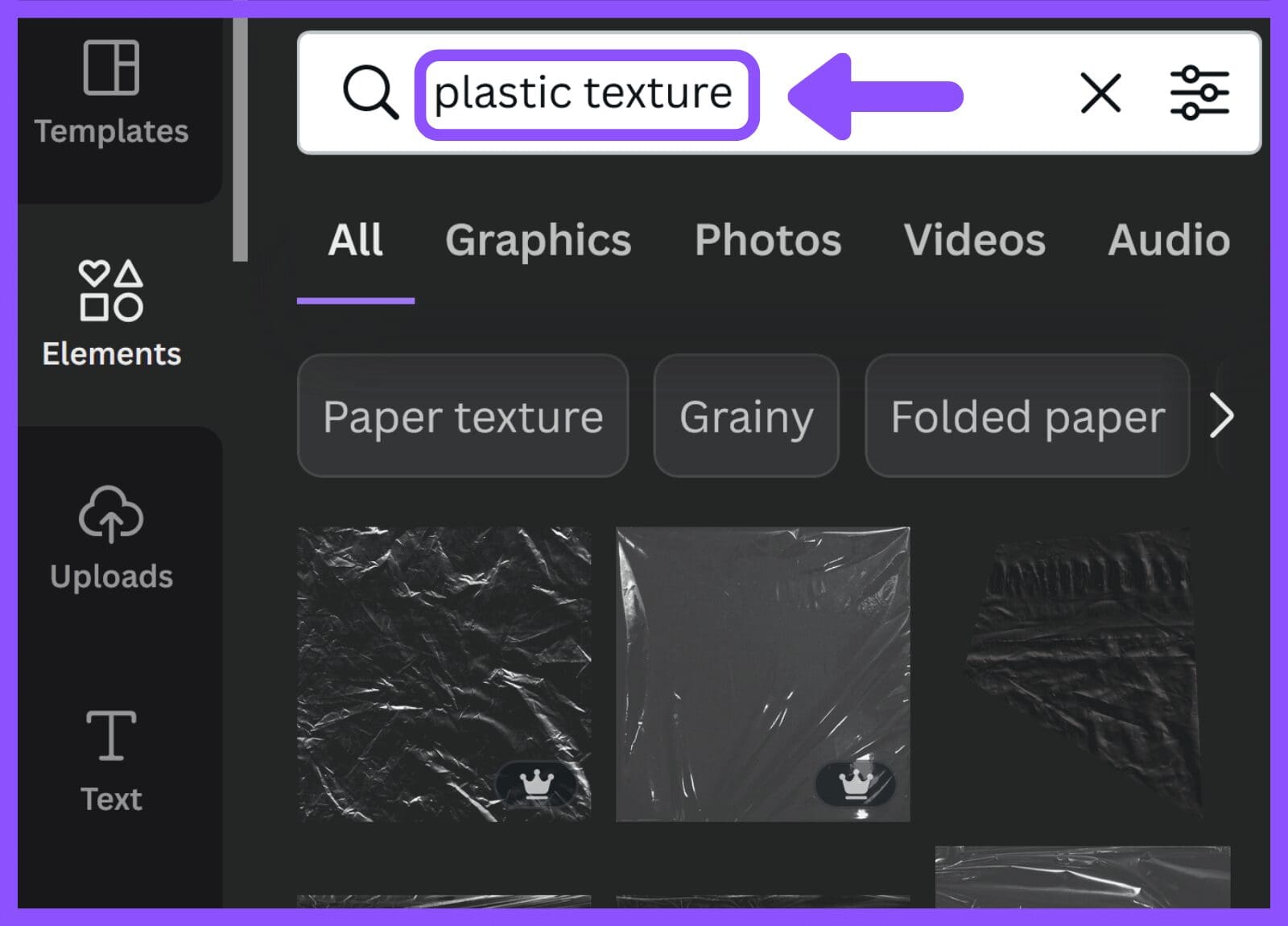 Searching for the keyword "plastic texture" will return a wide range of elements that are transparent and mimic the effect of overlaying a piece of plastic on your design.
In the example above, I stretched the plastic overlay to cover the whole image, but as will all Canva elements, you can adjust the size so that the plastic texture is only covering a portion of your design.
Canva Keyword: "Zodiac Symbols
"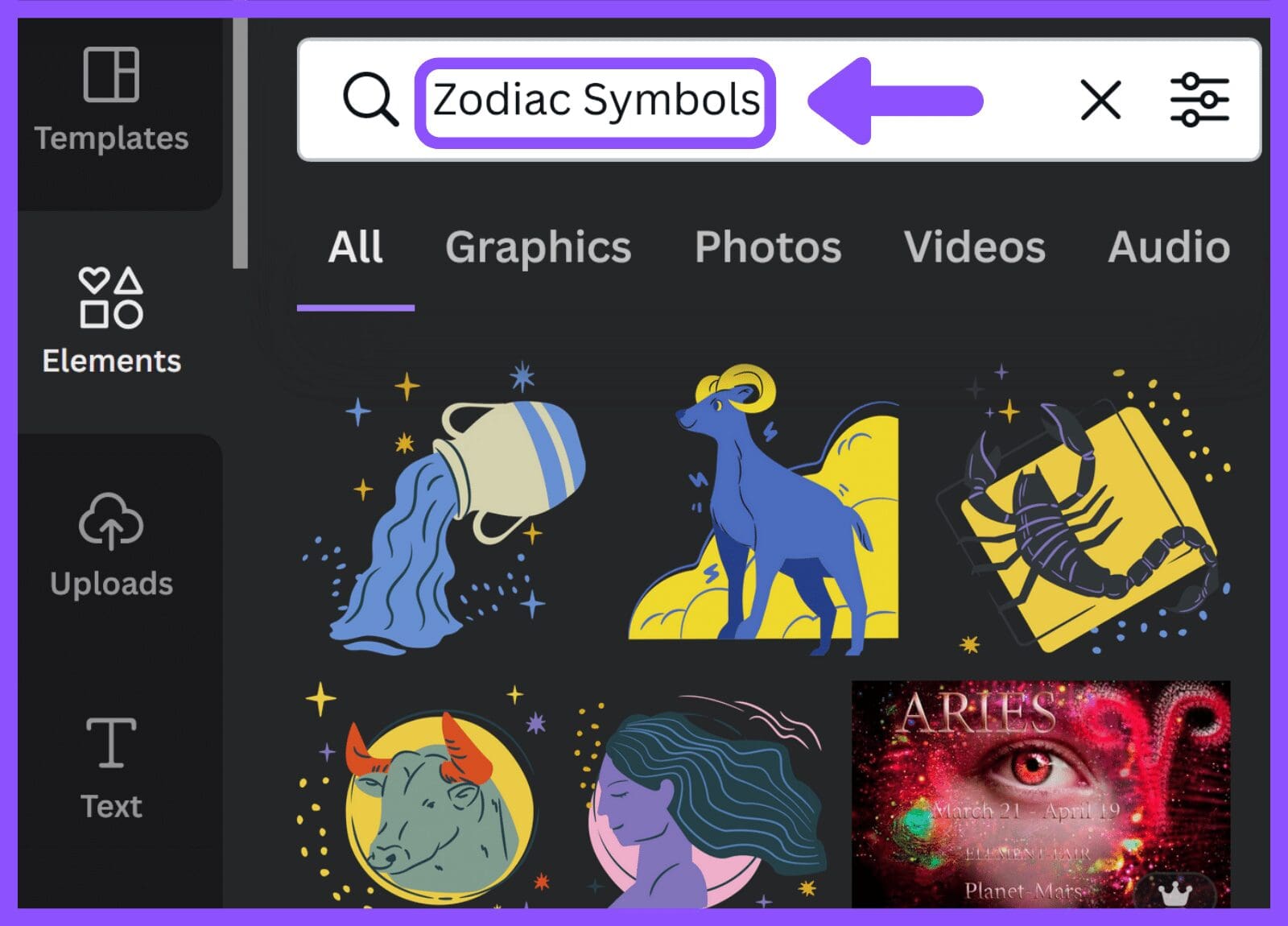 Searching for the keyword "Zodiac Symbols" will return a selection of the Zodiac symbols, each illustrated in a cohesive style.
So while these can be used by themselves, they are also perfect if you are creating an astrological design, and want to incorporate multiple Canva elements, each drawn in a similar style.
Canva Keyword: "Pastel Ladies
"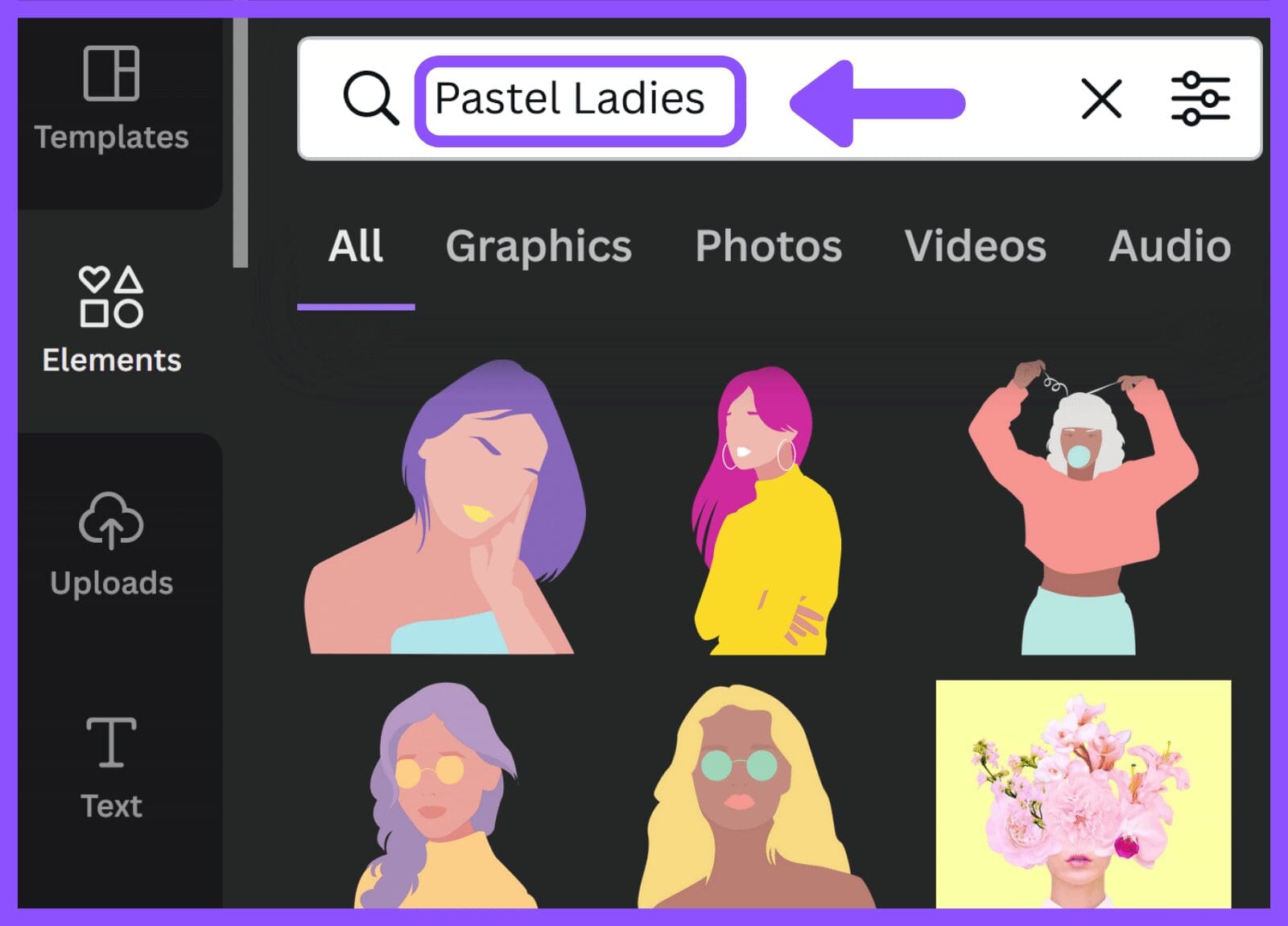 Searching for the keyword "Pastel Ladies" will return numerous illustrations of women, all created using various pastel color palettes.
Canva actually has a whole collection of these images (100+), making them ideal for designers who want to create many unique designs, featuring women, without having to reuse the exact same female illustration over and over.
Canva Keyword: "Daily Planner
"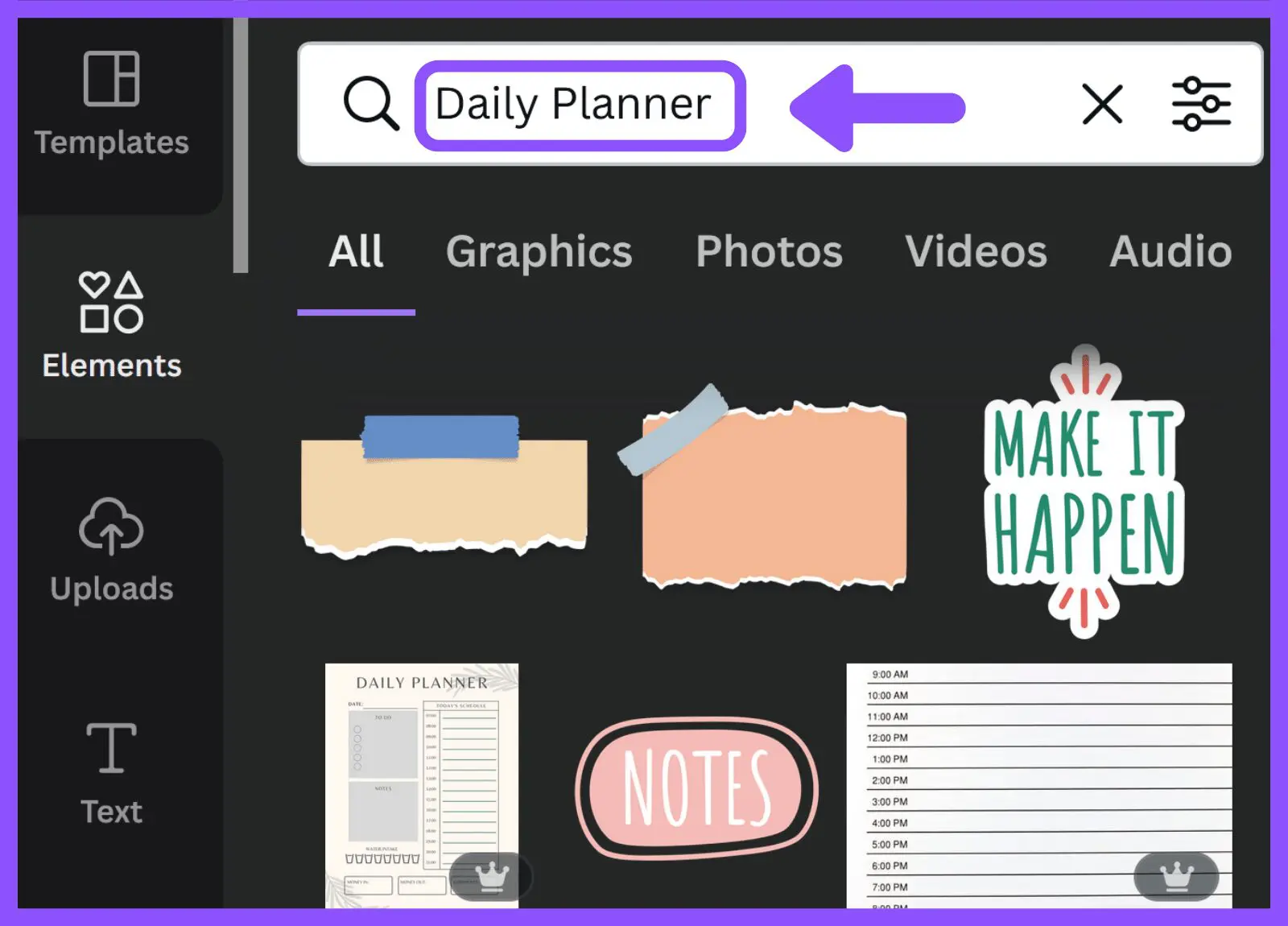 Searching for the keyword "Daily Planner" will return numerous daily planners (obviously), but it also a great jumping off point for your Canva element search if you want to find work related or motivational illustrations.
Canva Keyword: "Newbrushstroke
"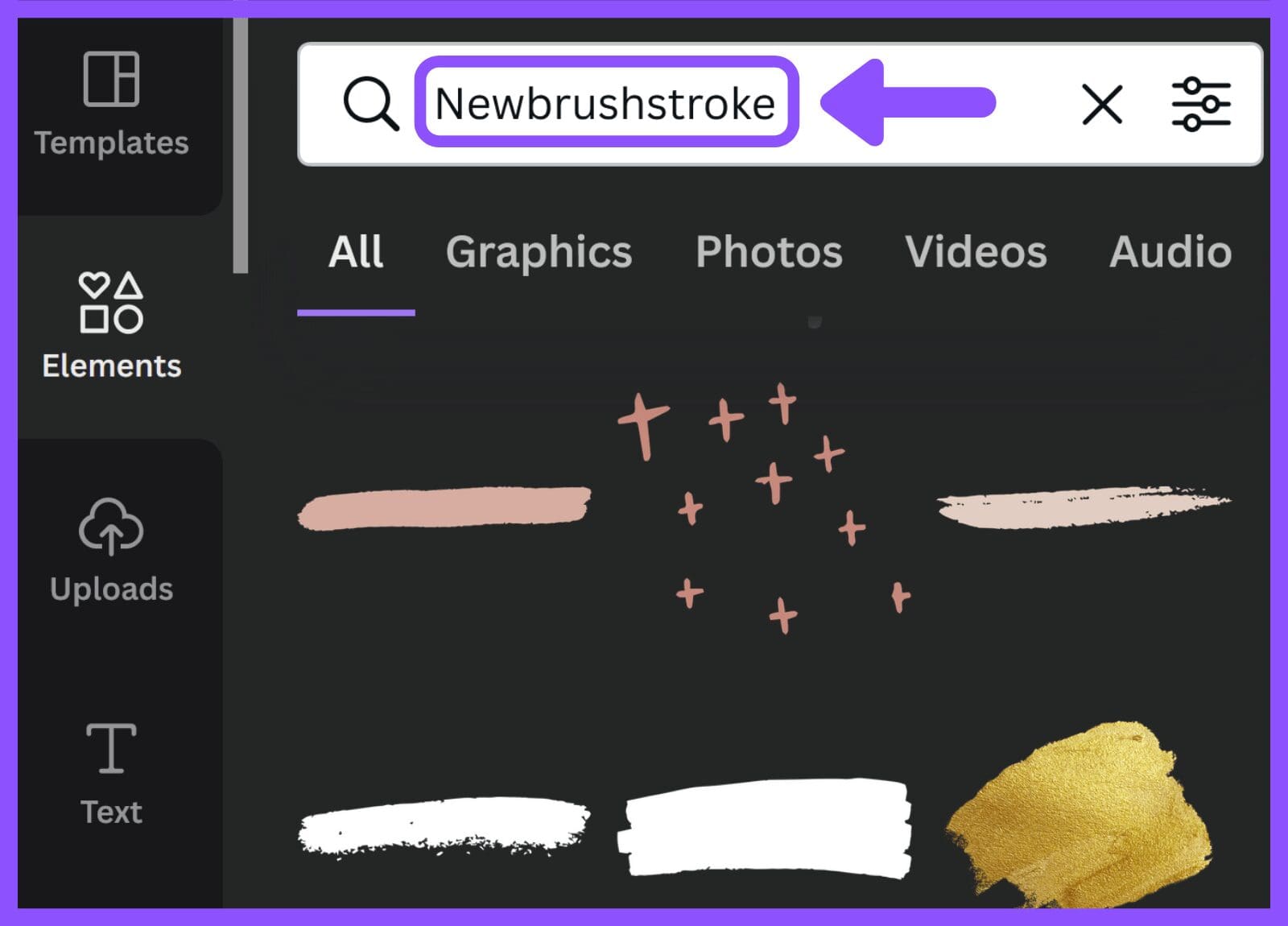 Searching for the keyword "
Newbrushstroke
" will return a variety of illustrations appearing to be hand drawn and free-form. The
color palette
is pretty neutral and the elements all pair well with a design that is meant to look home  made or authentic.
Canva Keyword: "Boho Aesthetic
"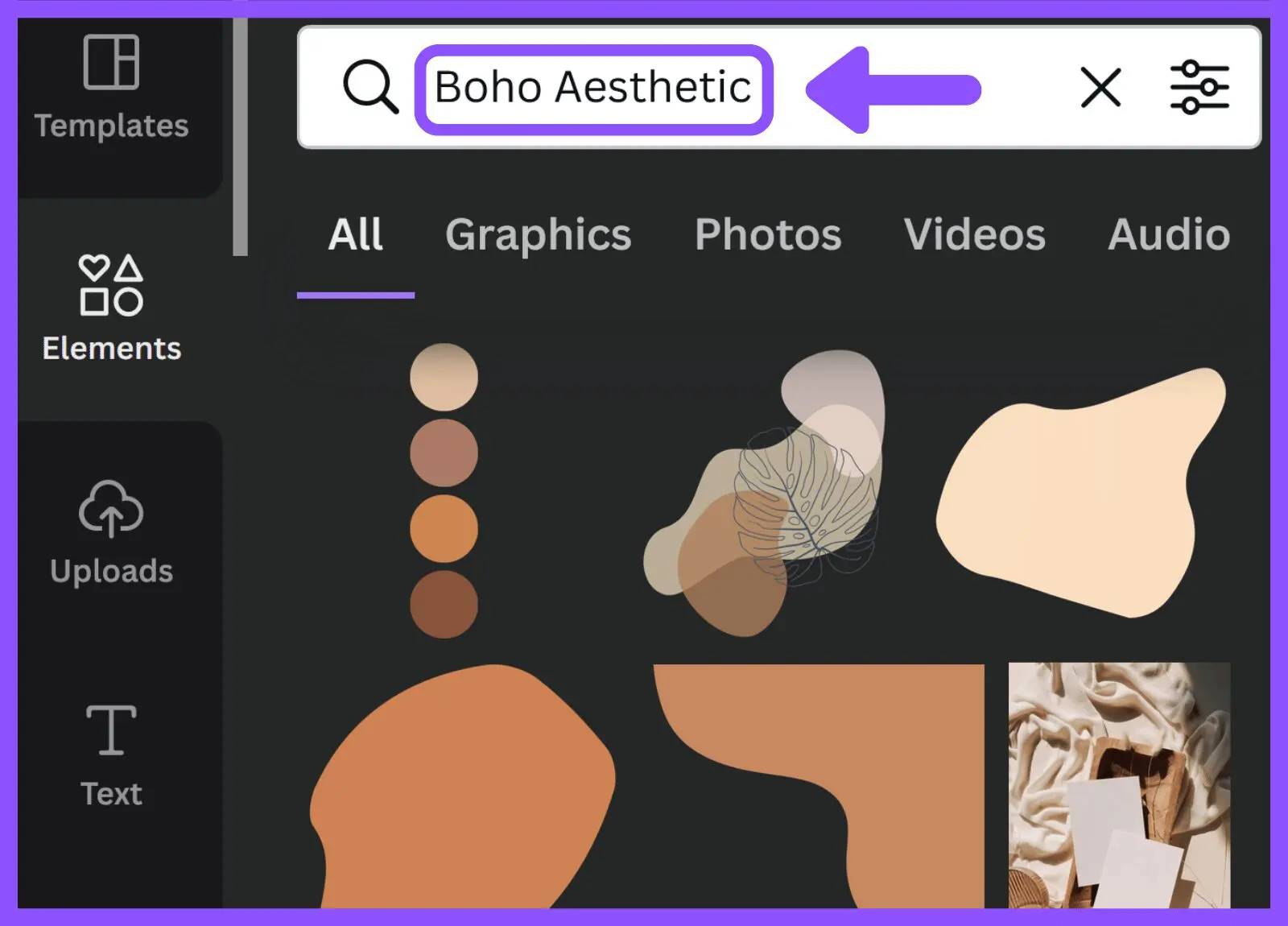 Searching for the keyword "
Boho Aesthetic
" will return many free-spirited elements that mix different cultures and artistic expressions into an eclectic style with an emphasis on organic elements and nature.
These elements are less cookie cutter and more whimsical, and many contain multiple layers within a single element.
Canva Keyword: "Simple Drawn Objects
"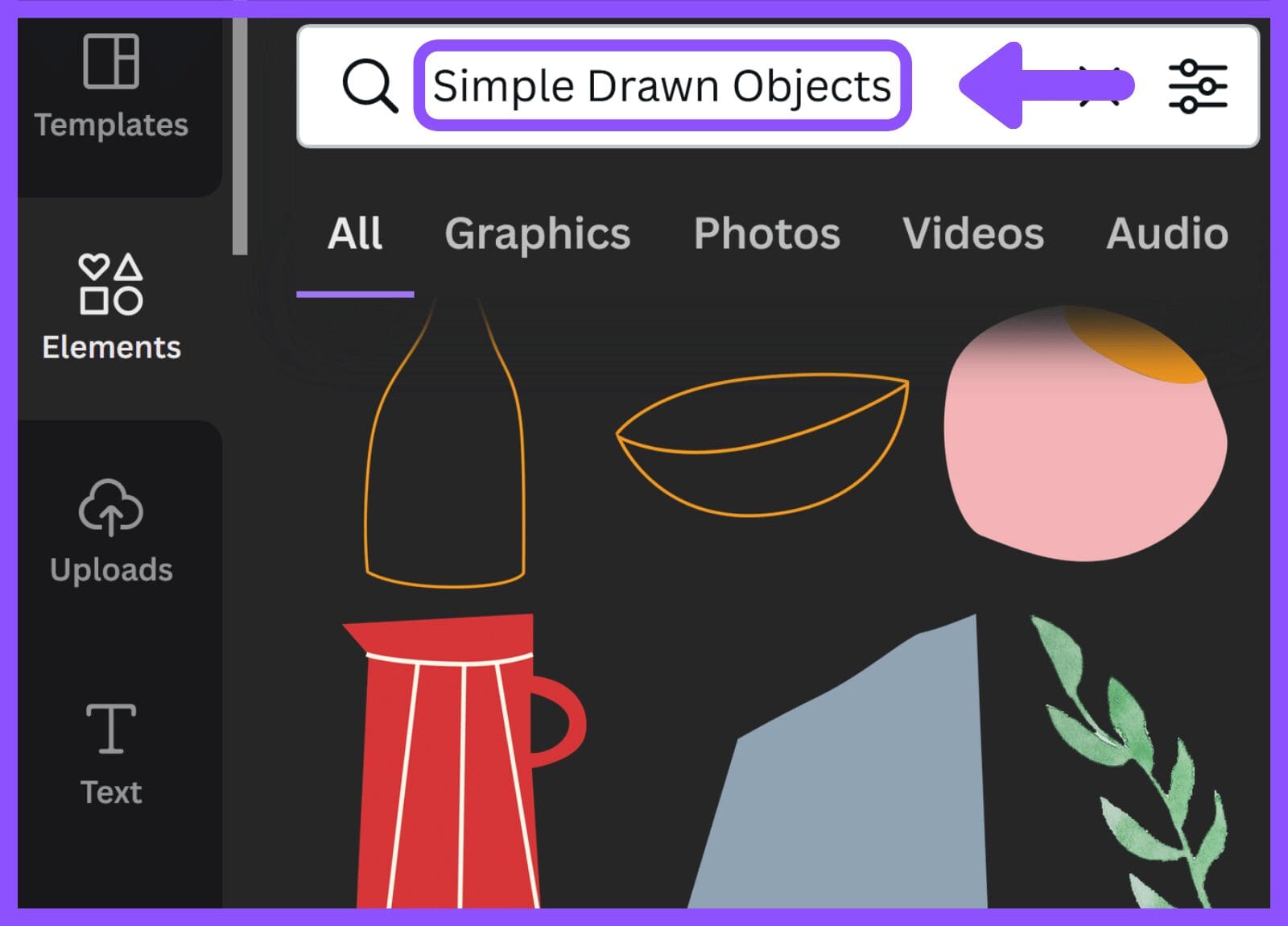 Searching for the keyword "Simple Drawn Objects" will return many simple but stylish Canva elements. These elements typically consist of only one or two colors, appear hand drawn, and are usually asymmetrical. They resemble a simple sketch and are the opposite of some of the more complex 3D elements.

Canva is an amazing graphic design tool, and I hope you found this tutorial covering the Canva elements keywords list, useful! Click here to read our comprehensive Canva Guide. If you are interested in downloading Canva or trying Canva Pro for free, click here. Below are several related Canva tutorials that you might find useful: