The Alphabet Soup Method of Keyword Research for Bloggers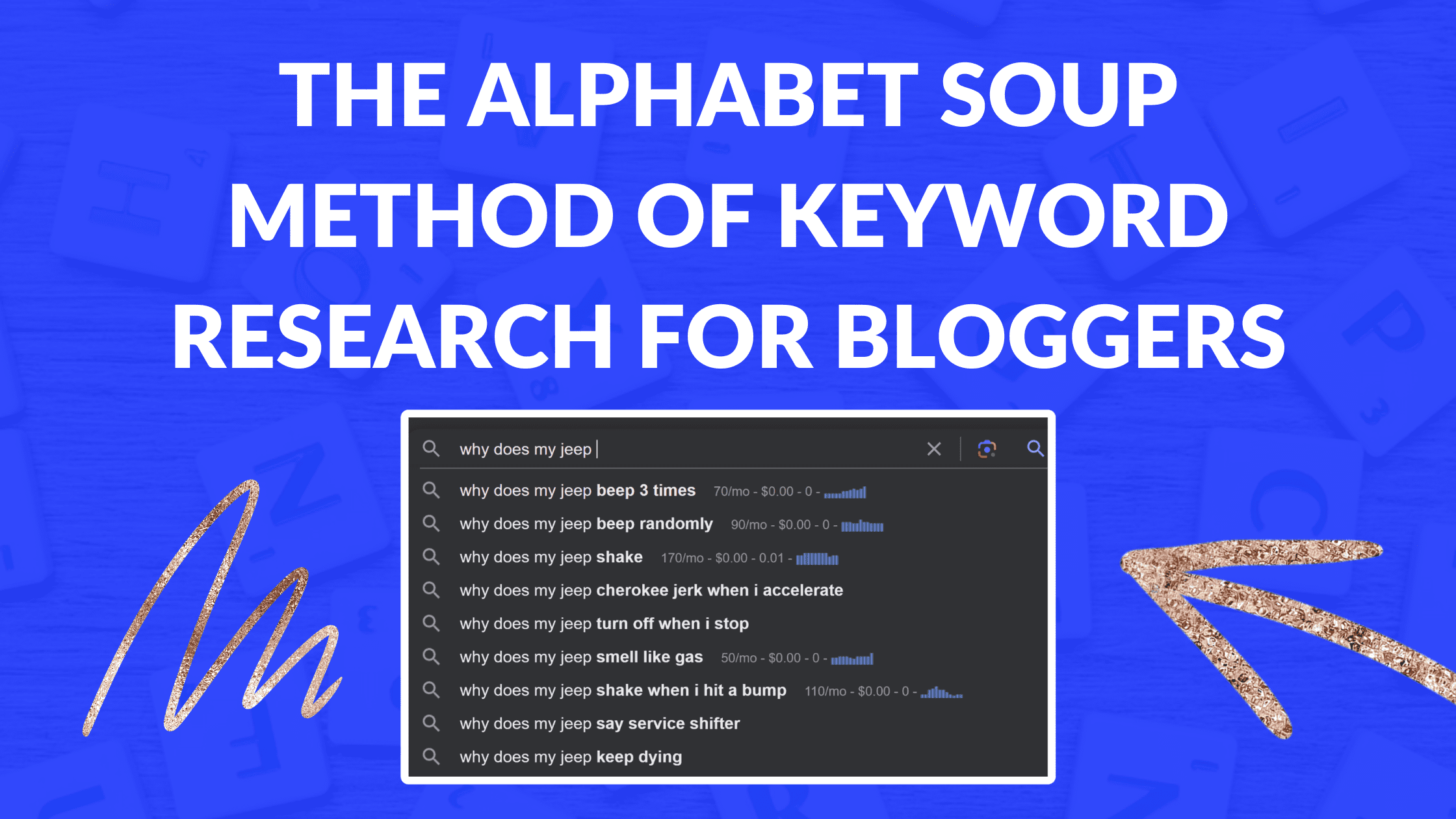 Disclosure: Some of the links below are affiliate links, meaning that at no additional cost to you, I will receive a commission if you click through and make a purchase. Read our full affiliate disclosure here.
Bloggers are always on the lookout for ways to increase their website's traffic and attract more readers. One of the most effective ways to achieve this is by using the Alphabet Soup Method of keyword research. This technique involves using Google's predictive search to generate a list of relevant keywords for a particular niche.
By typing in a keyword followed by each letter of the alphabet, bloggers can quickly identify long-tail keywords that they may have otherwise overlooked. These long-tail keywords are often less competitive and have a higher chance of ranking well in search engine results pages (SERPs). This method is particularly useful for bloggers who are just starting and do not have a large following or a lot of backlinks.
The Alphabet Soup Method Explained

The Alphabet Soup Method is a keyword research technique that can help bloggers generate a large number of keyword ideas. The basic idea behind this method is to use Google's predictive search feature to find long-tail keywords that are relevant to a particular niche. By typing a keyword into Google search followed by a letter, the search engine will provide a list of auto-complete suggestions based on what others have searched for.
For example, if a blogger wants to write about "vegan recipes," they can type "vegan recipes a" into the search bar. Google will then provide a list of auto-complete suggestions such as "vegan recipes air fryer," "vegan recipes breakfast," and "vegan recipes crockpot." This method can be repeated for each letter of the alphabet, providing a large number of potential keyword ideas.
The Alphabet Soup Method is a great way to find long-tail keywords that are less competitive than shorter, more general keywords. Long-tail keywords are more specific and targeted, which means that they are more likely to attract visitors who are interested in a particular topic. By using long-tail keywords, bloggers can increase their chances of ranking higher in search engine results pages (SERPs).
Related Posts:
Step by Step Guide to Alphabet Soup Method
The Alphabet Soup Method is a simple and effective way to find keywords that your target audience is searching for. Here is a step by step guide on how to use this method to conduct keyword research for your blog.
1. Identifying Your Niche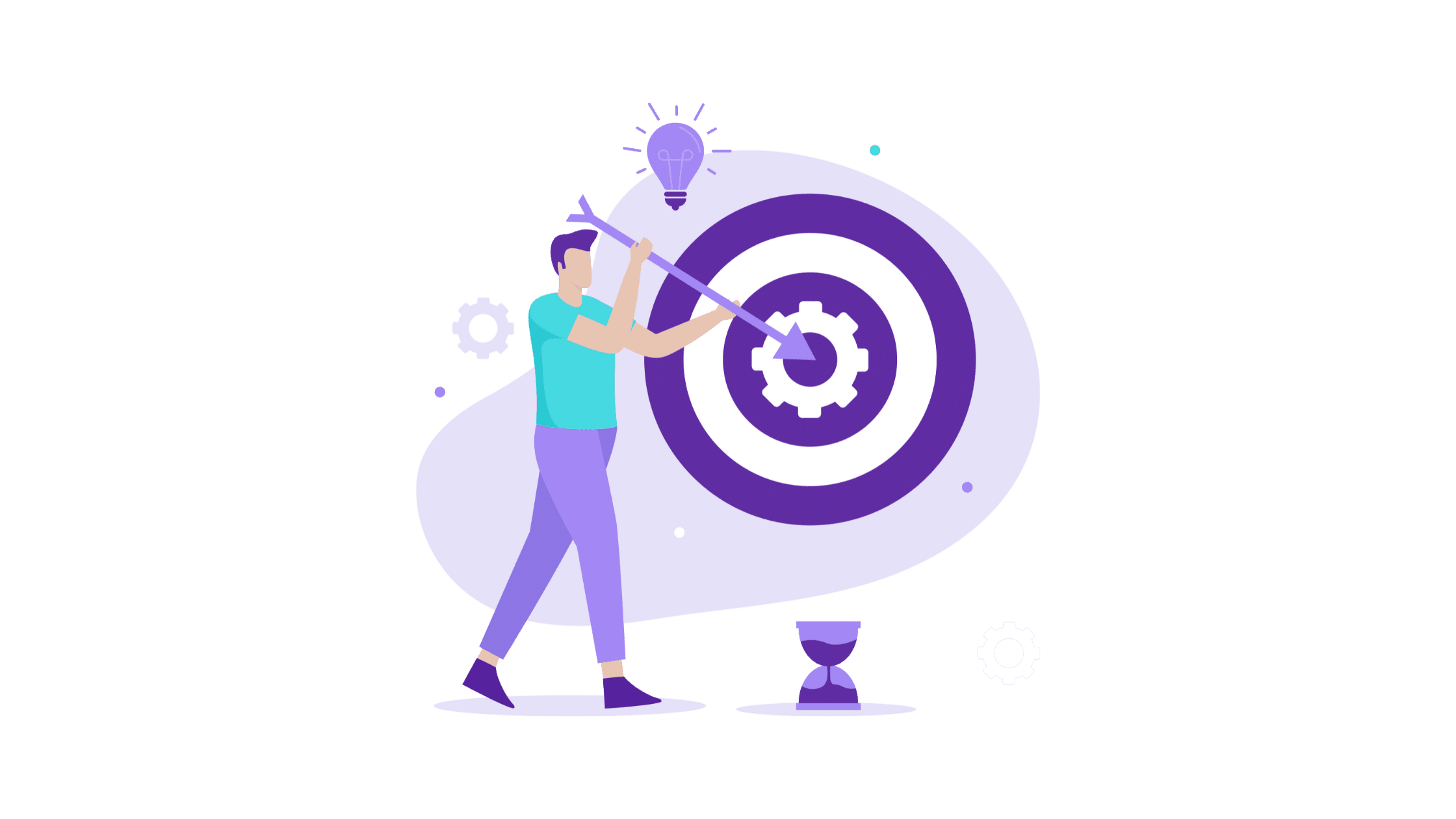 The first step is to identify your blogging niche. You need to know what your blog is about and the topics you want to cover. If you are unsure of your niche, consider reading guides like How to Choose a Niche for Your Blog or Niches to Avoid as a Blogger.
For the purposes of this example, let's assume I have an auto blog, and I'm trying to find keyword ideas surrounding a specific model of car. In this example I'll assume I'm looking for keywords related to the "Jeep Grand Cherokee" in Google.
2. Enter Keywords Into Google Search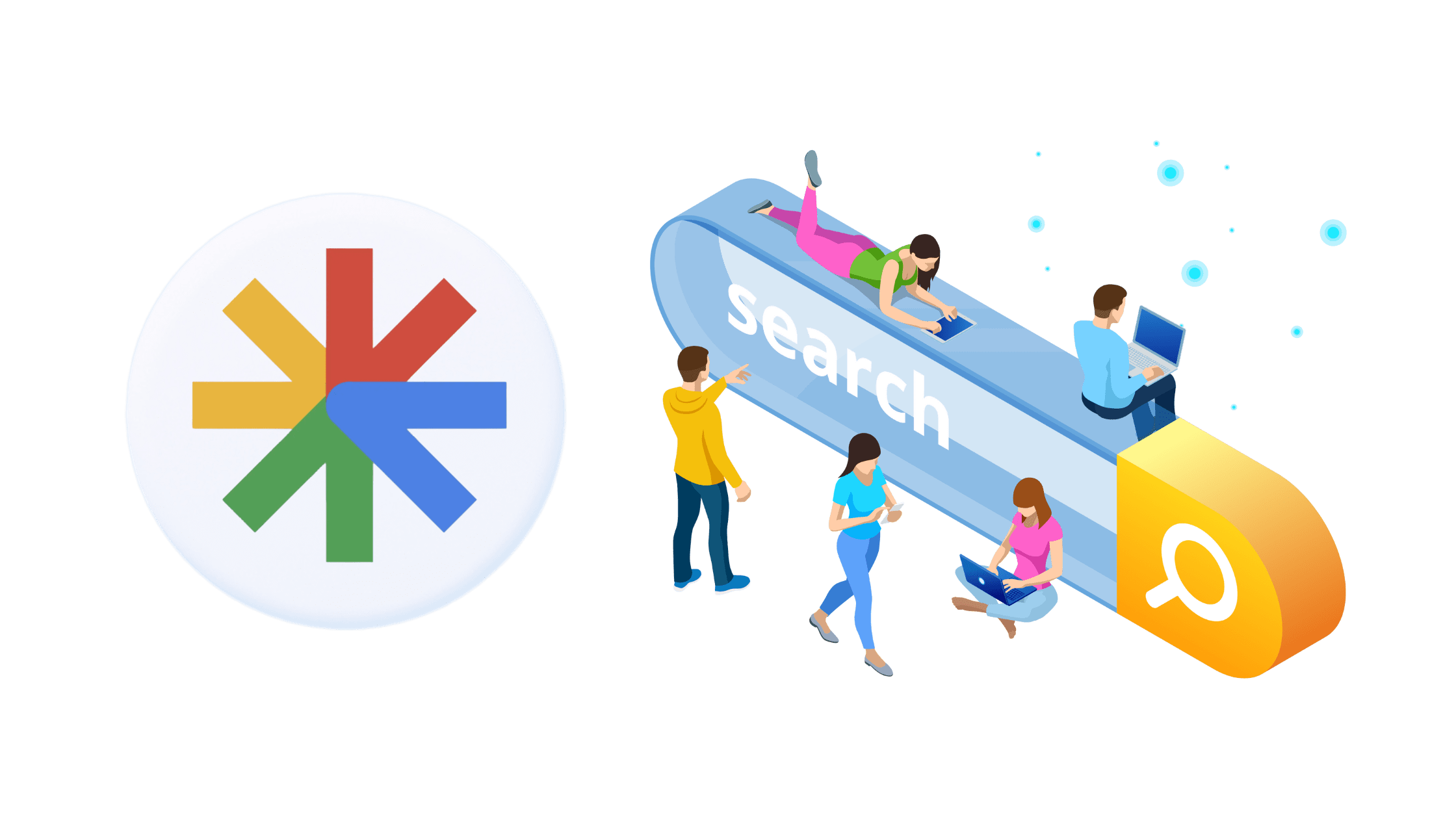 Once you have identified your niche, head over to Google and type in a keyword related to your niche.
Using the example referenced in the previous step, I'll enter "Jeep Grand Cherokee" in Google.

I then add a space after this keyword and Google will begin to autocomplete the results based on its best prediction of what I'm searching for as a search engine user.

First, add a letter of the alphabet after the keyword.
Google will suggest a list of related keywords that start with the letter you added. Repeat this process for all the letters of the alphabet to get a comprehensive list of keywords.
This technique is called the "Alphabet Soup Method" because it involves entering random letters into Google autosuggest, to help bloggers find terms that their audience is actually searching for.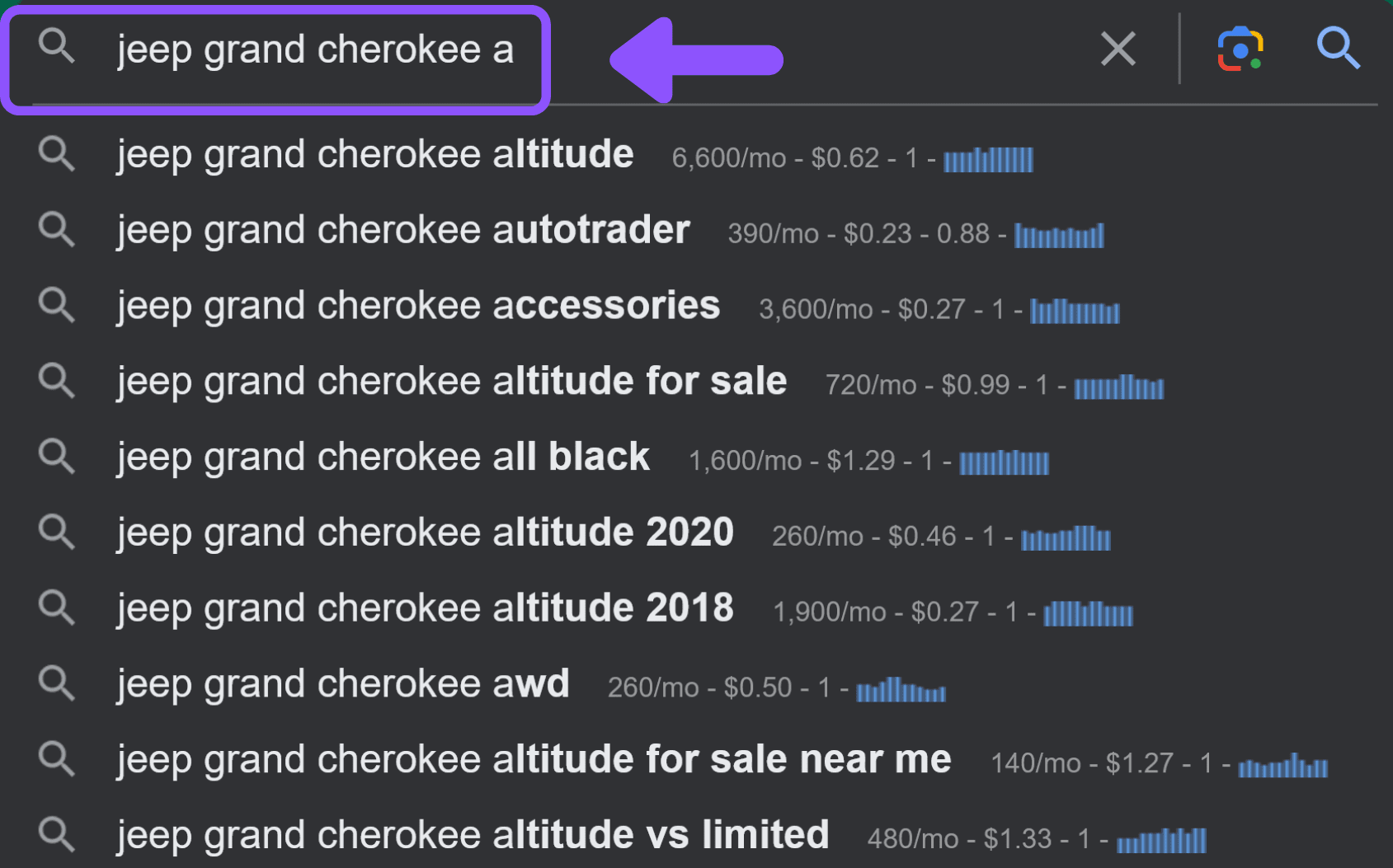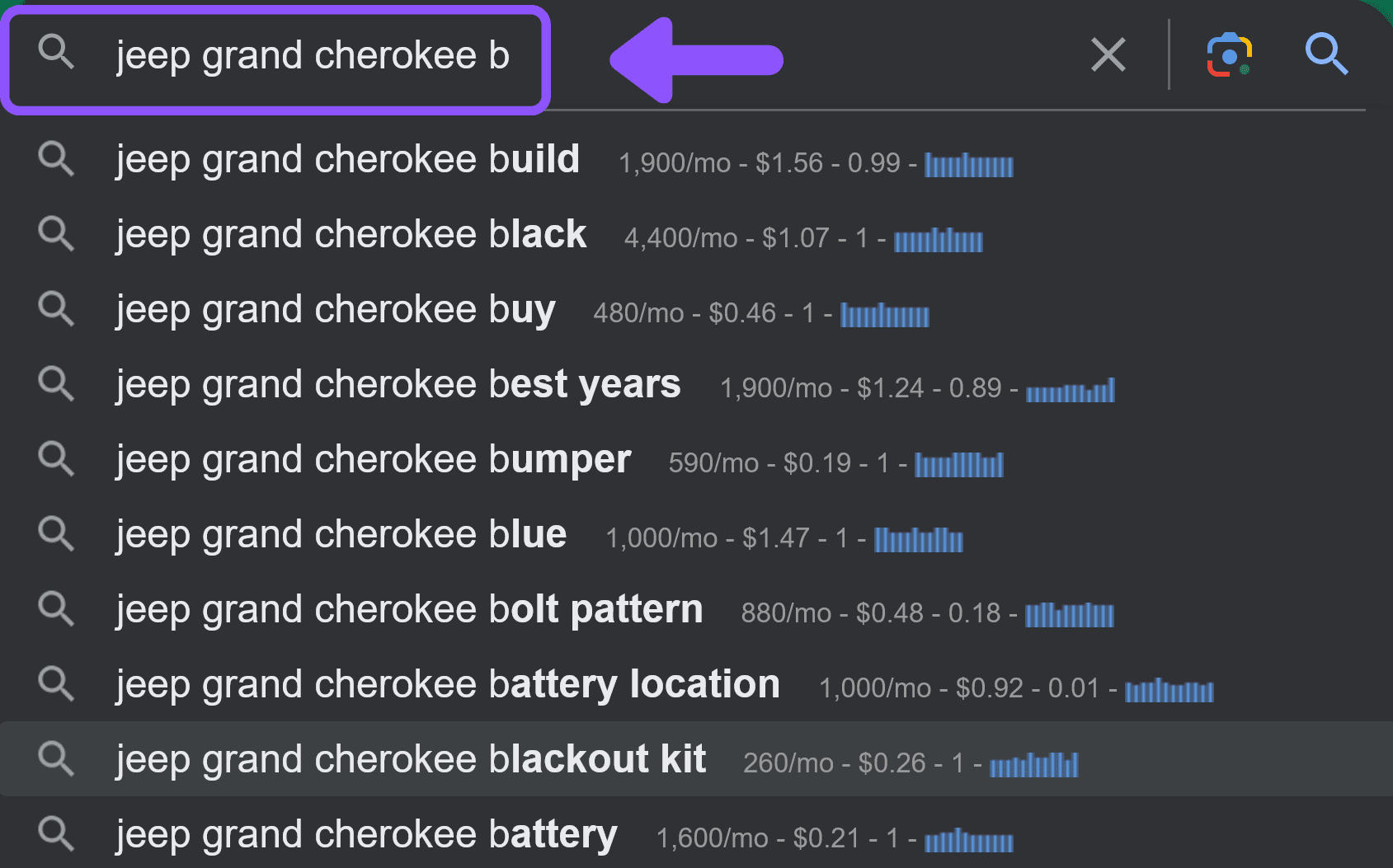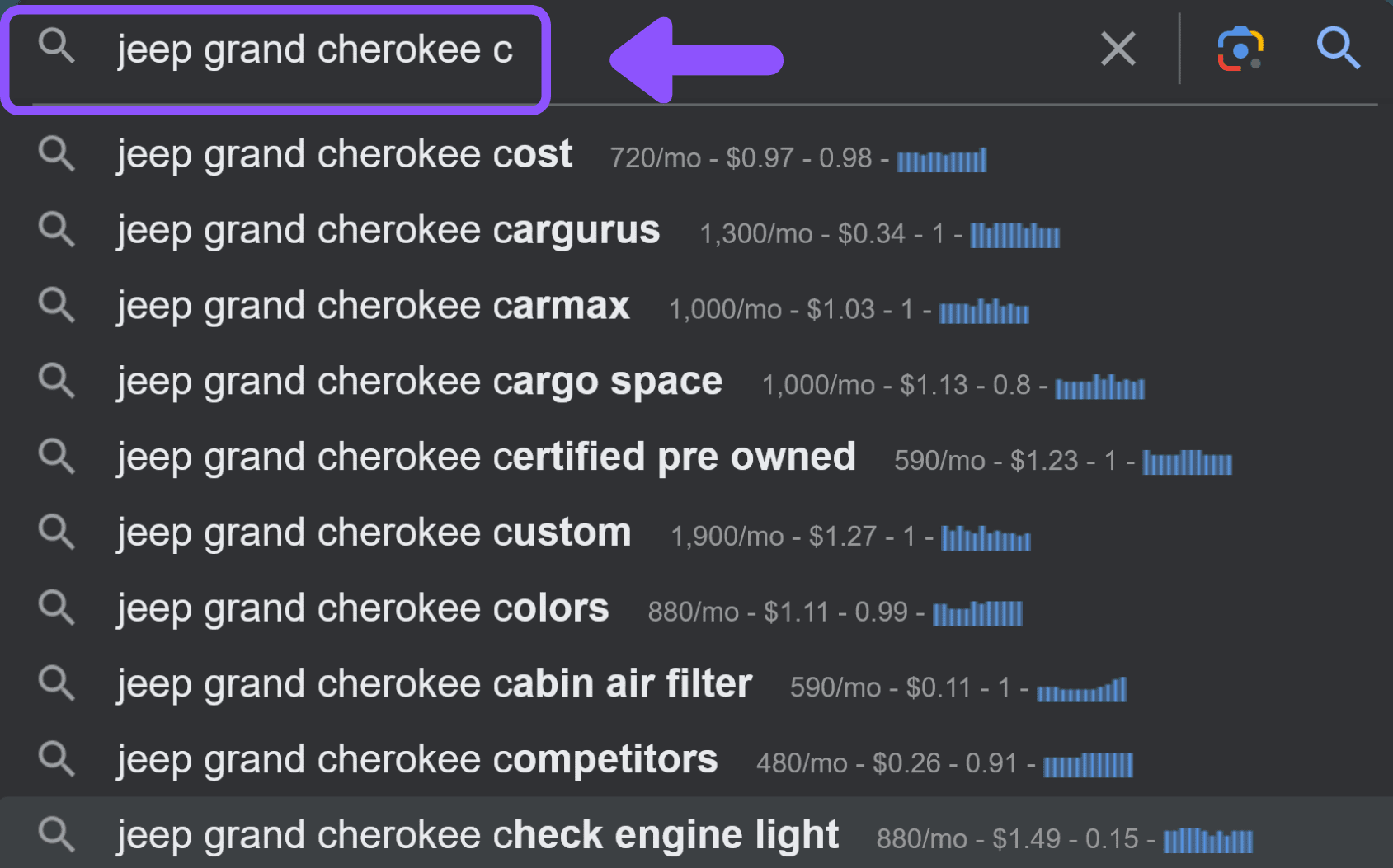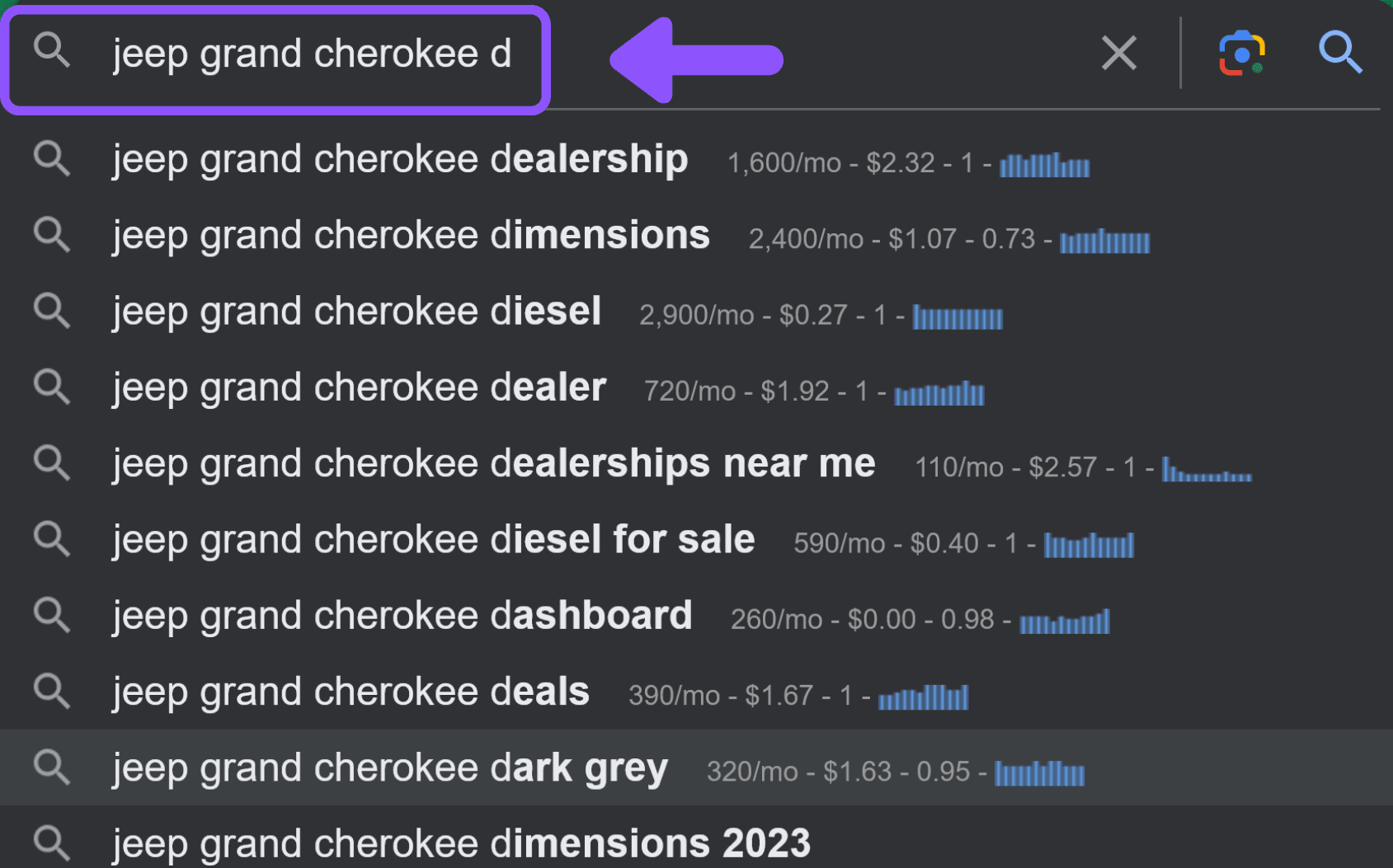 You can also add adjectives and phrases commonly associated with search queries, such as:
Best "Keyword"
How to "Keyword"
"Keyword" vs.
How Many "Keyword"
"Keyword" examples
New "Keyword"
Tip: You can also use Google search operators, such as the "*" symbol, which acts as a placeholder in search results.
For example, you could enter "How to * Jeep Grand Cherokee" and you would get the following results: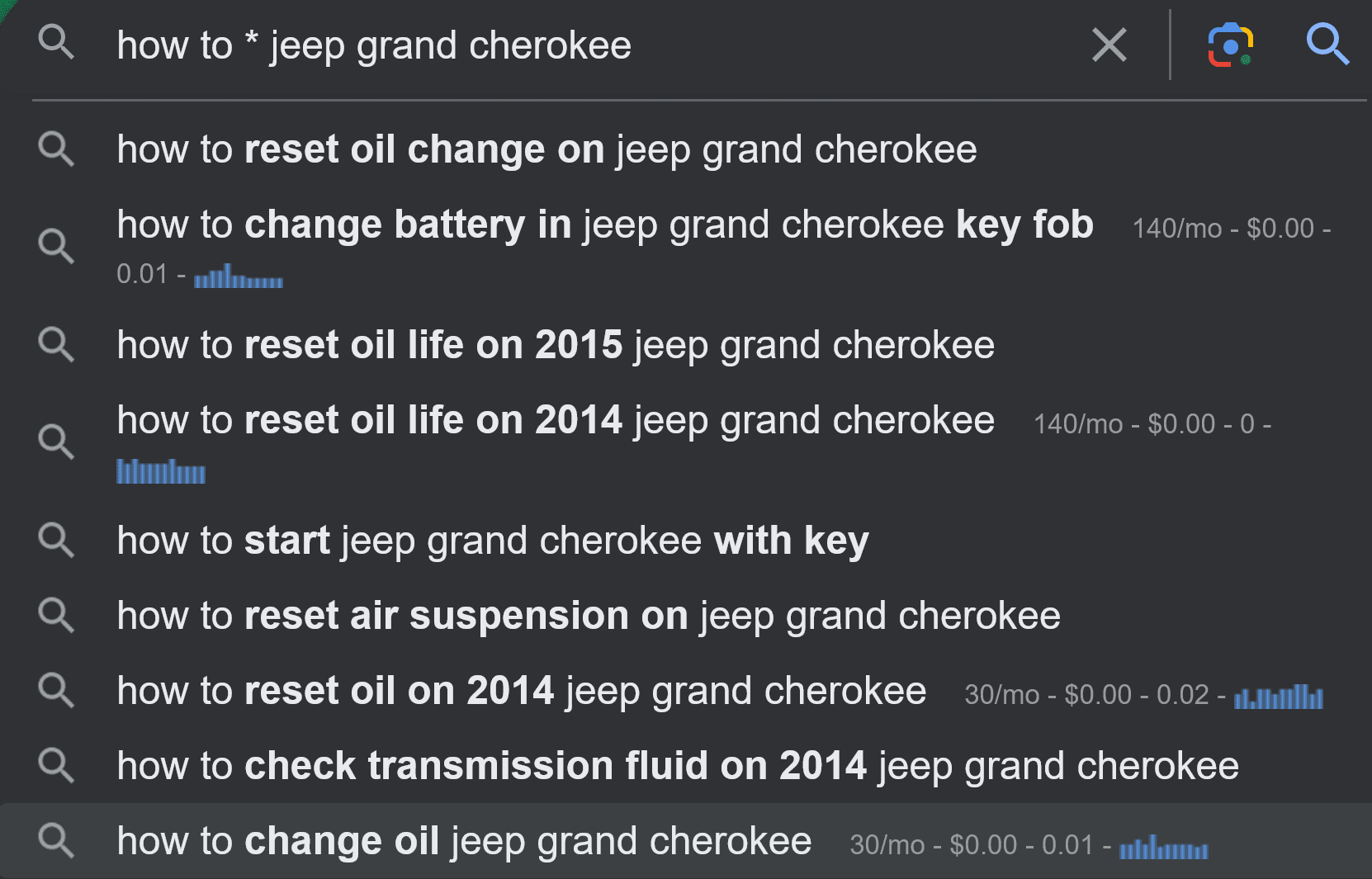 3. Record, Organize, and Prioritize Keyword Suggestions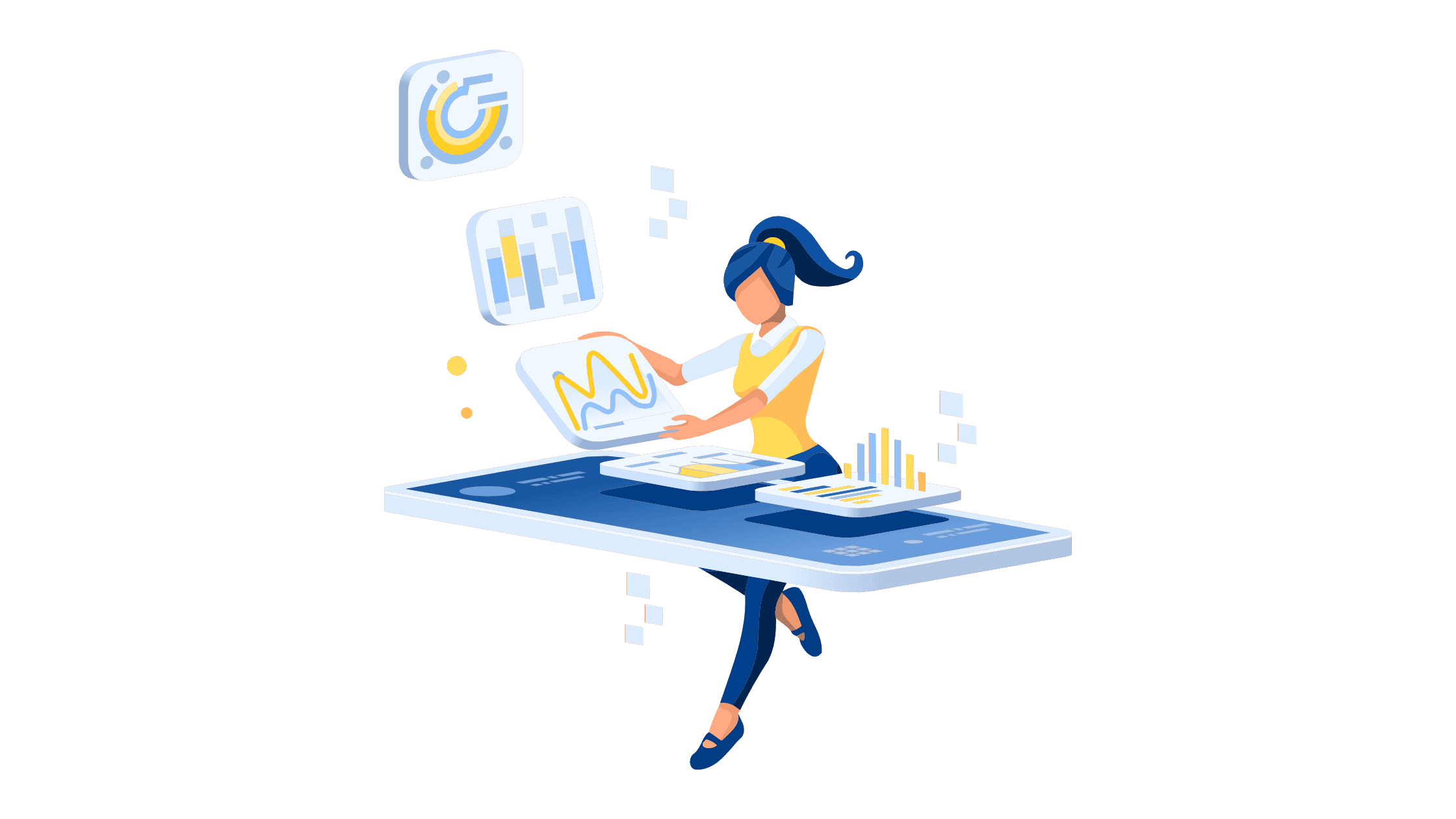 Once you have a list of long tail keywords that pertain to your niche, you'll need to go through and delete and results that are duplicates or are too similar in search intent.
You'll also have to prioritize the keywords based on their estimated search volume.
As you may have noticed in my screenshots, a search volume indicator appears besides the results: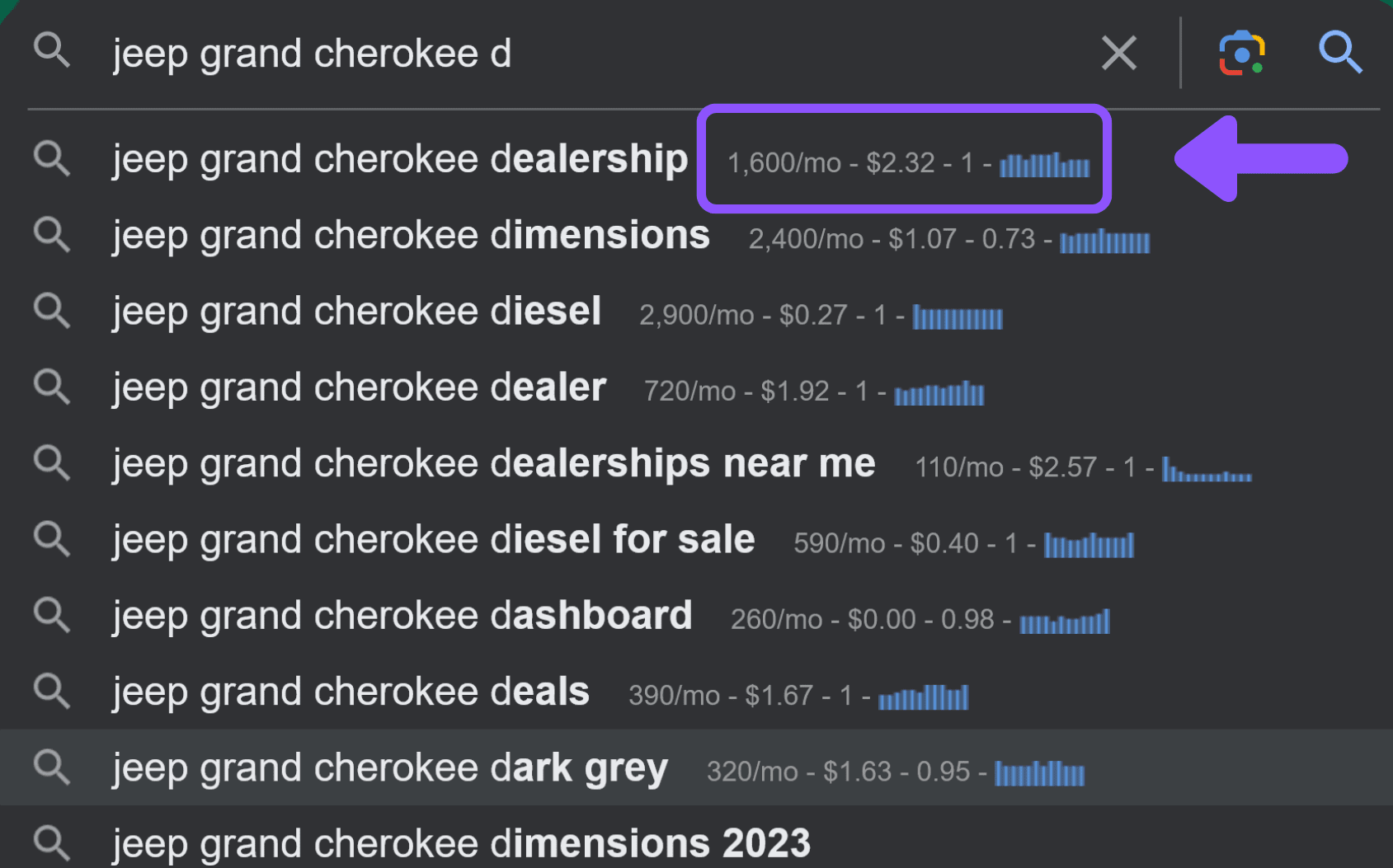 There are a number of tools that bloggers can use to approximate monthly search results.
One of the cheapest, and most effective tools (which does not require a monthly subscriptions, is a browser extension called Keywords Eveywhere (as seen in the previous screenshots).
While you can use more expensive tools, Keywords Everywhere is my go to tool since the data tends to be the most accurate.
Note: Tools like Keywords Everywhere are great, but they are not perfect, and only provide a third party estimate of monthly search volume. They do not have access to Google's actual data (only Google can access this proprietary data). So these metrics should be taken with a grain of salt. In many cases they are under-estimates of monthly search volume.
4. Write Blog Post Targeting Keywords Gleaned From Google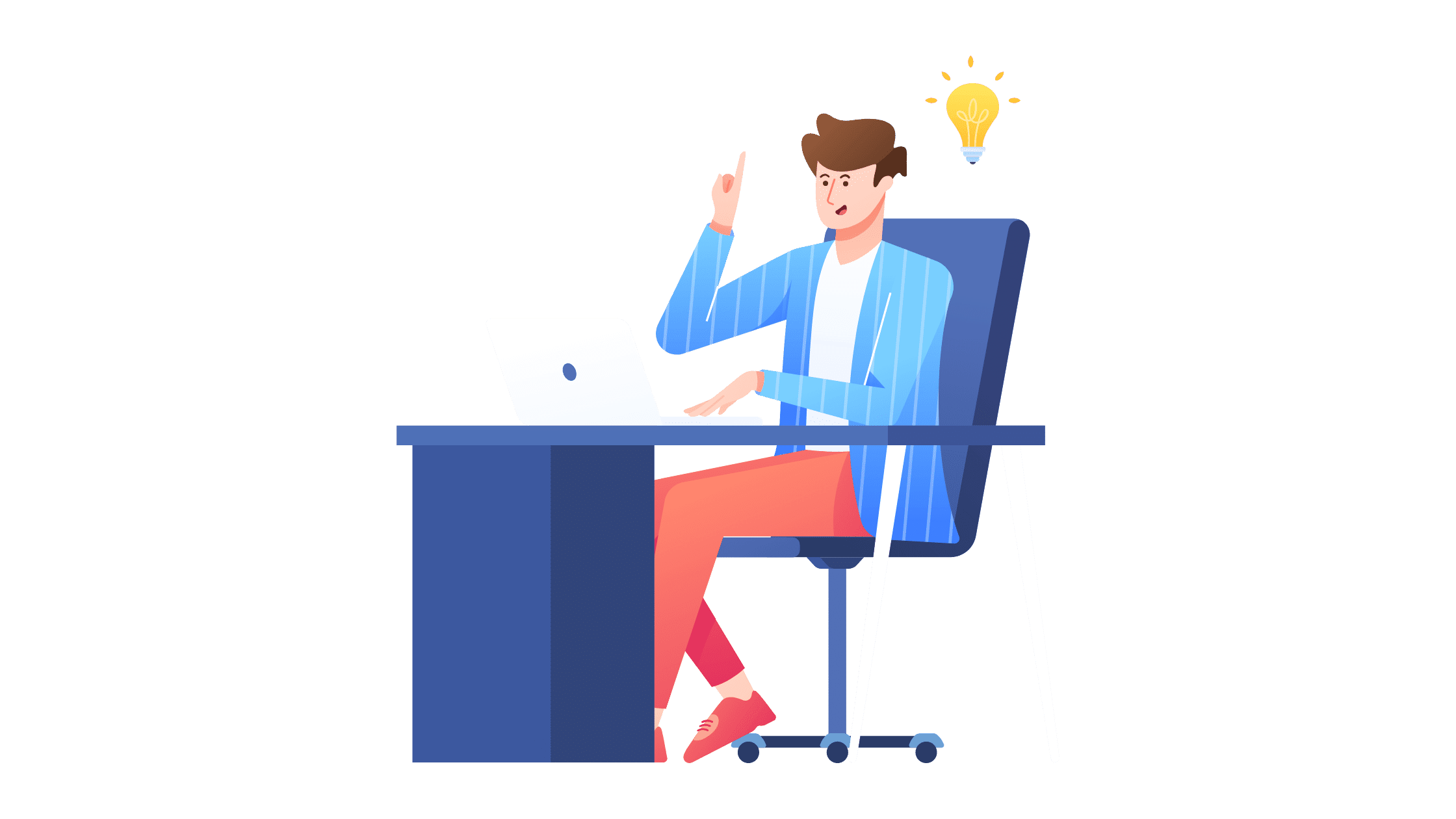 Once you have assembled your list of content ideas based on the new keywords you've discovered, all that's left is to write articles that directly target these search phrases.
To help you rank for these phrases, use they keywords (and variations of them) in your article title, H2 & H3 sections, the introductory paragraph, and throughout the article.
The Alphabet Soup Method of keyword research is simple to perform, but can yield tremendous results. While many bloggers are quick to jump to expensive blogging keyword research tools, the Alphabet Soup Method relies on Google Autocomplete and is completely free! I've used this method to discover countless keywords, and would recommend this strategy to any beginner or intermediate blogger.