April 2023 Niche Site Report
Disclosure: Some of the links below are affiliate links, meaning that at no additional cost to you, I will receive a commission if you click through and make a purchase. Read our full affiliate disclosure here.
April 2023, was a great month across my portfolio of niche sites. In fact, for both my niche site projects that I focus on in these reports, my blogs experienced a huge continued surge in growth, with Niche Site 1 gaining its first bit of real traffic and Niche Site 2 approaching Mediavine level traffic after just four months!
Progress of New Niche Sites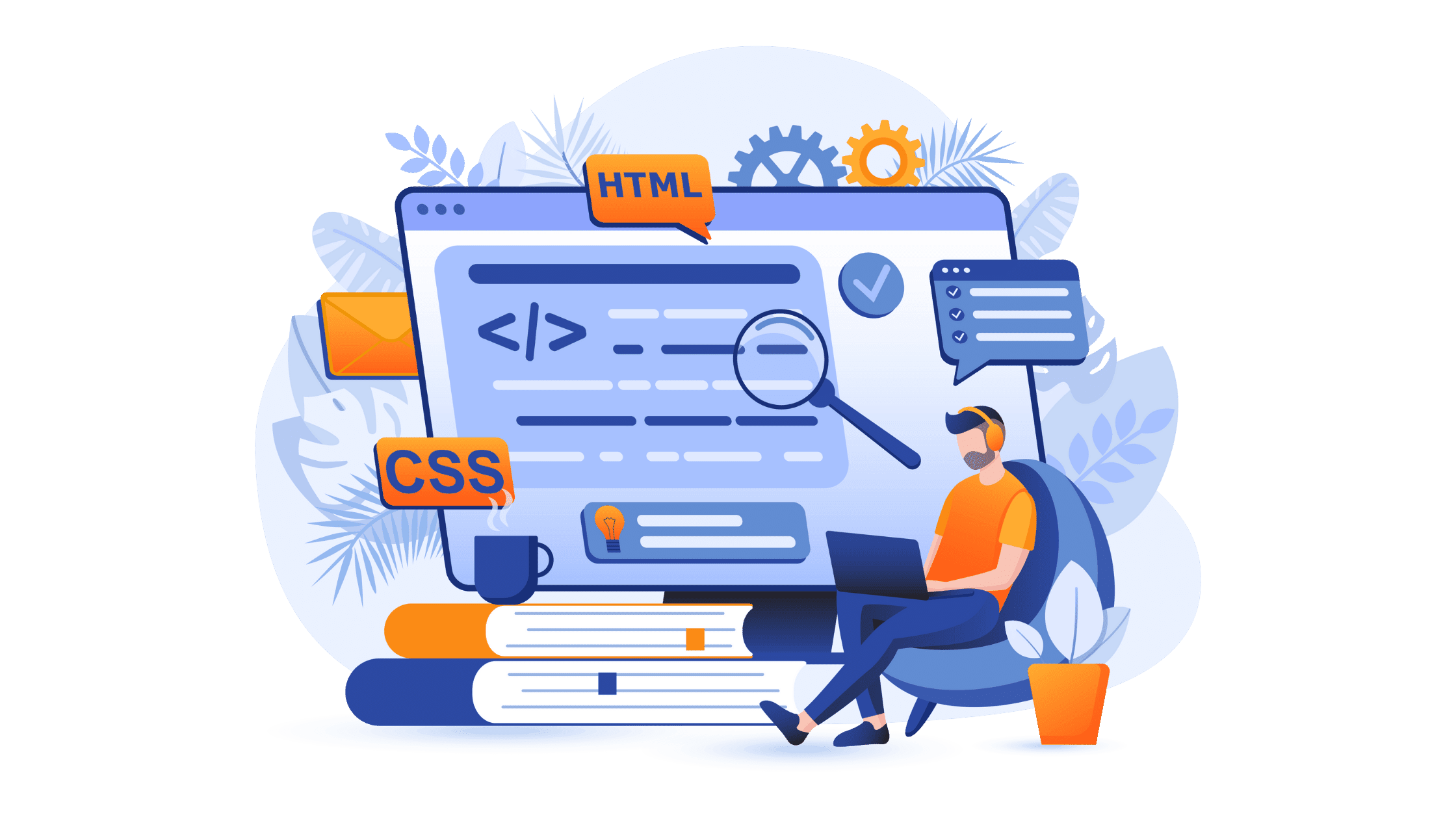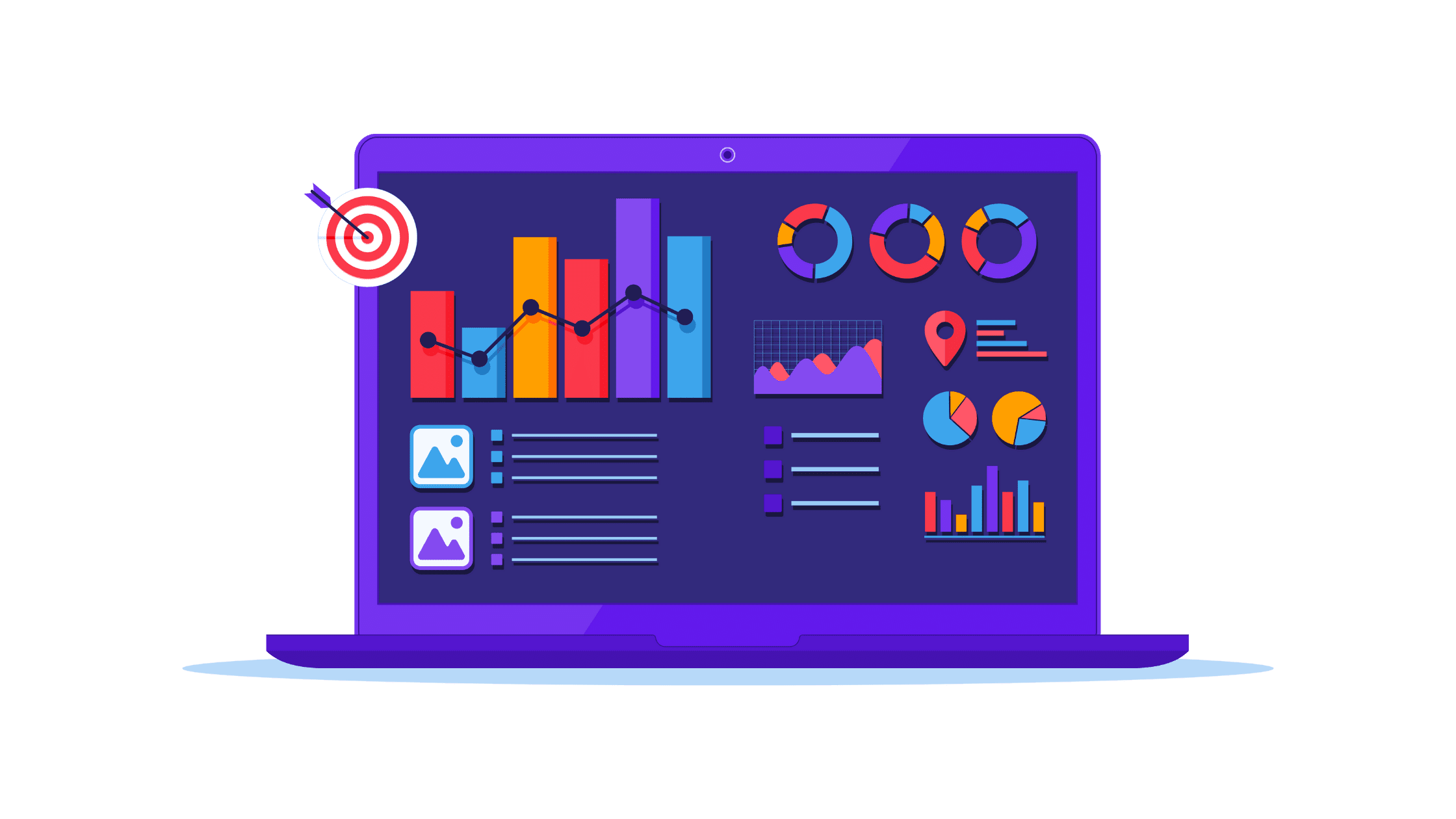 While the first few months of building a new niche site can be very slow, I've made a deliberate effort to scale these sites by maintaining a very high content velocity and establishing topical authority much quicker than usual.
Some highlights from April 2023 for two of the niche sites I'm currently focusing on building: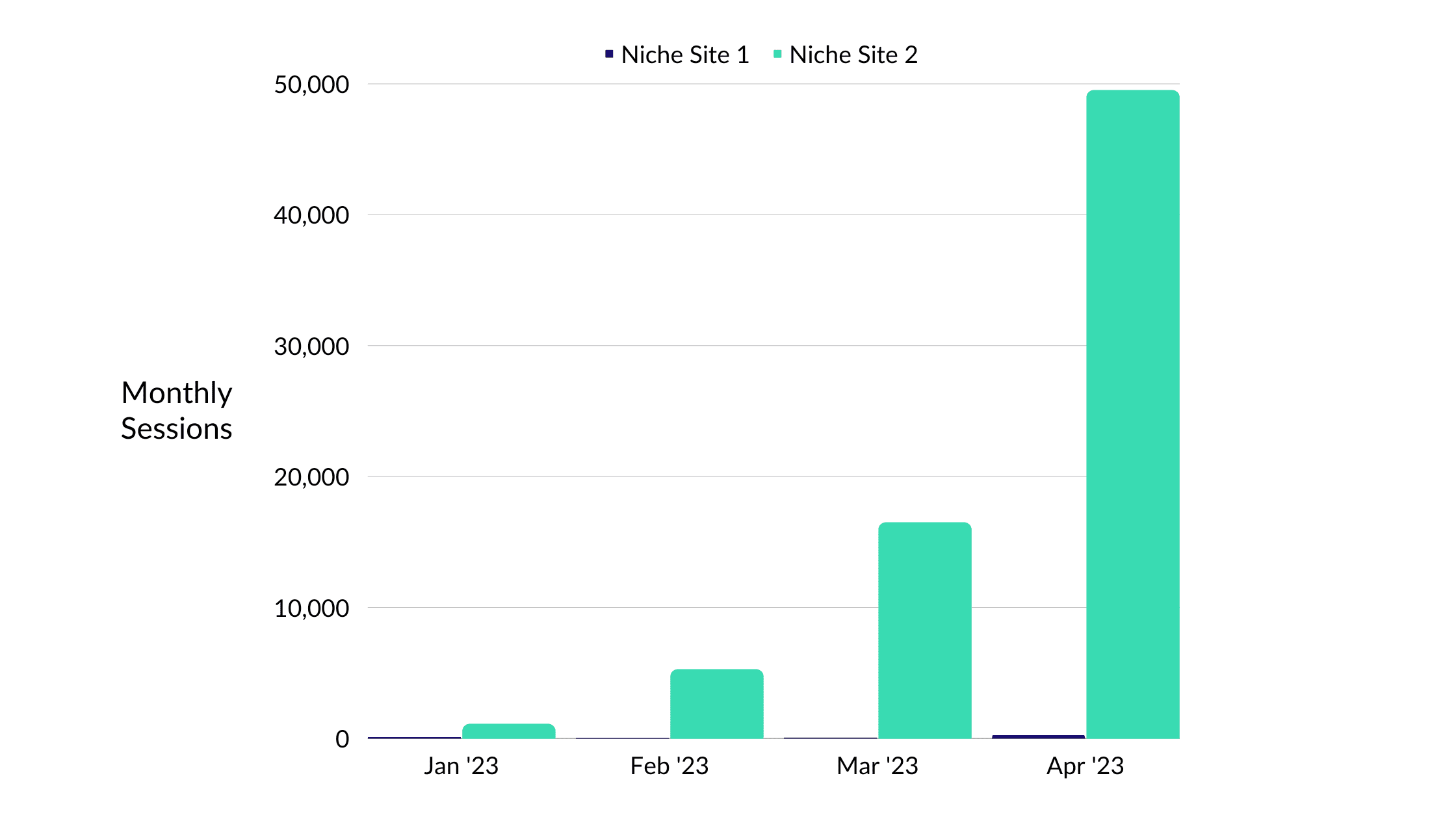 Niche Site 1 (Craft & DIY Niche)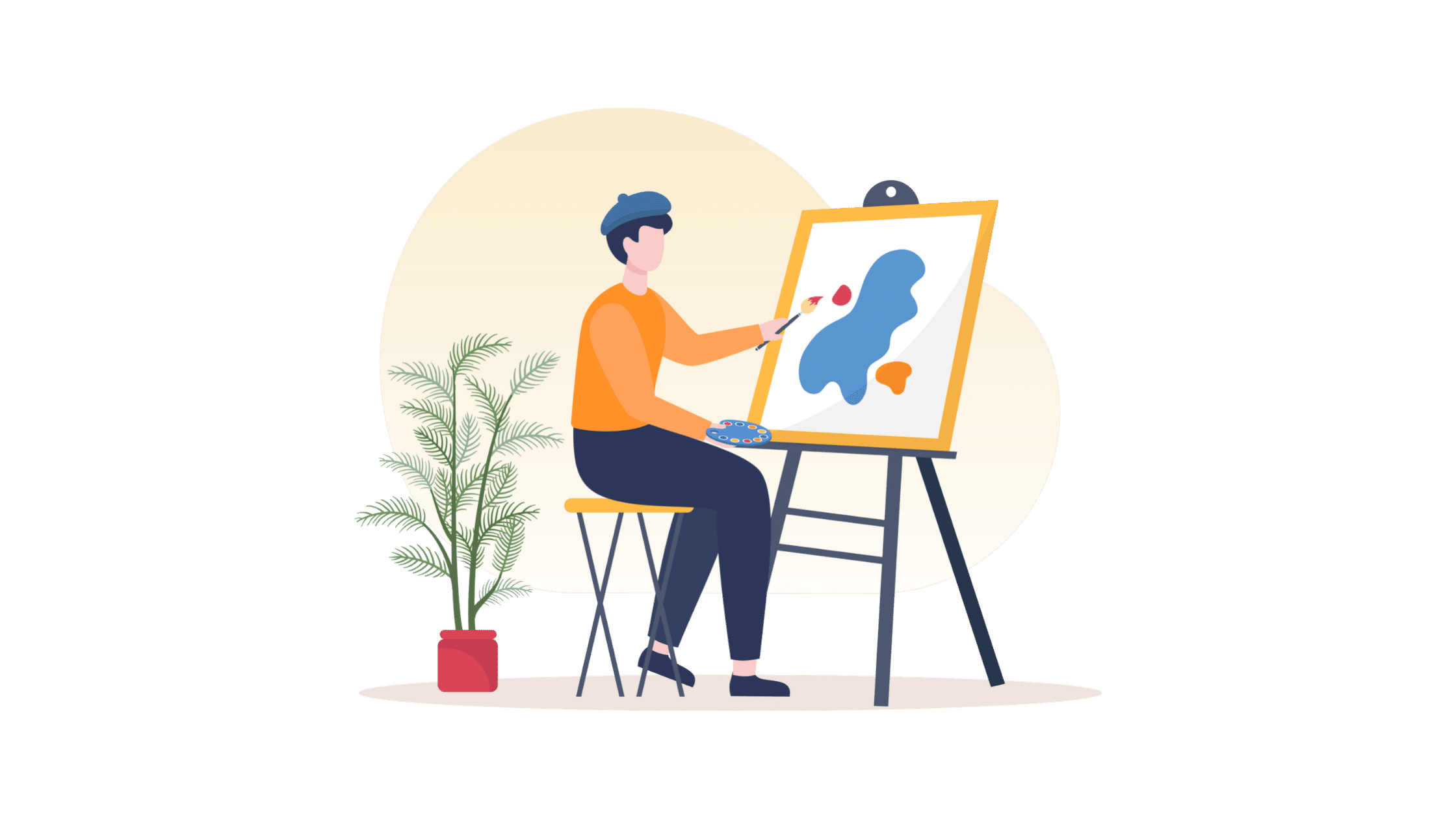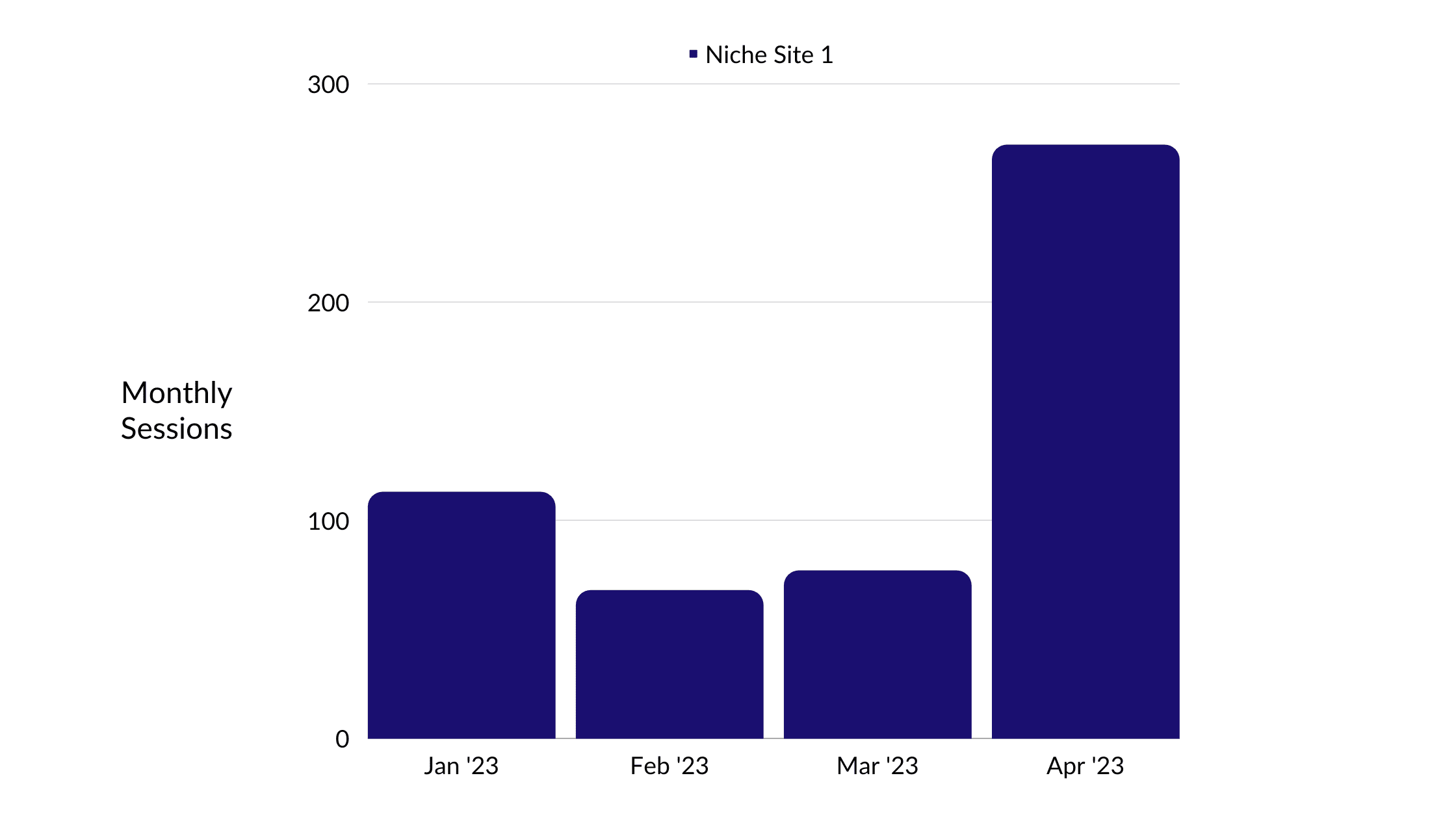 Published 39 new posts to a Craft & DIY niche site (Niche Site 1), built using a new domain. I have now published a total of 74 posts on this site, since it was created on a brand new domain in November.
Many publishers do not see significant activity until 6 months in, so my expectations have been pretty low for this site. That said, I nearly doubled the amount of content on this site compared to last month, so I was hoping to see some growth.
While the first three months had been negligible amounts of traffic, this site received 272 sessions in March 2023.
And, perhaps as important, this was the first month with traffic every single day. Daily traffic throughout the month and crossing 250 sessions is the general threshold I set for a site to be past the dreaded Google Sandbox phase.
I'd say of the two new niche sites that I'm covering in these reports, this Niche Site 1 is far more typical in terms of site performance and growth.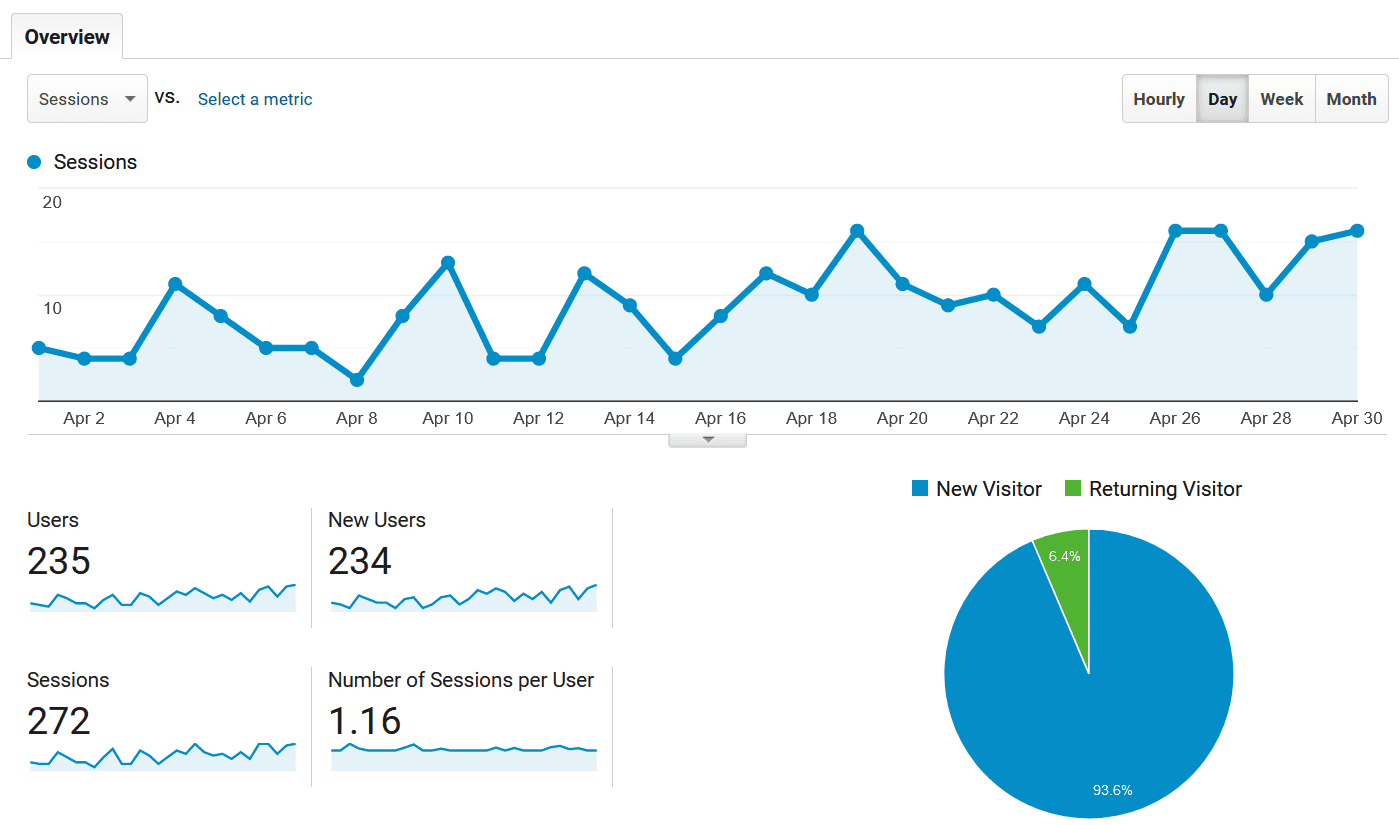 While this site's growth so far has been pretty boring, I'm definitely happy to see it start to gain some initial traction and have its first month of exponential growth (more than tripling the previous months # of sessions).
However, as my second niche site is still performing exponentially better, and I only have finite time and resources, I'm probably going to slow down content production over the next few months for Niche Site 1.
I plan to shift my content production efforts primarily to Niche Site 2 (covered in next section of article).
Niche Site 2 (Technology Niche)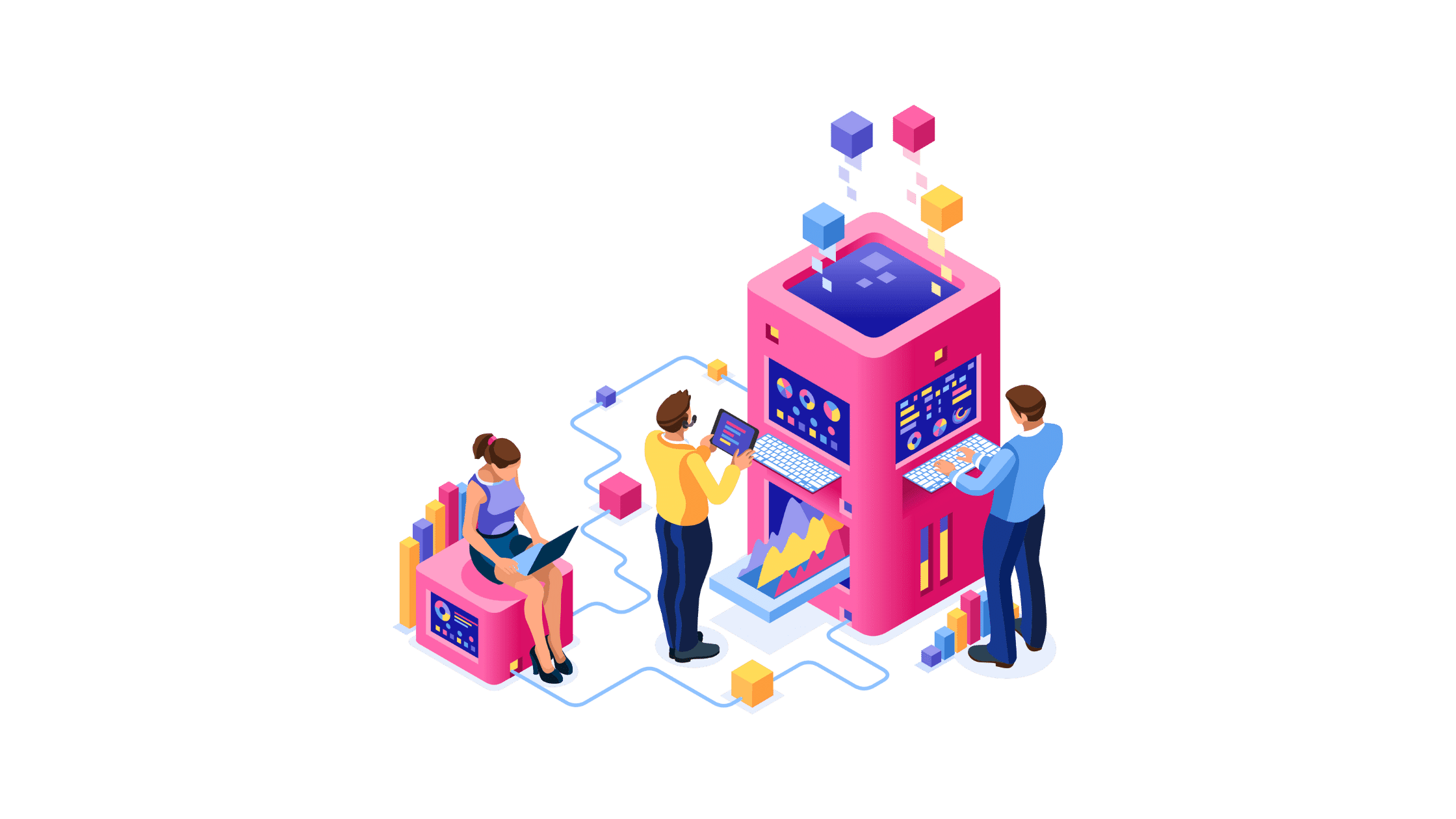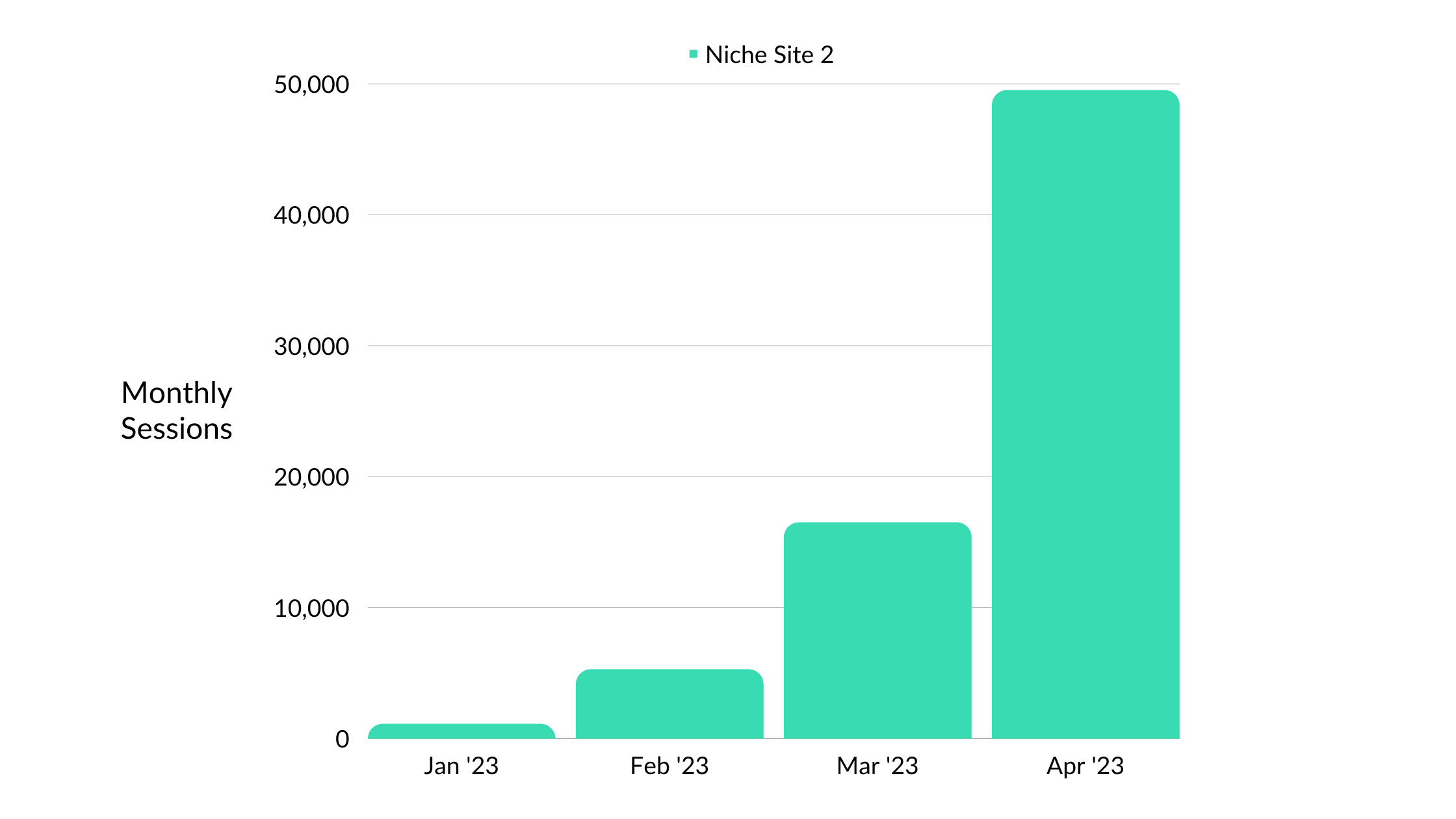 Published 15 new posts to a 7-8 month old technology niche site. I now have around 120 posts published on this site. I built this site on a domain that I had held for about a year or so (but had not used until I built the current site in fall 2022). As is the case for Niche Site 1, April is the fourth full month of regular content posting.
After last month's insane growth of nearly 200% in terms of sessions, month over month: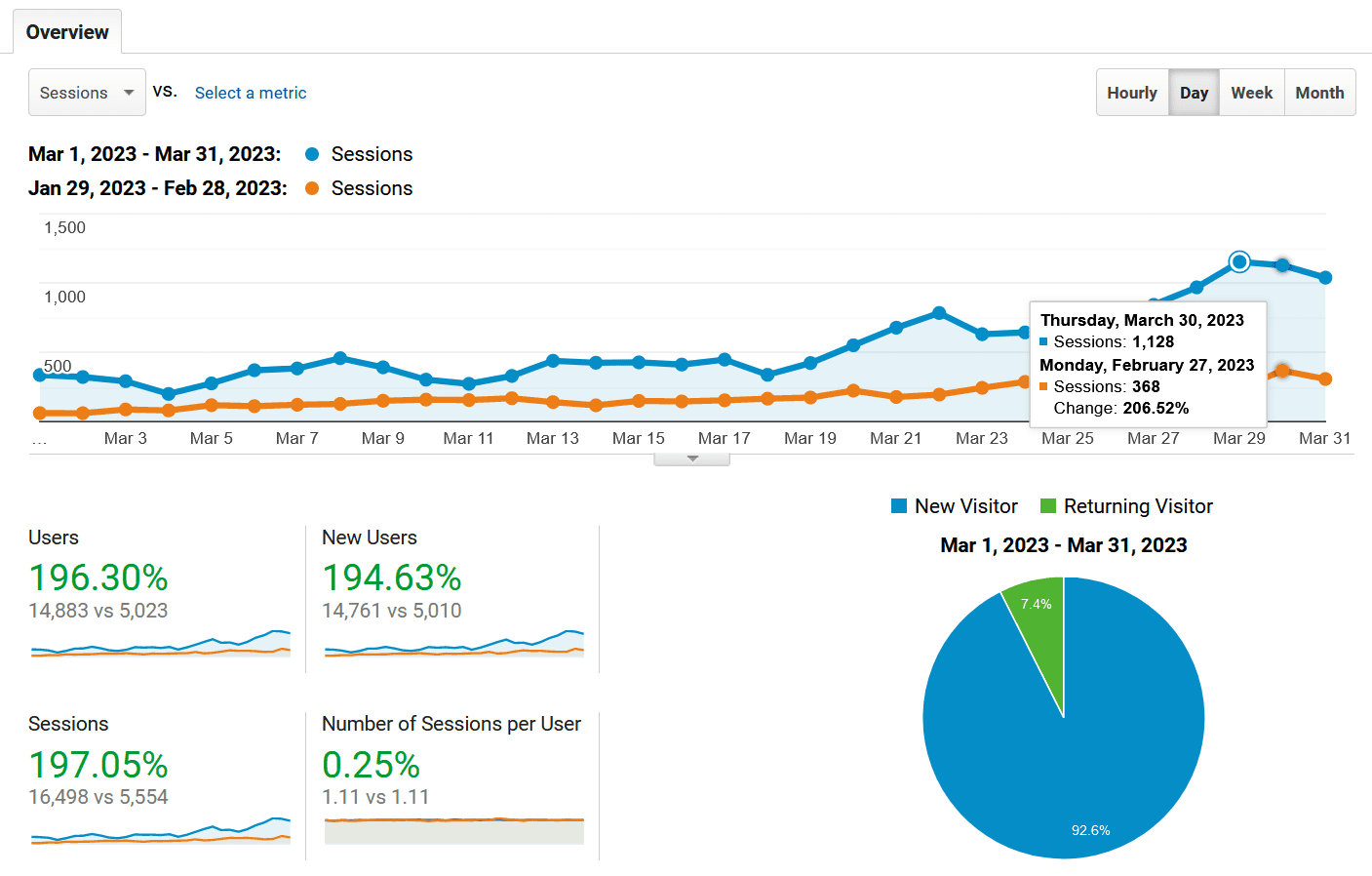 I was expecting to see some continue growth, largely due to the sheer amount of content I added the previous month, but to my amazement, the growth remained virtually unchanged from March to April, more than tripling again!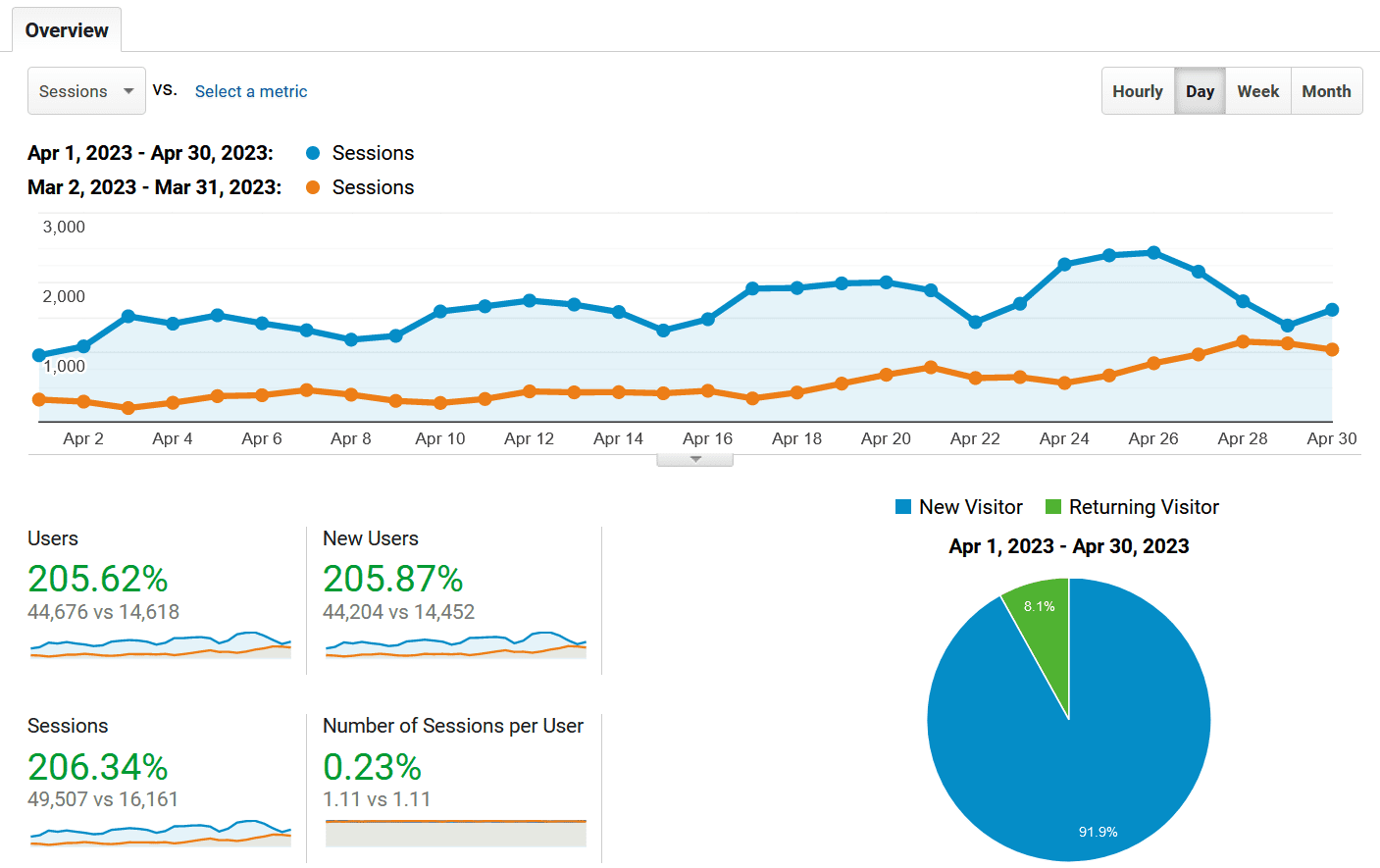 In April 2023, month 4 of posting content to this aged site, I received a staggering 49,507 sessions!
For the first four months site growth, I believe this site is a record or near record among the 25+ sites I've built from scratch!
And critically, I am approaching 50,000 sessions, the all important traffic requirement to apply to Mediavine.
While not at all typical of the early stages of blogging growth, Niche Site 2 represents the upper bound of what is possible when building a brand new content site in 2023. While not nearly as exciting, Niche Site 1, by comparison, offers a far more realistic growth trajectory.

It is important to note that it is entirely possible that these blog could be receiving close to 0 sessions per month. I've had sites take 6 months to reach "escape velocity" using the exact same strategy.
So why did Niche Site 2 grow so fast?
In short, I think this site "did everything possible correctly" in the first few months:
Used an Aged Domain. I launched the site using what is essentially, an aged domain. The domain used for Niche Site 2 is a highly brandable domain that I acquired from the original owner nearly two years prior. The site was never listed for sale, nor was it an expired domain. I purchased the domain in an off market sale, with the intention of eventually building a site on it.
While I did not start blogging on this site until January 2023, I did build out a decent "shell site" about a year prior. This likely played a big role in the site taking off so quickly (probably shaved 3-5 months of slow growth off the timeline).
The shell site was nothing fancy, but it was full of high level topical information, resources, EEAT indicators, and had all the essential pages.
Used Lightweight and Super Fast Theme. The first iteration of this site was visually appealing but not optimized for speed. So, in the month or two before I started adding posts, I switched to a lightweight theme.
While not essential for a new site, it is definitely valuable to never have to worry about passing Core Web Vitals with a lightweight theme and almost no extra plugins.
Used Incredibly Powerful Hosting. A few years ago, I discovered Kinsta, when I was testing various blog hosting providers. I was instantly in love. While expensive, it is my go to solution for websites that I have confidence will grow quickly (or for my more established sites that already have more traffic).
Kinsta is a managed WordPress hosting platform that is built on the fastest infrastructure on the internet. Kinsta allows single site users access to the highest-end CPUs and global availability thanks to Google's fastest servers and Premium Tier network. It also has a bunch of other insane features, like allowing you to pick your own data center for each site.
When combined with a lightweight WordPress Theme, my general experience has been that not only will your site be faster than any other competitor in your niche, but Google seems to give a greater crawl budget to fast sites, allowing content to index much faster.
Avoided Lower Tier Ad Networks. One thing that I consistently do to boost the odds of early success with sites that I build is I resist the temptation to use any display ad networks early on.
I get that it's nice to make a few bucks a month with Google AdSense, Ezoic, or other ad networks that have lower traffic thresholds. But ads slow down your site, and some ad networks, like Ezoic can have a noticeable impact on site performance.
Not everyone can afford to spend $50+ per month to have the best themes, fastest hosting, and other premium features. But even if you don't pay for these premium features, don't kill your site's growth with low quality (and low paying ads). Focus on growth at all costs.
High Content Velocity. One thing that was fairly unique on this site, compared to my usual blog building experience, is I hammered it with high quality content.
Content velocity is crucial for many reasons, but a few of the most important are your site is recognized as active much faster by Google, you can quickly build topical authority, you build organic backlinks faster, etc.
There are some other benefits that fewer people think about. For example, any site that has crazy growth in traffic in just a few months, will catch the attention of many keyword research tools used by rival bloggers, such as Ahrefs.
However, sites that are relatively new tend to be even less accurate when viewed using these tools, especially at the page level. This means that while Ahrefs may correctly identify a urge in traffic, it is less likely to identify the top performing posts, making it more costly and time intensive for rival sites to snipe your surprisingly high traffic, low competition keywords.
If you can cover a significant amount of your site's topical map in just a few months, you may even fly under the Ahrefs radar completely, meaning fewer rival with higher domain authority can destroy your site in its infancy.
 High Quality Content. Almost anyone who is a native English speaker and has decent experience writing can create high quality content. But there is a true science to creating high quality content at a large scale.
I personally seeded this site with some great articles in months 1 and 2. And I probably personally wrote about 30% of the published content across the entire site.
But even for someone who is experienced cranking out SEO optimized content (and has worked as a freelance content writer for major clients), it would not be possible for me to publish 120 posts + custom pages with lead generating content by myself in 3 months.
Well, maybe if I worked 15-20 hours per day, on nothing but this site… 😉
But this site is an experiment and is one of many in my larger portfolio of blogs. And since I was forgoing ads, and really any type of monetization during this period, the site was going to cost me a fair amount of money and time.
So I turned to my team of freelance writers, and pulled several off their current work to focus on this site's content.
This site has been a bit unique because it is one of the first sites that I've built in the era of AI writing tools. As I mentioned before, I seeded the site with some blog posts that I spent an unusual amount of time on. I then added content written by my best writers, who closely followed the extensive keyword research I had conducted in the months before publishing the blog's first post.
But I also wanted to test several uses of AI that I had been working on in my spare time, but had not actually applied to an entire site.
In the case of Niche Site 2, I used several AI writing tools, both to generate written content and to automate my blogging process. I used the AI writing tools to generate more detailed outlines than I typically give my writers and used the AI tools to generate a number of first and second drafts that were then edited by me, personally.
AI content is far from perfect, but it has come a long way. In my opinion, ignoring it is an existential risk as a blogger. However, I spent a considerable amount of time editing the AI generated content for each site (far more time than I would normally spend editing my own content or that of my best writers). I even used multiple AI tools to critique each other's content, before I even began to review the content and fact check it.
This experience using AI was not vastly faster than using my team of expert freelance writers. But it is a proof of concept for a hybrid AI-human written site. So I had to spend a bunch of time documenting the process, developing SOPs for future projects, testing various AI prompts, etc.
If this site can stay at (and ideally go a bit over) 50,000 sessions for 30 days, I will be eligible to apply for Mediavine. Not only that, but I'll have taken a site from "0 to Mediavine" in a little over 4 months! So I'm pretty excited!
Do any of these factors alone account for the quick success seen by Niche Site 2 vs. any other niche site?
No, probably not.
But cumulatively, they gave my site a number of advantages, which were compounded by the hyper focused keywords, I targeted.
This all resulted in Niche Site 2 reaching 49,507 sessions and 63,910 pageviews for April 2023!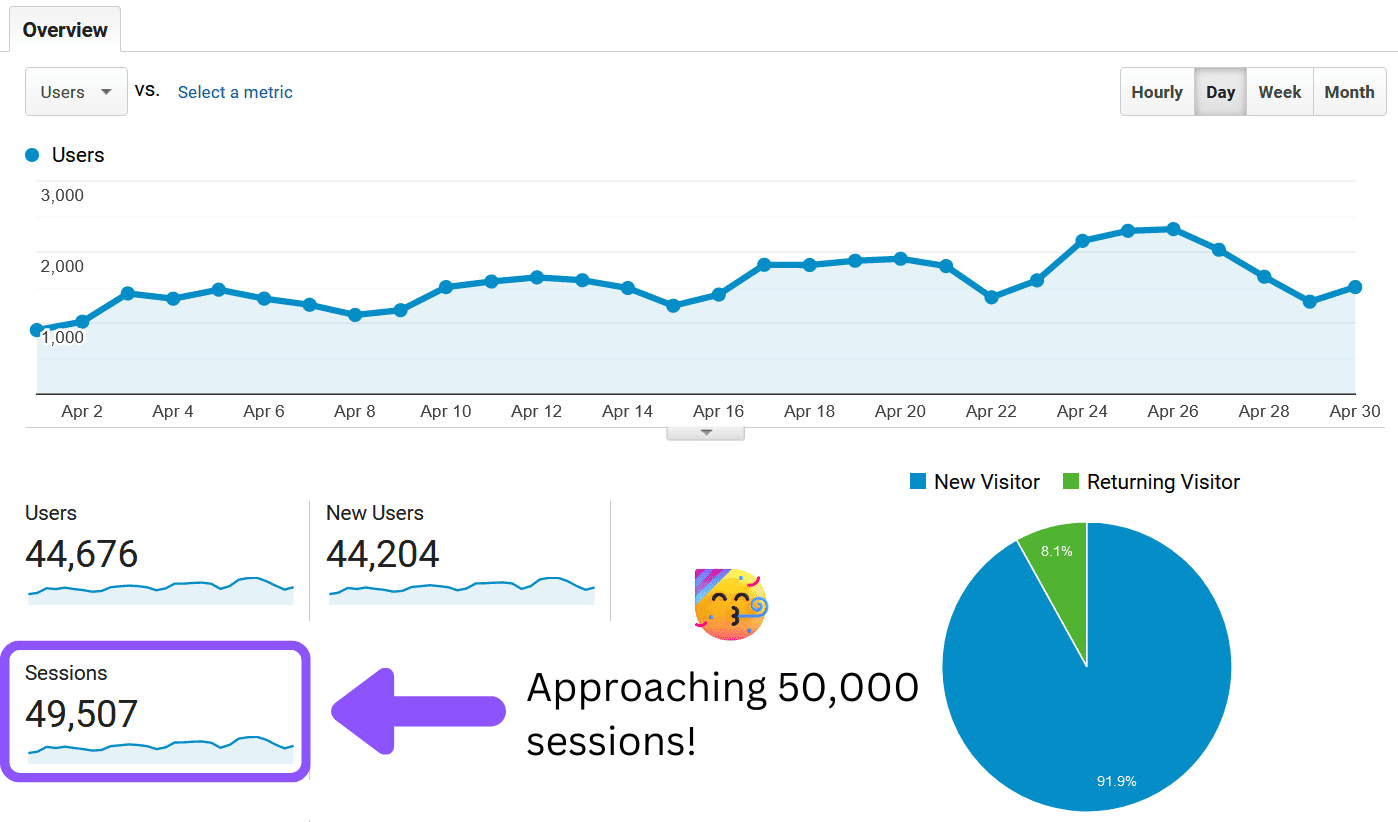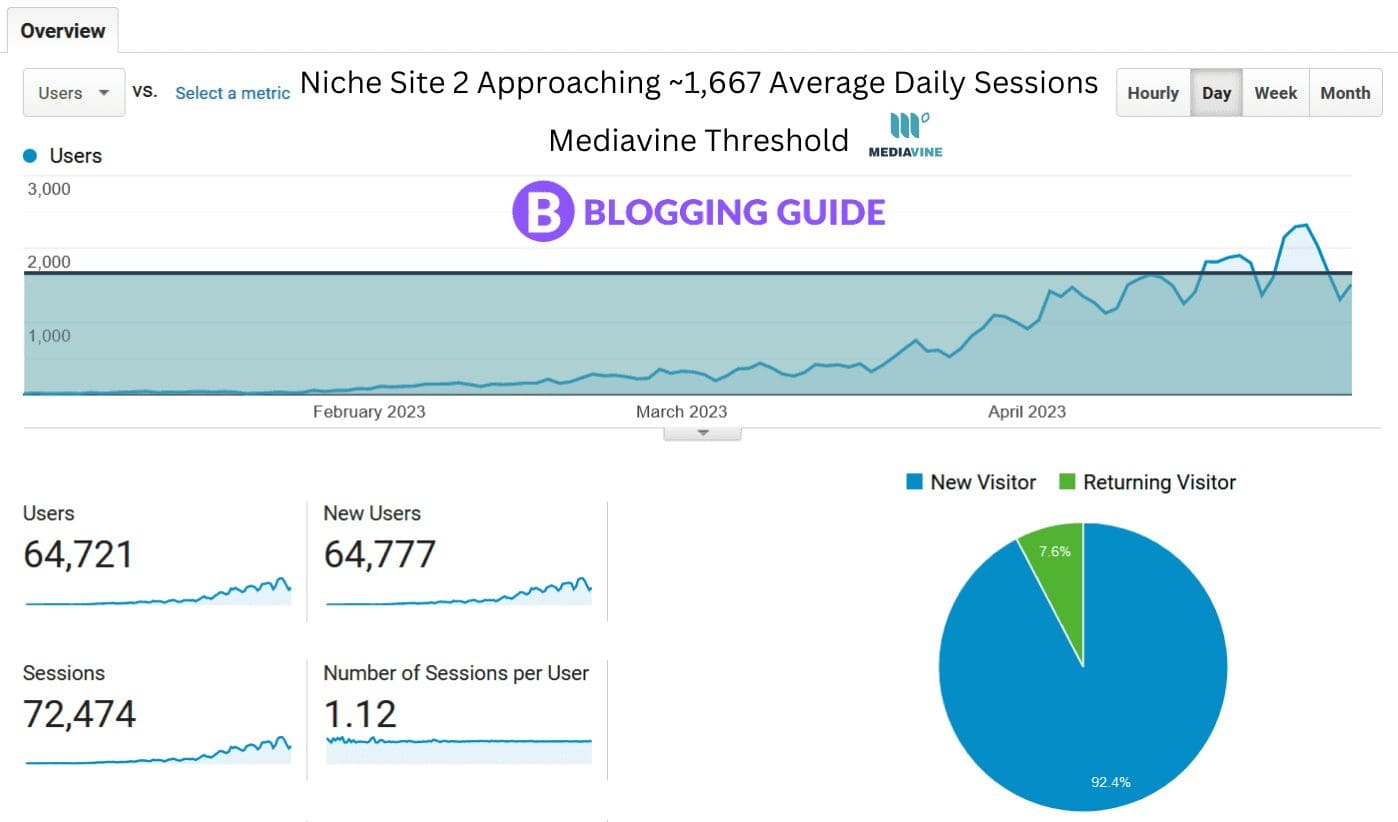 While I initially thought my goal of getting this site approved by Mediavine by the end of 2023 was pretty ambitious, if the traffic keeps up this level, and I can make it through the Mediavine application process, I could potentially have a site with Mediavine ads running on it, in under 6 months, which is hard to imagine!
Previous attempts to get a site onto a premium ad network like Mediavine have taken anywhere from 12-24+ months!
This site you are reading, Blogging Guide, took nearly two years to get approved and earn its first ad dollar!
Below is a graph recapping the extraordinary growth over the past 4-5 months!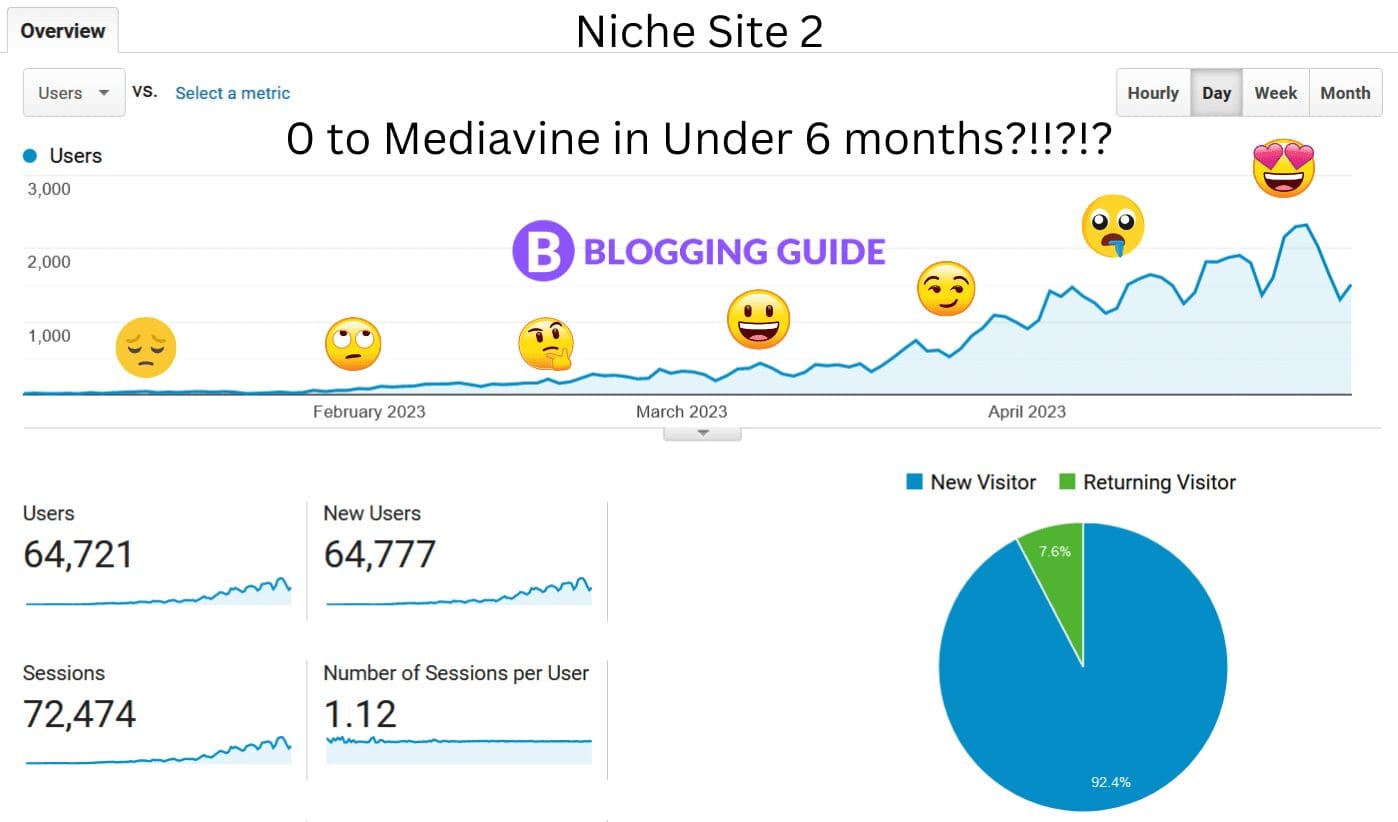 Hopefully, by my next monthly update, I'll have some news on whether I managed to reach this threshold and apply to Mediavine!